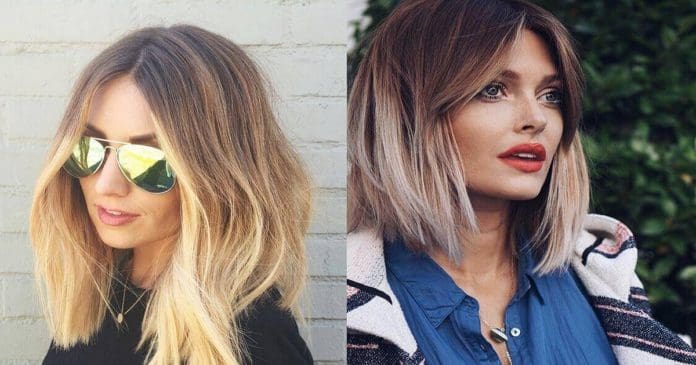 Ombre hair color describes the color that gradually changes from one darker shade at the roots to a different lighter shade at the ends in an even gradient. Reverse ombre, on the other hand, goes from light roots to dark ends. An ombre hairstyle can look natural (like the sun slowly lightened the ends of your hair) or bold (think bright colors or striking contrast).
Balayage is a technique for hair highlights that entails hand-painting the highlights. The result is a beautiful look that typically goes from darker roots to lighter ends. In addition to a lovely, natural effect, balayage color is easier to maintain than full color or traditional highlights because roots are not as noticeable.Balayage is always ombre, but not all ombre is necessarily balayage. Now let's look at some hair ideas and find your best hair colors.
1) Fishtail braids spice up this blunt chopped look
This is one of those cute easy hairstyles that add instant polish. The balayage color goes from a warm amber blonde to bleach blond ends – color that is just perfect for beauty waves. Taking 2 small sections of hair from the temple, braid them in a fishtail braid and connect them in the back with a hair tie. Wrap the tie in the braid and secure with a pin.
2) A platinum version of the blonde ombre hairstyle
If you want to try platinum blonde but you are not 100% sold on root-to-tip color, then this is a great place to start. The ash blonde roots subtly fade to platinum ends for a more subtle version of platinum that is just as lovely. This cut can be styled in loose waves, or straightened to really bring out the brightness of the color.
3) Messy, wavy tendrils make for an effortless look
These balayage highlights are just the epitome of "sun-kissed." The length and color of this style are perfect for fine hair, as both add some volume and thicken up the appearance of the hair. Loose, finger combed curls are simple to style and maintain.
4) You can never go wrong with an icy balayage
Balayage is an awesome way to incorporate multiple hues and play with some pops of color. This style has an ombre blonde but with some very subtle strawberry accents. It creates a fun hint of pink that is playful yet totally works appropriately at the same time.
5) Deep dark roots plus super light ends equals perfection
This ombre blonde hair is gorgeous! Having high-contrast ombre like this is great if you like to be a little daring with your color. In this style, the dark roots gradually fade into a buttery cream and then bright blonde ends. This kind of color is totally glam and so fun – everyone should try it at least once!
6) Warm blonde ombre bob with face-framing highlights
This is ombre with an edge. You can see that the gradient (the transition from the lighter color to the darker color) is much shorter here which creates more of a "grown out roots" look than some of the other ombre hairstyles. This kind of blunt color would be easier for DIY ombre hair since it doesn't require as much technical skill to create a long fade.
7) Tons of ash blonde dimension in this shoulder length do
Aren't these pretty hair colors? The platinum highlights absolutely sparkle. The ombre hairstyle here is closer to the roots which feel more like highlights, but you can see the transition from darker roots to lighter ends is definitely ombre. The hand-painted balayage technique is best for shorter hair because its easier to maintain. It's evident here in the many shades of blonde you can see throughout the color.
8) A sexy cool tone bed head channel surfer girl vibes
This sexy beach hair is sure to turn heads. The color of the ends perfectly mirrors the way the sun and saltwater would lighten the ends of your hair after a summer in the sand – minus the damage, of course! Choppy layers perfectly compliment the loose waves and beauty ombre.
9) Warmer tone ombre that fades to icy tips
Pretty hair colors of deep, dark roots fade to super-light tips in this long ombre style. Hair dye like this is simple and gorgeous. This color really makes the most of the length of a long transition from dark to light. A great ombre hairstyle can really bring out the texture and length of longer styles.
10) Super ashy highlighted strands blended throughout
Ashy blonde balayage hair highlights add the beautiful dimension to naturally blonde hair. Multiple shades of the ash blonde hair dye are applied from roots to tips in this pretty lob. This color is simple, cool, and easy to maintain. Just make sure that if you go this cool with your color that it complements your skin tone.
11) A long medium blonde ombre hairstyle
If you are into hair that is nice and easy, this color is for you. It's also great for teens who want to try hair color without going too crazy. You can see her natural color goes from the roots all the way to the shoulders, where it fades into a single bright blonde hue. This is another great DIY ombre hair idea to try your hand at applying balayage color at home.
12) Medium length cut with piecey ombre strands
If you have fine or thin hair your stylist has probably told you about the benefits of highlights or balayage. It can thicken the strands of hair to give the appearance of more thickness than you have naturally. This style makes great use of color, layers, and wavy styling to create fullness.
13) Barely there ombre with face framing layers
This unique hair color is barely there, but it makes a statement. There are about 4 to 6 inches of ombre tips just a few shades lighter than her natural hair color. Blunt cut ends and choppy layers add to the look. It's a creative way to use the trend without looking "trendy."
14) A cute honey blonde ombre hairstyle
Ombre and balayage are just so great for short hair. Short hair is already more to manage with frequent trims and noticeable growth. Make your life easier with these techniques for hair highlights that compliment your natural growth. The light pieces right around the face also give the cut added shape with color.
15) A modern ombre bomb with lots of layers
The shades of blonde in this cute hairstyle come together just so to make a simple, subtle style that adds shape to the cut, too. If you like more natural color, this is a great template to follow. The middle and highlights are in the same family as the base color so it looks like the hair just happens to be light at the ends. Roots? What roots?
16) Beachy ombre color on a fiercely cut bob
You can never go wrong with unique hair color and a fierce cut. This style has both. A bob with blunt ends and perfect long bangs. Brunette-to-blonde ombre with a shape that frames the eyes and makes the face stand out in the most beautiful way. This is ombre hair color perfection!
17) A Super warm and sunny ombre bob
This style makes use of balayage to sprinkle in buttery blonde into the dark brunette. Face-framing pieces blend into ombre blonde through the middle and back of the style. The balayage technique is just perfect for this "messy on purpose" style because it feels less precise and more organic.
18) Silky straight bob with extra grown out roots
This style is a little bit dramatic, so get ready! Dark, natural roots are out to shoulder length where bright honey blonde ombre begins. The transition is pretty short, creating a more noticeable break from dark to light. This is pretty worn down, and it's also a fun way to shake up your up-dos since you get such contrast of the colors next to one another.
19) A Glamorous take on golden blonde ombre hair
Hollywood glamour meets up with 2018 chic in this long bombshell 'do. Isn't that color just delicious?! Starting very high in the cut relative to the long length, a warm blonde color with reddish undertones sets off the glamorous, silky waves. Treat yourself to this tempting color.
20) Textured strawberry blonde ombre "lob"
You would be hard-pressed to find another ombre hairstyle out there that is more on-trend than this. A simple lob, parted down the middle, cut with blunt ends, and colored with honey blonde ombre with face-framing highlights. No doubt about it, this is effortless style at its best.
21) Beachy balayage hairstyle with tons of dimension
This is such a fun departure from classic bouffant curls that is still a little reminiscent but totally made over for today's style. The side-swept part is simple and feminine. The hair is curled from nape to ends, but then finger-combed to give it a loose, undone quality. Platinum ombre tops it all off by adding the best hair color style while still looking completely natural.
22) Deep brown with ginger blonde streaks
This is another cute hairstyle that uses subtle ombre to perk up the base hair color. The cut is simple enough – a pretty lob with some short layers at the ends and around the face. The ginger color gradually changes to deep brown as it goes from the ends up to the roots. This is a great ombre hairstyle because it's easy to do but it looks totally chic!
23) Dark brown base with white blonde pieces
It's the ombre hair version of dirty blonde. Start with dark ash blonde roots. Then add hand-painted platinum blonde highlights that get more concentrated toward the ends, creating an ombre effect that is gorgeous and totally liberating. With cute hair color like this, "your roots are showing" turns into a compliment!
24) A Flirty beach wave ombre hairstyle
Talk about simple, this cute hair color could not be easier to wear or maintain. The cut is pretty but also basic so you don't have to go through a whole lot of styling to make it look nice. The color is total "beach blonde" at its best – dark honey roots with bright sunny ends. Nothing like a great easy hairstyle!