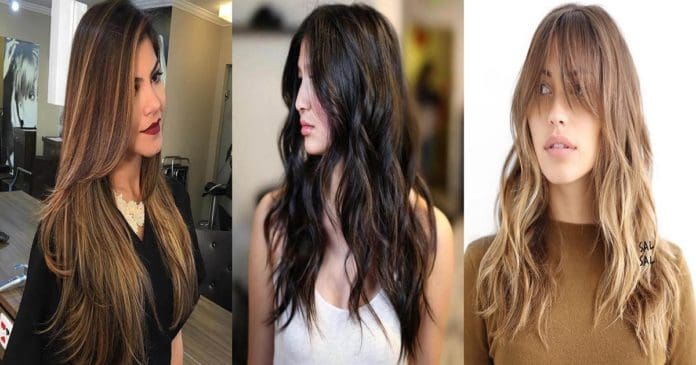 In any long haircut for women, short vs. long layers don't refer to the length of the hair, but rather to the height of the layers. Having "short layers" means that the distance between the shortest layer and the longest ends isn't very much (maybe 1-2 inches). Long layers, on the other hand, are more dramatic, with several inches between the shortest layers and the longest ends of the hair. Generally speaking, the thicker your hair the "longer" the layers that you can get away with. Fine-haired gals should stick to shorter layers. Let's get inspired and find your long hairstyle idea for 2022!
1) Very Long Cut with All Over Layers
This is a beautiful, natural look that uses long layers for the face-framing pieces and gently transitions to shorter layers as it goes around to the back. The overall length of this cut will be rather heavy, so the layers give it nice movement and also bring out the hair highlights.
2) Lots of Face Framing Layers
This cut is gorgeous for ladies with thick, wavy hair. The dramatic face-framing layers go back further than normal, giving a dramatic, romantic look that goes perfectly with waves or curls. If you have fine hair you shouldn't cut the layers around the face so far back because they'll start to look thin.
3) Blunt Bangs with Short Layers
This is a super cool haircut. The blunt bangs are very modern and highlight the face. The contrast between the short bangs and the long cut is so feminine and pretty, it's a cute hairstyle that also manages to be sexy. On this cut, the ombre tips are set off with short all over layers with a total "I woke up like this" vibe.
4) Beautiful and Wild Hairstyle for Long Hair
When you've got a gorgeous fiery red color like this your cut had better do it justice! The long layers here are cut throughout the hair, lightening up the thick texture and adding dimension to the color. If your hair is this thick then layers are really a must to prevent your blunt ends stacking on each other creating the dreaded "triangle head."
5) Low-Maintenance Easy Hairstyle for Long Hair
If you want a cut that can go from bun to boardroom in a snap this is the one. The shortest layers start at around shoulder length, about 5-6 inches above the longest ones. This allows for a quick up-do without any stray pieces and falls nicely when worn down.
6) Layered Cute Hairstyles for Girls
This is a nice hairstyle for girls and teens who don't spend a whole lot of time on their 'do. More layers toward the front of the cut frame the face, while short layers in the back let the hair fall naturally into a pretty shape. Who doesn't love a good low-maintenance beauty hack?
7) Boho Chic Layered Ombre Waves
If you're a born fashionista then this is one of those trendy haircuts that is just perfect for you. The cascading face-framing layers sweep back just so, and they break up the ombre color which looks like the sun kissed the hair as it grew.
8) Easy Everyday Shoulder Length Shag
Long hair is a lot of work! If you like the convenience of shorter hair with the look of long hair this haircut idea is a win-win. The longest layers hit just past the shoulders with all over shorter layers, including a dramatic side-swept bang. This cut has a ton of organic movement and is easy to style.
9) Modern Hairstyle for Long Blonde Hair
This style combines dramatic length, all over layered hair, and precision highlights to create a perfect shade of blonde and the perfect layers to show it off. The layers are all long enough that you could put them up in a ponytail, but why would you if you had locks like these!
10) Simple Face Framing Layered Hair
This is a classic layered cut that can work on thicker or thinner hair textures. If you looked up "face framing layers" in the dictionary this might just be what you find. A cute easy hairstyle with simple, single length in the back and even layers in the front going from chin-length down to the rest of the cut. Lovely!
11) Highlights and Big Sweeping Layers
This hair is fit for a princess. If you have a lot of hair but the strands are fine and silky then this cut would work perfectly. The highlights around the face really punch up the color, and long, allover layers make the style bouncy and feminine.
12) Dramatic Brunette All Over Layers
When your hair is all one color (i.e. no highlights, ombre, etc), strategically placed layers can provide an amazing amount of dimension. Long, dramatic layers from front to back give contrast throughout the cut that shows movement. This goes to show that you don't have to follow trends to have a great style, the right classic cut and your natural color are all you need!
13) Modern Feathered Ombre Long Layers
Probably the most "2022" of the trendy haircuts here, this is full of trends that come together nicely into a single style. You've got ombre color. You've got dramatic face-framing layers. You've got a nod to 70's feathering with a thoroughly modern twist. Fashionistas will love this look.
14) Long Layered Hair in Bouncy Curls
Ultra long hair gets infused with life and movement with these dramatic layers. These layers are long. Very long. You've got the shortest ones at chin length and the longest down to the waist. If you don't have thick hair skip to the next. For those with the length and texture to pull this off, the curly hairstyle really highlights the layers and the shape of the cut.
15) Modern Choppy Haircut with Layers
These crude layers perfectly offset the beach blonde color and style. This is a pretty modern hairstyle that is trendy without being harsh. There are about 5-6 inches of layering all around this hairstyle for thick hair, and the choppy pieces are ideal for the wavy styling.
16) Sexy Modern Shag for 2022
The shag haircut had its moment in the sun many decades ago, but this modern version is worth a throwback. The face-framing layers start with long bangs parted down the middle, and the longer choppy layers with loose waves keep the cut fresh and modern. Also, look at the before picture in comparison. They didn't add too much color, they transformed her hair just by adding layers!
17) Long Side-Swept Bang and Layers
If you have thick, long hair doing layers like this from a long bang and around the crown can lighten up the bulk. This style employs a beautiful side-swept chin length bang that blends into long layers up around the crown and nape. It works so well with the texture of the hair, making styling effortless.
18) Fringy Bangs and Long Wavy Layers
The long, choppy layers on this wavy style would be pretty all on their own, but the fringy bangs make the cut really unique. Bangs can give you a lot of versatility with long hair, especially when they're on the longer side. Just imagine how this cut could look totally different with the bangs swept to the side or pinned back.
19) Flow Cascading Ultra Long Layers
If you've managed to grow healthy, beautiful hair this long then you deserve a gorgeous cut like this! Super long hair without layers can look flat or even stringy. Adding a slight circle shape to the bottom and cutting in about 8 inches of layers all around make this style absolutely stunning.
20) Picture Perfect Layered Brunette Curls
This is a modern take on the traditional coifed curls. They're perfectly undone and the short layered hair from front to back gives the curls natural movement and style. This is a simple, classic cut but with the right styling, it is super glam. Because the layers are short it could work for both thick and fine hair.
21) Simply Gorgeous Long Layered Haircut
This look is simple and elegant. Long face-framing pieces are blended into long layers in the back. A blowout is the best way to rock this type of cut. With a cut like this, once you get your styling routine down its easy peasy and always beautiful.
22) Long Feathered Blonde Layers
This style has a LOT of long, feathered layers from shoulder length down to the ends. This is one of that super girly princess looks that isn't for everyone, but if you like this look and have the round brush to do it, then go ahead! These layers could also be curled down for a totally different appearance.
23) A-Symmetrical Choppy Haircut
This cut takes layers in the opposite direction. Traditional face-framing layers are inverted, with the longest pieces in front and the shortest in back. Blunt cuts on the short layers give the cut a nice choppy texture and loose curls finish the look nicely. This is a cool haircut for anyone who wants to update a long hairstyle.
24) Long Luxurious Diva Layers
Some caramel hair highlights and wispy layers from the face to the shoulders are always in style. This is a beautiful hairstyle if you have very long and medium to thick hair. The highlights will fatten up the strands and give the cut more dimension. Unfortunately, if your hair is very fine a cut like this can appear stringy with so many layers.