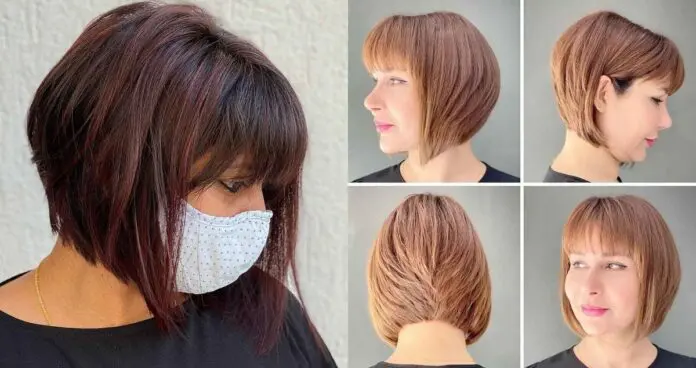 The most beautiful innovation that can be good for women, no doubt a new haircut! Especially the new short hairstyles are very preferred by the ladies that don't want to waste their time. Wash and go hairstyles are one of the biggest choices of recent times. A short layered bob with bangs has pieces stacked around the head for added texture and volume. It's customizable to accentuate facial features and suits women of any age. Independent stylist Alaina Walker from Denton, TX shares her golden rule on this gem. "Take your natural hair texture into consideration," she states. Women's tresses are nonidentical. What seems perfect on others may not flatter you. Thus, your hair texture, type, and density must be taken into account when chopping your lengthy tresses short.
Remember that communication between you and your stylist is significant. A proper consultation would determine if a bob cut suits your facial features and your hair type. Walker notes, "This short layered hairstyle could work for any lady. Yet, it's essential to have realistic expectations of how your hair will appear with this look." If you're blessed with thick and wavy locks, this short-length cut isn't the best choice. "If the layers get too short, it couldn't style correctly. The hair may seem a bit bigger rather than accenting the right features," she warns. Styling a short bob is a commitment. Ask yourself how much work you're willing to put in to recreate a style you're trying to achieve. Let your stylist know your desired look, so finding the best styling routine for you would be easier. Time for a stunning hair transformation. Scan through these images of short layered bobs with bangs for inspiration!
Layered Stacked Bob with Bangs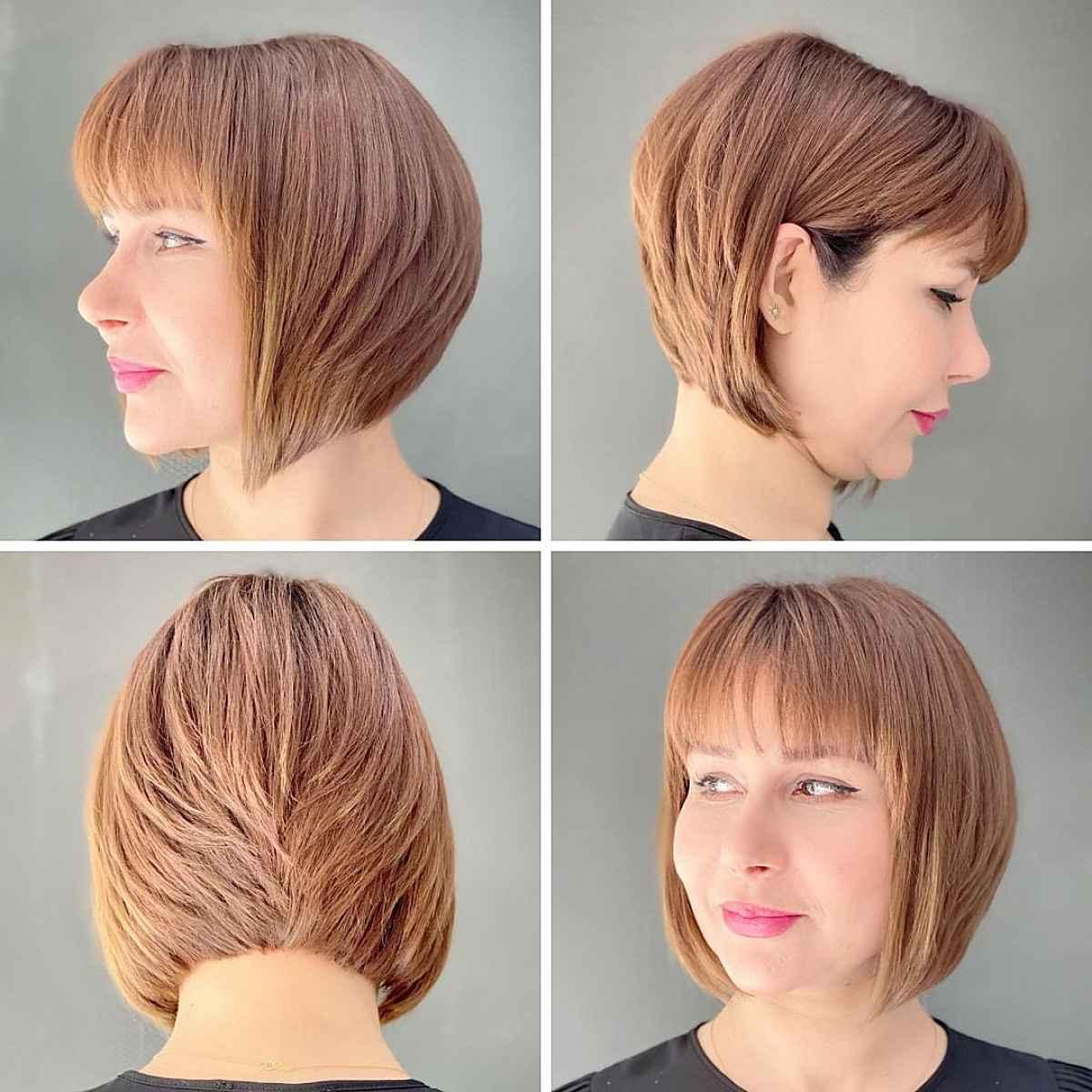 A layered stacked bob with bangs is versatile for most hair textures and densities thick to fine, curly to straight. Short layered bobs with fringe allow for a range of styles like curled, blown out, or smoothed, while long layered bobs give a classic and chic style. Save this image to show your stylist the front and back view of this cut.
Edgy Bob Cut with Layers for Women Over 60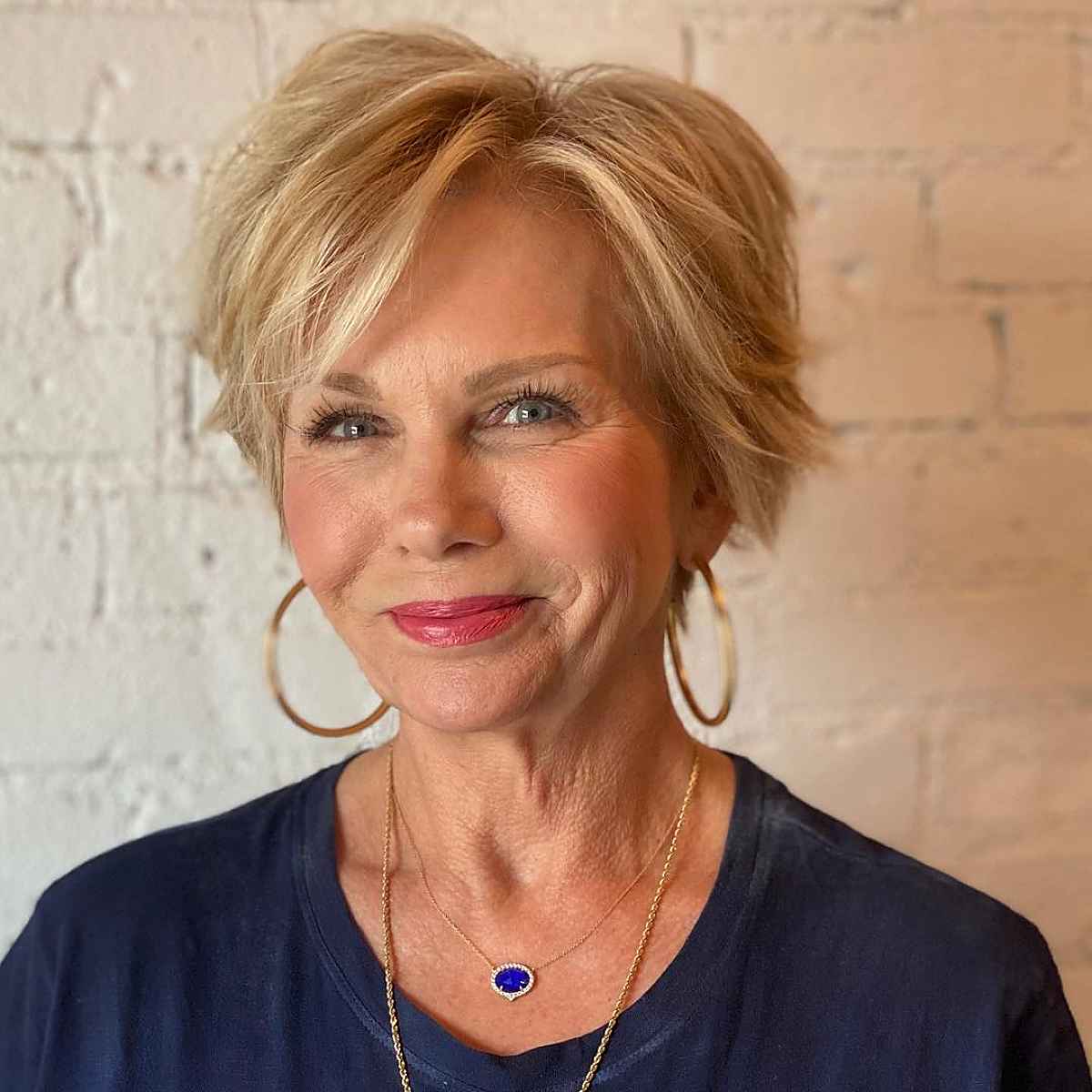 Consider an edgy bob cut with layers for women over 60. Short, layered bobs with bangs breathe life into aging hair by adding volume and lifting the face. This style can work at different lengths, so consult with your stylist about the right fit for you. Style with a round brush and a volumizing spray or mousse, and finish with a medium hold hair spray.
Inverted Short Bob with Fringe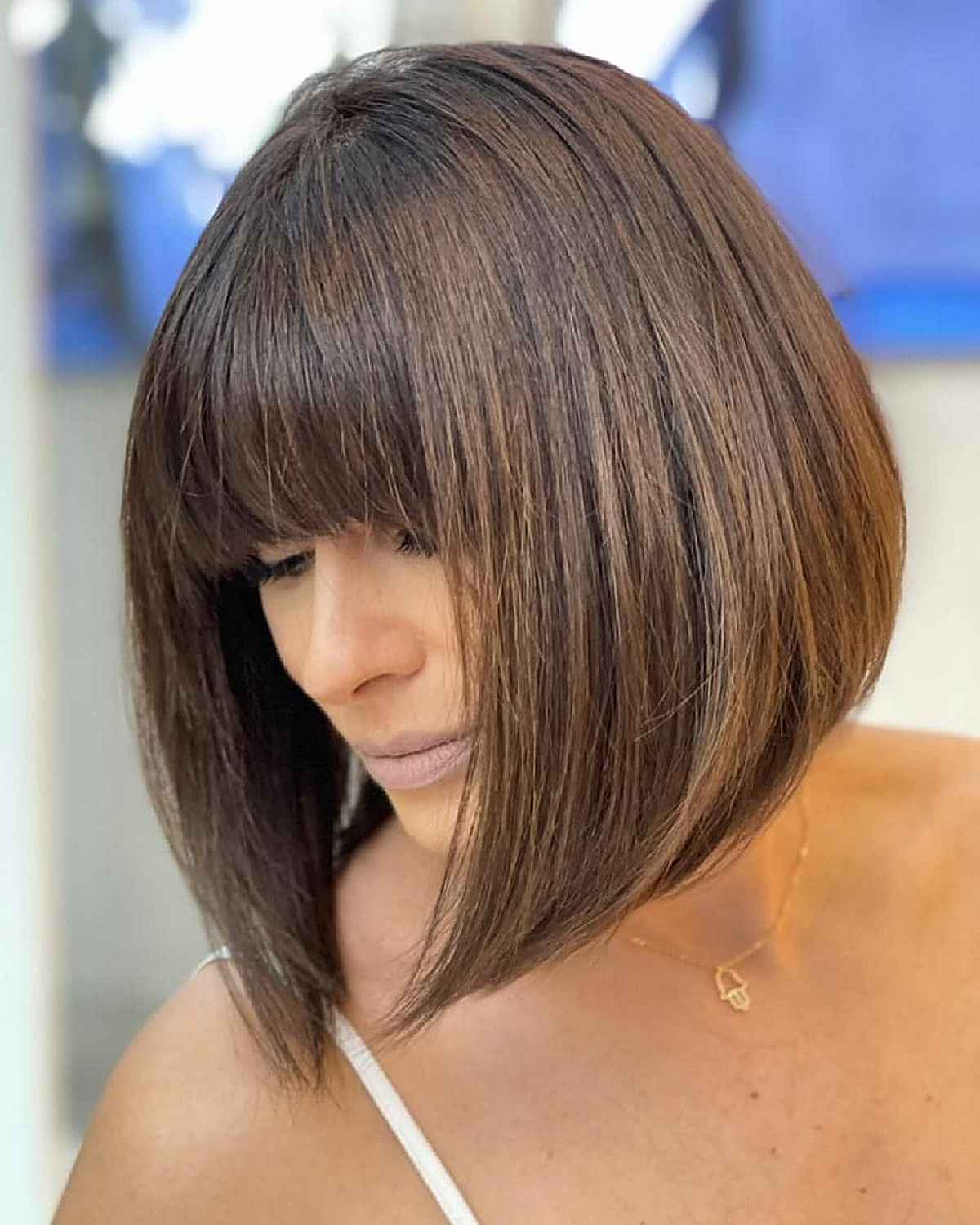 For an edgy update on the classic bob shape, try an inverted short bob with a fringe. Short, layered hairstyles are low-maintenance but require more frequent trips to your stylist to maintain their shape. Style this cut with a big round brush or a flat iron for an easy, polished finish.
Choppy Bob with Fringe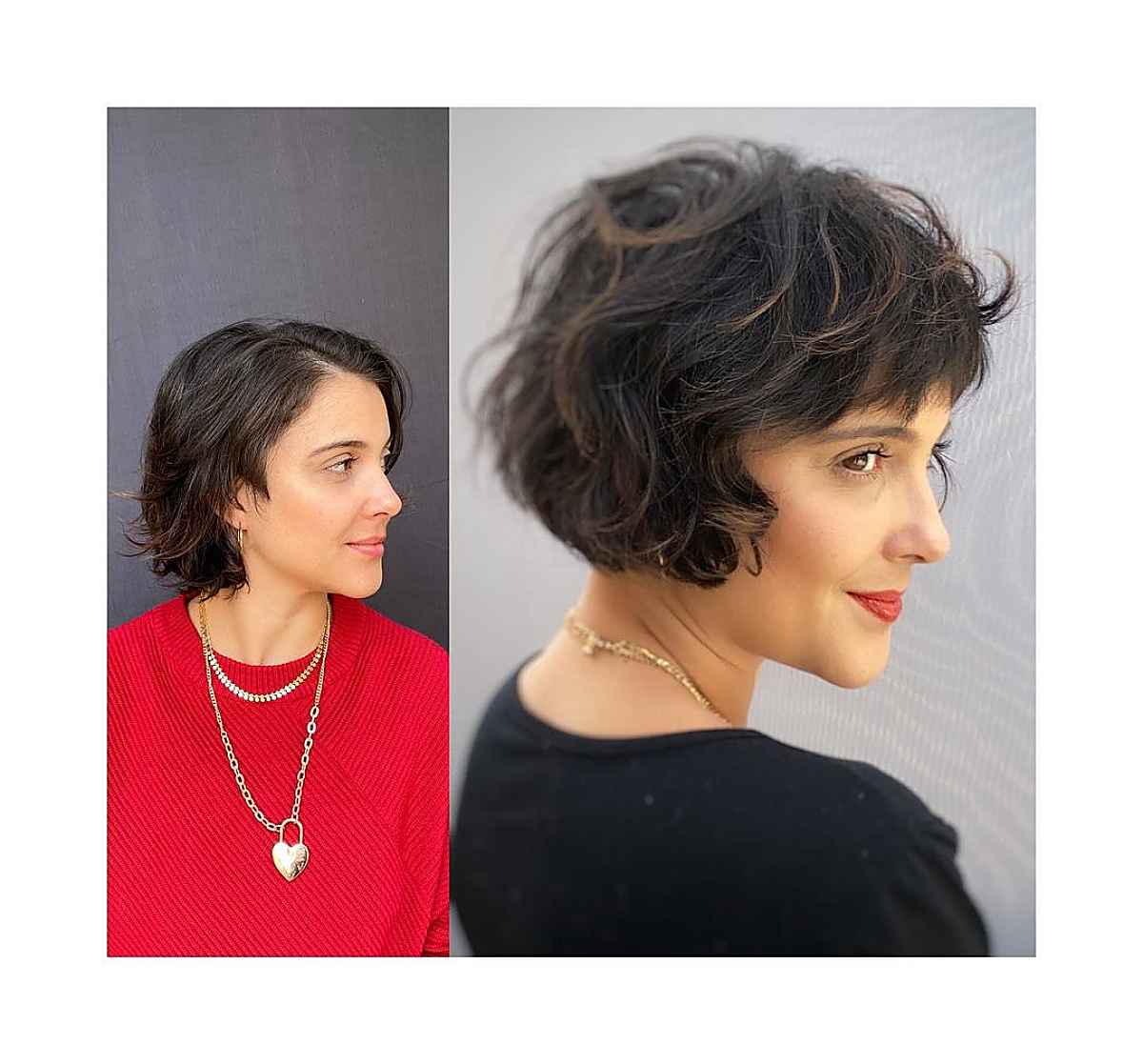 Look like you are on the streets of Paris when wearing a choppy bob with a fringe. This cheekbone-length bob with fringe and layers is perfect for a variety of hair textures and face shapes. Ask your stylist for a razor cut if your hair is thick to add lightness and movement to your new hairdo. Air-dry or diffuse with a texturizing cream, and you're good to go!
Layered Long Bob with Bangs for Women Over 40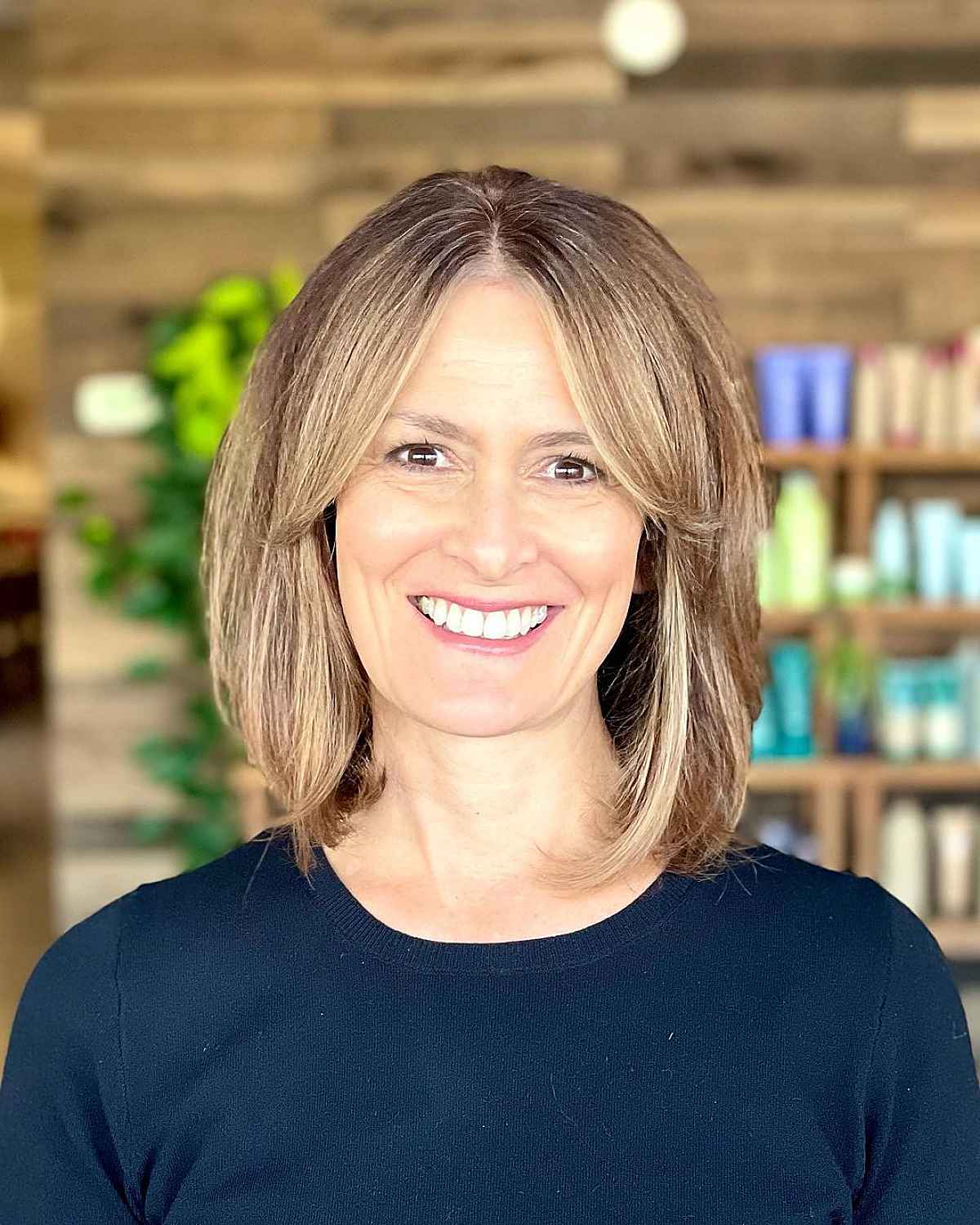 Try a layered, long bob with bangs for women over 40. This layered, short haircut can be kept a little longer than the classic bob, allowing for more versatility in styling. A cheekbone-grazing fringe accentuates the eyes and keeps the look youthful and effortless. Blow-dry smooth or create texture with a curling wand or flat iron.
Blunt Bob with Blunt Bangs and Layers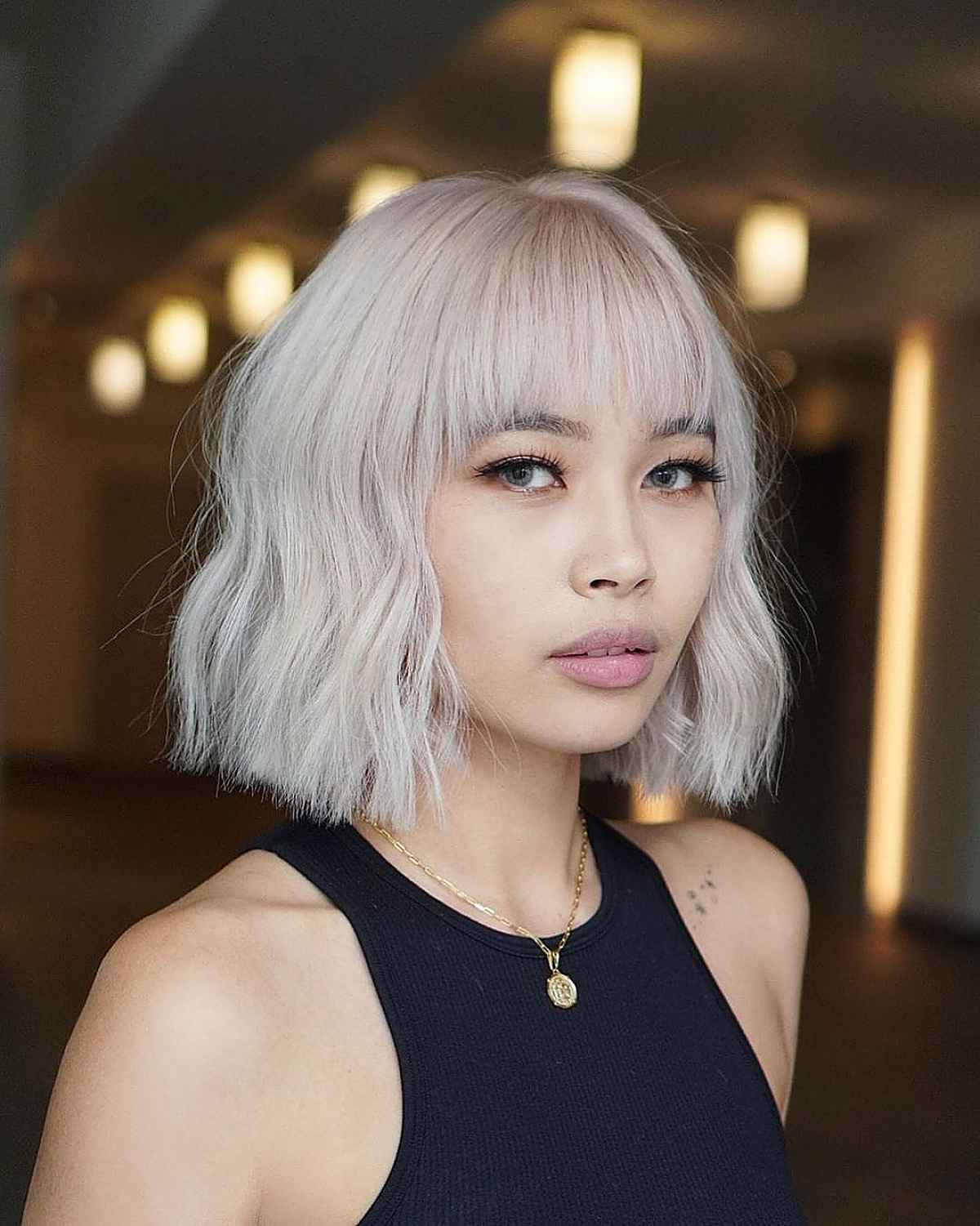 If you are considering something new, try a blunt bob with blunt bangs and layers. This short layered haircut is a good choice for a variety of face shapes and hair textures. With fringe and short-length cuts, more salon maintenance is required. Trimmings are needed every 6-8 weeks.
Ear-Length Layered Bob with an Undercut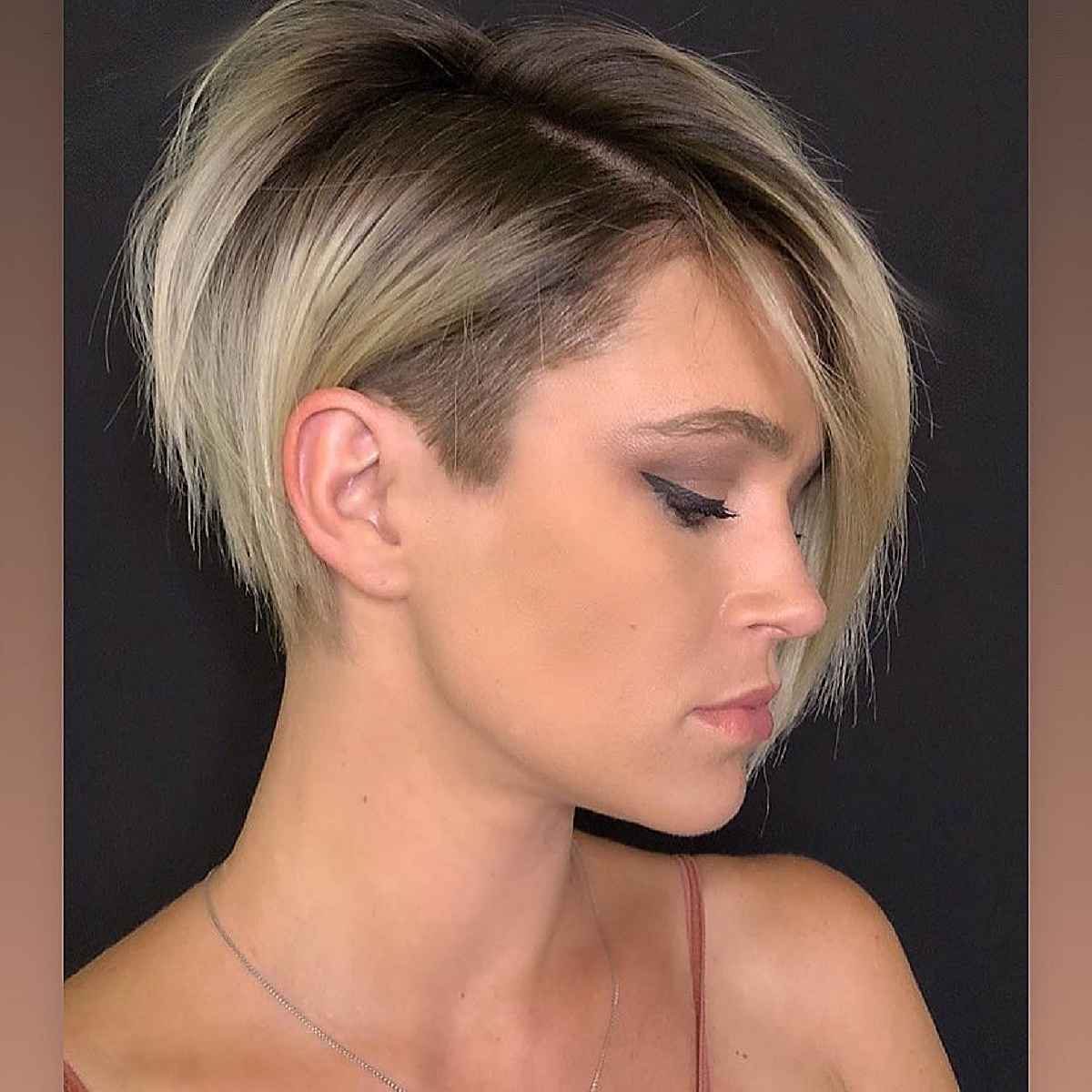 For a bolder look, try an ear-length bob with an undercut. It's suitable for women with thick hair. It's perfect for women that want to wear a shorter style but need to remove bulk. The undercut can be as extreme as you are willing to go. Pair a single-sided undercut with a deep side part for a sexy, asymmetrical style.
Jaw-Length Feathered Bob with Bangs for Older Women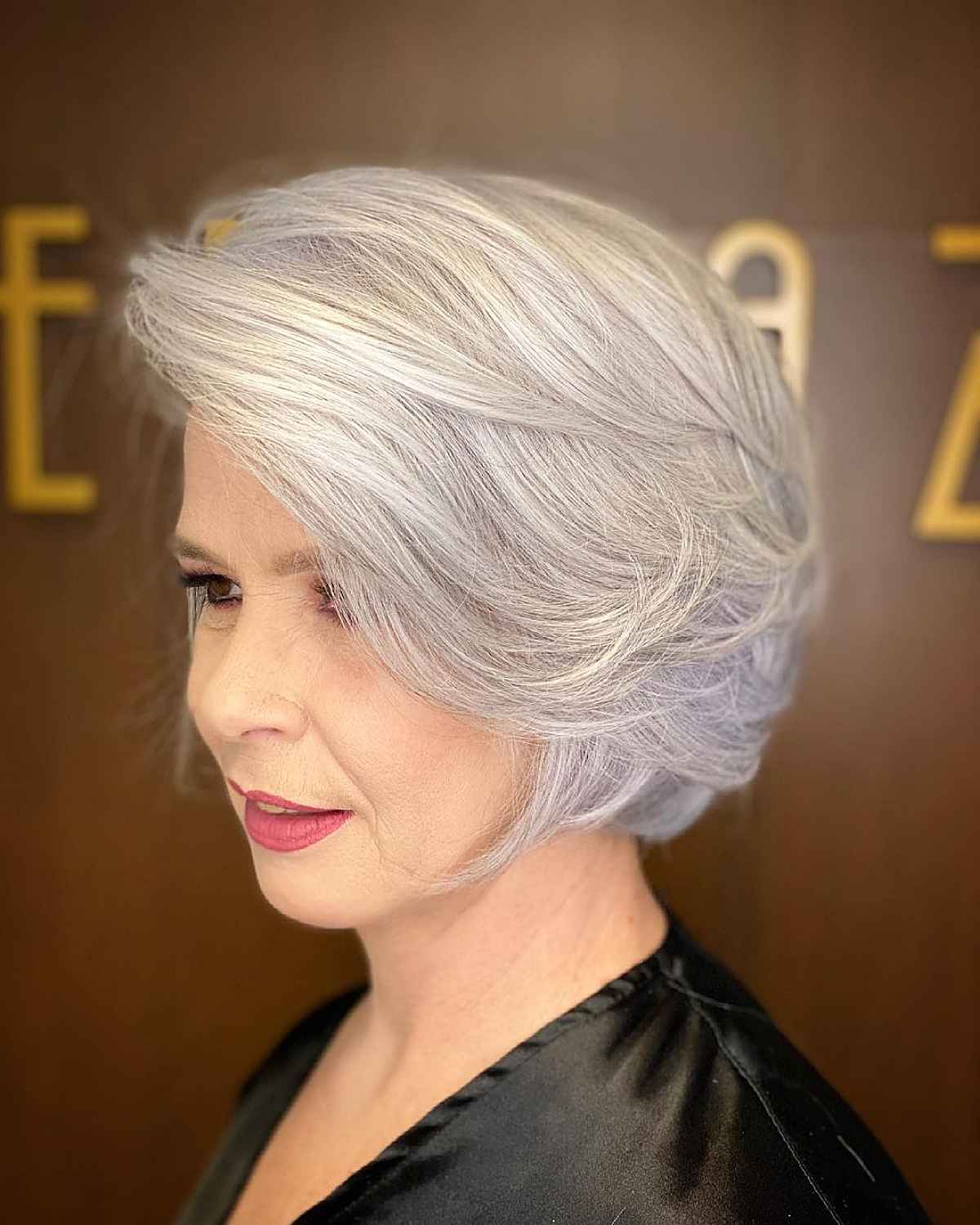 A jaw-length feathered bob with bangs for older women is a chic choice. Layered short haircuts add volume and lift facial features. They are perfect for mature women whose grey hair is beginning to fall flat. Blow-dry with a round brush and a root lifting spray, or use hot rollers on the top for extra volume.
Choppy Bob with Bangs Hairstyle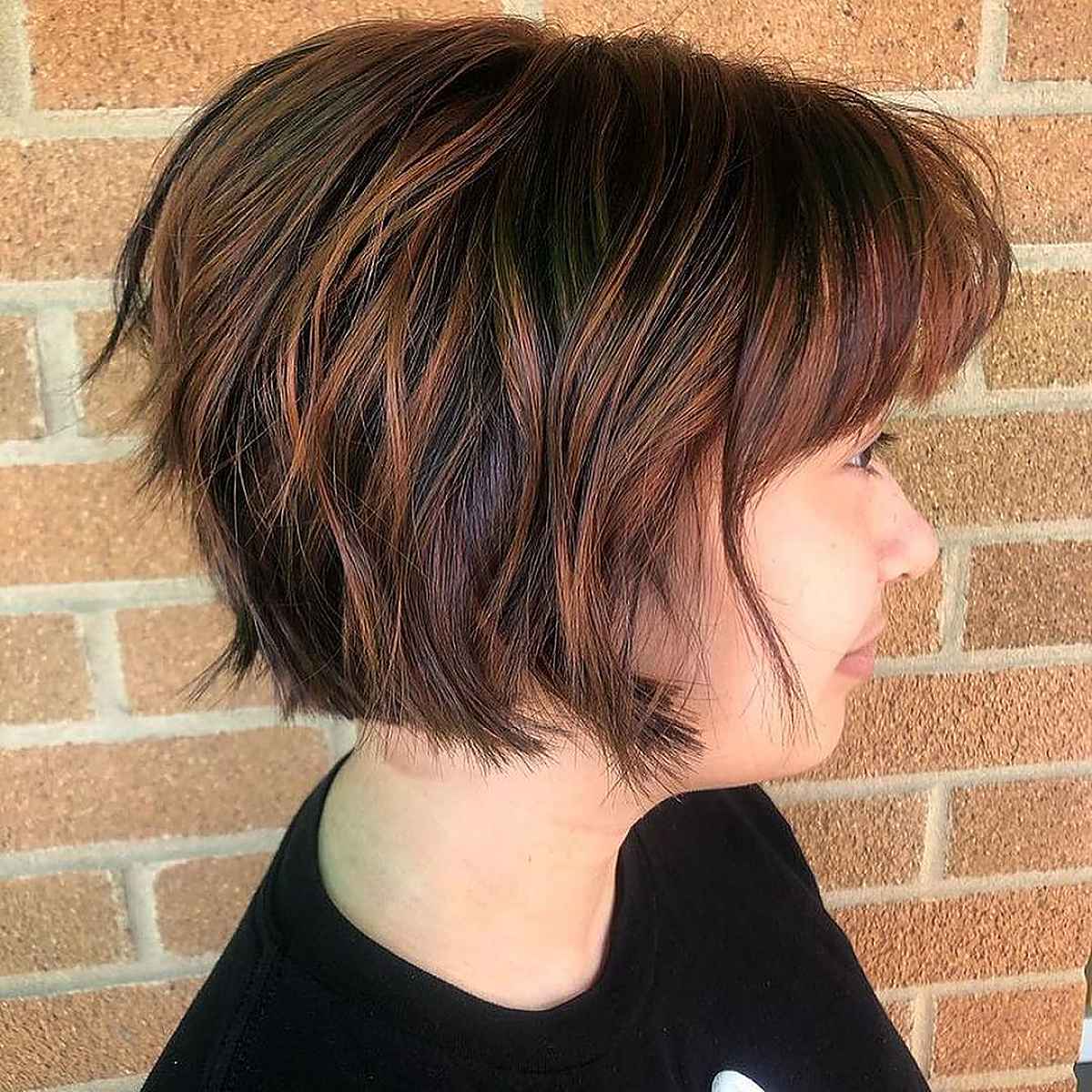 A choppy bob with bangs hairstyle is the quintessential easy-breezy style. A short, layered bob with bangs cut is perfect for the girl on the go. Air-dry and then heat style the top layer with a big barrel curling iron or a flat iron. Add in a little texturizing spray, and you're good to go!
Angled Short Bob with Fringe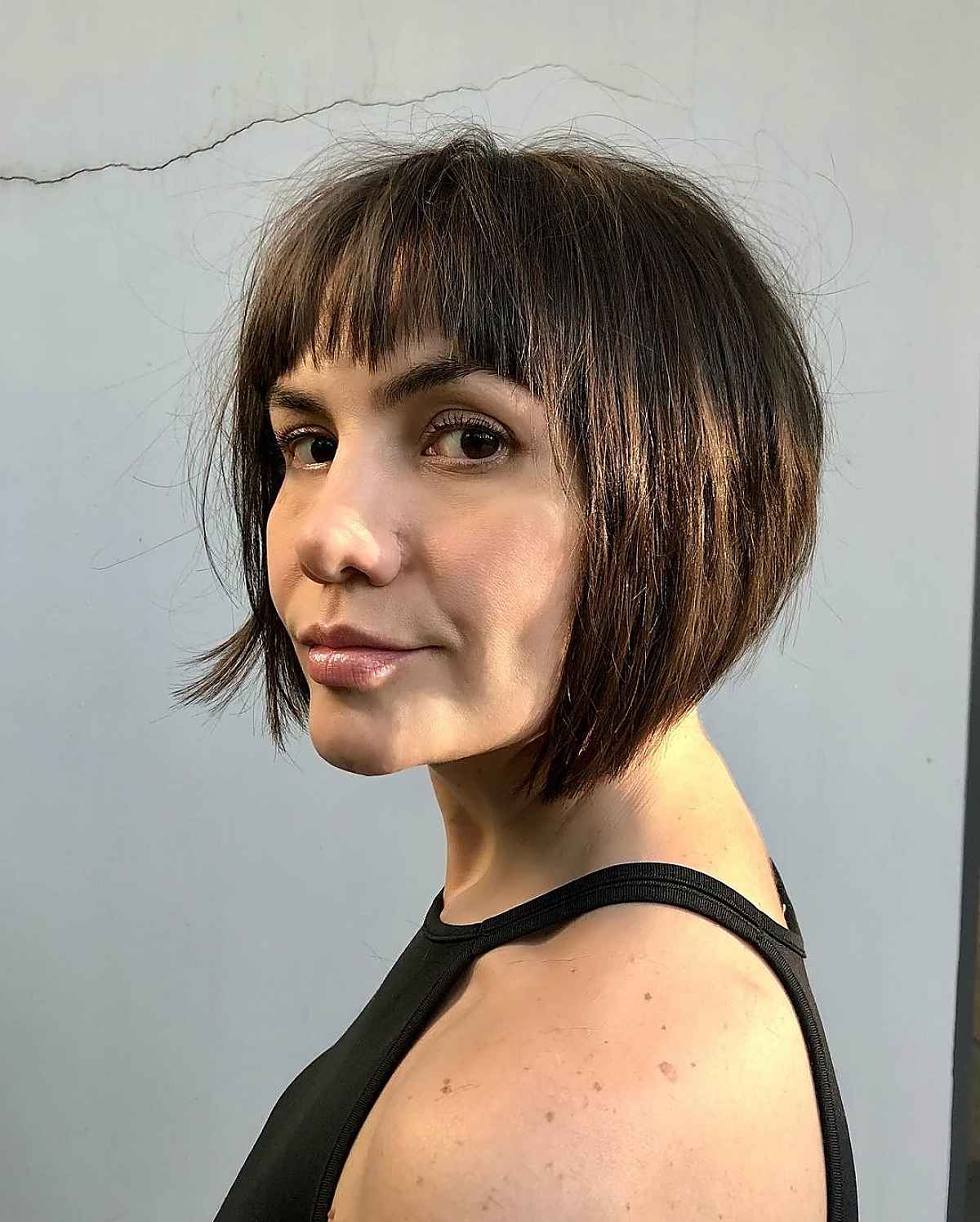 Have you considered an angled short bob with fringe? Short, layered angled bob with bang cuts are always on trend and are customizable to a woman's hair texture and facial features. The angle can be extreme or subtle, the graduation can be substantial or minimal, and the wispy bangs can be of any length. Talk with your stylist about the best combination for you.
Classic Graduated Bob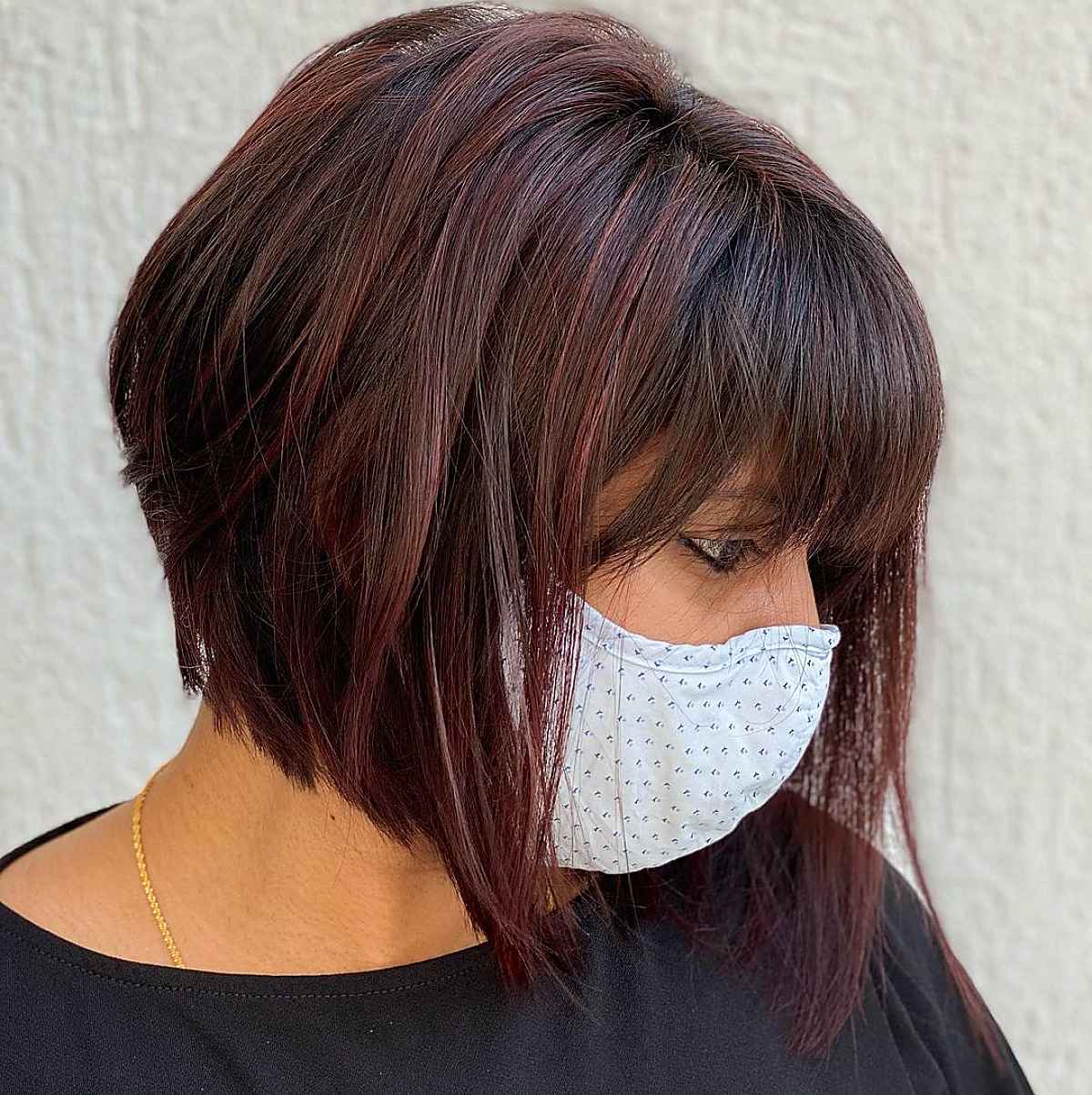 A classic graduated bob works on everyone. The shape is timeless and versatile. Short, layered haircuts are ideal for women with dense hair but can be worn by women with fine hair as well. Consult with your stylist for a customized version that works for your texture. Style with a texturizing cream for a lived-in finish.
Textured Lob with Bangs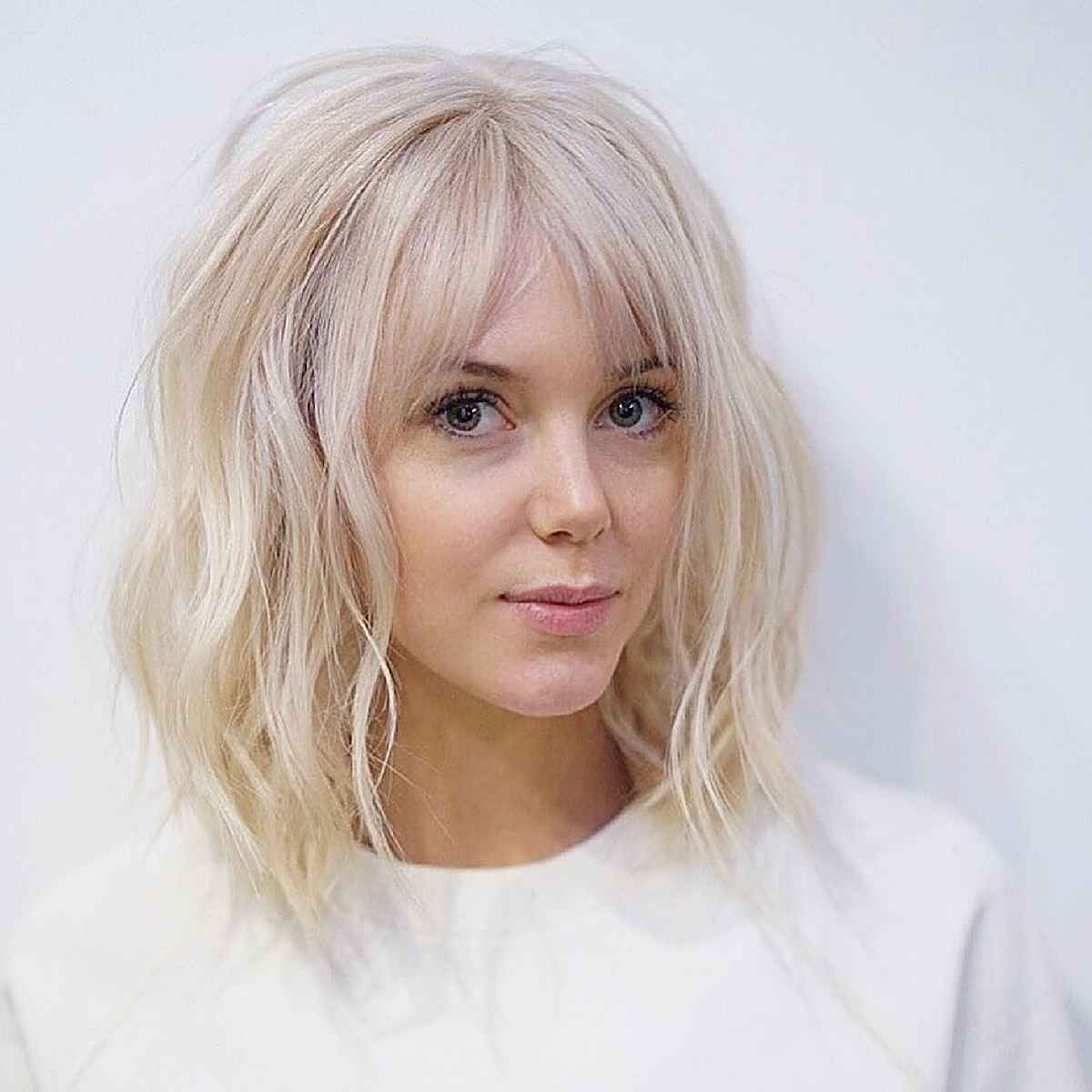 Consider a textured lob with bangs for a fresh twist on the classic short bobs. Keeping the style a little longer, and adding minimal layering, makes this look modern and keeps it versatile. Ask your stylist to angle the perimeter in a slight A-line to give it an edge.