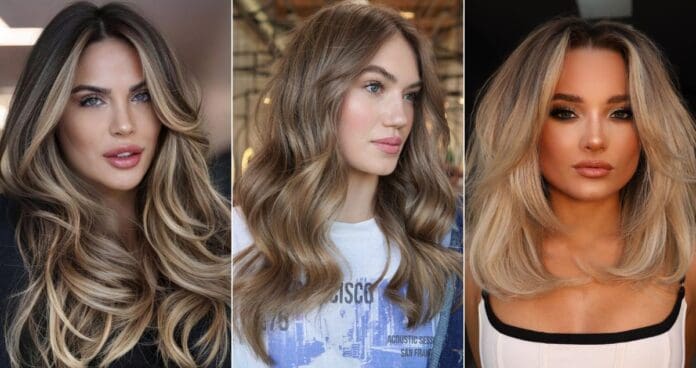 All women sometimes feel the need to change their appearance, and most often, the choice falls on changing hair color. It is the simplest way to experiment with style. You can often meet natural brunettes who want to make their hair lighter. Or maybe you are one of them? There are numerous blonde hair color ideas, and every lady will find something suitable. Dark blonde shades are the option that suits all ladies with any facial features. The most important point is to pick the suitable color according to their skin tone. While ones need warmer shades, others look better with hair in cool tones. Get some cute hair color ideas on this page and select those you like most to show your hairdresser at the next appointment!
Dark Blonde Hair Color Chart
If you want to make some changes in your appearance, you shouldn't obligatorily whiten your hair and become a bright blonde. Add some toning to the naturally dark hair, and you will notice that your overall look has become fresher and more enjoyable. So, what are the most popular dark blonde hair colors? The trendiest dark blonde hair shades now include chestnut, caramel, dirty blonde, chocolate, dark honey, etc. If you haven't decided on the desired color yet, your hairdresser will recommend something according to your skin tone. It's better to choose warm tones for women with tanned skin, while cool shades are the best solution for ladies with pale skin.
1. Dirty Blonde Hair Color
If you think that bright blonde is not the best option, you should consider dark blonde hair. Such a hairstyle is a noble and elegant solution for those who would like to attract tons of attention. In this case, you can select among numerous shades of blonde hair color and pick the option you like most. One of the most important advantages of this hair shade is that it suits all skin tones. Search for inspiration in the Hollywood stars' images. For instance, Jennifer Aniston and Siena Miller do not change this hairstyle for many years and look stunning! This color helps a woman look younger and adds freshness and femininity to her image. And the length of the hair doesn't matter.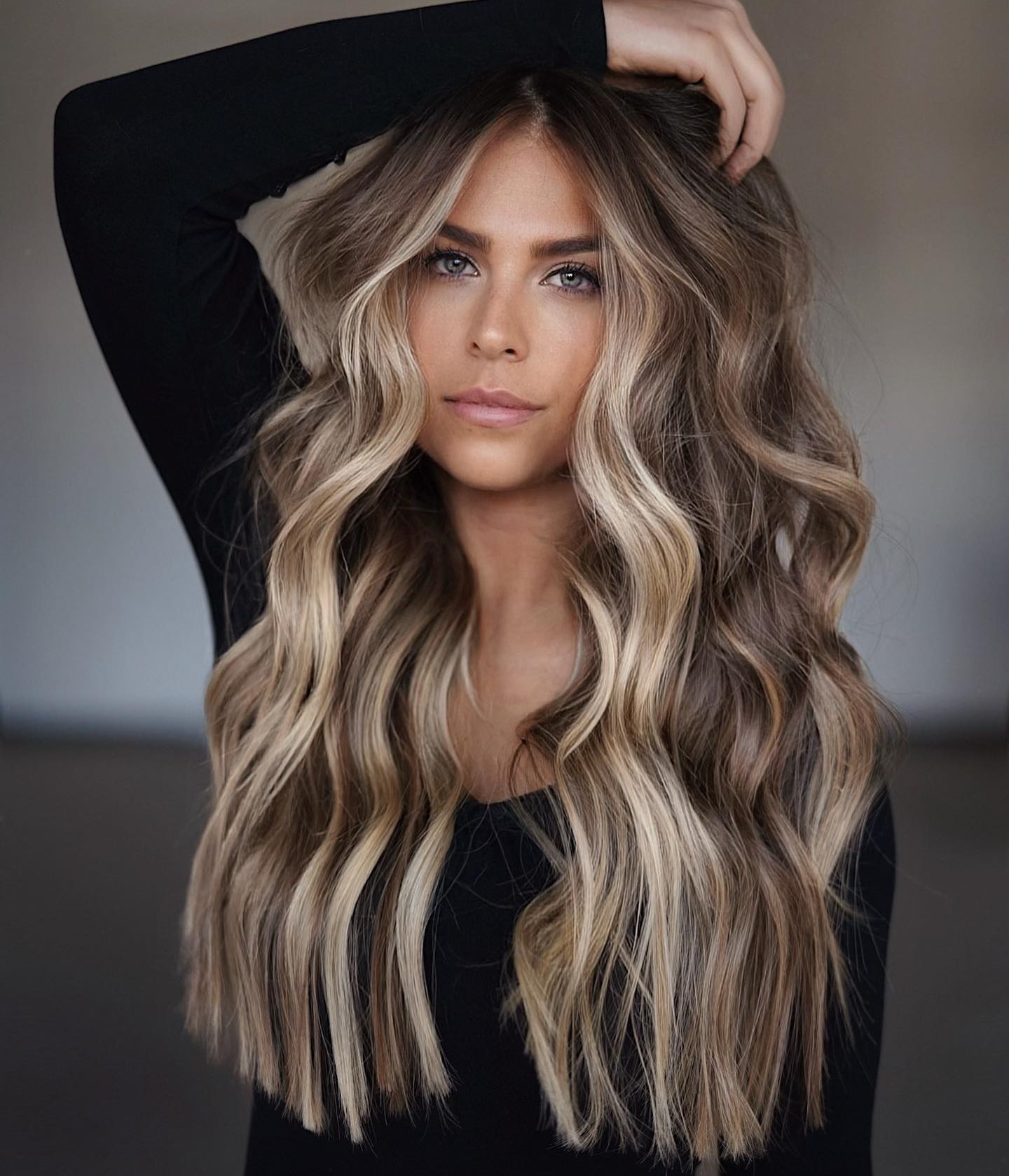 2. Dirty Blonde Hair with Highlights
If the usual dark color looks too simple and boring for you, try adding blonde highlights. They will add freshness to your image and help you get a new hairstyle without any difficult dying techniques. It implies no significant changes to the hair texture, leaving the natural hair color. It's worth noting that natural dirty blonde hair suits all women, with no exceptions. You can regulate the dying shade yourself. Show your hairdresser the picture of the hair color you like, and they will recommend you a suitable tone. Darker hair is the main color, while light blonde provides a bright highlight to your coiffure.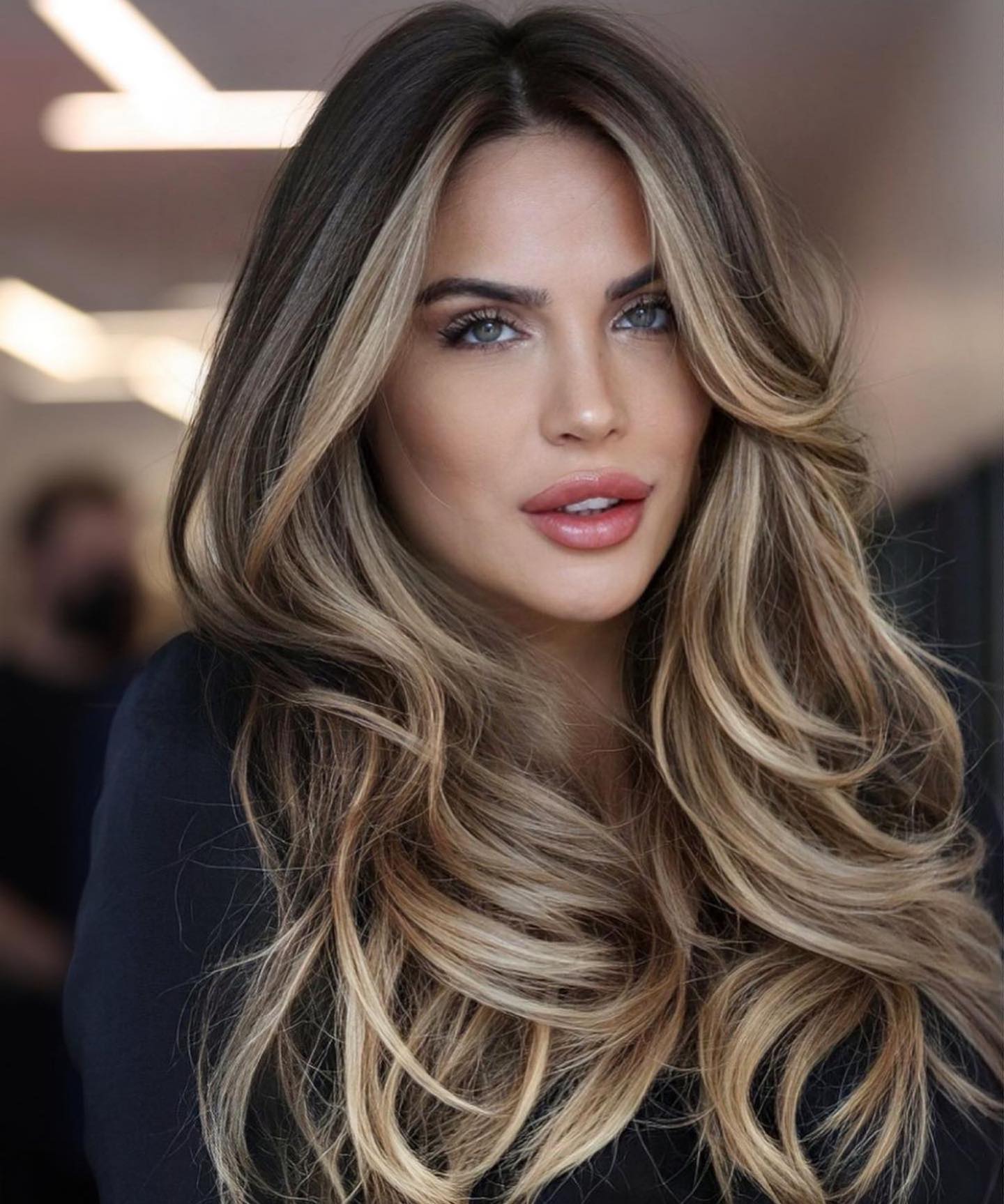 3. Dark Ash Blonde Hair Color
Ash blonde hair is at the peak of all trends nowadays! This universal style, chosen by Gigi Hadid, Cara Delevingne, and Taylor Swift, is suitable for ladies of all ages. It usually implies a dark blonde hair color with light strands, creating additional volume for your hair. Ladies can regulate the dying shades according to their skin tones. It's worth noting that modern beauty salons offer a broad palette, allowing you to pick the most suitable option. However, if you have very dark hair, the coloring may require several visits to your hairdresser not to harm the hair texture. On the other hand, making ash blonde highlights doesn't require much time and will provide a bright accent to your overall look.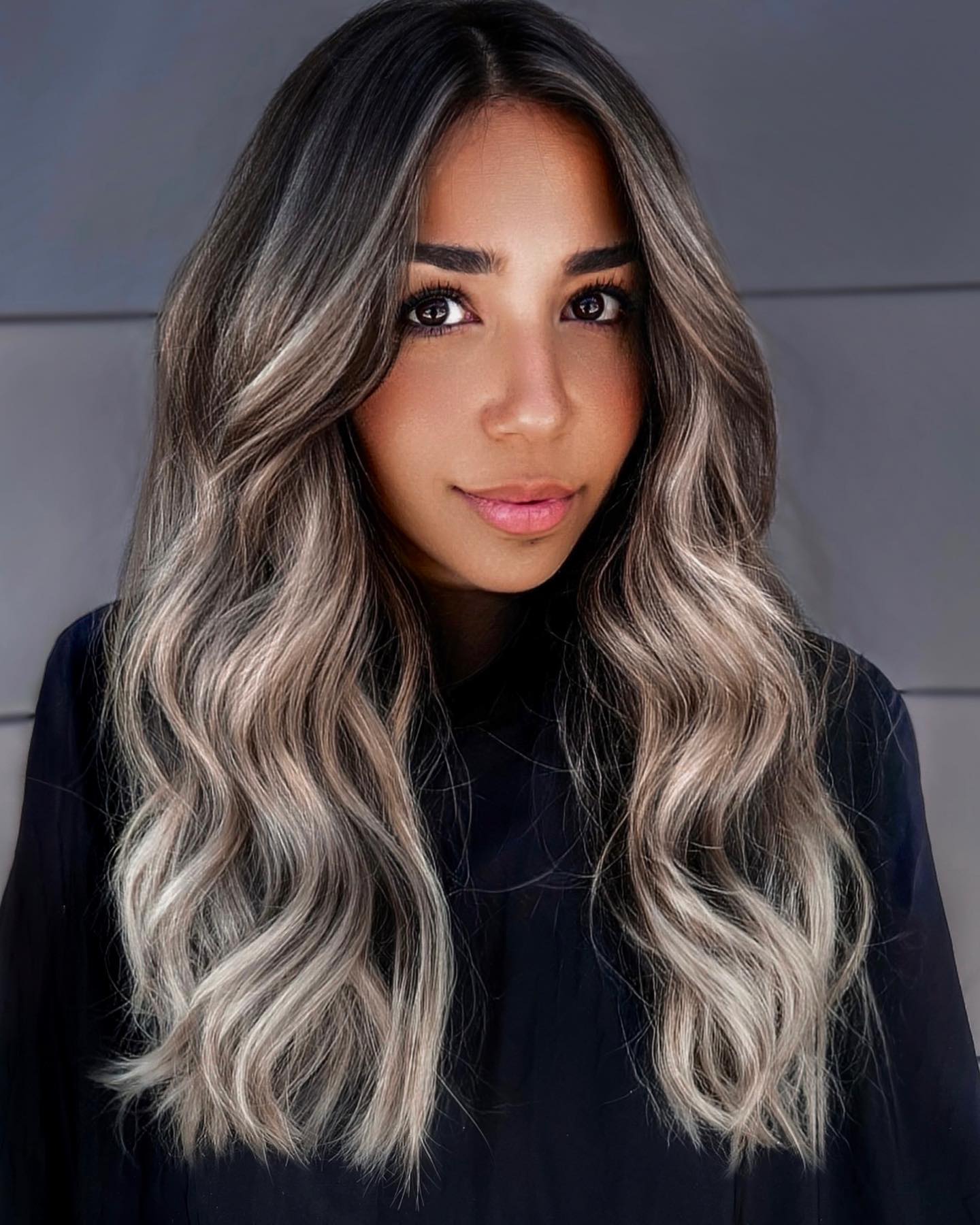 4. Dark Hair with Blonde Highlights
Nobody likes visiting the hairdresser too often to proceed with dark roots coloring every several weeks. In such an instance, dying the whole length is not the best idea. However, those desiring to change their appearance can consider leaving their natural hair color and making lighter strands. A natural brunette with blonde highlights has been one of the most popular hairstyles for several decades. And even now, it doesn't lose its relevance. But keep in mind that contrasting colors are not the most stylish options nowadays. Choose matching shades with a smooth transition, making your hairstyle more elegant. It doesn't matter whether you have light brown or dark brown hair since every woman can pick a suitable coloring.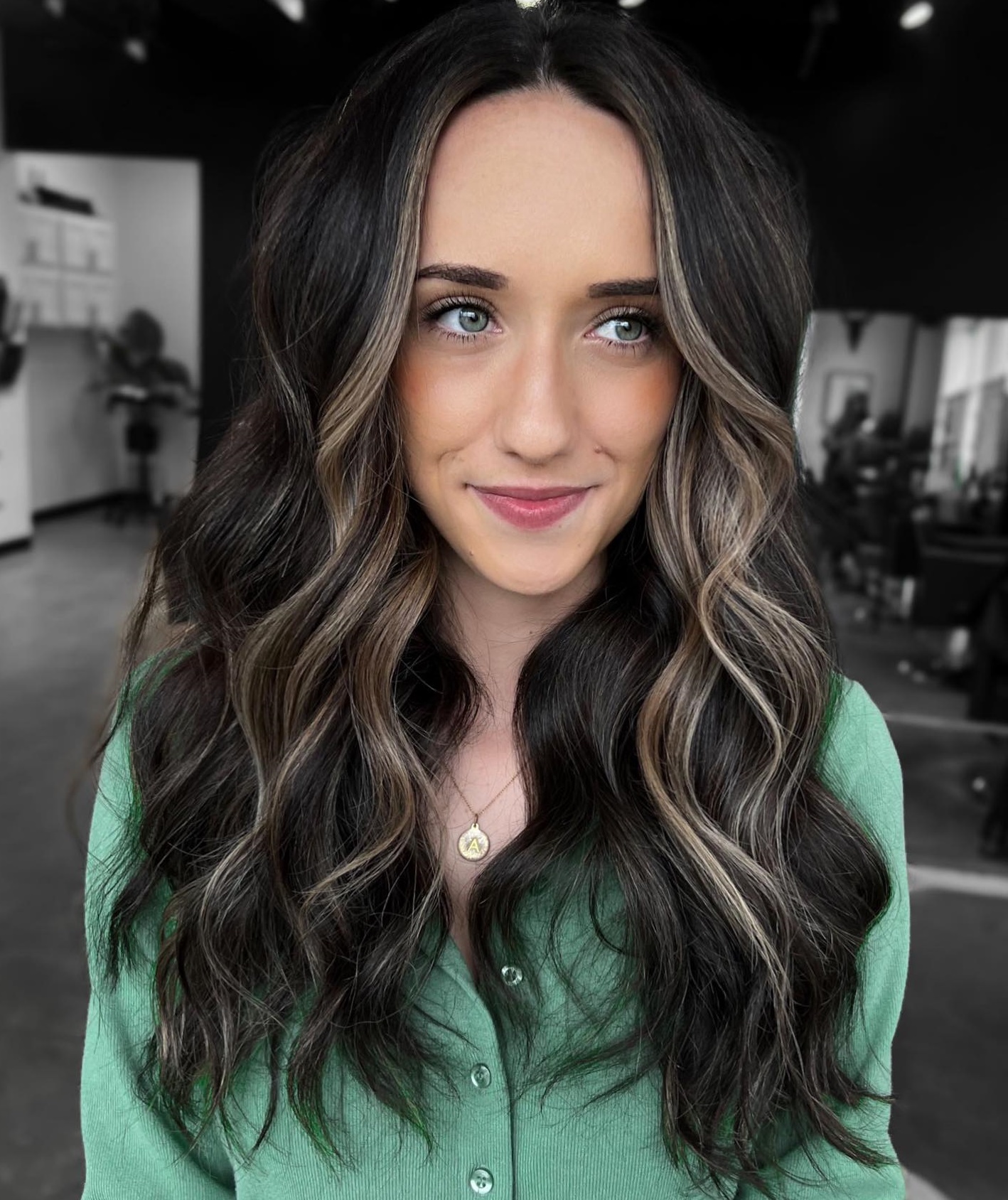 5. Dark Blonde Balayage
Balayage is one of the most popular dyeing techniques, allowing you to get a voluminous coiffure immediately after visiting a beauty salon. However, remember that it's quite complicated and requires time and patience. In opposite to ombre dying, a blonde balayage implies light highlight along the whole hair length, creating extra dimension. Overall, it's one of the best dark blonde hair color ideas for those who won't want to lighten the whole length. Ensure to select blonde hues that are most suitable for your skin tone. For instance, ladies with warmer tones should better choose caramel shades, while ladies with a cooler color type should consider platinum, sandy, or light ash. The selection should also depend on your natural hair color.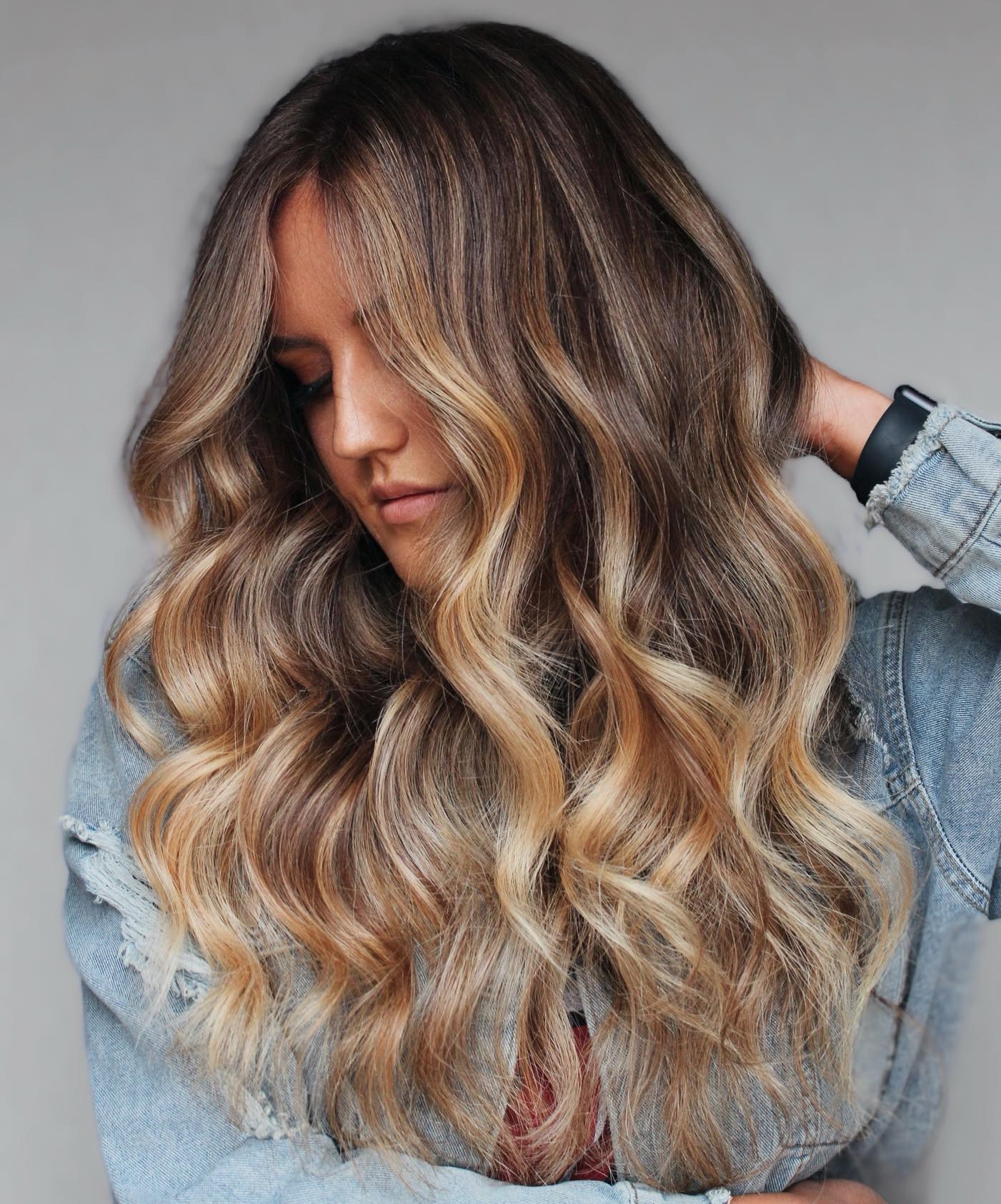 6. Blonde with Dark Roots
Even though before natural dark roots were considered bad taste, now girls often do such hairstyles on purpose. This option is especially relevant for ladies with naturally brown or black hair color. If you want to make your hairstyle fresher, dye it in lighter hair colors and enjoy your new style. Don't worry when the hair grows and leave it as it is! Darker hair roots will add an unusual accent to your look.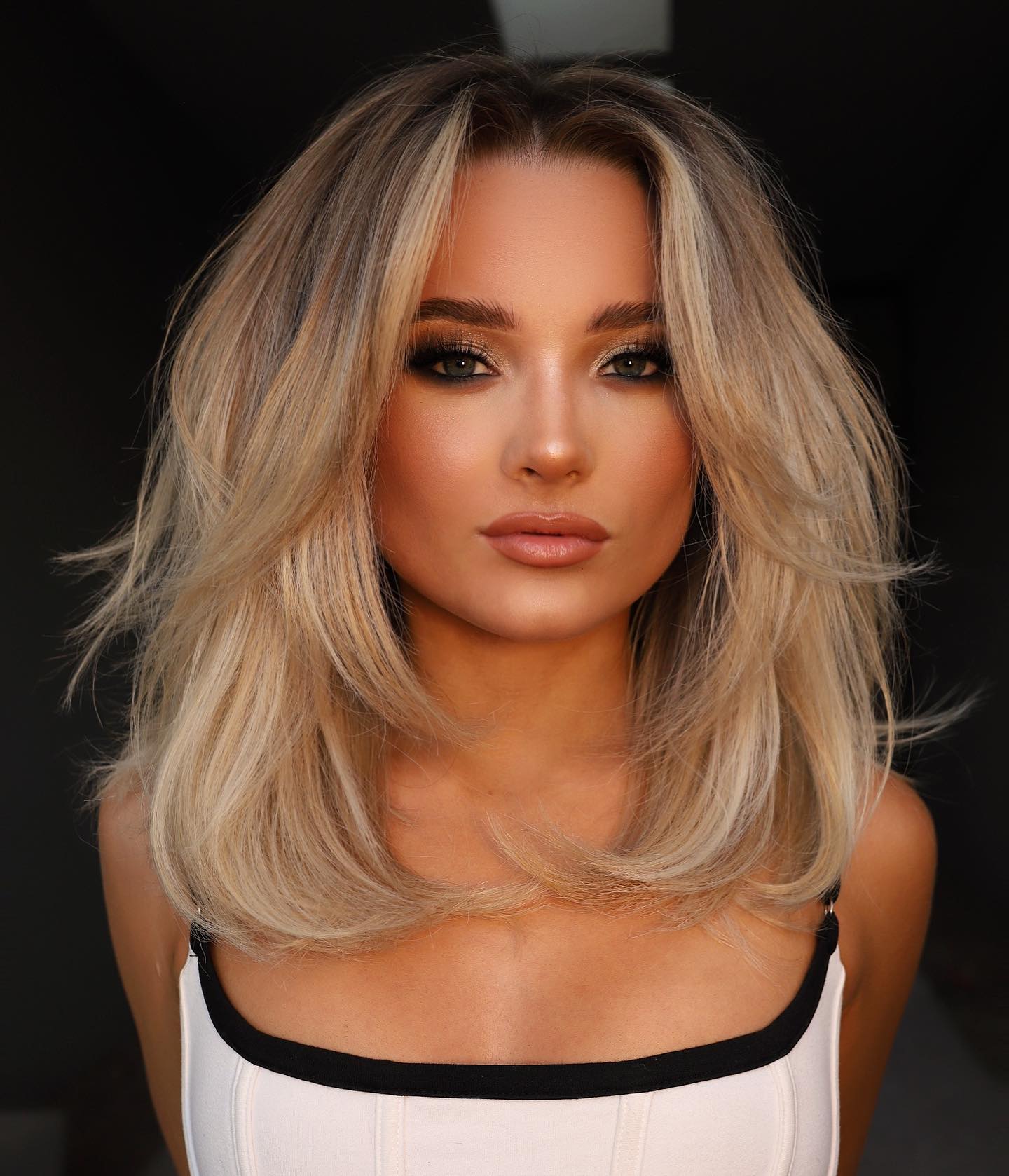 7. Dark Caramel Hair Color
Those looking for trendy dark blonde hair ideas shouldn't forget that caramel shades are on all top lists nowadays. Such sun-kissed brown hair is an excellent solution for summer, adding glowy highlights to your hairstyle. Golden hues will never go out of fashion and are a perfect solution for women with all skin tones and natural hair shades. Caramel hair color is a universal style adored by Kate Middleton, which provides a royal effect on your appearance.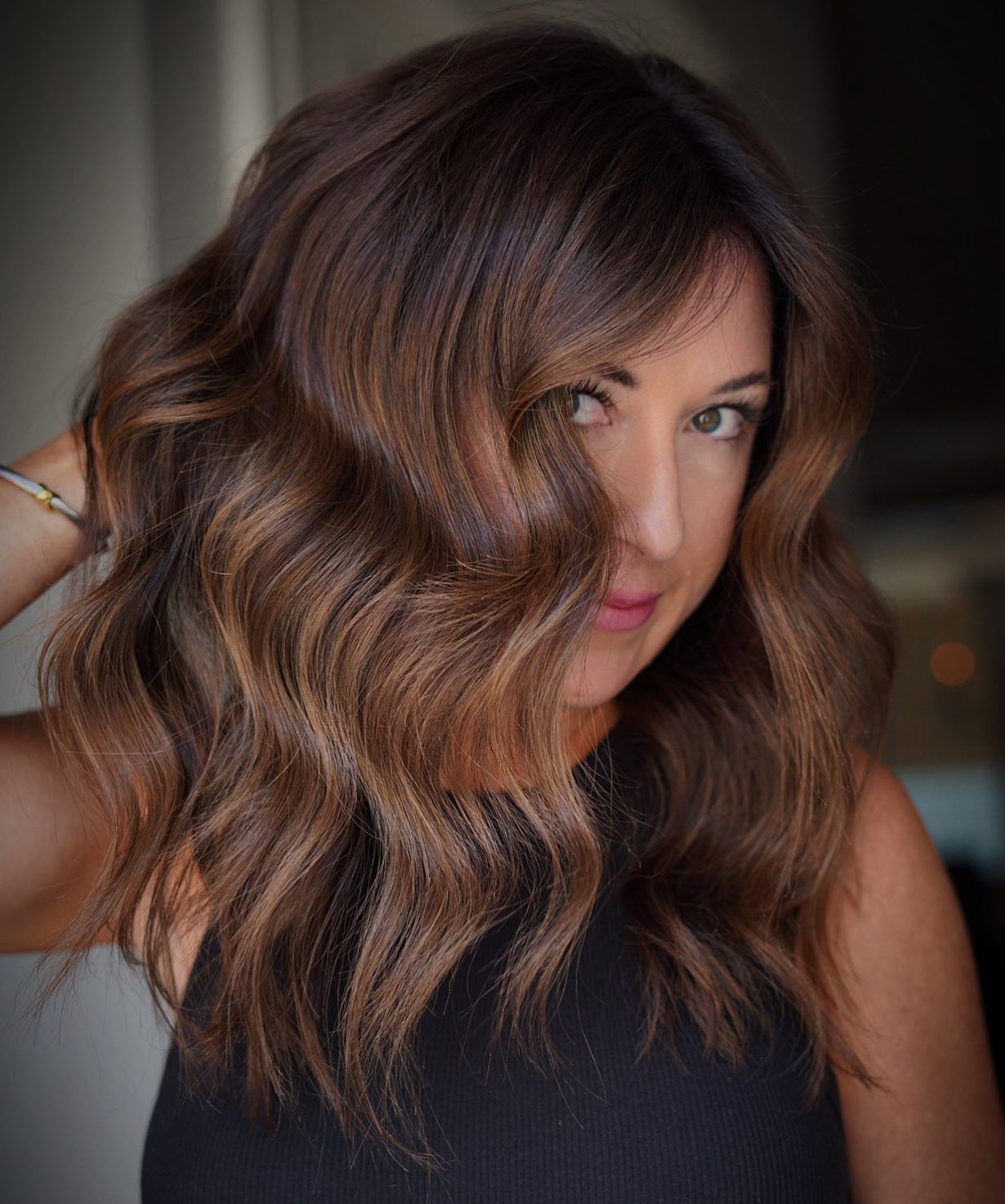 8. Dark Honey Blonde Hair
Are you looking for some stylish darker blonde color shades? You should consider honey blonde hair, suiting all ladies with all appearances and skin tones. An impressively layered hairstyle with golden highlights is probably the secret of the eternal youth of such gorgeous ladies as Jennifer Aniston and Jennifer Lopez. Having long hair in warmer shades is the best idea to look younger and more attractive. The strands beautifully frame the face, while honey blonde hair is a stylish accent to your appearance. However, don't forget to visit your hairdresser regularly and buy suitable cosmetic products since high-quality care is important.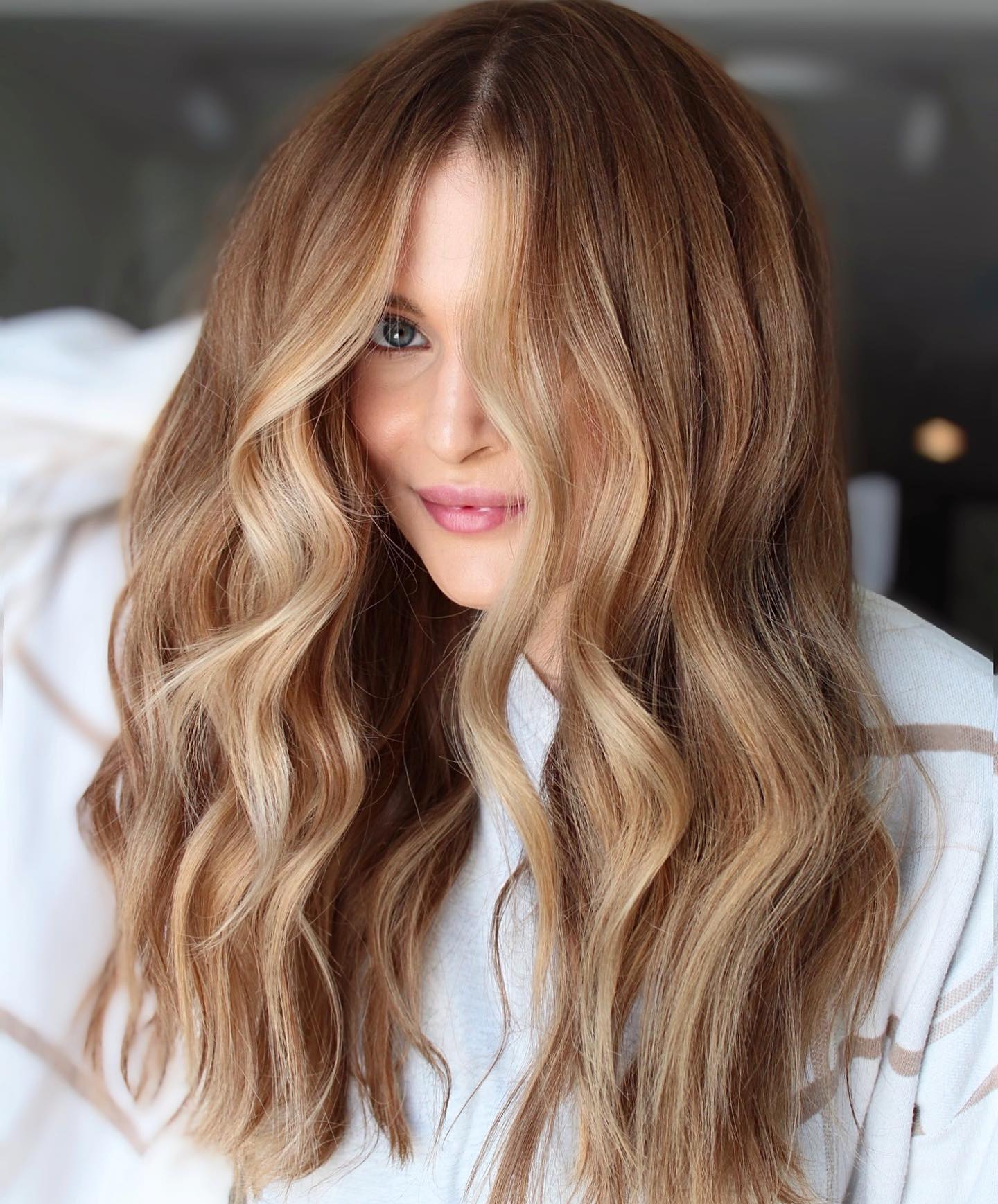 9. Dark Platinum Blonde Hair Color
Platinum blonde always looks noble and attractive, but it requires a lot of hair care products to keep the shade bright. Keep in mind that this hairstyle is suitable for ladies with cool skin tones, and if you have a warm color type, you should better choose caramel and honey hair shades. If you don't want to make any significant changes in your naturally darker hair, consider having blonde hues, which can be a perfect accent. Ladies with dark blonde hair should make a little coloring to get the desired shade. However, if you are a brunette wishing to get a platinum blonde hairstyle, ensure to find a professional hairdresser and remember that several visits may be required. It's almost impossible to discolor hair in one procedure without damaging the texture. So, brunettes should be patient and wait a bit to get this trendy hair color in 2022.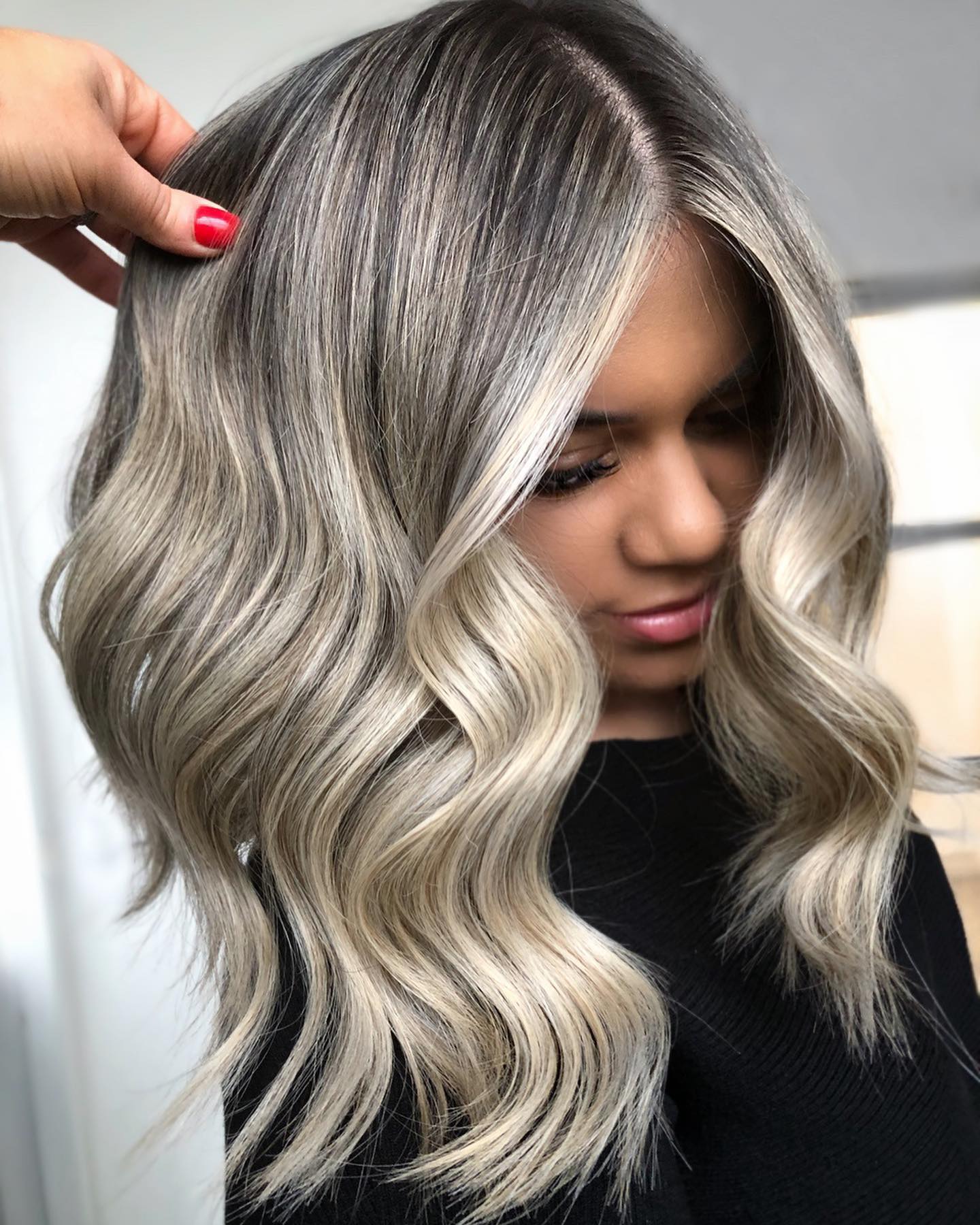 10. Dark Blonde Ombre
Dark blonde hair is always a great idea for elegant ladies who love being at the center of attention. However, your hairstyle can become even more unusual if you implement the most stylish dying techniques. And ombre is one of the trendiest options! It implies brown to dark blonde hair with a smooth transition. This alternative is perfect for brunettes who want to add light shades to their hairstyles. Add several light blonde hair shades to your natural hair color, visually creating more layers and providing extra volume. Such a brunette to blonde hair suits women of all ages and is a great solution for all occasions. Moreover, you can make both brown or dark blonde roots, depending on your preferences. You won't have to visit your hairdresser too often with such a hairstyle since the color will look natural even after several weeks.