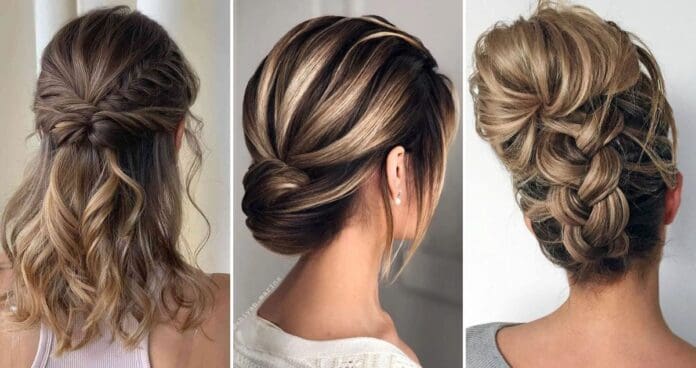 If you always dreamed of having stylish updos for medium hair but somehow always ended up keeping your hair in a ponytail for an entire week, this article is for you! We searched the internet for quick, easy-to-do medium hair updos to get you set in a minute or less!
I. Ponytail Updos for Medium Hair
1. Short Amped Up Ponytail
To get this upgraded version of your everyday hairstyle, start by fixating a bobby pin in the place you want to make the base of the ponytail; it will help maintain the volume of your crown. After that, pull all the hair at the back while combing it with your fingers in order to obtain this amped-up look. Cover the hair tye with a different strand of hair and apply plenty of hair spray onto your ponytail to keep it teased and puffy.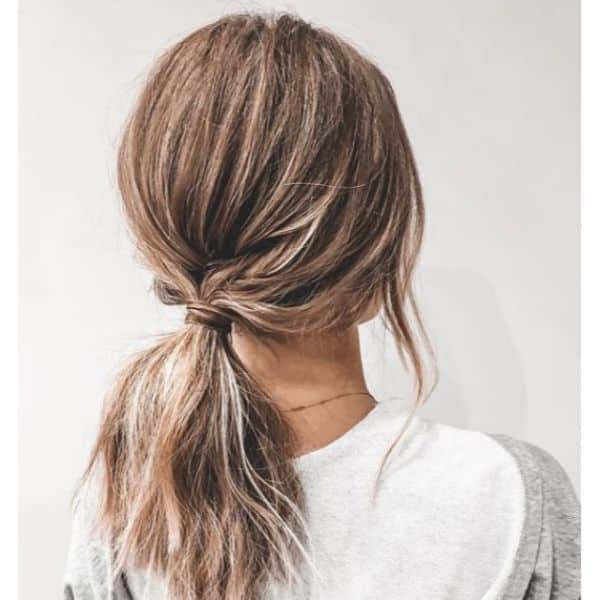 2. Messy Teased Up Ponytail Updos for Medium hair
Make sure you keep your crown volume to the max with this messy, teased, high ponytail, which is easier to make than anything you have imagined. To make sure you get the messy, carefree effect, tease your mane really well before pulling it in a high ponytail.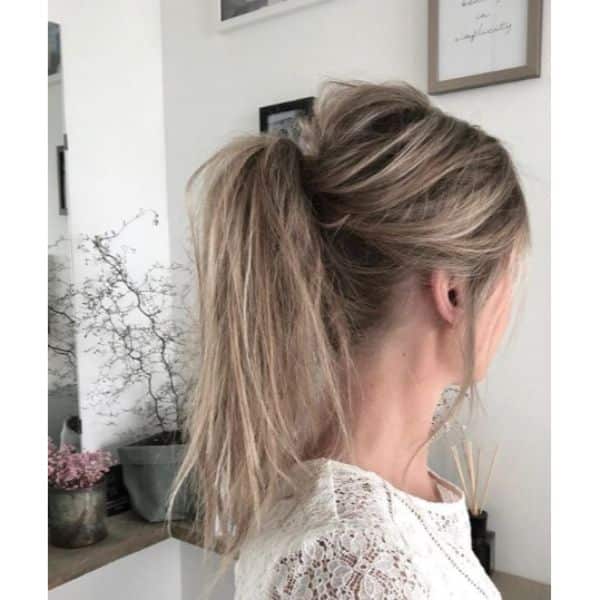 3. Messy Half Pulled Low Ponytail with Headband
To get this interesting hairstyle, you will first need a beautiful headband, preferably in a contrasting color to your hair. After you install it on your head, pull the strands in a ponytail and stop halfways to create the desired loop, and leave the ends out for a broom-like effect. Chic and effortless!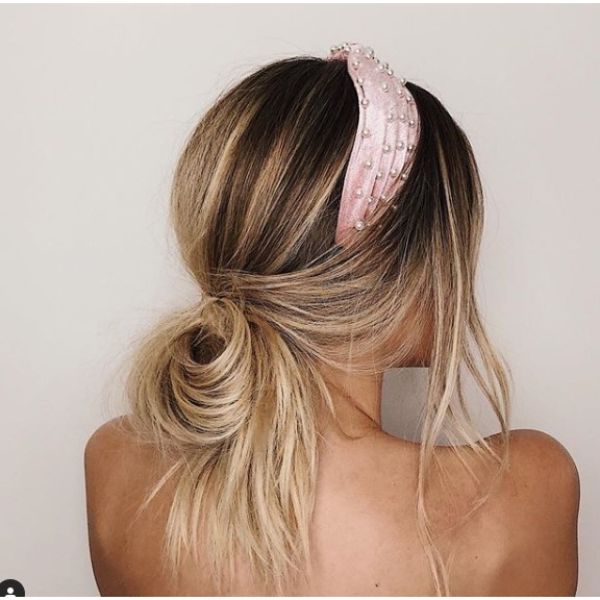 4. Knotted Ponytail Updos for Medium Hair
This is not your typical braided ponytail! Grab half your hair and split it in two, and tie a knot. Then grab the rest of your hair and add it to your just knotted pieces. Tie it again or put it in a ponytail!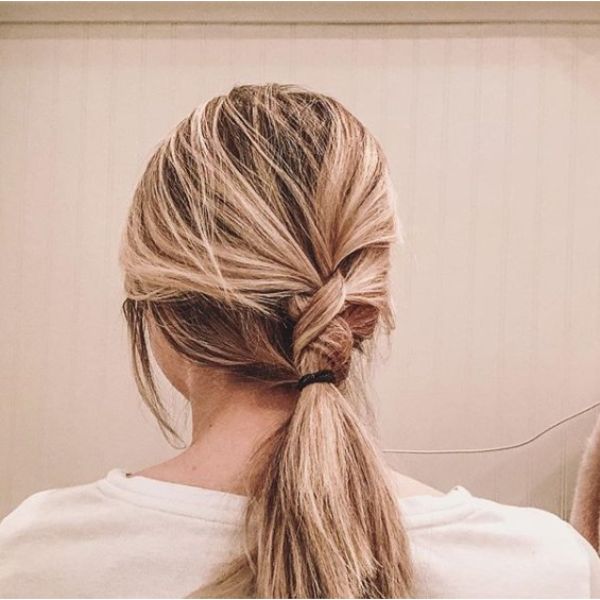 5. Wavy Sleek High Ponytail
After pulling your hair in a high ponytail and carefully covering your hair tye with a strand of hair, take a curling iron and curl your ponytail not too strong, just enough to create small waves for a feminine updo! Don't let the hair color label stop you, and get some inspiration from our list of ponytail hairstyles for black hair!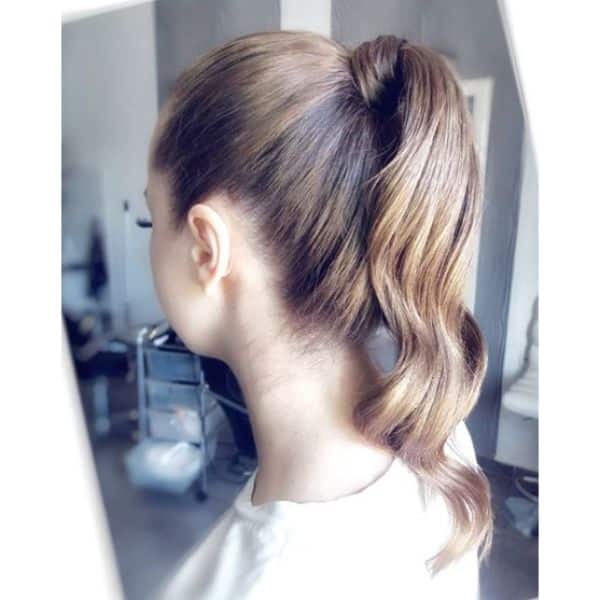 6. Mini Bubble Ponytails for Medium Hair
To get this girlish, cute look, start by making a middle part in your hair and then pull two front strands in a thin side ponytail. As you move downwards, take another hair strand and wrap it together with the first strand with a different colored elastic band, and voila! Mini bubble ponytails in under one minute!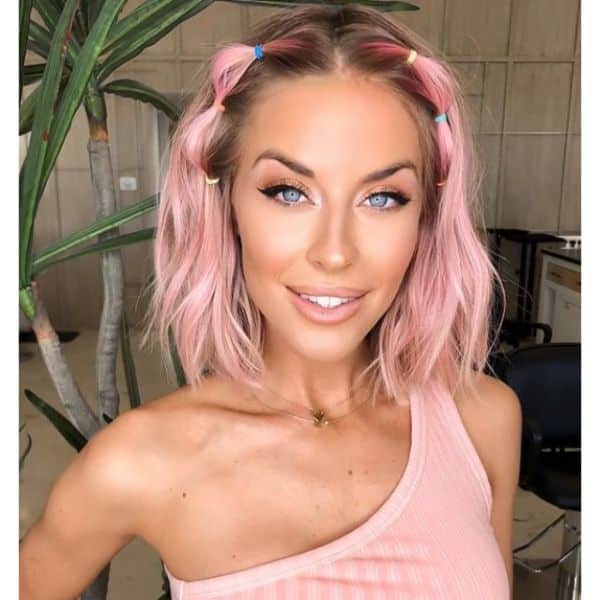 7. Jasmine Bubble Ponytail Updos for Medium Hair
Named so after the famous Disney character, princess Jasmine, this fun and buoyant updo requires minimal effort and a bit of hairspray.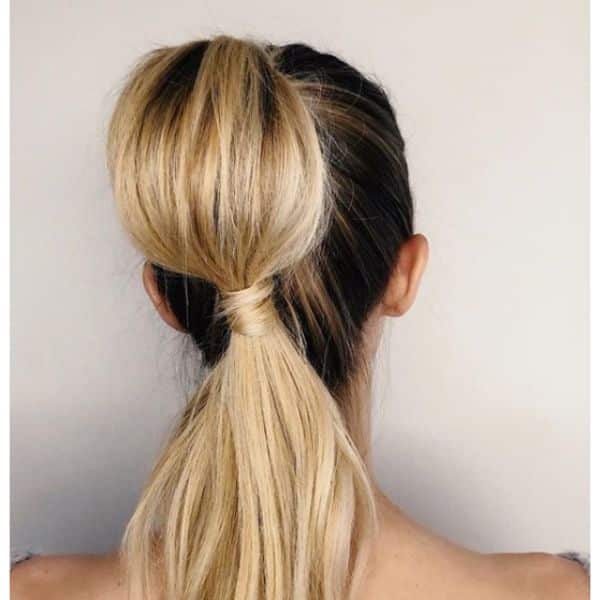 8. Short Twisted Ponytail Updos for Medium Hair
Perfect if you have a layered haircut, this simple yet catchy updo for medium hair is done by pulling two side strands from your temples, twisting them at the nape, and then hiding the ends under a lower ponytail made with the remaining hair. Genius!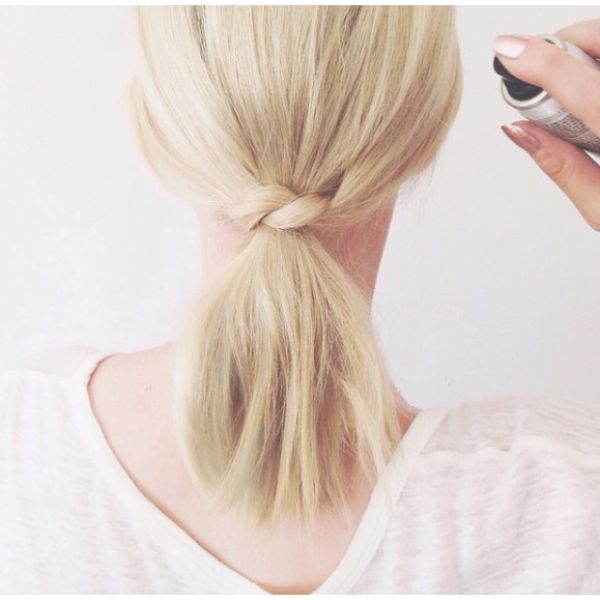 9. Puffy High Ponytail for Kinky Curly Hair
There is no easier and more practical way of wearing your curls than pulling them in a high ponytail style and letting them fall freely all over your crown. The volume looks great!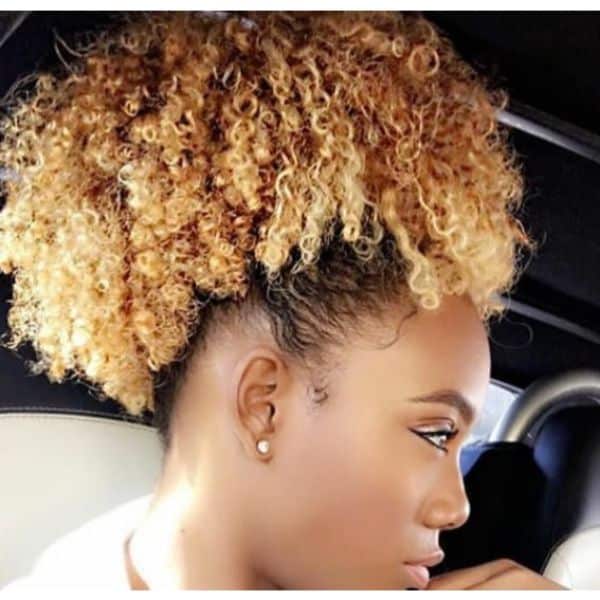 II. Half-up half-down Updos for Medium Hair
10. Half Ponytail Updo for Straight Hair
Inspired by the look of Bratz dolls and the '90s fashion that has come back this year, the half-ponytail updo for medium hair is great to elongate your face and keep the hair in place on a busy day. Make sure to gather all the baby hair and use a contrasting color scrunchie to get this look. Oh, and the golden hoops are a must too!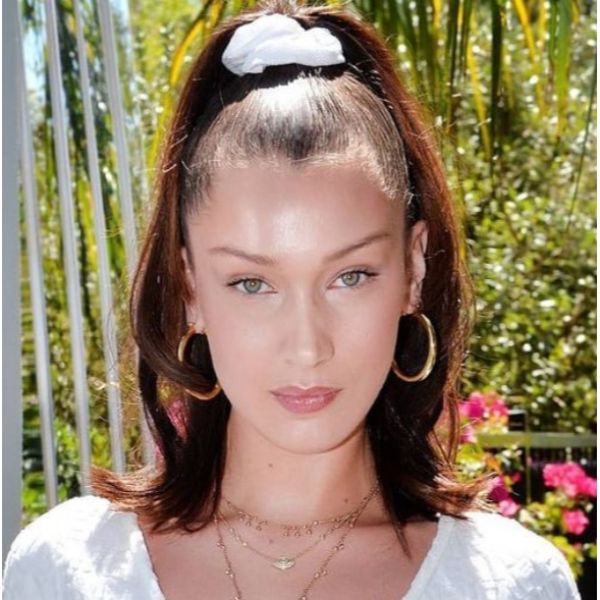 11. Half Up Half Down Curly Updo for Medium Blonde Hair
Thanks to the seductive hair color and the contrasting makeup, this killer look makes the whole hairstyle a perfect match for this physiognomy! After washing your hair, separate the top hair and put it in a half ponytail. Pull two front strands out and curl them to get the feminine look!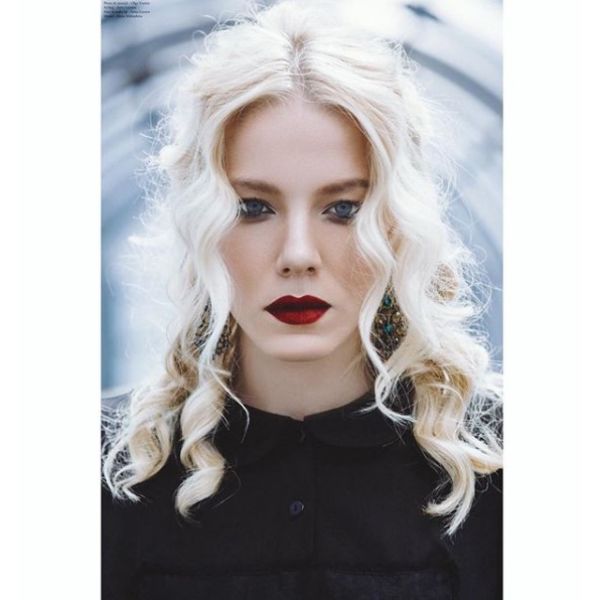 12. Half Updo with Headscarf
A more romantic version of the typical half-ponytail, this updo only needs a usual scarf or, if you want to make it quicker, you can use a hairband with a scarf attached that you can find in many mass-market shops now.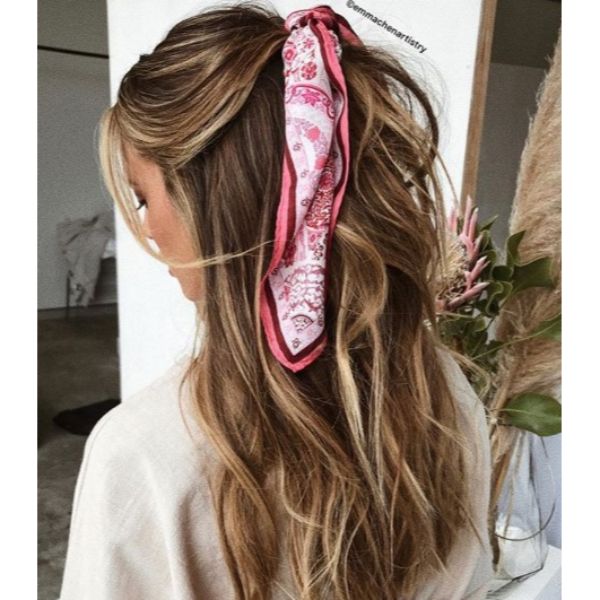 13. Casual Half up Half down Hairstyle with Scrunchie
A playful, relaxed hairstyle that will also help your hair maintain its volume after washing it, it's this half updo you can make using a classic scrunchie. Keep in mind that soft materials, such as velvet or satin, help your hair resist breakage.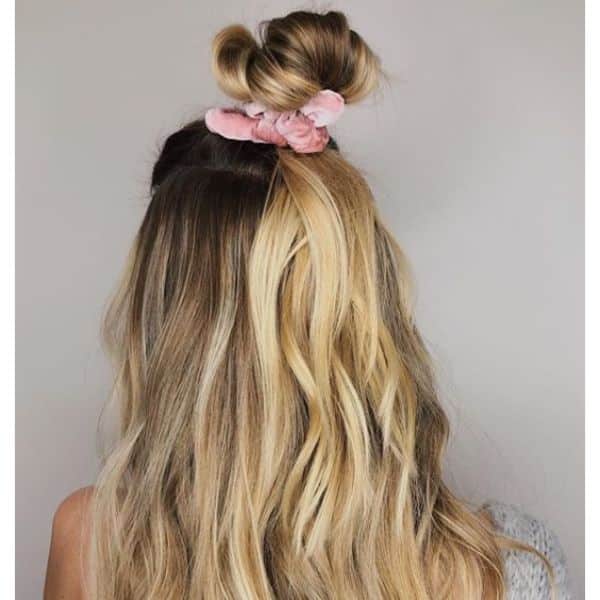 14. Half Up Half Down Curly Updo with Bar Pin
Curly hair is a beautiful display but, unfortunately, gets in your face really bad. To ensure you stay relaxed, use a beautiful hairpin such as this bar pin to pull the front strands of your face and keep them secured at the back of your head.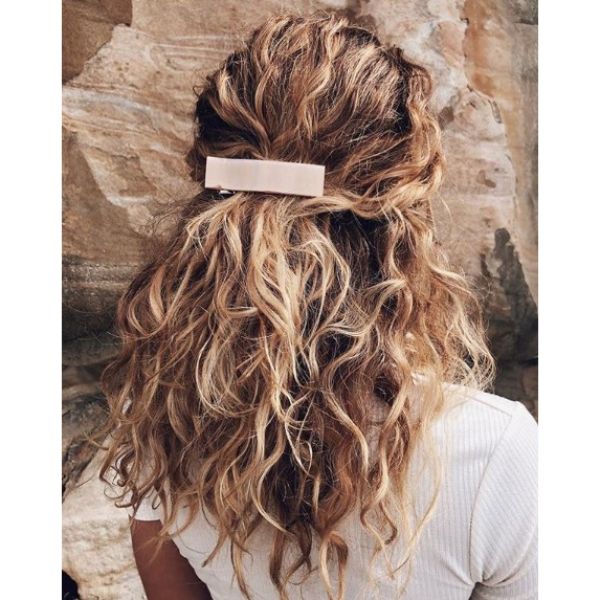 15. Puffy Half Updo with Knot
Puffy updos are excellent choices if you have thin hair. In this case, you will create a bubble out of your top hair with the help of bobby pins and then make a bun to complete the style.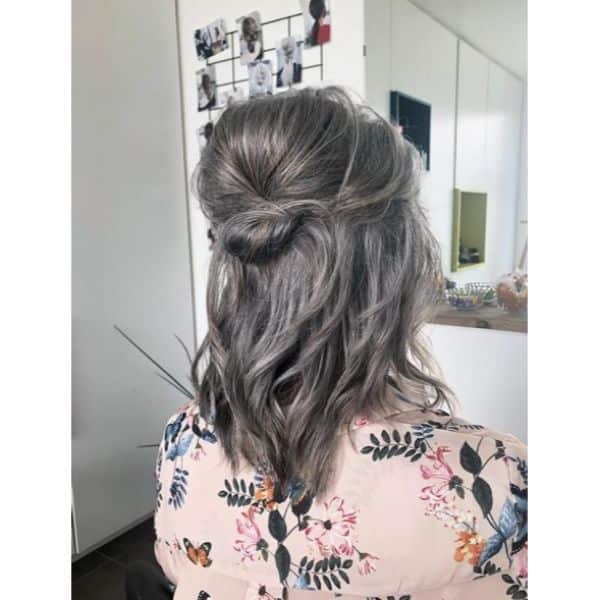 16. Rainbow Loose Half Braid for Medium Hair
Rainbow hair is anything but simple nor quick to get, but a loose half braid is sure ready in a couple of minutes! This is a great idea if you have multicolored hair since the strands will create a beautiful visual effect.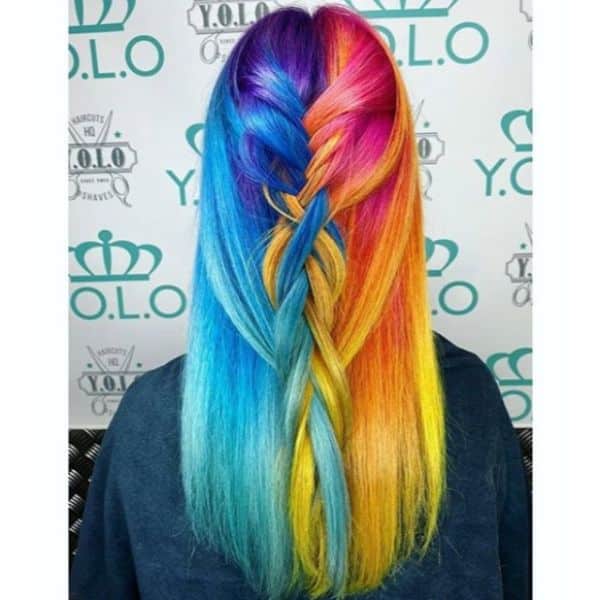 17. Messy Half up Half down Updo with Alternating Bobby pins
Alternate the Bobby pin-like hairpins up and down to hold it in place. Make sure that the hair is straightened really well before. Get this hairstyle in a couple of minutes any day.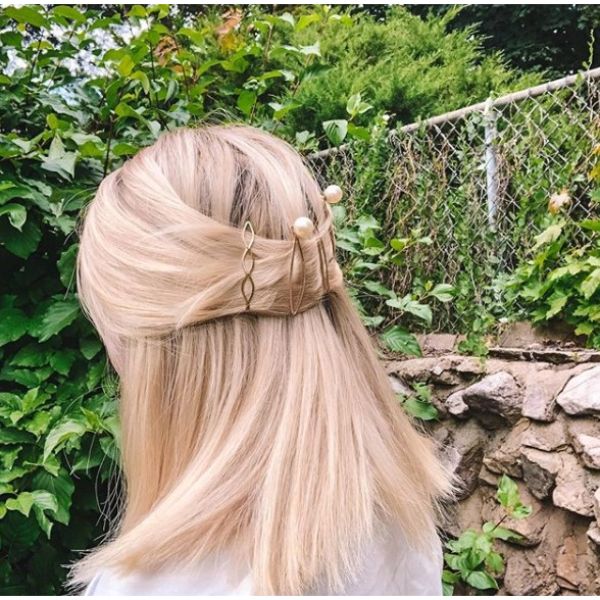 18. Half Top Knot for Curly Medium Highlights
Perfectly symmetrical curls and gorgeous blonde ombre hair are made to look super cute and girly with a casual top knot that breaks the pattern and keeps your volume to the max!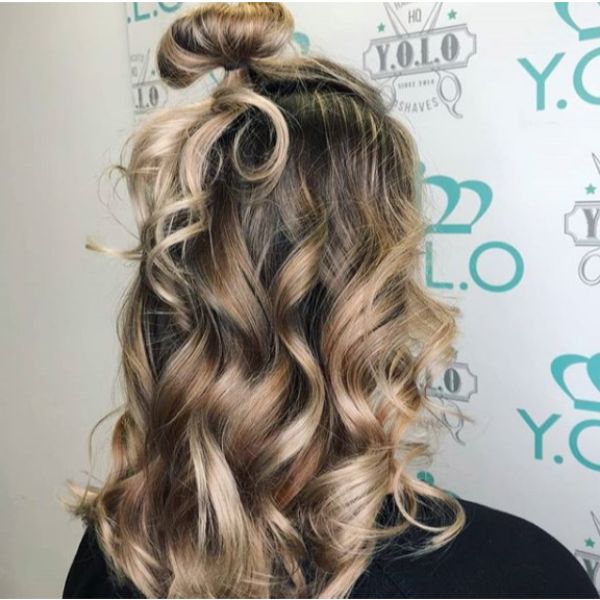 19. Central Half Braid with Top Knot for Pink Curly Hair
Get rid of those lifeless flat top looks with a central braid made in the middle of your crown area using thin strands of hair. Start at the hairline and go until the back, where you can use a hair cuff to accessorize the braid and get a "Game of Thrones" inspired look.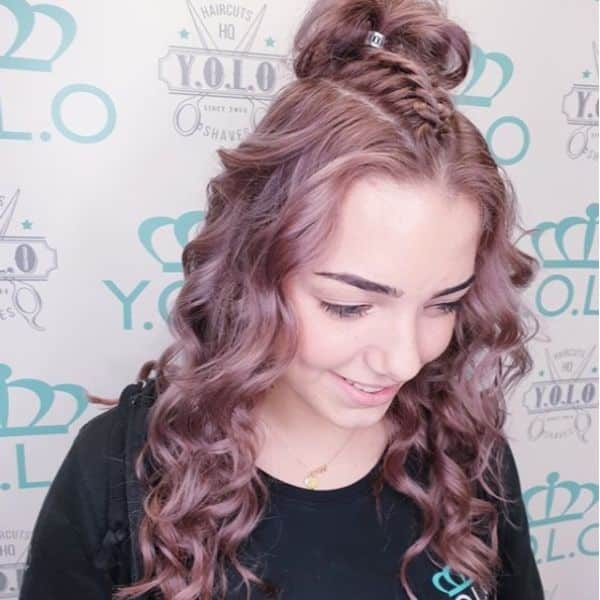 20. Half-Space Buns for Curly Blue Hair
Space buns, missed them? We sometimes wonder if the name has any connection with Princess Leya's character that made this hairstyle so popular. Space buns look so cute, and they are perfect for those days when you forget to wash your hair.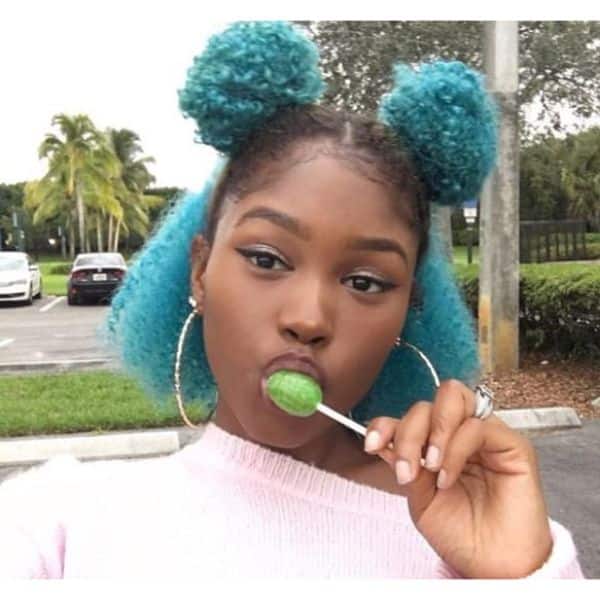 21. Half Crown Braid for Mermaid Medium Hair
The half crown braid is similar to a waterfall braid but requires less skill, and it looks spectacular nonetheless! These beautiful rainbow tones make this updo magical, literally!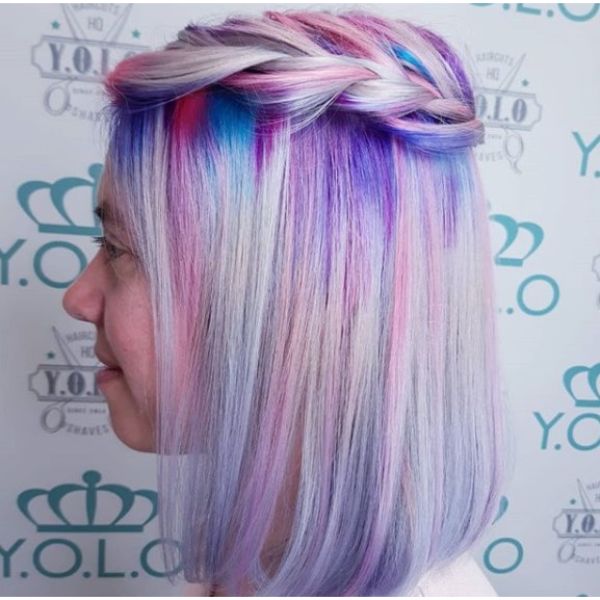 22. Half Up Half Down Bridal Updo
This messy updo is perfect for special occasions and has a very romantic vibe. Simply take the two halves of side hair and start intertwining them at the back of the head to get this half updo.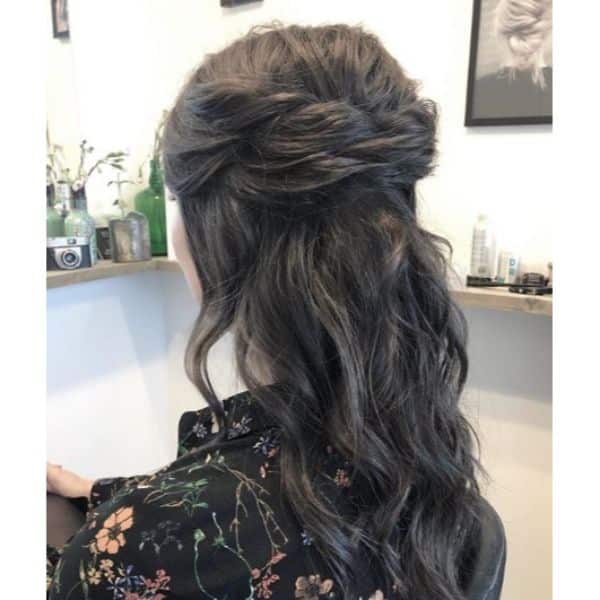 23. Lazy Half-up Bun Updo for Medium Hair
Especially suited for you if you have bangs, this half-up bun is really cool looking and very easy to make. Simply gather your crown hair in a ponytail and then start coiling it to create the bun.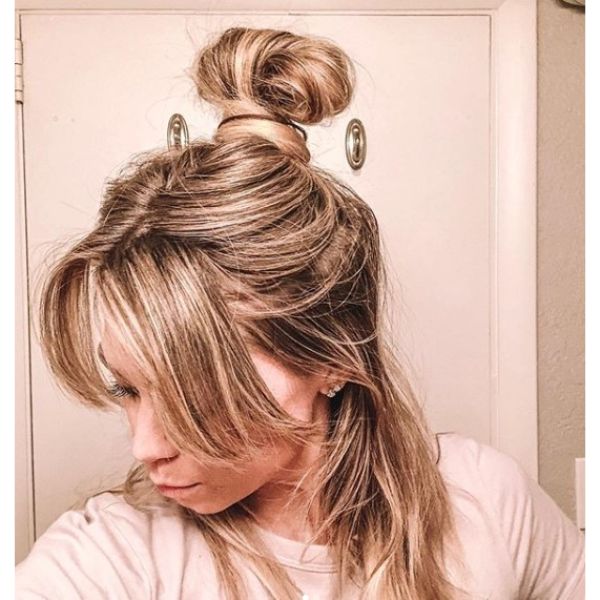 24. half a Knot for Balayage Medium Hair
Similar to the half-up bun, this knotted hairstyle is really quick and looks effortlessly chic in under one minute! It is a cool updo for medium hair that is not long enough to be gathered in one single ponytail.
Also, make sure to check our Medium Length Hairstyles!