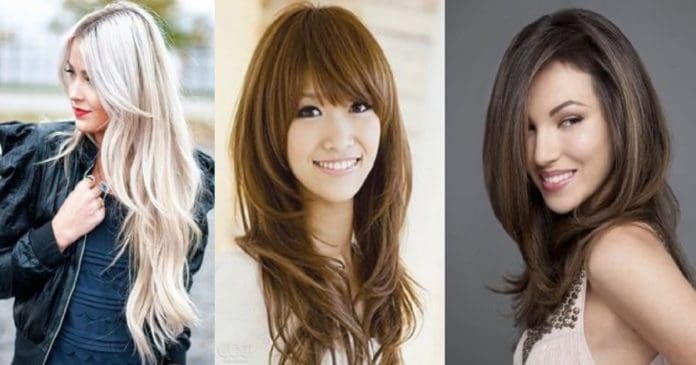 Long hairstyles with layers is something a lot of us strive for over the years. When you have long hair, you have a lot of style options to choose from. Contrary to popular belief, long hair doesn't have to be a lot of work or hassle. These 55 pics of lovely long hair ladies make you want to grow your hair out fast. Keep in mind that adding length is not hard with extensions or a well-made wig.
1. Long Ash Blonde Waves
The classic long waves with center part look pretty on ladies of all ages. This color is amazing and shows that there are some gorgeous blonde colors out there that do not seem often enough.
2. Brown Blonde Balayage Waves
Those that have been curious about balayage should just go for it. Balayage color is expensive, but there is a reason for that. Handpainted highlights take a lot more time than regular color service.Color grows out and blends in with your hair so there are no visible roots so you can get away with fewer visits.
3. Light Blonde Balayage
Light blonde often looks better when there is some effort to incorporate other tones. This balayage look is a great alternative to the bleached blonde look.
4. Messy Layered Blonde With Side Swept Bangs
This is a beach inspired look that is sure to please. The texture and layers are what makes this look stand out so much from other cuts.
5. Multi-Tonal Blonde Swept Away Layers
The way the tones of this blonde flow together is simply amazing. The swept back and away look stunning and is a great choice for ladies that like a lot of different blonde shades.
6. Long Red Shaggy Layers With Bangs
This dark red shag is gorgeous. The copper highlights take this red to a whole new level. Shaggy bangs are a fab touch that we can dig. One thing to remember about red hair is that if you need to dye your hair to get the color, be sure to use products to extend the color because reds fade fast.
7. Bright Red & Blonde Scene Cut
Today is a time when no one should be afraid of hot color. This choppy shaggy cut is a lot of fun, and the red color and blonde streaks are edgy but pretty.
8. Very Long Asymmetrical Lob
This is a very extreme asymmetrical cut. However, if you are into a longer cut but want to reduce weight, then this is a cut to consider. An undercut design will add some extra fun to this long bob.
9. Soft Feathered Dark Layers
The texture achieved with this cut shows what a good hair cutter can do when put to work. Feathered layers are one of the seasons hottest styles.
10. Cherry Coke Balayage
This balayage dye job goes far beyond the typical. Red is effortlessly blended with darker tones to get this unique color.
11. Dreamy Chestnut Layers
Brunette beauties will benefit from this look. Dreamy chestnut layers with subtle highlights are easy to get and always beautiful.
12. Penelope Cruz Long Caramel Highlight Layers
Caramel highlights go a long way with this look. Penelope is not afraid of larger hair looks.
13. Brown To Red & Blonde Balayage Layers
The color pattern shown here says it all.
14. Warm & Cool Brown Layers
Variation is key to a great layered color cut. Warm and cool come together well with this look.
15. Soft Layered Medium Brown Bob
Medium brown smooth layers are hard to beat.
16. Caramel Blonde To Brown Balayage Layers
Multi-tonal blonde and brown color are where its at.
17. Red Blonde Layers
There are plenty of hair dye that claims to be red blonde, and this look shows you what they mean. This gorgeous color is enhanced by well-done layering.
18. Very Long Feathered V Layers
This very long V is tastefully cut and perfectly shows off the beauty of this ladies hair.
19. Mid-Length Wavy Blonde Layers
Honey blonde waves are romantic and just plain gorgeous.
20. Big Blonde Layer Cut
This very long blonde look has a ton of layers to it. This is a suitable look for women with very thick hair. The taper of the layers is seen in this side view and gives a good rule of thumb for your stylist to use.
21. Middy Long Scene Choppy Layers
Not all scene hair has to be a wild color. This dark brown cut frames the face and the choppy aspects add amazing texture. Women of all ages can wear this look, and if you want to mix it up, a few streaky highlights that are well placed are quite stylish.
22. Very Shaggy Major Razor Cut With Bangs
Very choppy looks are hot right now, and this platinum shaggy cut is worthy of the list just for the face framing quality of the well-placed layers.
23. The Dark V
This darker hair color looks fabulous with thought out layers that form a gorgeous V.
24. Ash Blonde Wavy Layers With Side Sweep
This look shows how beautiful ash blonde hair can be. The multitude of cool tones is impressive.
25. Bottom Blonde Waves
Waves and curls at the bottom help balance out a face.
26. Black Feather Layers
Layers that feather out can be a lot of fun and flatter the face.
27. Cheryl Cole Layers
Chery knows how to rock big hair, and her highlighted layers are enviable. You can get the same look no matter what hair color you choose.
28. Waist Length Medium Brown Layers
This cut shows how you can get waist length hair without all the weight.
29. Ultimate Choppy Texture Layers
This very choppy look is modern and stylish. Razor cut layers are the standard for layered cuts among many women.
30. Warm Brown Highlighted Layers
These soft layers are enhanced by the warm brown tone of the hair.
31. The Dark Curve Layer Cut
We love how the layers of this cut curve in to perfectly frame a gorgeous face.
32. Waist Length Dark V Layers
The length is impressive, and the layers make this cut truly stunning.
33. Strawberry Blonde Huge Curl Layers
The strawberry blonde color trend is hot and here to stay.
34. Jennifer Aniston Layers
Jennifer is great at layered looks. This lighter blonde cut has fewer layers than she usually has but still looks fabulous.
35. Majorly Thick Shaggy Long Layers
This lady is lucky to have such thick and beautiful hair to work with. There are a lot of layers in this style, and the texture is just fab.
36. Long Dark Luscious Curls
Taking the plunge and going curly is well worth it.
37. Platinum Super Long Waves & Layers
The challenge with this look is getting the length and color without damaging hair too much. Platinum color is beautiful but bleaching hair can be very harsh, so if you are naturally dark-haired this look may not be for you.
38. Curly End V Layers With Flowers
If you love flowers then why not wear them in your hair? These carefully placed flowers are just so pretty in this cut.
39. Long Blonde Messy Layers
Layers don't have to be neat to look good. In fact, a lot of the hottest styles are messy.
40. Sunkissed Razor Layers
This basic razor cut is classy and stylish at the same time. This is a great look if you are searching for low maintenance.
41. Red Side Swept Layers
This classy look is beautiful in so many ways. These layers make it so easy to look good on a daily basis.
42. Rock N Roll Hair
A long shaggy cut with wings is just what you need for a style refresher. This cut is a good alternative to the scene hair cuts and is a bit more retro in appearance.
43. Ultra Long Wavy Messy Layers
44. Super Shiny Shattered V-Cut
This fresh take on the traditional V-shaped layered cut is gorgeous.
45. Side Swept Sandy Blonde
Sun kissed blonde hair is some of the most natural looking blonde colors you can get.
46. Ultimate Wave Layers
The before and after shots show what just a little color can do for a look. Caramel lowlights and a cooler blonde toner takes away the yellow that was so prominent before.
47. The Ultimate SWAG
This shaggy 70s inspired cut is all the rage and with good reason. Well, textured layers and thick bangs are flattering to almost anyone.
48. Just Past The Shoulder Shaggy Bob
The warm highlights of this shaggy bob make it come alive. This style is going to look for busy ladies of all ages.
49. Rounded Long Layers With Blunt Bangs
This cut isn't quite curly, but the rounded layers are a good alternative for those that are craving a somewhat curly look but don't want the maintenance.
50. Very Long Scene Hair
Scene hair doesn't have to be ultra bright colored or over the top. A cute long layered razor cut is charming on a lot of different ladies.
51. Violet Sterling Layers
Older ladies would do well to embrace a pastel color for a new look.