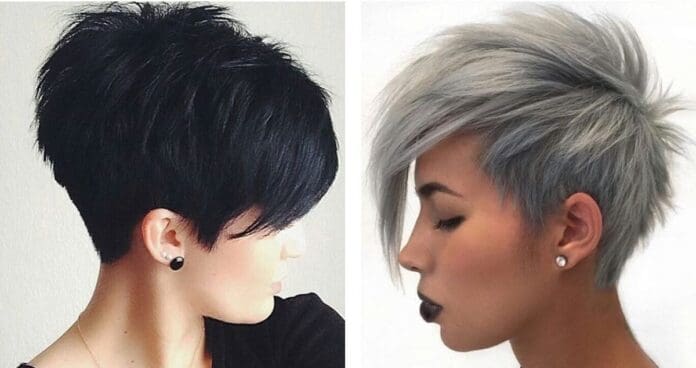 Oval faces are simply gorgeous. The elongated face shape has a stunning effect on your facial features and you should choose a hairstyle that compliments your bone structure. The pixie haircut is the perfect, incredibly stylish and trendy hairstyle that will highlight your gorgeous features. We've put together a selection of incredible pixie cuts so you can complete your look while staying at the top of the fashion scene.
Ladies endowed with an oval face shape have one main goal: to shorten the overall appearance of their face and draw attention to its best features. But with so many cuts and hairstyles focused on lengthening rather than shortening, finding the perfect hairstyle can be tricky. That's why we've compiled a stunning list of 30 cute pixie cuts that will flatter your oval face like no other.
Platinum Pixie with Tousled Fringe – Short Haircut for Fine Hair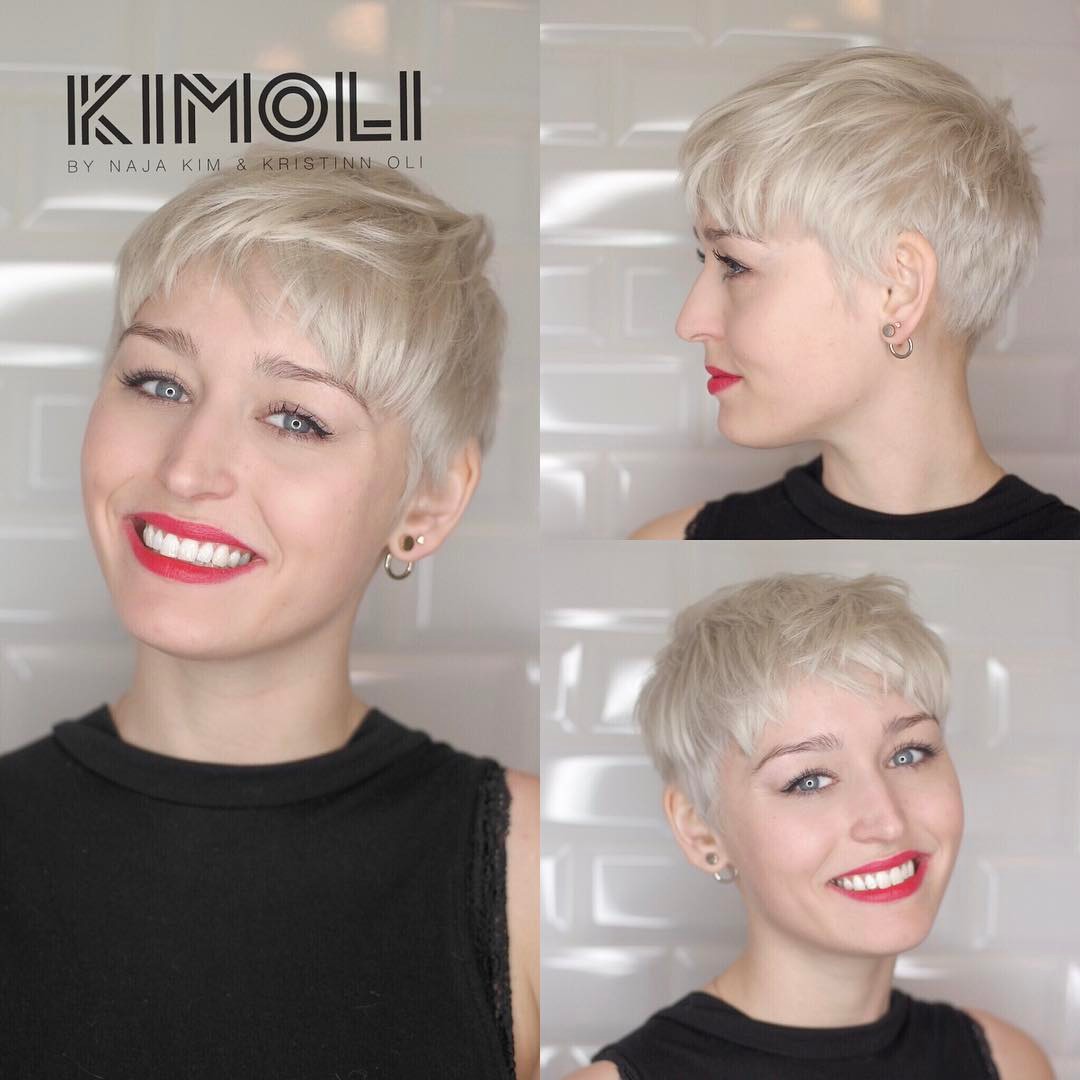 Credit
Adding tousled hair to a pixie cut is the perfect way to create a look that is not only incredibly stylish, but also super cool at the same time. Cut your hair into a classic pixie cut with many lovely short layers to the nape. Keep the layers a little longer at the top so you have body and texture. Dye your hair platinum blonde and ruffle the top of your head a little. and fringe.
Wedged Brown Bob with Sweeping Fringe – Women Short Hair Ideas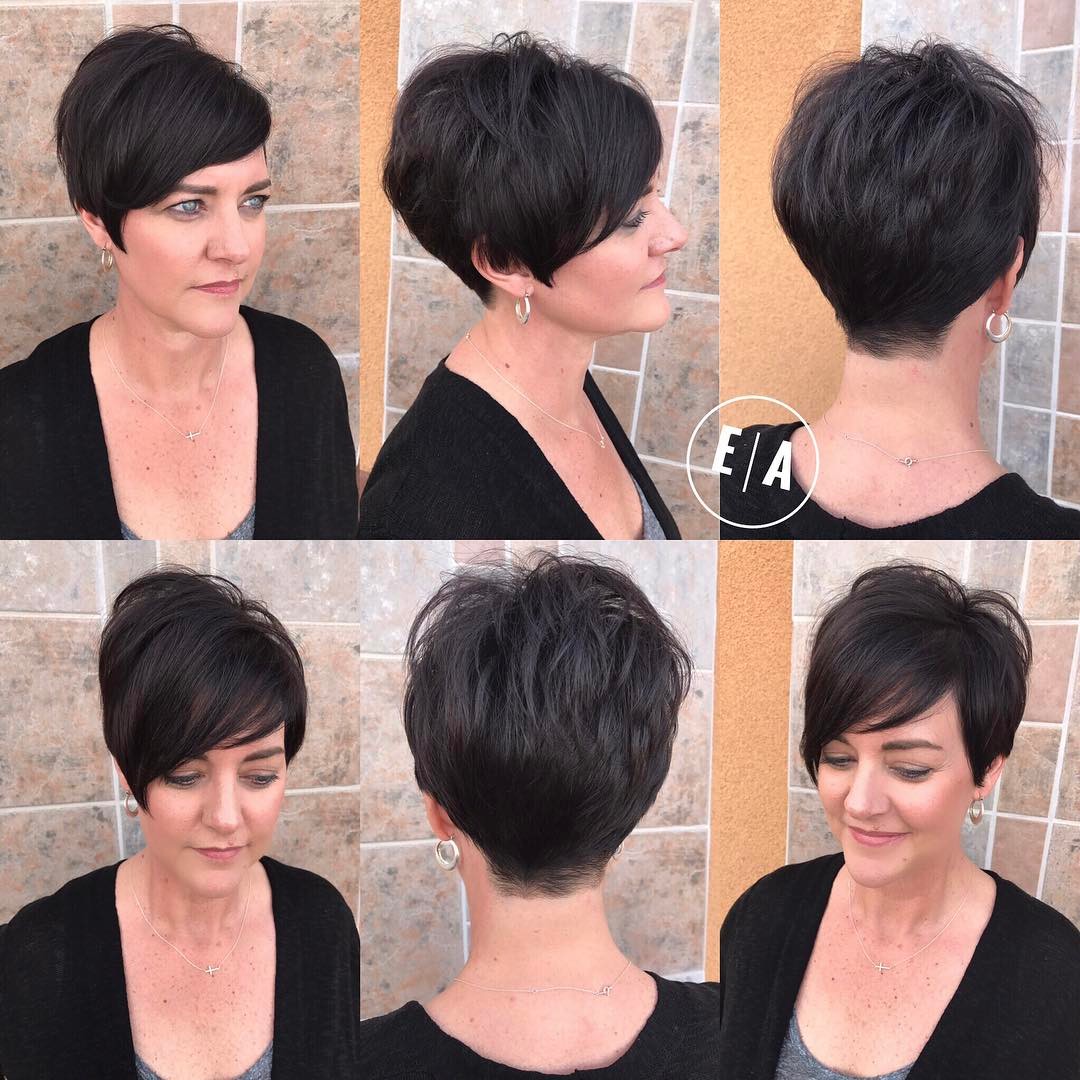 Credit
The wedge-shaped bob simply stuns the owners of an oblong face shape. With lots of gorgeous layers on the back creating a lovely curved silhouette, this is an amazing shape. The layers are longer at the top of the head. Cut your hair so that you get amazing wide side bangs. Add some body to the top and make it sleek to show off your style with pride.
Metallic Purple Asymmetrical Pixie Cut – Messy Short Hairstyles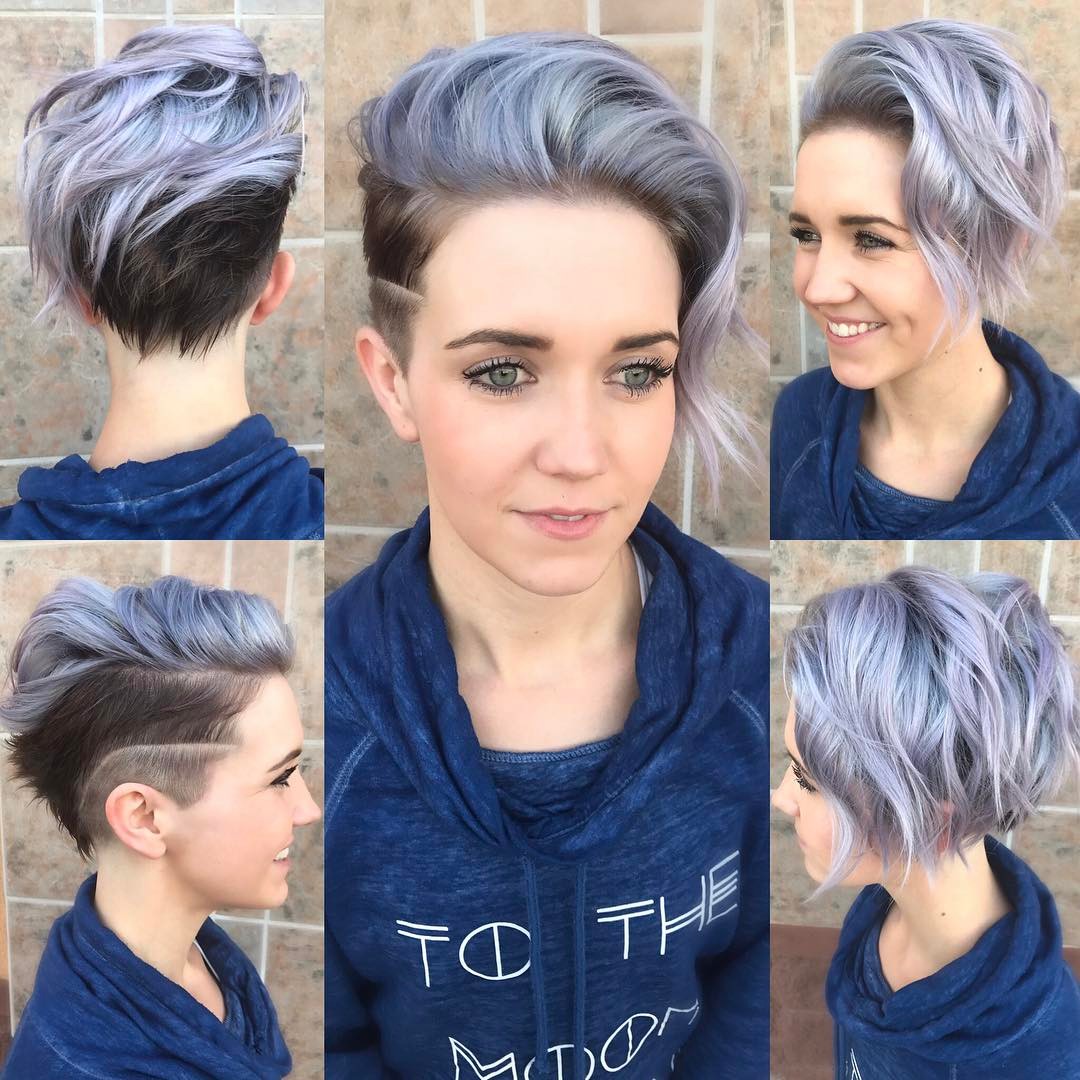 Credit
Metallic hair colours are gaining popularity exponentially, and they look especially good on pixie cuts. Just like this incredible lady proves above! Start with an asymmetrical pixie cut, with one side shaved short and the other long. Leave the strands longer in front of the face. Color in a beautiful metallic shade of purple and add curls from top to bottom.
Silver and Pink Textured Pixie Cut – Shaggy Short Hairstyle for Women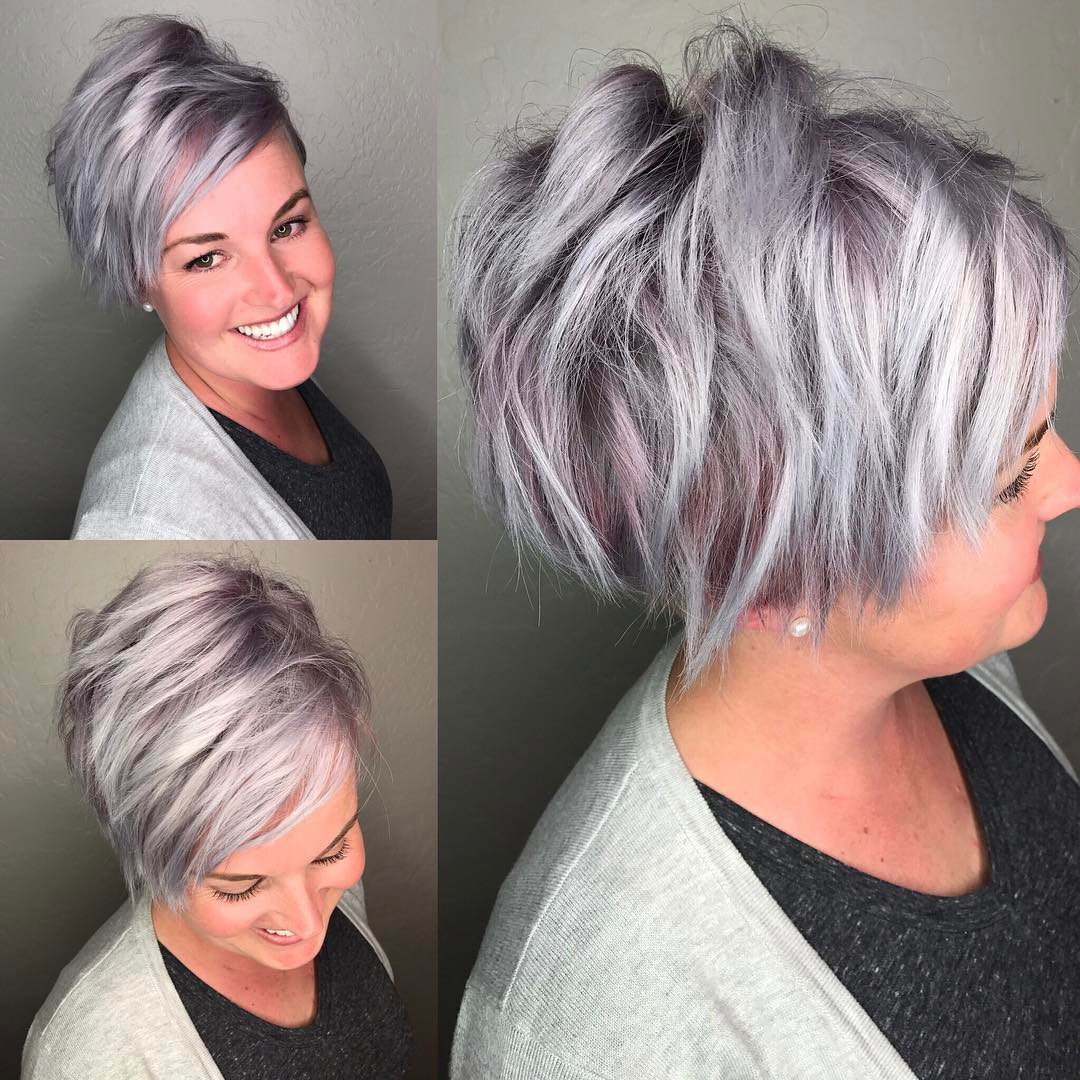 Credit
Tousled hair is an easy way to add volume and volume to your pixie cut. Recreate this style by choosing a bob with nice long layers towards the front of your face. Add shorter layers all over the top of the cut. Add beautiful silver and pink highlights for an incredible metallic effect. Wiggle your fingers and you're ready to go!
Blue Pixie Cut with Long Fringe – Layered Short Hairstyle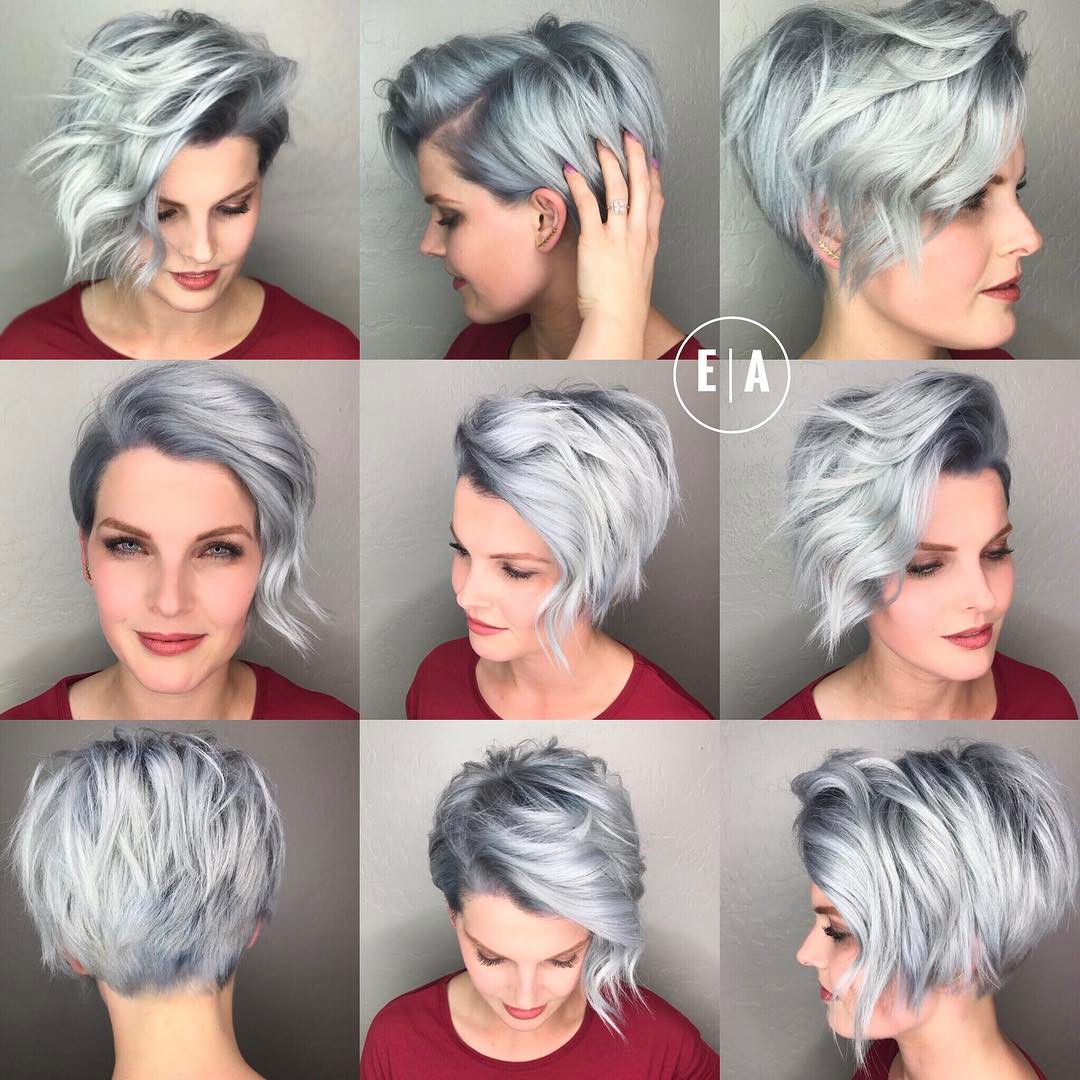 Credit
Blue doesn't always have to be bright to make a good impression. This absolutely stunning blue pixie haircut with a metallic effect is perfect for those with an oblong face. Choose a classic pixie haircut to the level of the ears; longer in the front and shorter in the back. Keep the fringe nice and long and dye it a nice metallic blue. Curl your hair back to add volume.
Tousled Brown Bob with Blonde Highlights – Balayage Hairstyles for Women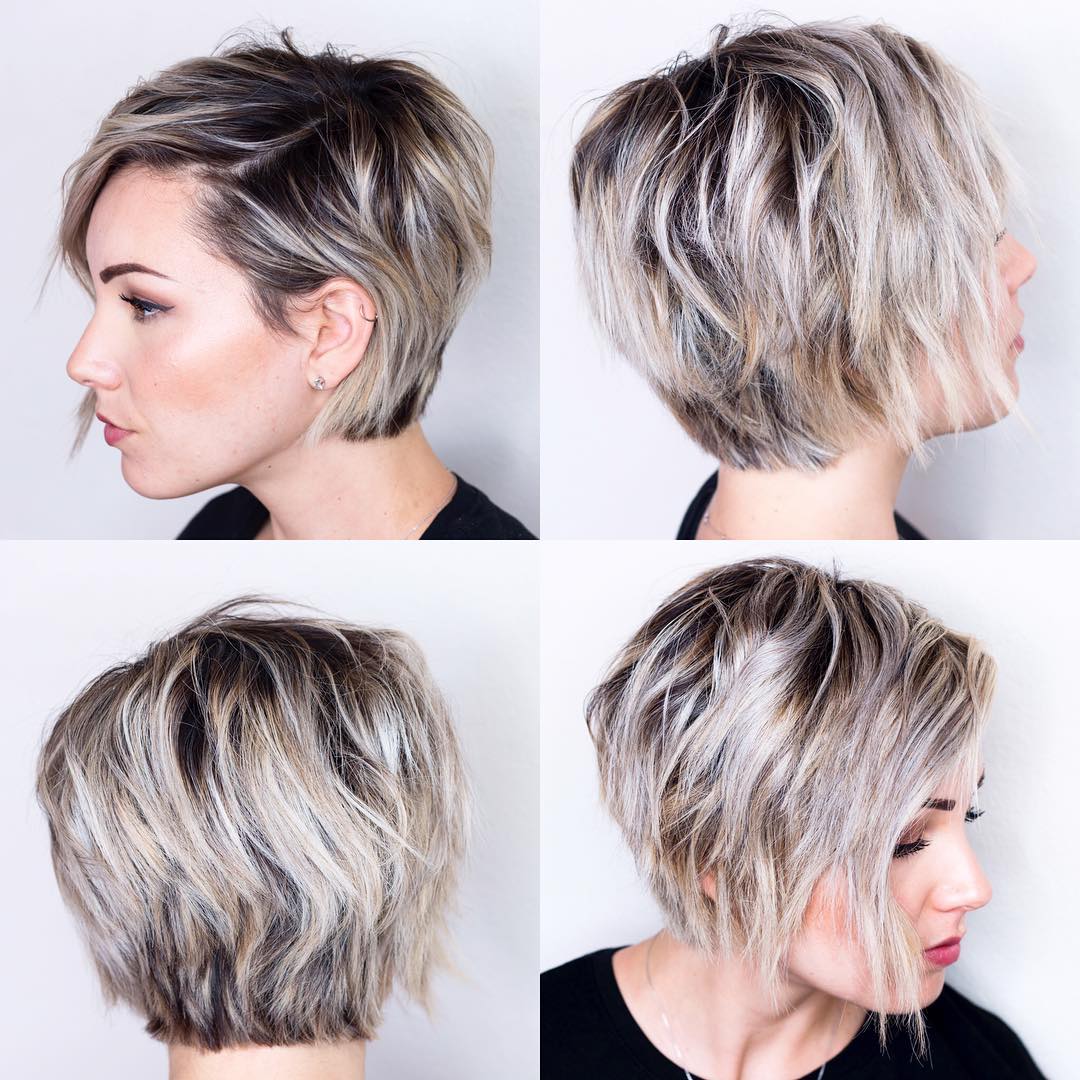 Credit
Highlighting creates a beautiful effect of sun-bleached hair, from which it is simply impossible to break away. Recreate this look by asking for a short bob. Part your hair to the side and leave one strand with a wide bang. Dye your hair dark brown and highlight it with golden blonde from top to bottom. Add texture for amazing results.
Ash Blonde Smooth Bob – Balayage Short Hairstyle for Thick Hair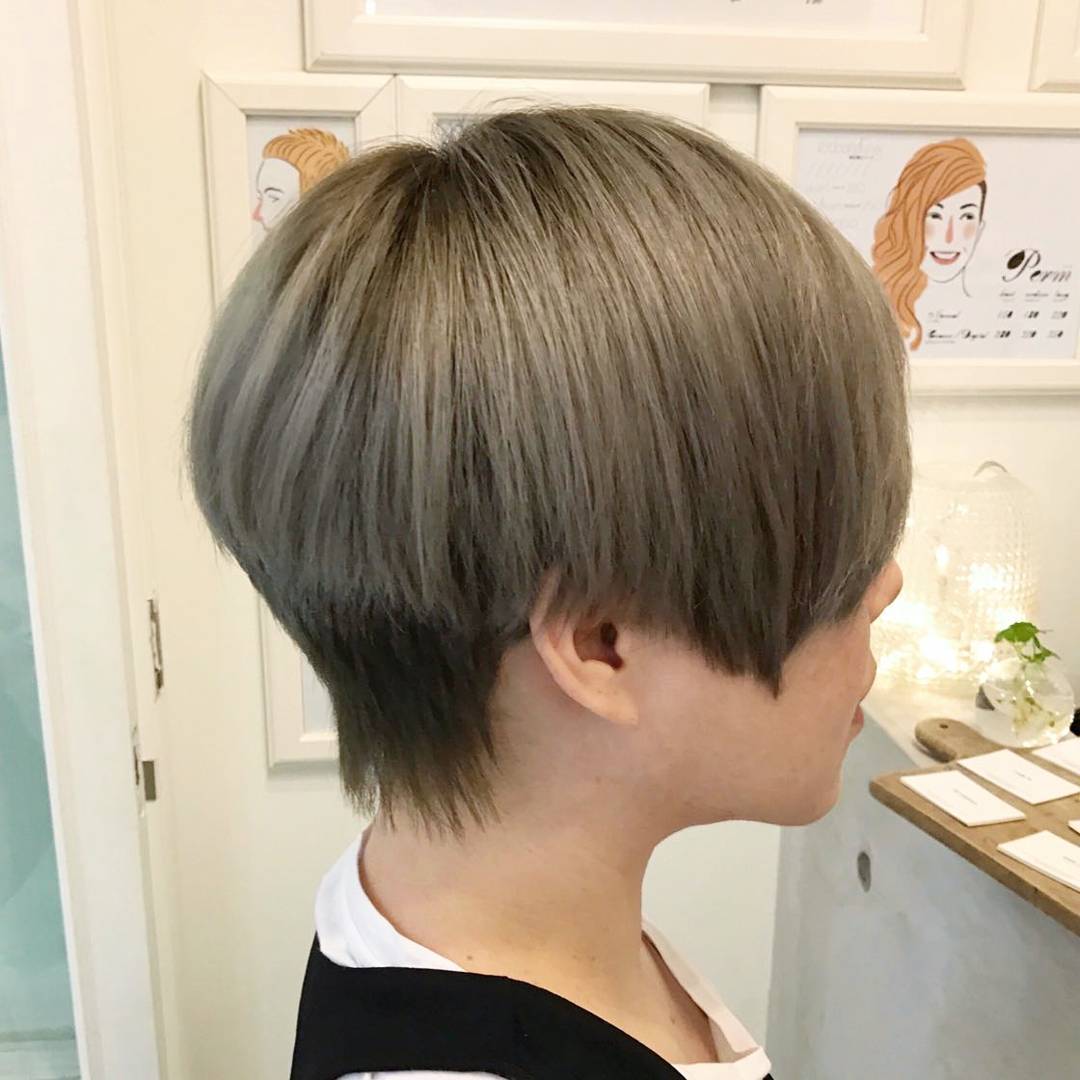 Credit
Sleek, sleek and so cool are three ways we could describe this incredible look. Choose a bob that falls at ear level. Keep the bottom layer short and cut close to the head. Leave the top layer to lie down longer and on the ears. Keep the top coat straight and smooth. Colour in your favourite shade of versatile ash blonde to complete the look.
White Blonde Pixie Cut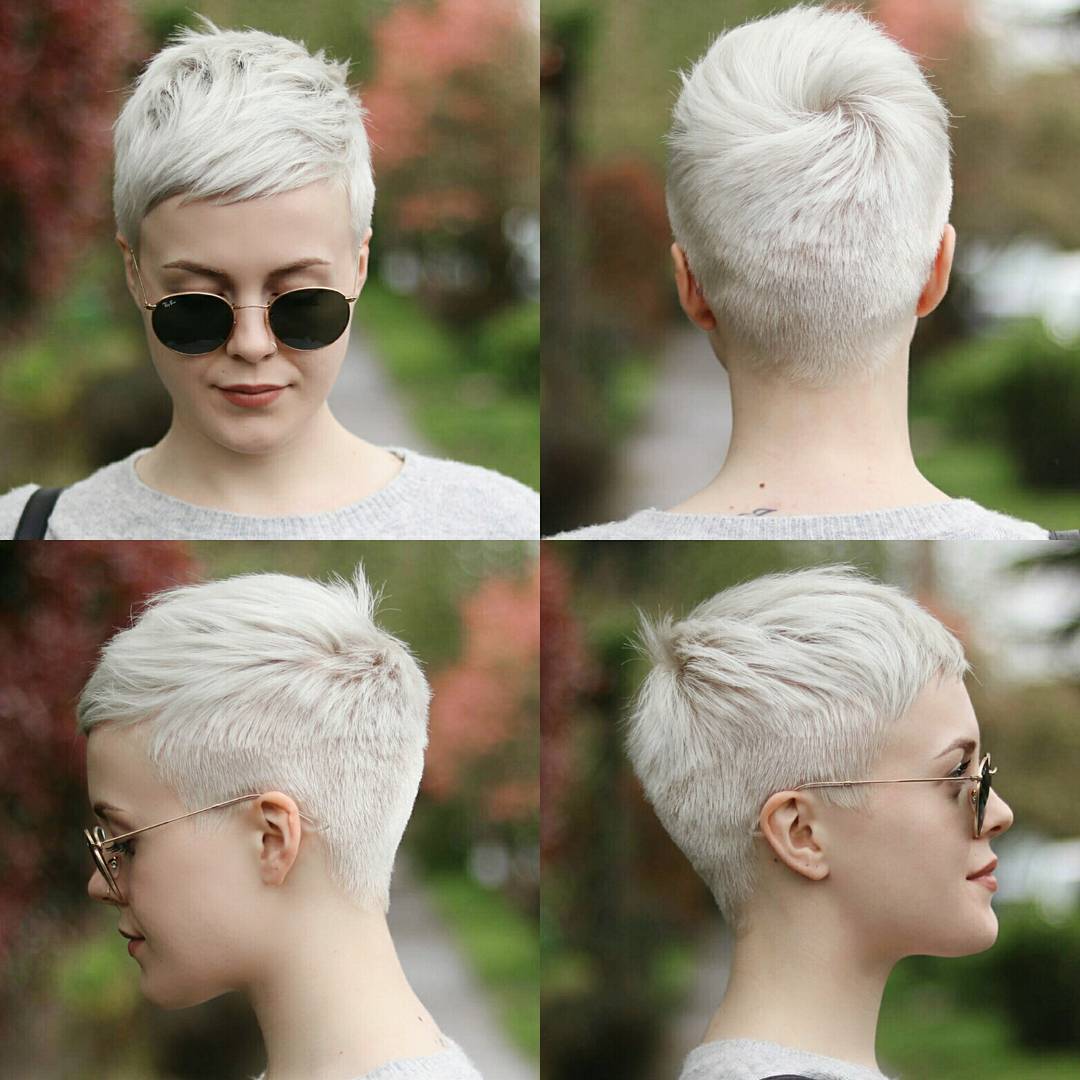 Credit
Is it better in short? If you're going for a dramatic pixie cut, why not go all the way and opt for this incredible short look that will accentuate your beautiful oblong face structure? Choose a super short pixie cut that is cut as close to the head as possible throughout the length. Cut off short bangs on the forehead. Dye your hair white blonde and comb through.
Curly Silver Crop with Shaved Layer – Shaved Hairstyle for Women Short Hair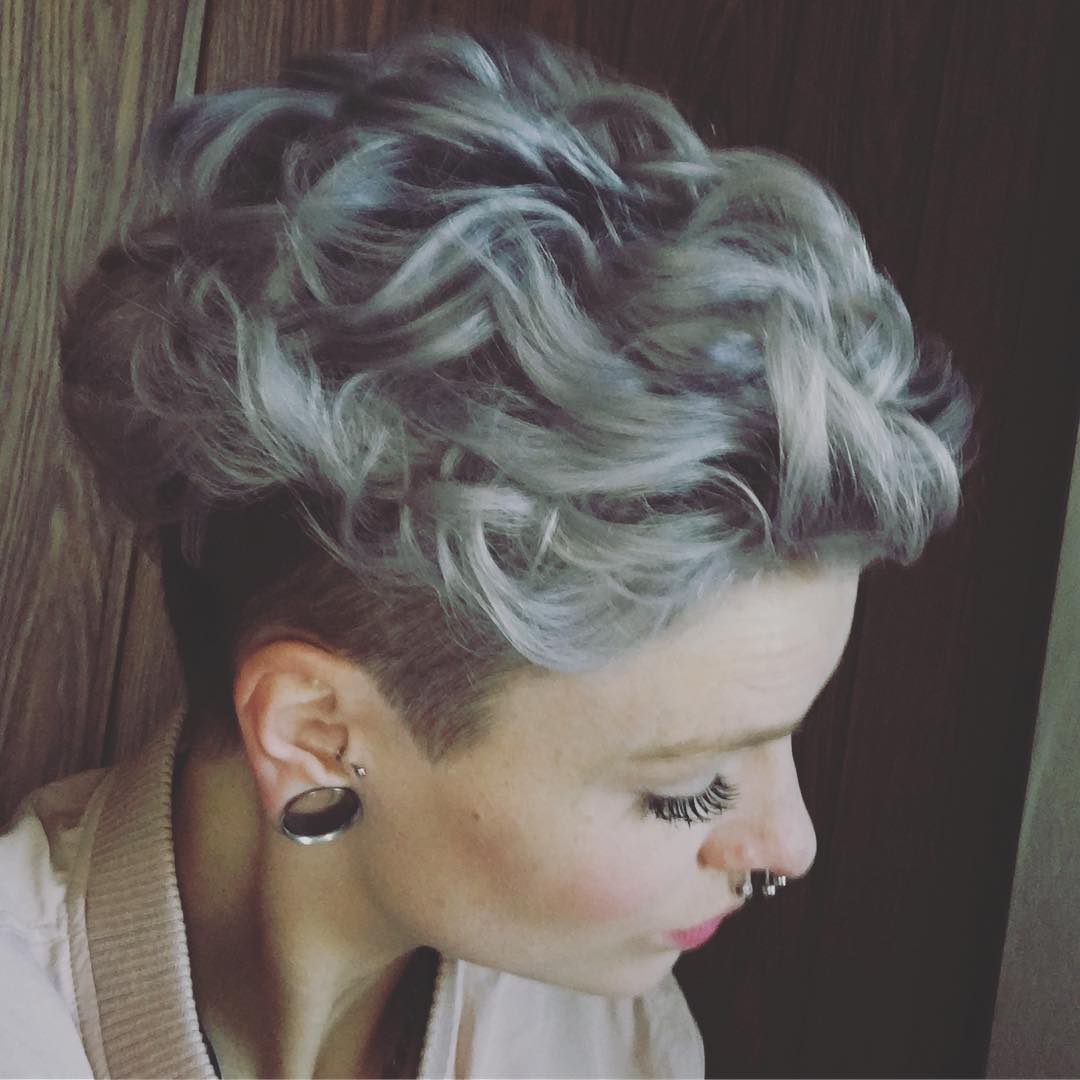 Credit
Curls can give your haircut a completely different look – don't you agree? We just love this classic curly look as shown in the photo above. Trim your pixie hair by shaving off the bottom layer. Leave the top layer on for much longer. Painted in a wonderful metallic silver shade. Curl the top of your hair in tight curls back for a bold vintage look.
Ash Blonde Pixie Cut with Blunt Fringe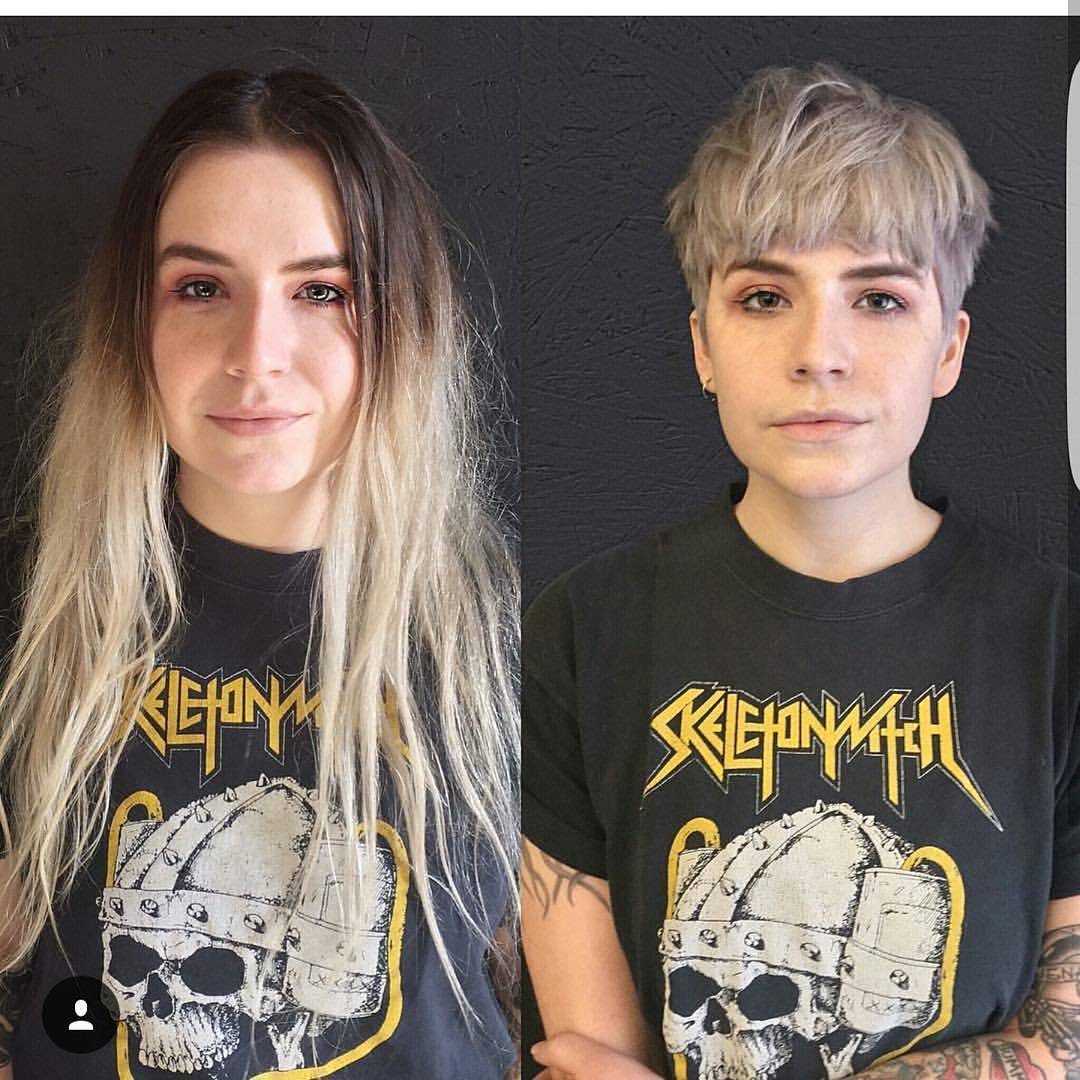 Credit
Straight bangs are so trendy that they have been dominating fashion lately. Recreate this trendy style by first dyeing your hair an ash blonde shade. Choose a pixie haircut with straight and straight forehead bangs. Tousle with your fingers and texture the cut for a stunning end result.