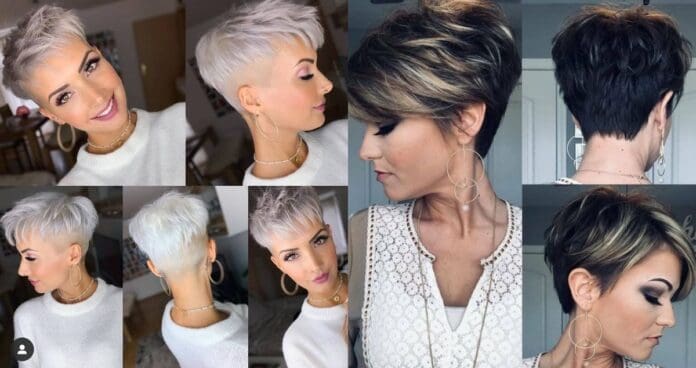 Pixie haircuts can be intimidating, but they are also very flattering and, even better, surprisingly quick and easy to style every day.
If you're ready to make your own pixie, check out the latest trendy pixie cuts for women before heading to the salon.
1. Spiky Platinum Blonde Pixie Cut with Asymmetrical Side-Swept Bangs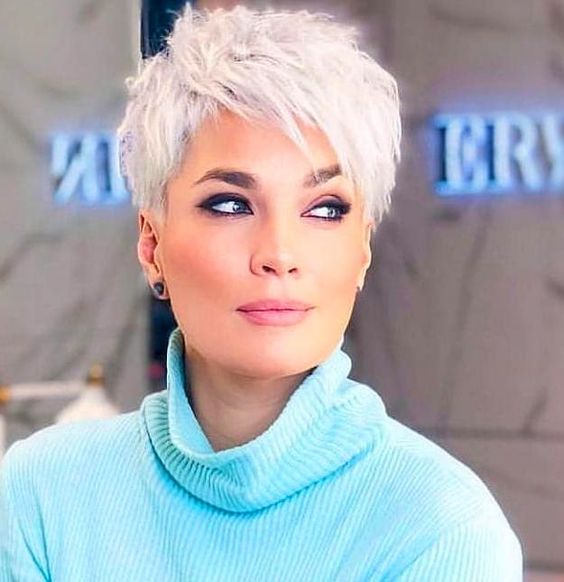 Credit
Start staying up late even in the very early hours of the morning with this platinum blonde pixie cut that is super easy to manage and takes minutes or less to style in the morning.
With spiky layers and asymmetrical side-swept bangs, this daring platinum blonde pixie cut gives it a feminine and flattering look.
2. White Blonde Pixie with Asymmetrical Fringe and Shaved Sides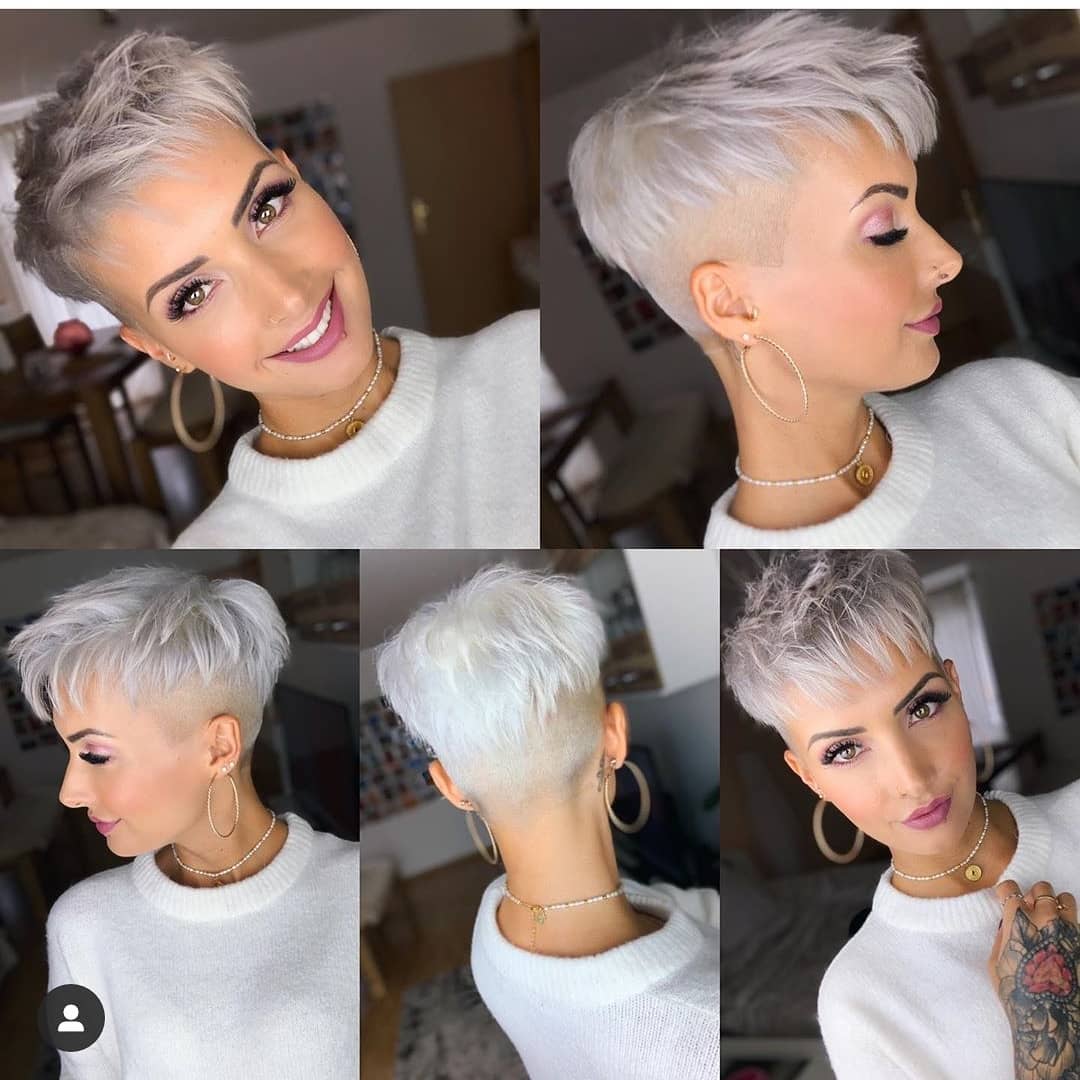 Credit
Very short, asymmetrical bangs can be tricky to manage, as are shaved sides, but this pixie cut is a great example of how easy it is to pair both.
The cropped ends of this layered pixie are heavily textured and blend into the shaved sides. The asymmetrical bangs of this haircut can be styled in different ways – combed to the side, tucked forward, etc. The white-blond solid color of this pixie gives this haircut an extra edge and unique femininity.
3. Tousled Cool Blonde Pixie Cut with Shadow Root and Shaved Back and Sides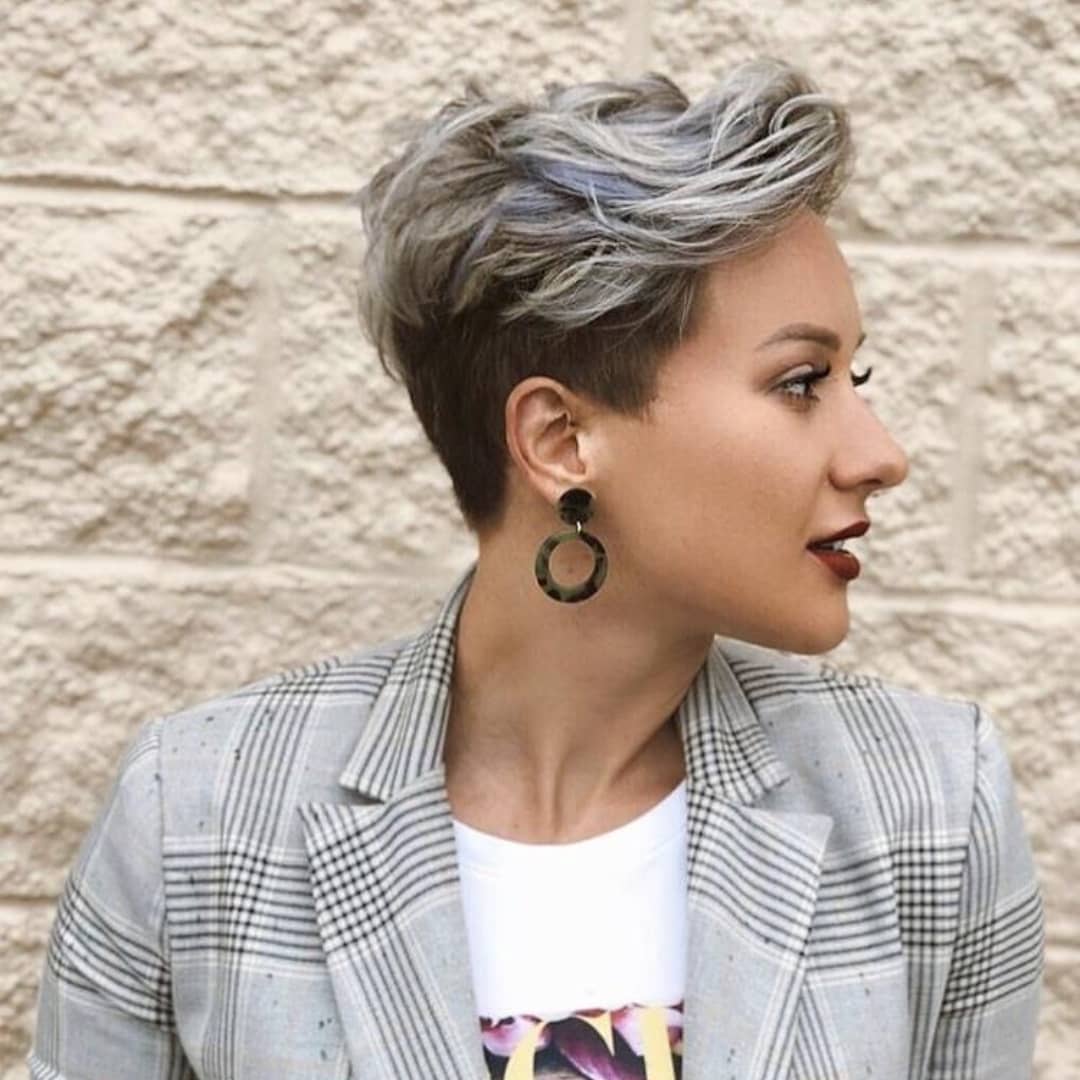 Credit
Cool blonde hair can be tricky to work with, as it's very difficult to make all cool blonde hair look natural. However, this pixie cut combines a dark brunette root with evenly toned cool blonde layers for an incredibly natural result.
With a shaved back and sides, this pixie cut is even easier to style and style every day, and best highlights her cool blonde longer layers on top.
4. Texturized Pixie with Side-Swept Bangs and Balisage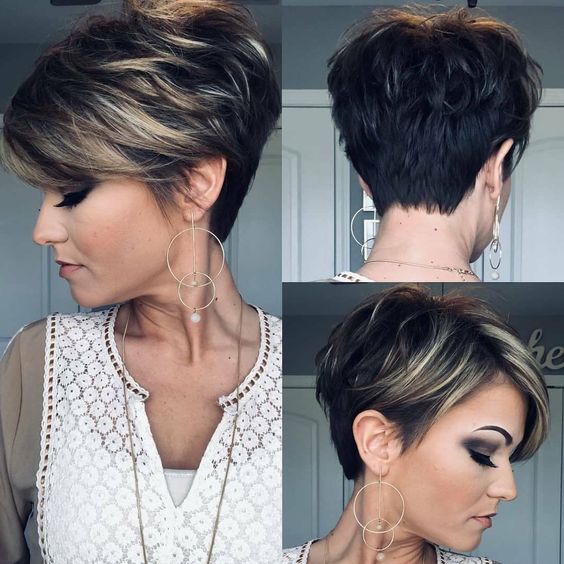 Credit
This pixie cut has longer layers on top that give this haircut the finishing touch and give you more styling freedom.
It has dark roots with lighter balayage at the ends of longer layers. This balayage adds warmth and gives this haircut a multi-dimensional look. Also, the ends of this pixie cut are heavily textured and fluffy to keep this haircut from looking bulky or too heavy.
5. Cool Blonde Pixie Cut with Asymmetrical Layers and Side-Swept Bangs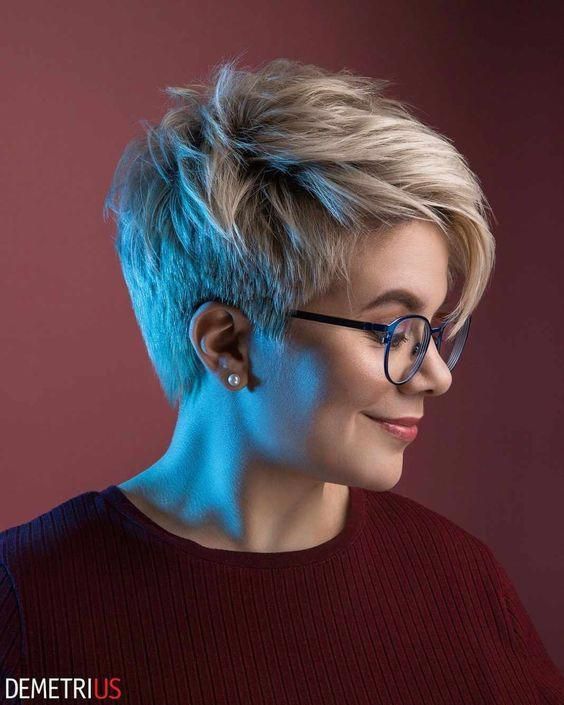 Credit
Anyone can wear this simple classic pixie cut which is very trendy, very easy to style and suits a wide variety of hair types and textures.
Its long, side-swept bangs on one side add interest and balance to this pixie cut, while the cropped layers at the crown give this pixie just enough volume and dimension to keep it from lying too flat on the head.
6. Tousled Auburn Pixie with Long Layers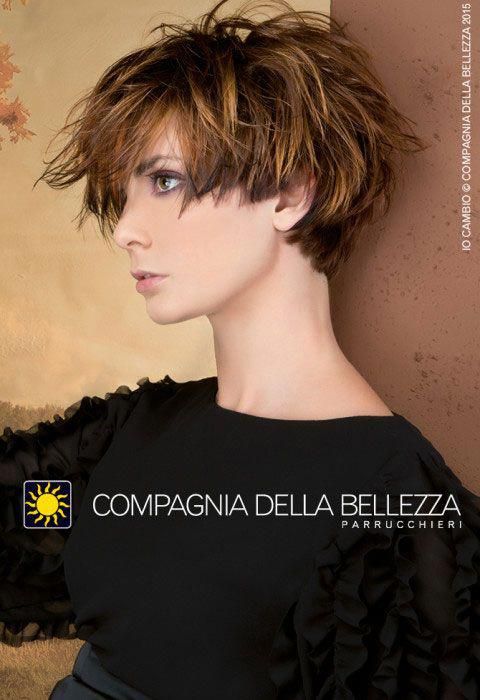 Credit
This chestnut pixie is definitely one of a kind. It's definitely an intimidating haircut that won't suit everyone, but if you're interested in a daring style, look no further than this ultra-daring pixie cut.
With blunt, ragged ends and long, side-swept layers in front, this pixie cut is hard to ignore and will definitely make you stand out from the crowd and grab attention wherever you go. Bleached ends and a casual style add warmth and volume to this whimsical pixie cut and help balance out its deliberately curly layers.
7. Millennial Pink Wavy Pixie Cut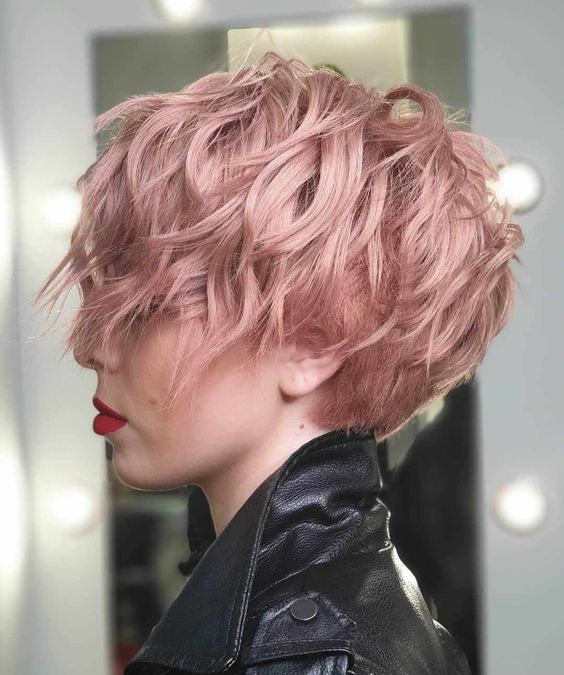 Credit
Nothing is more trendy than millennial pink, so why not include it in your next hairstyle? It's not as big of a fashion risk as you might think.
This pixie cut is unique and trendy with its millennial pink colour and long layers framing the front of the face. Ideal for women with naturally wavy hair. However, if you have naturally straight hair, you can also make it wavy.
8. Wavy Green Asymmetrical Pixie with Brunette Shadow Root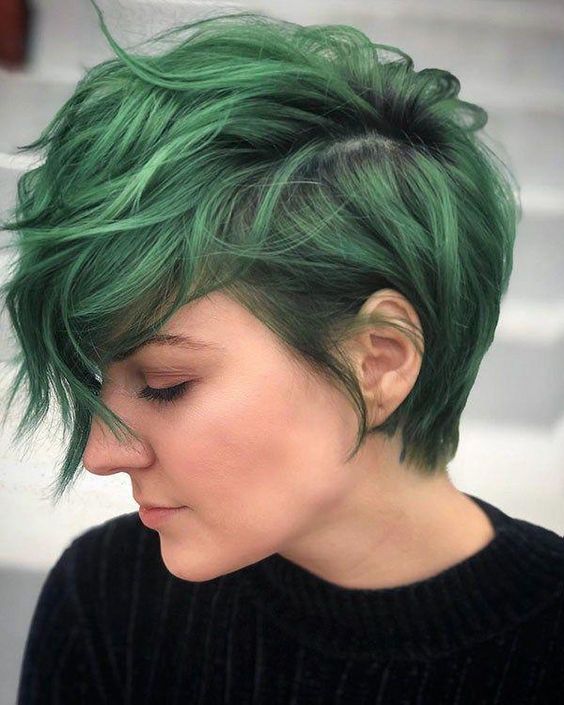 Credit
Green is one of the most difficult colors for hair. More often than not, green hair looks more like a failed dye job than a deliberate style.
However, this asymmetrical pixie shows how pretty and stylish green hair can be styled. Its asymmetrical layers complete the unusual color. Plus, its brunette root adds a natural finishing touch to this vibrant haircut and helps you last longer without having to visit the salon to touch the roots one more time.
9. White Blonde Side-Swept Pixie with Dark Shadow Root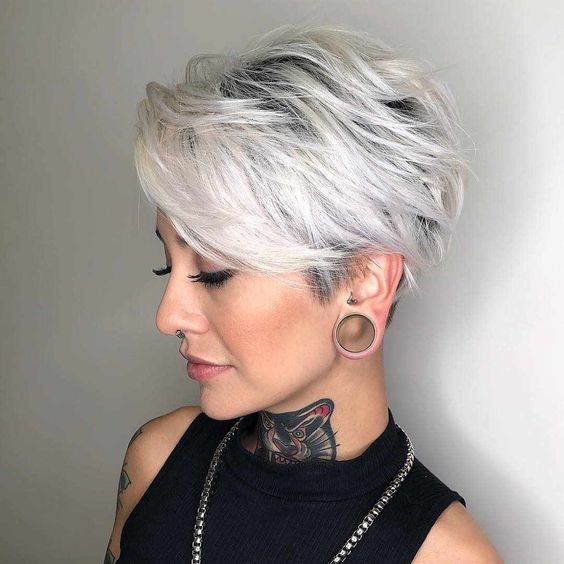 Credit
The white blonde pixie cut is perfect for women who want to try the classic edgy pixie cut. It features long side layers at the front that frame your face and highlight your best features. Its dark brown shadow root balances out the whole white blonde color and gives this pixie cut a natural look.
To top it off, the layers of this pixie haircut in the picture above are super smooth and shiny. Achieve that shiny, smooth look to your own hair by applying a generous amount of your chosen smoothness and shine serum to the top layers.
10. Light Brown Pixie with Highlights and Long Side Bangs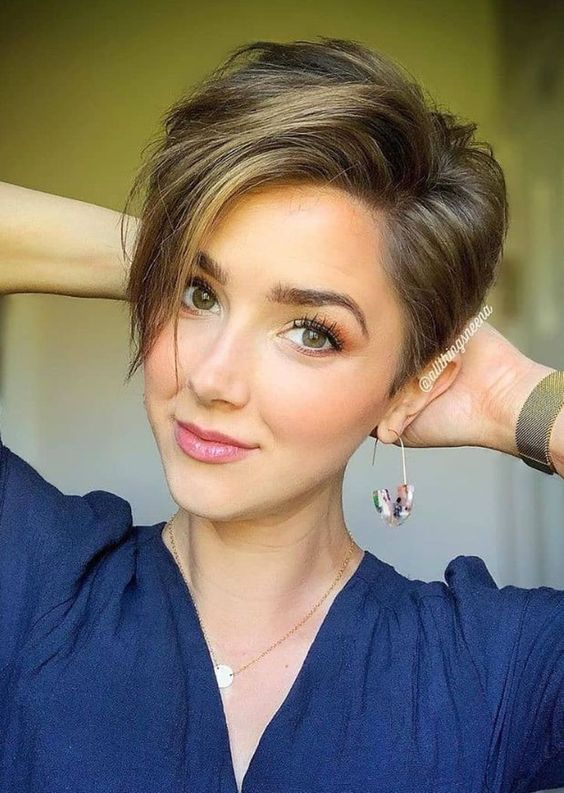 Credit
If you're looking for a straightforward, classic pixie haircut, look no further than the style in the above picture.
Warm blonde highlights balance out the light brown all-over color of this pixie. The highlights add balance and multi-dimensionality to this cut. Long side bangs and a deep side part also add more balance and interest to this classic, easy to manage haircut as well.