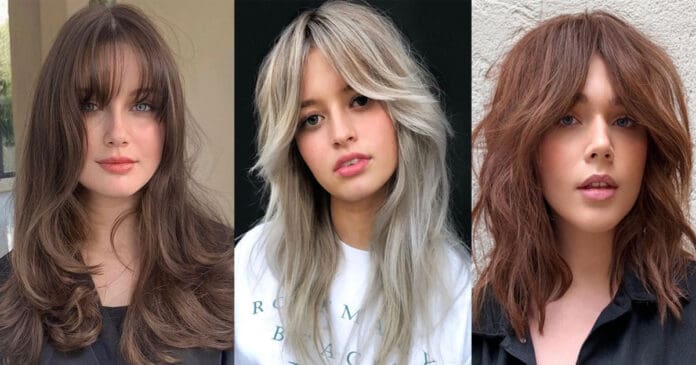 After a dramatic revival, the classic curtain bangs are now the most popular kind of fringe. They are cute, hot and feminine all while attracting attention with their eyes, and blending perfectly with almost any style. But are curtain bangs suitable for a round face? They are indeed! But, more importantly they can also be a great choice for shaping and balancing round faces. Take a look at our stunning collection of bangs that are suitable to round faces for the most convincing proof. There are a few key rules to consider when selecting between various types of bangs that are suitable for faces with a round shape. The first is that the bang must visually lengthen your face and make it appear more oval. The long side-swept bangs can accomplish this challenge better than other. Another trick is to create some volume to the top of the head when styling your bang. Textured bangs, particularly those placed above the eyes are a great trick to use: they soften the roundness and reveal your face. Another way for you to "cut" the extra width is to leave a few pieces between the ears. Straight full bangs are one of the most undesirable options as they highlight your face's round shape. But the shorter length, and longer pieces along the sides can make the appearance of a blunt bang more flattering to round faces. It's the same for the central parting. While this is usually not recommended for round faces. Curtain bangs could be able to shift the emphasis away from the face's roundness. Bangs are constantly in fashion. Whatever age you are, you'll always be able to attempt a hairstyle using bangs to add a touch of elegance. Since childhood the most popular hairstyle that we've often seen is bangs. It's true that bangs are a part of the cycle throughout our lives as well!
1. Brown Shag with Curtain Bangs
It's no wonder why curtain bangs work so well along with the 70s shag. Additionally they are a fantastic combination for creating the roundness of a face. thick layers and a sharp emphasis on the front makes the face appear thinner.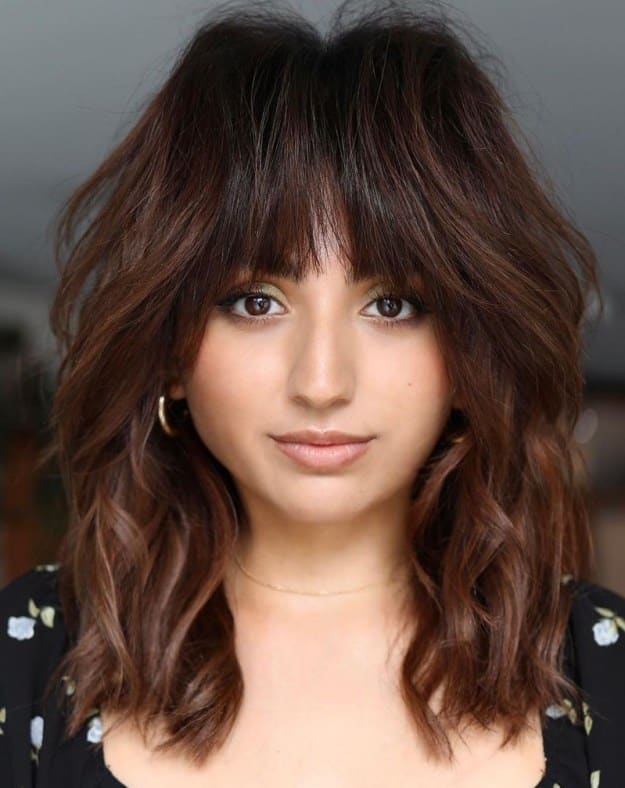 #2: Curtain Bangs for Long Straight Hair
These long curtain bangs effortlessly transform into long, feathered layers that slim the face while giving texture to lengthy straight hair. But, keep in mind that parted bangs require regular maintenance, especially when you have short straight hair. Avoid drying them with heat and apply a thick hair cream to keep them in their place.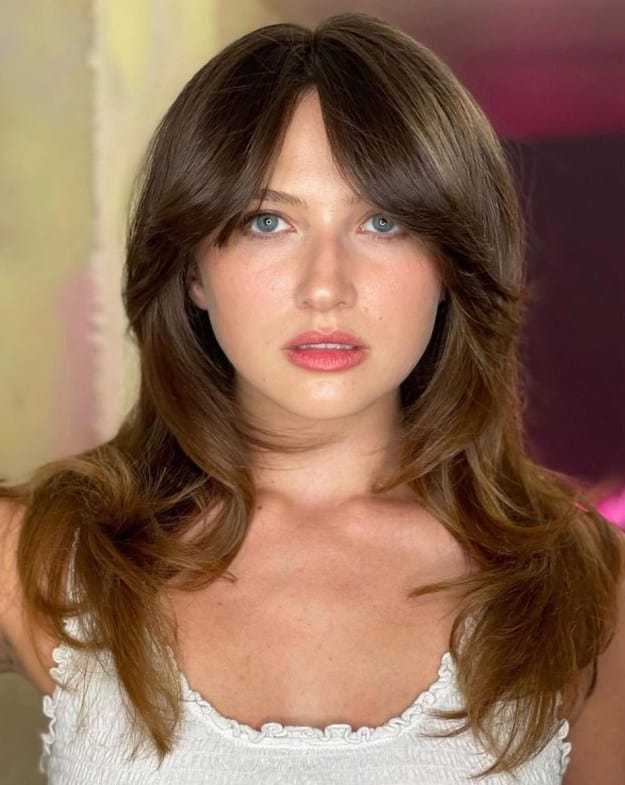 #3: Super Thick Curtain Bangs
One of the most tried and tested ways to make a round face shape is by adding the volume of your hair. The shorter, more pronounced bangs on your curtain and the longer length hair can easily accomplish this job. Layers of hair make this style messy and add volume and stealing the spotlight from cheeks with chubby cheeks.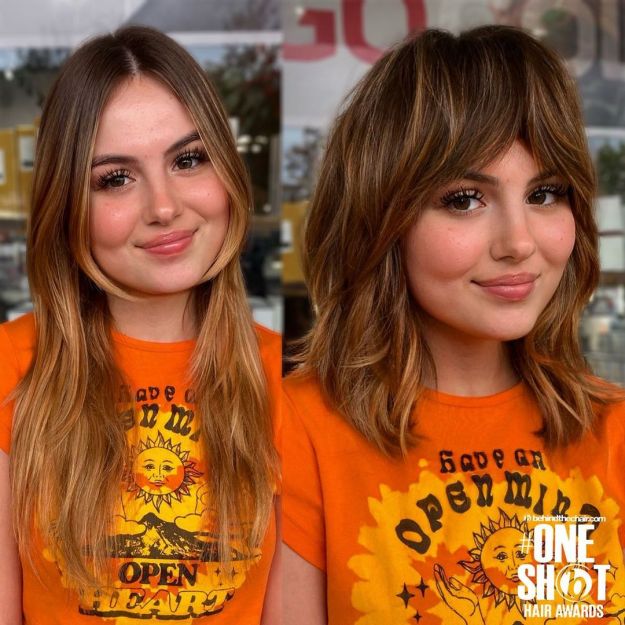 4. Long Curtain Bangs with Wavy hair
If you're not blessed with hair that is thick, then longer-length curtain bangs might be the ideal choice. They'll remain in place and you'll be able to put the bangs behind the ears. Side bangs are a great way to frame your face and help in achieving the desired slimming effect.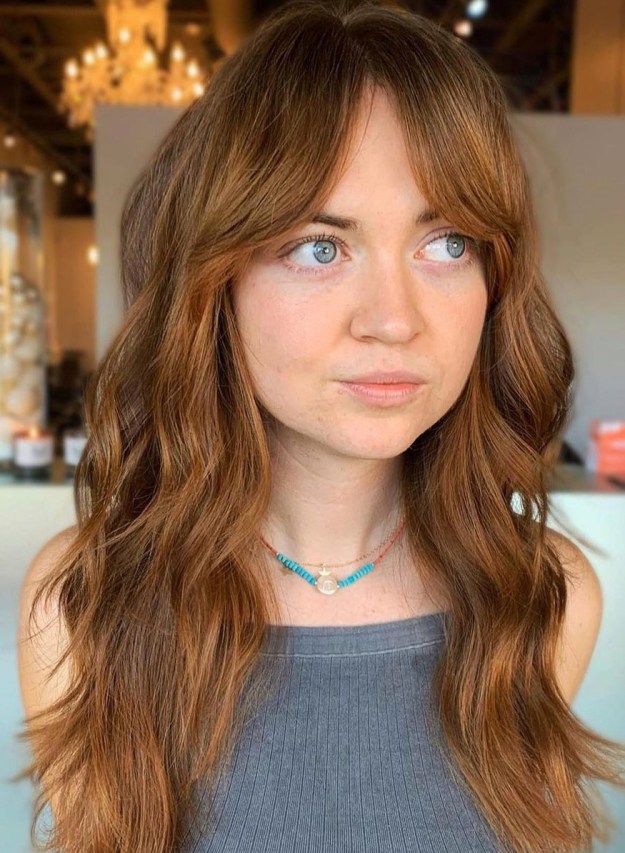 #5: Layered Cut Thin Curtain Bangs
Round faces are notoriously known for having big foreheads. However this problem is easy to fix by using curtains bangs. However, ensure that your fringes are parted in a way that is crucial to ensure an extended effect.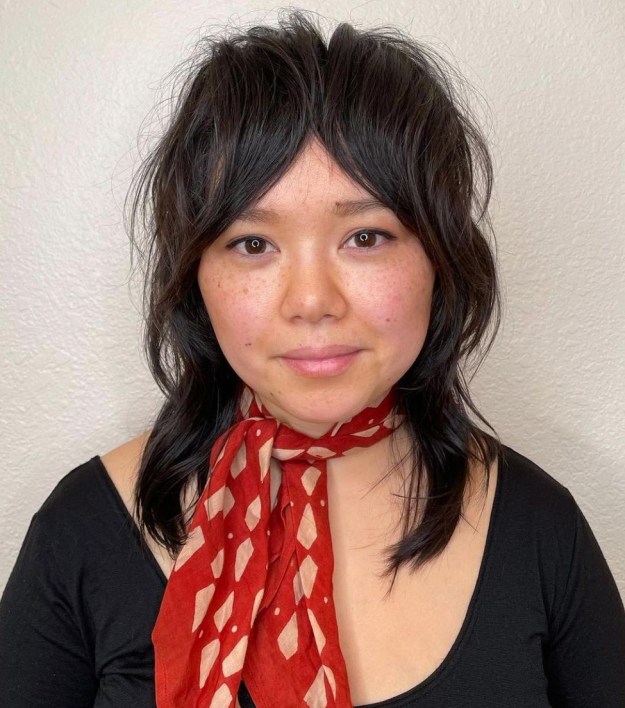 6. Feathered Layers and Curtain Bangs
In addition to cutting the correct curtain bangs and accepting a medium layer cut, there's one additional trick to balance the round shape of your face -an"ombre. The medium brown to dark brown ombre shatters the cheekbones of the face and creates the illusion of a more slim face.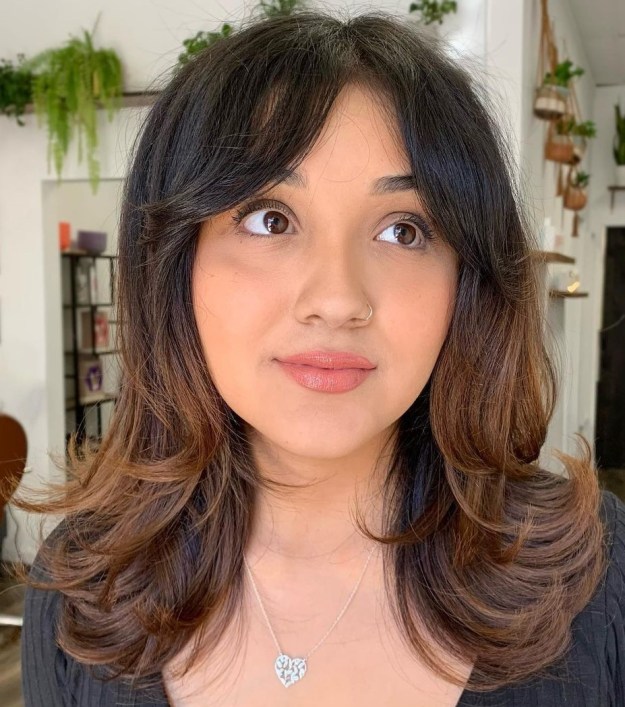 #7: Messy Curtain Bangs for Round Face Shapes
The volume of your hair and the texture of your messy waves can go a long ways in making your round and facial shape appear slimmer. Maintain your loose texture alive by using a high-quality texture product, and wear this stunningly sexy style like rock stars.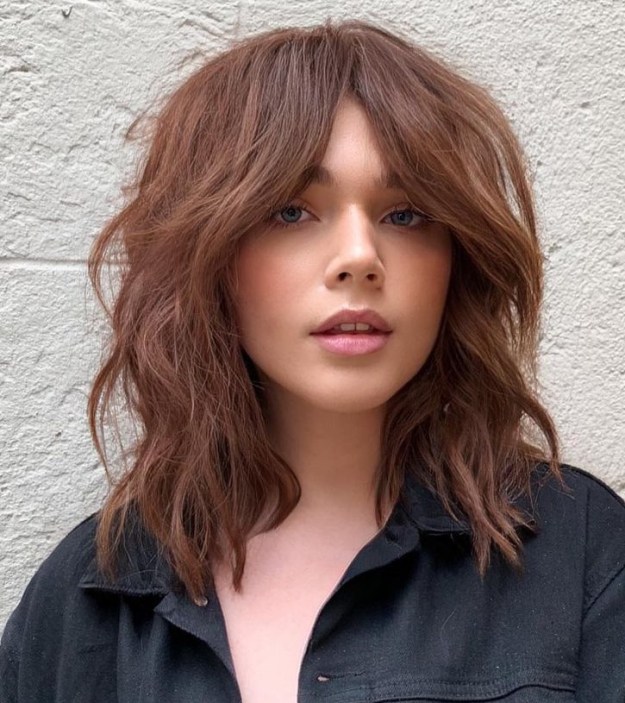 #8: Wispy Curtain Bangs for Round Faces
A swishy fringe on a curtain can be a wonderful accessory to long hair. It helps shift the attention towards your eyes, making it an ideal choice if you have a round face. For a more harmonious appearance you can consider layering your hair throughout the length of your hair.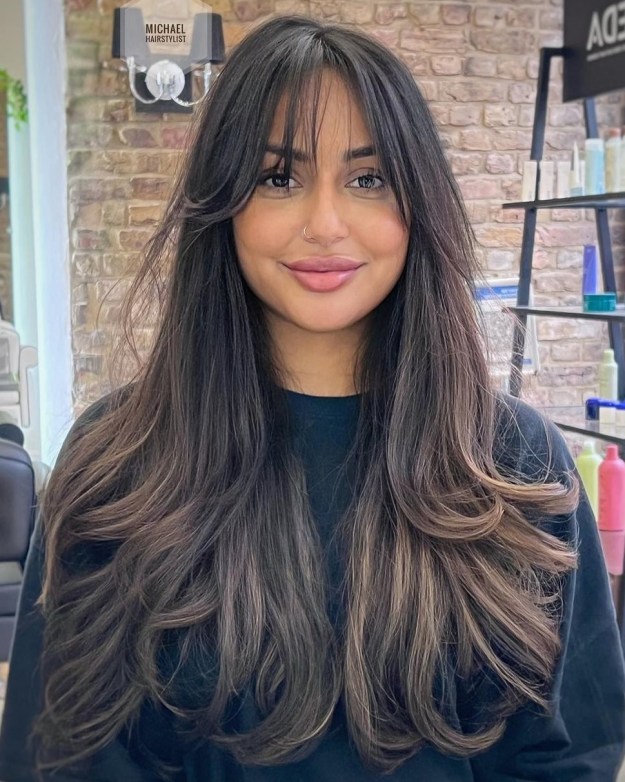 #9: Curtain Bangs for Thin Hair
A longer length of bangs is the option if you have hair that is thin — so that they can be more manageable to keep. Pick a circular brush and talk to your stylist about products that will help keep your bangs looking gorgeous and natural.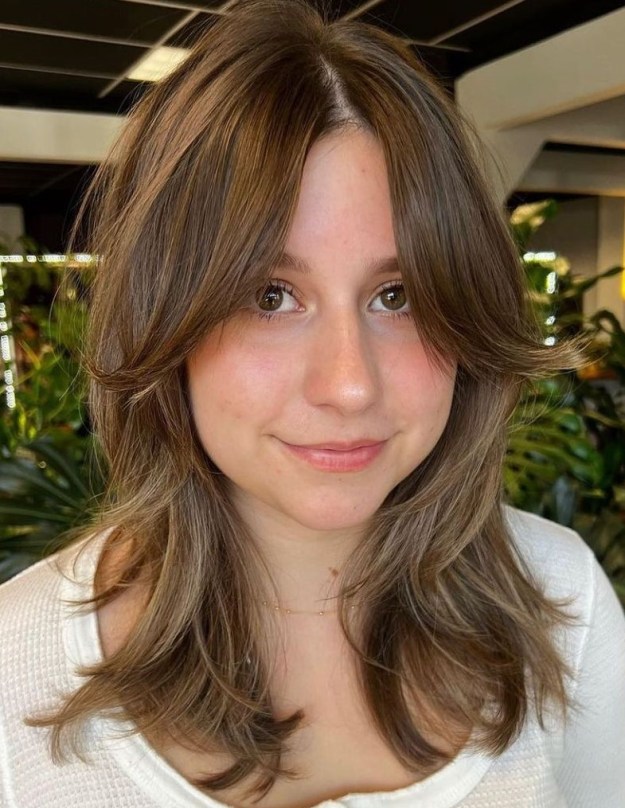 #10 Straight Lob with Curtain Bangs
The curtain fringe is a perfect length to the cheekbones and perfectly balances on the small face. Hairy bangs on the curtain look gorgeous with a long bob giving the softness that creates a feminine look and adorable.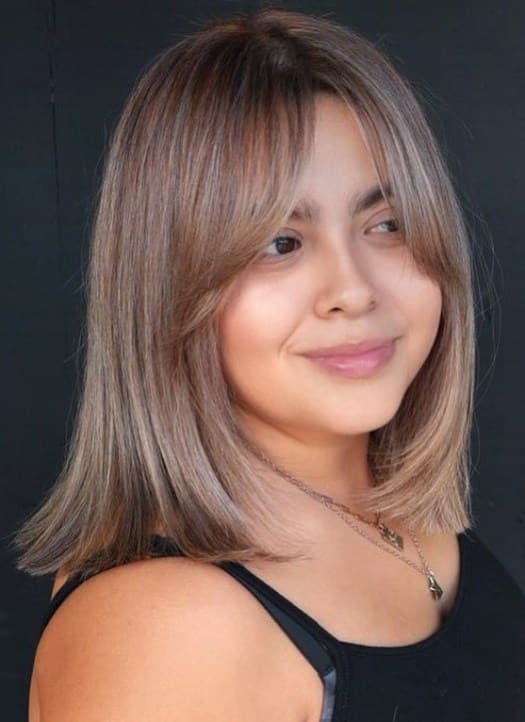 11: Voluminous Bob, with Curtain Bangs
The bangs of the curtain look stunning when worn with short hair They make the perfect combination with hair that is hair bob. The fringe frames the face of a woman visually, elongating her face and making it appear stunningly charming.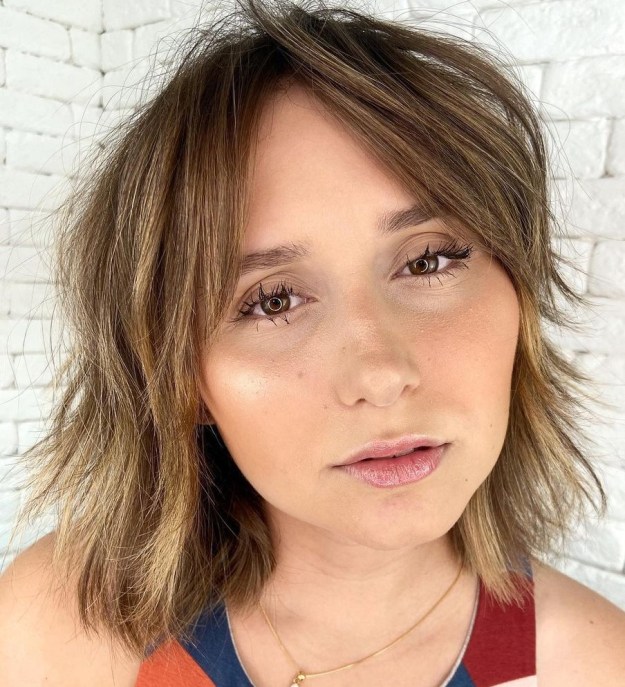 #12: Curtain Bangs with Long Wavy Hair
Here's a tip for ladies with oval faces, who have long, sleek hair and don't want to trim them just to balance their facial shapes. The first step is to consider purchasing cheekbone-grazing curtains . They are perfect for shaping the face. The next step is to try waves. They'll make the eyes look away of your face's cheeks.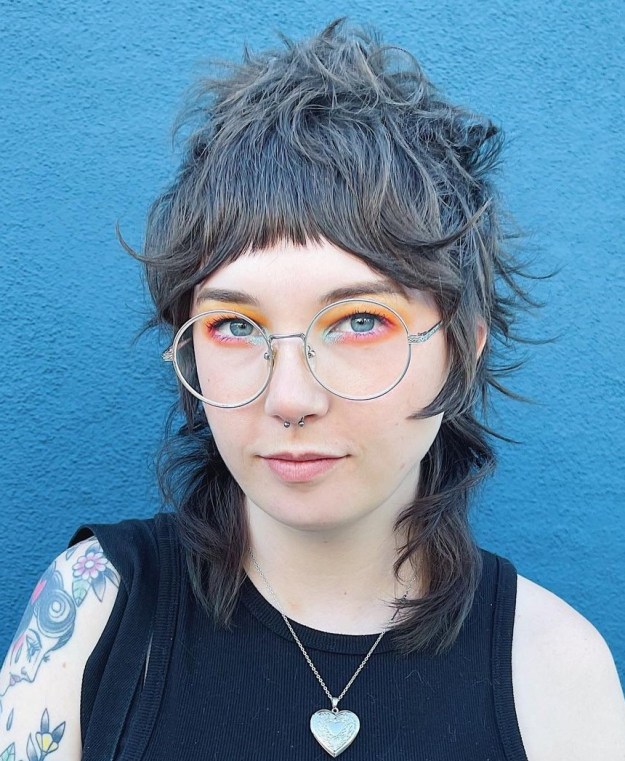 #13: Soft Shag with Curtain Bangs
Females with round faces shouldn't think about the potential of layered cuts in balancing their facial shape. You can bend the edges of the layers using straighteners to match the haircut to your facial shape. Also the curtain fringe will be the ideal choice to go with the hairstyle.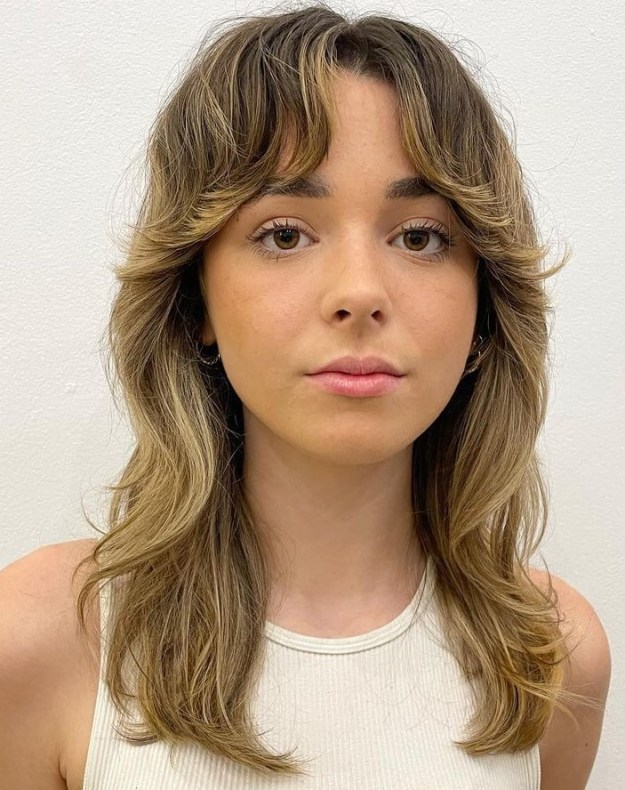 #14: Baby Curtain Bangs
If you're looking ways to cover the prominent look of your forehead Baby bangs could be the best option. Be careful not to wear sharp bangs. In this is a way to avoid your face looking round. Instead, think about choppy curtain bangs, like the one in this picture.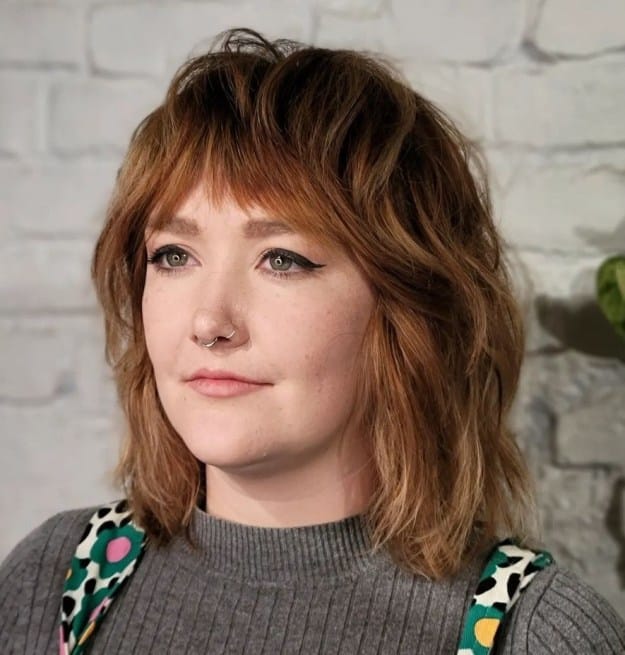 #15 Flirty Shag With Curtain Bangs
A long shag layered with bangs on the curtain can be a fantastic option to balance round faces. A tip for you: if your face is more pronounced on top, stay away to wear a middle portion and opt for a longer fringe. Additionally, consider darker roots to give your face more dimensions and depth.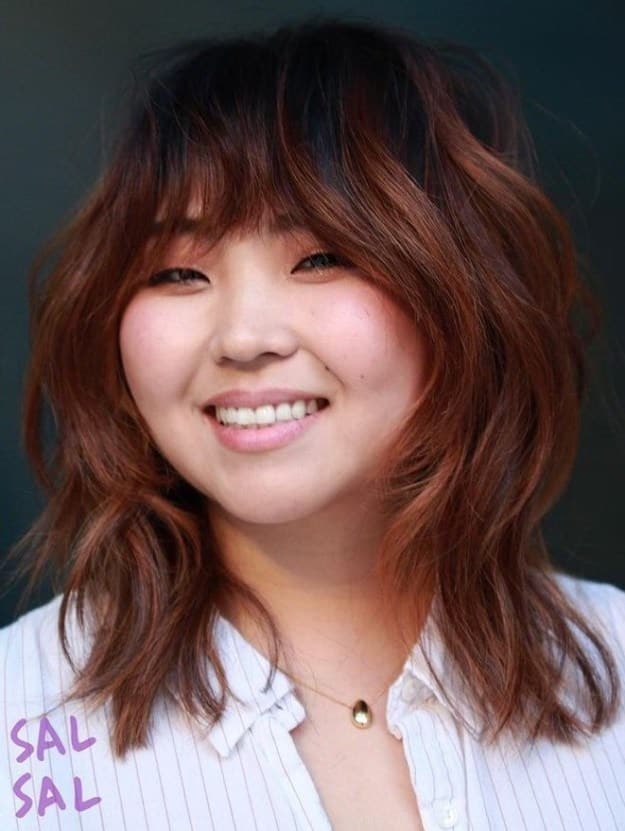 #16: Bob with Curtain Bangs to create Round Face Shapes
We love how these curtains frame a woman's face, beautifully lengthening its round form. The curtain bangs make a great complement to a bob cut which flatters both hair that is thick and thin. All you need is the perfect length!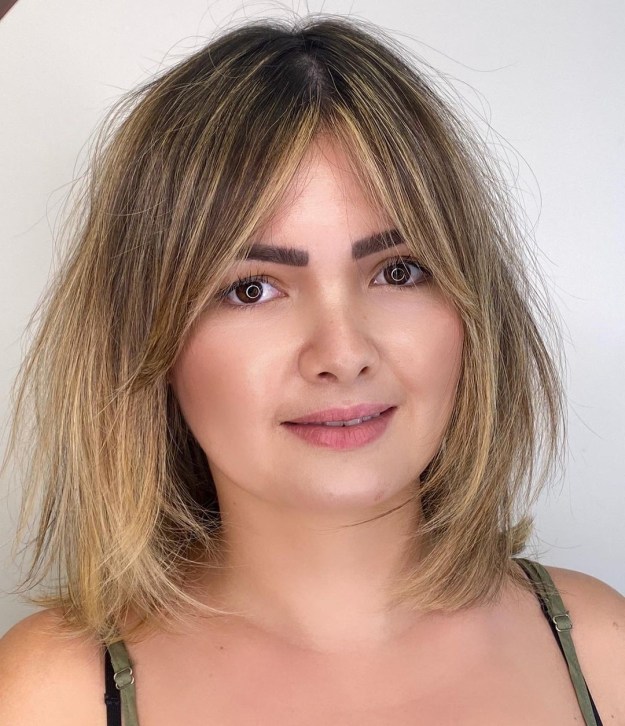 #17: Curtain Bangs and Long Layers
This hair appears extremely stylish — a centrally-parted curtain fringe is a great match for stylish long hair. The proper length of the curtain bangs is to flatter both a downdo as well as a ponytail, fulfilling their purpose of lengthening the face of the girl.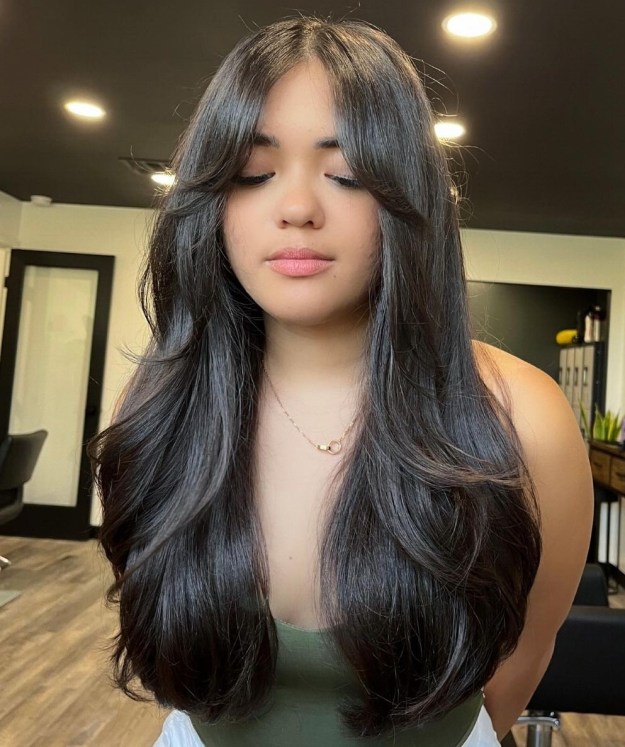 #18: Wispy Curtain Bangs
There are a variety of bangs on the curtain that fit round faces Wispy bangs are the most popular. They are excellent at creating a break in the face to achieve the slimming effect you want.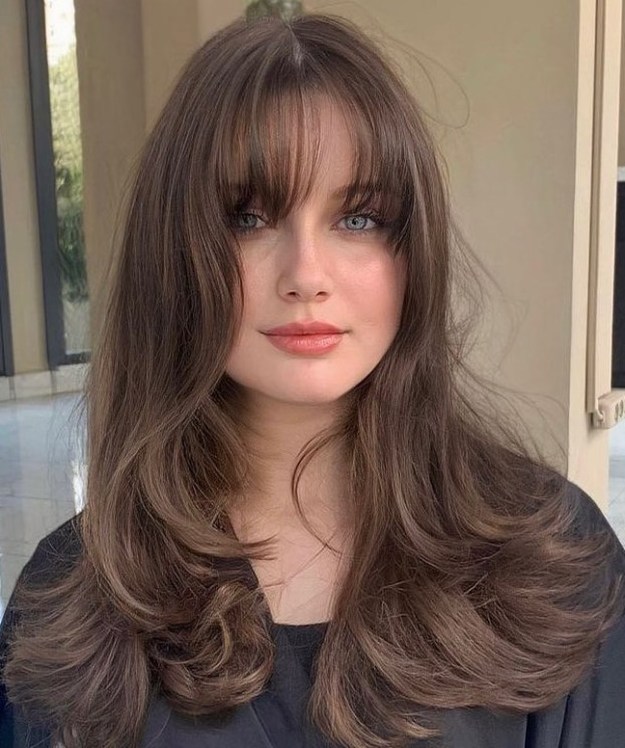 19. Jet Black Bob with Curtain Bangs
Did you have the knowledge that darker shades of hair aid in narrowing oval faces create shadows? It is possible to go deeper and include cheekbone-greezing curtain fringe to enhance the effect.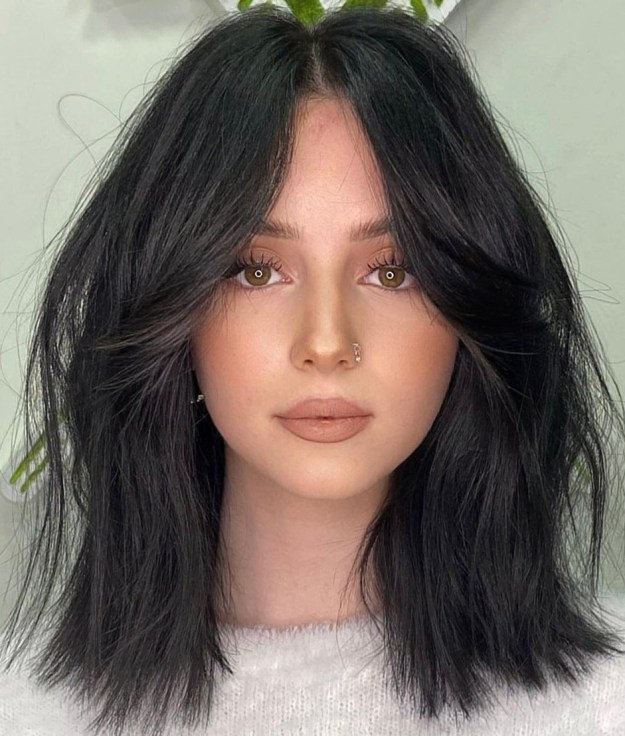 #20: Irregularly Parted Bangs
The ladies with naturally wavy hair can effortlessly balance their round faces by utilizing the wavy layers and a chic curtain fringe. To get a stunning style, skip the middle portion. Instead, opt for oddly parted hair and gain extra volume!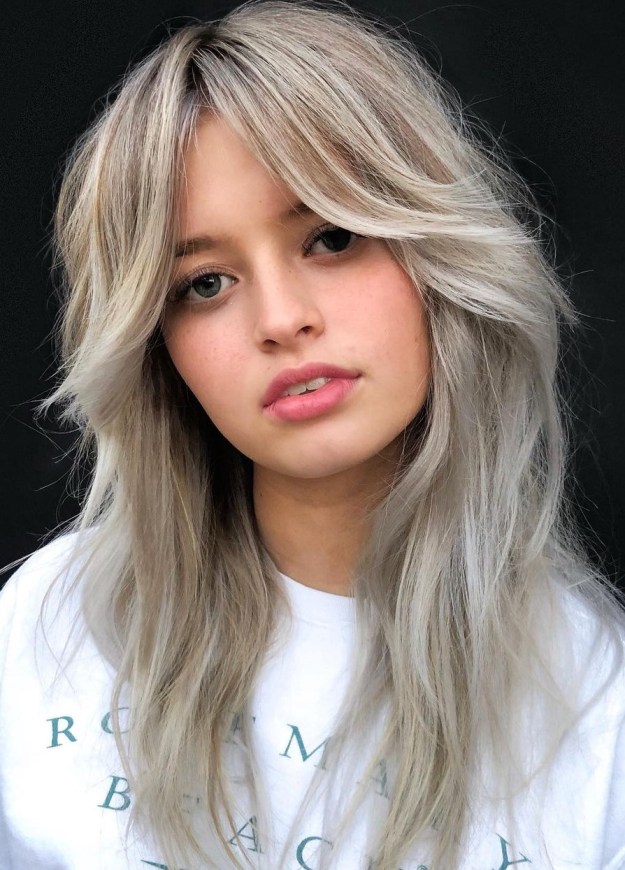 21: Curtain Fringe With Shoulder Length Hair
What better way to use all ways to even out your face shape? Apart from perfect curtain bangs and balayage, you can maximize the texture and color of your hair such as embracing free waves, balayage and loose curls in order to keep the attention away from the shape of your face.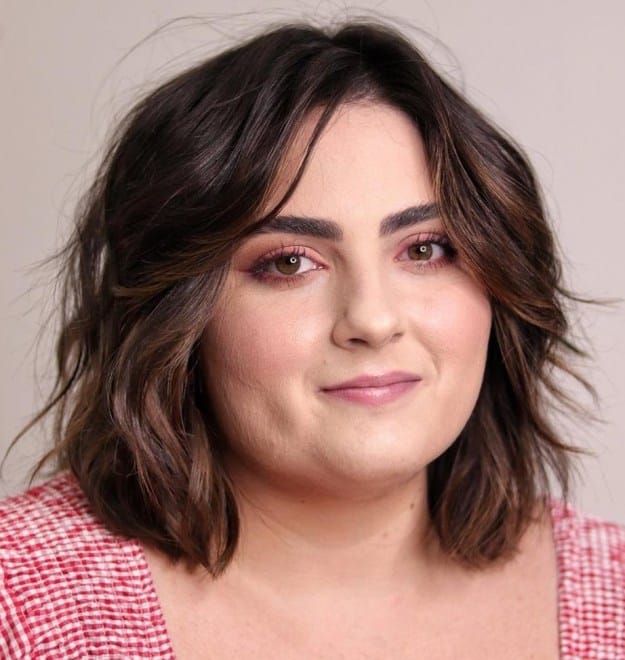 #22: Curtain Bangs for Natural Hair
Natural tresses are renowned for their unruly nature and difficult to hold in place which is why center-parted long curtain bangs could give additional trouble. This is why it may be better to choose shorter curtain bangs that are easier to manage.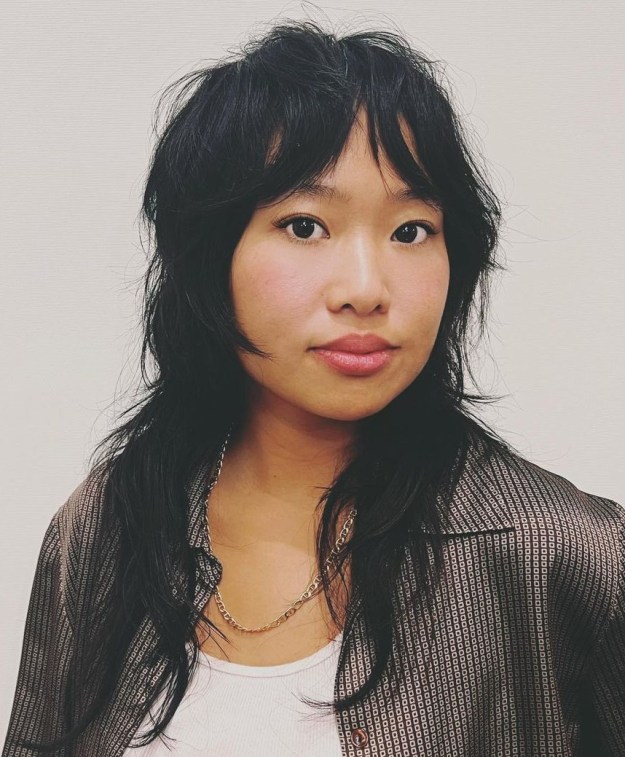 #23: Razored Curtain Bangs for Curly Hair
Looking for the most beautiful bangs that flatter your curly and round hair? Look no further these cute bangs that have an angled middle can be your ideal choice. You can create a more striking look by incorporating babylights.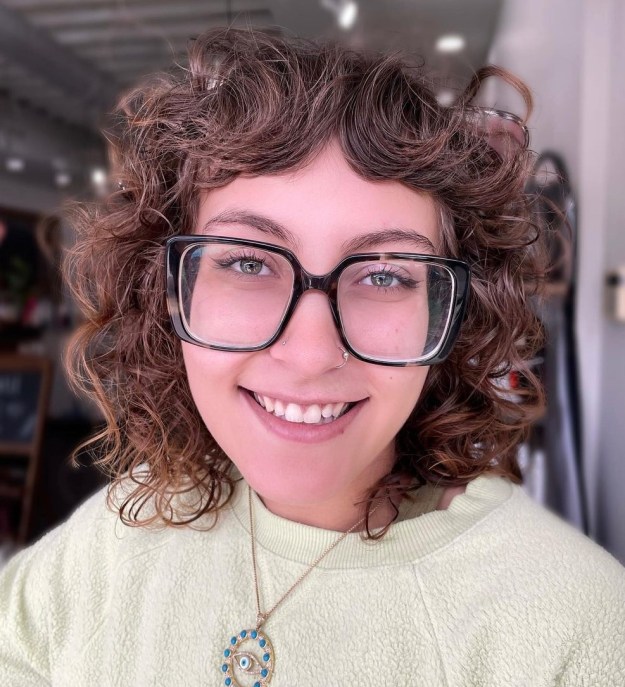 #24: Feathery Middle Parted Bangs
Although a fluttery cut can give a extra lift for fine hair light and airy curtain bangs can go big way in balancing round faces. You can use this concept for your next trip to the salon If you are looking for ways to conquer two issues -having a round face and fine hair simultaneously.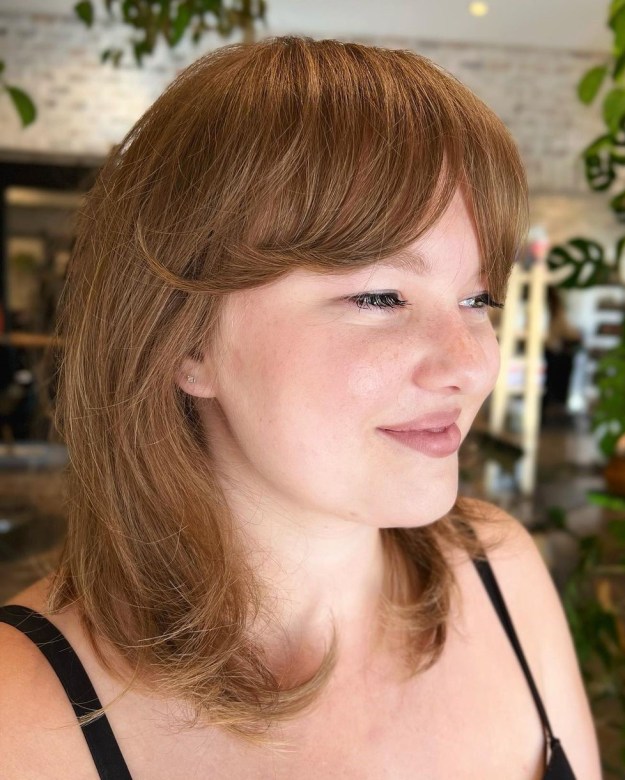 #25: Shorter Bangs for Round Faces
Long shags look amazing when worn with shorter bangs that are a part of the curtain. This beautiful combination is the best option if you wish to show off a little loose natural style while making sure your face is balanced.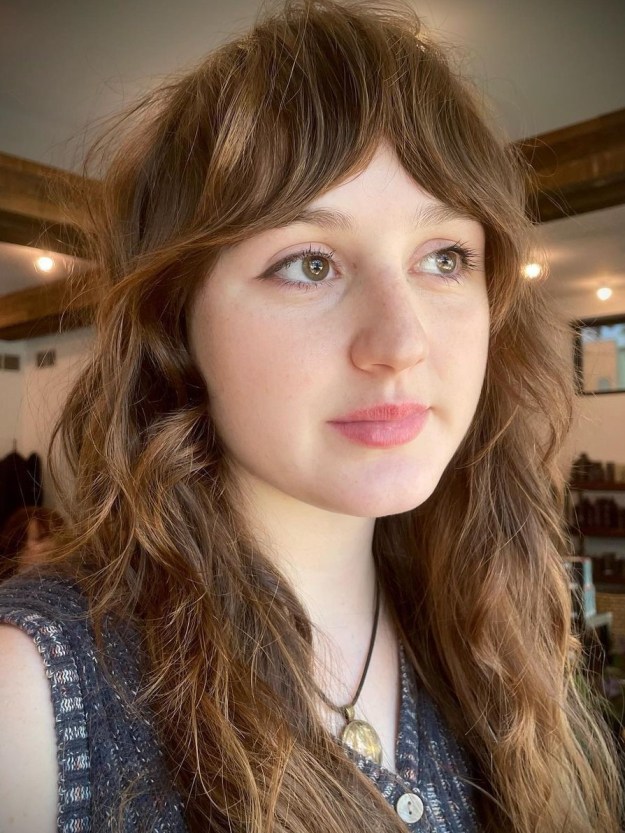 #26 Textured Lob with Curtain Fringe
The look of bangs on the curtain is stunning with medium blonde hairstyles like this long-textured cut. If you've never had the pleasure of an lob, this may be the perfect time to try it! It's a fantastic way to combine the volume that shorter hair can provide and the comfort of a more slender cut. You can put your hair into ponytails.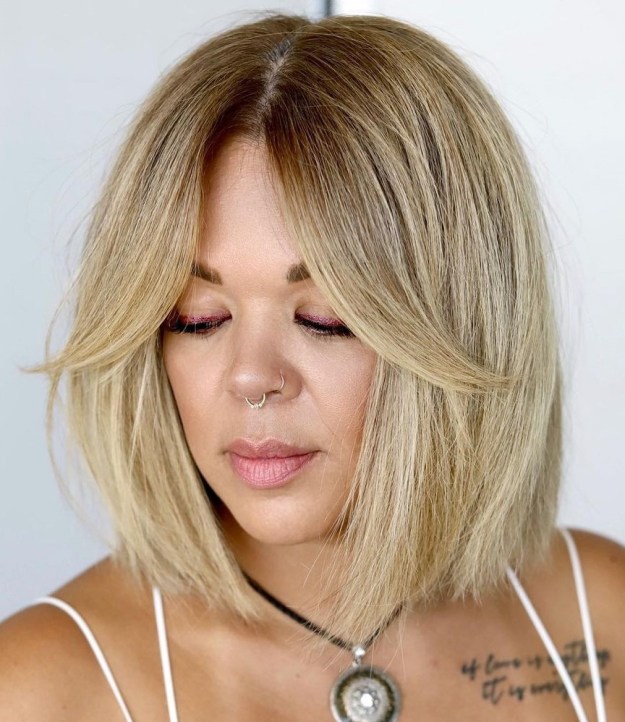 #27: Wispy Bangs
Wispy bangs and a classic hairstyle are a great combination for faces with face shapes that are round. The volume boost that waves add draw attention away from the face, and wispy bangs can do a fantastic job of covering the wide forehead.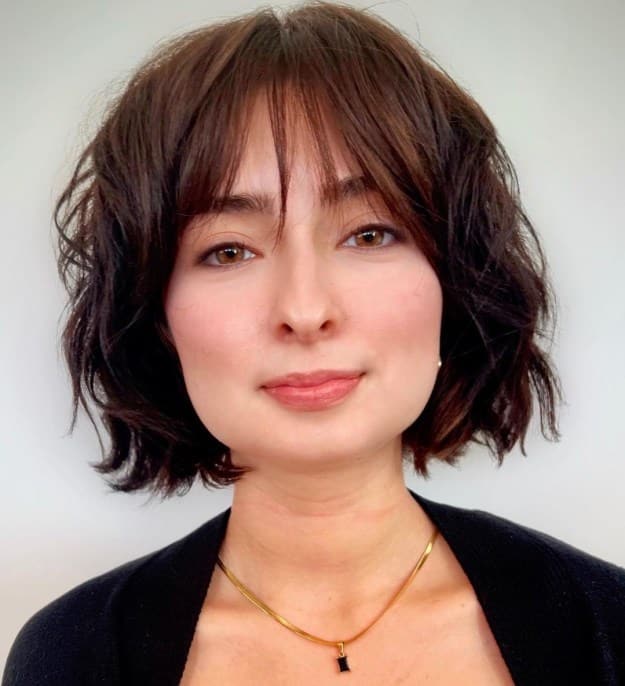 #28: Pixie Mullet Curtain Bangs
If you're looking for short hairstyles to enhance your face shape A pixie mullet that has curtains can be the solution. It can really open up the face, without adding volume to the sides which isn't preferred for faces with round faces.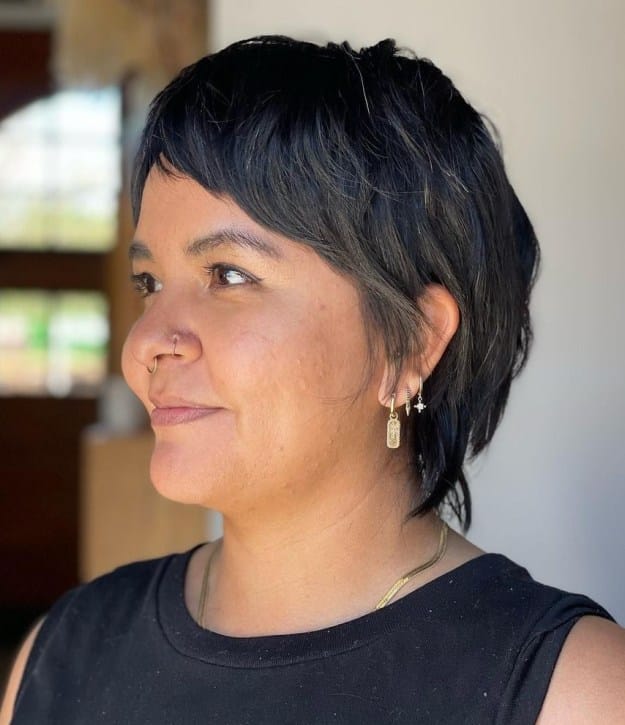 #29: Long Curtain Fringe
If you choose to incorporate the curtain fringe to slim your face or to change it up it's elegant by having long hair. It is a great match for formal blowouts and casual ponytails, and it is all about your mood at the moment and which you'll need to do to look your best!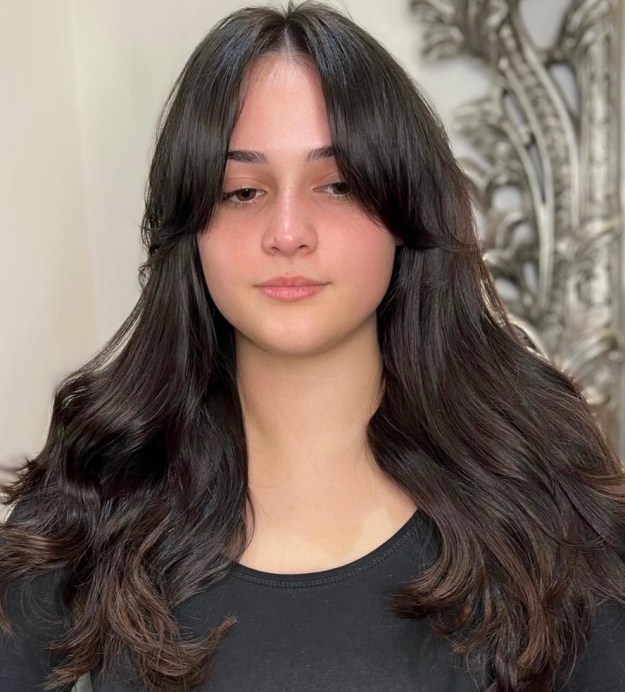 30: Shaggy Bob with Bangs
This is another great illustration of how curtain fringe and wave can change your appearance. However, you should be aware of straight lines. In this is a way to end in a face that appears more broader.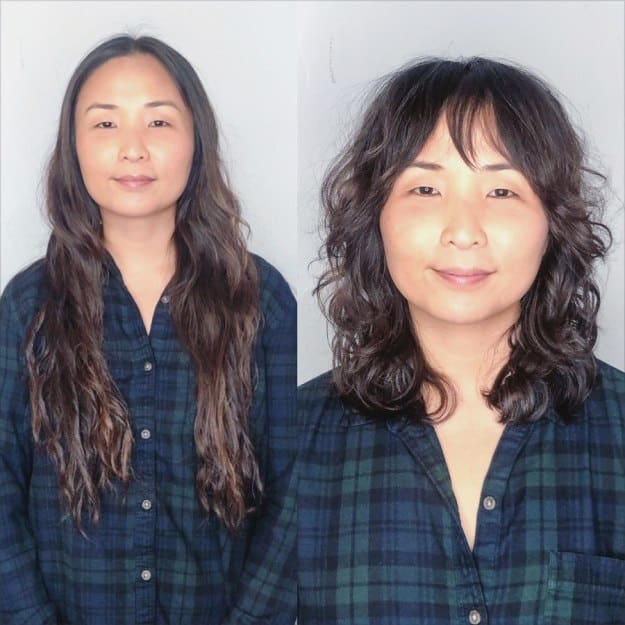 No matter your face's shape no matter what shape your face is, there's always your perfect bangs to help your natural beauty shine through. We are hoping that you have our collection of bangs that are perfect for round faces available it's simpler for both of you to select the bangs that suit your face most.