11 – Stacked Lob & Face Framing Highlights
Highlights or lighter tones around the front of your face is a great way to keep things light, whilst protecting the rest of your locks. Blonde all over will often require a lot of lightening treatments, and these will damage your hair. By keeping things natural and dark over the majority of your locks, you're causing minimal damage, but the light face-framing tones still brings in all the benefits.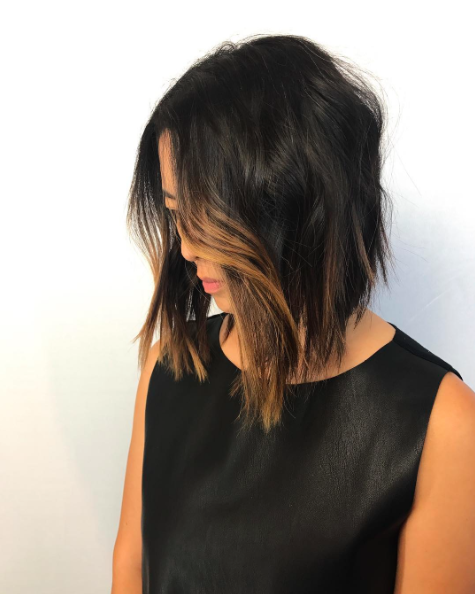 Source: hairbyedwin
12 – Stormy Weather Coloured Stacked Lob
Of course, you could always go for a really strong color choice when looking at the right stacked bob haircuts for you. You could get really creative when you play around with color, and you'll often find that the addition of different shades will also add extra depth to your hair, making it appear thicker. Have a chat with your colorist to see what shades and tones they'd recommend for you.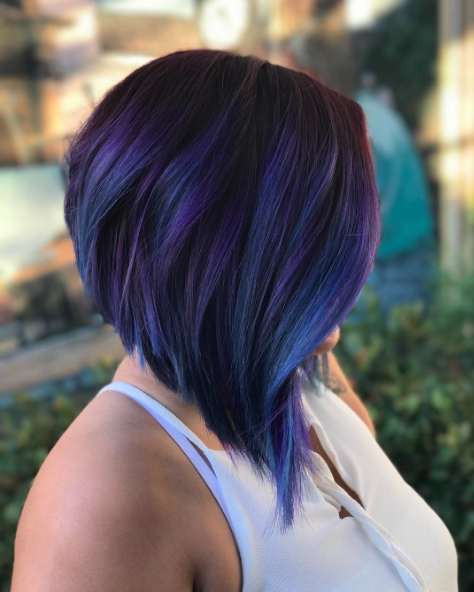 Source: hairbyedwin
13 – Stacked & A-Line with Chocolate Highlights
Your hair will take barely any time at all to dry when it's short like this, so why not take full advantage of that by letting your hair dry naturally. Blow drying and other heated styling tools are well known to sap your locks of the moisture it needs and could result in the style being dry and frizzy, rather than cute and easy to manage.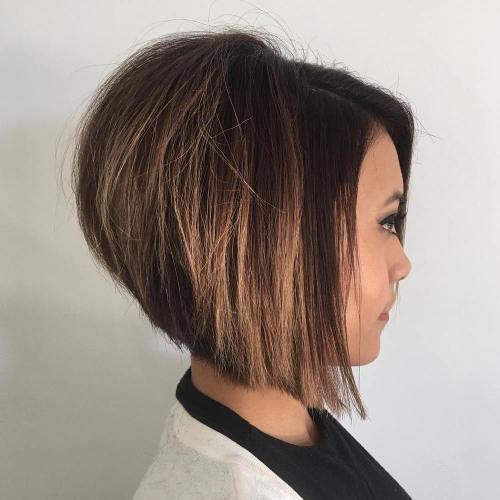 Source: giannamonai
14 – Working With Your Waves
Blunt cuts are not so great for unpredictable curls, so go for something razored or soft and wispy to stop your style from looking too unruly. You should also look at investing in some good styling products. You don't need to spend a small fortune on your hair and beauty products, but you do need to find something that works well for your hair and style. If your hairstylist has managed to make your hair look a million dollars, why not start by asking what products they used. Most hair salons will give you the opportunity to but them and take them home with you.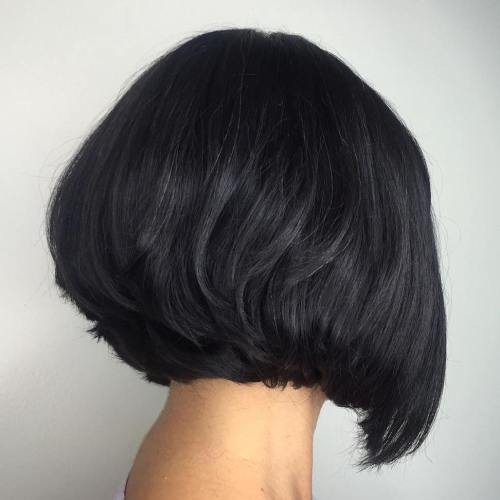 Source: hair_by_brooke_a
15 – Pink Riot Soft & Stacked Bob
Both straight and wavy hair types suit the stacked bob, but fine and straight hair seems to do remarkably well with it. If you have that type of hair and you haven't opted for a shorter bob or lob 'do yet, you're missing a trick!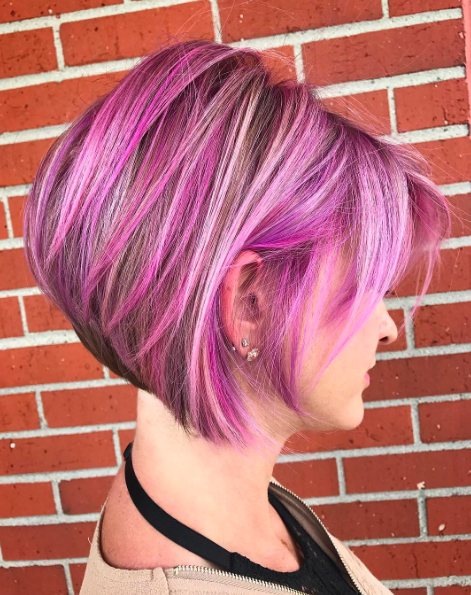 Source: rochellegoldenhairstylist
16 – Shaved & Stacked Bob
Half shaved, half stacked, it's a look that packs a punch, that's for sure. The contrast of hard and punky with soft and feminine works together so well, we can't find a single reason not to go for it ourselves. If you have delicate facial features, this look is an absolute winner for you.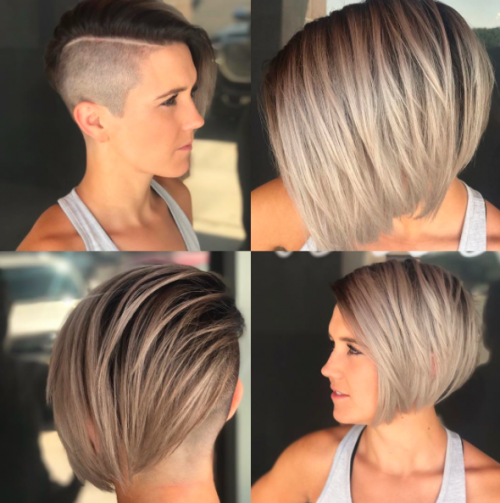 Source: emilyandersonstyling
17 – Stacked & Razored Bob
Soft and angled stacked bob hairstyles like this one work on virtually any face shape, just one of the reasons they have grown increasingly popular of late. Add harsher layers for a more punked-up and edgy effect, or keep things soft and sleek, just like this pretty bob look.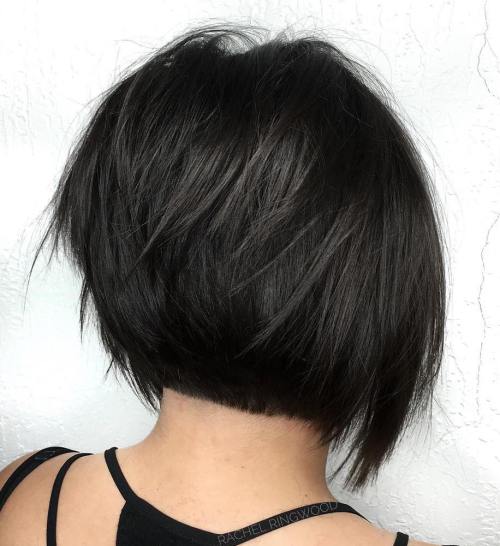 Source: rachelringwood
18 – Simple & Fresh Short Bob
A line stacked bob styles are always a great idea and can add plenty of life to limp and lifeless hair that needs a good injection of oomph. Keeping things both layered and angled like this means that you can keep some of the lengths, but still enjoying all the benefits that short hair has to offer.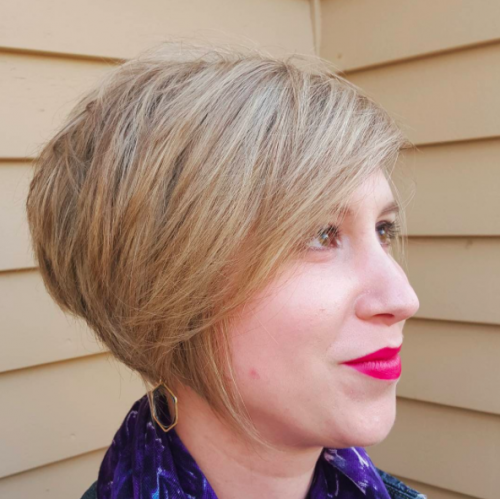 Source: revolutions_salon
19 – Burgundy Waves
This beautiful and flawless silhouette is stunning to look at, and should be the aim of the game when you want a flawless and seamless stacked bob look. The soft layers work well with the sharp angles, stopping the look from being too severe on the face.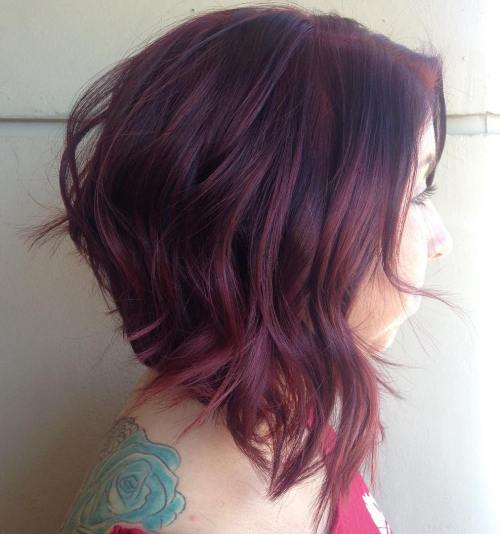 Source: Pinterest
20 – Beautiful Soft Textures
Lobs, also known as long bobs, are regular bobs but left a little longer. Again, the name kinda gives it away. If you're too afraid to go super short, like some of the other stacked bob hairstyles we've shown you, leave the layers a little longer and get used to it slowly but surely. You can always go shorter over time. If you opt for a short style right away and then hate it, on the other hand, your only option is to rely on hair extensions.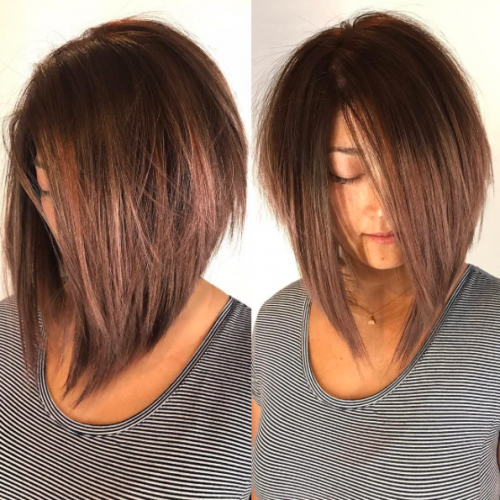 Source: hairbyedwin