21 – Cute & Soft Stacked Wispy Bob
Shorter layers around the front of the face are incredibly flattering, and this is more so the case when you have a square face or a long face. With the long face, the layers help to break up the length and add curves, and with the square face, it helps to round things off a little.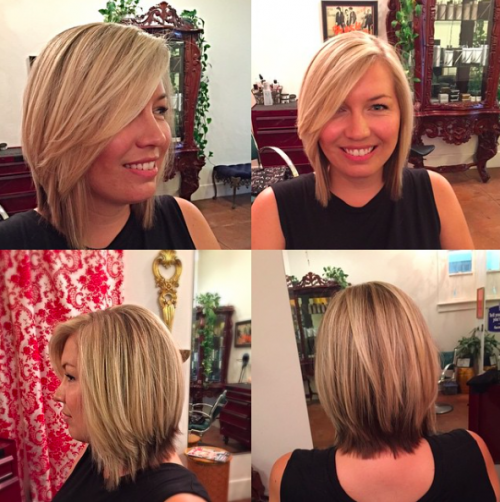 Source: hair_by_brooke_a
22 – Inverted & Slightly Stacked
Most bob styles have the potential to match many face shapes, but you may need to tweak a few bits here and there to make it work for yours. If you have a long face shape, or it's quite square-looking, a longer bob (or lob) is the most flattering for you.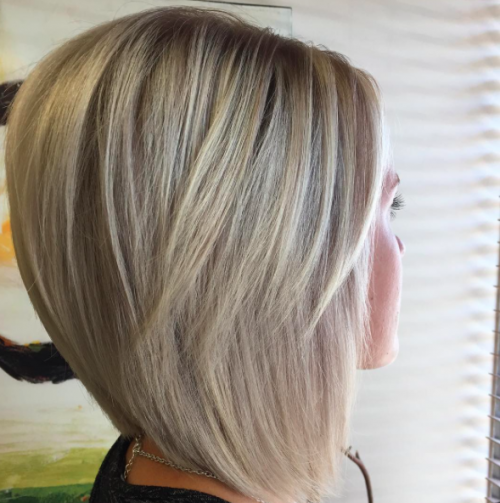 Source: miss.t.hair
23 – Stacked & Highlighted Long Bob
Those cute waves add something youthful to a look, perfect for the mature woman looking for cute stacked bob hairstyles to bring some fun to the mix. Work with the natural waves you already have in your hair. Working against them will just be hard work and pointless, especially when it could look this cute!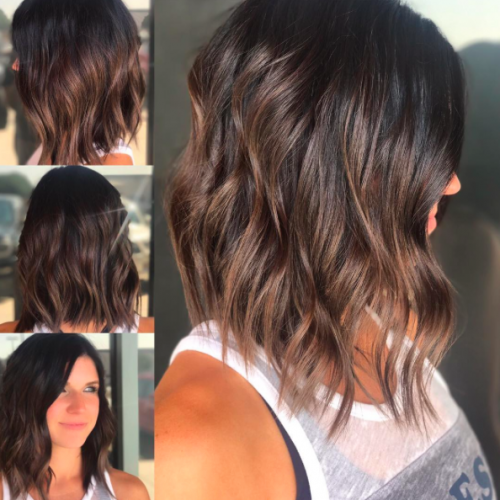 Source: emilyandersonstyling
24 – Icy Cool Bob
With a look like this, you can expect to head back to the salon for maintenance and trims every three to six weeks. Certain looks, especially those with color, will require slightly more maintenance than others, and this is something that you should also have a chat with your stylist and colorist about. The last thing you'll want is a look that requires super amounts of trimming and maintenance when you can only spare an hour once every six weeks!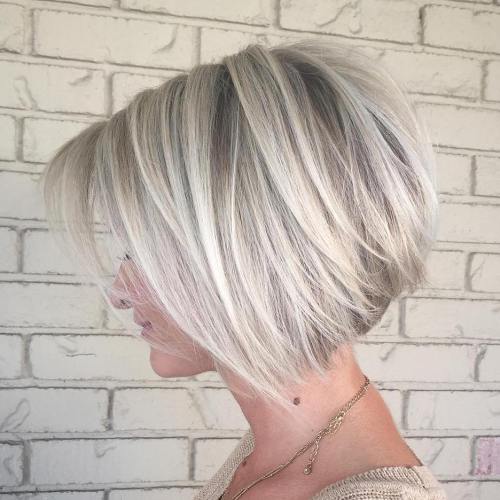 Source: rochellegoldenhairstylist
25 – Stacked & Edgy Bob
With a look like this one, you have the perfect combination of a short, pixie look, mixed with a stylish stacked bob. Asymmetrical styles are perfect for adding something cute, yet edgy to the occasion.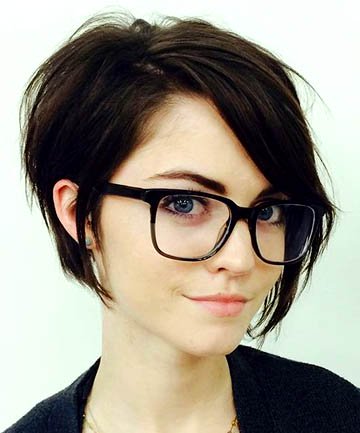 Source: Pinterest
26 – Highlight Lowlight Brown Beige Bob
Shorter hair will require a little more in the way of washing than longer hair. Again, with longer hair, you have the option of throwing your hair back into a pony or messy bun on days when your locks are greasy but you can't be bothered to give them a wash. Dry shampoo will become your new best friend. It's probably best that you embrace that now.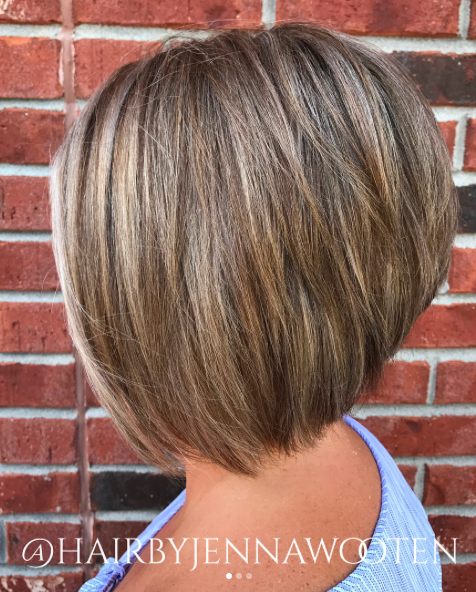 Source: hairbyjennawooten
27 – Stacked Bob Plus Highlights
The neck is actually considered to be one of the sexiest body parts on a woman, so the fact that you're showing it off with stacked bob hairstyles like this one means that you're just ramping up the sex appeal.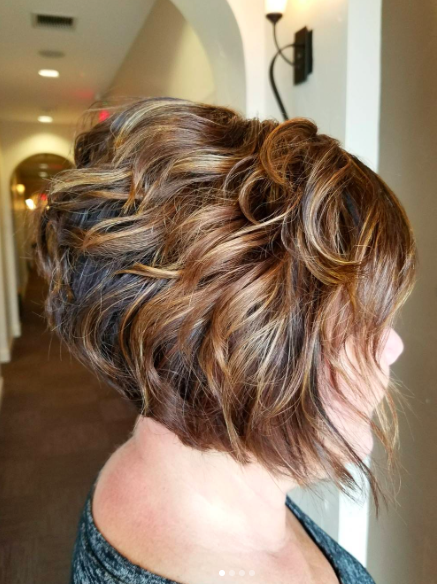 Source: sorensenkelly
28 – Long to Short & Stacked Transformation
Going from a really long look to a really short look can be the scariest thing in the world, especially if you don't really know what kind of look you'd like to walk out of the salon with, in the first place. We would recommend booking up a consultation with your hairstylist, especially if you are opting for something really dramatic and different.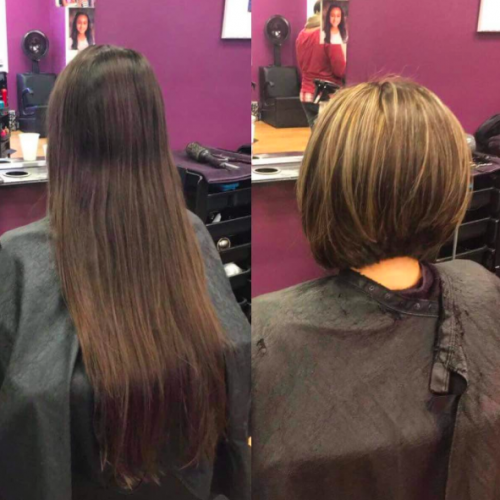 Source: revolutions_salon
29 – Sexy, Sassy, Stacked Chic
Gather as many photos together as you can when you book your appointment with a hairdresser too. You will want to show them as many looks as you can that have the elements you like in them. If you like the cut of one look, but the color of another, for example, take both shots in and let the artist see what kind of thing you'd like to walk out with. Explaining something to a stylist when you don't really know what to call the tones or cut you'd like will be really difficult. A picture speaks a thousand words, as they say.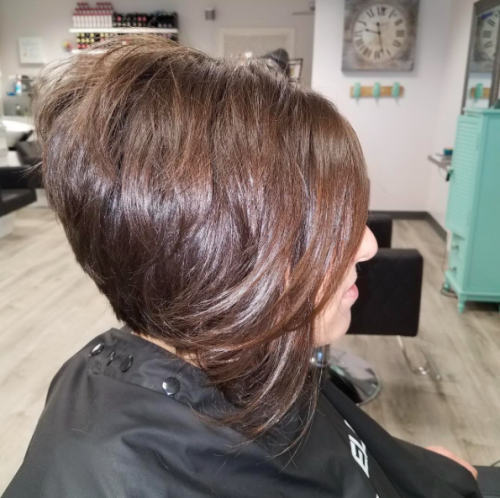 Source: Pinterest
30 – Rose Gold Angled Stacked Bob
There are plenty of length options to play around with when you're looking at stacked bob haircuts. As well as ranging from the super short, something like this, for example, you could also opt for something much longer, keeping the layers that flatter your face.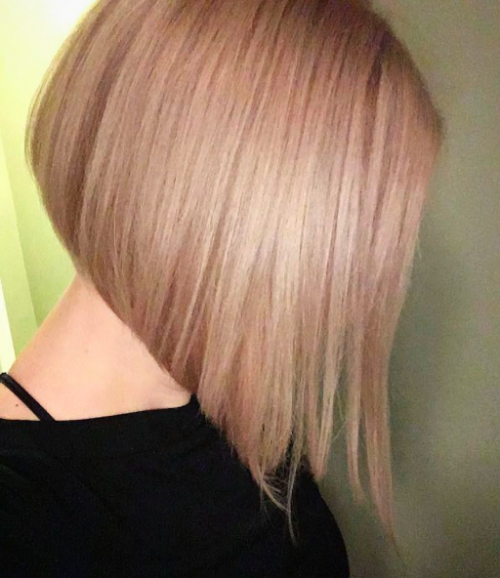 Source: samuelspencerhair