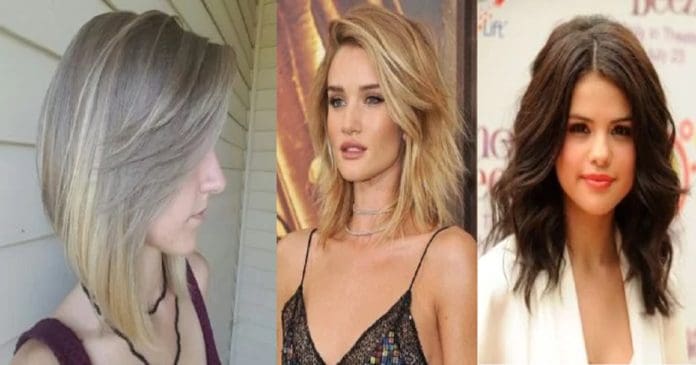 Farrah Fawcett was the hair icon of a generation, and her voluminous feathered hair defined the ideal '70s strands. But even if you don't want to go for a fully vintage Farrah look, there are tons of ways to wear '70s inspired feathers in a modern setting. With light styling that flicks hair away from the face, feathered looks help to put emphasis on your face, and are especially well paired with face framing layers or shaggy haircuts. You can go for a subtle style by adding a touch of feathered texture to your bangs, or go full on vintage with feathered styling all over. If you're ready to put a retro spin on your strands, we've got 32 of the best feathered hair style looks to serve as your inspiration.
1. Feathered Face Framing Layers
Face framing layers have been popular in many time periods, but styling them with feathery flicks away from the face is a surefire way to put some '70s retro in your hairstyle. Bangs help to add some extra face framing to this style, and are an especially flattering choice on women with longer face shapes.
2. Long Feathered Layers
This auburn hair has lots of layers that will make long, thick hair feel weightless. Rather than letting them blend in with the rest of the look, shorter layers around the face have been blown out so that their shape gets perfectly accentuated.
3. Feathered Bangs and Curls
This curly shag cut from Rihanna has just the right amount of feathery texture in the bangs, making it retro inspired but still somehow completely modern.
4. Feathered Bob
Add just a touch of feathery texture to your bob if you're hoping to lighten up the look. This works especially well for thick haired women who want to add bouncy texture to their bob instead of heavy looking layers.
5. Softly Feathered Layers
Amanda Seyfried's long face framing layers are styled directed inwards towards her face instead of outward like most feathered styles. If you're looking for a feathery style that will compliment a round face, this style is an ideal choice, as it doesn't draw the eye outward or make your face appear wider.
6. Long Bangs with Feathers
Heidi Klum's lash grazing bangs are the perfect accompaniment to this feathered hairstyle. With bangs blending seamlessly into face framing layers, you'll get a smooth effect that highlights your face even on days when styling time is limited.
7. Feathered and Curled Layers
If you're not into bangs that cut right across your forehead, try a center parted look where longer bangs can be styled outward and curled away from the face. This style looks best with heart shaped or oblong faces, as it makes the lower half of your face appear wider.
8. Long Big Volume Layers
This long hairstyle is all about big volume, and uses thick feathery styling to look extra pumped up.
9. Feathered Bangs and Messy Curls
Feathering meets artful frizz in this glamorous, '70s-inspired look. Bangs that wrap all the way around the face produce a majorly dramatic effect, making this a great style option for anyone who's bored of their basic bangs.
10. Shaggy Feathered Bangs
If you're looking for bangs that make a big impact but are easier to style than a blunt fringe, try out this shaggy, feathered texture. Major emphasis is placed on the eyes, while bangs are longer towards the edges and blend in the the rest of this shaggy style.
11. Dramatic Feathered Fringe
This ultra retro look is pure '70s with a dramatic fringe that's finished in a feathered style. If you're not sure about wearing this as your everyday look, try it out on long layered hair for a special occasion or date night.
12. Shaggy Feathered Lob
This mid length style from Jennifer Lawrence is long enough to add some feathery texture but short enough to be manageable. Softly side-swept bangs help to pull the look together, but won't be a pain to style even on days when you're short on time.
13. Modern Feathered Flip
A deep side part, face framing layers, and subtle feathered styling come together to make this the perfect modern version of everyone's favorite '70s hairstyle.
14. Feathered Glamour Curls
This mid length look is styled in big, luscious curls that bring just the right amount of drama and glamour, while feathered bangs help to sweep the eye sideways and gently frame the face.
15. Center Parted Bangs
Center parted bangs have been popular for the last few years, but adding some feathered texture takes them from "modern trend" to "vintage glam".
16. Long Feathered Shag
These shaggy layers are a great way to make your long hair more manageable if it's especially thick. Once layers are in place, feathered curls help to keep your hair looking gorgeously windswept.
17. Light Feathered Layers
Heavily layered looks can be tough to pull off if you've got thinner hair, and may lead your look to fall flat. In this very subtle version of a feathered hairstyle, layers around the face and in the bangs and both kept nice and light.
18. Long Feathered Bangs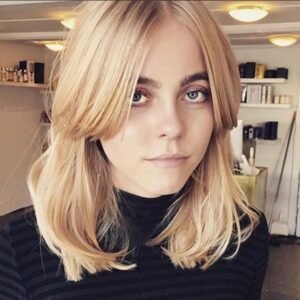 This mid-length hairstyle is pure '70s, but is coming back in a big way. Thick bangs help to take some weight out of thicker hair while creating lots of body and movement.
19. Long Feathers with Highlights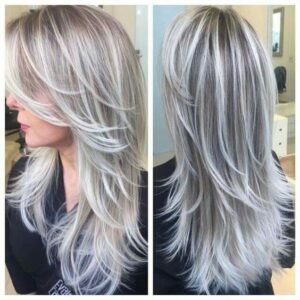 Flicked layers help to accentuate the highlights in this hairstyle, and bands of platinum over an ash blonde base color make the whole style appear thicker.
20. Feathered Side Sweep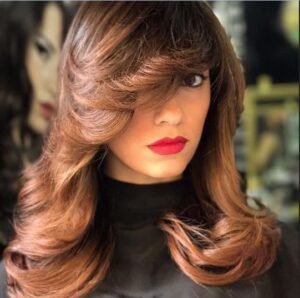 This super dramatic side sweep has been styled with a thick feathered technique, and accentuates the multi-tonal hair color. A very deep side part makes the style look especially '70s, and can also help to balance out a heart shaped or oblong face.
21. Inverted Bob with Feathered Bangs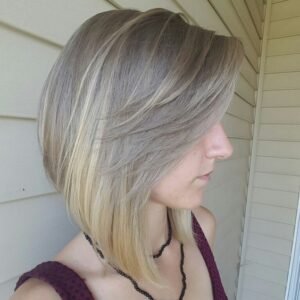 This bob haircut has an inverted shape that keeps things shorter in the back without a ton of layers, making it a good choice for anyone whose hair is on the thinner side. Feathered bangs in the front help to add texture and emphasis without piling on a bunch of extra styling needs.
22. Thick Feathered Layers
This long hairstyle is a big '70s throwback, and perfect for women with endlessly thick hair. Feathered layers blend seamlessly into each other, while the shortest pieces perfectly frame the face.
23. Sombre Layers
A touch of soft ombre color helps to enhance these subtle feathered layers. If you're on the fence about trying a feathered hair style, this low-key sombre look is one of the best ways to give the '70s texture a try.
24. Vintage Feathers
Go pure vintage with feathered bangs and layers that remind us why the '70s was one of the sexiest decades around.
25. Feathery Balayage Layers
A touch of balayage color helps to enhance the layers in your hairstyle. Concentrate highlights around the face if you want to put extra emphasis on your face framing feathers.
26. Messy Feathered Shag Style
With messy bangs and layers that are casually feathered, this carefree style is perfect for women who like everything to have a touch of imperfection.
27. Long Feathered Layers
Jennifer Lopez's unbelievably thick hair recalls '70s feathered styles in the best possible way. With face framing strands that come in close to the forehead and then begin flicking outwards at the cheeks, this look is a great choice for anyone trying to make the lower half of their face appear wider.
28. Thick Feathered Hair
If your hair is thick or has a touch of wavy texture, you can still get a glamorous feathered style. Heat styling tools will help to get your feathered look started, but remember that a strong hold product will help to keep your strands from falling out of your carefully crafted feathers.
29. Subtle Feathered Lob
With this ultra popular mid length style, just a touch of feathered styling can help your look to stand out from the crowd.
30. Straight Feathered Layers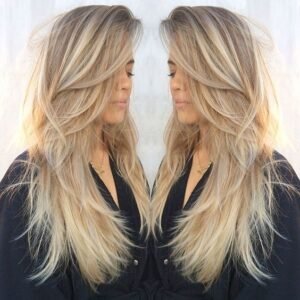 Go soft and subtle with feathery layers that take some of the weight out of your ultra long hair. Of course, you can pull this style off with any hair color, but dimensional shades help to accentuate the carefully crafted layers.
31. Blue Highlight Feathers
Demi Lovato's love of bold hair colors brings ultra modern trend to this '70s inspired hairstyle.
32. Long Face Framing Layers
Most feathered hairstyles style hair out and away from the face, but this layered look keeps things cool and casual on days when you don't have a lot of time to style your strands.