21. Short Asymmetrical Bob For Curly Hair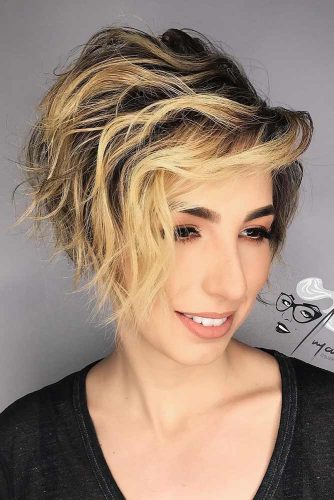 Standard bob haircuts, with their even, all around edges, are reliable classics. They're easy to maintain and flatter practically everyone. Plus, everyone loves them. And everyone wants them. Well, maybe not everyone. Some want a little more than everyday chic. Some want mystery and edge, along with glam and flair. Surprise! The reliable classic offers them the short asymmetrical bob. This model's naturally curly asymmetrical bob blends choppy layers with a sharp tapered edge, and a clean nape. The glorious blonde highlights pump up the charisma even further. Asymmetrical bob curly hairstyles become very popular today. It's a short hair variation that adds body without a lot of change.
Source: guyannescissorhands via Instagram
22. Medium Asymmetrical Bob With Undercut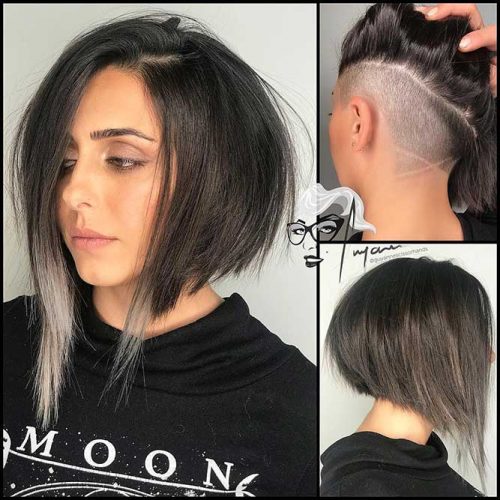 Diamonds are a girl's best friend. No, they're not. Razors are a girl's best friend! That's because a hairstylist uses one to create undercuts and undershaves. In an undercut, the hairstylist shaves off a portion of hair from either side, both sides, and/or the nape of the neck. The hairstylist will also often preserve a long portion of hair for fashion versatility. In an undershave, the hairstylist shaves off all the hair from either side, both sides, and/or the nape of the neck all the way up to the scalp. The model in the upper right photo displays an asymmetrical bob with undershave. It always looks super cool and hip and in all likelihood always feels that way. The model in other two photos wears an asymmetrical bob with undercut. The undercut lies beneath one of her sides, so you only see an asymmetrical bob from the back view. We'll just have to wait until she ties up or pulls back at least one of those cool tapered sides to see it. Oh well.
Source: guyannescissorhands via Instagram
23. Long Asymmetrical Bob With Red Tips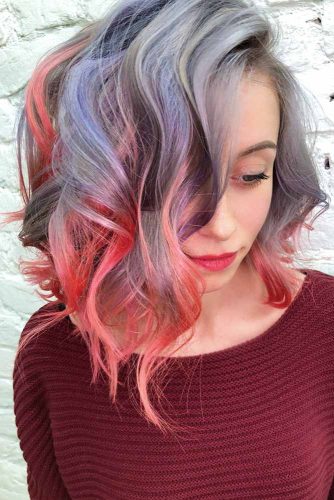 An in demand asymmetrical bob 2018 is the long bob. The length falls below the chin and reaches the collarbone. It's often called the "lob." It's a good option for those who aren't yet ready to go short. Toss in some unnatural colors and then a few waves and, like this model, you're innovative and fashion-forward (as well as drop-dead gorgeous). Rather than distract, her long asymmetrical bob spotlights her face. While bobs and lobs look good on almost anyone, an asymmetrical bob long is ideal for this model as it flatters and softens square and diamond-shaped faces.
Source: aliyousha via Instagram
24. Stylish Silver Asymmetrical Bob Wavy Hairstyle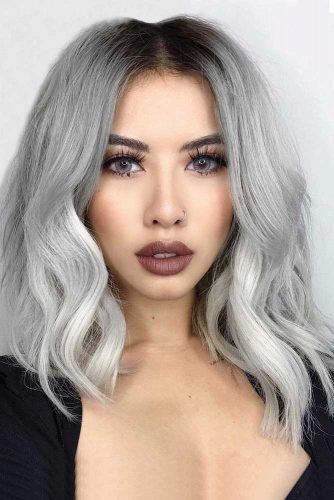 We already know that the asymmetrical bob makes an impact. Want to make more? First, get with the latest hair color trend. And, yes, it's gray hair. It's 2021's hair color rage. And, don't dare to think gray, as most dictionaries claim, is dull or lacking in color. See this model's hair? Dull? Hardly. Her dark roots magically burst into metallic pewter, and then magnificently melt into icy silver. The shimmering colors accentuate her brilliant blue eyes and other facial features. You'd think that would be enough, but no, the wavy symmetrical bob adds even more impact. If you don't have natural curls, hot rollers or a barrel-shaped curling iron will easily provide the necessary results. You can even perform an asymmetrical bob on yourself, should you dare. The Internet contains tutorials and how-to videos instructing how to perform a DIY asymmetrical bob with layers. Proceed carefully.
Source: hello.chantelle via Instagram
25. Blonde Asymmetrical Bob With Bangs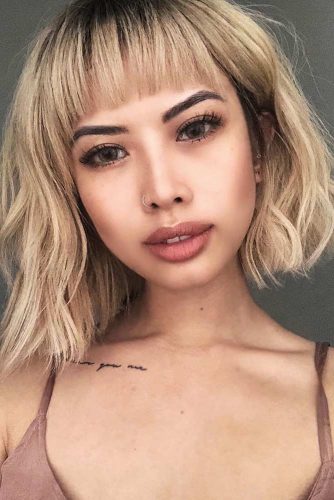 Medium bob haircuts are longer than short bobs and come down to around the chin. While they're less polished, they're easier to manage, quite playful, and so much fun. An asymmetrical bob haircut with bangs is even more delightful. There's a wide range from which to choose, including side, swept, choppy, blunt, and arched, just to name a few. This model's short, fringed bang compliments her facial structure and accentuates her extraordinary eyes, like an illuminated, custom built frame. A layered asymmetrical bob with bangs such as hers suits all hair textures and types and adds body, along with the character.
Source: hello.chantelle via Instagram
26. Side-Swept Curly Asymmetrical Bob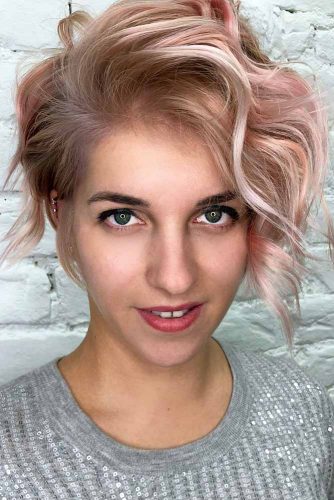 If you want to stand out in the most elegant, stunning, exclusive way, take your asymmetrical bob curly with a side of a sweep. The side sweep on this model's curly asymmetrical bob adds excitement and allure. She was also smart to maintain her dark roots when she colored. They call attention to her bewitching eyes, eyebrows, and lips and also keep her lighter hair shades from washing out her light complexion. She probably won't have all that much to worry about, though. She knows exactly what she's doing. The pastel tinges through her loose waves dash in the precise amount of femininity.
Source: aliyousha via Instagram
27. Asymmetrical Retro Faux-Bob Hairstyle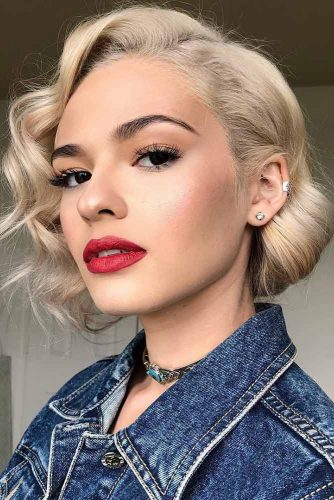 We've used "glamour" quite a bit to describe the bob, be it the classic bob, long bob, blunt bob, textured bob, etc. And the word applies. Truth be told, however, it really applies to the short asymmetrical bob. The style immediately conjures images of the gorgeous, one-of-a-kind women of the Golden Age of Hollywood. We've yet to see their kind again. Wait, we somewhat can. And you can evoke them yourself. With the asymmetrical retro faux bob. You start out with a short asymmetrical bob haircut. Then, all you need is a curling iron, a teasing comb, and hairspray, and voila, you'll look just as captivating as this model. And, she most definitely evokes images of past bombshells. Yet, her makeup and jewelry keep her image modern and fresh.
Source: wesdoeshair via Instagram
28. Pink-Grey Layered Asymmetrical Bob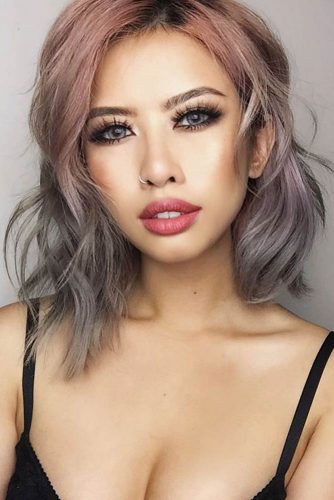 An unevenly layered asymmetrical bob needs mussing. An angled bob, such as the one this model is wearing, offers an easy to tousle look, which can be even further accentuated with rollers or a curling iron, depending on how dressed up or down she wants to look. Notice how her barely noticeable, wispy side bangs draw you to her striking eyes and lips and how they also add volume to the rest of her hair. And, that pink and gray hair color. Pink and gray are actually one of the most calming color combinations. Not on her, though. She excites pink and gray. She rocks those colors! To the max!
Source: hello.chantelle via Instagram
29. Shaggy Style For A Medium Asymmetrical Bob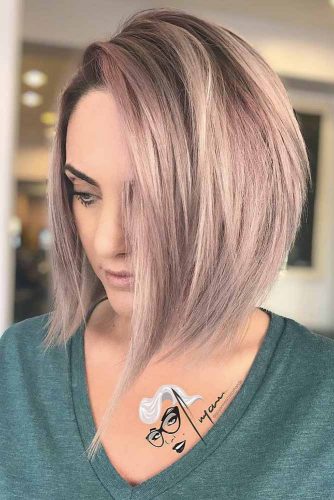 Did you like coloring when you were a kid? If so, didn't you just love getting a brand new box of crayons? Wasn't picking out your favorite colors grand? We need color in our lives. We need to enjoy it, experiment with it, and let it light up our lives. So, keep on playing with it. Better yet, ask your hairstylist to put it in your medium asymmetrical bob. Better yet, have your hairstylist use muted pink rose balayage. Why? Because a strawberry blonde asymmetrical blonde bob literally turns heads. And, asymmetrical haircuts practically cry out for strawberry blonde. It adds fiery passion, but softness, too. Notice the slight tinge of strawberry blonde in this model's bob. It's the perfect accent for casual asymmetrical haircuts like hers and for those who want subtle effects, rather than dramatic ones.
Source: guyannescissorhands via Instagram
30. Asymmetrical Short Bob With Bangs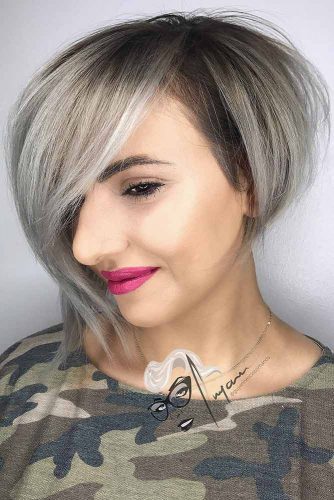 An asymmetrical short bob with bangs and an elongated side that falls under the jawline will forever compliment. The stacked angle bob this model sports is especially flattering for those with round faces and those with extra layers of skin around their necks (often called "double chins"). The term "double chin" carries a negative implication and, truth be told, it's misleading to think that overeating always causes them. Oftentimes, the natural aging process simply weakens facial muscles and skin. Facial exercise can help. And so can asymmetrical hair. An asymmetrical bob balances double chins. All you see on this model is her sweet, heart-shaped face and that's all you're ever going to see. She also superbly wound in the current gray trend. She selected sophisticated hues of pewter and icy silver that would normally bring to mind approaching storms. But her bright pink lipstick calmed the skies and her delicate charm blazes through. Don't you wonder what she's thinking?
Source: guyannescissorhands via Instagram
31. Weave Bob Hairstyles With Side Part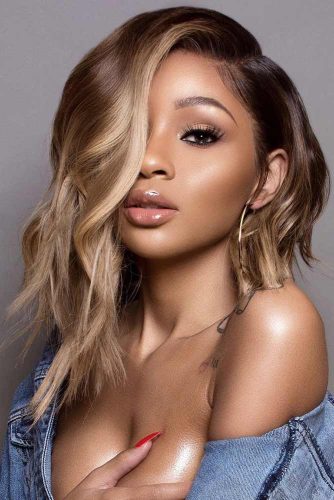 Weaves are great for those who aren't sure they like a certain style or whose hair isn't yet long enough to get the cut. Weaves are strips of synthetic or natural hair that an individual, friend, or a hairstylist either glues, sews, or clips onto the natural hair. There are many textures and styles from which to choose, including an asymmetrical bob weave. Suppose, too, you've admired the long angled bob but were hesitant to make the commitment. You could use a natural cut or a weave bob hairstyle with side part to simulate it whenever you wanted. See this model's hair? All you have to do is wear one side forward and then fold the other side back behind your ear (use bobby pins, should you need). And, there you have it: a splendid, beautiful bob. And, within seconds, you can once again be chic and casual. Yes, the asymmetrical bob can make you the modern day Cinderella.
Source: ___omgihy via Instagram
32. Asymmetrical Bob: African American Style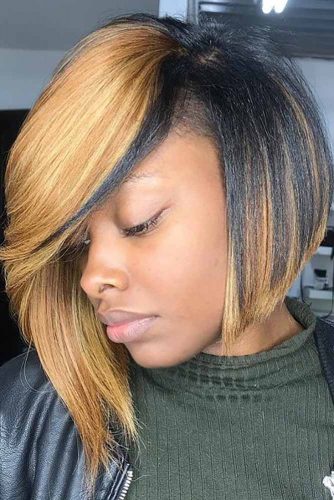 The natural look is in, and curly haired women are finally embracing their waves. With so many tools and products at their disposal, they can go back and forth between straight and curly looks whenever they feel like it. An asymmetrical haircut lets them look amazing. African American women have especially gorgeous curls. For the African American woman seeking a cut with which she can transition seamlessly between sophisticated, casual, and formal no matter the texture, the asymmetrical bob for black hair is for her. It's hip, fresh, and fun. See what the sharp contours do for this model? It's as if the asymmetrical bob was made for the African American woman. The deep side part lets you see her lovely, flawless skin. She seems to have no makeup on, yet, she's captivating. And, those golden highlights are simply the crowning glory.
Source: hairartbydominique via Instagram
33. Side Parted Style For An Uneven Bob Haircut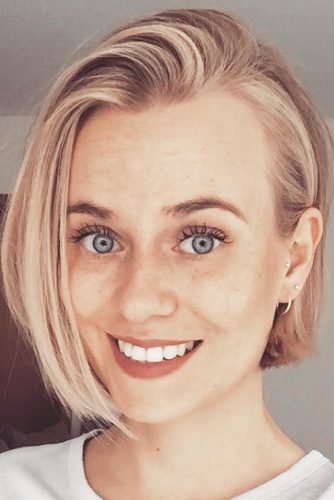 We've told you over and over again how the uneven bob haircut delivers energy and spark. Do you actually need more proof? Okay. Take this model. She's smiling sweetly, and her wide-open eyes make her look angelic. But, check out the styling of her short hair asymmetrical bob. The raised flip, the one side tucked behind her ear, and the elongated another side, which gently grazes her neck and completes the outline around her face. There also seems to be some grunge going on with the irregular, almost imperceptible rosy like color dashes. Now, those are sultry and deliciously wicked. Forget the eyes and smile, the short uneven bob always reveals the truth.
Source: mela_nie_90 via Instagram
34. Shaggy Layered Asymmetrical Bob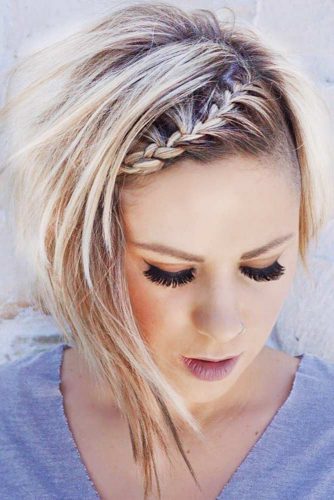 Uneven cuts work with so many hairstyles, even the lively and funky shag. The hairstylist must, however, absolutely nail the shaggy layered asymmetrical bob with lots of choppy layers that commence from the crown and change over into bangs. The style is extremely rewarding and attractive and so easy to manage. For those wondering how to style an asymmetrical bob, all you need to do is use a texturizing product, such as sea salt spray, which will bring out the shag's delicate, yet delightful disheveled appearance. Though full of layers, she can still work a pretty braid through her crown. Braids are so versatile and multipurpose. They create curls; add romance, charm, and tradition to formal outfits; a bohemian touch to casual styles; and, are just a cute way to get your hair off your face.
Source: hairbyjessica_ via Instagram
35. Long Bob For Sleek Black Hair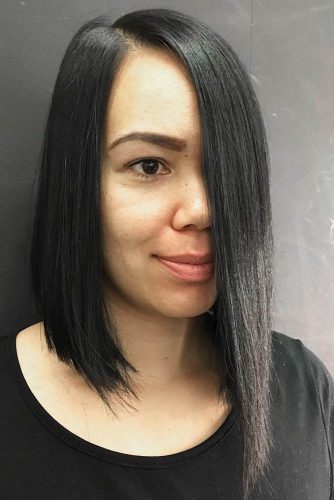 Once you decide upon a bob, which is very smart, you then have to determine which one. That's so hard. There are so many great ones. The inverted bob is an excellent choice. It's timeless and always complimenting. Essentially, the hairstylist layers the back and then graduates the front pieces into longer, curved sections that angle toward the front. A long inverted bob, as its name implies, is longer and usually doesn't have the short-stacked section in the back. The front sections remain the same. An asymmetrical long bob, like the model is wearing, has unequal sides. As you can see, an asymmetrical bob on black hair is utterly spectacular. It's so shiny, smooth, dramatic and oh so sexy. A casting director might take one look at her and cast her as the seductress in an upcoming movie.