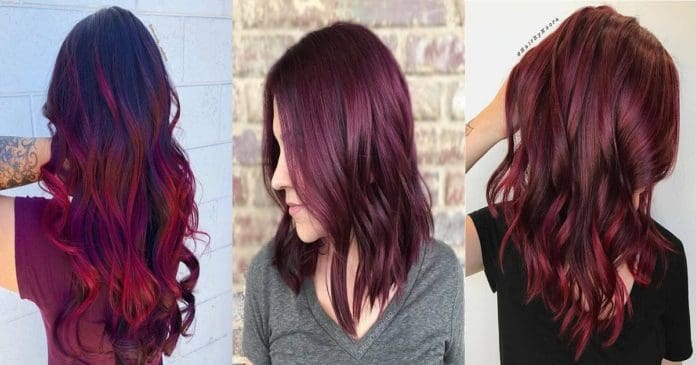 Fall and winter of 2021 are all about a cool, cozy-chic vibe and simple, sophisticated burgundy hair. Whether you're a busy professional who wants to make a subtle yet modern update to your day-to-day look, or a more spontaneous and edgy trendsetter, you'll find a number of shades and styles appropriate for your lifestyle and image here. As Summertime fades into the cooler months of September, your tresses certainly don't have to! It's always great fun to update your wardrobe with awesome boots and cute sweaters, so why not also use the occasion to warm up your hue and enjoy one (or many) of the beautiful hairstyles of rich burgundy color on trend while you're at it!
1) On-the-Go Casual Farrah
Perfectly posh for either the office or running errands, this gorgeous Farrah-esq shoulder length style is a perfect combination of casual-glam. The length is long enough to secure a low pony or chignon for a quick style change and short enough to remain super healthy with ultimate beauty and shine!
2) Long and Sexy Victoria's Style
There's no secret about how much attention you'll get rocking this simple, very pretty hair color and style. With a sexy length and just a hint of a layer, curls are guaranteed to hold up without excessive product and stay touchable from morning till night just begging to be touched!
3) Oh So Silky and Sleek
Whether you're already blessed with silky straight hair or not, this burgundy hairstyle is on fleek. For women with curls, treat tresses with heat protectant then leave the bottom layer of hair down and secure top layers with an elastic or clip for later. Working from the under layers to the top, use a wide flat iron to pull locks straight. Finish with a shine product at the ends.
4) Girl, You Woke Up Like This
One of the sexiest burgundy brush-and-go styles for fall are simple waves. Getting them is as easy as sleeping on damp hair and finger styling with a small touch of anti-frizz creme in the a.m. Using a large barrel curling iron or large hot rollers can also do the trick.
5) Maximum Shine with Medium Length
Locking-in shine on burgundy hair is always achieved with a cold water rinse after conditioning. For a cute easy hairstyle, you can blow dry hair when still damp with a large paddle brush. Medium hair like this pretty hairstyle will carry you into the colder winter months and compliment all those fun beanies and scarves too!
6) Burgundy Hair with Highlights on the Bottom
For women with naturally darker hair tones, creating highlights at the bottom of a style is a nice update. Not only can you bleach the ends of your hair without worrying too much about breakage, but you can also saturate lightened areas with the season's must-have trend, a pop of burgundy. Bonus: When you're tired of the color treat yourself to a healthy trim.
7) Taking an Everyday Style up a Notch
For women who tread cautiously with style updates, there are some great temporary products on the market ready to check out. Using a long-lasting, shampoo-washable burgundy dye is an excellent method to see how you look with a few shades of burgundy. Temporary color will start out a darker shade and gently lighten in hue until it washes away.
8) The Bold, Blunt and the Beautiful
Nothing exudes easy confidence like a cool, chic, blunt color and cut. This refined style holds shine and color fantastically and can be worn either smooth or tousled for a little extra sex appeal. This style looks excellent with dark shades of burgundy and equally hits the mark with intently placed highlights or lowlights.
9) Just the Color Ma'am
Women interested in simply coloring (but not cutting or taking on a new style) can select from many shades of home box color to get this look. In fact, there are around 18 to 41 different shades per brand, of color available for this purpose. Colors range from Deepest, Intense Burgundy, to Very Berry.
10) All Throughout Brilliant Burgundy Highlights
To achieve all over uniform burgundy hair highlights enlist the services of a professional. The traditional foil process works best to keep highlighted sections from bleeding unevenly throughout hair, especially on longer locks. Additionally, darker hair sections will require a lightening process and if you do it yourself, you'll end up looking like a leopard, trust me on this.