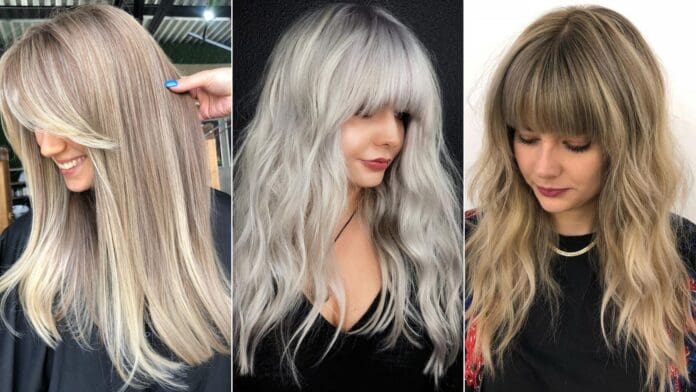 We do believe that long tresses and a fringe is a badass combo. Long hair with bangs looks much crisper either because of this striking contrast it gets when there is a strong disconnection in the lengths or due to that cascading effect we adore in hairstyles with face-framing layers. Anyway, a fringe is a game changer, and we are going to show how you can rock it in 2022.
Exploring Types of Bangs
Well, and what type of bangs we should ask for when heading to a salon? "I find that most of my clients love longer bangs cause they're cool and easy to style which is so important. Push them back, sweep them forward, you decide," says Anthony Nader, owner of RAW salon and Australia-based hairdresser to celebrities like Miranda Kerr and Cate Blanchett, to Harpers Bazaar. Yes, it makes sense to couple lengthy bangs with long locks for a balanced look, while enjoying the versatility of styling. However, long hairstyles with bangs can deliver more drama, when some counterpoint is involved. That's why we've collected a gallery of long, short, full and sweeping bangs for you to spot your preferred look.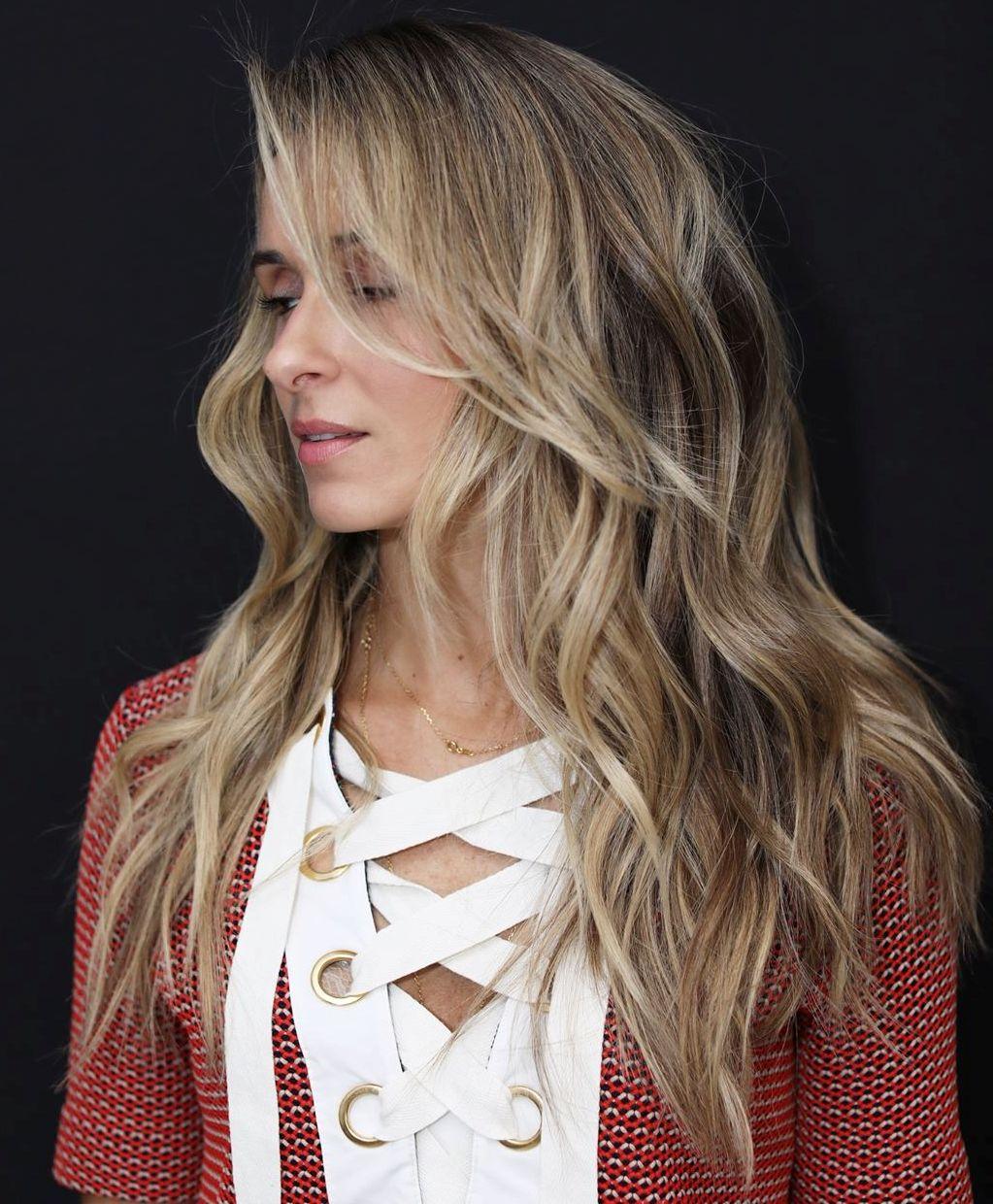 This cascading 'do comes with side bangs that are beautifully highlighted to add a flare around the face and heavily sliced to match the overall choppy finish.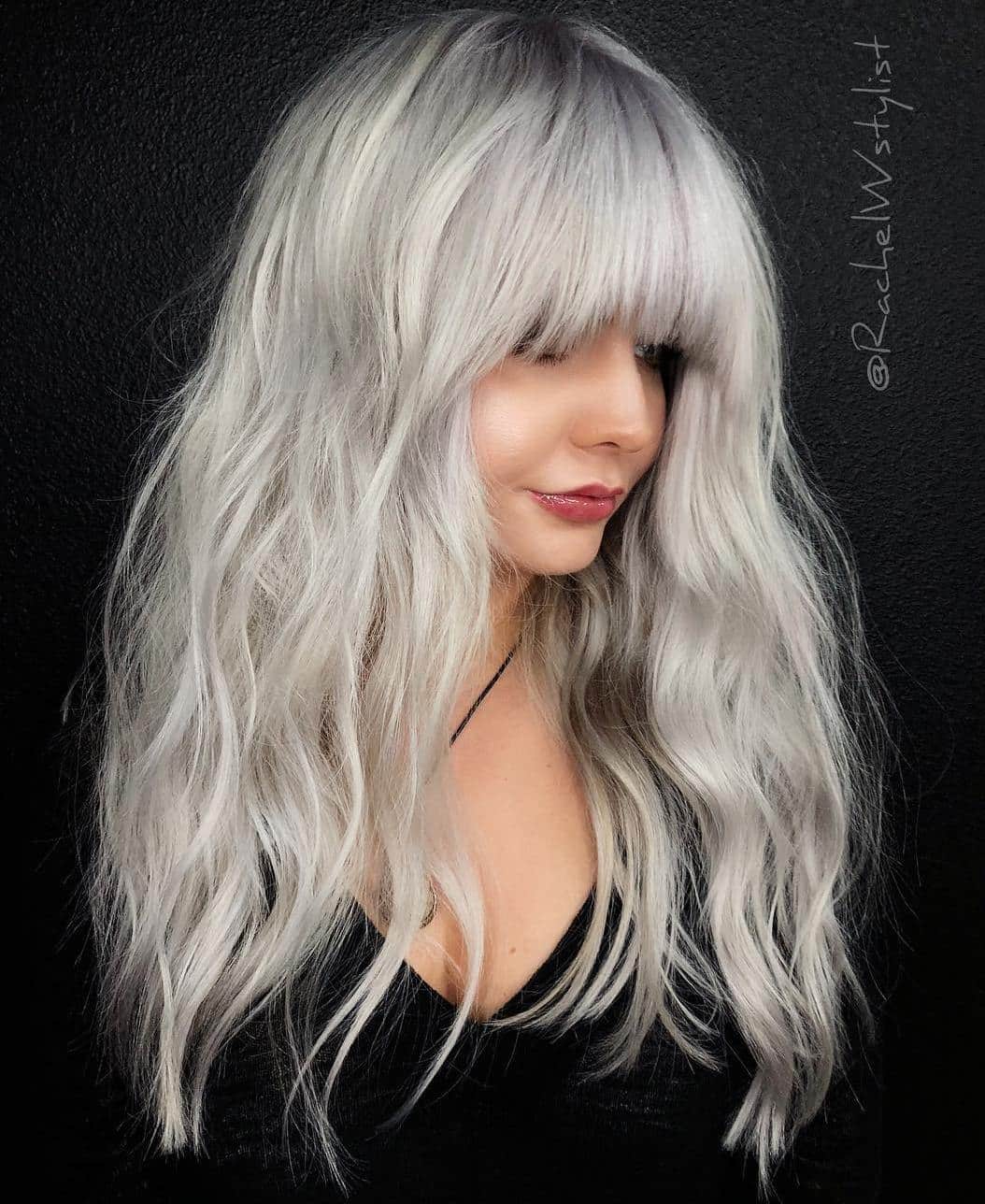 Catching the eye with its icy and rooty color scheme, this piece-y mane is adorned with a long and dense fringe, also shagged to chime up with the messy look.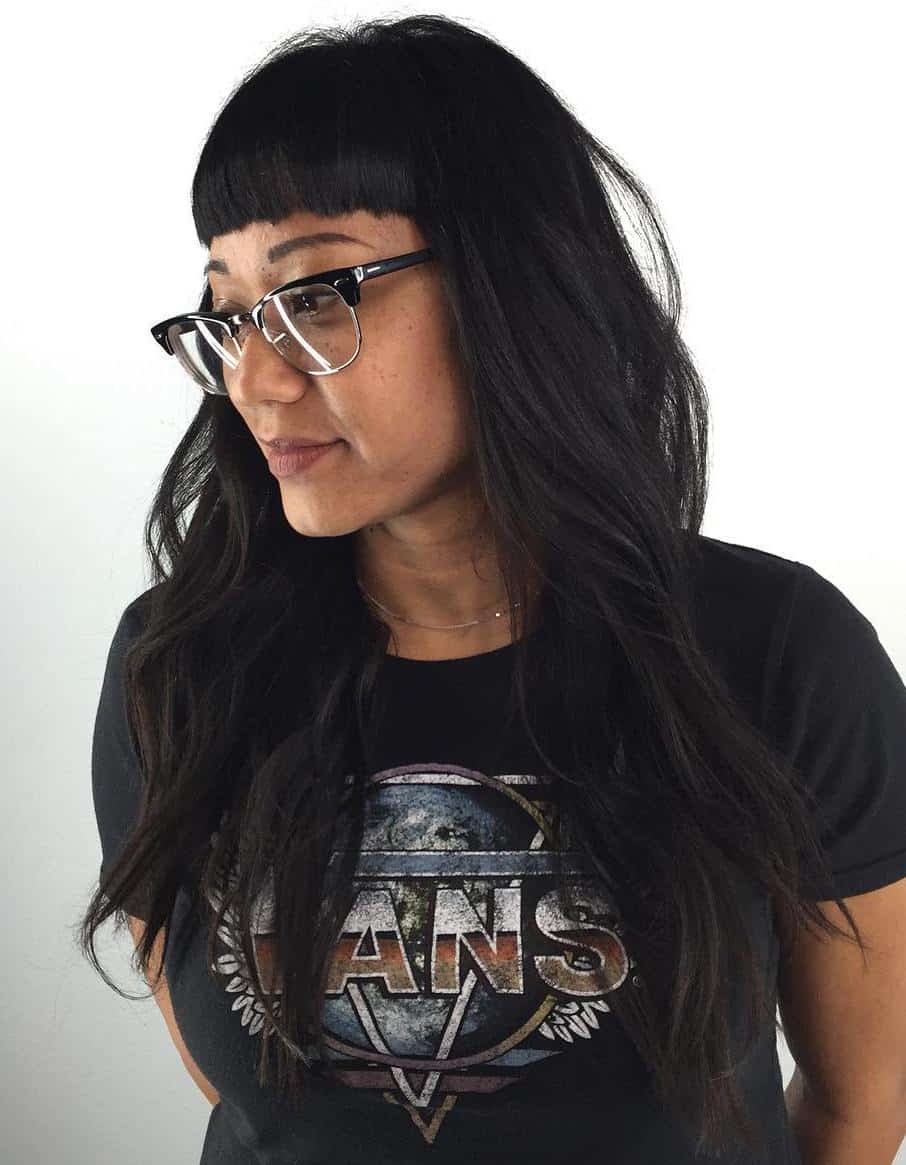 What a stunning contrast is created when long textured locks are paired with full cropped bangs!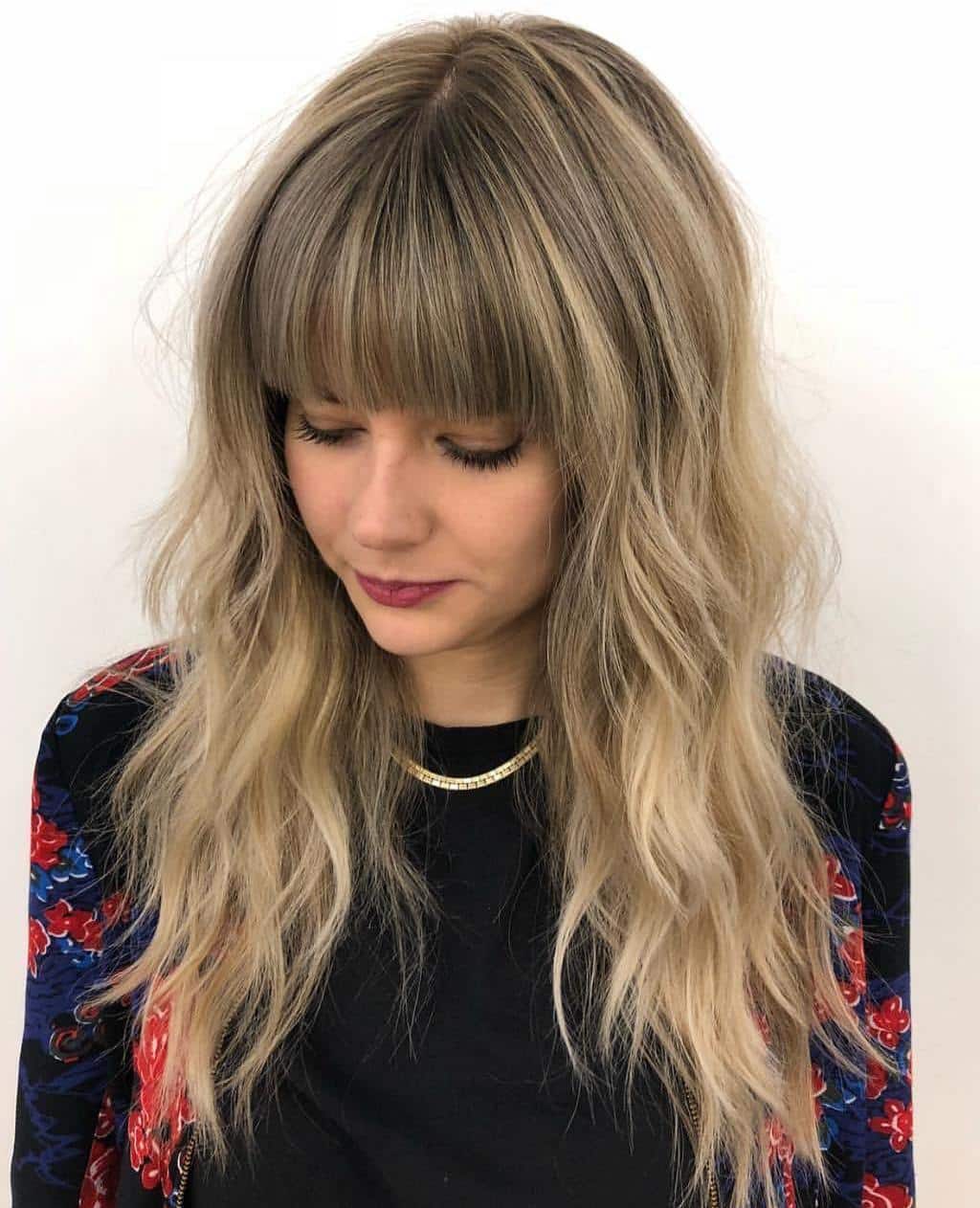 You can get a softer feel when adding a deep blunt fringe to a long layered hairstyle. Make sure to set off its straightness against wavy and shaggy tresses.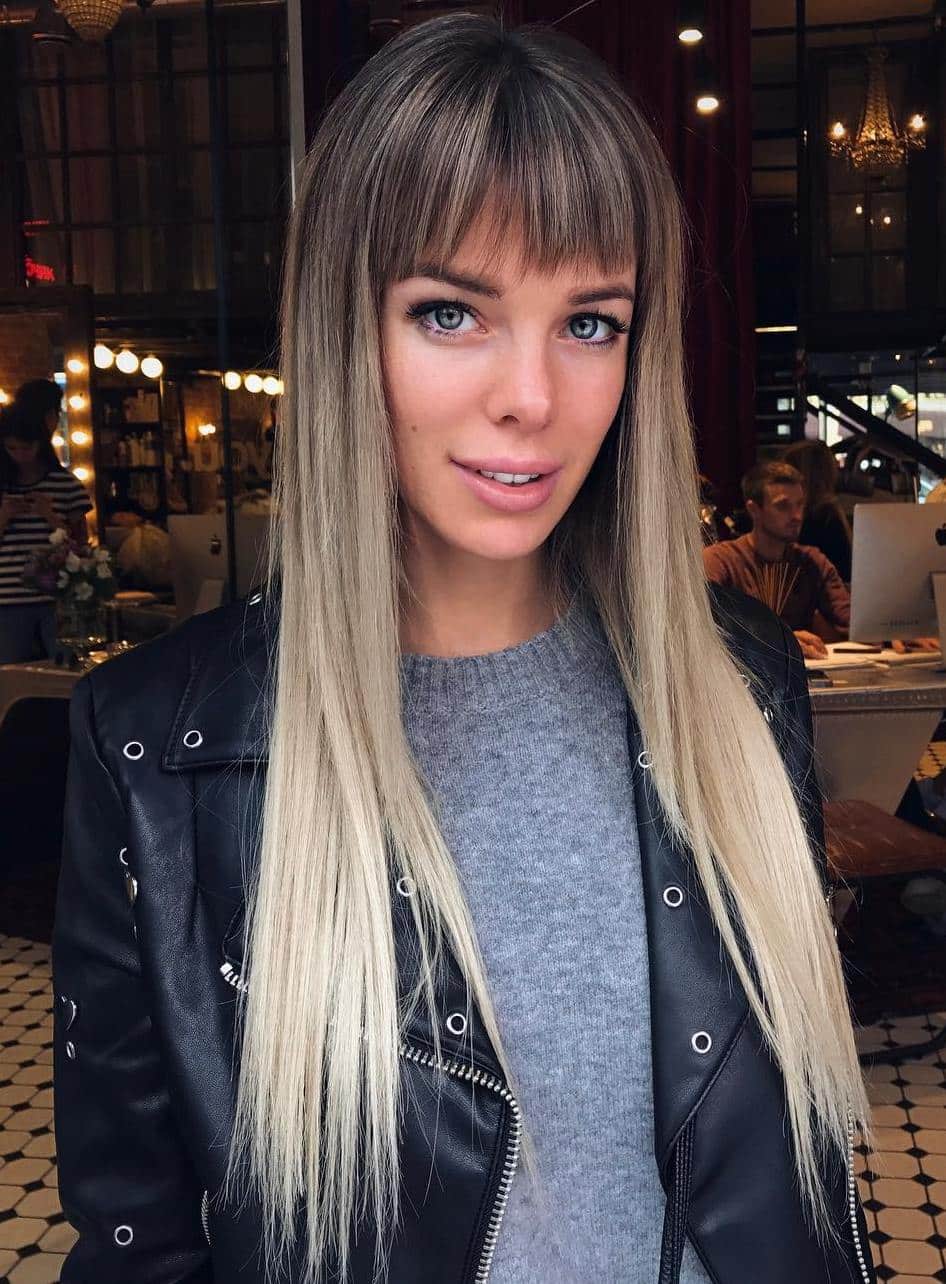 This beauty rocks short point-cut bangs that are anything but bulk due to the airy color streaks and laid back separation.
Choosing Hairstyles for Your Hair Type
As has always been the case, the next thing we need to keep in mind when choosing haircuts for long hair with bangs is our hair texture. It's not true that a fringe is a big no-no when your hair is thin or curly, but there are certain styles that work best for a particular hair type. Curtain bangs are go-to for thin and fine hair, creating some fullness in the front, while masking that sparseness. Curly manes look even bouncier with front spirals of different lengths. "I like to cut some random shorter pieces around the face instead of a heavy straight-across bang. It works great with all curl patterns because it creates so much dimension and movement," Shai Amiel, the "Curl Doctor" who takes care of Logan Browning and Tia Mowry's curls, says to Refinery29. Now, let's have a look at more textures and bangs.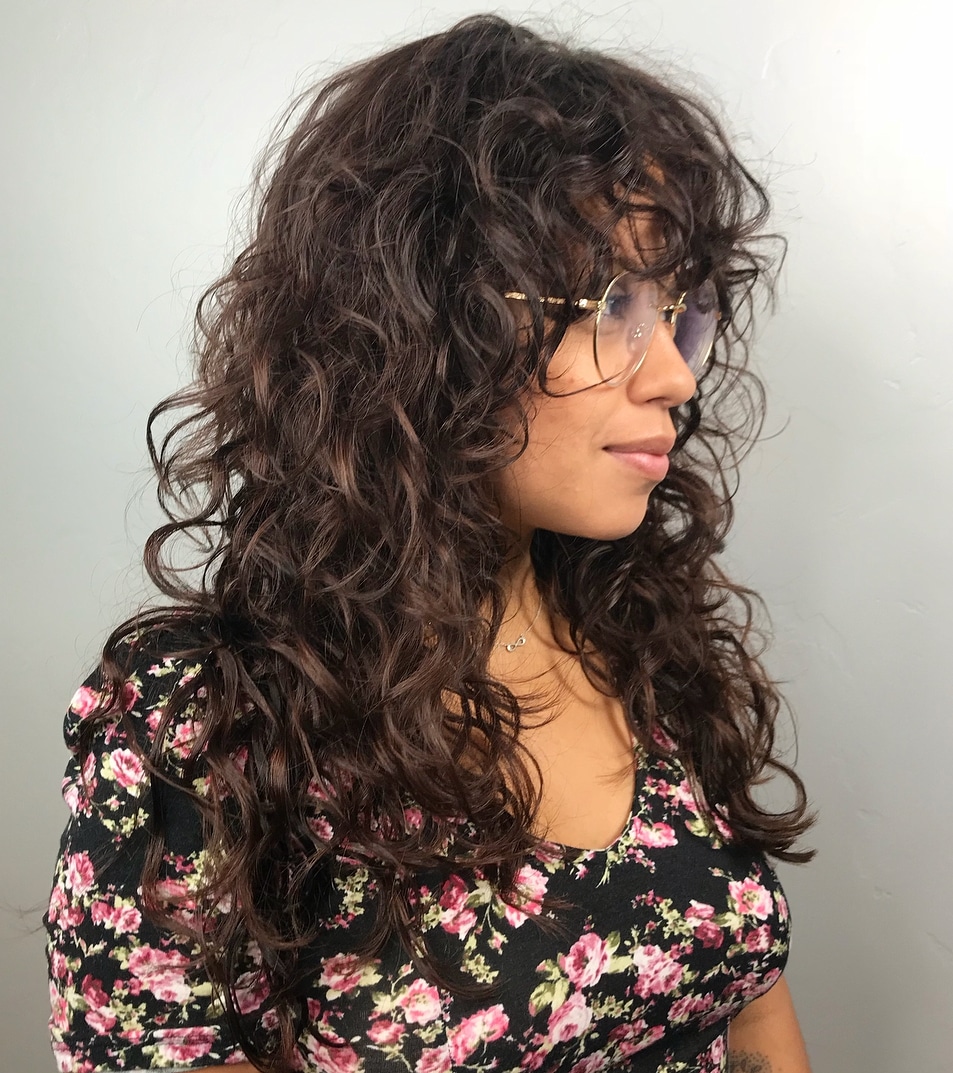 Do you need any other proofs that bangs work fine for curly hair? We're in love with this gorgeous shag featuring scattered messy curls in the front.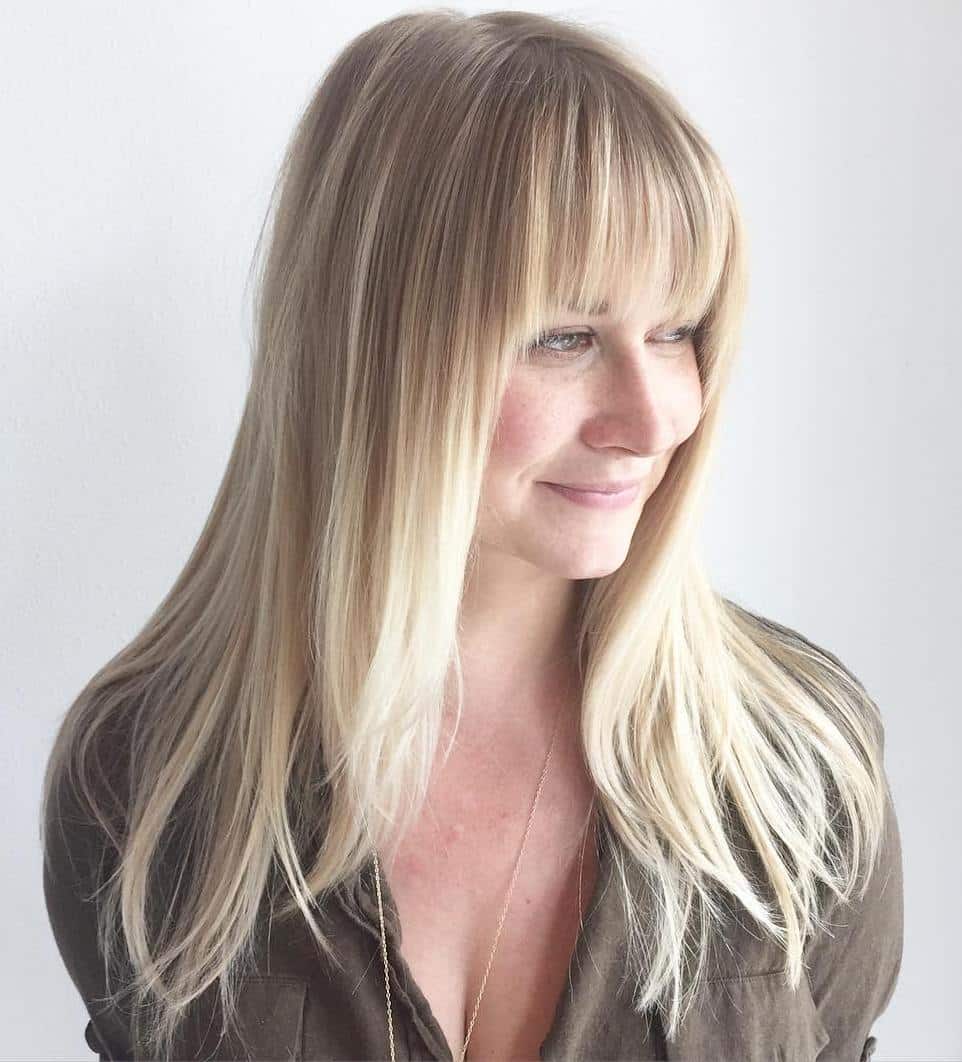 This straight hair shines with a nice balayage piece of work and looks airy with piece-y layers on the bottom and a cute wispy fringe.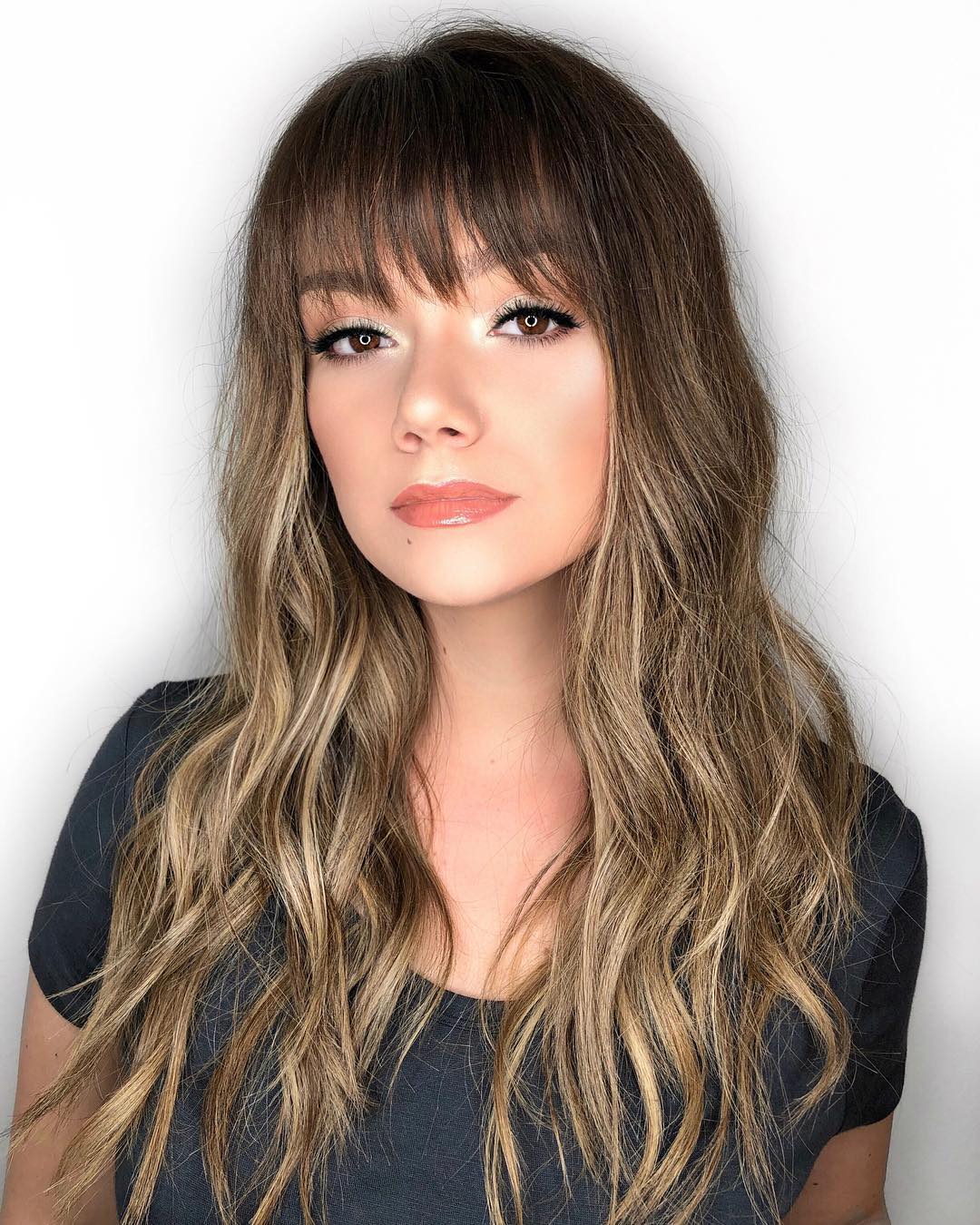 Wavy styles go well with straight bangs, like this jagged fringe that ties the look together, while enhancing its color contrast.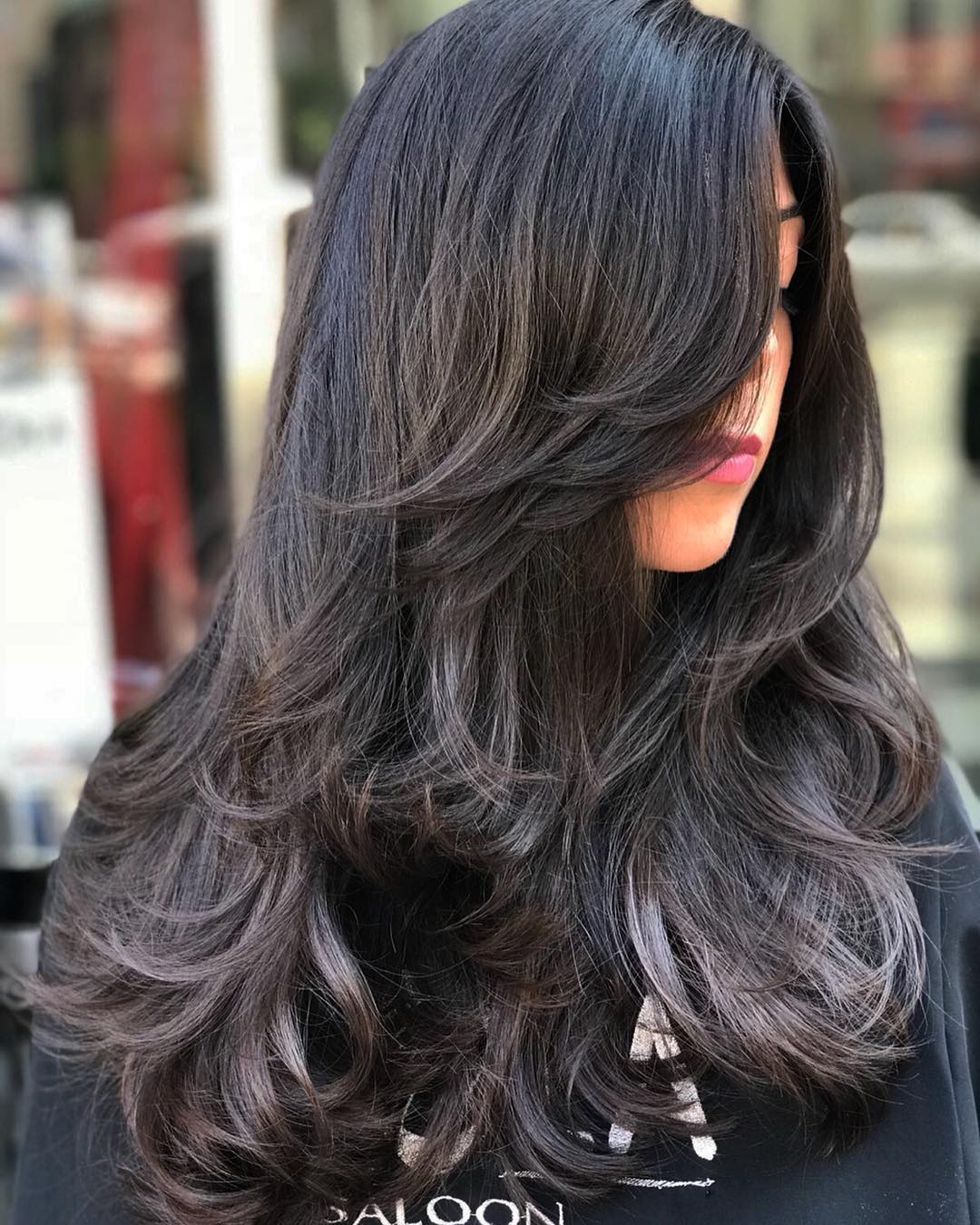 This thick hair bounces with layers, and its feathered bangs do a great job of framing the face and removing some bulk.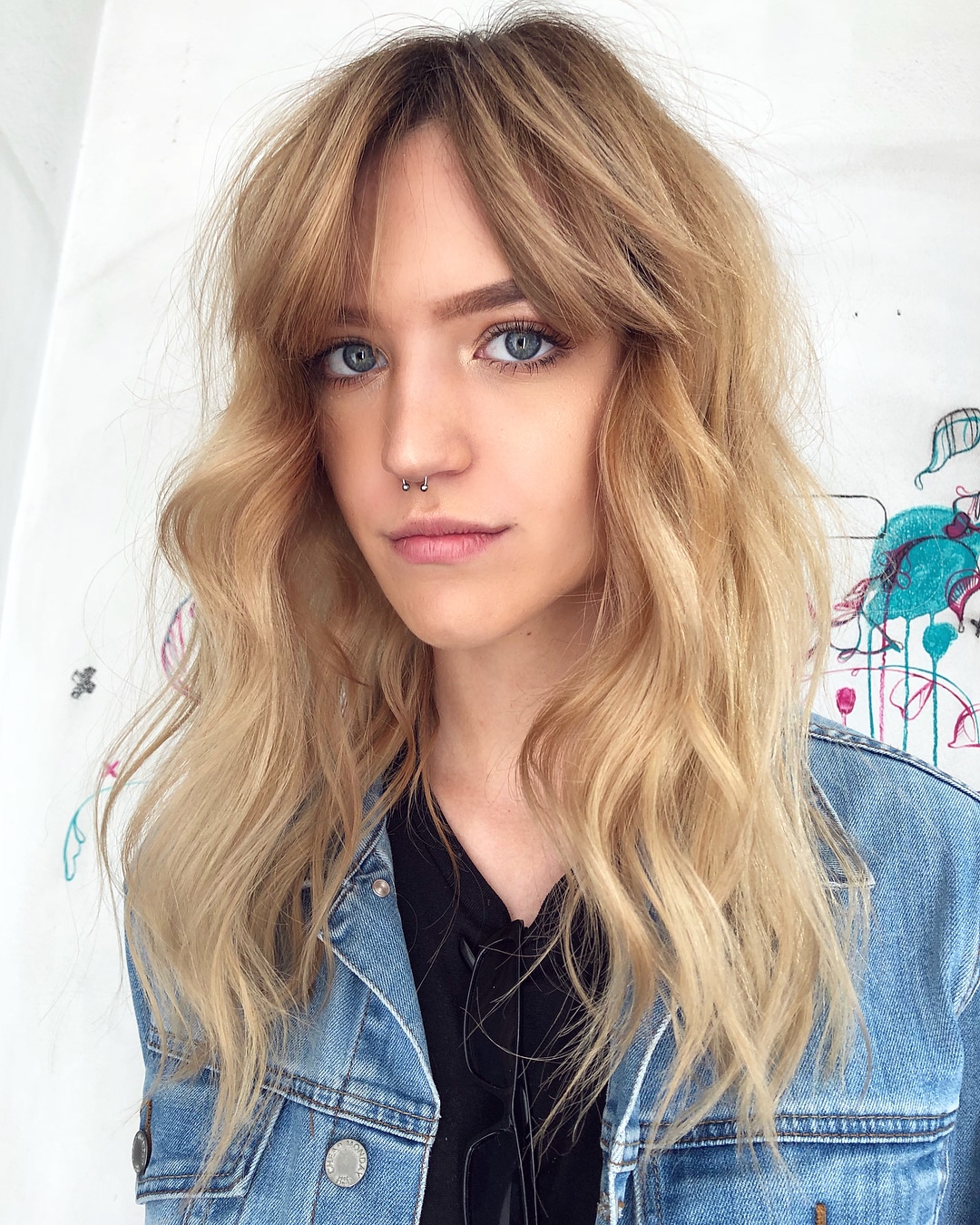 Tousled styling brings volume into thin tresses, and a layered parted fringe can add even more dimension to the style.
Adopting Fringe Looks to Your Face Type
Since bangs are praised as a magic remedy that can change our proportions visually, it would be a pity to miss the opportunity. There are different kinds of bangs to flatter different face types, as well as certain taboos you should know about. For example, a thick boxy fringe tends to shorten faces, so it's not the best choice for round and square faces. "Side-swept fringe is a go-to for a round face. The angle of the bangs creates more length in your face and thus a more oval shape," says Jon Reyman, founder of Spoke & Weal salons and coiffeur behind Lana Del Rey and Paris Hilton, to Glamour. The same elongating rule is applicable to square faces, but there are quite a number of other options.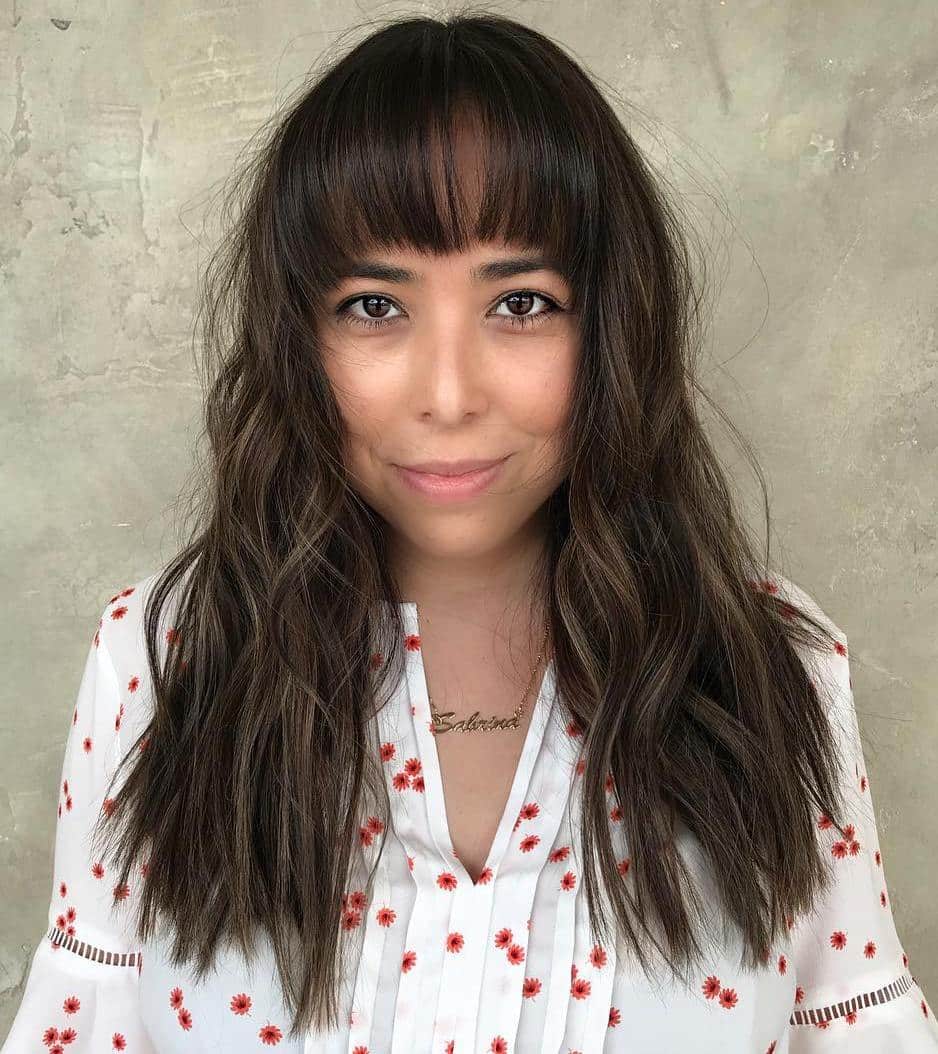 While long hairstyles are known for their elongating effect (given that volume is kept away from the sides), a gentle arched fringe is just the thing to compliment a round face.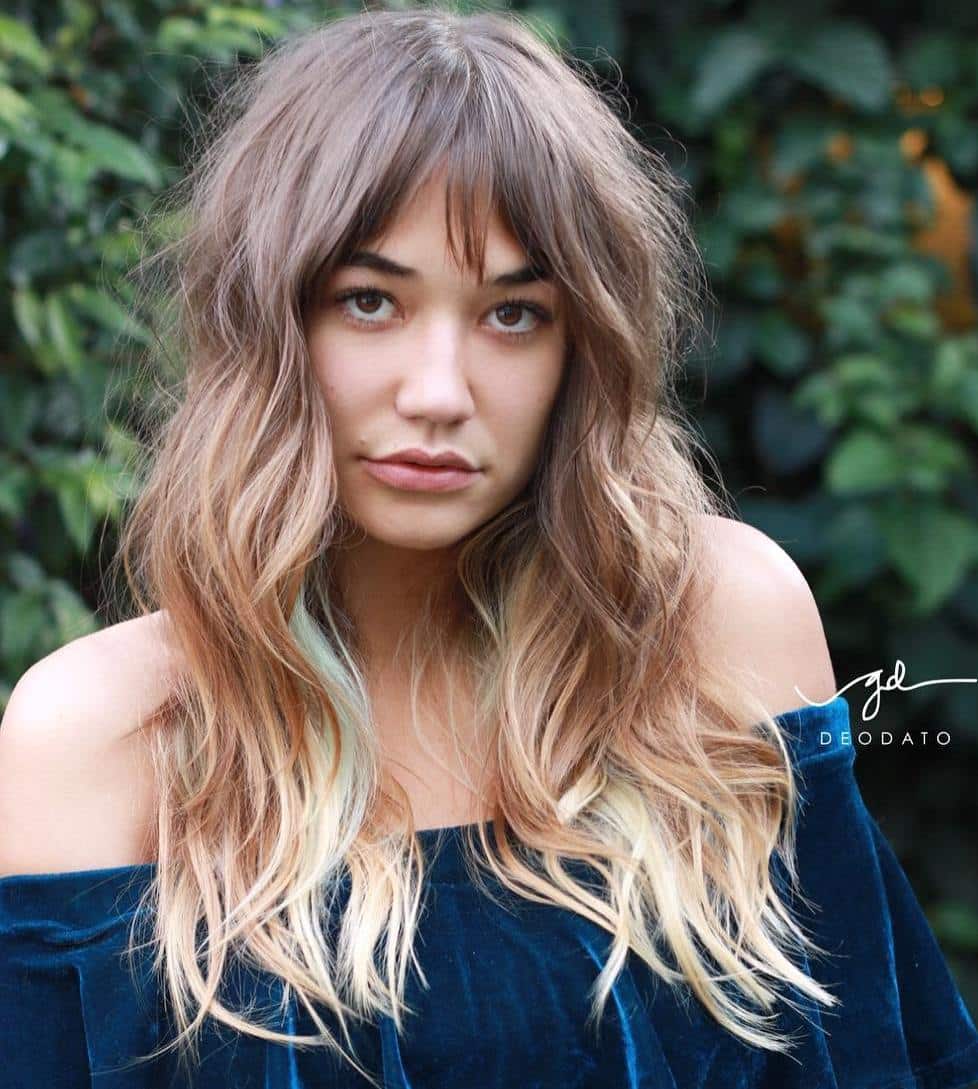 This Brigitte Bardot-esque shag shows a modern take on curtain bangs, offering a flattering width-adding frame for oval faces.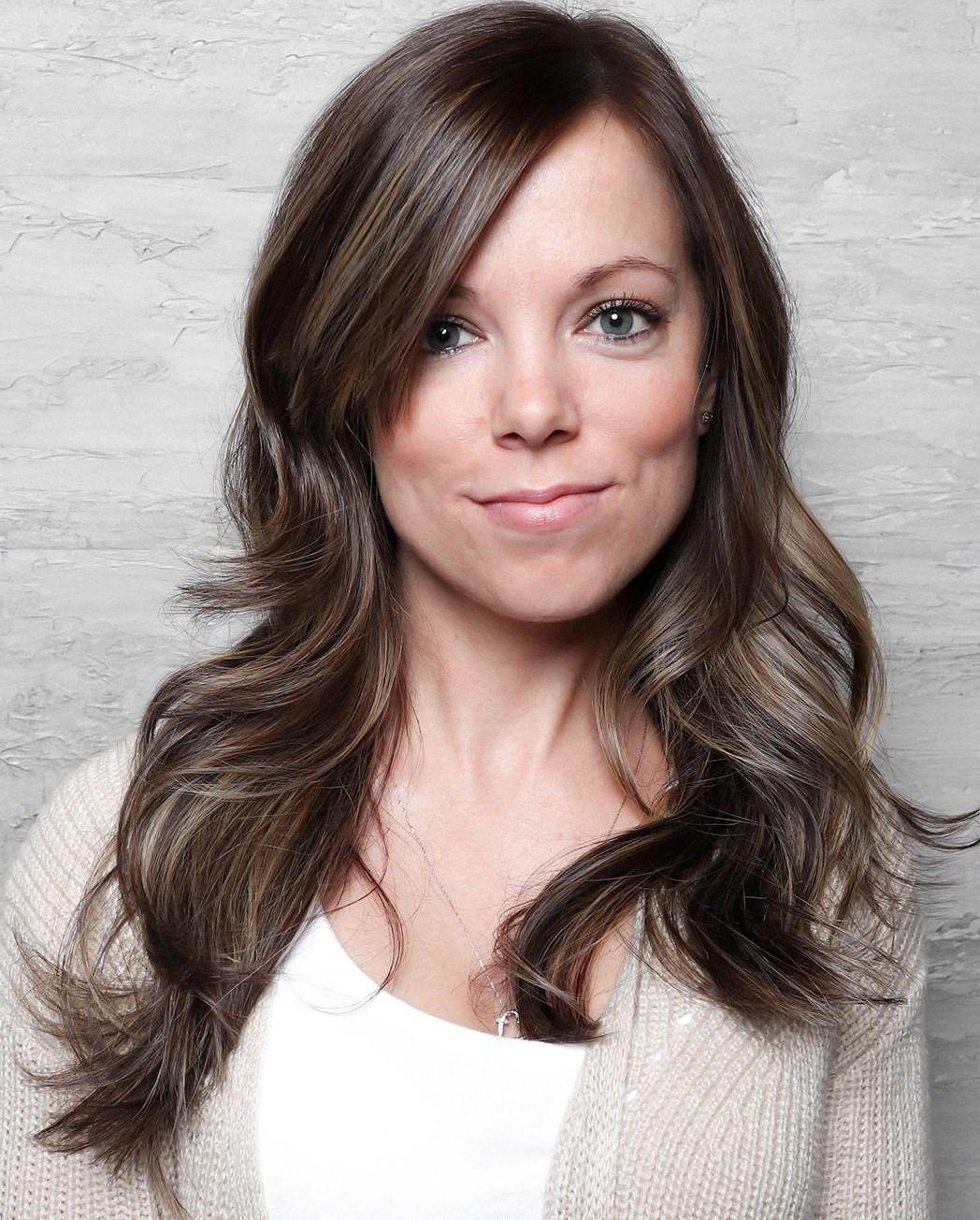 Side-swept bangs have the power to visually shorten a long face, and it's smart to choose a long hairstyle that has plenty of volume at the cheekbones.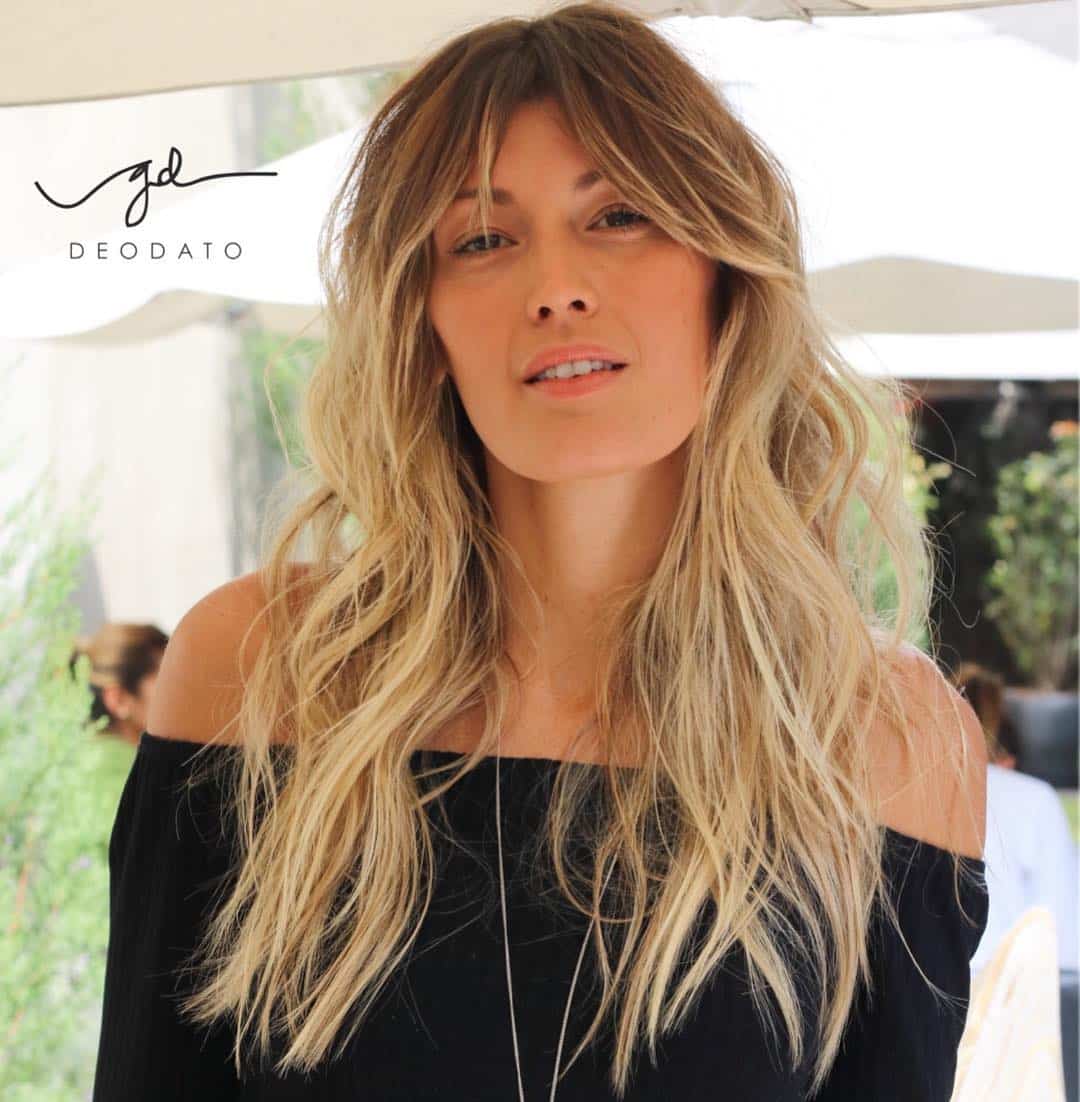 Wispy layers work great for softening square faces, but chic curtain bangs can enhance the effect by accentuating your cheekbones and eyes rather than your jaw line.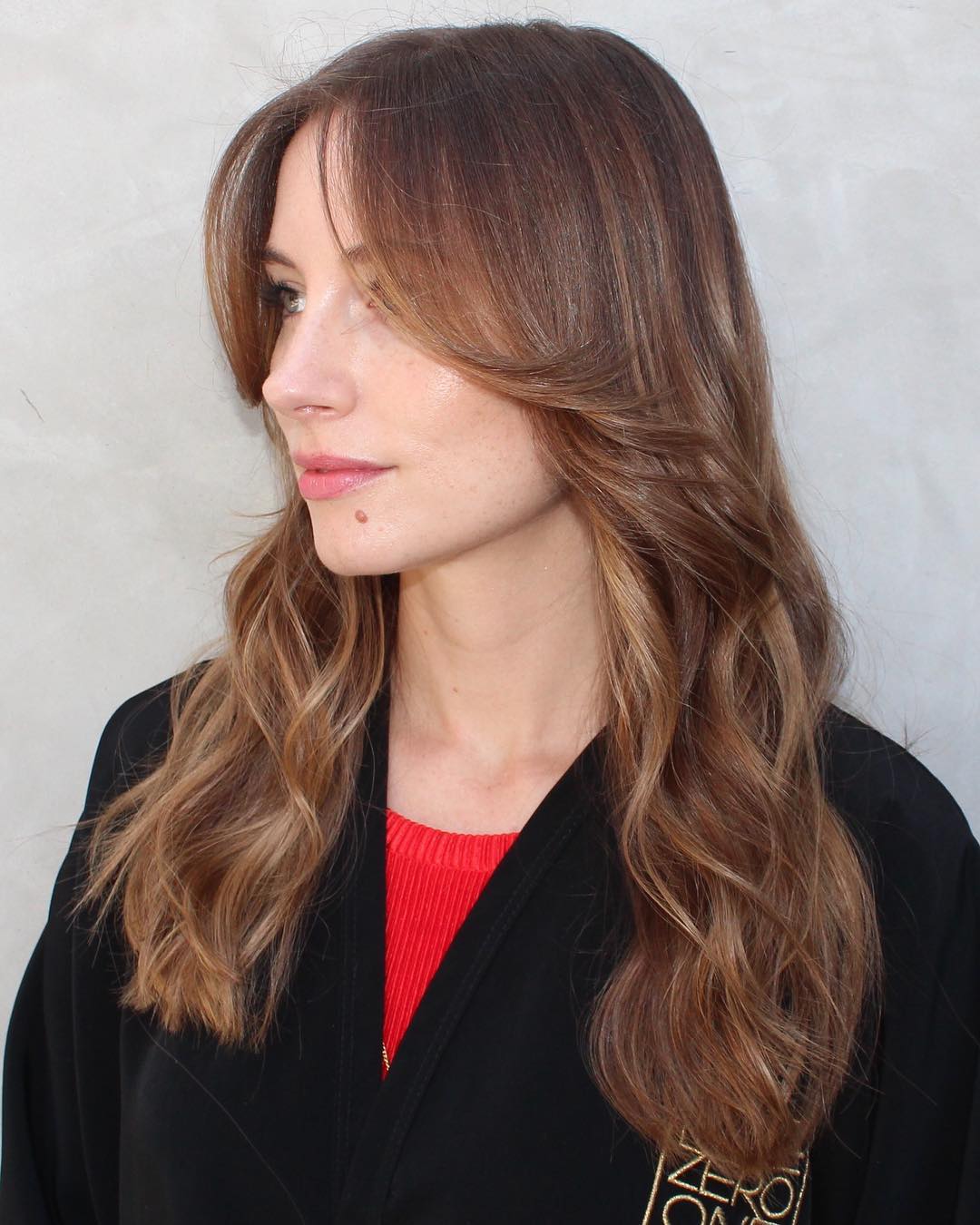 Both a swoopy fringe and layers draw the eyes away from the pointed chin of heart shaped faces, especially when flipped-out styling is applied.
Long Layered Styles with a Fringe
Layers are meant for long locks, helping them get movement, bounce and structure, while without them very long tresses might appear flat and shapeless. And you know, it seems that layering is capable to flatteringly transform any bone structure, too. "A hairstyle with longer layers will make your neck and face appear more slender," Sarah Potempa, celebrity hairstylist with Reese Witherspoon and Emily Blunt in her client list, tells Byrdie, when recommending hairstyles for round faces. And she also suggests long layers to offset the widest points of diamond-shaped faces, while for a heart-shaped type she offers to curl layers away from the face and pair the style with bangs for masking the wide forehead. Keep scrolling to view more long layered 'dos with bangs.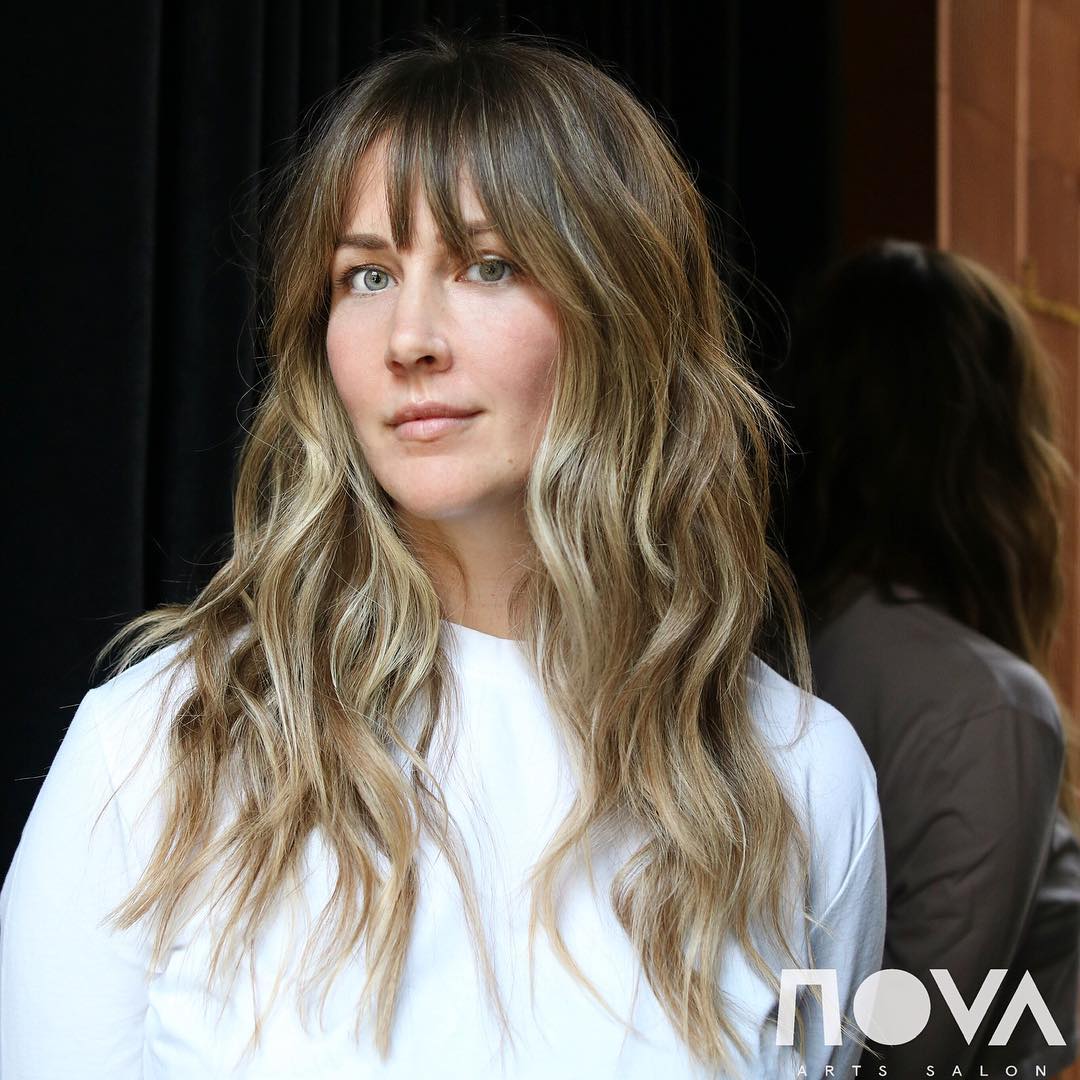 This hairstyle features a delicate color transition and plenty of short layers of the bottom, but the long ragged fringe is a real focal point of the look.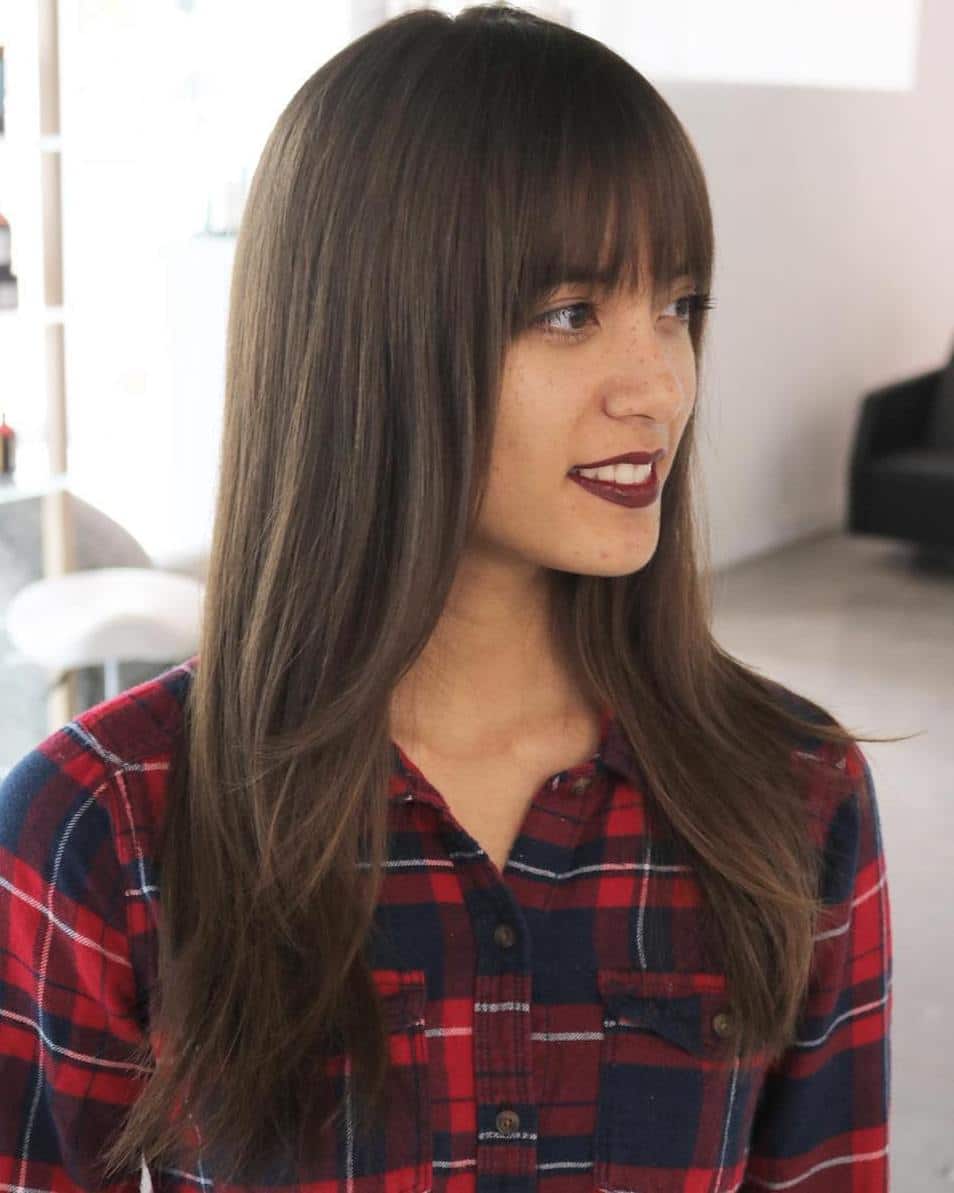 Layering brings some dynamics to this long straight hair, while the brow-skimming bangs are thinned out just right in order not to overpower the face.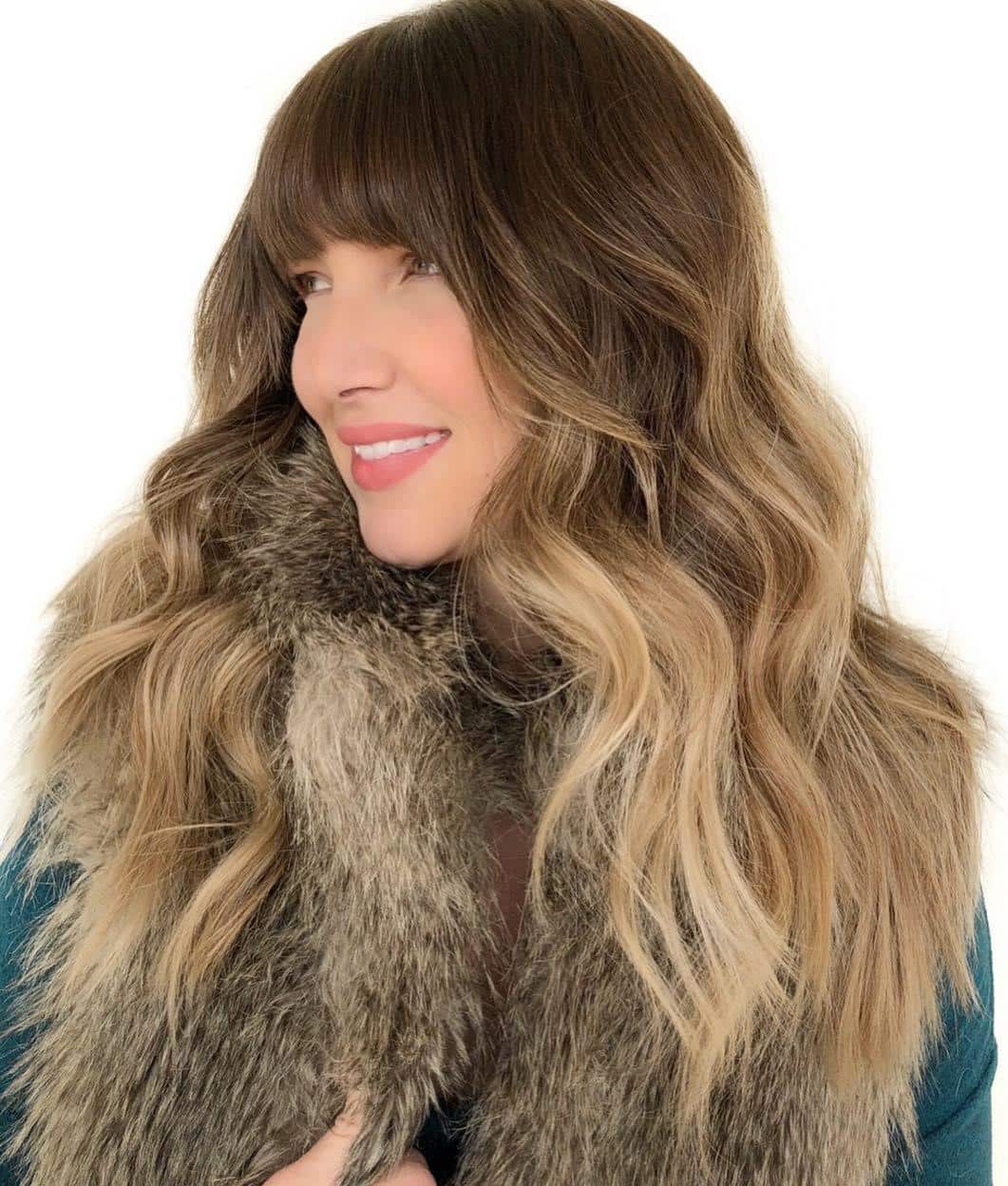 This cutie nails a wavy razor-cut hairstyle with front bangs and a strong color statement to emphasize the contrast with the highlighted choppy bottom.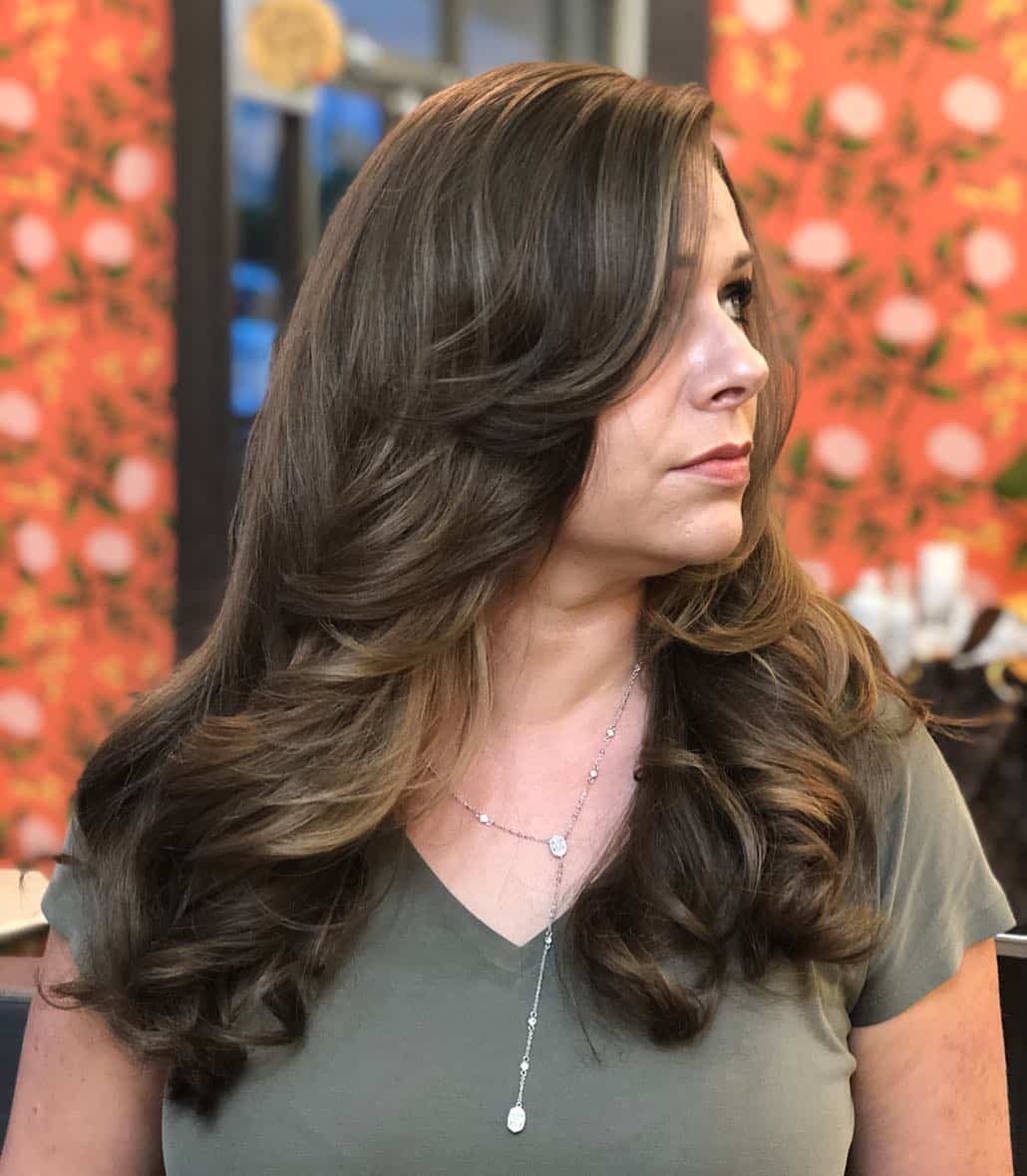 Here, thick mane is handsomely debulked through heavy face-framing layers and long side-swept bangs blended in perfectly with this bouncy disconnection.
This full choppy fringe adds vibe to straight hair with long layers, creating a trendy laid back look with texture and movement.
Enriching Bob Cuts by Incorporating Bangs
Though limited to the collar bone length, the long bob is still an option for those who prefer keeping their locks on the longer side. "The lob makes all hair look thick and healthy. Also, the strong lines draw attention to bone structure and help frame the face," Matt Fugate, who styles Lana Condor among other stars, says to InStyle, adding that the cut flatters most face shapes because of the length maintained around the face. We'll give our two cents by pointing out that bob hairstyles are trending right now, and their versatility allows choosing a cool version suited to every fancy. And yes, bobs mix well with various types of bangs, like it is illustrated in our photo gallery.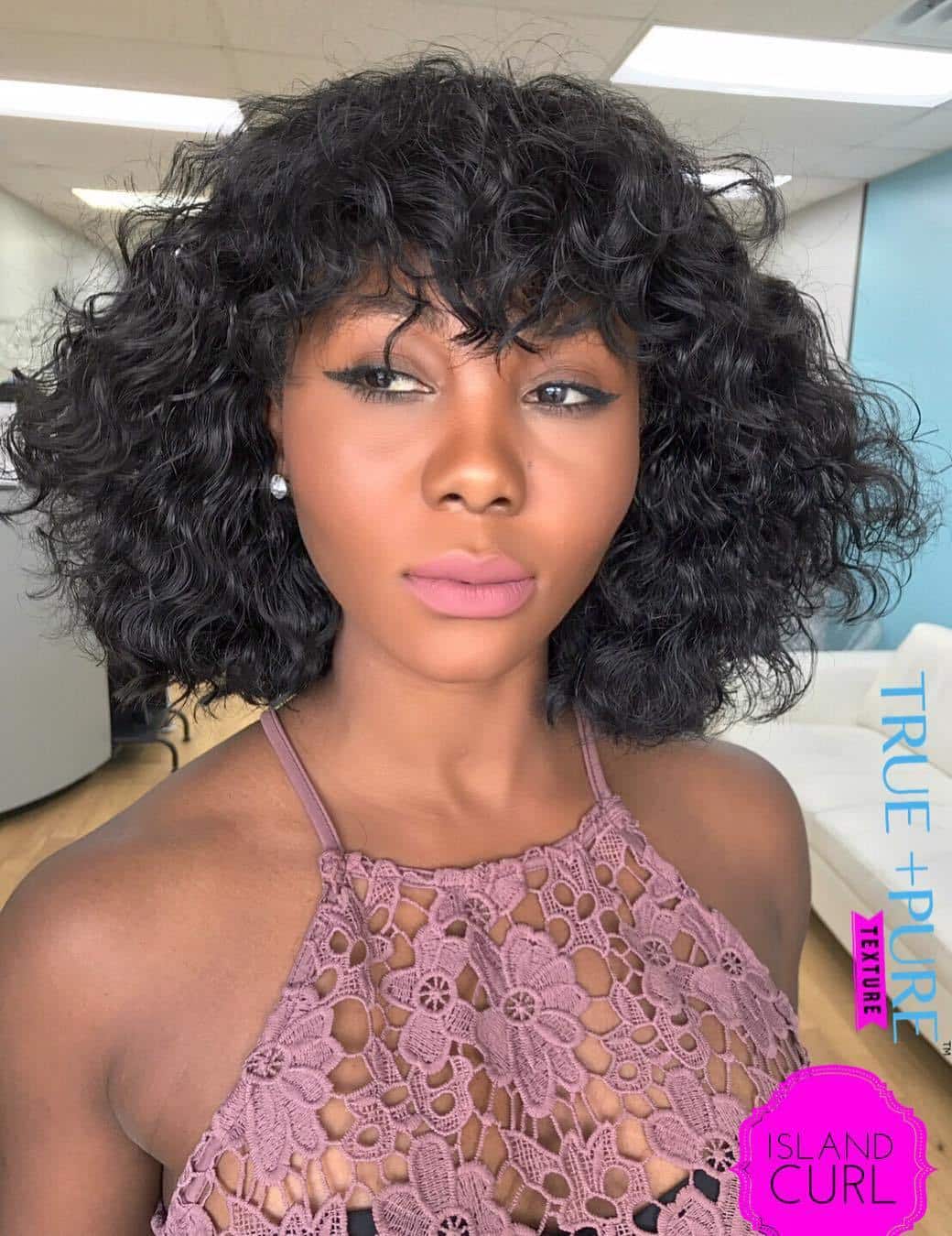 Though hairstyles for black hair usually imply avoiding a triangle shape, it can look really edgy with bold curly bangs.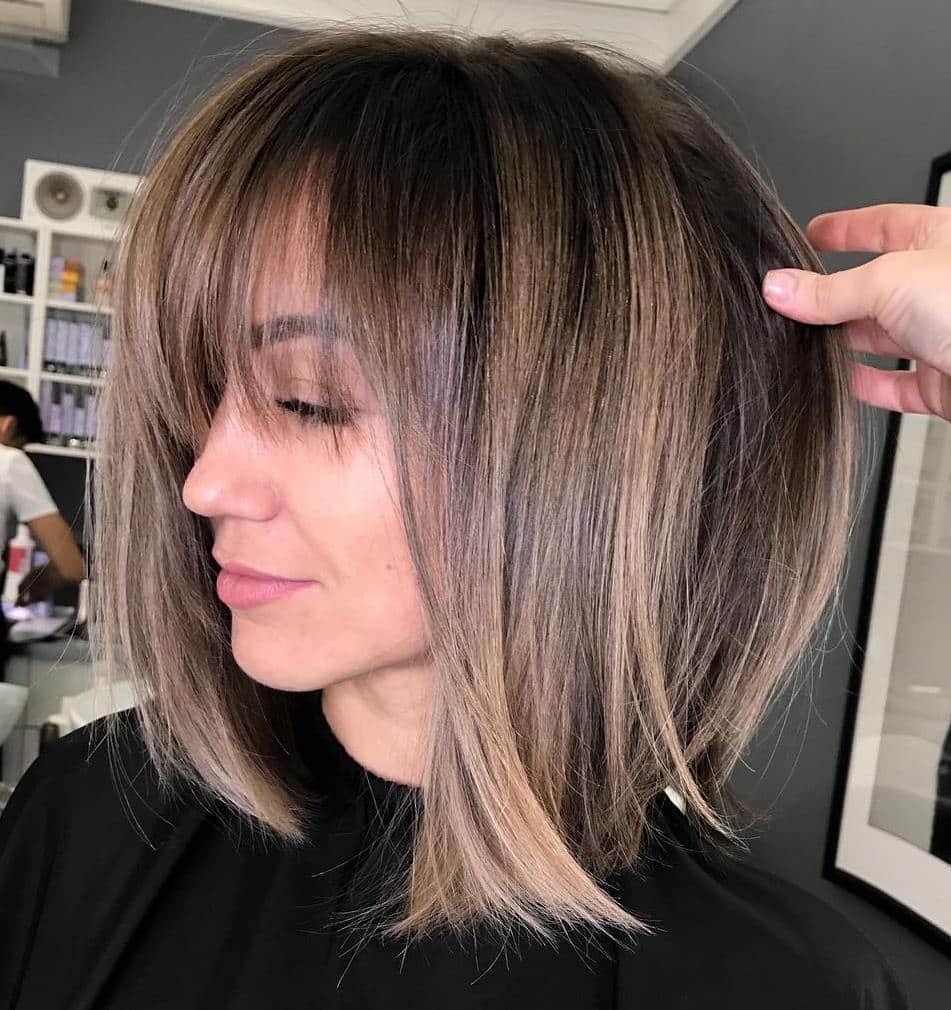 Thin eye-skimming bangs add up with a long straight bob and can be worn side-swept or tucked behind the ear whenever you want to switch up your style.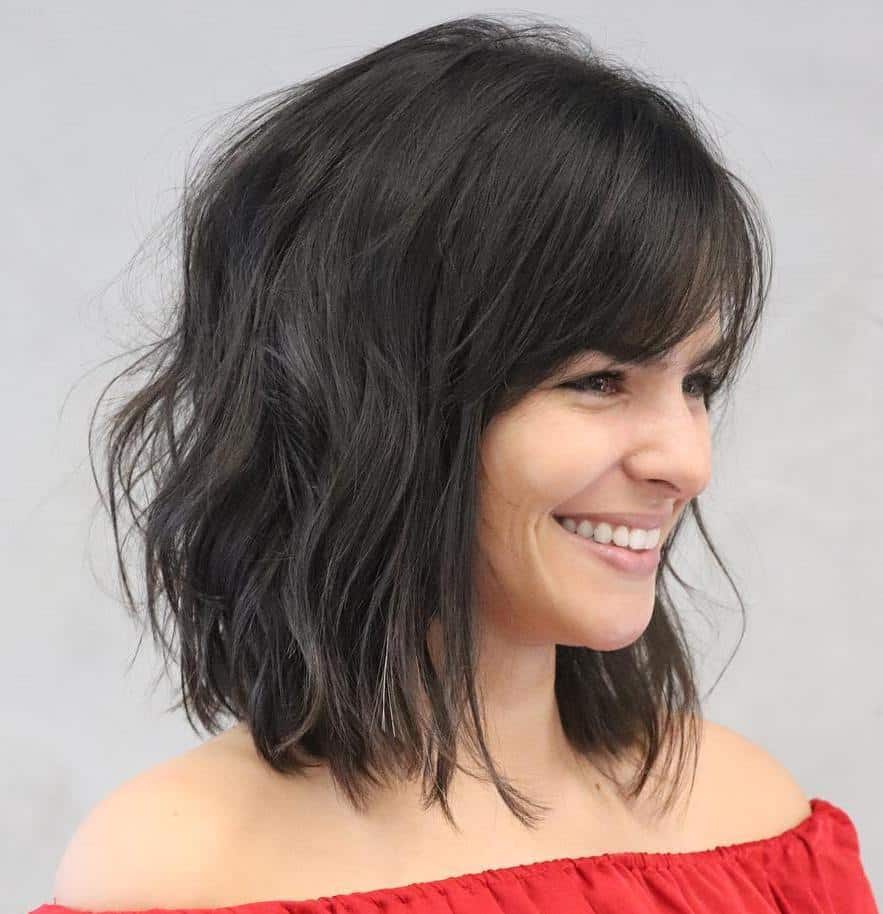 We like this slightly angled bob with a fringe for its relaxed feel and touchable texture that make the thick tresses look vibrant.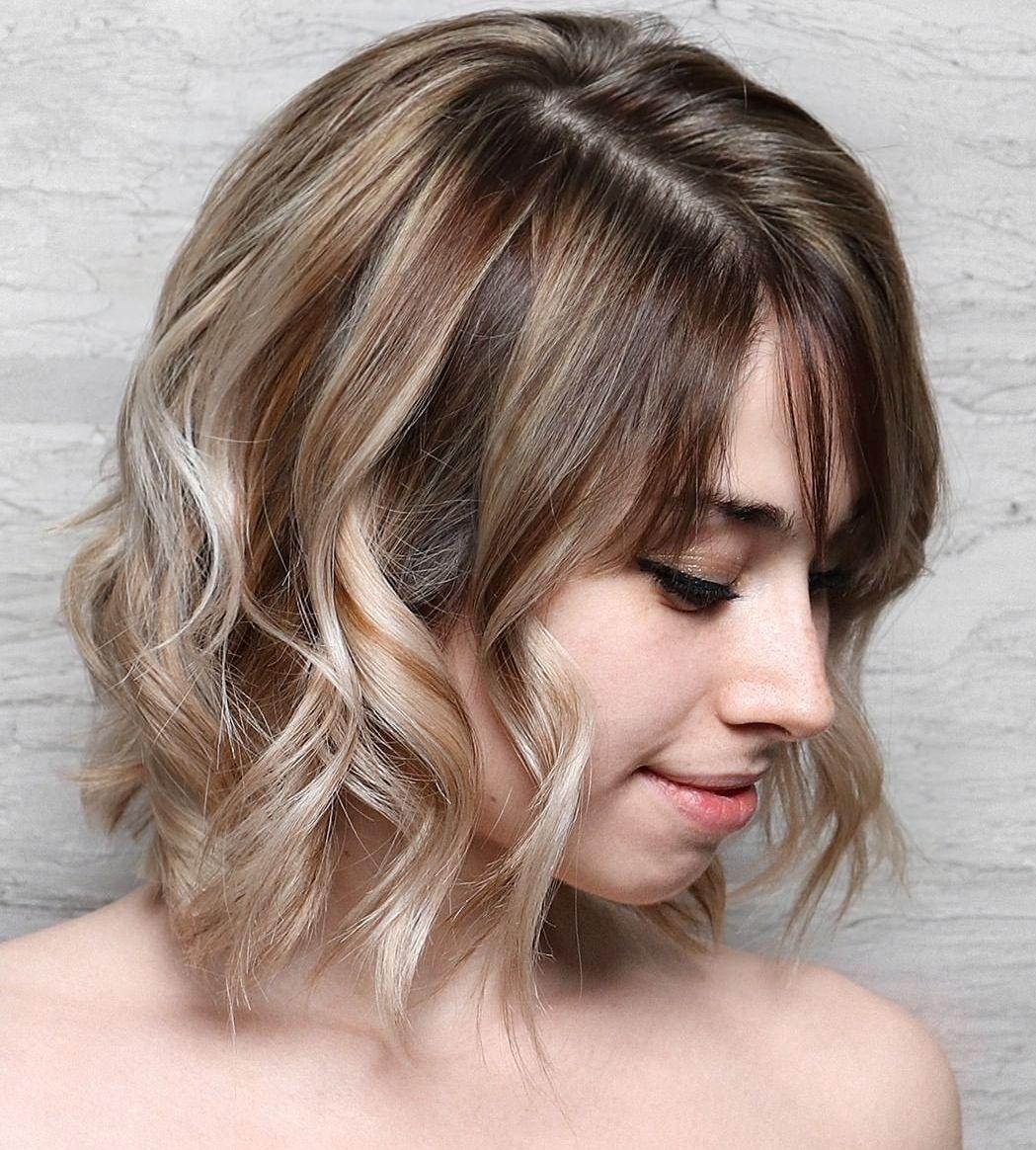 While fine locks don't gain dimension easily, this hairstyle boasts plenty of it due to its color combination, wavy styling and a side parting, leaving some piece-y bangs to fall down the forehead.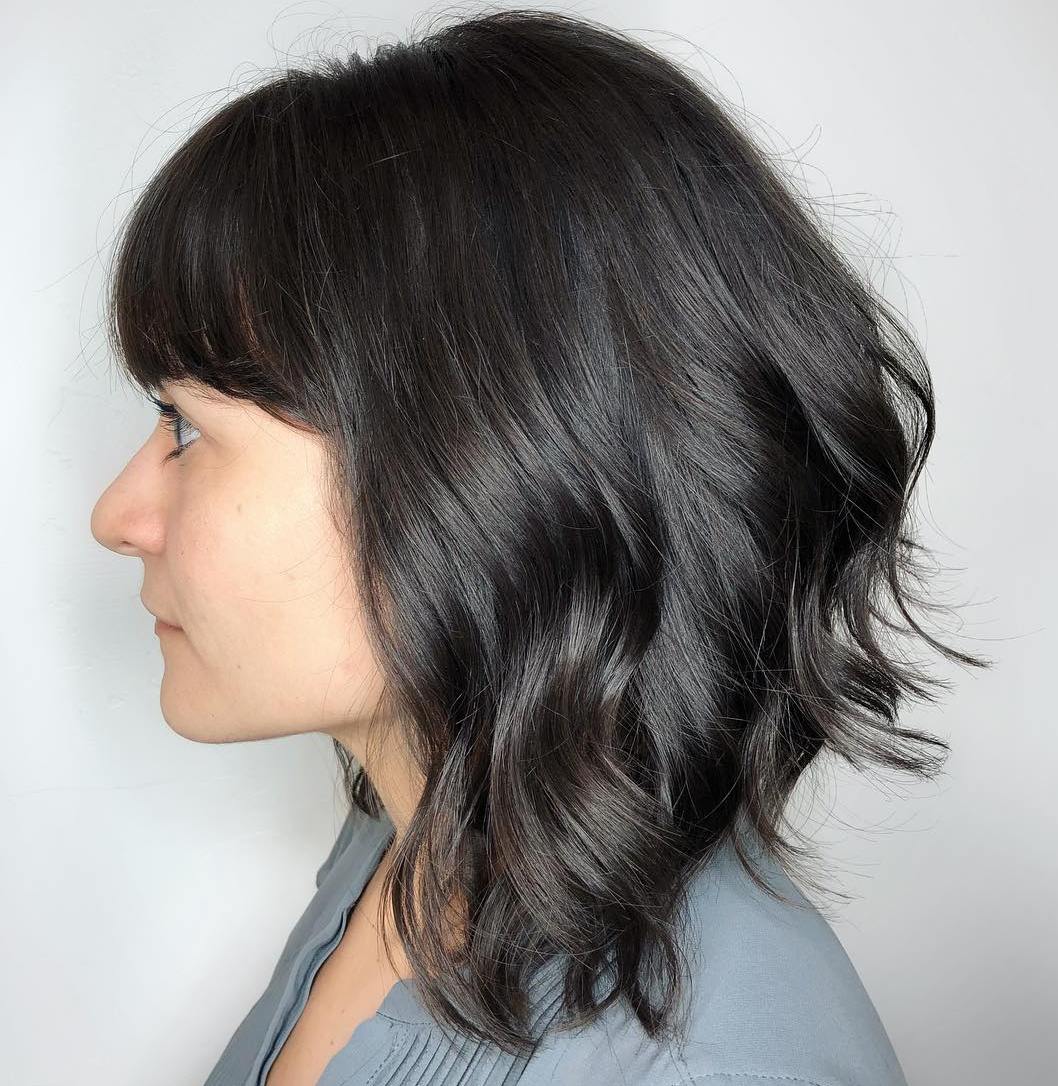 This cute angled bob is also curled to showcase uneven layers, and it's coupled with shorter and denser bangs.
10 Best Bang Ideas for Long Hair to Try ASAP
"There's never a wrong time to get bangs," celebrity hairstylist Mark Townsend, who works with Ashley Olsen and Rachel Weisz, says to Refinery29 and recommends sticking to relaxed elegance (which is a current trend) in their styling. If you are concerned about their maintenance, here is another tip from the stylist. "Add the tiny step of dry shampooing your bangs before leaving the house. This is a preventive step and only takes a few seconds," Mark Townsend shares his secret on how to keep your bangs from looking oily and flat. Armed with this helpful information, let's get inspired by looking through our collection of the best long hairstyles with bangs for 2022.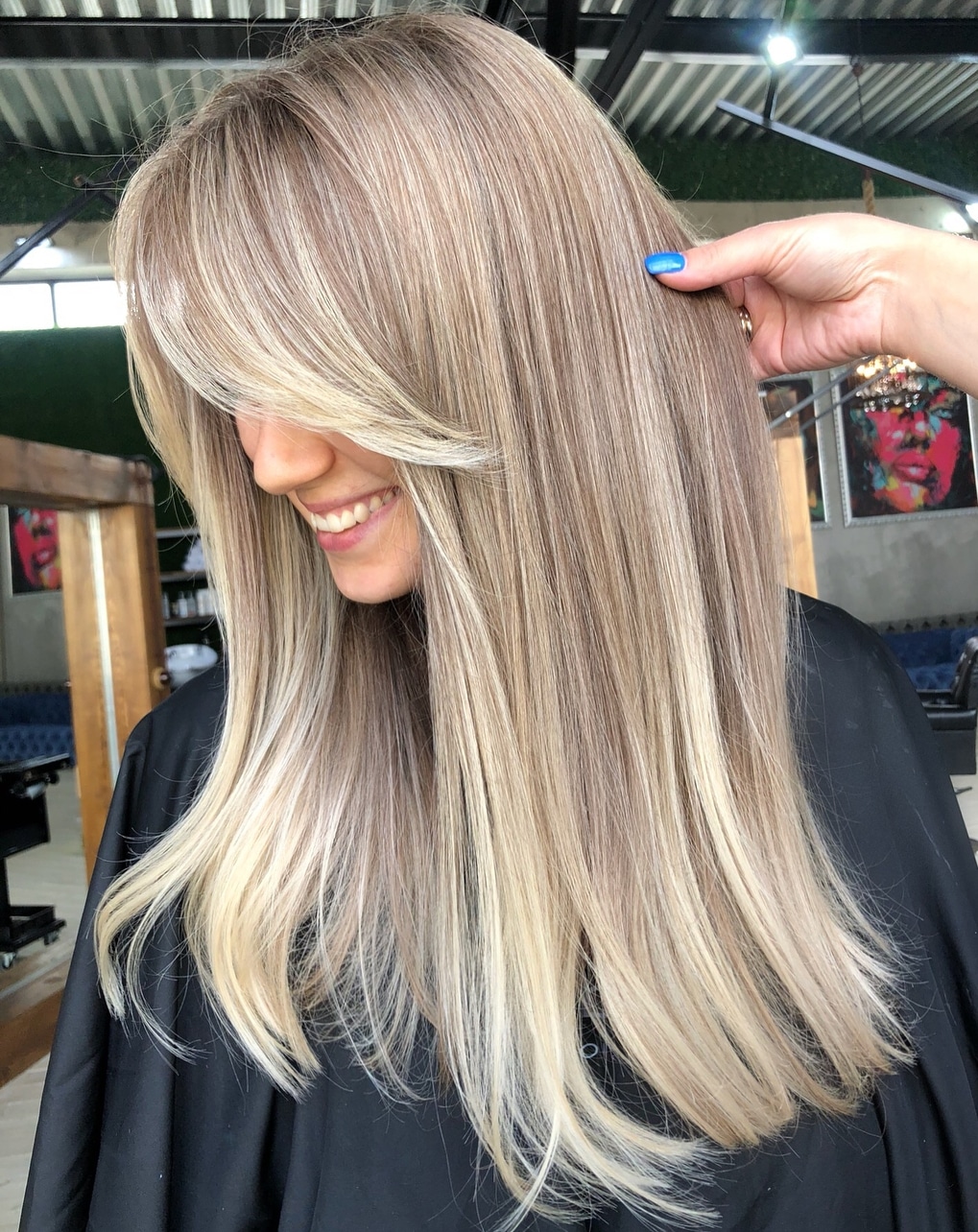 This is a great example of straight hair gaining dynamics rather through coloring than through layering. Yet, highlighted side swept bangs do a nice job of breaking the monotony of the long non-layered hair.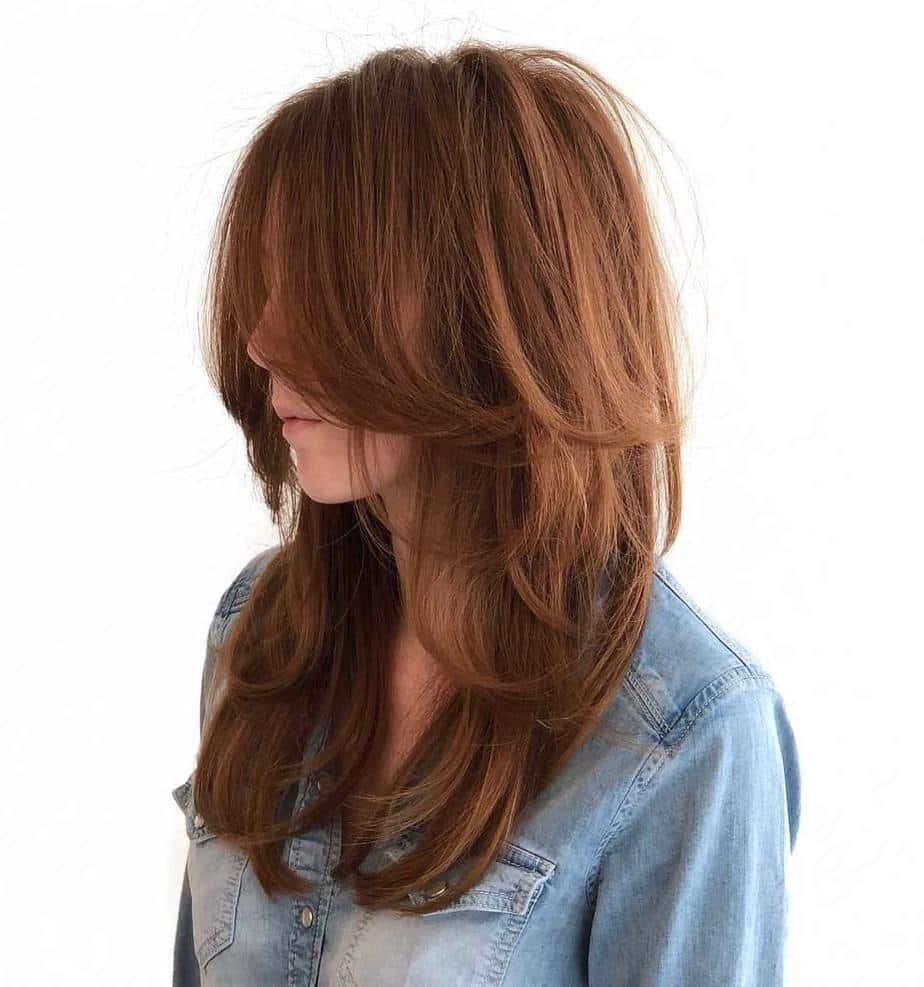 And vice versa, here layers are added generously to a solid auburn hairstyle, aimed to provide movement together with long face-framing bangs.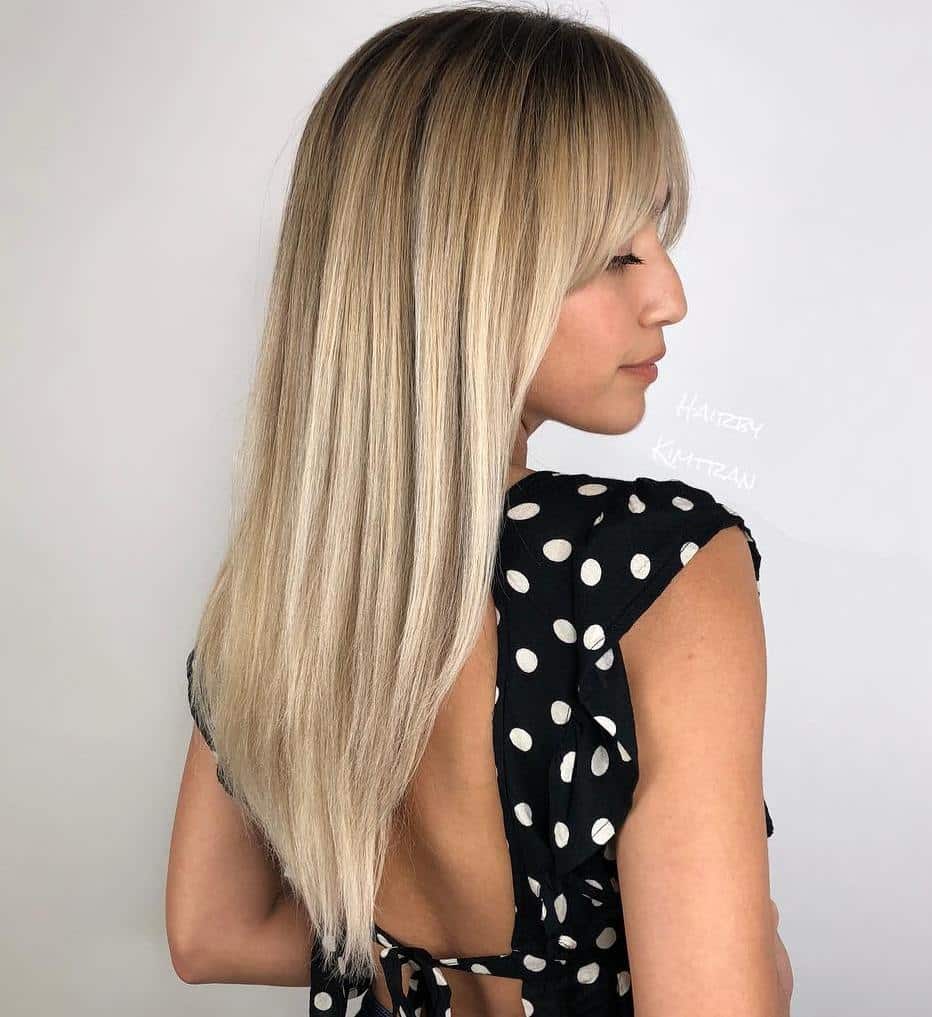 This blonde gal arrests the eye with her subtly layered and rooty V-cut hairstyle, coupled with bang-on curtain bangs.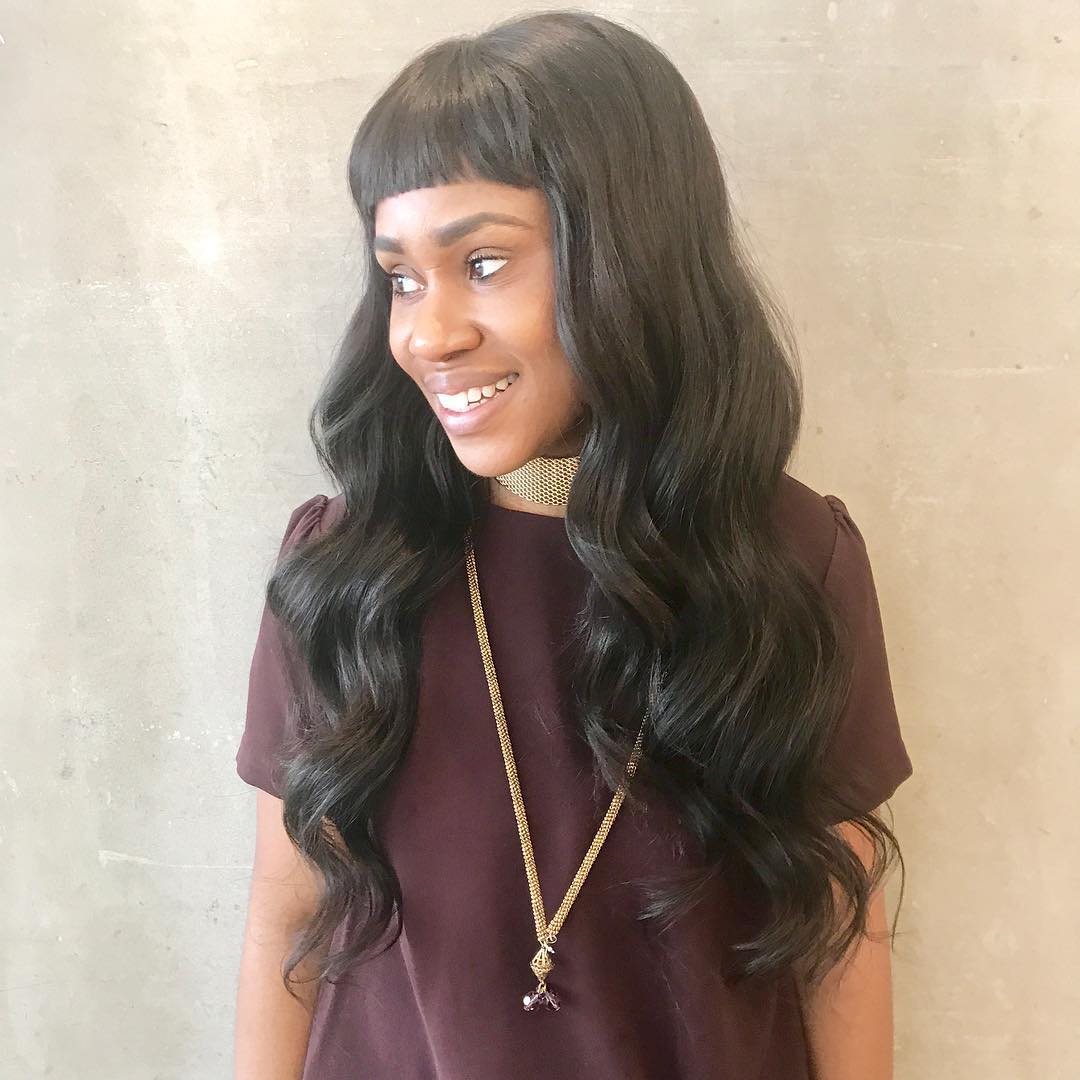 Follow the lead of this black beauty, making her statement through a dramatic contrast between blunt micro bangs and super-long waves.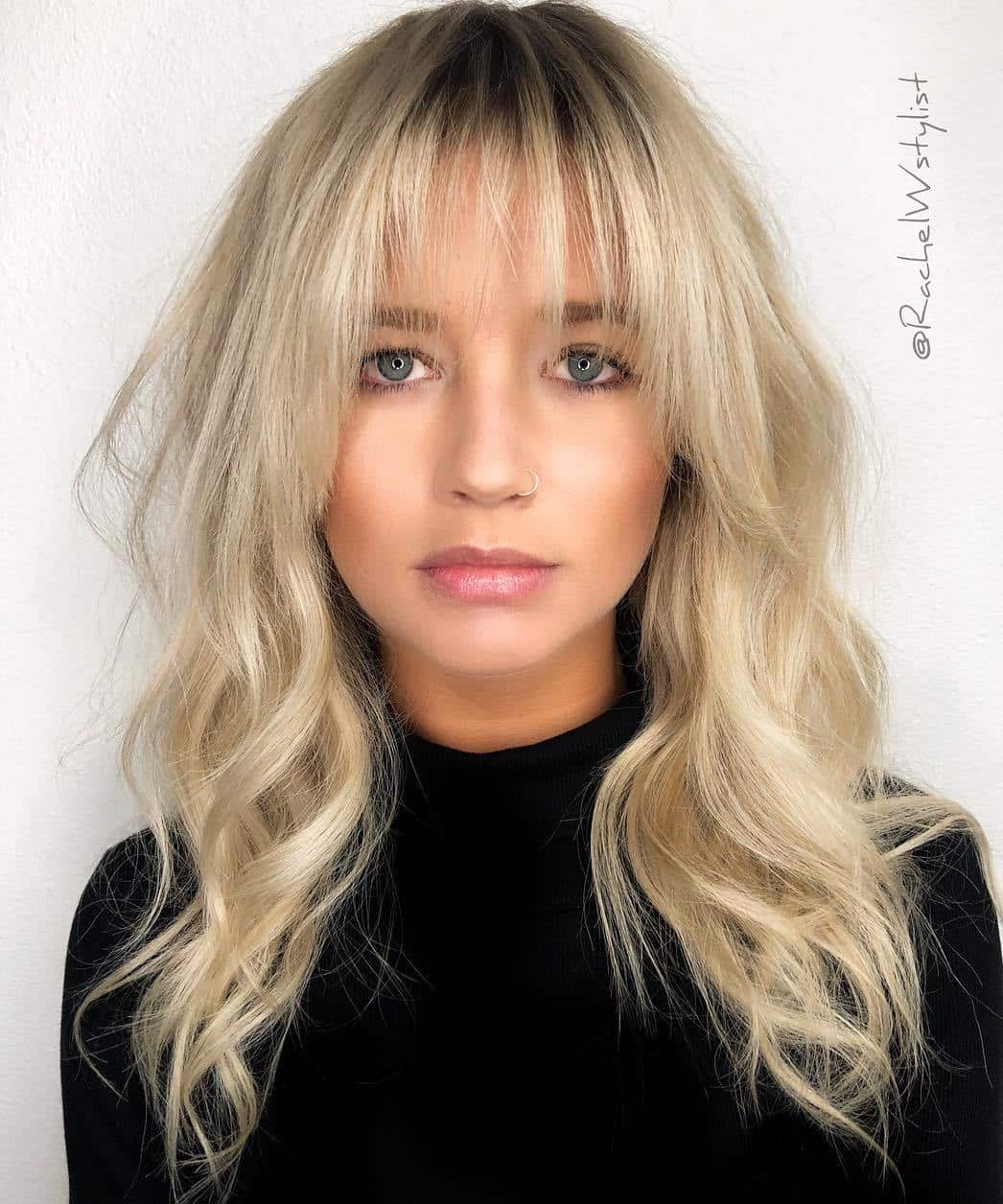 This awesome root melt works wonderfully together with wispy bangs, delivering a galore of dimension to the shag.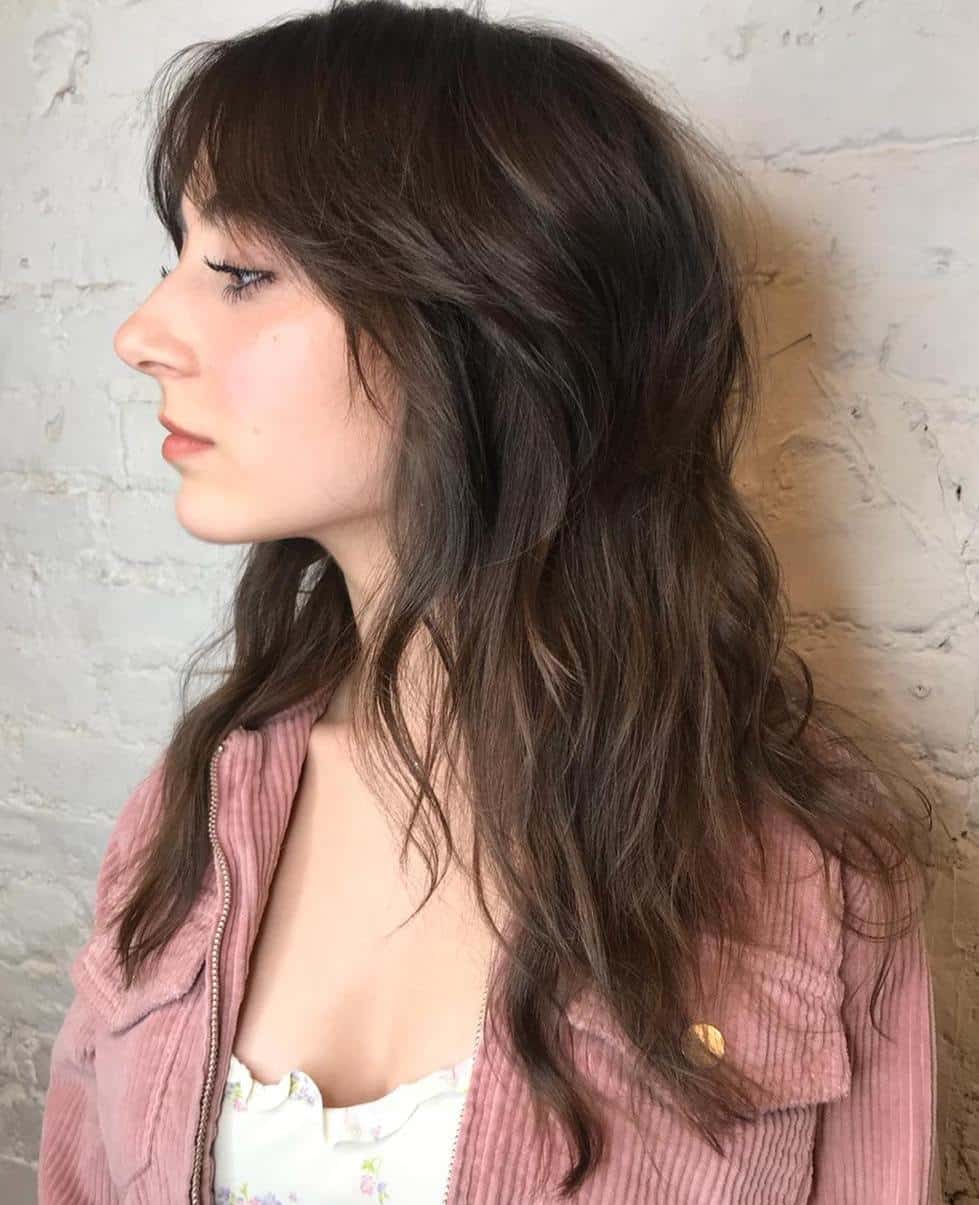 The dark shaggy hair also looks trendy and vibrant. Don't hesitate to team it up with a 70's-inspired fringe for a fashion-forward feel.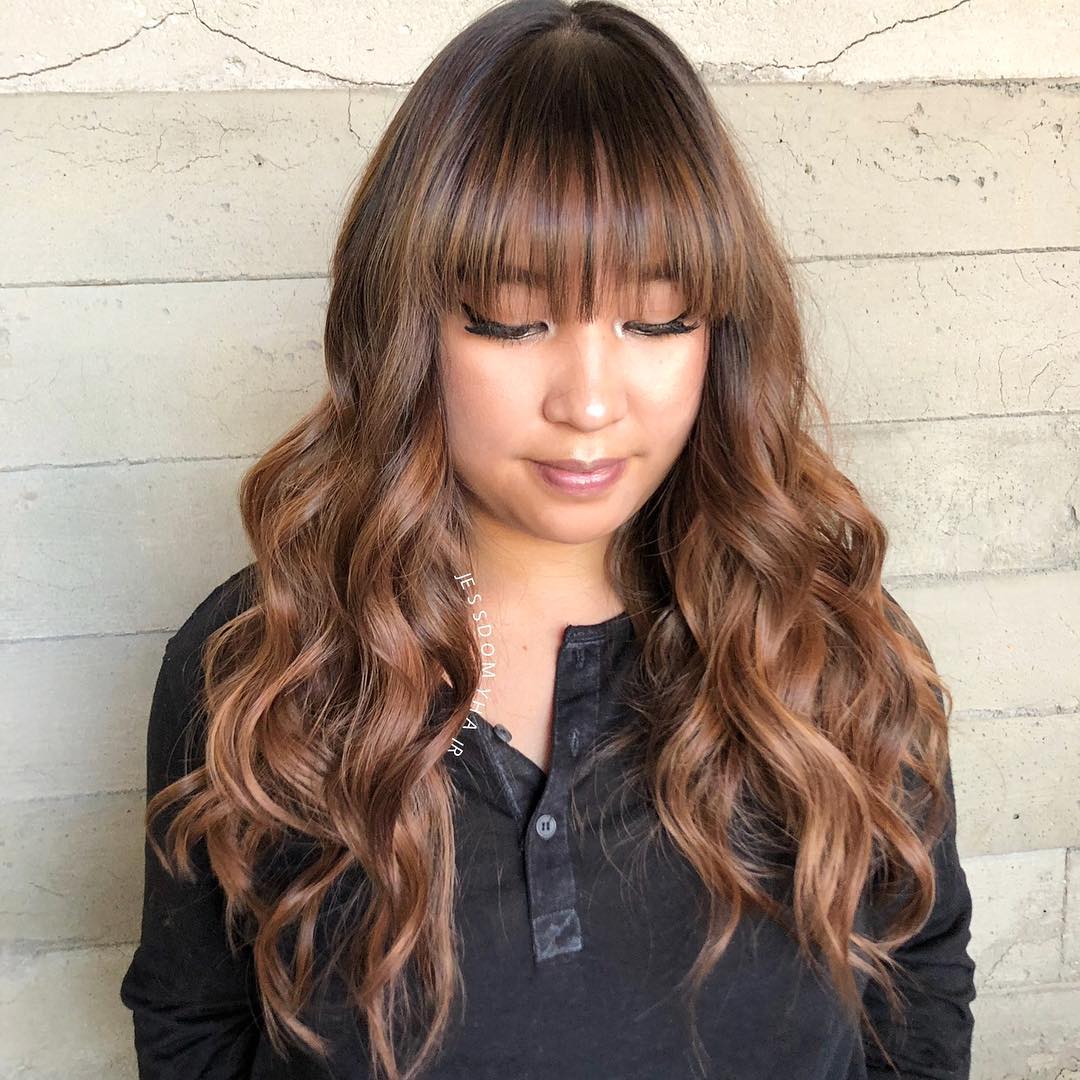 This lavish brown hair is spiced up with caramel highlights, covering the see-through fringe with delicate color streaks as well.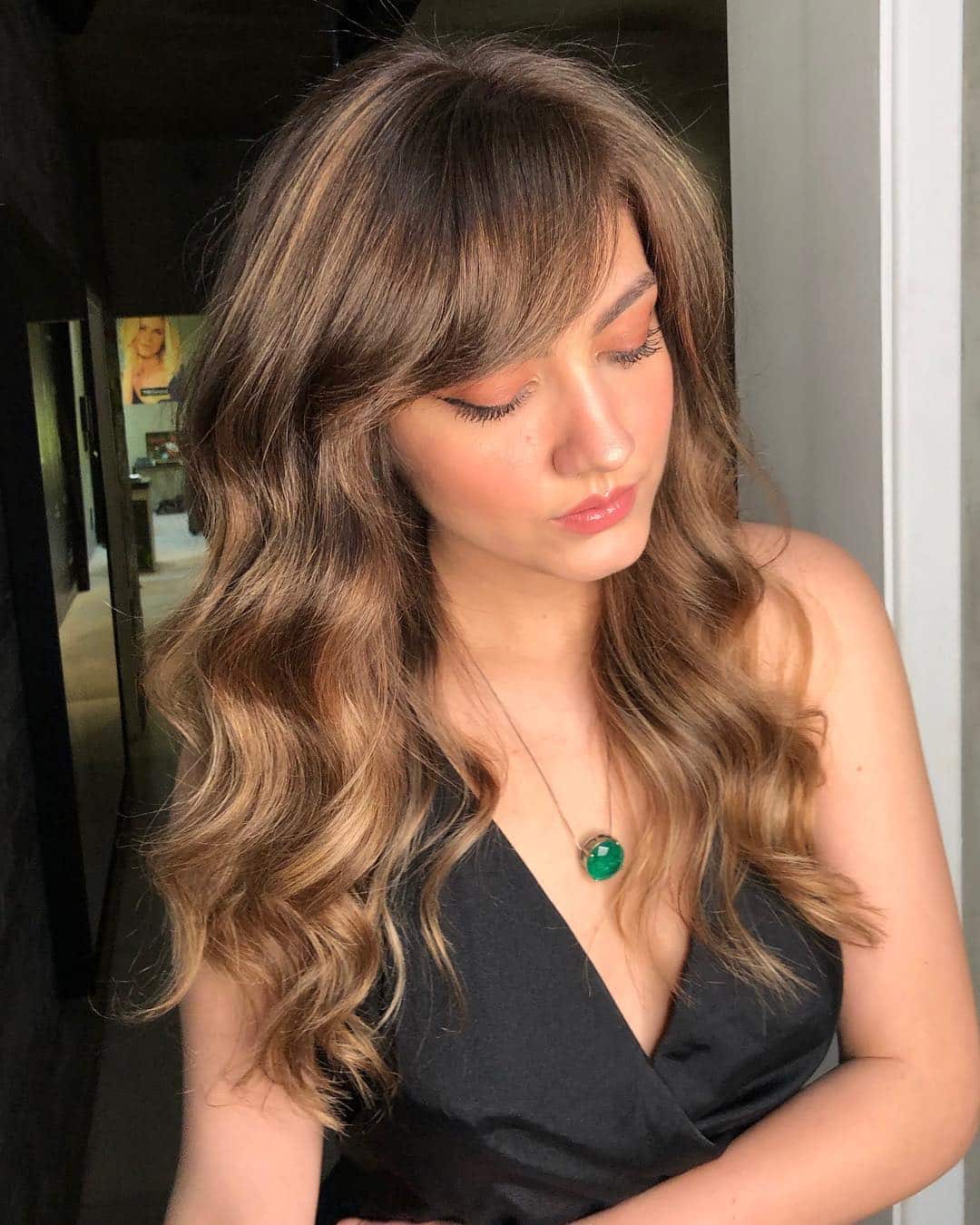 Classic waves match well with the swoop of side bangs – proven by this jaw-dropping head of hair.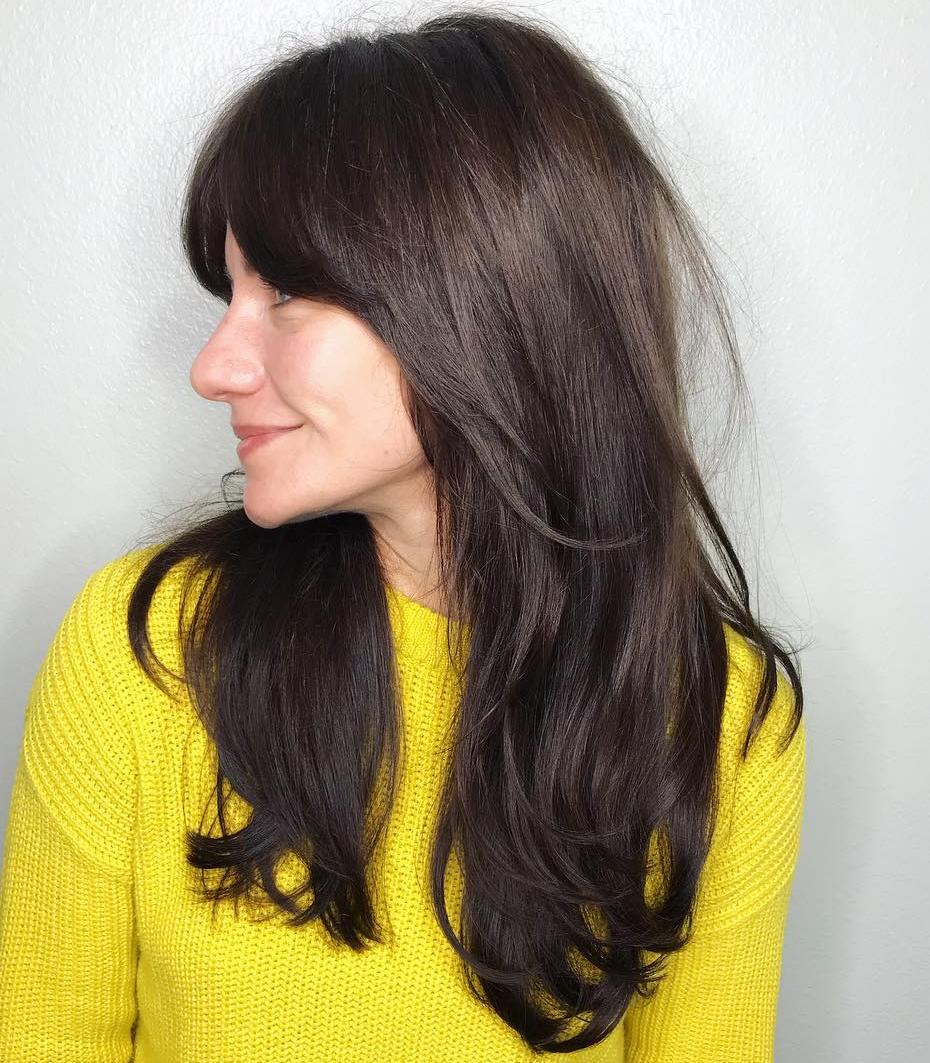 When going dark all round, make sure to add some vibe to your straight hair with layering and long curtain bangs, blended into your side tresses to frame the face.  And sure bangs are killer when paired with a loose voluminous ponytail as illustrated. Don't bother to avoid flyaways, since they just contribute to this relaxed style. There are, certainly, far more options for nailing different kinds of bangs in updos and free-flowing hairstyles, but we believe you've already got an idea of hot looks to take cues from. Put away doubts and fears and go for a fresh cut with a flattering fringe that will compliment your long locks perfectly. And we are here waiting for new lovely pictures in your Instagram feed!