Layered bob hairstyles flatter every face shape, work well for all hair textures, and look sensational, be it with athleisure wear, jeans, and even with a sparkling, full-length gown. A bob haircut has been around for nearly a century. As with all fashion trends, it adapted along with the needs and tastes of the changing times. Almost every woman has had one. Today's bobs are sophisticated and chic and are designed to work precisely for the woman's hair type and style preferences. Generally, longer bobs work well for oval and round faces, shorter bobs for triangular and oblong faces.
Wavy Layered Bob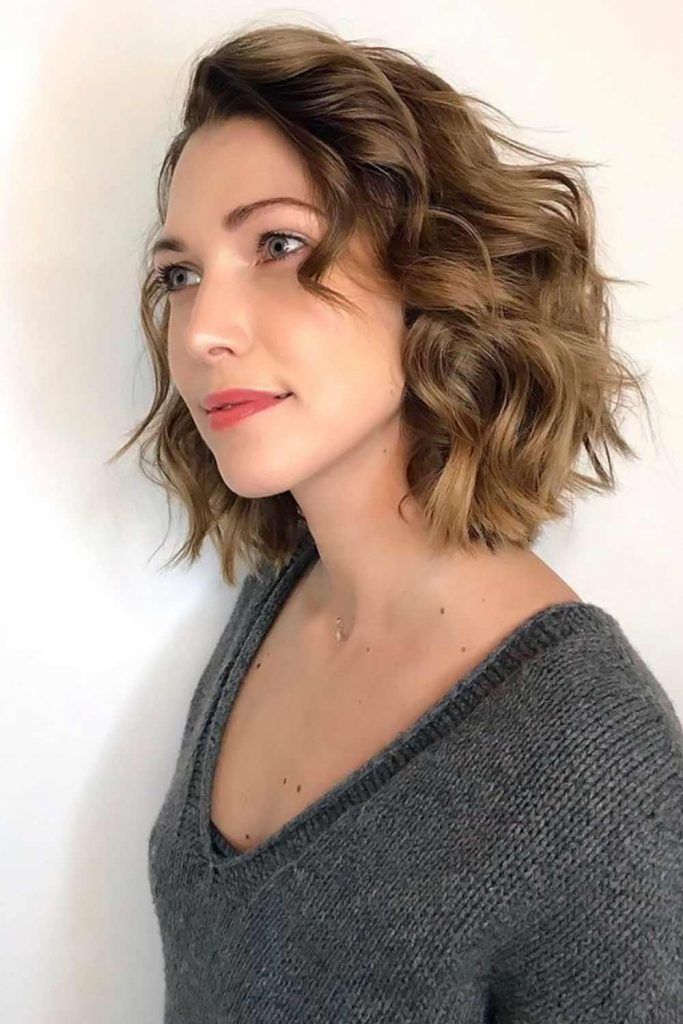 This chin-length blunt wavy bob is both sexy and elegant. It looks great with a dynamic color such as a radiant red or platinum blonde. And some balayage tones can add texture and warmth. By the way, if your hair is naturally curly or wavy, all you have to do is simply add your favorite scrunching product and blow-dry with a diffuser. However, if you have straight hair, you should make a slightly off-center part and blow-dry with your fingers. Then use a larger curling iron to curl your hair in sections. Next, use your fingers to gently break up the waves. Finally, use a flat iron to flick out the bottom pieces and create a flip. Finish with a medium hold spray to create movement.
Smooth, but Edgy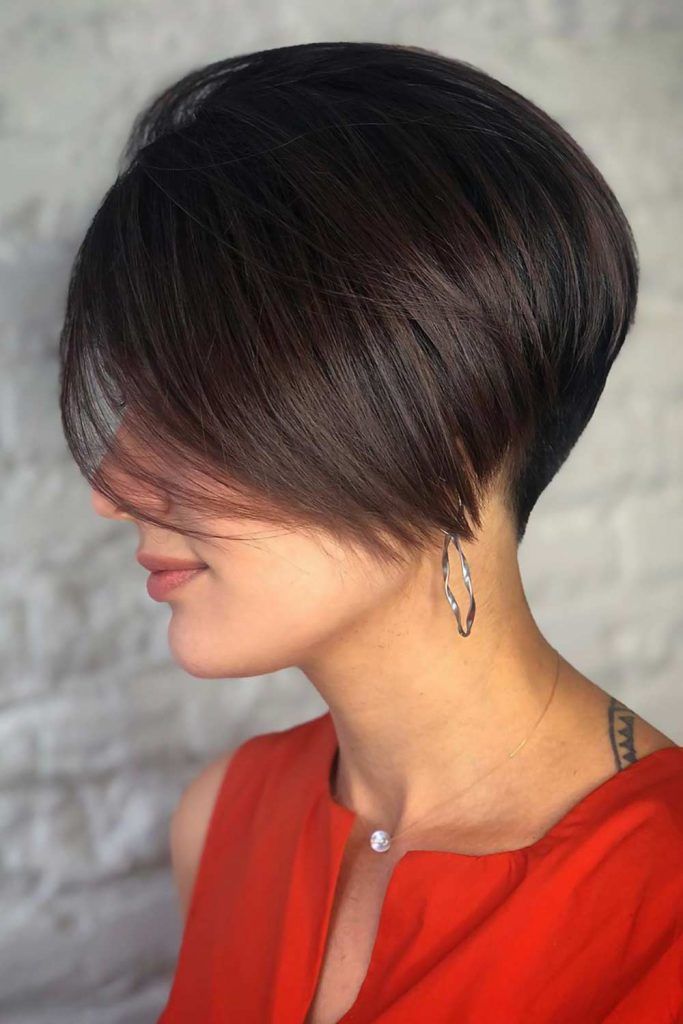 This short, tapered bob is irresistibly sexy, haircut just below the chin and framing the face to accentuate your features. Basically, this cut works best for those with straight to wavy hair and round or square-shaped faces.
Vampy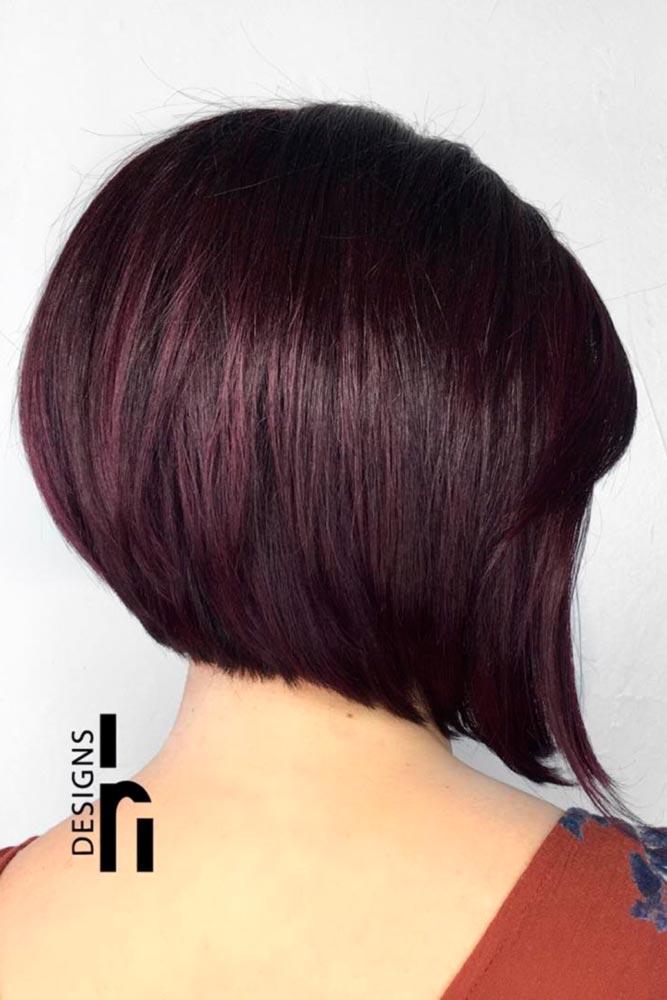 This sleek and sexy look will turn heads everywhere you go, especially if you dye your hair vampy red or blue-black to add the dramatic flair. Cut just above the shoulders, this seductive look works best for those with straight hair and square or round faces. To style, part your damp hair and then comb through to remove any tangles. Then, blow-dry, using a paddle brush to remove excess moisture and smooth out your hair. When your hair is nearly dry, drop-down sections and dry with a round brush to curl the ends under. If needed, use a flat iron to finish smoothing and flipping. Finally, apply a shine serum.
Rocker Chic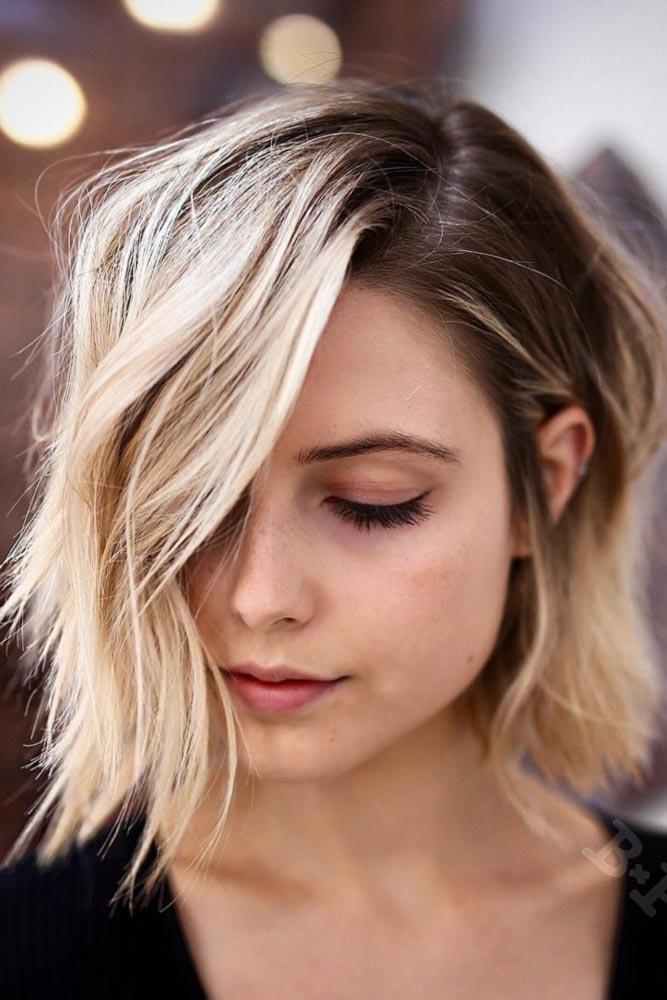 With its short, razored edges, this layered shaggy bob in 2021 will capture the rock and roll party girl within. You can really rock out by adding some streaks for a funky pop of color to all layered bob hairstyles. Apparently, this style works best for those with heart-shaped or round faces and medium to thick hair. To style, add your favorite texturizing mousse evenly throughout your damp hair. Blow-dry, using a paddle brush and style towards your face. Next, use a flat iron to smooth out any frizzed sections and use pomade to fully piece out the layers so you can totally rock this sexy, shaggy vibe!
Sexy Ringlets For Layered Bob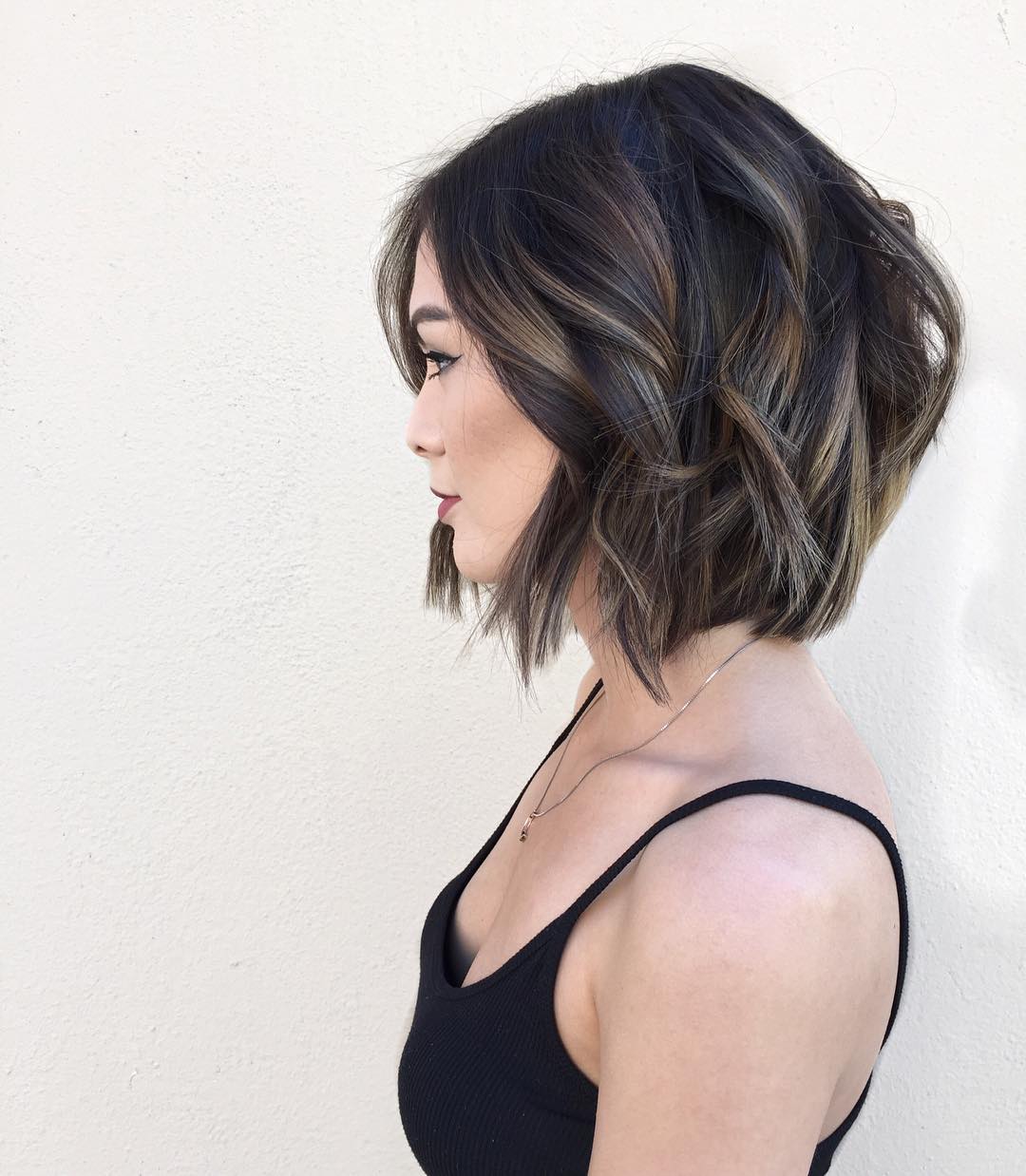 These short, playful ringlets give this sophisticated style a bit of mystery and sex appeal. On top of that, the two-toned color effect will really play up this super feminine haircut. If you have a heart-shaped face, you can totally show off this chic, girly style. To style, make a deep part on one side of your hair. Then, leaving one section dropped down, secure the remainder of your hair so it's out of the way. After that, start with the dropped down section and use a 1-inch curling iron to make small ringlets. Dropdown each section one at a time and continue making small, soft ringlets until your hair is completely curled. Then loosely shake out the curls and spray with a medium hold finishing spray to allow movement.
Multi-Dimensional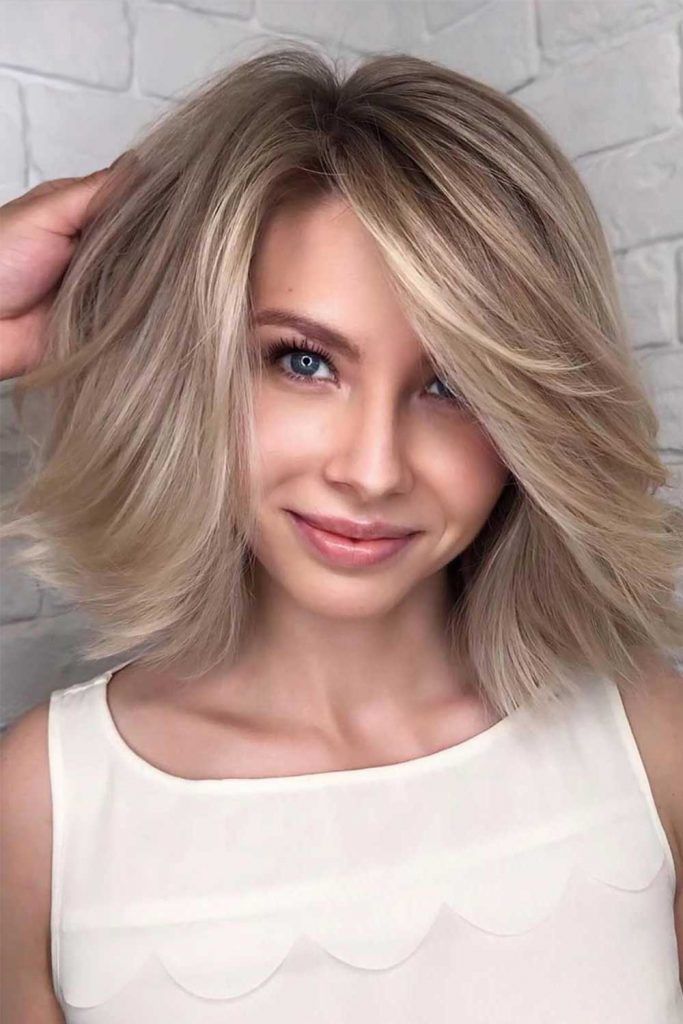 This multi-toned cut is designed for those with fine hair who want their new layered bob hairstyles to add volume and texture. With its multi-dimensional shades of color, it is soft yet sleek for a completely young and girlish appeal. This look works best for those with oval or heart-shaped faces. To style, apply a quality texturizing product, and blow-dry with either a paddle brush for a sleek effect or a round brush if you want to really pump up the volume. Also, if you are going for the sleek look, use a flat iron for final touches.
Dramatic Attitude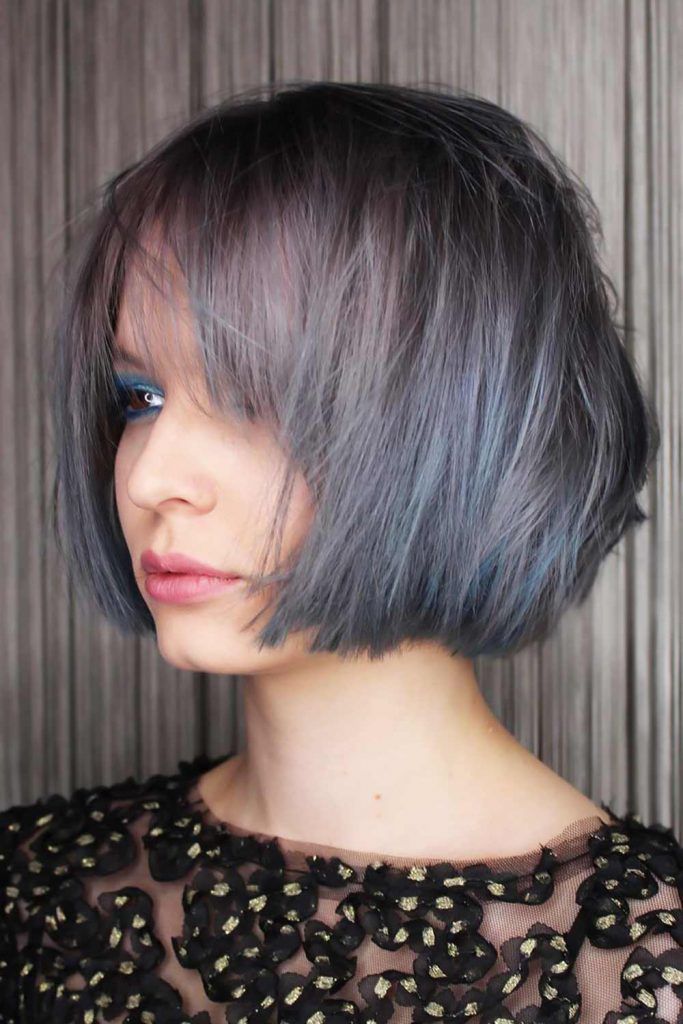 This stylish layered bob looks great with thick bangs to add attitude and a bit of sass. It is really flattering with bold, dark color and you can play it up with fun high or lowlights or even some colorful streaks throughout, focusing on the full bangs. This look works best for those with thick hair and elongated faces. To style, treat your slightly damp hair with Moroccan oil and then blow dry till smooth, drying the bangs to the front. Finish with a flat iron for maximum sleekness.
Silky Layered Bob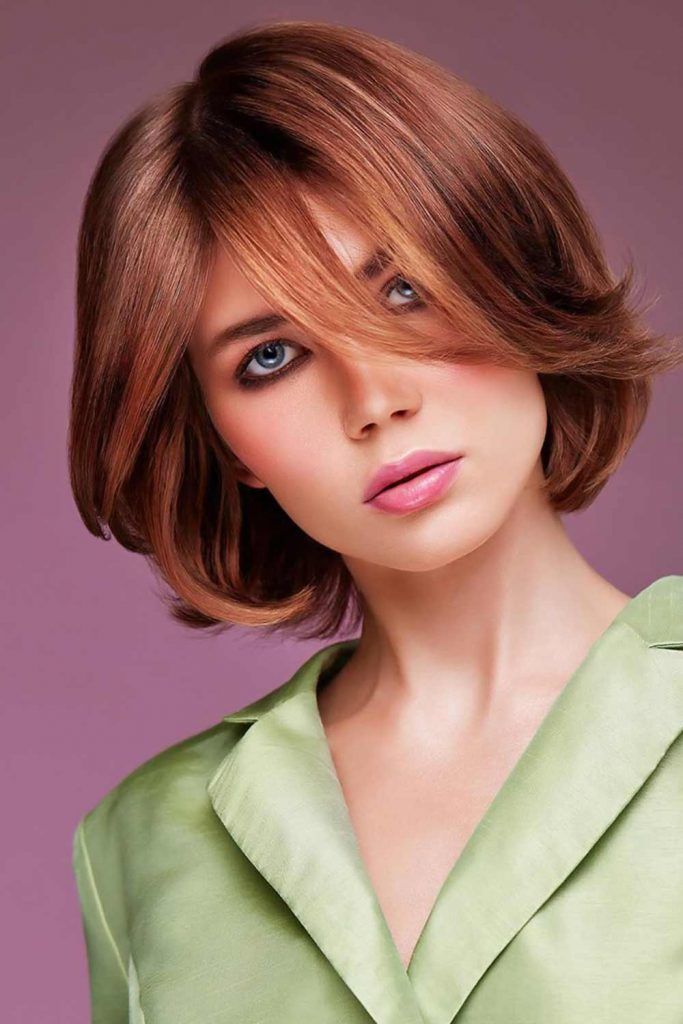 This silky and precise idea looks so refined, sophisticated and modern that one won't be able to take the eyes off it. Ladies who want their looks to scream about their uniqueness and modern sense of style will undoubtedly copy this one! To style, prepare your wet hair with soft mousse and consider using heat protectants, as you'll need to use a flat iron. Straighten your hair layer by layer to get an even silhouette and spritz your hair with an oily product just to add some shine.
Stacked And Layered Bob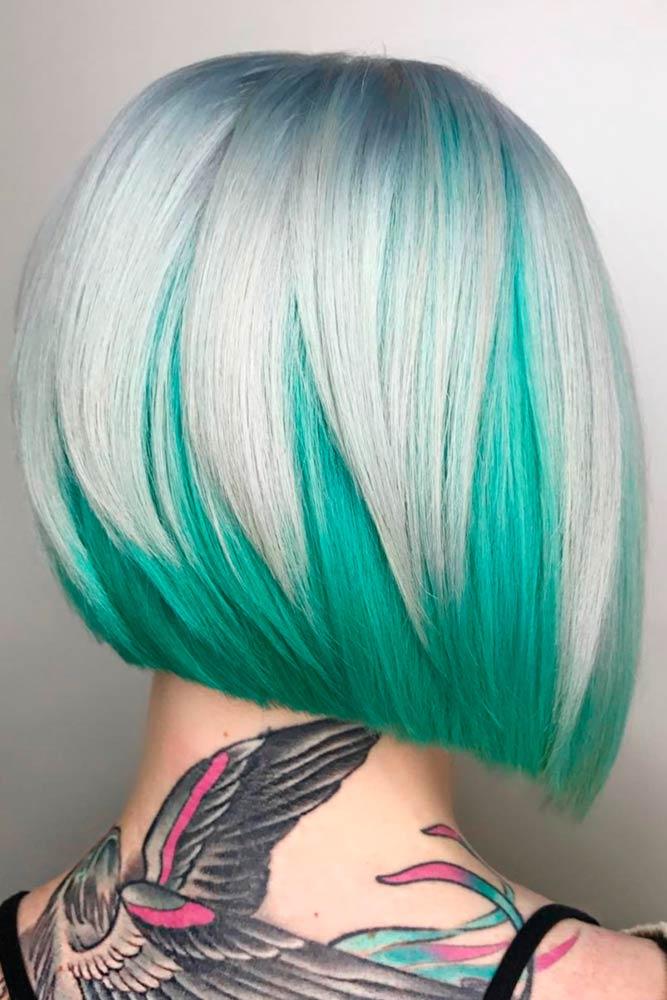 Layered bob hairstyles can be as different as you want: they may differ in the number of layers, in their thickness, and the ways of styling. If we're talking about a stacked bob, it looks ravishing win any hair texture, from sleek to curly. To get a stylish result like this, conditioner your hair with sulfate-free, straightening care products, and make sure that you put a nozzle on your hair dryer when you style it. P.S. Coloring the lower layers will add more dimension.
Inverted Bob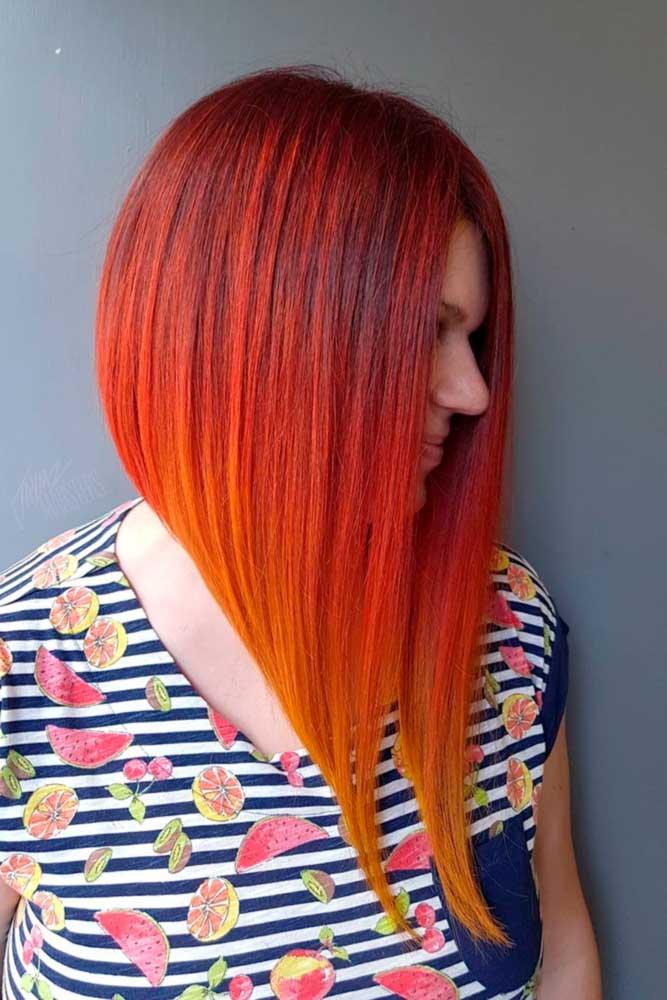 An inverted bob, also known as the nowadays' trend, is something that every lady should try in her life. The play of layers, where the front tresses are extremely long, and the hair on the back of the head is cut relatively short, creates a stunning elongating silhouette that can perfectly deal with your face shape insecurities. And with a touch of bright color, you can create one of the most attractive layered bob hairstyles!