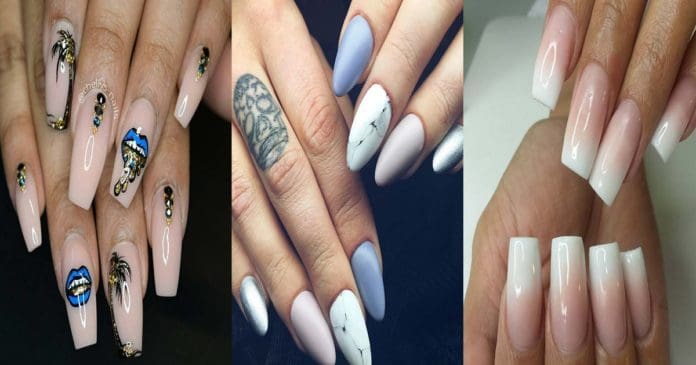 Go and embrace the acrylic nails trend that never fails in making any lady look like a dangerous femme fatale with predatory talons, if you really need a springboard for initiating a sharp beauty period in your life. Feel a lack of acrylic nail design ideas? Then you have landed on the right place since what we are going to do right now is to equip you with a laundry list of 80 stylish acrylic nail designs, where you will find everything starting from confectionary nails to glittering designs to marble effect ones and many more.
Extended and as-if-never-to-end artificial nails were the symbol of high social status in the ancient times, as the materials used for adding length to the nails – ivory, bone and gold – were available only for wealthy people. Nowadays, owing to the acrylic substance, women from all walks of life are free to sculpt nails as long and durable as it is required to show off their feminine power in the society.
Being a mixture of liquid monomer and powder polymer, acrylic comes to coat the nails with a durable and hard layer and functions equally effective whether it is to sculpt the extended nails using special stencils or just to strengthen your natural nail plates. Almond-shaped, stiletto, ballerina, squared or rounded nails – all of them can be easily reached through the magic power of acrylic.
And when you have that much durable canvas, what on earth can deter you from unleashing your aesthete essence right on your nails? Browse through our list of the best 80 acrylic nail ideas if your time for seductive keenness is really ripe.
1. Crystallized and Sequined Acrylic Nails
Whenever you need your long coffin acrylic nails to glitter and shimmer to an haute couture level, give a try to this luxurious design, which is as easy as ABC. After coating four of your lengthy nail plates with white paint, scatter crystals on one of them, while leaving your fifth fingernail to be all flooded with powdery pink sequins.
2. Sweet Pink Acrylic Nails
Here is what we offer for your long acrylic nails just in case your heart is set on bringing some sweet pink monochromatic minimalism on your fingertips. Choose any tender shade of pink while also acquiring its tonal glittering counterpart for one of the nails and enjoy the whole splendor of contrast.
3. Moss Green Marble Effect Nails
The moss green color in and of itself seems to betoken something hedonic and ritzy, while fusing it with your far-going acrylic nails would end up eliciting a scene beyond comparison. Keep some of your nail plates in full moss green, while leaving a couple of nails for a pretty marble effect. Want even more accents to spread opulence around? There wouldn't be better choice than some golden gems to decorate one of your acrylic nails and elevate it to a jewelry piece category.
4. Green and Golden Luxurious Helter-Skelter
Mulling over how to dress your square acrylic nails to cut a wide swathe at a soiree? What we are offering you now might truly blow your mind and call forth some helter-skelter feelings. Bunch muted green, golden and powdery pink polishes to dream up some negative space nail designs, while the holographic diamond-shaped gems will finish off the whole luxury.
5. Dipping Down Pink Acrylic Nails
To give some delicious kisses to your acrylic nails, playing with the daintiest pink shade can work the best way. Mix geometrical shapes with champagne pink glitters and spice up the yummy mishmash with a finger-licking pink shade. The result will leave you equipped to a T for any life occasion.
6. Divergent Beach Stone Effect Acrylic Nails
The next acrylic nail art design in our roster might leave you evocative of those iridescent beach stones you are always so enthusiastic to collect when sunbathing at the sea. Make each of your acrylic nails a single marvellous beach stone, applying Carolina blue and Dusty pink shades with a satin finish, while glittering silver and stone crack effect nails are to cap it all off with extra charm and pizzazz.
7. Classic Oval French Acrylic Nails
If there is one nail art design that functions across the board whether in everyday life or on special occasions, it is surely that classic oval French mani. Most likely, not every one of you know that French nails have their origins laid not in France but in California to meet the pervasive needs of Hollywood actresses to wear one single nail design going with almost any outfit.
Those classic white tips got the appellation "French" only to indicate elegance and sophistication a la France. And now in this eclectic fashion period, what could work better than French acrylic nails? Give a try to these oval shaped variants and go into multiple dress-overs throughout a day without any trouble of your fingernails.
@aetznailzz
8. White French Tips with Golden Rush
When we state that classic white French tips look equally harmonious with any outfit, we definitely mean those genuine ones. When they come mixed with golden foil-like mani and finished off with golden studs, dwelling upon your matching outfit will not be a piece of cake. However, take a risk and give a try to these chic acrylic nails.
@aetznailzz
9. Swarovski Crystal Artistic Nails
The next acrylic nail art design on our list once again brings French tips forefront but not in their original and minimalistic form. Just to jazz up your classic French tips, add some abstract artistic splashes framing your nail plates and spritz Swarovski crystals either somewhere on the lunular or reaching up densely in a fir tree shape.
@aetznailzz
10. Baby Boomer Handwritten Acrylic Nails
Baby boomer nude pink and white nails are so spring-worthy, so lovey-dovey and youthful. But if the day's order is to make them even catchier, our offer is to cover a couple of nail plates with black handwritten fragments and to seal them with a watch with hands showing any time of the day to your liking.
@aetznailzz
11. Moonlit Silver Acrylic Nails
Your coffin acrylic nails might become a real window to admire the marvellous moonlight. While coating your nails with white and flowery pink polish, just leave out one single plate to be wrapped with silvery glitters and to expose the whole magic of the moonlight.
@nails_by_e_
12. Nude Pink and White Marble Effect Contrast
Want your finger gestures to be imprinted in memories of many out there? Then these amazing acrylic nails might come right up your alley. While the monochromatic nude pink coat is so easy to handle, to get white marble effect nails will require special skills from you or at least an appointment with your nail technician. But mind you, go further and bedeck your marble acrylic nails with a modicum of studs and sequins at the lunular parts for more splendor around.
@kohokukkia
13. Mosaic Watercolor Effect Acrylic Nails
Our laundry list has also a unique offering for you to elevate your acrylic nails to an artistic level. Throwing in together sleek monochromatic silver fingertips and blue-purple watercolor effects is potent enough to sweep any art lover off his feet while serving as a perfect jumping-off point for the new life of your fingernails.
@kohokukkia
14. Paradise-Worthy Floral Acrylic Nails
Whether you are going to walk down the aisle to the Mendelssohn chords or are strongly determined to become the queen of your prom party or merely want to look celestial all the while, this paradise-worthy floral nail art design is to work wonders across the board. Coat four of your acrylic nails with the daintiest pink shade with some faint sparkles, while the ring fingernail might become that safe haven for a paradisiacal aromatic flower.
@kohokukkia
15. No Hiatus for Marble Effect Acrylic Nails
There seems to be no hiatus for marble effect acrylic nails at this juncture that have all the characteristics to take your back to any medieval castle. To magnify the regal factor of your acrylic white marble nails there is nothing more auspicious than to synthesize them with palatial green counterparts, while a soupçon of crystals on marble canvas will merely kick it up a notch.
@kohokukkia
16. The Loveliest Ever Acrylic Nails
The next acrylic nail art design standing on our list is on the call to warm the cockles of millions of hearts with its loveliest and daintiest ever shades and lines. Whether you keep your acrylic nails in medium length or go to all marbles to make them look bewitchingly long, a powdery pink coat will truly leave you tickled pink, while white botanical motifs on one of the nails will come to finish off your sweet babe look.
@kohokukkia
17. Floral Petal Mimicking Acrylic Nails
Ever since the French manicure technique was dreamt up we have seen no breathing spell in the beauty arena in terms of veering from classic white tips and embracing various French mani interpretations. And here we see a brand new rendition inspired by floral petals. Make each of your almond-shaped acrylic nails look like a realistic floral petal applying azure blue and powdery pink shades, while the glittering golden polish might gracefully underline your pink petals.
@kohokukkia
18. Those Witchy Woman Acrylic Nails
Want to become that very Witchy Woman of Eagles who flies so high and gets the moon in her eyes? Then adopt these bewitchingly seductive acrylic nails with black, moss green shades, negative space lines and densely spread crystals all piled up in one place. When done, start your witchy-woman-worthy sauntering, whistling sinisterly: "Woo hoo witchy woman, See how high she flies, Woo hoo witchy woman, She got the moon in her eye".
@kohokukkia
19. Pusheen The Cat Acrylic Nails
Your favorite Pusheen the cat fictional character can now inhabit right on your acrylic nail plates as snug as a bug in a rug. Bring the fluffy cat on one single fingernail per your hand either in utmost joy or in the arms of Morpheus, while the pink and blue glitters might surround the sweet cat making it even sweeter and shinier.
@kohokukkia
20. 3D Mint Green Floral Acrylic Nails
You might start a hilarious festival of black + mint green contrast right on your acrylic nails by mixing monochromatic blackness with black + mint green geometric lines, then jazzing up all that beauteous scene with statement 3D floral motifs on mint green.
@kohokukkia
21. Snowy Streets Acrylic Nails
This unique matte finish nail design for acrylic nails is going to wrap your plates with winter-worthy frost and become the ideal design to carry through the whole wintertime. After coating a couple of your nails with snow white acrylic paint, buckle down to transforming the two of your nail plates into snowy streets with many leafless trees.
@kohokukkia
22. Glam and Glitz Crystallized Acrylic Nails
It's crystal clear that crystallized nails are out of competition when it comes to giving rise to glamorous views. Mulling over how to replenish your single statement crystallized nail? Classic black and white overlays are the best counterparts to finish off the whole glam and glitz.
23. Faded Ombre French Acrylic Nails
Here is another universally functional nail art design for your square-shaped acrylic nails. Faded ombre French technique worked out by the juxtaposition of white and nude pink shades, also popular as baby boomer nails, is an amazing option for brides-to-be, who are planning to walk down the aisle donning an ivory or pastel pink gown.
@jenn_cal
24. Silver Deluge Acrylic Nails
It's more than evident that sparkling acrylic nails are all the rage now more frequently coming to dress only one of the nails or serving as a statement stroke here and there. To get equipped with just another exemplar of silver nails, look to these nude acrylic nails either in bare monochromatic versions or flooded with silver sparkles.
@jenn_cal
25. Vampy Red and Golden Rose Acrylic Nails
Your ballerina shaped acrylic nails can also get galvanized by the next amazing nail art design included in our list that is strongly recommending to leave the half-moon part of your nails bare for catchier looks. Divide your fingernails into two parts to wrap the index and middle fingers with vampy red seduction, while leaving the ring and pixie nails for golden rose sparkles and then it is up to you to decide which version will embrace your thumb.
@jenn_cal
26. Clock Mechanism Acrylic Nails
The next acrylic nail art design we are delivering in our list happens once in a blue moon. After all, seeing a girl carrying clock mechanism on her nails is not definitely a garden-variety scene happening every day.
Whether you strive to emphasize that you always race against the clock or else want to announce all and sundry your ahead-of-time ideas, golden clock mechanism fragments adhered to your gilded acrylic nails and finished off with transparent acrylic overlay are to channel your motivations. You can also create clock mechanism-inspired French tips on a couple of nails for a pretty diversified effect.
27. Palpable Flowers for Acrylic Nails
Variegated acrylic nail designs are definitely reigning supreme with each nail plate switching on a different screen for a different view. Here is another acrylic nail art design to blow your mind with palpable 3D white flowers in the limelight, while golden sparkles come to embrace other nails in interesting variations.
@newmandesignernails
28. Pastel Pink Delicacy
If you take over these amazing acrylic nails imbued with a pastel pink shade you are sure to sail right through the world of delicacy. But forget about carrying them in your day-to-day life as when those glistening crystals are added on your middle acrylic nail, that's surely commanding to head to a gala occasion or even better – to your own nuptial rite.
29. Golden Foil Texture Acrylic Tips
You would definitely appreciate this acrylic nail art design if you are strongly advocating the golden rush concept in the beauty arena. After covering four of your nails with a transparent coat and the fifth one with white, home in on making your acrylic nail tips shimmer in a golden-foil-texture-worthy manner.
30. Seducing with Lavender Nails and Botanical Motifs
It has become quite possible to clothe your acrylic nails with a power to take anyone to a lovely lavender field. That's as easy as ABC if you have lavender shaded acrylic paint at your disposal and a bit of deft hands to beget the white miniature botanical motifs on your ring fingernails.
@cariesha_
31. Golden Splashes on Pink Acrylic Nails
The next acrylic nails standing on our list are not for any femme fatale woman, but rather befitting a coquettish and flirty lady, who goes bananas over everything pink and sweet. You would just need to sculpt rather long ballerina nails and coat them with a sleek lavender pink shade, with only the middle and ring nails bedecked with golden splashes as if cut out from a foil texture.
32. Triangle Accent Acrylic Nails
To marry minimalism with something out-and-outer, it is here that you should stop by. Our suggestion is to coat your ballerina-shaped acrylic nails with a seashell shade, bringing the ring nails to the fore via a half-cover triangle design in sweet pink and a couple of statement studs at the lunular.
@yvonnesnails
33. Black Magic Acrylic Nails
If there is one acrylic nail art design in our list that is just screaming to be labeled as a real statement-maker among others, it is definitely these black magic samples. Black coffin nails in and of themselves are sinisterly opulent, but when they come mixed with crystals, pearls and expertly painted white flowers, that's something portending that black magic is around.
34. Artistic Butterfly Acrylic Nails
Time is again ripe to fling yourself into pastel pink and blue juggles. Assort pink and blue coats one after another, at times amalgamating two shades on one single nail plate through half-moon manicure technique. But take more time for depicting lovely artistic butterflies on your ring acrylic nails against pink or blue canvas and finish off the finesse with a couple of gems on the butterfly wings.
@nails_by_ylianne
35. Golden Flakes on Acrylic Nails
A little bird told me that if you opt for these acrylic nail art design all squirted with golden flakes, chances are to acquire some Midas touch qualities. Well, jokes aside, this kind of acrylic nails can be achieved easily enough. Just a couple of golden splashes on your ivory acrylic nails in sparse or dense structure and you will get that golden flake illusion on your fingers. For even more definition, you can leave out one of the nails for a studded and crystallized parade.
@nails_by_ylianne
36. Teenage Girl Floral Acrylic Nails
Whether you are a teenage girl or are just trying to masquerade as such, this lovey-dovey acrylic nail art design will come right up your street. What can better convey teenage-worthy sweetness and coquetry than the combination of pink and flowers? Create pretty pink French mani with a little white flower to one side, taking your middle nails to a pink tinsel illusion level.
@nails_by_ylianne
37. Teenage Coquetry Show Must Go On!
Here is another lovely acrylic nail art design for sweet teenage babes. Once again opt for white and pink tip French mani techniques, leaving the white tips bare, while the pink ones – in a harmonious symbiosis with single white flowers. But in this option all eyes would definitely be on your index fingernails, all wrapped with a pink shade and white blooming flowers with crystals in the center.
@nails_by_ylianne
38. Romantic Bow Acrylic Nails
Want to take your ballerina-shaped acrylic nails to a brand new romantic level? We have a cute option for you to mix lavender pink nails with a glittering deluge and if that's not sufficient to sate your romantic appetite, pretty bow-shaped accents somewhere on the lavender pink nail plates will cover it better than anything else.
@nails_by_ylianne
39. 3D Blue Flowers in Bloom
The one nail art design for your acrylic nails that will bring a good dose of subtlety to the table is definitely these palpable blue flowers in bloom that can hug two of your acrylic nail plates in an elegant way. And if the agenda is to gild the lily, bring about golden and burgundy gems to be vertically aligned on the rest of your nails.
@nails_by_ylianne
40. Perennial Pink + Blue Harmony
The pink + blue combination has always been so harmonious, so eye-soothing and so perennial. After all, two of their shades, Rose Quartz and Serenity are the reigning colors of this season as per Pantone Color Institute. Why not once again prove the whole pulchritude of their harmony via coating each of your acrylic nails either with pink or blue, then energizing the blue ones with blooming pink flowers.
@nails_by_ylianne
41. Silver Half-Moon Acrylic Nails
The recently-broken-out craze for creating pretty contrasting looks via half-moon nails is still afoot carrying on with its hectic foray into our beauty routine. And what we see now is not any black-and-white issue as silvery moons against black or white create a scene worth marveling at for hours.
@nails_by_ylianne
42. Snowflake + Lavender Matte Finish Acrylic Nails
If you are after carrying minimalistic yet sophisticated and elegant acrylic nails, our advice is to coat four of your nails with a matte effect pastel lavender shade, while bringing the ring nail to the focus of attention with a magic snowflake illusion faintly sparkling here and there.
@nails_by_ylianne
43. The Wild Blue Yonder
Thinking of escaping and heading to a wild blue yonder? Step on the gas to do it with your acrylic nails with stem to stern flooded with blue colors. Apply a pastel blue acrylic paint to bring spring composure onto your nails, while the signature sparkling night blue will hint at some mystique and magic. But leave it to multiple blue and silver gems and 3D floral motifs to make your blue yonder even plusher and ritzier.
@nails_by_ylianne
44. Blush Pink Acrylic Nails
All girls who are adamantly ignoring all those studs, crystals, marble effects or floral accents on the nails, come here! These monochromatic blush pink acrylic nails are purportedly where your minimalistic essence belongs to. Whether you keep your acrylic nails in an almond or round shape or maybe in a ballerina shape like we see here, this version will never fail in bringing a subtle definition to your nails.
@nails_by_ylianne
45. Bridal Acrylic Nails
Brides-to-be, rejoice! You have another mind-blowing acrylic nail art design at your disposal, at beck and call to dress your fingernails and lead you to the nuptial rite in fine feather. Blush pink colors can be jazzed up easily enough – a single gem on one of the nail half-moons, a modicum of sparkles here and there and a delicious nail-covering 3D blooming flower, and there you go. The amazing result will pop up in your Mr. Right's eyes when you start touching him.
@nails_by_ylianne
46. Passionate Acrylic Nails
To express your passionate essence, you can put an emphasis on your nails dressing them with passionate red French tips and tonal gems, while the ring acrylic nail might serve as an ideal venue to imprint your loving heart going pitter-patter all the while.
@nails_by_ylianne
47. Loving Heart Acrylic Nails
Our list of the best acrylic nail design ideas keeps the ball rolling and the next stand is with these loving heart look, where we the see the whole harmony of red and white shades. Coat each of your nails with white or red shades and buckle down to sticking some gems on certain nails, decorating the rest of them with loving hearts, either in red against white or in white against red.
@nails_by_ylianne
48. Aquamarine Acrylic Nails
When you carry those spick-and-span square-shaped long acrylic nails, there is no other proper time to unleash your artistic essence and move your deft hands. So, give free scope to your imagination and coat your nail tips with sparkling blue shades evocative of pretty aquamarine but do not stop in here; go on with a single white flower on the ring nail plate as a fresh breeze.
@nails_by_ylianne
49. Iridescent Flowers for Acrylic Nails
The beach season is nigh hand at hand and if you are already planning your future beach-worthy outfits and beauty moments, we have a breezy offering for your acrylic nails. Go in for classic white French tips, leaving the ring fingernails for pretty iridescent flowers in pink, red and deep purple shades with golden beads in their center parts to serve as stigmas.
@nails_by_ylianne
50. Geometrical Negative Space Acrylic Nails
Sharp acrylic nails always look wild and bewitchingly seductive and now we suggest adding a little bit of geometry to that whole witchery. Use azure blue and black paints to give birth to a plethora of negative space geometrical shapes. You can create even more chaos right on your nails through gems aligned horizontally or dressing one of the nails with blue sparkles suggestive of water bubbles.
@getbuffednails
51. Burberry Check Acrylic Nails
If you are now gazing open-mouthed at this nail art design for acrylic nails, then you are a great Burberry fan, well to be more exact, Burberry-check-buff. So why not take your neck and nails on the same wavelength? Just to give birth to a harmonious counterpart for your Burberry check cashmere scarf, go for this amazing option, dressing two of your nail plates with bejeweled black, red and tan checks while choosing black and red coats for the other nail plates.
@getbuffednails
52. Graphic Chic Acrylic Nails
To dream up this kind of graphic chic acrylic nails you ought to be a great aficionado of some luxurious chaotic views. Apart from black and gold graphical illustrations, this nail art design gives you a liberty to also integrate matte effect teal samples with studs and also gilded bare half-moon nails. The takeaway will be just incredible with each of your nail plates exposing a completely different sight worth admiring over and over again.
@getbuffednails
53. Sweet Bambi Acrylic Nails
Your childhood favorite white-tailed deer, Bambi can now venture into your mature life lodging on your acrylic nails. Yes, to bring to life this elaborate nail art design you should definitely have painter-level hands, otherwise reach out for help to your talented nail technician. And that's not only about pretty Bambi illustrations on the middle nail of one of your hands. The white crochet effect design, 3D floral texture, nude pink sparkling samples and golden avalanche do also need to be originated by expert hands.
@getbuffednails
54. Pastel Festival Acrylic Nails
You are to fall head over heels in love with this eye-soothing nail art design if pastel garment pieces are riding high in your wardrobe. Use pastel pink and purple acrylic paints to develop pretty graphical and geometrical shapes for each of your nails with some monochromatic versions in between.
@getbuffednails
55. Mermaid-Inspired Acrylic Nails
Mermaids, those legendary aquatic creatures have been great muses for centuries whether for painters, writers or musicians. Now it's a great muse for nail technicians as well, who are inciting you to carry these mermaid-inspired acrylic nails when the beach season is right around the corner. Applying aqua blue you can depict a fish scale texture on one nail, a water bubble effect – on another one, negative space options – on the third one and monochromatic versions on the rest of the nails, capping it all off with some gems and shell like decorations.
@getbuffednails
56. Henna-Inspired Acrylic Nails
Asian Henna art techniques can as well embrace your acrylic nails in intricate black ink ornaments with spaces tinted with iridescent shades. But try this Henna design on one nail plate per hand to avoid optical illusions and dream up other interesting designs for the rest of your nails – bejeweled pink, night sky and black negative space combinations.
@getbuffednails
57. Lingerie-Inspired Black Acrylic Nails
Get geared up, as it is getting damn hot in here! When preparing for a hot night with your sweetheart on Valentine's Day, the sexy lingerie set seems to be not enough and here comes this lingerie-inspired black acrylic nail design to make your touches even more sensual. Take your ring nails to a lingerie lace level with a bow; then replenish them with negative space black geometrical nails and glittering silver magic.
@getbuffednails
58. Secret Valentine Acrylic Nails
Our list of the best nail designs for acrylic nails brings forth just another Valentine-ready idea, but this time far cry from anything black and provocative. This design all wrapped with pink shades, loving hearts, bows and polka dots is rather meant to express your romantic and dreamy love.
@getbuffednails
59. Applejack Acrylic Nails
Your childhood plastic toy Applejack is making a great comeback to embrace your acrylic nails in a sweet peach shade. You can depict this My Little Pony toy on your middle nail with the other nails showing off white aromatic flowers against a lavender background, peach-shaded negative space patterns and silver glitters all over.
@getbuffednails
60. Born in the Purple
When purple is around, royalty starts playing with all its shades. To let loose your born-in-the-purple essence, buckle down to play with deep and glittering purples mixing them with black to dream quite unique designs. But when the agenda is to infuse some extra dose of mystique, delicate lace effect nails will come to carry the task.
@getbuffednails
61. Triangular Variations
We are again to take your acrylic nails to the geometry zone with triangles on the spotlight. Bringing together black and pink paints, go into multiple triangular variations, starting from a small black triangle at the nail half-moon against pink background to black triangle French tips to optical illusion ones. And to finish off your top notch acrylic nails, a little bit of glitter never kills nobody.
@getbuffednails
62. Pretty Lattice Acrylic Nails
This pretty nail art design for your acrylic nails is bound to lattice some of your nails in the prettiest way possible. Start depicting common lattice texture in black on one of your nails, then pass to a more elaborate level illustrating a graphical lattice in black and pink shades. For your other nails you can use lavender-pink ombre nail art techniques and bare half-moon designs in black.
@getbuffednails
63. Black and Yellow Loveliness
Giving a try to black and yellow combinations is indubitably to breathe new life into your nail dressing routine. Use different designs for each of your short acrylic nails – ranging from psychedelic black circles to black + yellow triangle tips to yellow glitters to even dipping down bitumen-imitating tableau.
@getbuffednails
64. Joker Brand Inspired Acrylic Nails
This nail art design, brought into life especially for the LA Based Joker Brand fans, might become your next guilty pleasure. With joker image on the focus, this pretty design keeps on gathering other symbols of the streeterwear brand – LA, playing card spades, as well as paisley prints and polka dots frequently occurring on garment pieces.
@getbuffednails
65. Mood-Boosting Warm Acrylic Nails
Just a glance at this nail art design and the mood perks up in a New York minute, which is more than feasible. After all, when the most mood-boosting elements, like bows, hearts, flowers, warm shades of lavender, pink, peach and yellow, as well as gleaming gold are piled up in one place, what else to expect if not a real sunny festival?
@getbuffednails
66. Pretty Black and Pink Contrast
This pretty nail art design looks especially beautiful on square-shaped short acrylic nails and will go with any spring-ready ethereal dress out there. Pick up the daintiest shade of pink and plunge into finding unique contrasts with black. You are free to do it either on different nail plates, like contrasting pink glitter with black French tips and sensual lace design or on the same acrylic nail plate through unique black graphical lines against the pink background.
@getbuffednails
67. Cute Black Acrylic Nails
Black nails have always been related to femme fatales, who are in close connection with black magic. But dare to set the applecart veering from sinister feelings and infusing some pretty cute vibes into black nails. It's not any rocket science! Just bunch up black French tips, overlapping graphical lines, a cutout oval shape, a single crystal on black canvas and black glitters mixed with green, blue and yellow ones and diffuse them on each of your almond-shaped acrylic nails.
@getbuffednails
68. Black and Silver Fascination
Our laundry list of cute nail designs for acrylic nails also brings into view this black and silver fascination with some beauty-meets-technology vibes. When you carry nails with black lines over silver foil-like canvas, silver particles over a black-framed clear coat, iridescent night glitters and single crystals, nothing is left but to rack up as many finger gestures as are necessary to show off each of your nail plates.
@getbuffednails
69. Gothic Burning Heart Acrylic Nails
If you are gothic style pursuer, this black morbid nail art design is definitely cut out for your nail dressing routine. Feel free to play with all the popular attributes of gothic style on each of your acrylic nails – starting from the black color, religious crosses and Holy Father headwear, to fishnet patterns and a heart all in fire.
@getbuffednails
70. Snow White Queen Acrylic Nails
At times you might have a fancy for the evil characters of the cartoons rather than for the innocent and honest ones. So no wonder if your heart is set on that malicious Queen from Snow White and if you feel like being a wee bit evil girl for some time, you might opt for this malicious nail art design bringing the Queen's half face illustration to the forefront on your sharpest sharp acrylic nails. Night blue glitters, black graphical shapes and a black bow against the yellow background will finish it off in a graceful manner.
@getbuffednails
71. Black and Silver Sharpness Afoot
Come and get this black and silver nail design for your witchery nails that are bound to keep many eyes fixed on them definitely longer than ever. Know why? That's because each of the nail plates will require a separate investigation, whether it be that silver glitter or crystallized sample, those geometrical black and silver lines or pretty black ornaments on clear nails.
@getbuffednails
72. All Frozen Acrylic Nails
Whether you are a chionophile girl or just want to pay tribute to your favorite Disney animation "Frozen", this all frozen nail art design is here to stay. Though you are not likely to tackle this design at this juncture when the festival season is right around the corner, tuck it away somewhere for your future winter beauty moments. Using white acrylic paints and clear glitters you can depict snowflakes, lovely 3D bows and the half face of Elsa, the Princess of Arendelle.
@getbuffednails