Side Parted Wavy Lob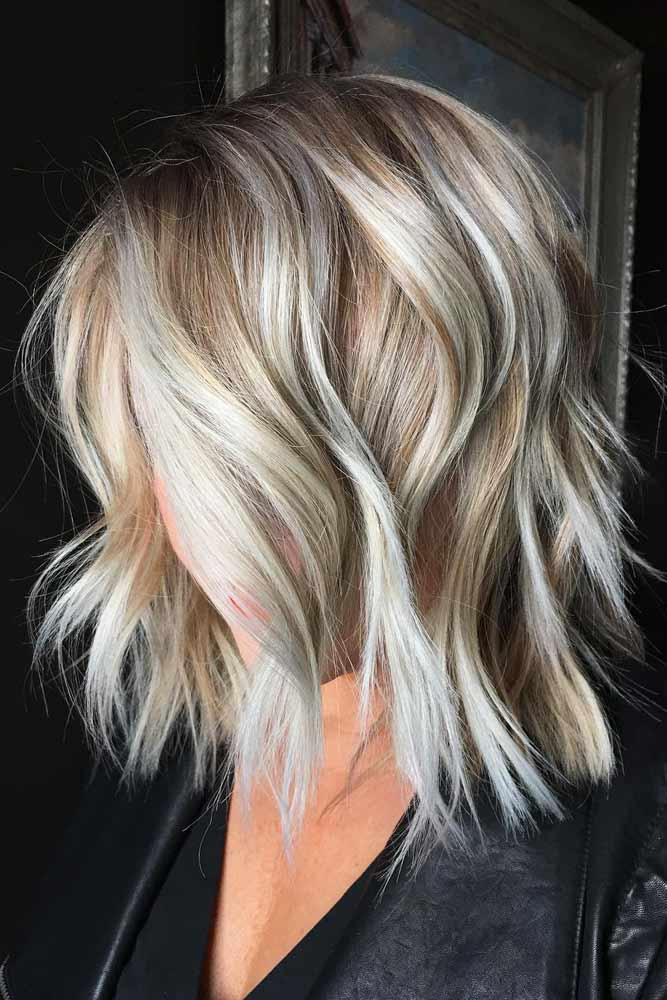 No wonder many ladies prefer a lob to a bob. In most cases, wearing a stable, one-length medium haircut is far more convenient than sporting a graduated cut that needs a regular update. But if you feel that you are getting tired of your lob, let waves and layers sort things out.
If you want to freshen things up, don't forget about the parting! Whether you rock a layered long bob or a simple lob, once you part it to the side, you will see the difference you've been dreaming about.
Messy Angled Bob With Waves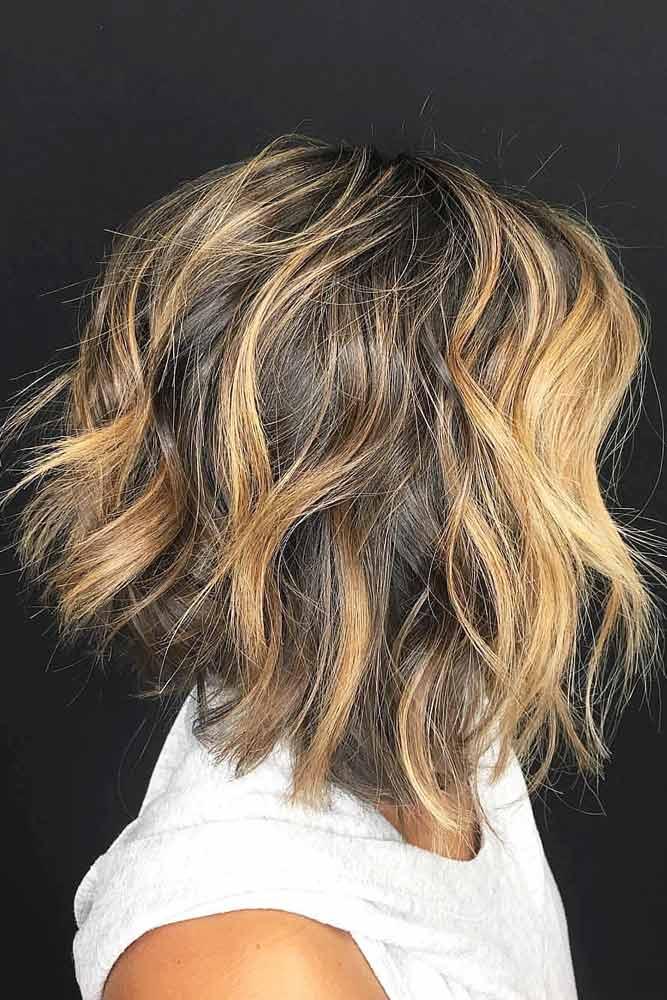 What can be better than a chic, angled silhouette finished with a touch of messiness? Everything a modern woman needs is present in this layered medium bob: a lot of lively movement, the burst of volume, and a great sense of stylishness. Since layers usually come in different lengths, the longer ones add some fullness, while short locks work for volume.
To give some modern vibes to your style, consider highlighting the top layers: it will nicely complement the messy look.
Straight Lob With Side Bangs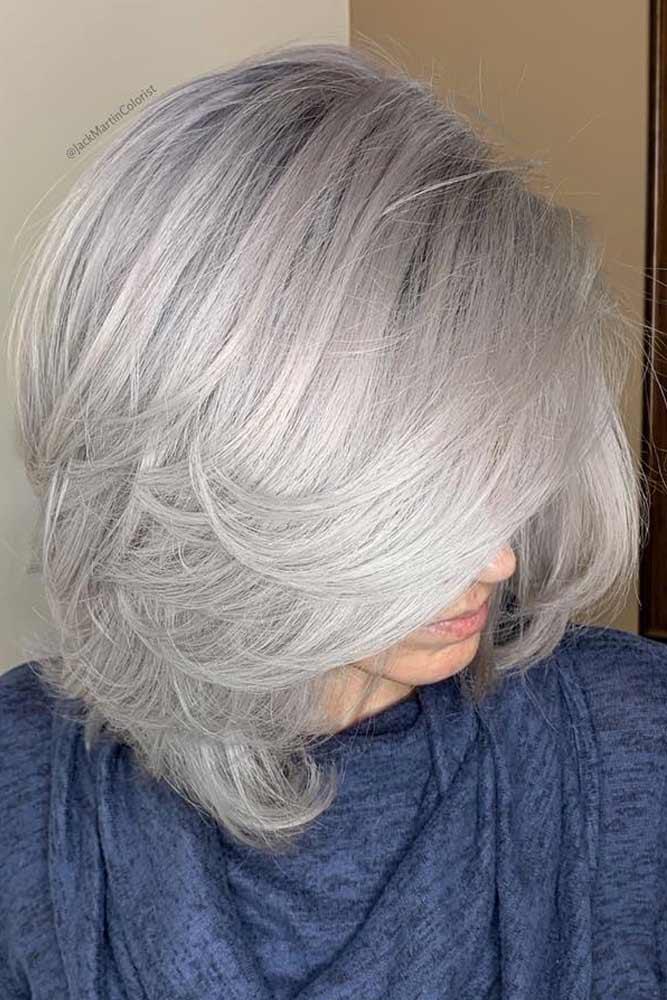 Ladies who are into longer versions of bob haircuts will love this lob idea. We want you to have a look at the top portion of hair in the pic: have you ever seen a lob hairstyle with that voluminous crown? Yes, this is how layered bob with bangs work.
If you love the idea of side bangs, don't forget to incorporate them into your hairstyle so that all hair is blended evenly. Your fringe is a part of your style that is meant to flatter your face and give a boost for your hair texture, so keeping everything harmonic is crucial.
Wavy Lob For Thin Hair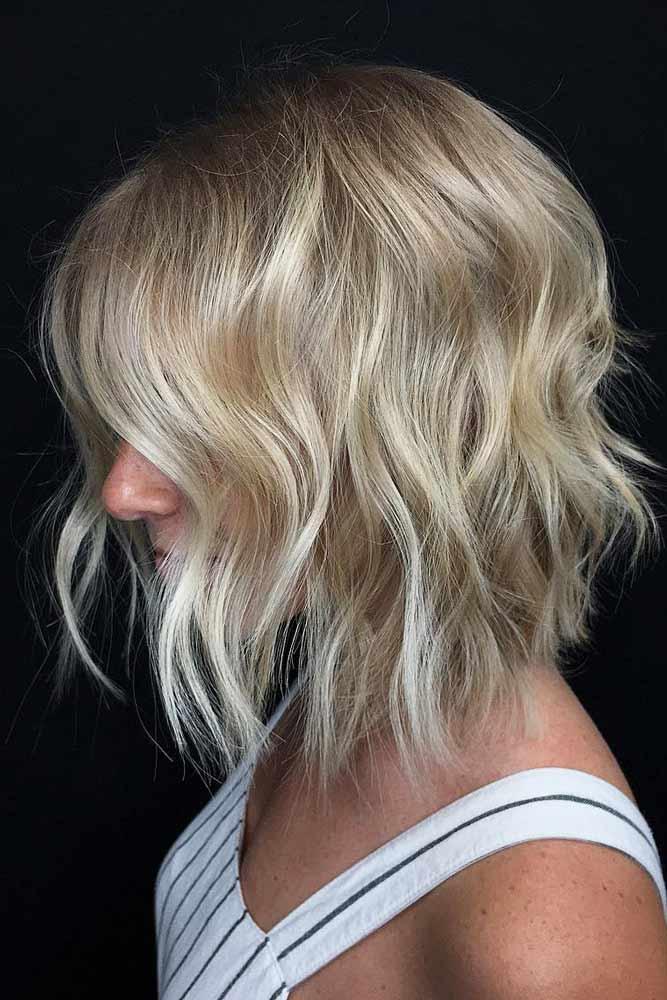 As you know already, one of the main aims of layered bob haircuts is to add volume to weaker locks. Therefore, if you spend hours on styling thin hair every single morning, it's time to put an end to this struggle and call your stylist.
Waves are also a wonderful way to make thin locks appear fuller. And the best way to do that is to mix waves and layers! To get what we mean, look at this unbelievable wavy lob.
Medium Bob With Feathered Layers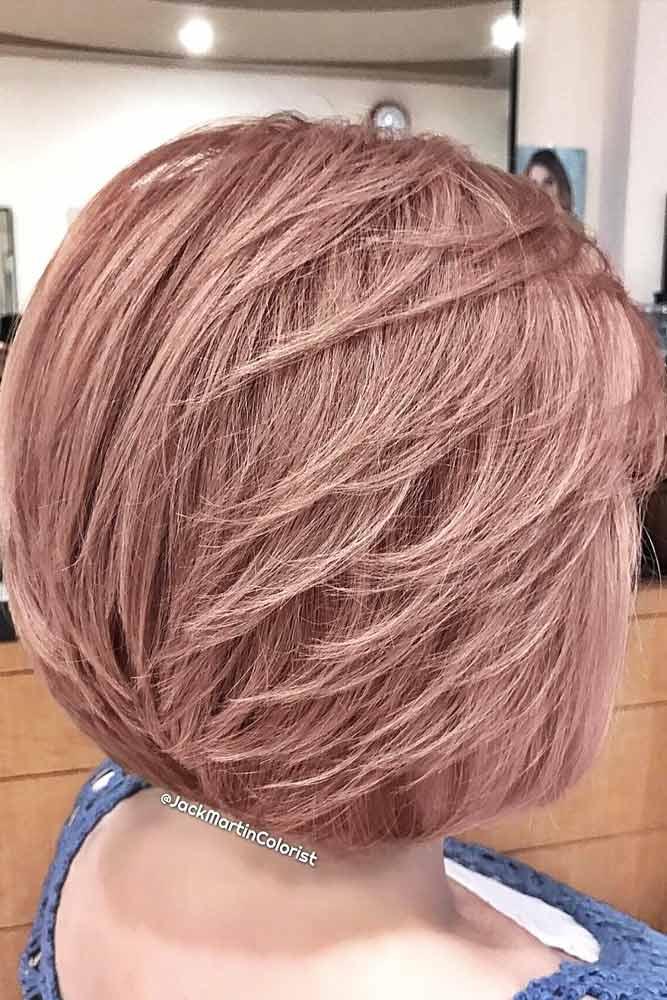 How about you to combine two layered techniques and get the most out of your texture? The truth is, your medium layered bob can be anything you want it to be, so if you want to embrace two textures at once, nothing can stop you!
The bob above is full of layers, and each of them is defined with feathering. Such a combo gives an immaculate, precise look to your hair.
You will love the easy styling of this cut: the only thing you need to do is to brush your hair backward while blow drying it.
Inverted Wavy Lob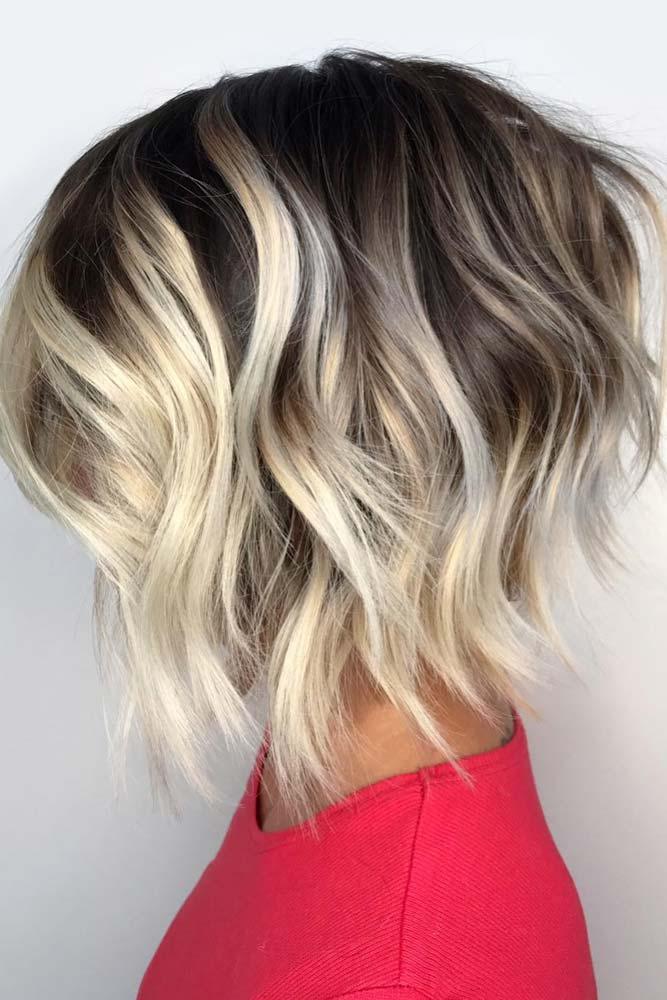 Here's another idea of pulling off a lob or a medium length layered bob, if you please. Although this idea goes against the classic crop of a lob, girls who want their blunt silhouettes to get more interesting will appreciate such an angular move. And if you're a lady with a round face, you will find the cut to be even more advantageous than you think.
To make the inverted body appear less sharp and drastic, you can spice it up with soft beachy waves. With the help of waving sprays and a curling iron, the youthful look above will be yours.
Medium Messy Bob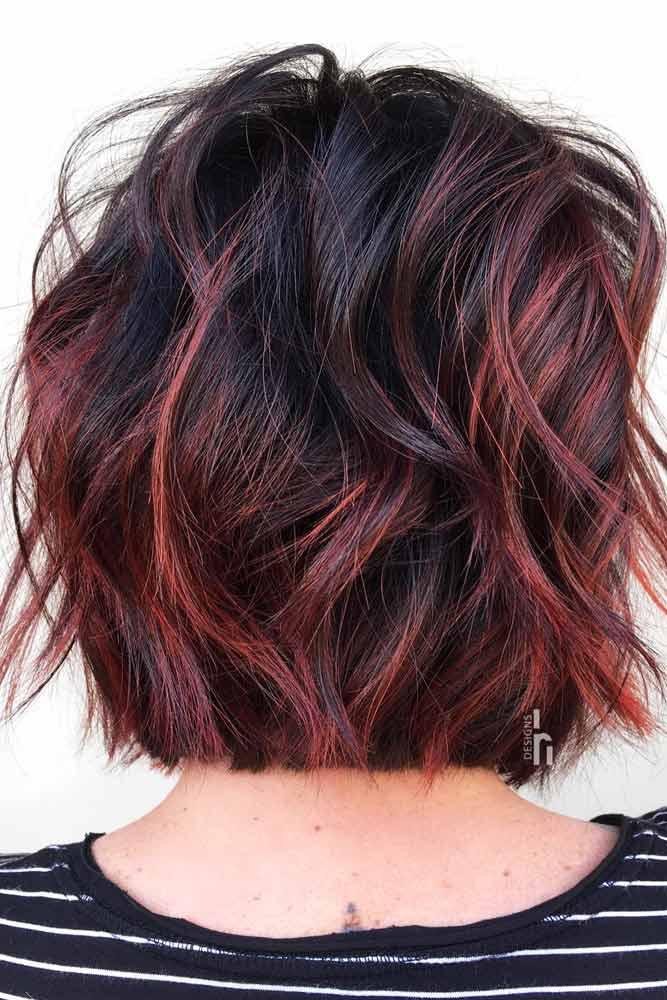 Layers can also be added strategically. That means you can go for the texturizing in specific areas of your hair, and the most popular ones are front tresses and the crown area. For example, the bob above is layered only on the top, but that's enough to get an enviable look.
It's no secret that messy short layered bob hairstyles are the most requested ones. So here's a little tip to make yours distinctive: add some bright color to the layers to make the messy look stand out.
Middle Parted Layered Long Bob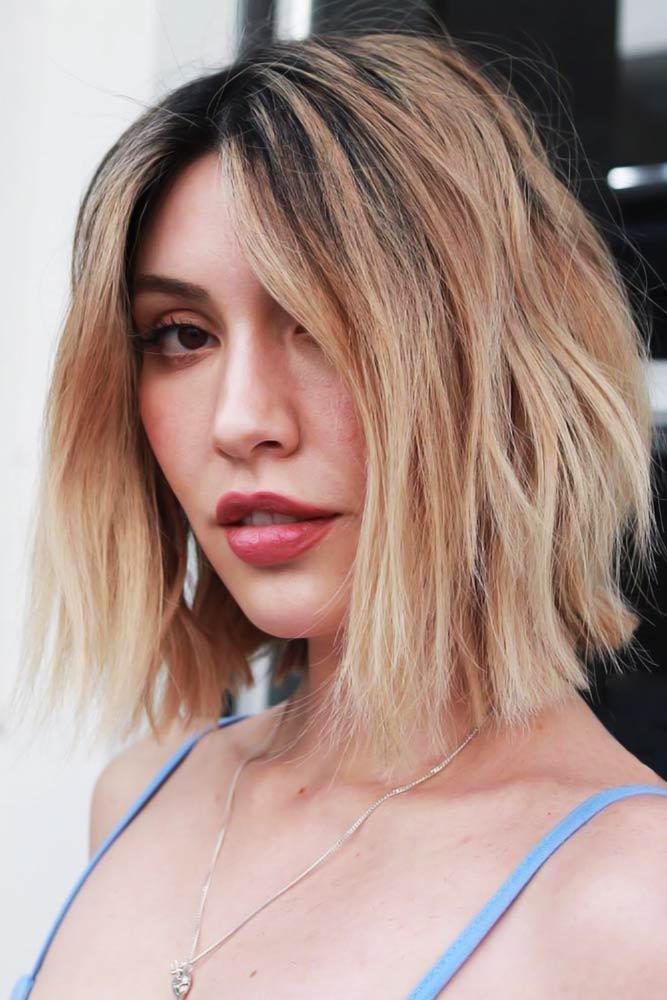 Don't ever underestimate the importance of parting! Some ladies don't even know that the way they part their hair really affects their appearance.
For face shapes that are known for their prominent angles, nothing works better than side parting. And to flatter faces with curvy features, a middle part will do the right job. Needless to say, a middle part + slightly waved layers = a hairstyle to remember.
Middle Parted Lob For Thick Hair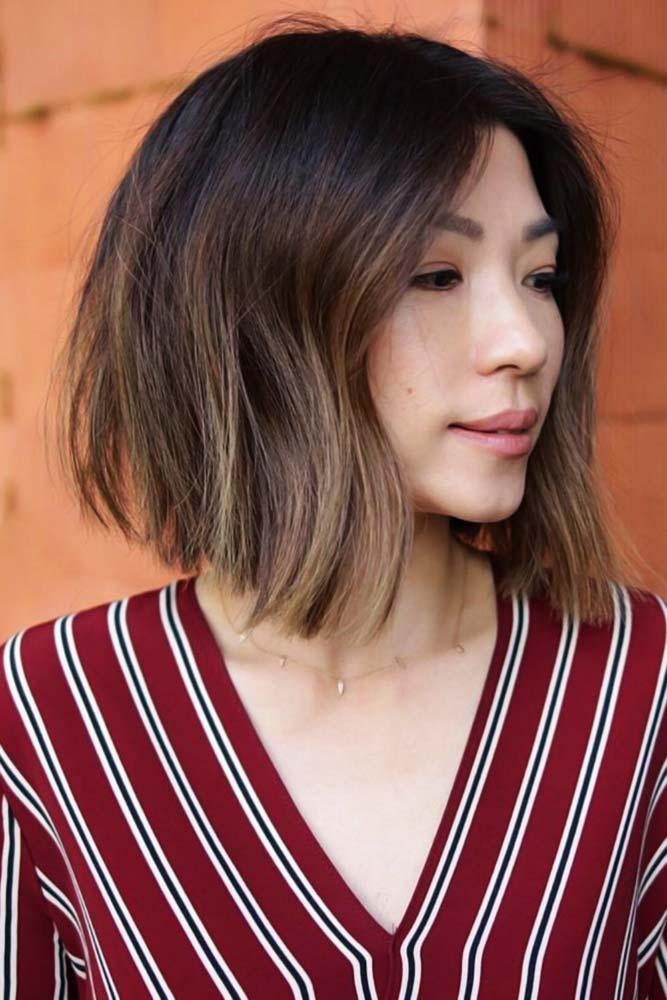 Here comes a layered bob for thick hair, the lifeline for ladies who gave up the dream of comfy styling and harmonic look. There's nothing bad about having a thick chevelure because when it's styled right, it looks unbearably full and sophisticated. But can it be easily tamed on a daily basis? Let this cut answer this question.
Layers will make your thick strands airier and softer to touch which will finally make the styling routine pleasant. If your hair tends to get heavy for the scalp, a middle part will be the best parting choice.