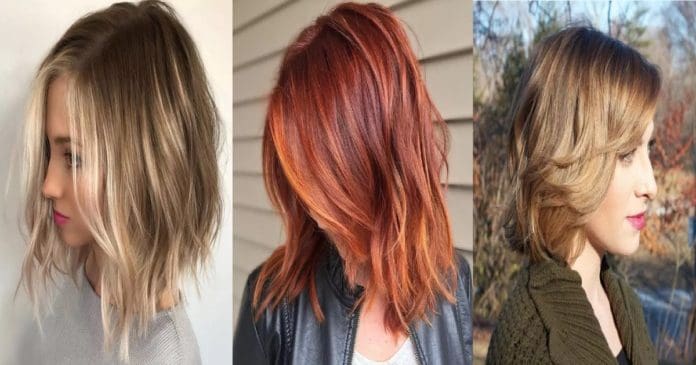 A bob haircut is a fairly decent and relatively low-maintenance solution for fine hair. A collarbone, chin-length or cropped styles are equally beneficial for hair that lacks body. It can always be added with simple styling techniques and available hair products. The following are some of the cutest examples of bob hairstyles for fine hair. Even if you have been sticking to this cut for years, view them with ideas for a seasonal update in mind.
Best Bob Haircuts for Fine Hair
If you have fine hair, you must always learn new tips and tricks how to make it look thicker. Bob haircut is a marvellous solution for thin locks. You just need to choose the right type of this cut. Draw attention to texture and edges, make it messy or wavy, ask your hairstylist for highlights, and you will never have the bad hair day again. All those tricks in our article!
#1: One Length Bob with Long Bangs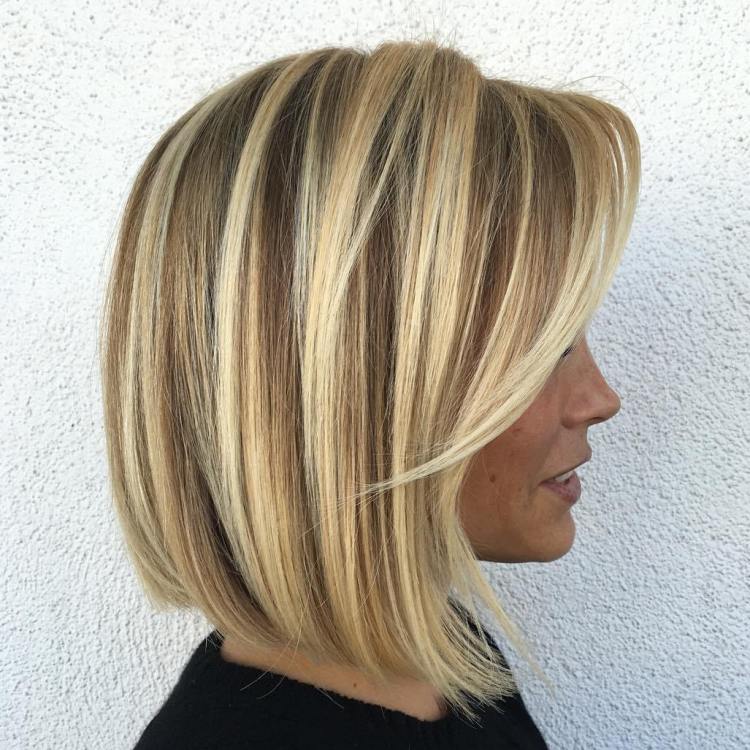 SOURCE
If you have been blessed with straight hair, consider your mane to be a blank canvas. Use highlights to your advantage to create dimension in short bob hairstyles. Her chunky blonde and brown pieces complete a chic hairstyle with depth and sufficient volume.
#2: Bright Blonde Bob Cut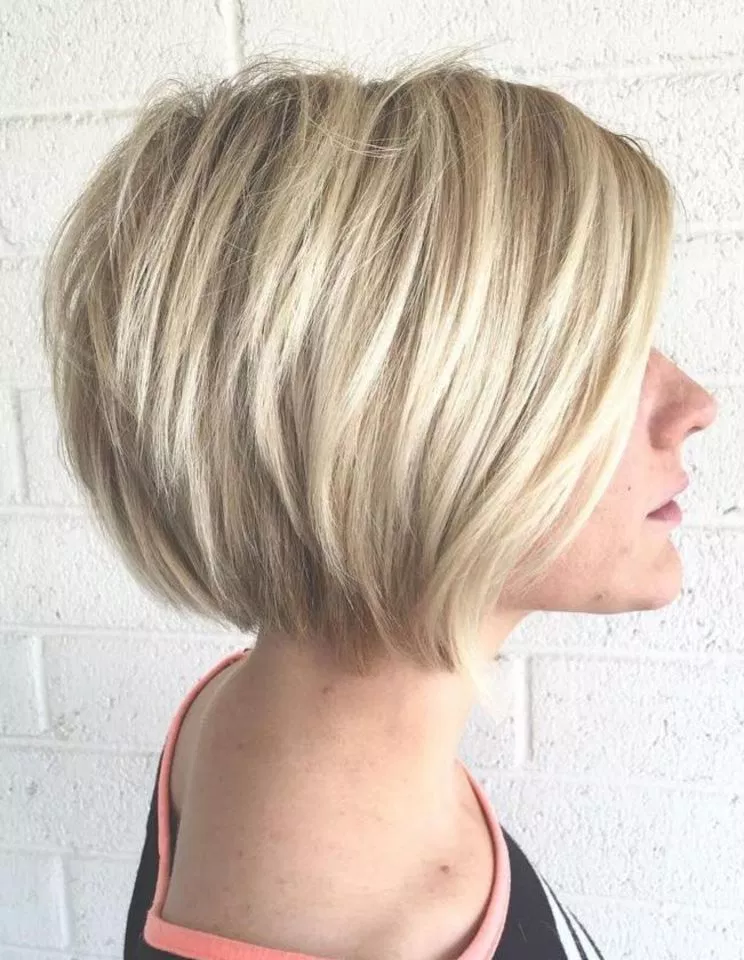 Fine hair is marked by strands that have a lack of body. One of the best tricks to make short bobs look fuller is with the usage of highlights and low lights. The former is usually two shades lighter than your natural hair, while the latter is two shades darker. The mix of colors creates the illusion of depth.
#3: Layered Short Hairstyle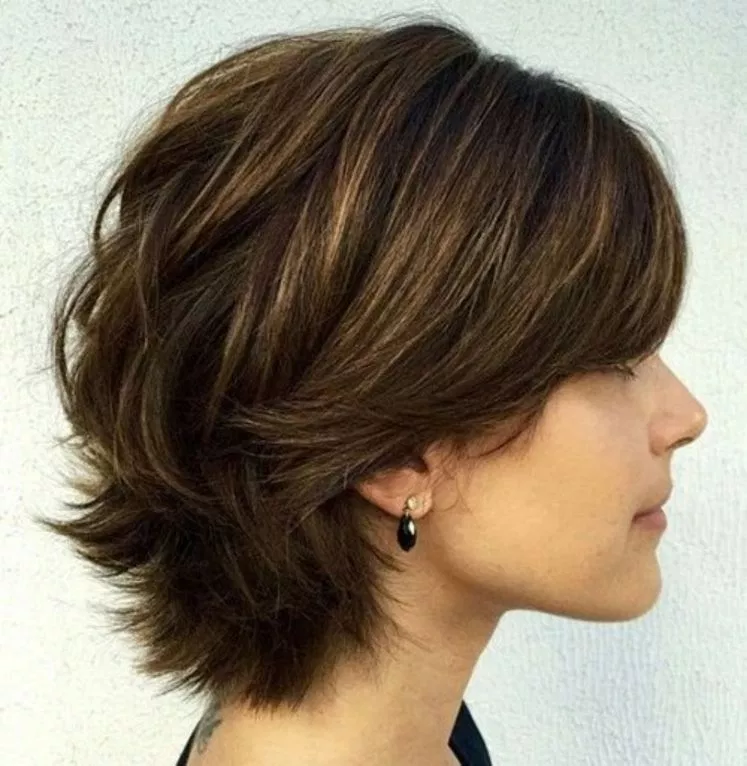 Layers are a great way to create volume in fine hair. This bob haircut shows how the shorter pieces work together with the longer pieces to retain the length while adding the bounce. To create this textured look with your own similar cut, use a quick spray of dry shampoo at the roots of clean hair.
#4: Wispy Short Bob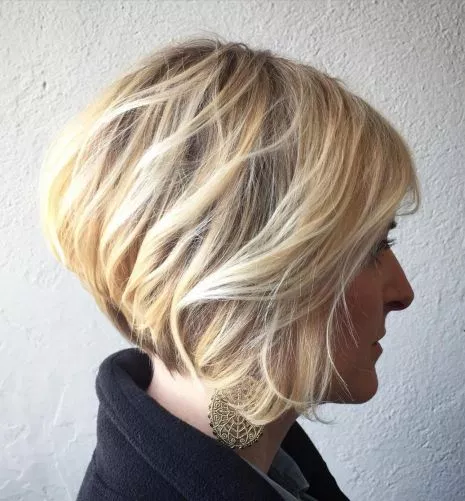 Achieve texture in short bob haircuts for straight hair by bumping the ends. The result is wispy curves that develop movement throughout the layers and result in the overall flirty and fresh hairdo.
#5: Stacked Short Haircut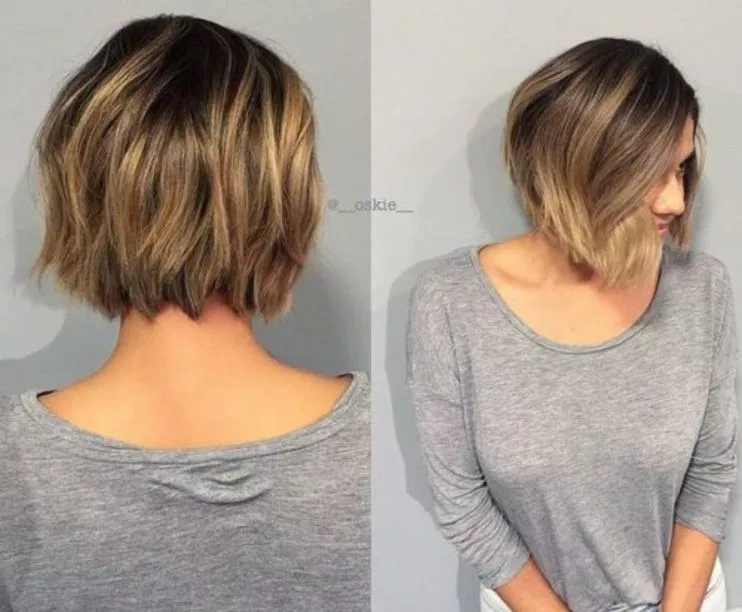 If you're an active person, it can be difficult to find the time to style your hair, which is why short hairstyles are so effective for athletes. This look is easy enough to pull back with a headband when you've got to run, figuratively and literally speaking, and short enough to style in the morning without losing any sleep.
#6: Champagne Blonde Bob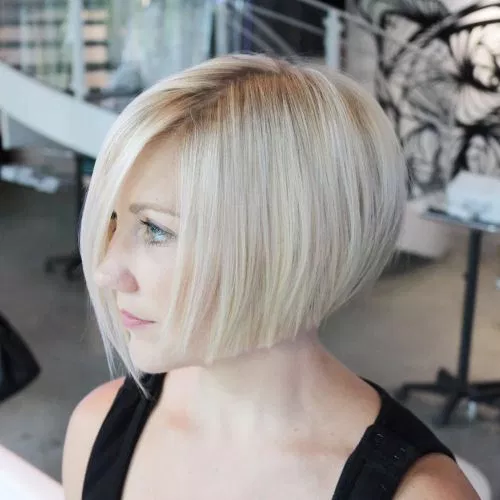 Cool-toned blonde shades are the most on trend ones this year because they are edgy yet soft at the same time. Plus, they flatter many different complexions from pale to deep. Because the colors are so light, you need to add visual interest and volume with dark roots and stacked layers in the back.
#7: Brown Bob with Babylights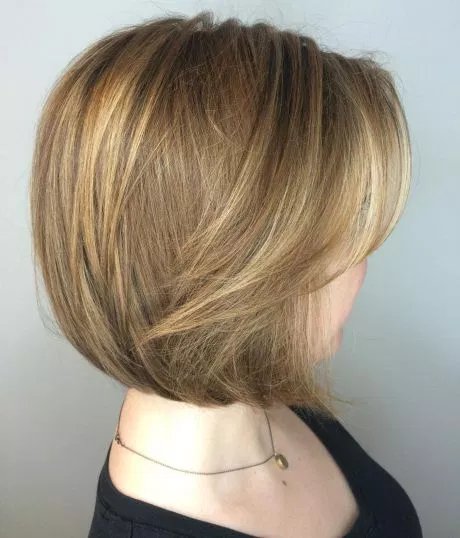 Bob haircuts are simple styles for women who want a polished appearance that doesn't require much upkeep. If you work in a traditional work environment, opt for an organic color and a few face-framing layers.
#8: Angled Cut for Thin Hair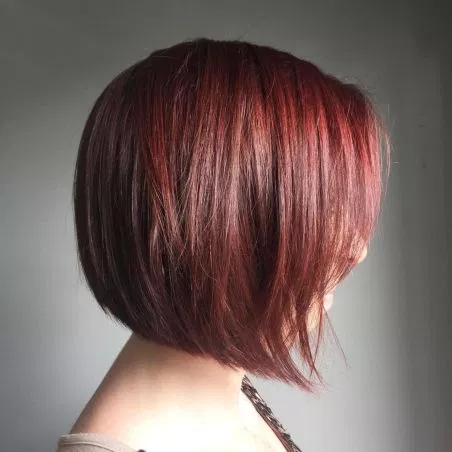 Blunt cuts are hard to pull off with thin hair because they don't provide much volume. Angled chin-length bobs create the illusion of fullness throughout the back, but still have clean straight lines. By keeping your bob longer in the front, you can frame and soften your face.
#9: Wavy Asymmetrical Long Bob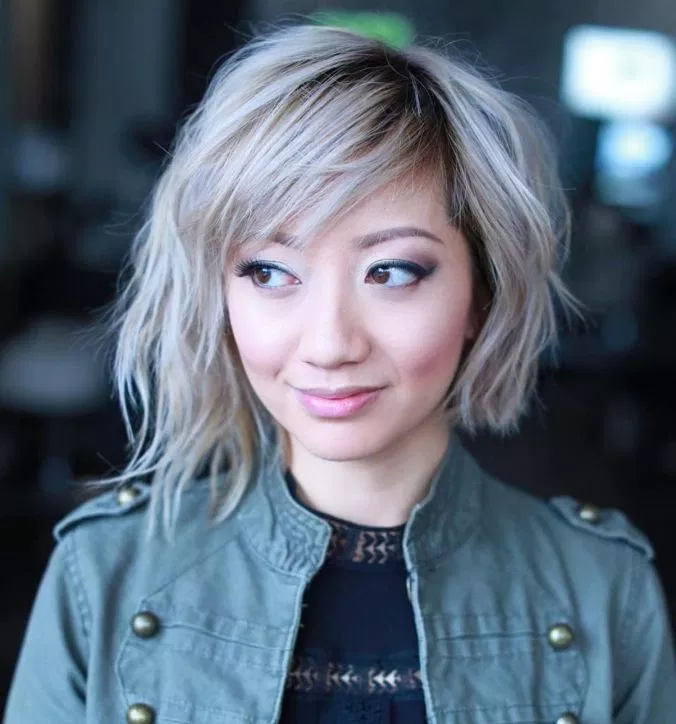 Round faces look best with bangs swept to a side as they draw attention up and make the visage appear lengthened. Let your side swept fringe blend with the longer side of your cut for added visual elongation. Sea salt spray will give your strands a thick, beachy texture.
#10: Bob Cut with Face-Framing Lightening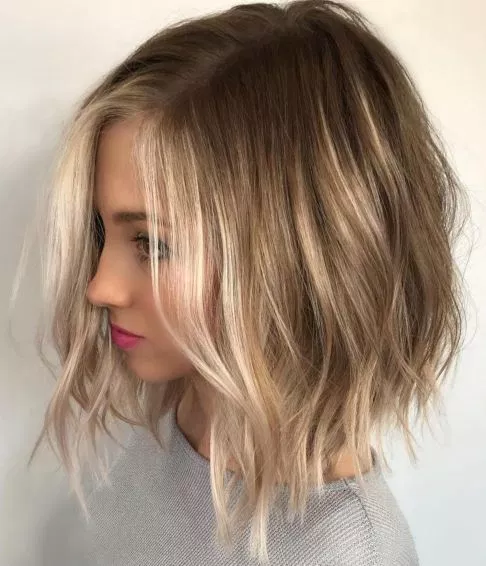 Going shorter is preferable if you have fine hair. Bobs work really well for those with finer hair in this relation. To draw more attention to your face, choose a lighter shade for face-framing strands and tips to make them seem more lightweight and therefore more voluminous.
#11: Shoulder-Length Bob with Layers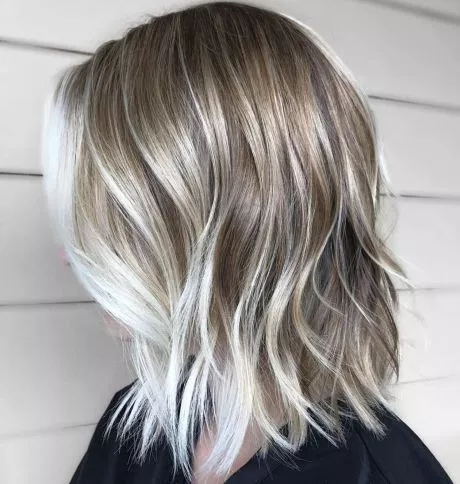 Bob haircuts for fine hair aim to create more volume for anyone with thin hair. Layered medium-length cuts are easily styled straight and in waves. Another great benefit? Shoulder-length hair flatters nearly all face shapes.
#12: Graduated Bob Cut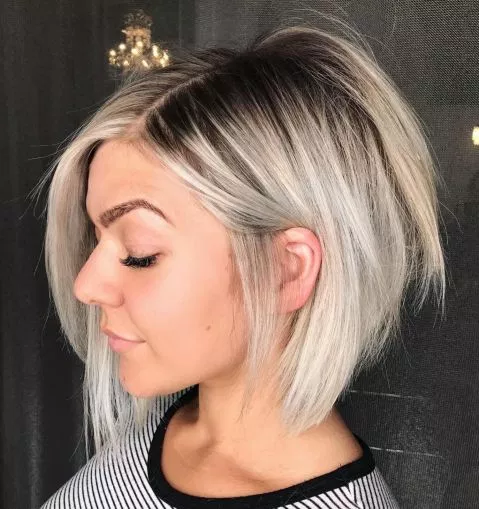 Razors aren't just for cutting men's styles. Ask your stylist for a chin length bob with a razor for a unique frayed and undone cut. Having a graduated length will also help amp up your fine hair.
#13: Shaggy Blonde Bob for Fine Hair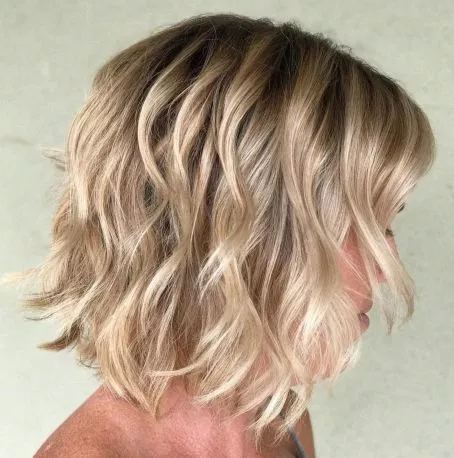 Love the messy look? Opt for graduated or stacked layers in a lob/long bob for an easy-to-manage crop. A wavy texture will give you the most out of the shaggy style and won't be too time-consuming for your daily routine.
#14: Sun-Kissed Messy Bob for Fine Hair
You don't need long blonde waves to enjoy a sun-kissed glow in your hair. Golden hues look just as fabulous with short bobs for fine hair. Cut your hair at an angle for a built-in root boost.
#15: Short Blonde Bob for Thin Hair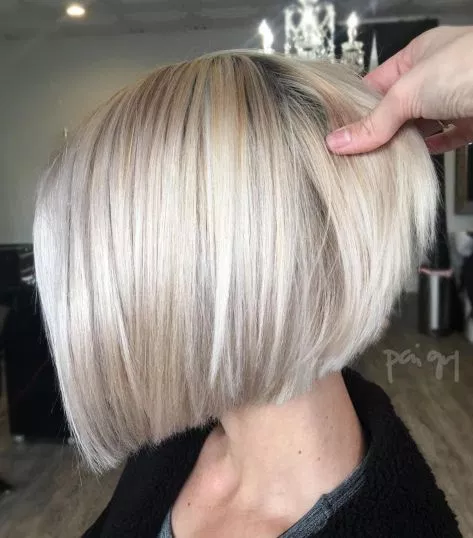 Short bobs are very versatile cuts for thin hair. No matter your texture, you can switch to shorter locks even if you have super fine hair. By cutting hair to your chin and going shorter towards the nape of the neck, you get a more full-bodied effect.
#16: Gray Balayage Lob for Straight Hair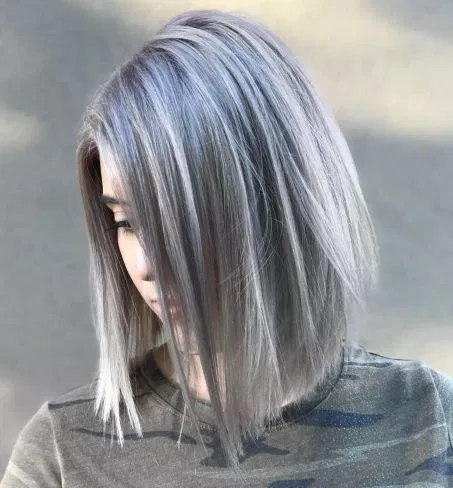 A new color can feel just as refreshing as a new cut. Forget the common shades and go for something a little more unique like a silvery grey. To really spice up your hair, add in hints of icy blue for some extra dimension.
#17: Long Bob with Chopped Ends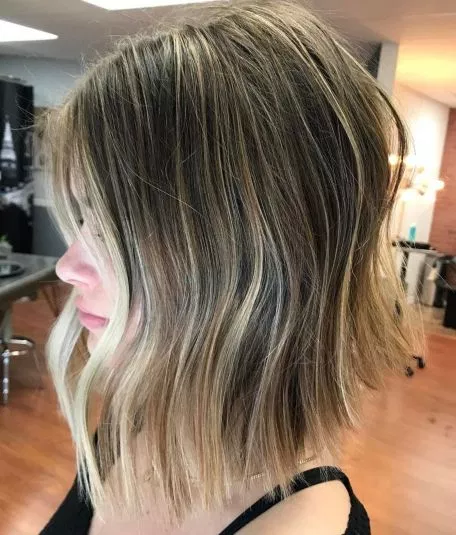 If you're tired of having even ends, try a choppy crop to revitalize your bob cut hair. Lift up your fine hair with this cute long bob and delicate balayage color.
#18: Inverted Highlighted Bob for Thin Hair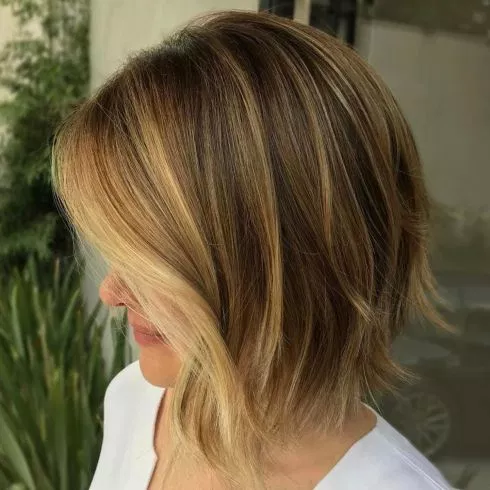 Go bottom-up with an inverted bob that is one of the best fine hairstyles for anyone hoping to change up their style. Add in some honey highlights and experiment with bangs for a quick and easy hairdo.
#19: Fiery Balayage for Thin Hair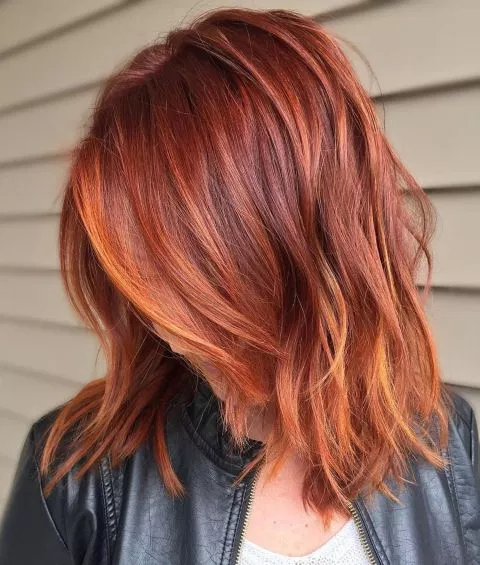 If you want to incorporate ombre or balayage into your bob haircut for fine hair, make sure to filter a few highlights throughout the crown for brightness.
#20: Textured Medium Bob for Thin Hair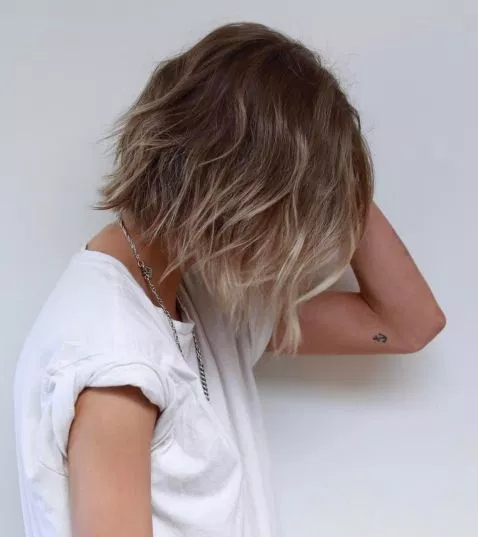 When it comes to adding volume to fine hair, texture is key. The right layers and cut can do wonders for those suffering from limp, lifeless locks. Try a medium length bob with thin choppy layering mixed in.
#21: Bob Cut with Blunt Ends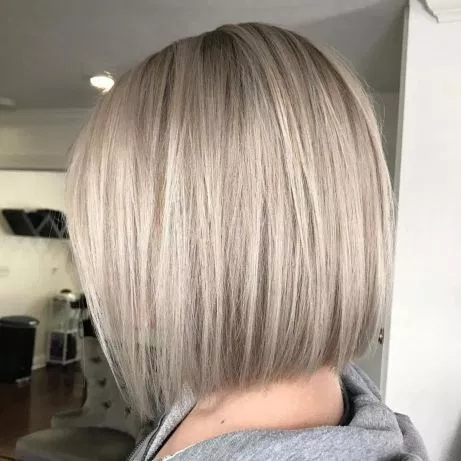 Short hairstyles for fine hair can make you look very polished and put together, especially with locks that are cut at one length. Because your hair is on the thinner side, blunt ends will provide just the right amount of density and structure for a fairly full, not poofy look.
#22: Graduated Bob for Short Fine Hair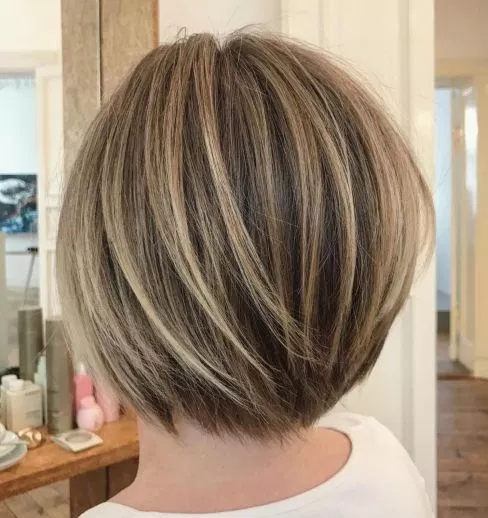 Professional hair cuts are all about creating the right shape for your hair's natural texture. Fine straight hair works best with a short bob that has graduated layers for a nice, even flow around the head.
#23: Blonde Balayage Hair with Piece-y Layers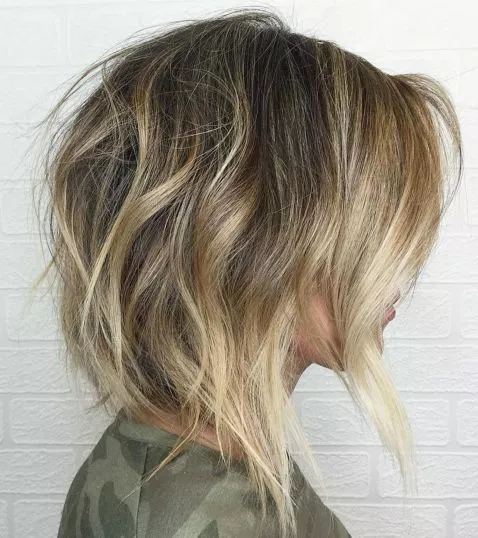 Don't forget about how effective texture can be when it comes to creating a trendy hairdo. Ask your stylist to bring out the natural movement of your strands with the right cut. Shaggy V-cut layers will do the trick. Then use a bit of sea salt spray to enhance what you've got.
#24: Tousled Medium Bob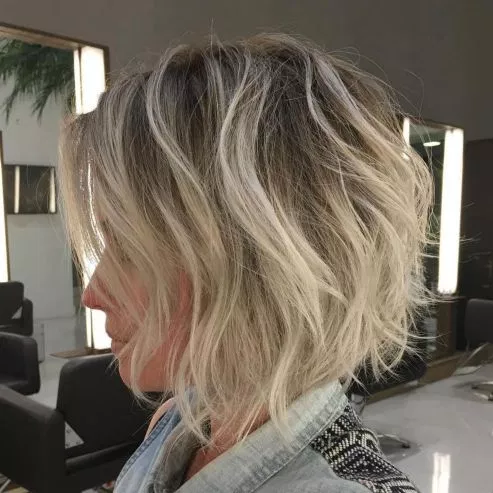 Pump up finer strands with lots of finely chopped layers and blonde balayage with root fade. Her beachy, tousled bob looks voluminous thanks to the wispy texture and bleached pieces against the dark base. When styling your new cut, apply some mousse to your lengths then scrunch them.
#25: Shaggy Bob Haircut with Side Bangs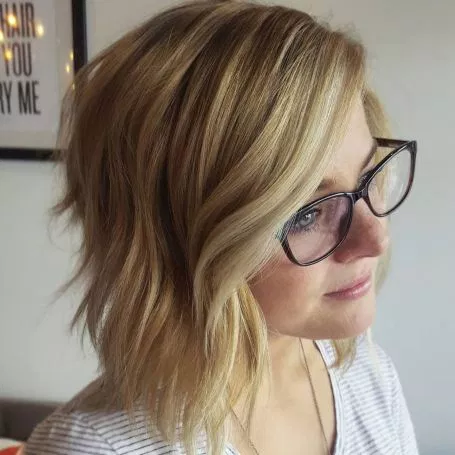 Bobbed hair used to be a very bold hairdo back in the 20's, and at present it's one of the most popular hairstyles for fine hair. Today we no longer assume that longer hair is always better. Fine hair looks good when it's short-to-medium, with disconnected ends. And sharp, shaggy layers are the easiest way to achieve that.
#26: Messy Highlighted Waves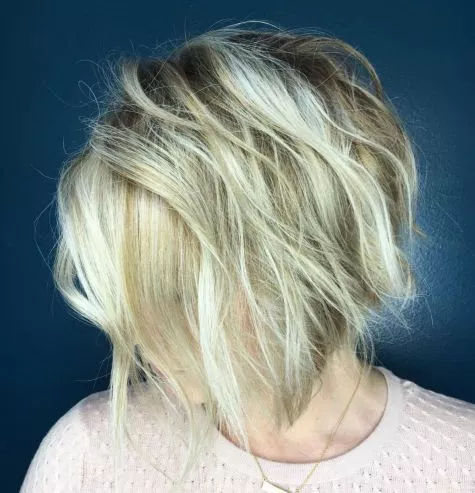 Some hairstyles have a long history because they prove to be flattering for different types of hair. Bobs became all the rage during the 1920s. Luckily for us, we can recreate this revolutionary style in our own ways. Break away from conventional curls and go for messy, undone waves instead.
#27: Bob with Layered Side Bangs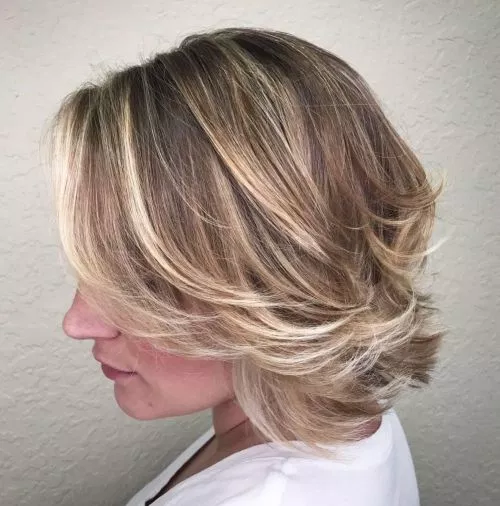 Bob haircuts for thin hair lend themselves well to layers and bangs. Amp up your chin length hair with feathery layers and side-swept bangs to frame your face. For an even brighter hairdo, choose your preferred lighter shade for some refreshing highlights.
#28: A-Line Lob with Root Fade
Keep things clean and refined with a classic A-line bob. To give your thin locks a fuller appearance, have your stylist blend in a lighter color for the lengths, stretching the roots very smoothly and letting lowlights peek through for a truly dimensional color.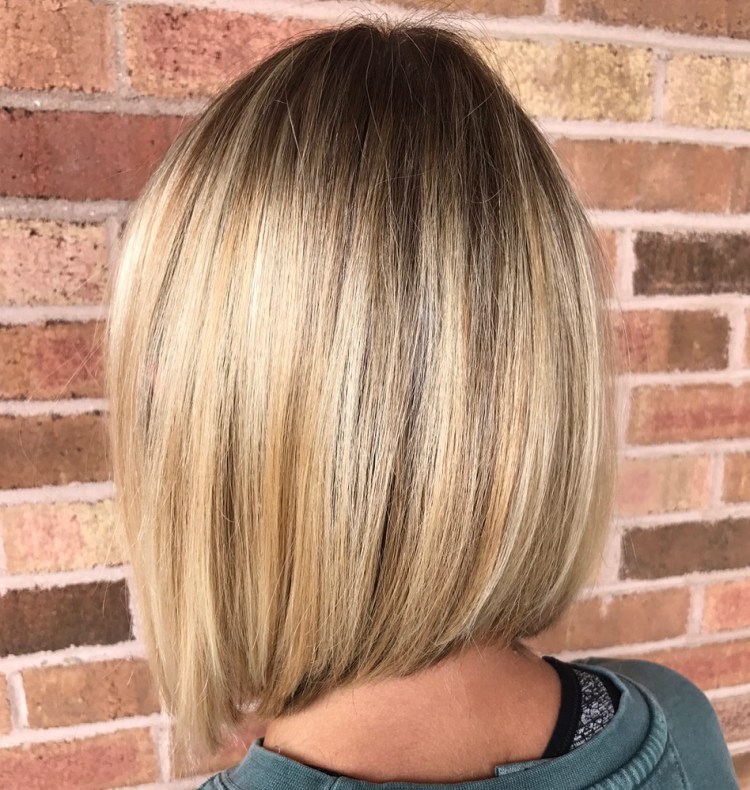 Instagram /
@hair2dyeforu
#29: Stacked Bob with Painted On Highlights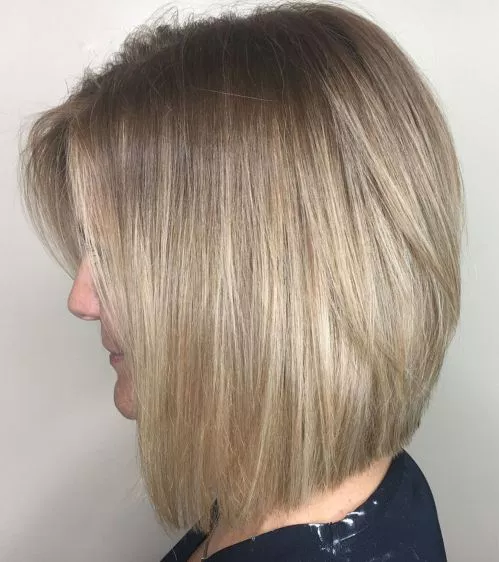 Combine the extra volume of stacked layers with seamless highlights for a natural, just-woke-up vibe. If your hair is fine and straight, it will certainly look its best with a blow out, but you can also experiment with more casual air-dried looks.
#30: Highlighted Blonde Lob
At first glance, this looks like a simple cut and color, but when you look closer, all the clever details of this beautiful bob become evident. The mix of chunky golden and ash blonde highlights creates definition, while the layers give the ends of the hair a nice kick.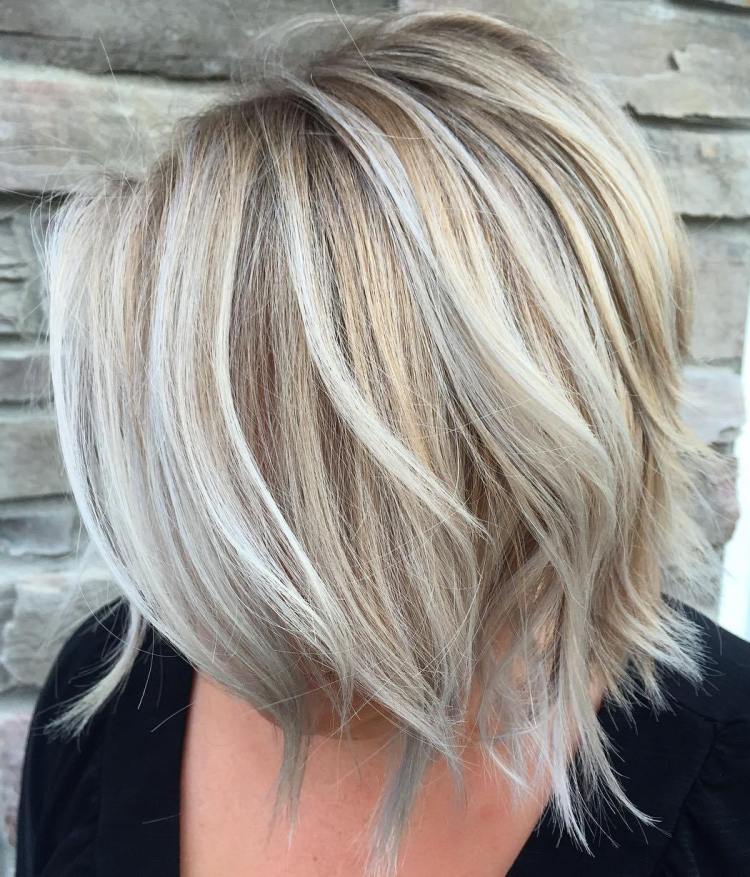 Source
#31: Concave Short Bob for Fine Hair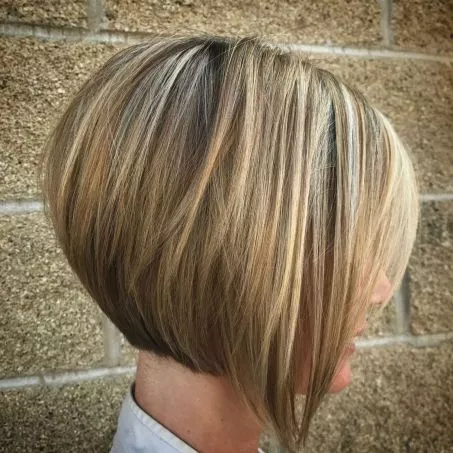 There are so many different cut options when it comes to bob hairstyles for fine hair. If the classic bob cut isn't the one for you, give the concave shape a go. Cut long side bangs to elongate the style and create a contrast to the shorter back for a more dynamic modern effect.
#32: Shaggy Blonde Bob with Root Fade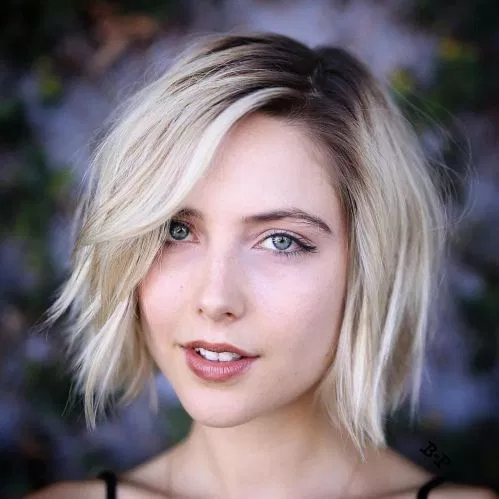 Forget the idea that your roots have to match the rest of your strands. Contrasting your part line with your ends is one way to give the illusion that your mane is thicker than it actually is. Her dark brown roots and bleached locks make it seem like she has a ton of hair.
#33: Box Bob Haircut for Fine Hair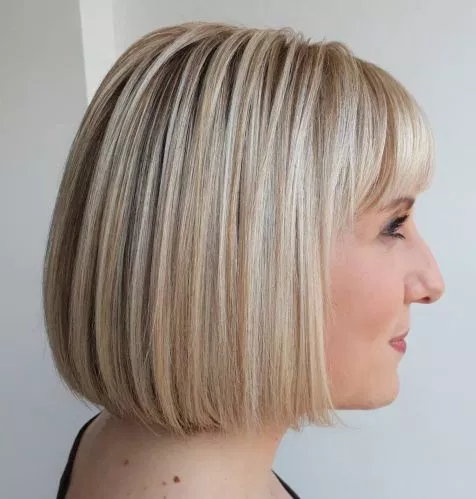 Structured fine hair cuts don't always look static. If the boxy hairstyle works best for your texture, add in some highlights and lowlights for the much-needed movement in your hair.
#34: Short to Long Angled Cut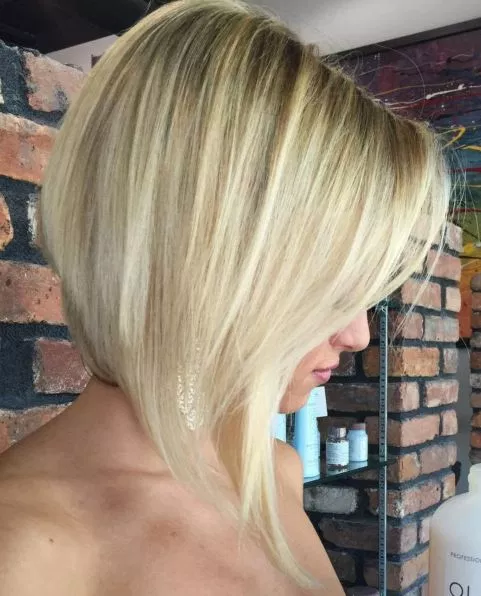 When deciding on a cut for thin hair, remember that something with layers is a no-fail option. Her bob cut features a very sharp angle and aggressive lines, but they are softened by layering and color.
#35: Mahogany Brown Bob with Layers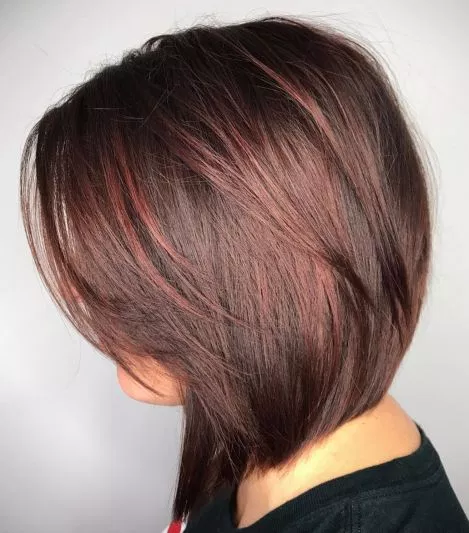 Fine hair cuts are nothing without the right color, but you don't have to go too drastic with your change. Layer on warm mahogany tones to deepen your brown hair color and draw more attention to the amazing bob cut.
#36: Textured Brown Bob Haircut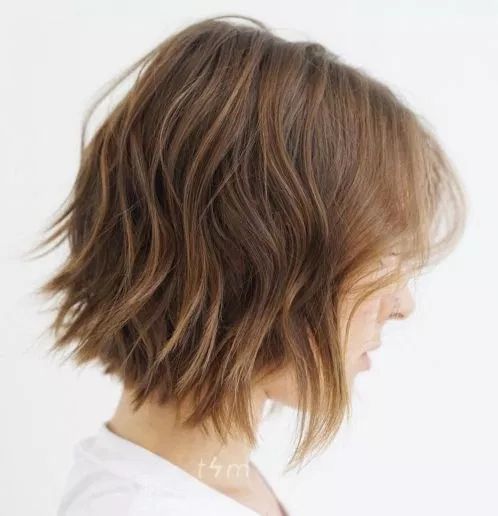 Don't let the typical haircuts for fine hair steer you wrong. Cut your hair into a short bob with finely chopped layers to avoid flat locks. Invest in a good texturizing spray and forget about bad hair days!
#37: Chin Length Bob with Face-Framing Layers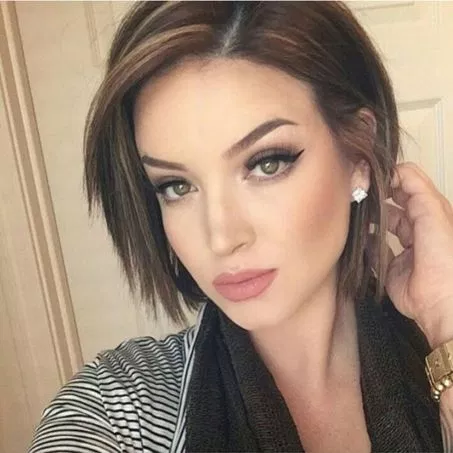 Fine hair appears to have more volume when it's short. Without the length weighing it down, it's free to bounce, giving off the appearance of thicker tresses. This bob does exactly that—with a length that falls around the chin, you'll be able to style it big and free!
#38: Gray Hair with Brown Roots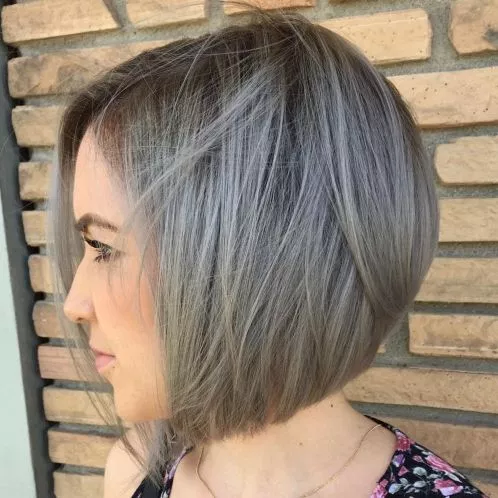 Gray isn't just for grandmas. It actually looks very cool on young girls, especially when the base is a chic cut like this angled bob. Throw a root fade into the mix to score more style points.
#39: Layered Straight Bob for Thin Hair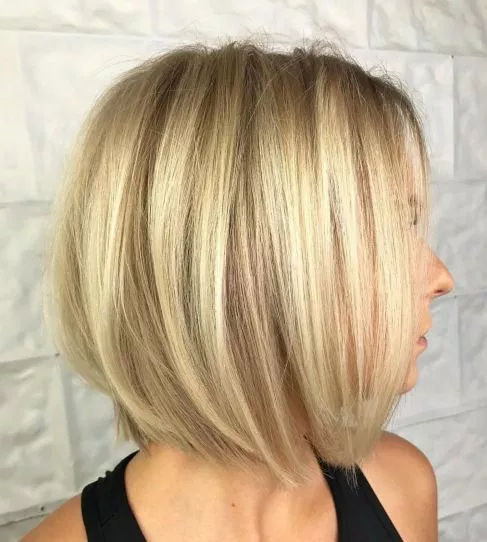 The collar length is a great choice when it comes to bob haircuts for fine hair. A small stack in the back gives a little boost of volume. The layers keep the straight strands from falling flat while allowing them to maintain their sleek and polished look. Team the hairdo with chunky bright highlights to bring balance to the dark blonde base.
#40: Angled Bob for Fine Hair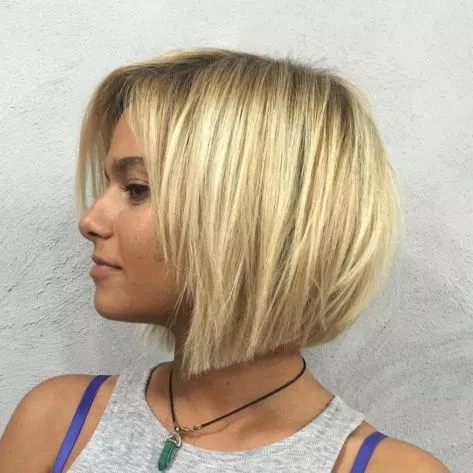 Bob haircuts for fine hair can have both layers and accurate edges. The bottom of this bob gives a geometric shape to the style which is not too strict thanks to the wispy layers. Yes, modern bob styles are quite contradictory, and we love that!