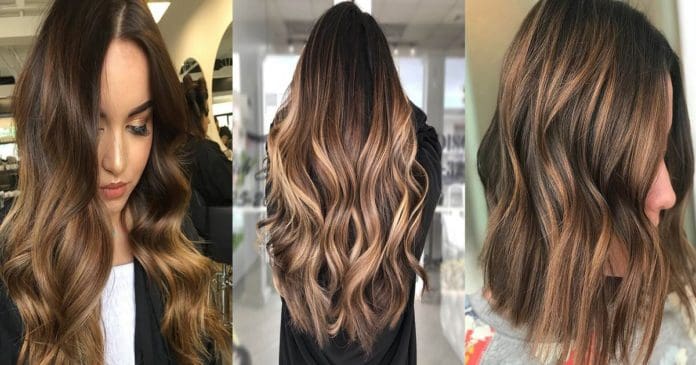 Have you been ruminating over the idea of caramel hair color? You're probably not alone! This stunning earthy color, which falls somewhere between blonde and brown, is incredibly trendy right now. That's why we've got 50 of the most scrumptious caramel hairstyles for you to explore.
Caramel hair is super sexy and versatile. As such, it comes as no surprise that it is taking Hollywood by storm. Caramel balayage, ombre, and all-over color job are dominating the celebrity hair-o-sphere for a good reason. The warm, earthy color can balance dark roots and grown-out color jobs. What's more, it can add warmth and depth to color jobs.
1) Sun-kissed Ombre with Brown Foundation
This inspiring asymmetrical caramel hairdo fades into stunning bright blonde tips and swirling face-complimenting angles. What's more, this shoulder-length hairdo has a miraculously age-reversing effect. This is a great look for those who want to test out caramel hair without going full on with color. The highlights in this style are soft, organic, and low maintenance.
2) Loose Caramel Ringlets with Blonde Highlights
Between the vibrant red-colored dye job and loose surfer-inspired ringlets, this lengthy style is to die for. There are no highlights to detract from the vivacious intensity of the caramel apple tones. Of course, with such a maintenance-intensive dye job and deluxe volume, we recommend you utilize a high-quality moisturizing mousse and take it easy with the brush.
3) Sexy Pinecone Swirls in Molten Brown
If you're looking for a sexy way to upgrade your hair for autumn, these pinecone-like swirls and rich chocolate and caramel highlights are an amazing option. It is important to note that these wide frizz-free coils aren't compliments of low-maintenance overnight braids. However, with a little effort and some willful personal pampering, you too can rock this cool caramel hairdo.
4) Caramel Blonde Hair with Sunny Tips
Mix up your usual look with a wavy asymmetrical shoulder-length bob. The soft blonde highlights in this look add immense amounts of brightness and texture to this loud hairstyle. Meanwhile, the dark caramel chocolate roots and caramel midsections add depth and richness.
5) Sweltering Brown Waves with Reddish Highlights
If you're looking for a cute way to dress up your long brown tresses, this full volume caramel hairdo is an excellent option. The perfectly centered part is a wonderful compliment to wide barreling waves. Meanwhile, the soft brown and caramel highlights add even more dimension.
6) Easy Beach Waves with Highlights
If smoothed out waves and perfectly chopped bobs are a bit too tailored of a look for you, this blunt rock star is worth a look. The short auburn-tipped locks are a low-maintenance introduction to the caramel hair craze. Nevertheless, it doesn't require you to commit to a maintenance-intensive whole-head dye job.
7) Ultra Long Waves with Caramel Highlights
For many women, caramel hair color is one of the most magical ways to dress up lengthy mermaid tresses. With this look, it's alright to let dark brown roots peek through. The layering of light brown and caramel streaks provide the perfect contrast to a dark base.
8) Light Brown Bob with Crimson Highlights
This stunning shoulder-length bob is one of our favorite caramel brown hairstyles. The milk chocolate base is the perfect foundation for a mix of caramel and burnt sugar highlights. Meanwhile, the tousled S-shaped wave is the perfect way to tame thick hair without applying too much heat.
9) Soft and Cuddly Burnt Sugar Waves
Caramels highlights bring out the snaky characteristics of these extra long tresses. The key to this look is to maintain a flat surface at the crown of the head and let the bottoms flow freely in typical 1960s fashion. Of course, the chestnut roots, blonde streaks, and glossy finish help bring this modern look into the twenty-first century.
10) Caramel Hair Color with Blonde Curls
These voluminous curls are brought to life with a rich layering of caramel, blonde, and chestnut. If you're looking transform long layer-less locks, this earthy color palette is a perfect way to soften a mundane mop top. Just be sure to condition and hydrate your color-rich hair to keep frizz and flyaways under control.
11) Dark Brown Asymmetrical Balayage with Highlights
This chocolaty asymmetrical shoulder-length bob is a professional look that requires very little upkeep. The soft caramel tips and grown-out blonde highlights offer a touch of warmth to what is already a charming yet laidback look. If you've always been afraid to lighten your dark hair, this high-contrast look may be the way to go.
12) Sweet All-over Candy Apple Curls
Ready for full caramel color? This foxy root to tip caramel dye job adds textures to layered waist-high waves. The root to tip candy apple caramel color is super-rich and inspiring. Not to mention, it is an enticing method for refresh dull brown or blonde locks.
13) Caramel Hued Coils with Frontal Layers
This stunning full-volume look boasts a chocolate base with caramel highlights. The warm, earthy contrast of the brown colors adds to the volume-rich design of this hairstyle. Nevertheless, a look of this detail is probably best saved for formal events.
14) Simple Caramel Swirls with Blonde Tips
This bright beachy ombre color job is one for the books. The shoulder-length look is super cool and trendy. It boasts an extremely high-contrast fade from dark brown to blonde, with plenty of caramel in the middle. What's more, it is easy to maintain and a perfect look for brunettes who are looking to soften things up.
15) Flowing Shoulder-length Layered Look with Tips
This dip-dyed auburn look boasts chunky layers, caramel highlights, and wind-swept waves. The best thing is that a little bit of dye and a flat iron are all you need to get this stunning look. Well, that and an awesome stylist!
16) Brown Barrel Curls with Sun-kissed Tips
While the model in the picture is rocking these caramel-tipped barrel curls in a basic baseball tee, there's nothing to say that this is an easy hairstyle to achieve. The blonde dip-dye color job expertly balances the grown-out roots and caramel highlights that make up the vivacious swirls. As such, this modern hairstyle is one that is best left for the professionals.
17) Caramel Blonde Hair with Sunny Tips
If you haven't already noticed, caramel highlights look amazing with a bit of texture and deep contrasting roots. This seemingly all-natural dye job relies on the subtle warmth and earthy vibes of a brown foundation. Of course, a hint of yellow at the base helps reduce the weightiness of this lengthy look. If you're looking to grow out an old dye job, this look is worth considering.
18) Blunt Bob with a Foxy Color Job
This pretty shoulder-length chop boasts a lovely red-hued caramel dye job that is perfect for winter. Fluff this caramel look up with a flannel infinity scarf or sexy turtleneck. Keep in mind it will take frequent trims and touchups to maintain this intensive color job. However, the payload of compliments you'll get is well worth it.
19) Caramel Shoulder-length Curly Cues with Highlights
These Shirley Temple-esque curly cues are flying high with caramel highlights that curl around the nape of the neck. There's nothing cliché about this brown optical illusion. The high contrast dye, with deep brown base notes, makes it a cute hairstyle for girls.
20) Dynamic Brown Balayage with Bendy Layers
This sweet looking blonde and caramel balayage look is brought to the next level with curly layers. The mix of streaky brown rapidly wanes from dark to light brown, creating a dynamic color-changing illusion that will set you apart from the crowd.
21) Feathery Lob with Varying Earth Tones
The clean lines of this front-heavy caramel lob help bring attention to your face and neck. Not only that, but the mouthwatering burnt sugar and caramel hair tones are reminiscent of the color scheme of weathered New England in late summer. If you're looking for a cunning hairstyle that matches your sweet nature, this maple-colored coiffure just might be it.
22) Blonde Wing Tips with Caramel Ends
These pretty caramel-colored floor-to-ceiling locks do not come overnight. If you are someone who has spent a significant amount of time growing out your delectable tresses, don't let them fall flat with a monotone color job. This gorgeous caramel color job boasts soft caramel highlights from the shoulders on down with a crown of deep reddish brown.
23) Caramel Ringlets with Brown Roots
These long pretty curls would just look average without the dynamic caramel color job that is tying them together. The rich reddish brown hue is the spark of light needed to lighten up these otherwise end-heavy locks. In fact, we recommend this fashionable dye job for anyone with dark, thick hair that falls below the shoulders. It's a charming modern style option that looks good on both youthful and mature women.
24) Cute Lob with Reddish Brown Highlights
Is your shoulder-length hair starting to look like your mother's and not in a good way? This bold auburn and caramel dye job feature intentionally dark roots. What's more, the slightly asymmetrical shoulder-length chop makes for an ideal caramel frame around the cheeks and neck. This is a splendid hairstyle for women who are looking to add flavor to their look without trying too hard.
25) Caramel Blonde Hair with Dark Roots
These cute cascading combed-out curls have tons of texture thanks to the generous layering of blonde and caramel highlights. Those who wish to rock this look can salvage their natural brunette roots by sprinkling in a touch of blonde and caramel color to the roots. This creates a dramatic dip-dyed look that ties together the tops and bottoms. The final look is dynamic, detailed, and super sexy. As a side note, this look works great for women who are looking to grow out a dye job.
26) Romance Rolls in Auburn and Caramel
There is no doubt that these chest-high locks would be flat and lifeless without their generous caramel highlights. Dos like this lend themselves to our absolute obsession with this candy-colored trend. The best part about this look is it is forgiving coverage grown-out roots and uneven ends. Nevertheless, it is a sexy hairstyle for women of all ages.
27) Platinum Blonde Balayage with Chestnut Roots
Looking for an expert way to emphasize your blonde hair with a bit of caramel? This past-the-shoulder look is super surf-inspired and sun-kissed but boasts plenty of well-blended caramel brown highlights. What's more, the layered sweptback waves are the perfect way to emphasize this high contrast look.
28) Brown Balayage with Flat Waves
These compressed waves are incredibly flattering thanks to the caramel dip-dyed color job. If you're looking to grow out a flaxen dye job or just want to add a bit of texture to your dark hair, this lengthy look is definitely worth a look. Deep caramel highlights are a tasteful and organic way to conceal bleached hair without having to clip it out.
29) Awesome Light Caramel Shag with Wavy Tips
This charming modern shag is a sweet way to rock caramel coloring. The choppy layers look feathery and light, while the subtle barrel curves add texture to the rear hairline. Finally, the light red-tinted caramel coloring is on point with today's hair trends. If you are looking for a caramel brown hairstyle with tons of brightness, this look is certainly worthy of a glance.
30) Simple Blunt Shoulder-length Cut with Chunky Highlights
If we made the Caramel Latte of hairstyles, this pretty look would be it. These simple drizzly highlights offer a sweet and sultry icing to this stunning wavy look. While it is great for a night out, this look is ultra casual and only takes a few minutes to master. Caramel is the most ideal option for partial coloring, as it lightens a look without adding too much contrast or artificial allure.
31) Caramel Tips with Half-up Messy Fishtail
If you're sick of run-of-the-mill updos and monotone color jobs, this dynamic hairstyle might be up your alley. It features a flat-lying crown with peeking chestnut roots and a messy but intricate half-up fishtail. Finally, caramel and flaxen tips add depth and flavor to this already intricate look. This complicated style isn't suitable for work days, as it takes some time to put together. Nevertheless, it is a showstopper for date nights and formal events.
32) Captivating Flat Waves with Baby Highlights
Did your hair naturally lighten from the sunlight when you were a child? This soft, subtle dye job is a precise and accurate recreation of that gorgeous natural phenomenon. Emphasized by smooth flattened waves, this look has a tailored hippie vibe you won't want to miss out on. One glance at this stunning look tells you how extremely versatile caramel color really is.
33) Luscious Brown Waves with Volumized Crown
This may well be the M.V.P. of textured caramel hairstyles. These glossy ringlets boast stunning light brown highlights and gravity-defying roots. While this hairdo is naturally youthful, it looks great on women of all ages. It's also a great way to utilize naturally dark or dull roots. The generous punch of color adds energy and depth while the teasing at the roots brings everything, literally, to the next level.
34) Natural Highlights with Curled Ends
This cute easy hairstyle is anything but drab thanks to the generous amount of chunky caramel highlights. Meanwhile, the dark chocolate lowlights add depth and volume to the otherwise unstructured look. Finally, ever so slightly curled ends add a cute detail to this playful last-minute look. While this model is rocking a combination of copper and flax, there's no saying you can't swing both left and right in the grand scheme of dark and light caramel hues.
35) Deep Caramel Tips with Blonde Waves
The sweet caramel tips in this look have a super warm coppery hue that perfectly offset the dark brown roots. What's more, they create a satisfying fade effect that brings out the three-dimensional qualities of the asymmetrical waves. Nevertheless, we don't advise you to attempt this look on your own, as it really takes a professional to perfectly match these robust tones. This caramel brown hairstyle is sweet, sophisticated, and totally refined.
36) Brown Beachy Waves with Subtle Highlights
Are you not quite prepared for maintenance-intensive long hair? Don't worry; you can still have a stunning hairdo with caramel highlights. Just check out this layered over-the=shoulder bob with three-dimensional color. From the deep brown base to the bright caramel, all you need is a curling iron and a little product to bring out the intricate layers of colors that lie beneath the surface. This is a super trendy and cute hairstyle for girls.
37) Honey Blonde Waves with Multicolored Highlights
A combination of varying tints of caramel is the perfect way to spice up a brown base. As you can see here, the medley of highlights creates dimension when used in a textured look. Keep in mind that this sort of styling is extraordinarily complicated and should almost always be executed by a trained hairdresser.
38) Subtle Ombre Fade with Highlights
This electrifying hairdo possesses all the hallmarks of rock and roll. From the charming mullet-eqsue shag cut to the caramel-coated strands of blonde and brown hair, this look is extremely dynamic. Don't worry; this look is super attainable. Just don't forget the heat protectant and conditioner when rocking it frequently.
39) Flattering Light Caramel Braided Bun
This caramel updo is all that and a piece of pie! The warm earthy tones add flavor and depth to this stunning low-lying messy bun. A closer glimpse reveals intricate twists that expose an expert crimson-tinted monochromatic dye job. If you're ready to jump headfirst onto the caramel bandwagon, be sure to check out this decorative dye job.
40) Beautiful Balayage with Red Highlights
If you've never treated yourself to a professional blowout, now is the time to give it a try. This surprisingly therapeutic hair treatment utilizes heat and wide barrel brushes to add curves and volume to any head. In this case, the subtle blend of caramel color and dark brown lowlights adds even more depth and character to this simple yet sophisticated hairstyle.
41) Coppery Curls with Brown Lowlights
While we have an undying affinity for monochromatic caramel color jobs, there is something about dark brown lowlights that really brings out the full glisten of caramel in this cute easy color job. In this pretty hairstyle, a top layer of coppery curls is the perfect garnish for a dark shoulder-length foundation. It is important to remember that this lively caramel hairstyle idea is best left for expert hairstyling professionals. What's more, it is important to remember that a look like this requires frequent touch-ups.
42) Blonde Balayage with Light Caramel Highlights
Are you looking for a beautiful caramel dye job that is absent from red undertones? This melodramatic dip-dye style boasts super dark brown roots with a chunky blonde base and nonexistent fading. Nevertheless, if you look deep enough, you'll find subtle burnt sugar highlights that help blend the two together.
43) Multidimensional Blonde Drapes with Foxy Highlights
You can easily transform brunette hair into luscious caramel locks with a dappling of color around your face and tips. This two-toned ombre look boasts plenty of red, yellow, and brown hues to keep things cohesive. It's a slippery slope if you're attempting to blend roots into highlights for the first time. Therefore, always work with a professional to achieve the best possible results.
44) Soft and Subtle Blended Highlights
If chunky balayage hair ideas aren't to your liking, check out this professionally blended caramel hairstyle idea with light-catching caramel drizzle. The beautiful brunette foundation is the perfect backdrop for muted brown and caramel lowlights. In fact, we are convinced that the seamless blending in this wavy modern hairstyle could easily pass for natural hair coloring.
45) Whole-head Caramel and Blonde Color
Are you looking to spice things up this fall but are definitely not ready to commit to a complicated caramel hairstyle idea? This monochromatic caramel color job requires bimonthly touch-ups, but that is a small price to pay for the stunning head of hair you'll gain. The somewhat coppery burnt orange color is reminiscent of freshly fallen maple leaves and pumpkin spice lattes. Need we say more? This easy hairstyle is trendy and works well with a variety of cuts.