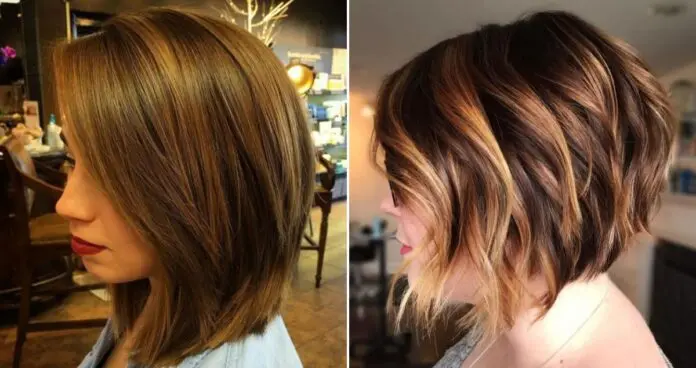 Is there any girl or woman who has never tried a bob haircut? With a variety of lengths and finishes, bob hairstyles have long become our all-time favorite. Although blunt bobs are just as beautiful as layered bob haircuts, bobs hairstyles with layers can do wonders making thin hair look more voluminous and, on the contrary, taming very thick hair. Check a full gallery of chic layered bob styles with all the modern twists you can imagine and choose a flattering haircut to rock this season.
Layered Bob Hairstyles as They Are Today
Making a stake on low-maintenance and up-to-date looks, more and more celebrities and bloggers are rocking stylish bob hairstyles with grading, highlights, and natural-looking finishes. Chin-grazing and shorter cropped cuts are occupying the leading positions as the most stylish bob versions. These show off cool choppy or fringy edges, fun asymmetry, and gorgeous textures. "Demi-bobs" with better length opportunities can be worn both in loose styles and chic updos. The trendiest long bobs of today often feature breathtaking highlights or ombre. Texturized bobs look fantastic on thin and medium dense hair. Thick straight or curly hair with a bob cut has a risk to settle in a triangular shape that doesn't look very appealing. Thoroughly texturized ends and heavy layering helps to save us from the dreaded triangular. A good option loved by many contemporary women is a graduated or stacked bob with shorter layers at the nape and longer tresses in front. Layered bobs offer freedom in the choice of styling solutions: sleek flat, slightly tousled, and voluminous curly dos are all at your disposal this season. Okay, that's time for the pictures!
#1: Pretty Layered Pastel Pink Bob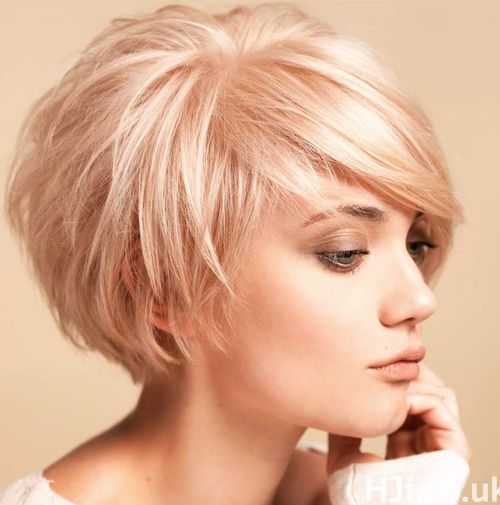 If you have thick hair, you don't really need the dye tricks to make your strands look fuller. Instead, you may add a cool touch to your layered bob haircut with a solid pastel color. This pastel blonde is romantic and whimsical with a bit of toughness; perfect for a woman who is both seductive and sweet.
#2: Modern Blonde Bob
For a layered bob with urban appeal, try a deep side part and long bangs that blend in with the rest of the choppy cut. There are lots of options for styling the layers and helping them stand out. You can use sea salt spray or pomades designed for short hair. Experiment to see what works for you personally.
#3: Bronde Bob with Long Feathered Layers
A medium layered bob parted on the side looks fabulous with long feathered layers. The chin-length peek-a-boo bangs can be left loose or tucked behind the ears for a sleeker and more mature appearance.
#4: Finely Chopped Tousled Bob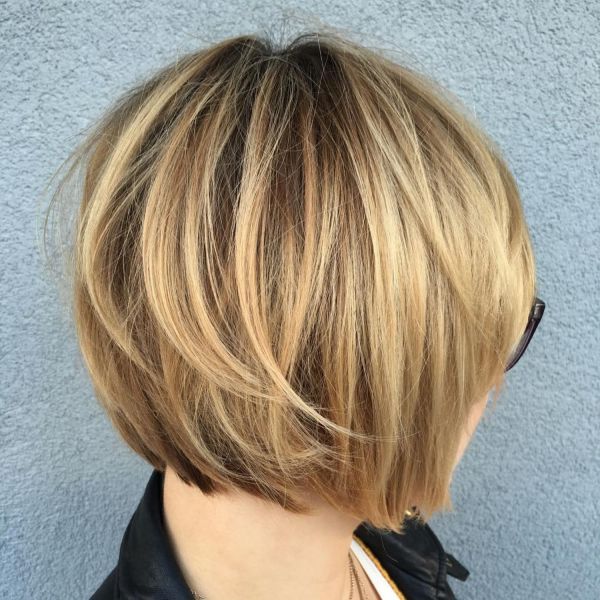 A colored bob that has been finely chopped creates a smart and sophisticated look with added depth. The extra attention to detail takes the weight out of thick and heavy hair, while the blonde highlights and tousled styling generate a breezy and sun-kissed feel.
#5: Sophisticated Bob with Subtle Layers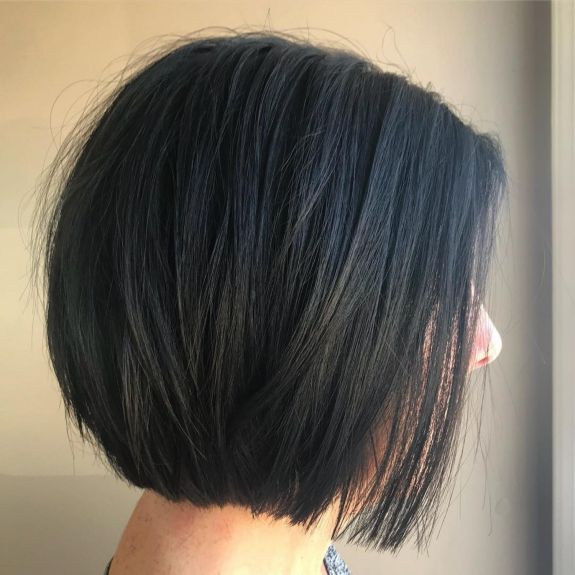 A layered bob with blunt edges is more intense when paired with a dark or vibrant hue. The subtle layers build shape and texture to your tresses while allowing your color to shine. Wear straight for a neat, polished look.
#6: Dishwater Blonde Bob with Layers and Highlights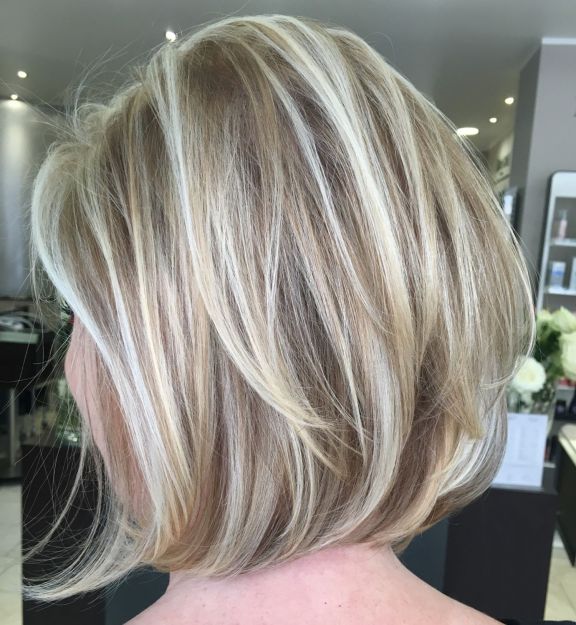 Platinum highlights on a dirty blonde base create dimension without any manipulation or styling. Light layering accentuates the haircut and promotes movement, making it easy to have a put-together look with minimal effort involved.
#7: Touchable Easy to Wear Bob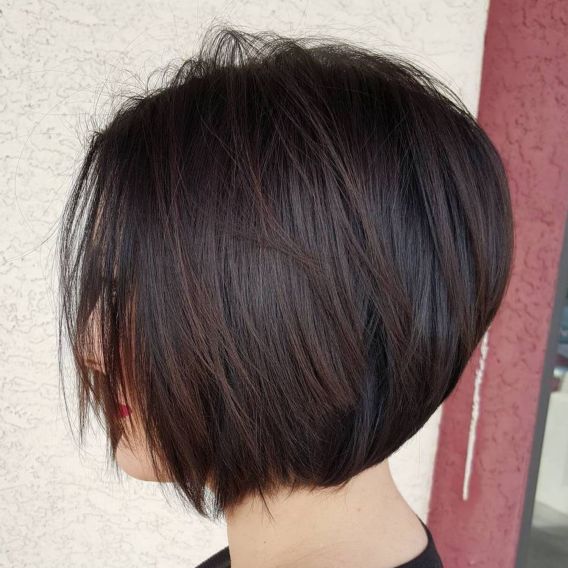 Here's a look that will have you playing with your hair and tossing it back and forth all day. For a cropped cut with expertly done layers, you'll want to go to the best stylist you can find. Get ready to get your dream haircut: scope out layered haircuts the stylists display on Instagram or Facebook, learn to explain what you want, and stray alert to any styling tips.
#8: Bronde Bob with Thin Layers Throughout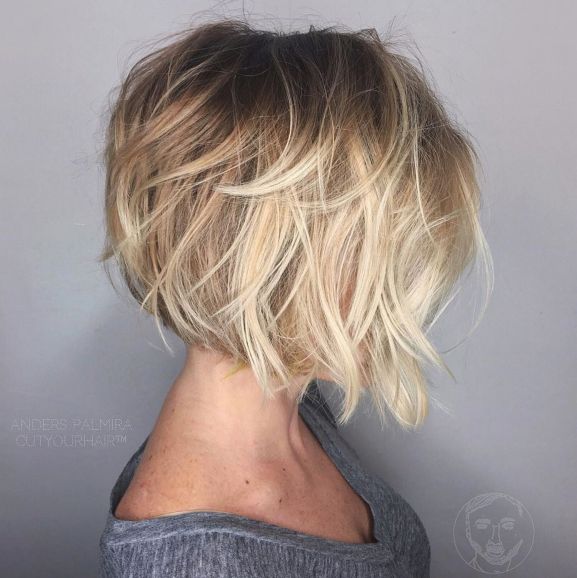 Layered bob haircuts come in many variations: not just one-length, but also angled and inverted ones. The a-line bob possesses an interesting, modern silhouette and looks stunning. Especially with tousled styling and partial balayage.
#9: Inverted Bronde Bob with Swoopy Layers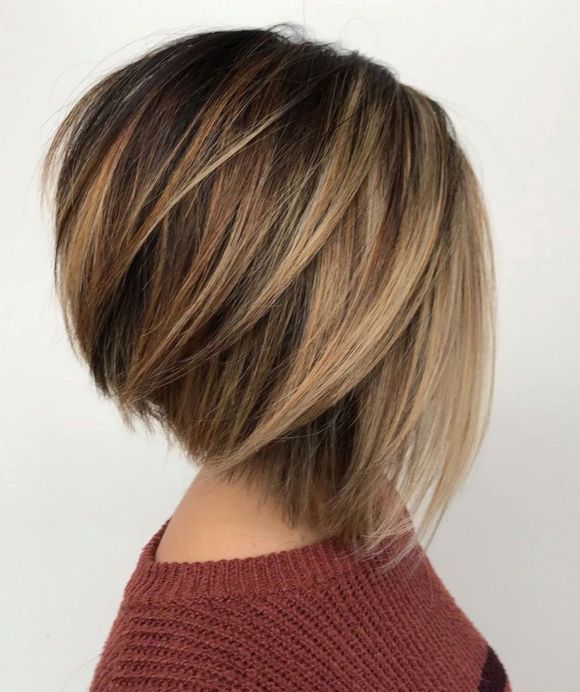 When you want a sophisticated hairstyle that is effortless to maintain, try a layered a-line bob cut. This hairstyle works well on women with roundish faces, because the long chin-length layers have a slenderizing effect. We also love the color of this particular bob: the brown tones give a surprise glint of blonde at every turn of the head.
#10: Light Cinnamon Brown Bob with Jagged Ends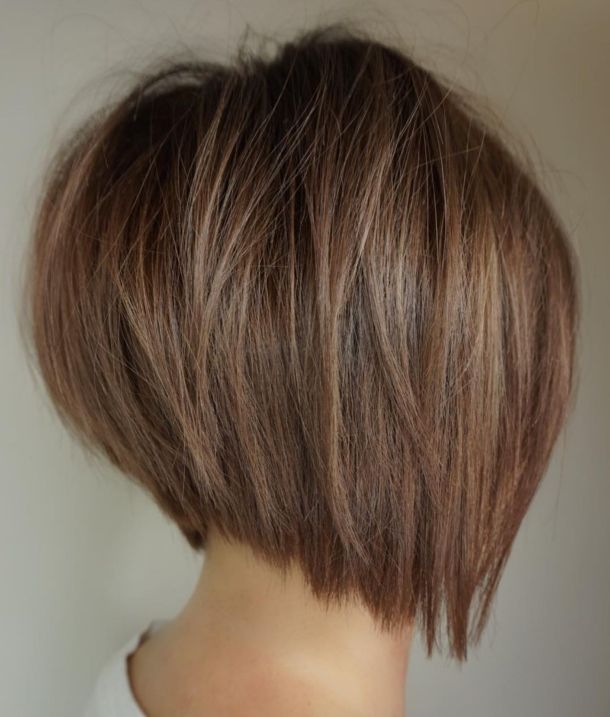 Teasing the crown section can do wonders for fine hair that would otherwise lay flat. Add an air of individuality by leaving the ends purposely jagged, and make sure the shape of the cut is slightly inverted for an extra-unique silhouette.