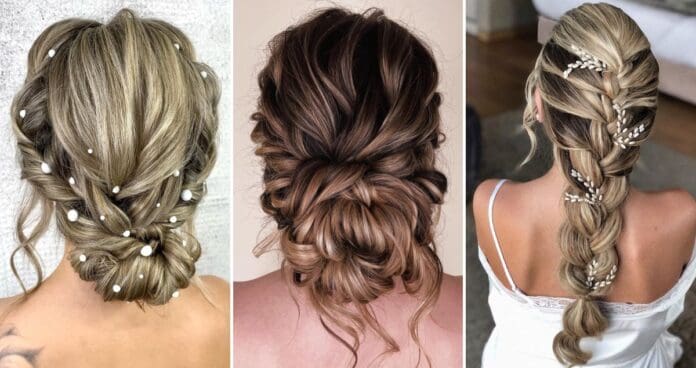 A wedding is the most special occasion in every woman's life. And, of course, each lady wants to look fantastic and impress guests with her amazing look. If you have already chosen your perfect dress and convenient shoes, it's time to care about the little things that make the image even more impressive. Of course, a modern bride look cannot be amazing without an attractive and stylish hairstyle. The selection of wedding hairstyles is now insane, and we want to share some of them with our readers.
There are numerous amazing hairstyles, and every lady will definitely find something suitable for herself. It's critical to consider the dress type, facial features, and preferences to choose a perfect coiffure for your special day. On this page, we have gathered some ideas concerning the best bridal hairstyles of all time. Sit back and be ready to pick the one you like most right now! Our selection contains easy wedding hairstyles for any hair length.
Wedding Hairstyles for Long Hair
Long straight hair is perfect since hairstylists can make any coiffure you like. Your hair color doesn't matter. Down wedding hairstyles for long hair are considered the most stylish alternative since minimalism is on top of all trends. You can leave your hairstyle straight and add some accessories, such as bows, rhinestones, or pearls.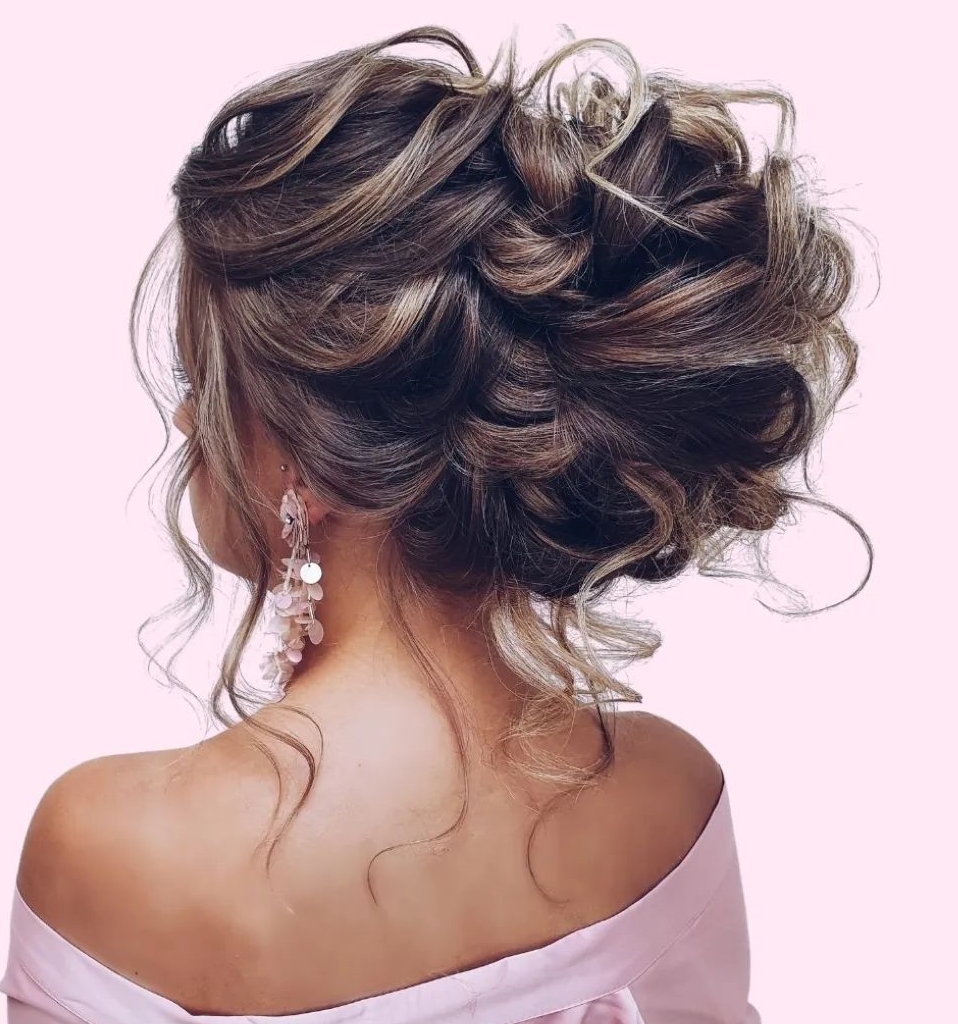 Many ladies prefer having light waves, which are definitely the best wedding hairstyles option. It looks elegant and romantic, lightly framing the facial features and highlighting the makeup. Moreover, such a coiffure is perfect for fine hair since it immediately adds volume. Even though it is one of the most popular bridal hairstyles and is simple, nothing can replace the classics.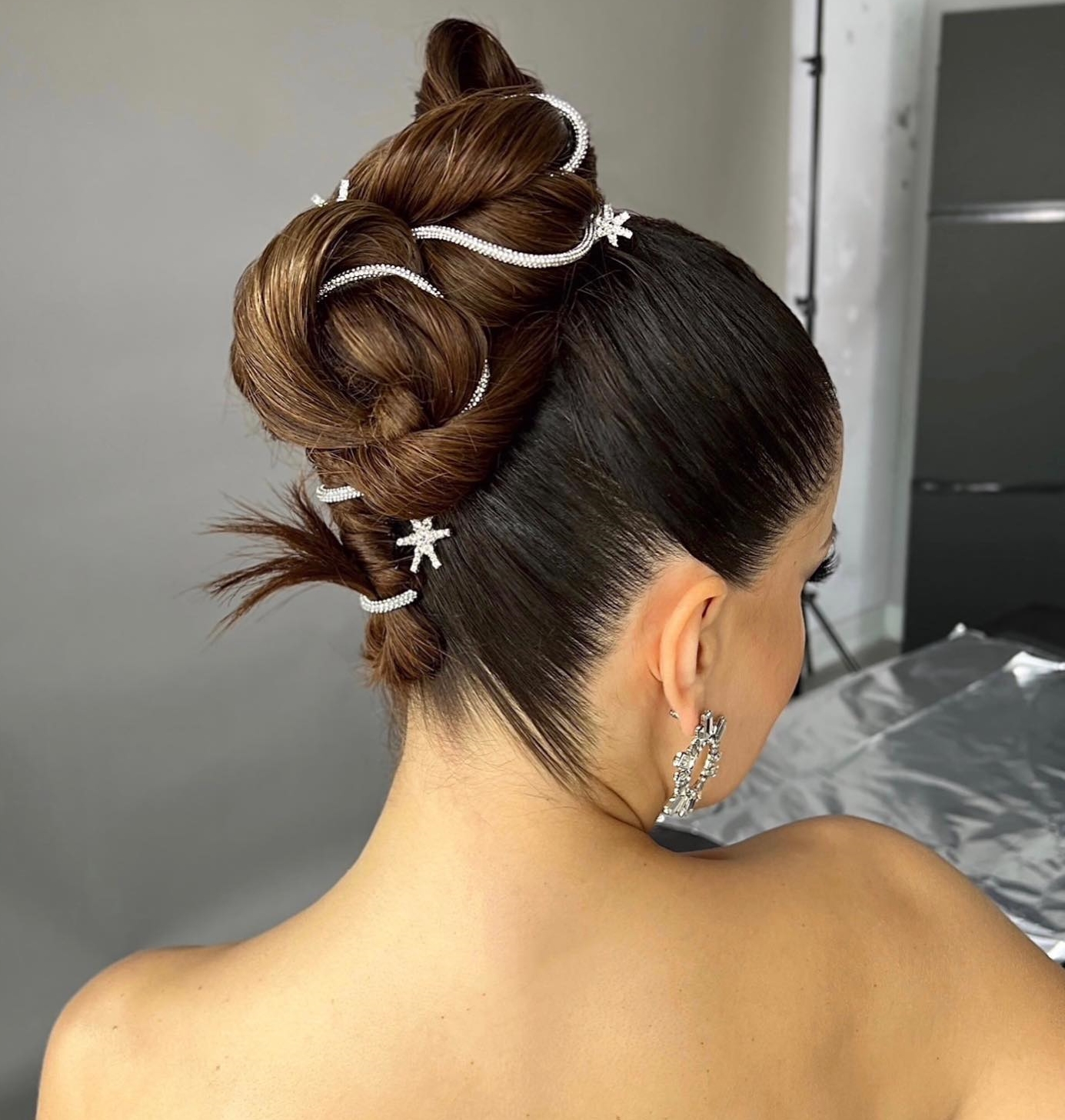 Medium Length Wedding Hairstyles
Many ladies think that it's impossible to come up with a nice bridal hairstyle unless you have long hair, but it's not true. Ladies with medium length hair can enjoy a huge selection of wedding hairstyle ideas. Of course, the most common option is making light waves and adding a nice hairpin. Such a coiffure always looks laconic and discreet, suiting any wedding dress you've selected.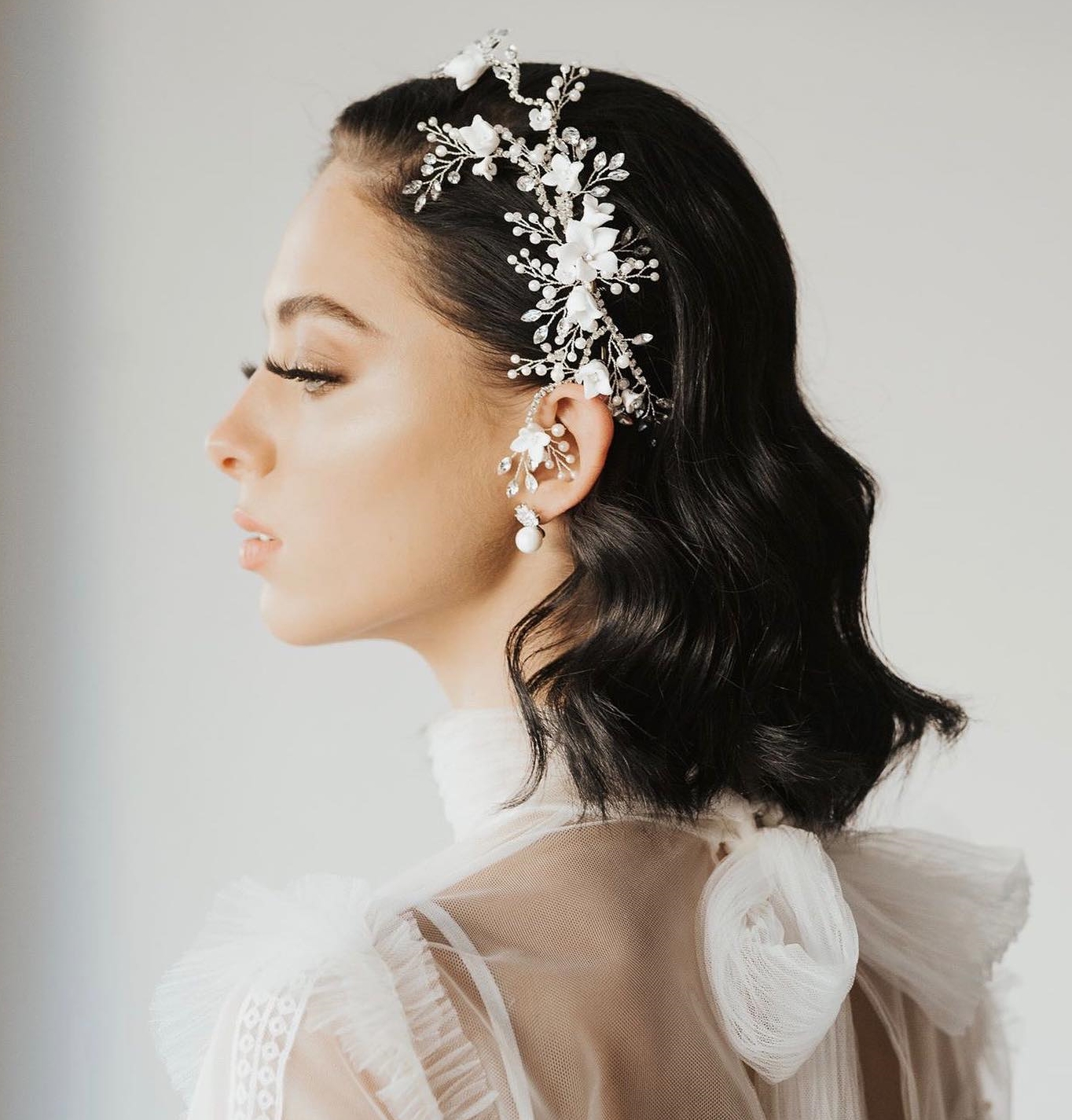 You can also make an elegant low bun that will highlight your cheekbones and make an accent on makeup. Many ladies prefer leaving hair straight and just doing a light styling. Since minimalism and natural beauty are in trend, you will look irresistible, especially if you have a bright elegant wedding dress.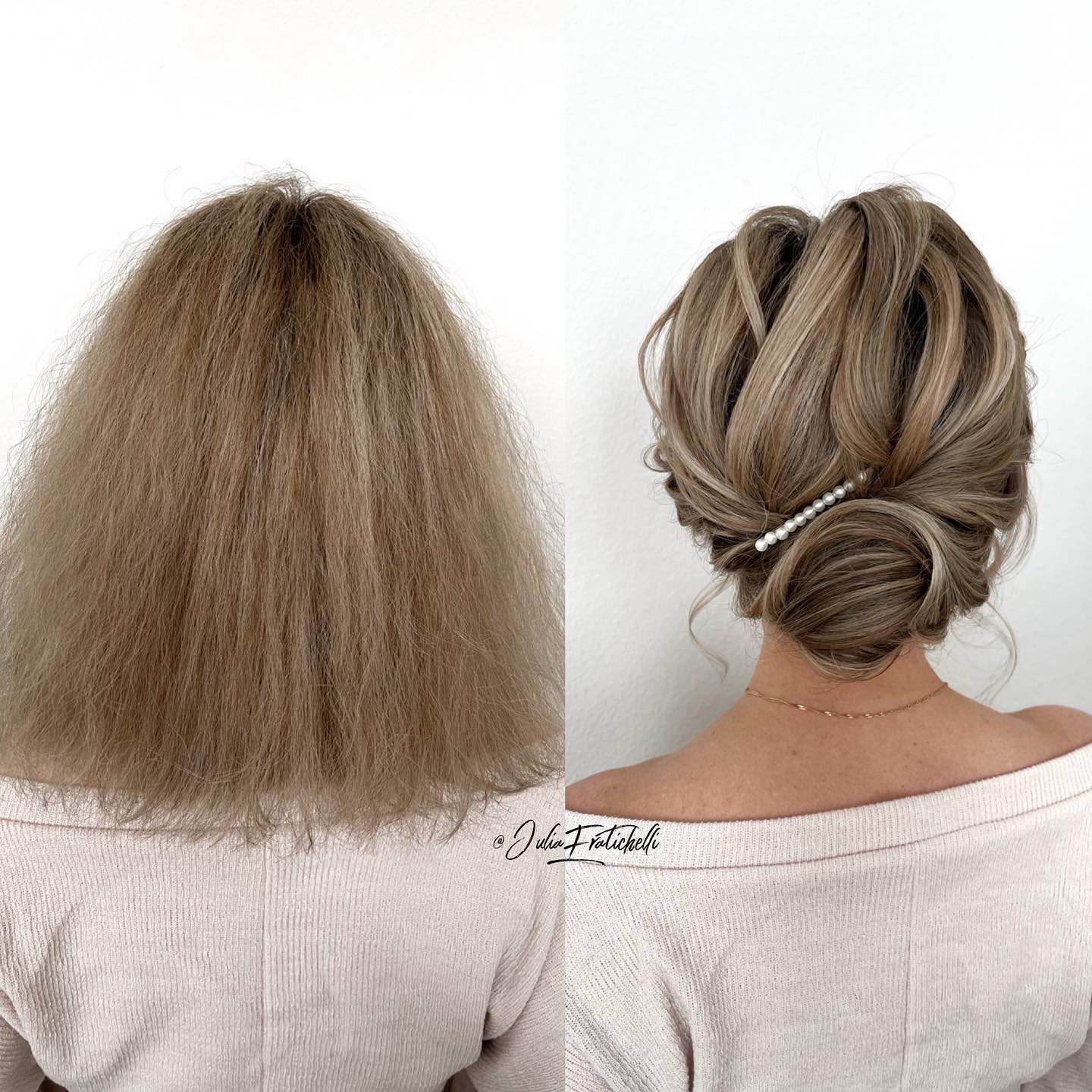 Wedding Hairstyles for Short Hair
Short wedding hairstyles may vary according to your hair length. For instance, if you have a bob haircut, you can make light curls and put on a cute hair coop. Women with short straight hair often choose a bun, always looking classic and relevant. You can decorate it with pearls or rhinestones, but it's better to avoid them if you have a sparkling dress.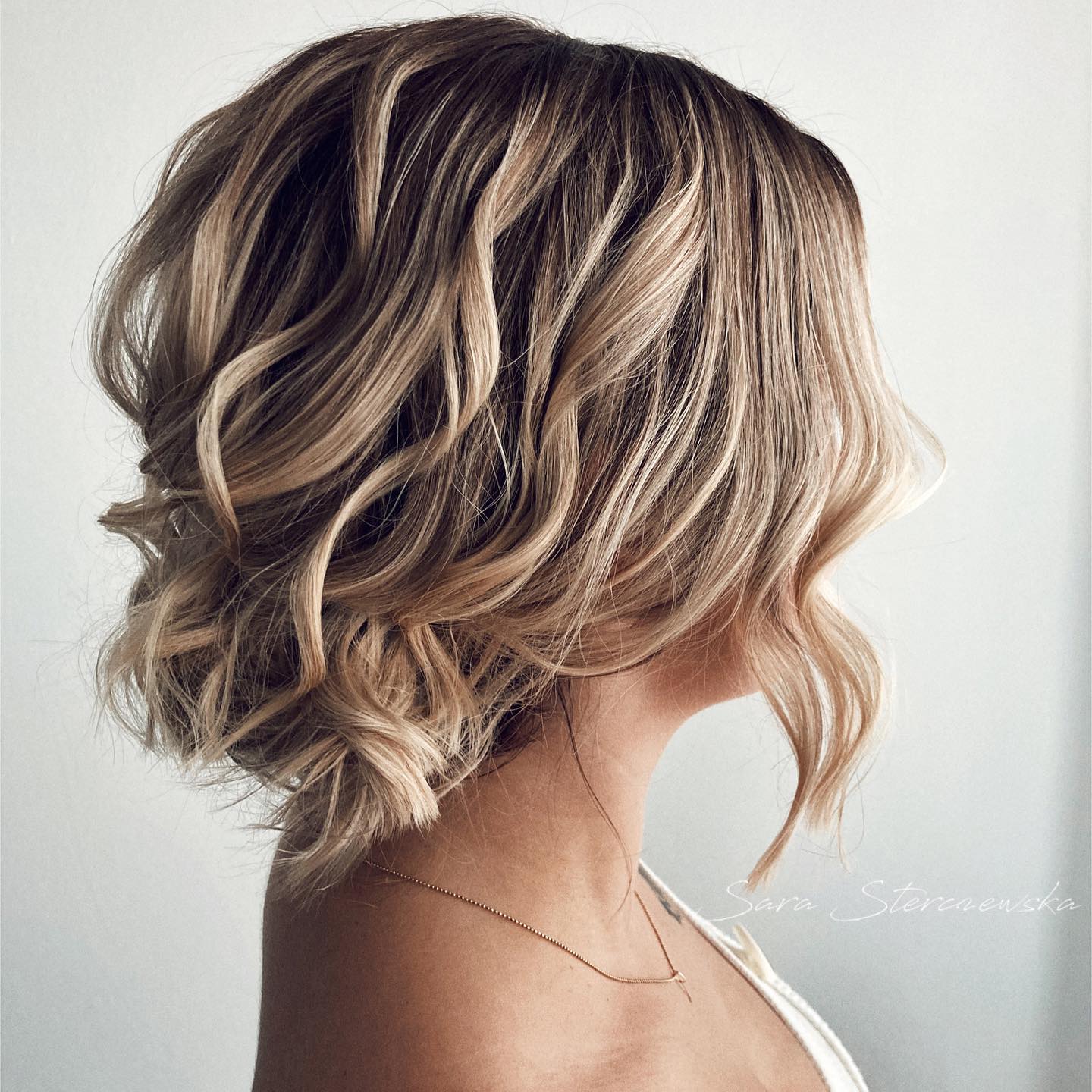 Those with very short haircuts, such as a pixie, can't make an unusual coiffure since they lack hair length. In such an instance, you should better leave your hair without any changes and proceed with nice styling. If you have naturally straight hair texture, ask your hairdresser to make light waves and fix them with a styling gel. This simple wedding hairstyle will accentuate your dress and the overall look.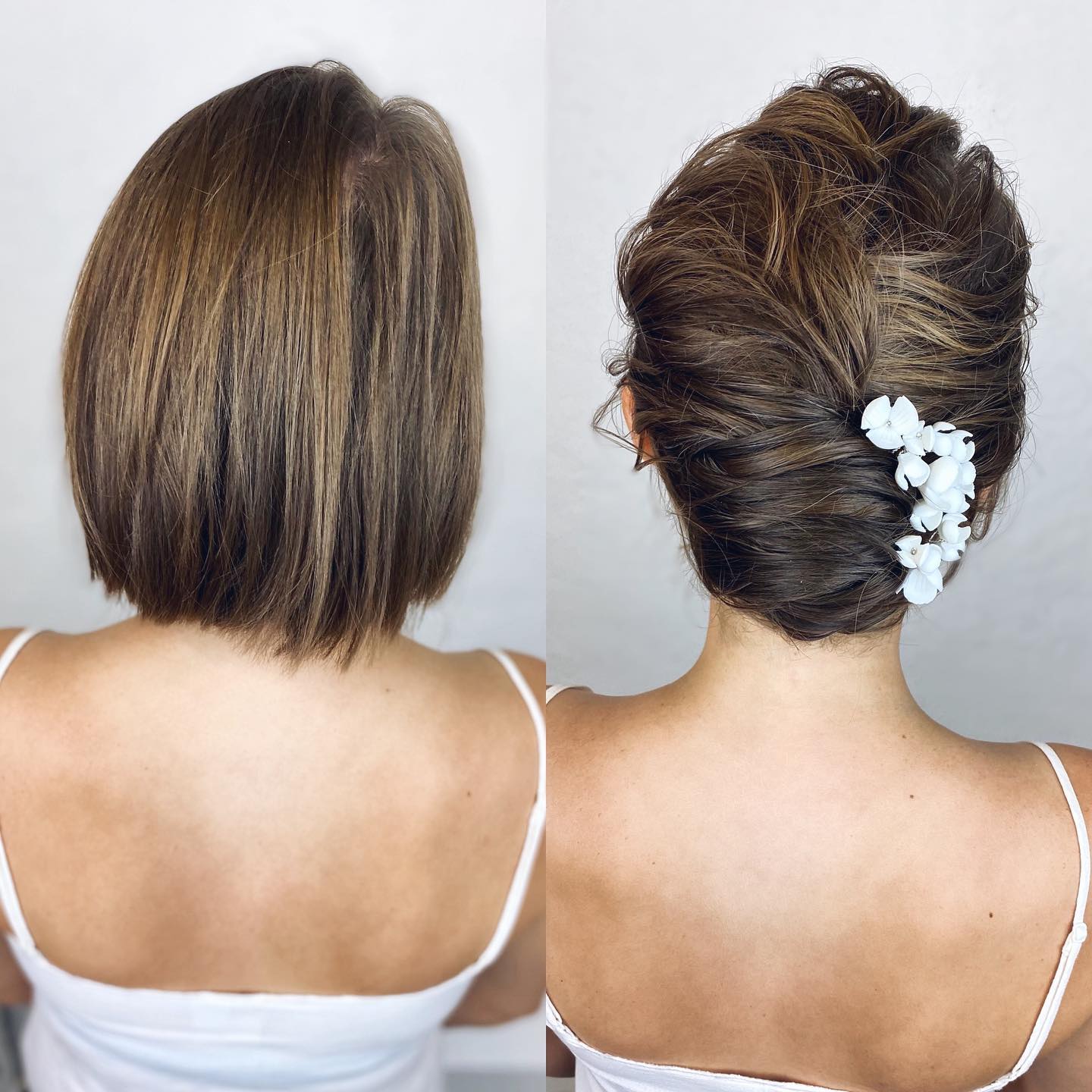 Wedding Updo Hairstyles
It's hard to imagine romantic wedding hairstyles without updo coiffures, and there is a huge variety of them, so every woman can choose something according to her preferences. For instance, loose curly updos are a classic option suitable for everybody. Such a minimalistic hairstyle will make you look elegant and romantic, suiting any wedding look.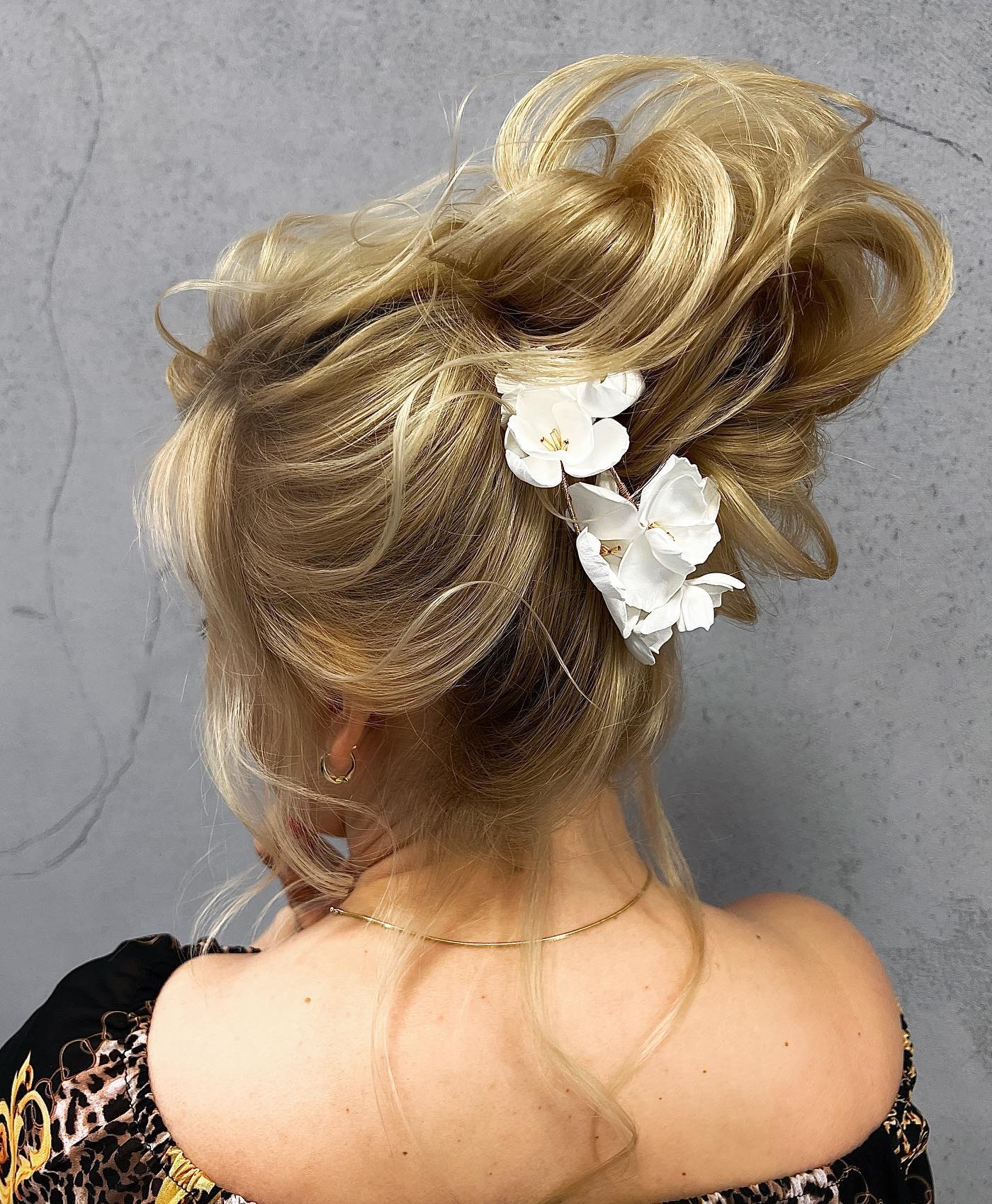 One more alternative for bridal hair is a tight bun. This gorgeous updo suits ladies with straight hair and doesn't require significant effort to proceed with styling. Modern brides mostly prefer leaving natural texture without using numerous hair products, such as styling gels and mousses.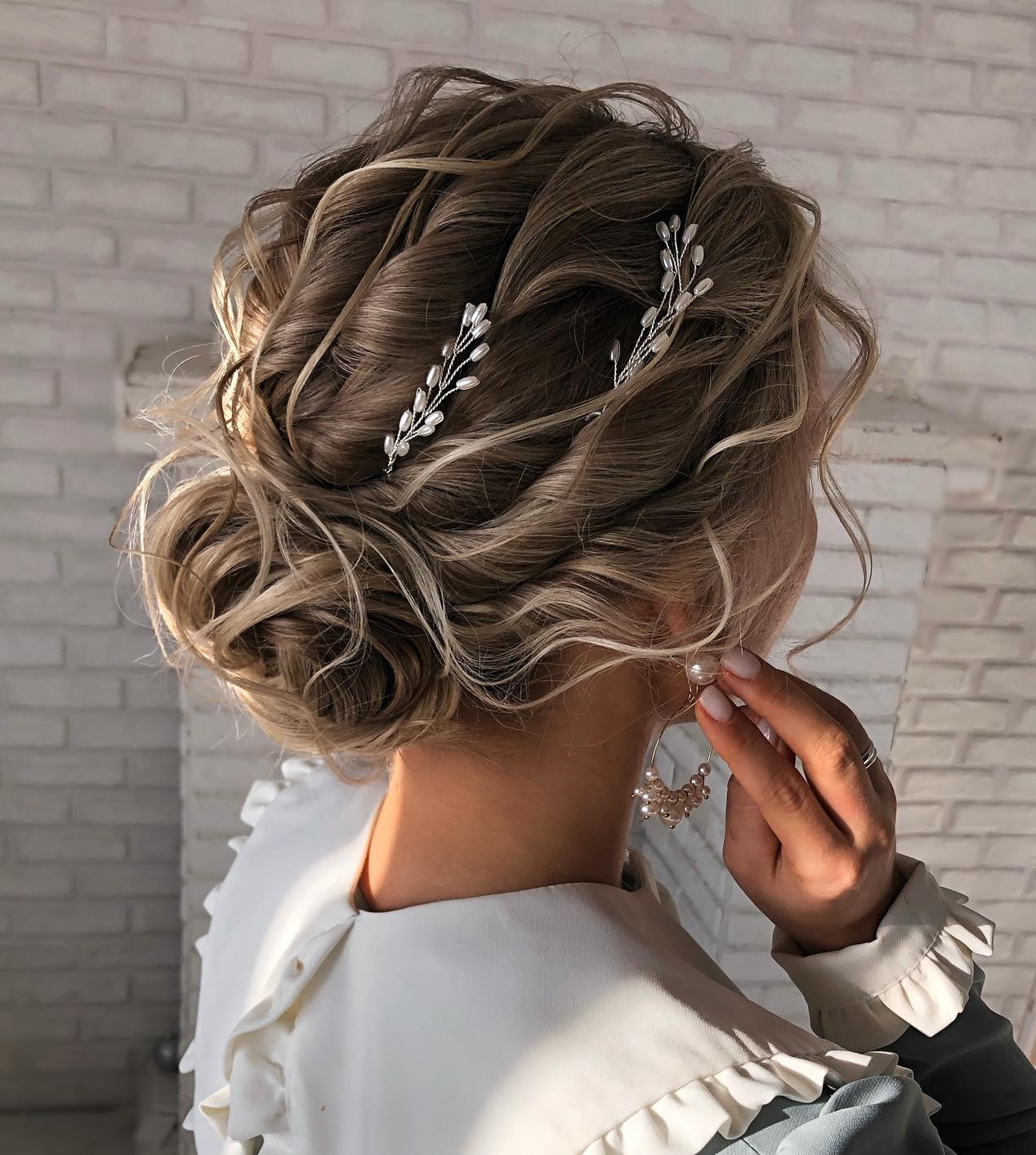 Down Wedding Hairstyles for Long Hair
Ladies with naturally long hair can enjoy numerous down wedding hairstyles. Many prefer to make loose waves and add flowers or accessories. You can also proceed with several little braids gathered in a ponytail or make a hair wreath. It's considered a classic bridal hairstyle, allowing to highlight the facial features. Add natural makeup and feel irresistible on your special day!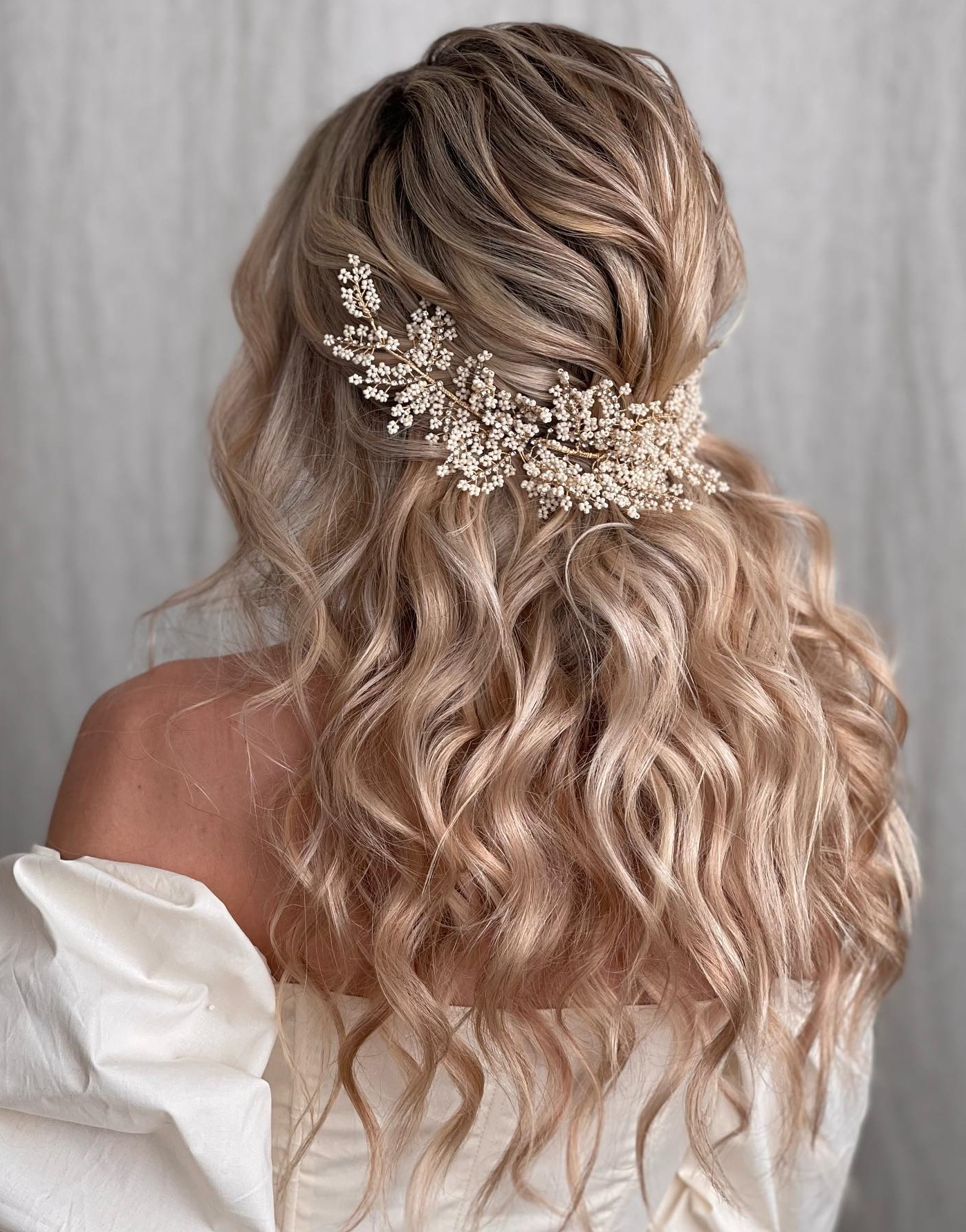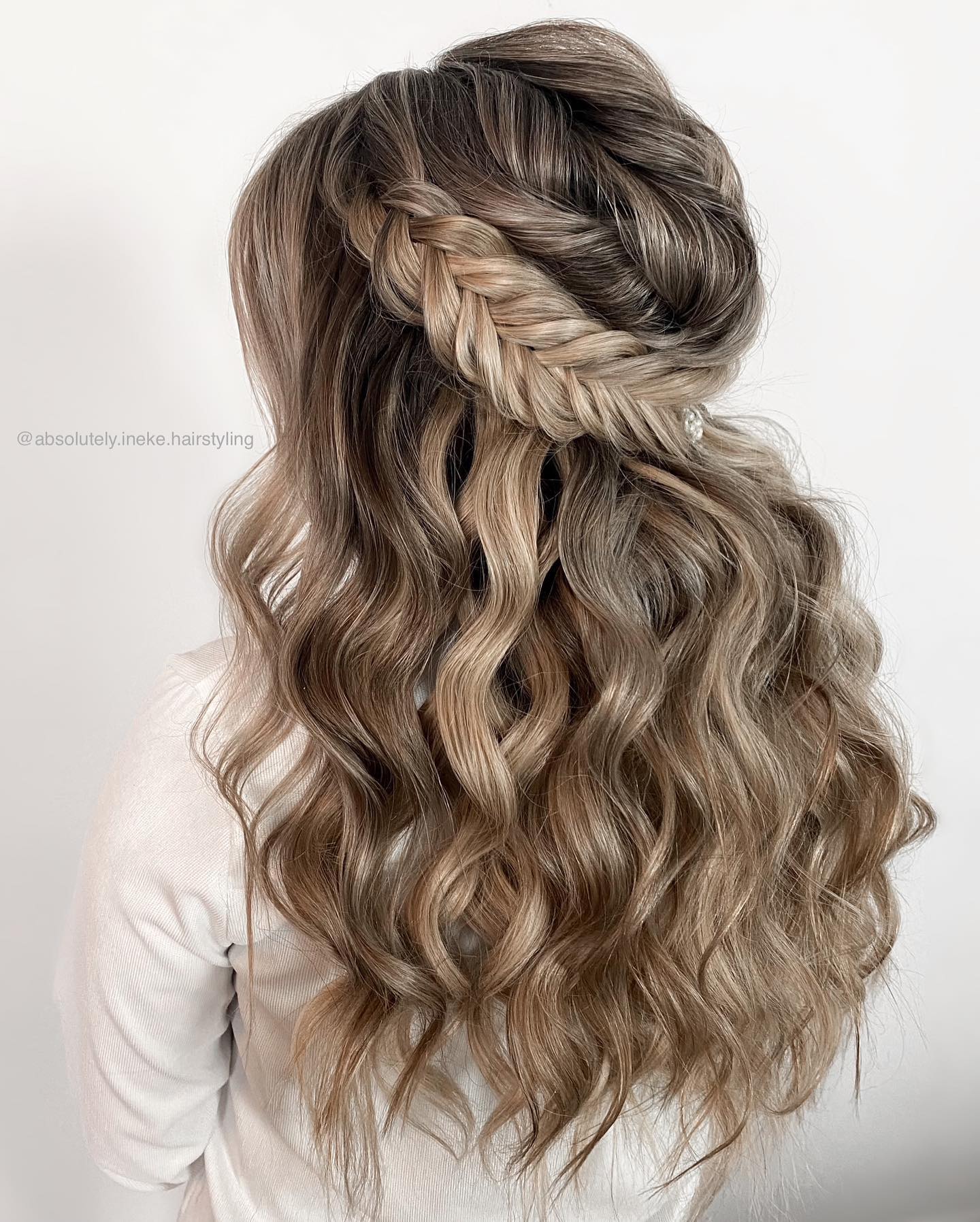 Wedding Hairstyle with Bridal Hair Comb
Making simple wedding hairstyles may be boring for many ladies, so they want to add an interesting element to shine! A bridal hair comb is a great idea for wedding hair decor since it looks laconic and provides an unusual accent. Such wedding hairstyle ideas are perfect for women with any hair length; just pick the hair comb of the necessary size.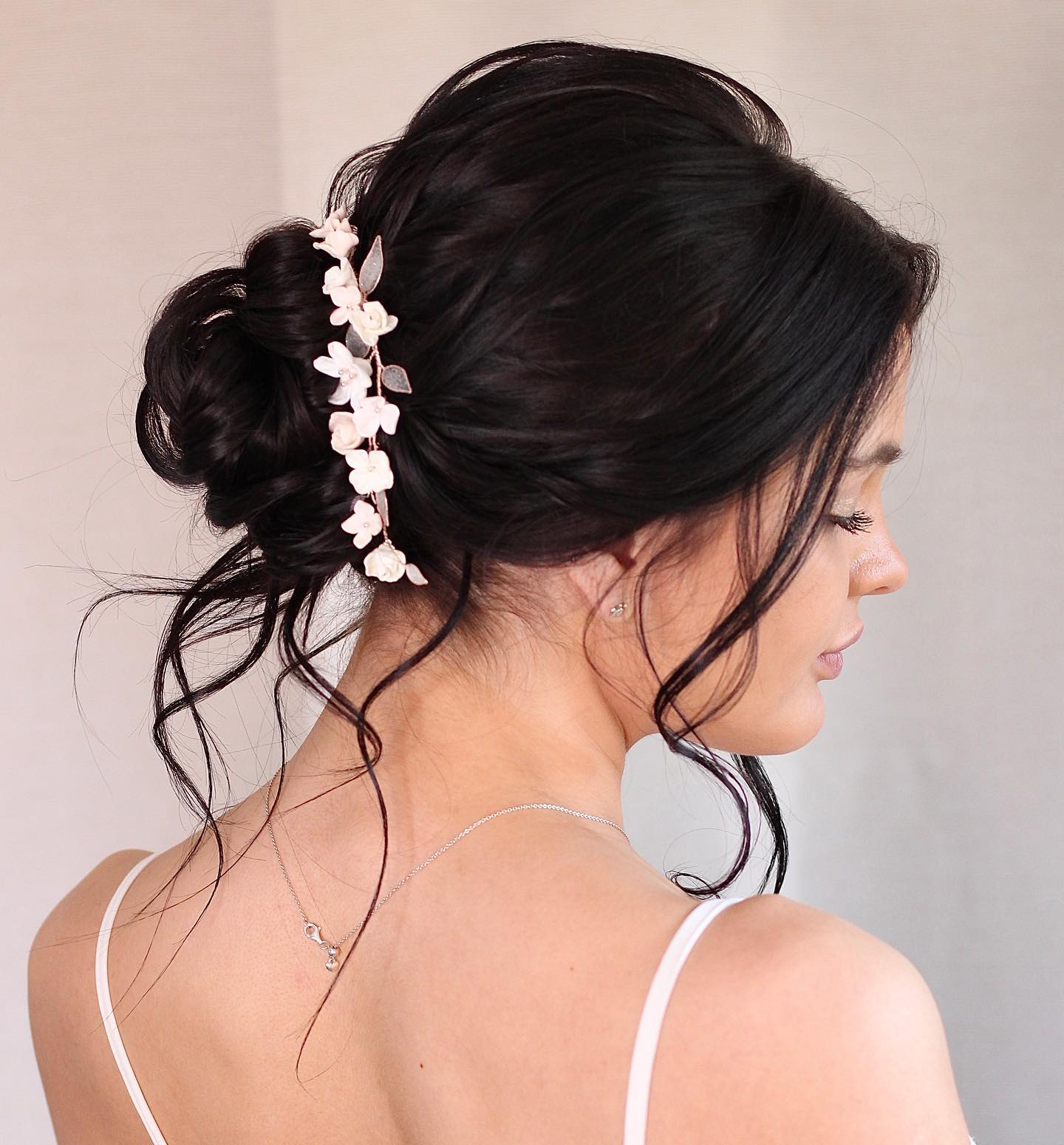 Although ladies often choose curly or wavy hair for their gorgeous wedding, straight hairstyles are also common. Choose this classic option and add hair accessories to make a bright accent on your coiffure. However, remember that if your dress is decorated with many rhinestones and sparkles, it's better to avoid bright hair combs.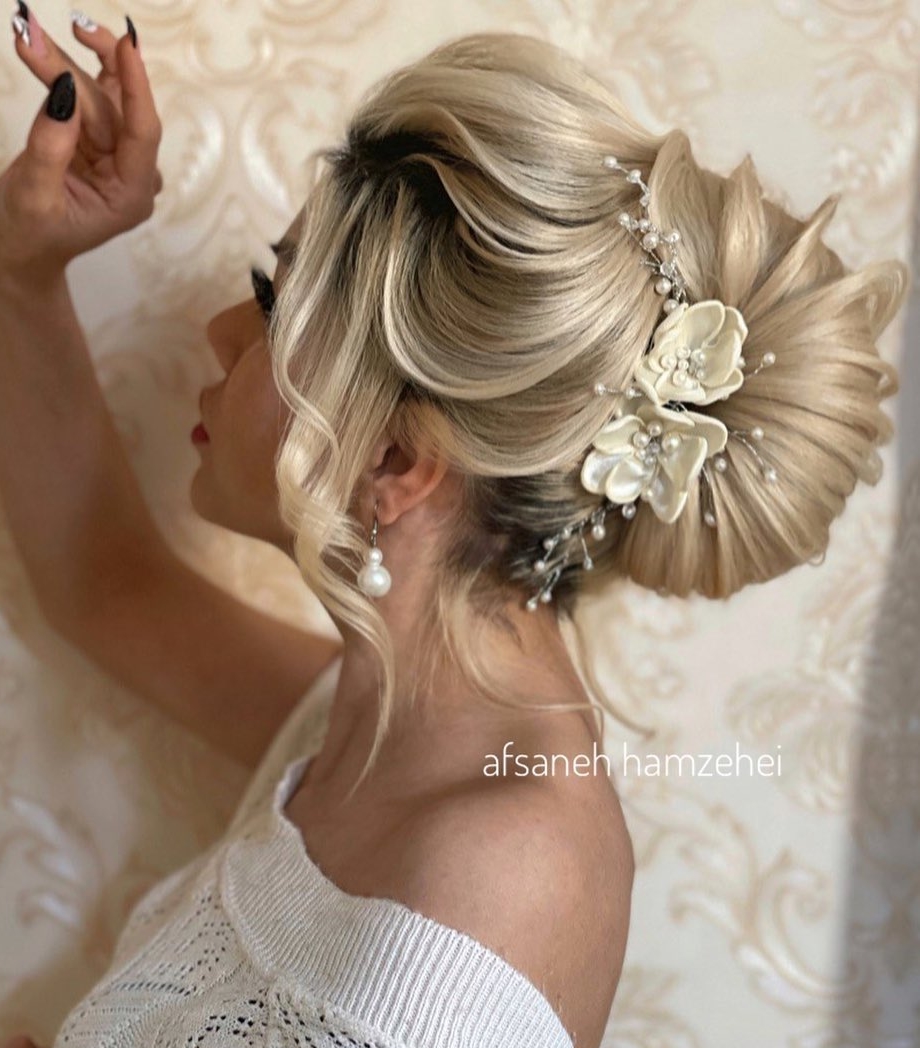 Half Up, Half Down Wedding Hairstyles
If you want something classic but unusual, a romantic half-up hairstyle is a perfect solution for you. It's one of the simplest bridal hairdos, where you take the upper part of the hair and make a loose ponytail or a braid. It's a gorgeous idea for your curled long wedding hair. You can also proceed with such a coiffure with medium-length hair; just ensure to make light waves. And this half down wedding hairstyle is even easier to make for women with natural curls.