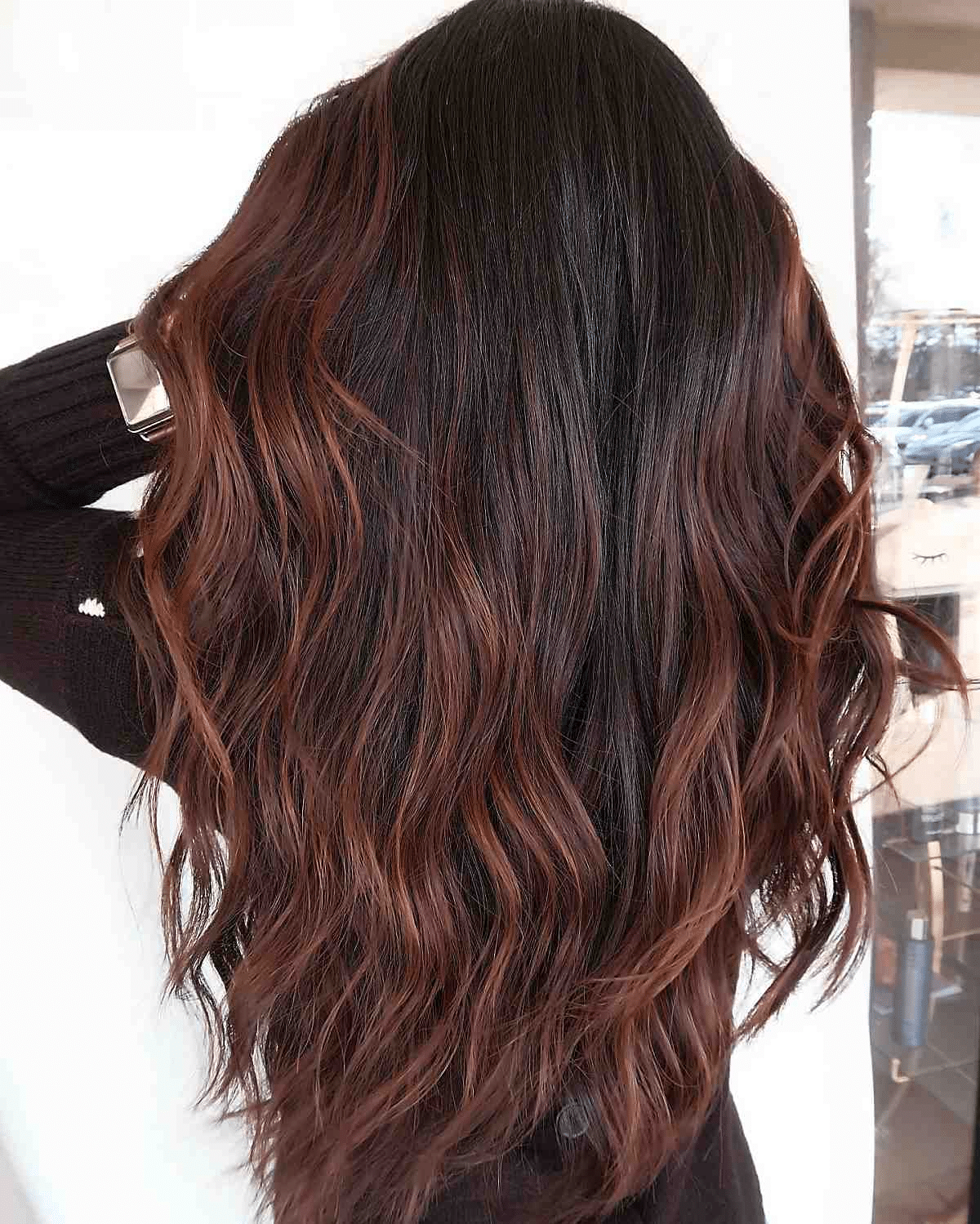 A Soft Blend of Rich Chocolate Brown and Bold Caramel Shades
The chocolate brown caramel shade will solve your hair color problems! Wear this combination to achieve a seamless yet chic style of your hair. If you want to keep your brown hair while making your face a focal point with a darker shade then these caramel highlights will be a miraculous solution. Due to the depth and dimensional look it offers, girls with any complexion can get it done confidently. To be specific, skin tones from cool to medium ones will rock the look. Style it by using Schwartzkopf Royal color on the roots followed by painting the dark brown lowlights by Schwartzkopf Viviance, and Schwartzkopf Blonde Me Lightener for the balayage. For keeping your roots and ends fresh, get one to two sessions for the touch-ups. You can increase the balayage shade around your face in the third session for a more trendy vibe.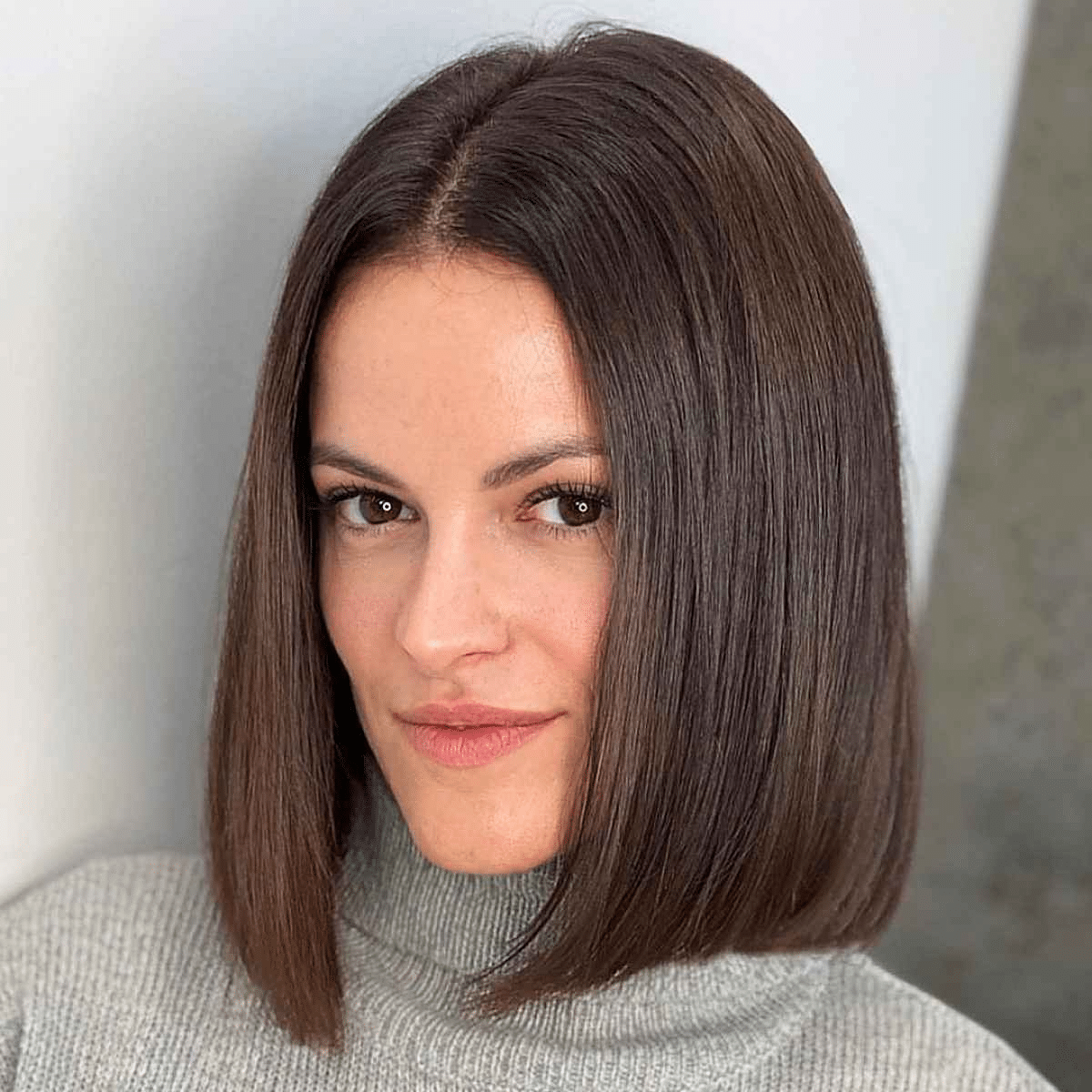 Go for Sleek Shoulder-Length Chocolate Brown Hair
A chocolate brunette with a dark brown color base is a great consideration when thinking of a hair color change. For a flawless, and chic look that is low-maintenance then ask for this combo on your next salon visit. It is similar in terms of maintenance to a haircut that can be lasted for six to eight weeks.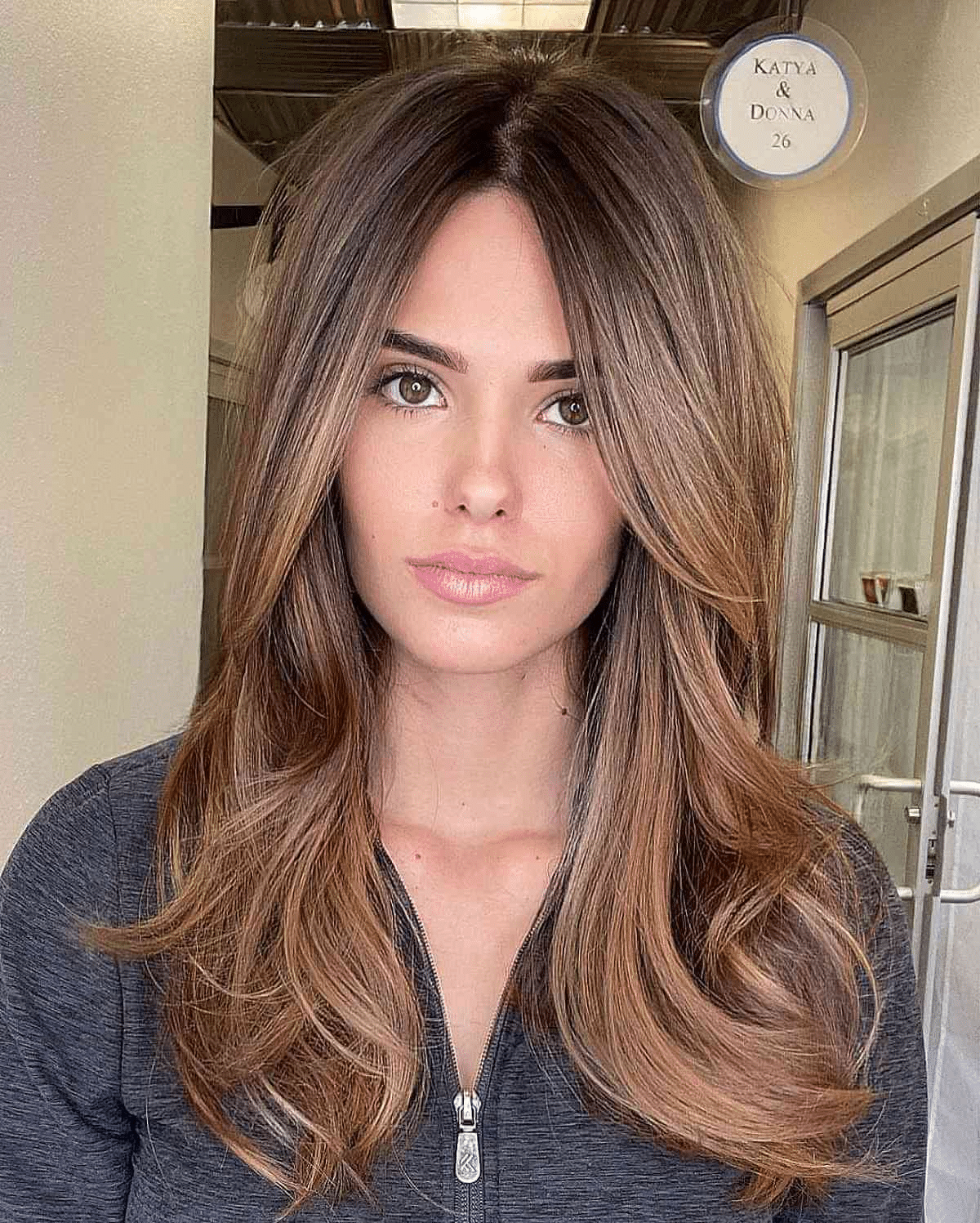 A Low-Maintenance Cocoa Milk Brunette Color
A manageable hair color option a rich chocolate brunette with caramel paint will amaze you. Focus on the ends by adding color for a more trendy feel. It will give your hair an increased movement through a balayage technique tried on brunettes. It can be easily opted for the girls looking for a low-maintenance shade and cannot make it to the salons after a period of four to six weeks. Women with a warm complexion will look fabulous if they choose to go for the rich tones in this milk chocolate hair color.
Healthy-Looking Mocha Brown To Try
For a nourished hair color just say yes to chocolate brown tones. It will reflect a refreshing and lighter shade when done properly. To get it done, mix a natural brown color with a dark brown chocolate color in the shade of deep 5. For the ones having, hazel, light brown, light green, or light blue eyes this color can be flattering. For the complexion, it will best suit girls with skin that can be easily tanned or have a tone of yellow-beige, golden-brown, ivory, or peach.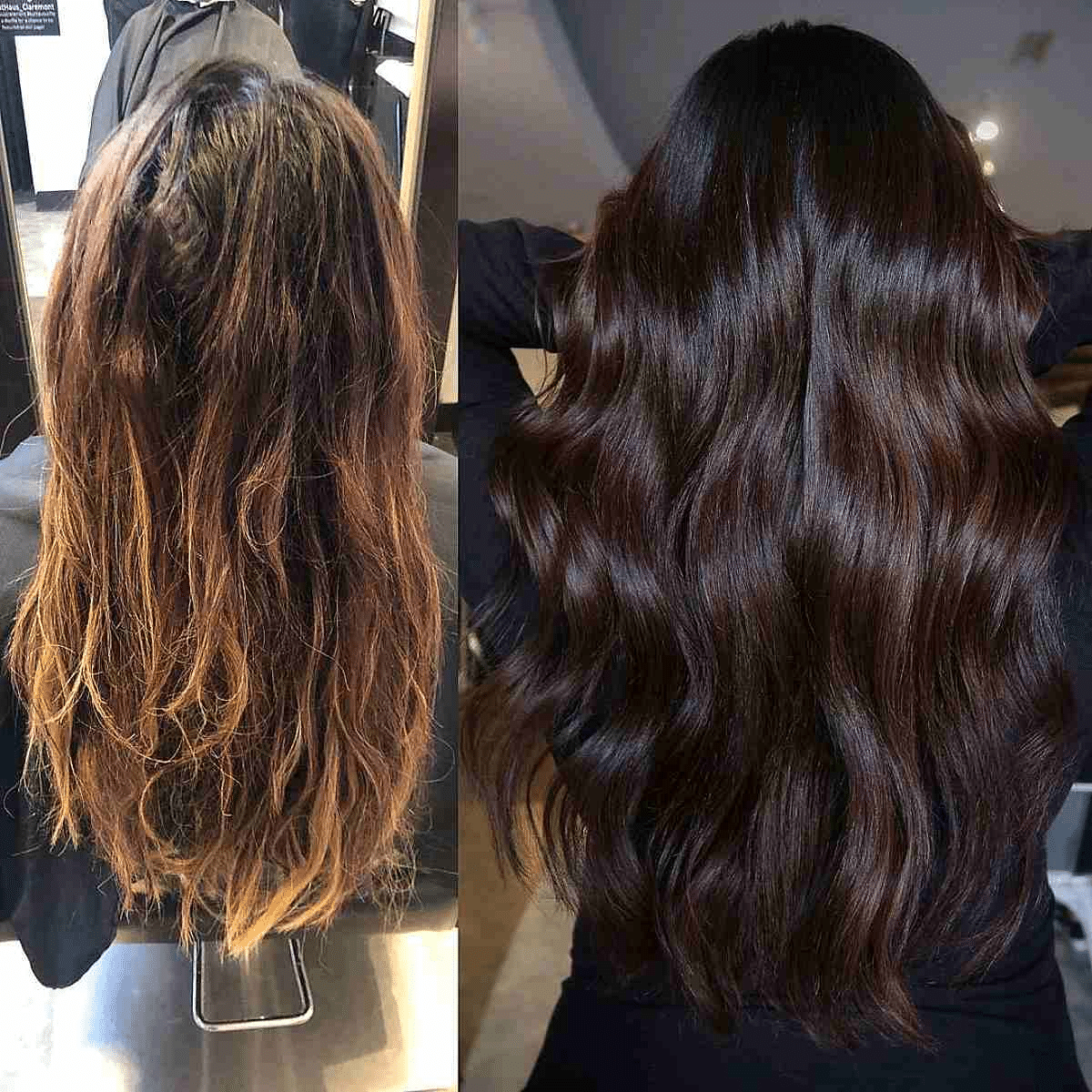 Get a Two-Toned Chocolatey Brunette Locks
Style your luscious hair locks with a dual-toned brown chocolate tint. It will crave everyone to go with this option for sure. Rich, warm, and vibrant are the terms that can best define this shade. A daring yet killer look to create for your hair!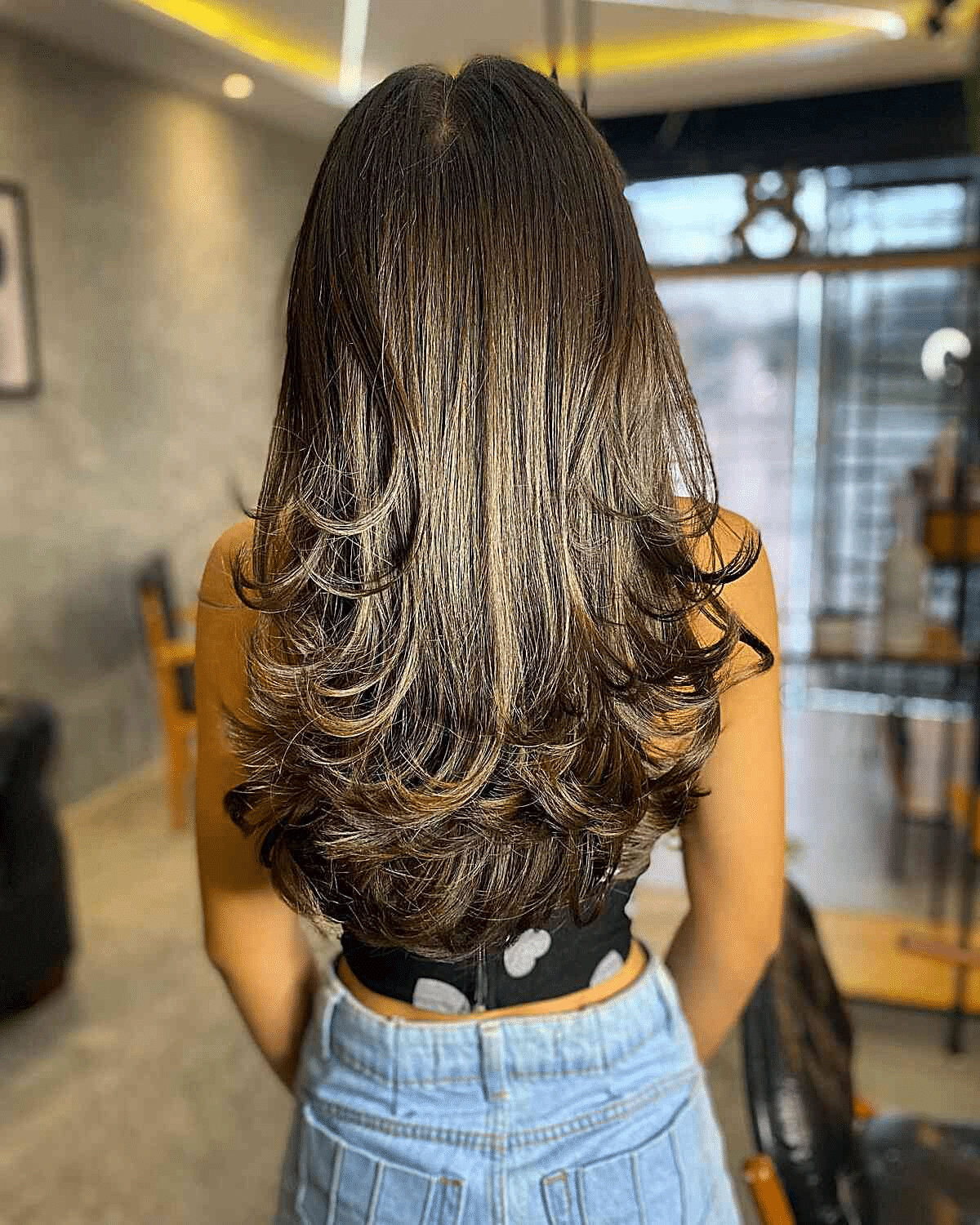 Stunning Cinnamon Chocolate Brown Layers
Looking for featured hair? A cinnamon chocolate brown color when done on a v-layered cut creates a mesmerizing appearance. The magic lies in the fact that the two, the color dimensions and the visually appealing cut together form a fantabulous style, effortlessly.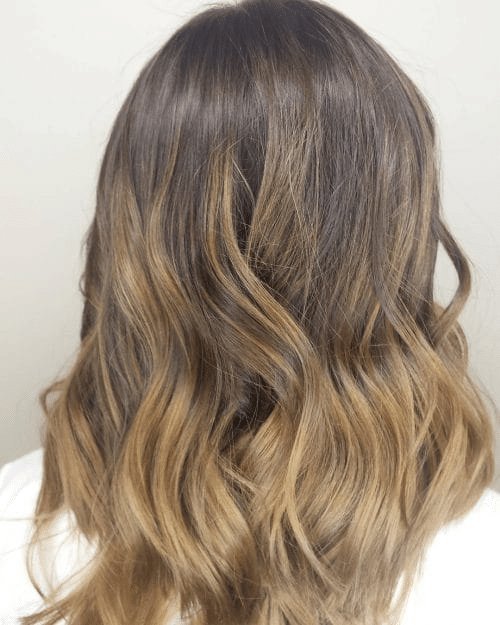 Powerful Light Brown to warm Caramel Ombre Shade
Go for a daring and powerful transformation with a shade of light chocolate to a golden brown tone. It will keep your brunette along with adding a beautiful change to your hair. A more natural look that is blended softly looks prettier, it adds a twist to the look while making the locks different and at the same time maintaining your brunette. Colors ranging from icy cool brown, spicy-sweet caramel, or s warm golden blonde, the final result will be adorable in every way possible.
For a home care regime, a color-safe and sulfate-free shampoo with a conditioner is suggested use. I recommend using Living Proof Restore Line, especially for girls who have extra curly or dry hair. To maintain shine and a healthier look I suggest using a masque after every two weeks.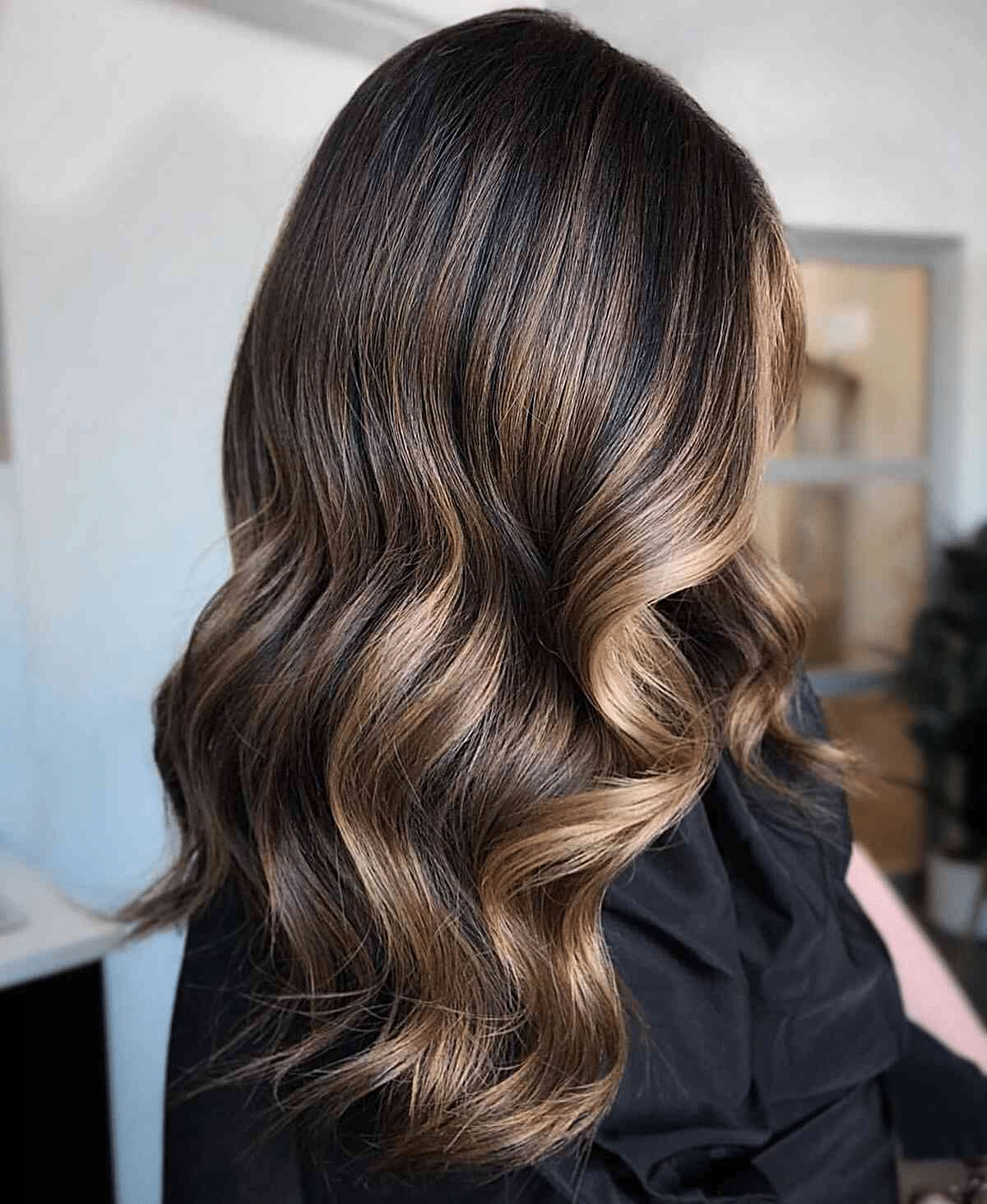 Dark Brunette to Chestnut Ombre Hair
Want to add depth and dimension to your weary hair? A dark chocolate brown base contrasted with warm caramel and chestnut shade balayage can sort all your hair color problems. A Keune Tinta Color Care shampoo and conditioner should be used to last the warmth of your color longer. It also proves to add nourishment to the hair. This balayage tone will go well for women with naturally dark brown hair with a medium-balayage complexion adding to the hair shade beautifully. This haircut can be tried on shorter as well as longer lengths to rock the style!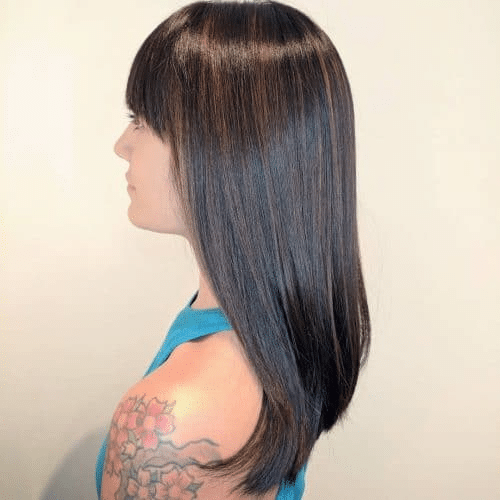 A Natural Brown Color with Hazelnut Highlights
If you have virgin level 3 hair then select the shade of chocolate brown balayage. It exhibits the highlights shining through the hair magically with a soft blend of colors. Another heart-winning factor is that the grow-out process will leave your hair prettier because no harsh tone has been selected between natural dark cocoa brown hair. It will suit women having virgin hair with levels 5 to 2, meaning deep brown to black hair color. A brunette girl can wear this rich brown hair color in a trendy way and the look can be flaunted by any skin tone.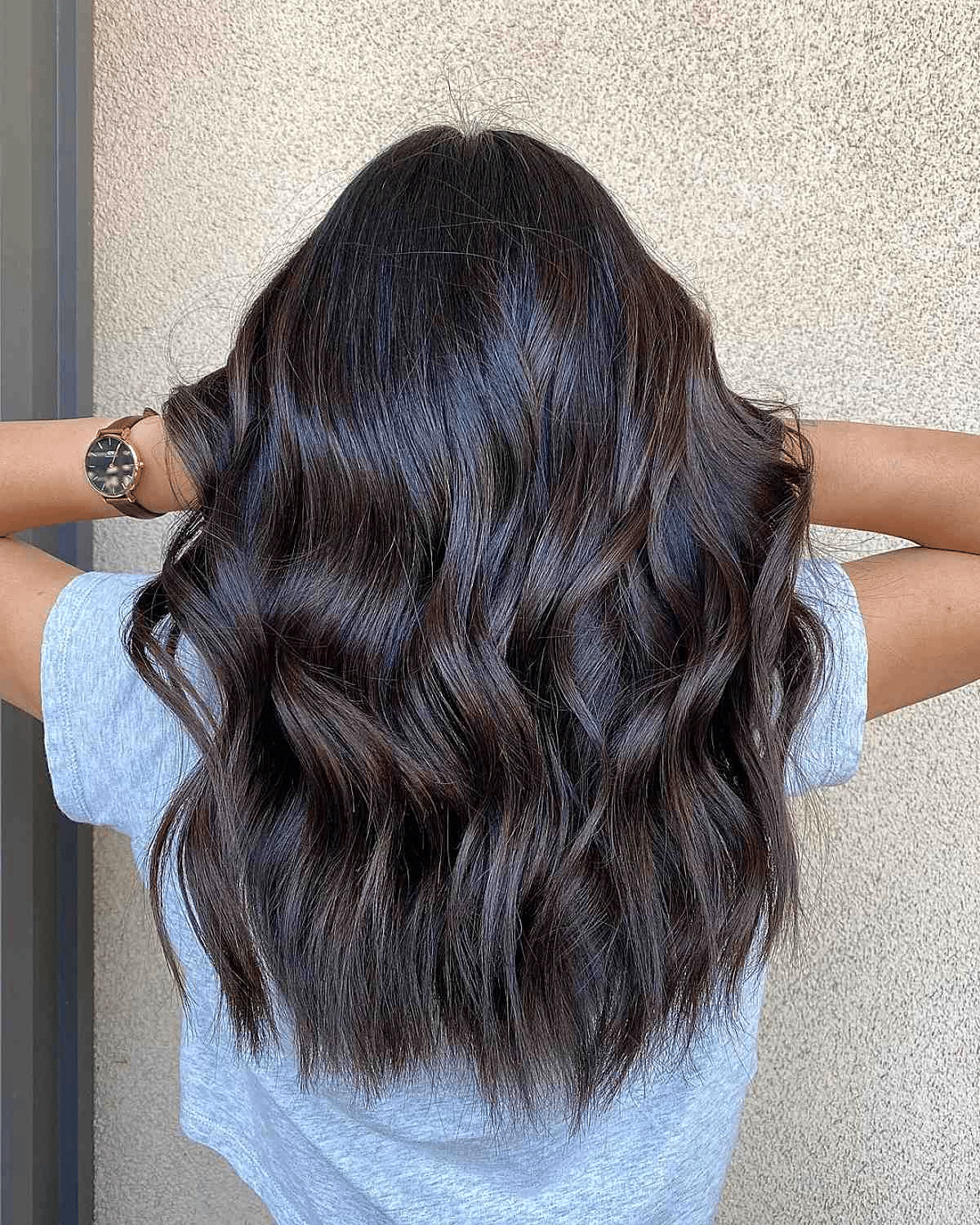 Seamless Ash Chocolate Brown Tone
If you want to opt for dimensional color, ask for an ash chocolate brown shade. It looks effortlessly chic! For women with a darker base, this shade is best to go Ve your hair a dimension. More than that, if you are reluctant to visit the salon frequently then ash brown tone is for you.
For styling this hair it is recommended to prep your hair with Redken's Pillow Proof Express Dry Primer along with diamond oil. Go for blow-drying your hair followed by curling a 1-inch section of the hair while leaving the ends as it is. To finish the look, spray Redken's Pillow Proof Two Day Extender along with Redken's Wind Blown Spary.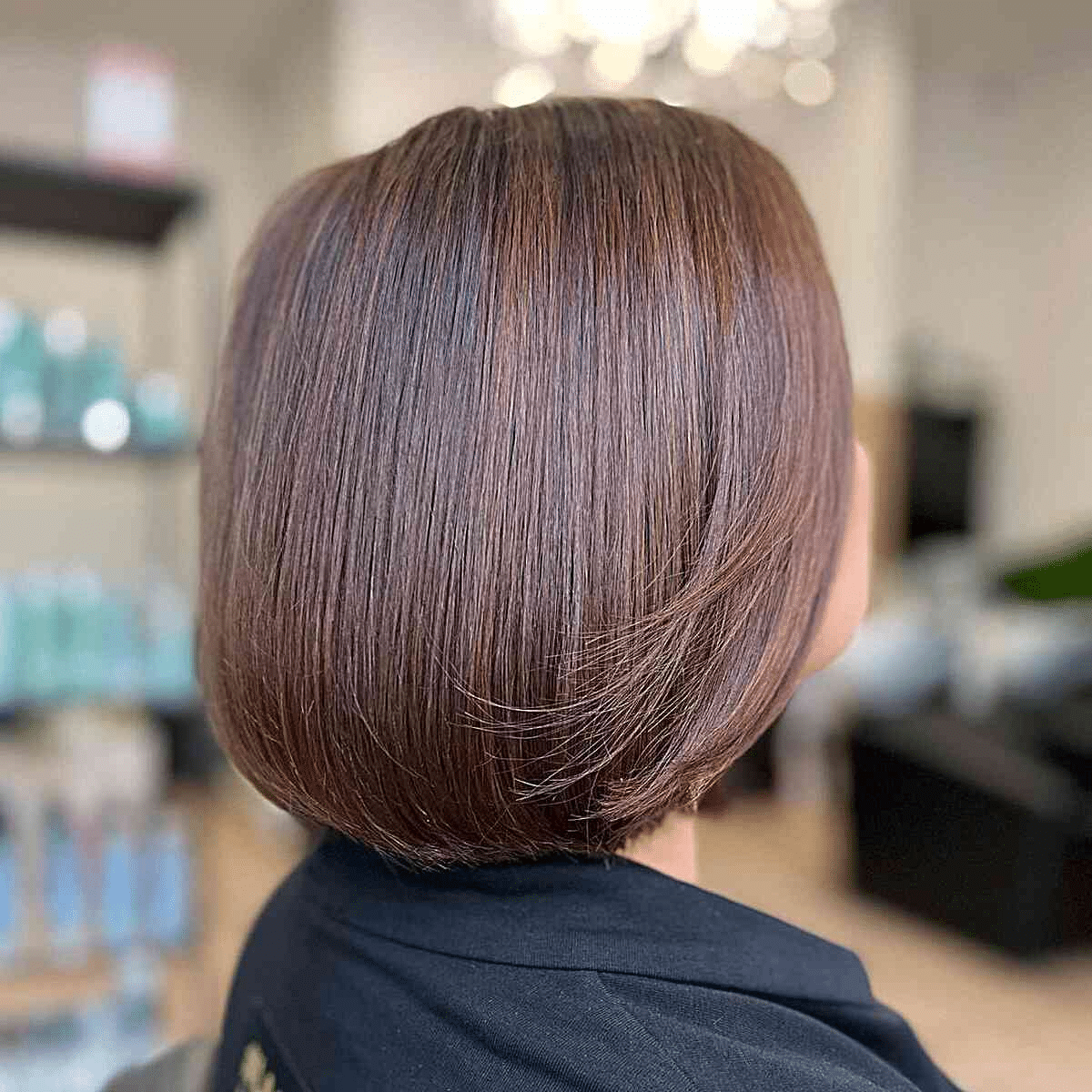 Fabulous Chocolate Brown Bob to Get
Chocolate brown hair color in a lighter tone with a short bob will make you stand out. This style will be best go with girls having medium/neutral skin tones and will look more trendy if blended with a chocolate hair color.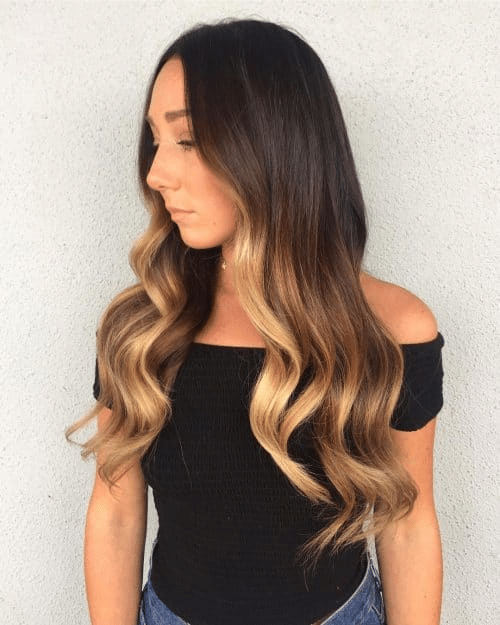 A Magical Blend of Medium Chocolate Cappuccino
A manageable yet glamorous chocolate brown hair color with dark roots seamlessly blends into the golden blonde shade accentuating the appearance. It will be the best pick for you if you want a high-contrast hair color. This hairstyle is low-maintenance and that is the major reason I suggest ladies go with this option.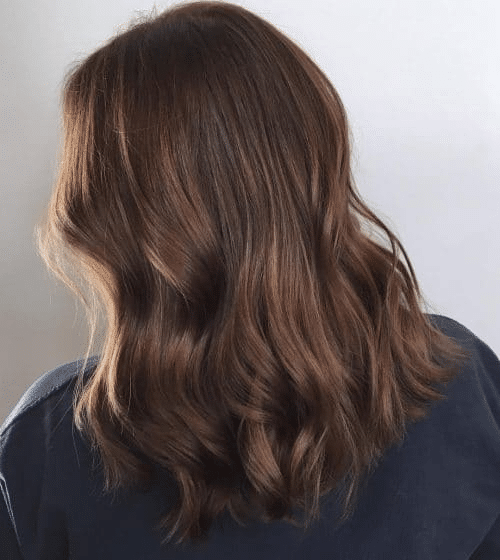 Alluring Sun-Kissed Chocolate Brown Hair
This sun-kissed chocolate brown shade is a lived-in shade exhibiting warmth without incorporating the red hues. This shade is a mix of sun-kissed highlights will along with channeling the depth of your hair. In this way, the overall appearance gets popped up instead of getting darker. Girls with almost any complexion and hair type can get it done, as it is a mid-neutral shade, neither too dark nor too vibrant.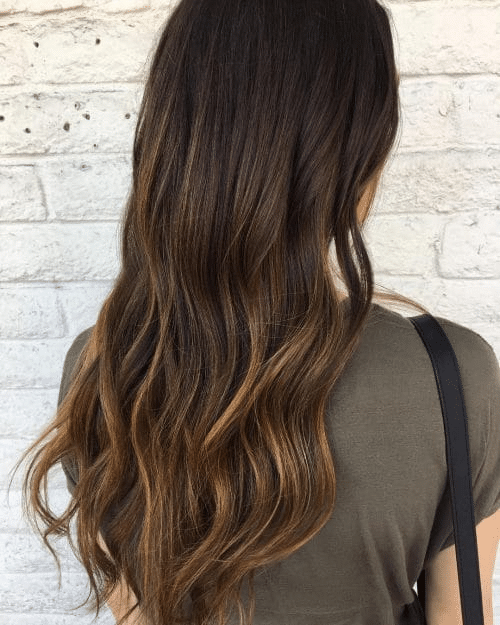 Try Creamy Chocolate Balayage Highlights
A chocolate brown balayage hair color in the free-form painting is a low-maintenance shade. It can be helpful for you if you want to reduce your salon visits, along with getting a high-end look without always being in the salon chair!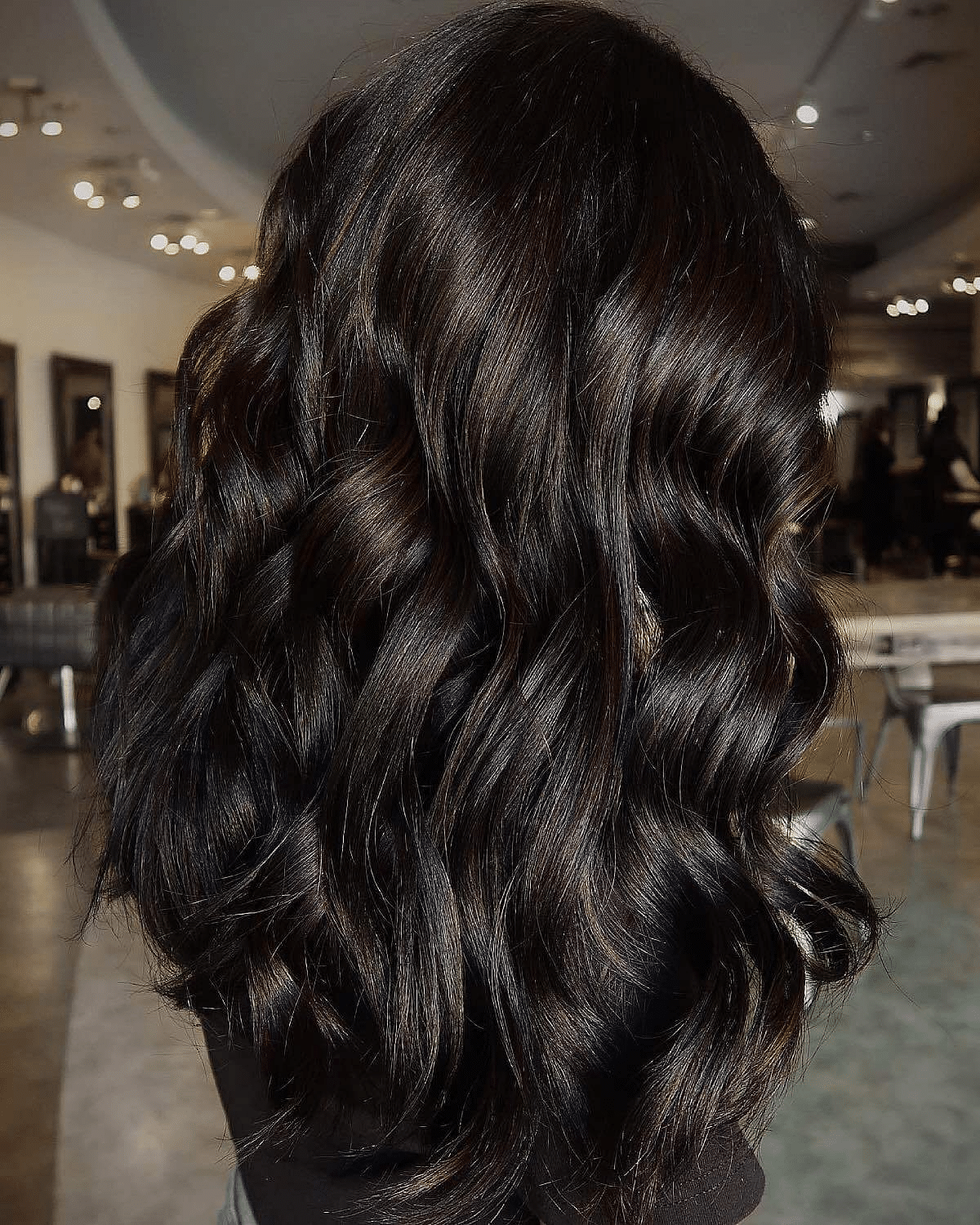 Go For a Solid Dark Chocolate Brown Hair Color
Try a subtle-looking beige or a chocolate balayage. This is a low-maintenance shade, however, it can be merged to give a lighter tone with added dimension. After every 6-8 weeks, go for glossing your hair. This shade can spice up your dark brown hair remarkably without going crazy!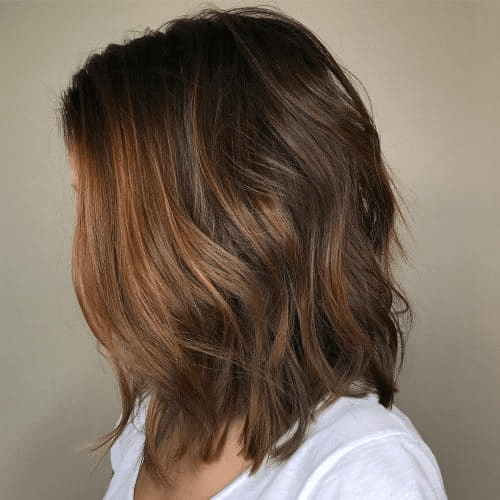 Get Brown and Bright Copper Highlights For Yourself
A ruffled long bob with a painted-hair canvas with highlights and surface layers is a great idea to add dimension and texture to your crown. This dimensional copper look is loved by the ones who are not willing to make it to the salon regularly. Painting the highlights from mid and end sections can give you the desired brightness yet with a more natural and lived-in look each time you go to the salon.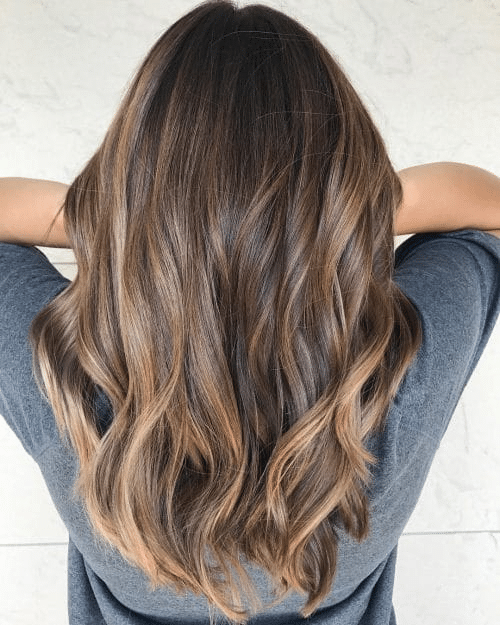 Choose a Dimensional Brown to Caramel Beige Blondes
For adding dimension to your hair color to your rich brunette shade, this option is designed for you! If you can wear warm tones with confidence then ask for a dimensional caramel beige blonde balayage color in a painted manner. This contrast will suit you well if you want to increase the lifetime of your balayage shade without going for a harsh tone.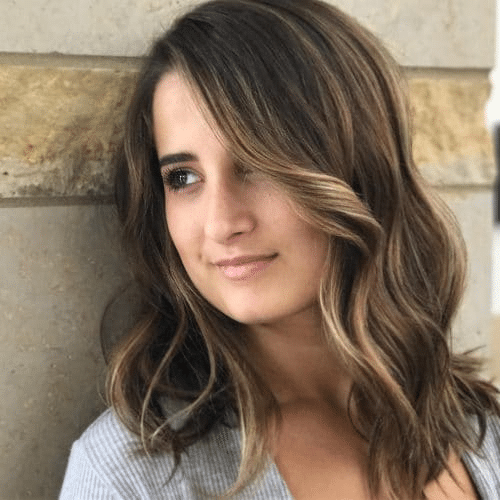 Adorable Sun-Kissed with Dark Lowlights
This shade reflects sun-kissed chocolate brown pieces of the color that are highlighted throughout your mane. The light bouncing back looks like you are soaking in the beam of sunlight and the magic is due to the natural light. Dark chocolate hair color will go for the girls with natural levels 5-7 and also suits pretty well on sleek to medium hair. Goldwell Oxy and 30 Vol for highlights along with Olaplex. Super dark chocolate lowlights with Colorance Cover Plus level 5, will add a much-needed depth to your hair. At a glossy shade at the end by Redken Shade eq.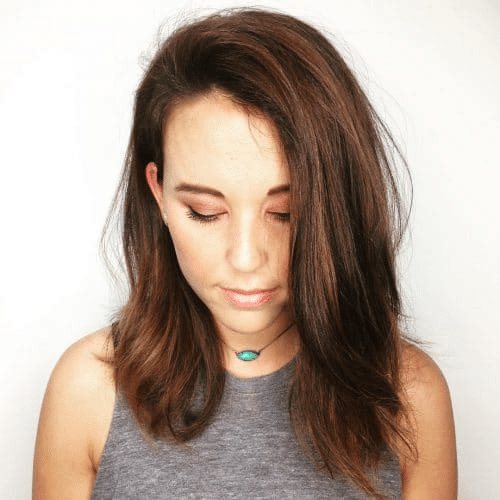 Glamorous Golden Natural Balayage on Layered Mid-Length Hair
For increased movement along with a natural hair texture, ask for a chocolate color shade on a textured mid-length cut with layers. Adding tones of balayage in a little quantity helps to brighten up your look and looks amazing when paired with natural tones of gold. It will make your eyes definitive along with enhancing your skin color.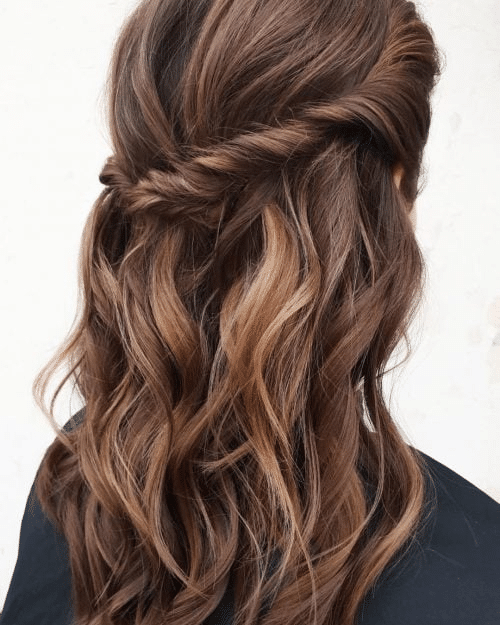 A Sweet Chocolate Brown Hair with Highlights to Try
Chocolate brown hair with highlights looks so adorable on girls with delicate features. It gives a creamy texture to your hair and you will be in love with your new updated tresses. The rich chocolate brunette color with caramel accents looks as pretty as a picture!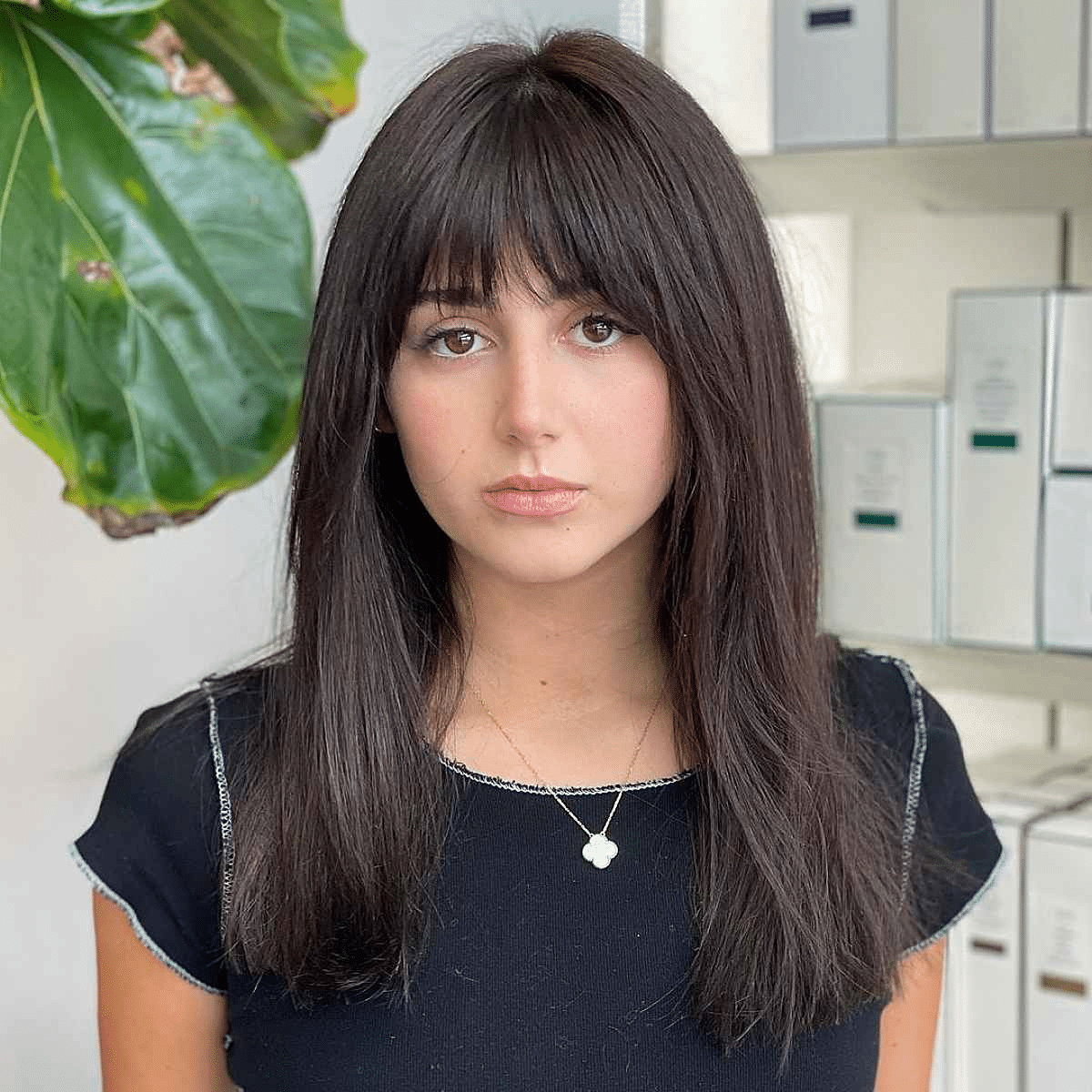 Solid and Silky Chocolate Brown Hair with Bangs
To get featured through a natural hairdo, solid chocolate brown hair with bangs is perfect. The ends are blunt with a small amount of texture added to them. In this way, your facial area becomes a point of attraction highlighting the piecey bangs beautifully. This haircut can be styled on medium as well as thick hair textures. I recommend washing your hair after 2-3 days with this style by making use of a dry shampoo in between the washes.