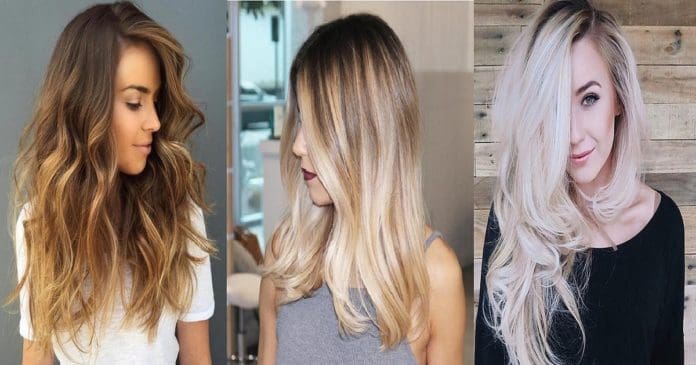 Blonde balayage is one of the latest and most innovative hair coloring technique designed to create a  beautiful and natural looking color that won't show visible and unattractive roots when it begins to grow out. The balayage concept originated in France, and the term applies to a technique where the hair stylist applies the color to the hair by painting it on in a freehand style. This enables the stylist to create a look that is as natural as possible and means that your style will be completely unique to you.
1. Long With Caramel and Honey Accents
Your blonde balayage look doesn't have to be the brightest, whitest blonde: caramel blonde highlights look great against dark hair and really flatter olive skin tones. Choosing to add honey blonde and caramel highlights to your hair will inject it with warmth without detracting from the beauty of your natural dark color.
2. Short and Sweet
It is a misconception that this is a look that only works for long hair: the balayage technique looks great on shorter cuts too! Ideal for framing a round face, this style is perfect if you're looking for something no-nonsense and easy to maintain but still fashion forward. Scrunch your hair with gel to create this kind of texture and ensure it will hold all day.
3. Bob and Fringe
Fringes are great for giving your hairstyle structure and balancing out a high forehead. The bob is a universally flattering hair style and looks great teamed with these subtle honey highlights. This style would be ideal if you're trying to grow out your hair.
4. Tumbling curls
Balayage is the ideal way to color curly hair, creating a very natural and gentle look that suits wild curls perfectly.  As it continues to grow out this hairstyle will only look better and better; brush minimally for an on-trend bohemian style, and work with your natural curls rather than against them.
5. The Perfect Ponytail
Balayage isn't just for hair that hangs long and loose: you can also create the perfect balayage ponytail! The key is to keep things loose and messy, and not worry too much about looking prim and proper. Pull your hair into a high ponytail using your hands, rather than a hairbrush, and then tease loose tendrils of hair out around your face to recreate this look.
6. Sleek Layers
Add sleek layers to your minimalist and sophisticated blonde balayage color for a look that oozes class and sophistication. Layers will make your hair easy to manage, and you can choose to either wear it straight or add curls depending on your mood. Layers are also great for adding length to rounder faces.
7. Flicked out Ends
If you opt for a blonde balayage bob then why not consider curling your hair and flicking out the ends for a feminine look that's fun and flirty? This style is perfect for wearing with a slick of bold lipstick and will look great for almost every occasion.
8. Classic Curls
Create texture in your hair by adding classic curls to your blonde balayage style. This look is easy to achieve with a curling iron and will look flattering on any face shape. Add some gel or light hair spray to your hair before you begin curling to ensure that it will hold all day.
If you're a red head then that doesn't mean that you can't experiment with the balayage trend! Blonde accents look great in red hair, and by choosing the balayage style you can still show off your beautiful natural color, giving you the best of both worlds!
10. Chic Occasion Updo
Pull your hair into a chic updo and add a vintage-inspired accessory to turn your modern balayage hair into something girly and romantic that is just perfect for a wedding or any other summer occasion.
11. Lightest Brightest Blonde
The classic blonde balayage look is to go as light and bright as possible, and it's easy to see why this style is so popular! Enjoy all the benefits of having light blonde hair but without the maintenance issues you have with regular highlights. The key to getting this look right is to ensure that you don't add too much color in each application, and let your blonde build up over time.
12. Inject Some Pink
If you're looking for colorful and attention grabbing hair then why not combine your blonde balayage with some pink accents to create a truly eye-catching look! Vibrant hair colors are bang on trend, and nothing looks more gorgeously girly than an injection of bubblegum pink! Opt for softer shades of pink to really nail this look.
13. Laidback Messy Knot
Inject some laidback Sunday style into your look by adding a messy knotted up 'do. The messy knot looks great with blonde balayage hair, as it creates a beautiful two-tone look that is both understated and fashion-forward. Add oversized shades and go!
14. Curly with Super Length
If you have very long hair that you don't want to cut then balayage is the best coloring technique to choose, as it doesn't need to be redone very often, meaning that you won't cause excessive damage to your hair. Balayage coloring looks even better when it grows out!