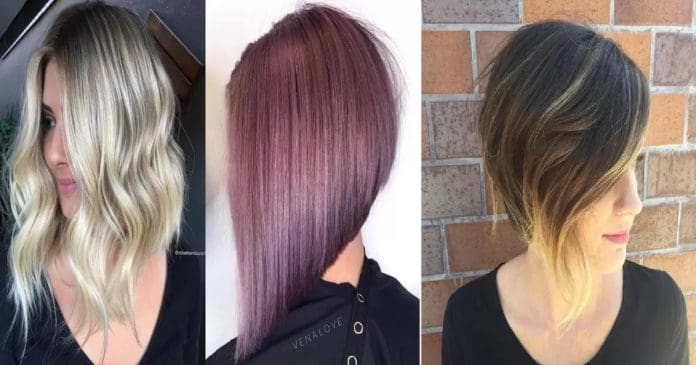 Simply chop it off! The versatility and manageability of an angled bob is one of its many advantages. This article will discuss 18 different angled bob styles and explain why they are so popular.
The Most Inspirational Angled Bob Haircuts
The most versatile haircut is the angled bob. It can be worn straight or wavy. You can style it up or down. These are some of the best hairstyles for you.
#1: Blonde Contouring
Color can enhance short angled hairstyles. This layered brunette bob is highlighted with golden blonde strokes and a angled front.
#2: Medium Golden Bob
Pictures of the side view of angled bob hairstyles are most inspirational. This set of medium curls are angled over the shoulder to create a longer front.
#3 Twisted Sister Chop
This shoulder-length, medium-length style is easy but so eye-catching! This bob can be made using large curling irons or simply by curling your hair. Simply spray and go!
#4: Wavy Pastel Pink Bob
Combining wavy curls with baby pink highlights gives the angled hairstyle a feminine touch. If you want to showcase your sweet side, Unicorn-worthy colors are the best.
#5 – Purple-Pink Asymmetrical Hair
This sleek, angled bob is alive with beautiful shades of violet and magenta. The subtle gradient dye job adds visual interest to the asymmetrical cut. The darker shades are stacked back, increasing the drama and depth of the cut.
#6: Blonde Balayage Bob
A subtle balayage can brighten up your brown bob. Cool blonde highlights add chic to the chin-length coif. The loose waves finish it off with effortless appeal.
#7: Choppy Blonde Hairstyle
Nature gives fine hair a volume illusion with angled cuts. The fullness of your hair will be enhanced if it is choppy or layered. You don't need to worry about keeping your layers clean and neat, as the frizz will complement the cool style.
#8 – Platinum Blonde Bob with pink Highlights
A platinum blonde haircut is sure to be eye-catching, especially if it's angled. For a bold look, pair the blonde hair with pastel highlights and lots of volume. Use a fine toothcomb to comb around the crown of your head and hairspray for a bob that is just as tall and full as the one in the photo.
#9 Brunette Medium Angled Bobby
This medium-length bob, which barely touches the shoulders and is elegant enough for anyone to pull off, is easy to do. The deep side-part adds drama while keeping it understated.
#10 – Loose Curls & Bangs
A curls and bangs look great, but a warm brown palette can help keep your angled cut looking more grown-up. This bob is made even more beautiful by frizzies and flyaways. This messy, casual cut is perfect for those who want a relaxed hairstyle that matches their laid-back style.
#11 Caramel Bob with Side Bangs
This simple angled bob with bangs is a great example of how beautiful a simple coif can look. If you have straight hair, a side-swept fringe can be a great addition. This haircut is easy to maintain without sacrificing style. Give it some fluff before you go.
#12 – Jet Black Long Bob
This lob is both sleek and sexy, with the front angled below the collarbone. This lob is a striking addition to the mystery. If you are looking to lighten your hair, you can choose highlights or color. But the black shade is the best if it radiates confidence and polish.
#13 – Voluptuous Balayage
Loose curls are a powerful tool. They transform a would-be-blah bob into something with volume and feminine style. Its classic appeal and glamour are only enhanced by a blonde balayage.
#14 – Wavy Medium-Length Bob With Highlights
For trendy and modern angled bob hairstyles, you don't have to use dramatic and sharp cuts. It's only a little bit longer at the front than it is at the back. But that's not enough to make a difference. Its volume is created by the subtle layers and slanting lines. Highlights throughout add depth.
#15 – Sharp Angled Black and Purple Bob
This punk-inspired look is a combination of a jet black base and vibrant violet highlights. This timeless style is a great choice for anyone who wants to be edgier, but still keep it playful.
#16 – Ashen Lilac Angled Bobby
Classic styles like wavy hair lobs make a great canvas for bolder colors. These styles reduce the intensity of the color to make your hair look more professional for work or school. For a sleek, polished look, try a subtle shade like this subdued violet.
#17 – Black Beauty with a Stackedbob
A long, angled bob is a compromise if you don't like the idea of a shorter cut but love the look. To keep your hair long, opt for a longer front and a stacked bob to achieve the same ease as short hair.
#18: An Angled Haircut with Subtle Highlights
A solid color can sometimes feel flat. However, high-contrast streaks may not be for you. Highlights that are one shade lighter than your base color will add a subtle touch of life to your look. This will add the extra sparkle you are looking for.