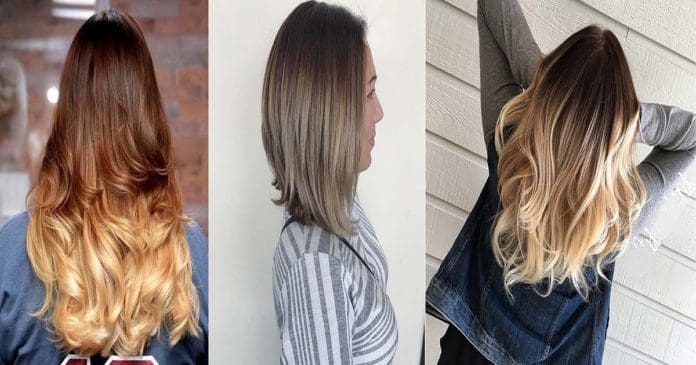 Today we are talking about hair styling for the brunette beauties. We have a selection of 21 must-see ombre hair ideas. There is something for everyone from summer blonde to vibrant flashes of color. These hairstyles will create a trendy statement. So, take a look and get inspired ready for your next hair salon appointment.
1. BLONDE OMBRE
Blonde is an ombre favorite. During the spring and summer, brunettes might want to give their hair a light lift. Adding blonde ombre is the perfect way to do it. You get a fresh makeover, brighter hair and you can keep your darker color. There are many different shades, a very light-toned blonde would be a trendy choice.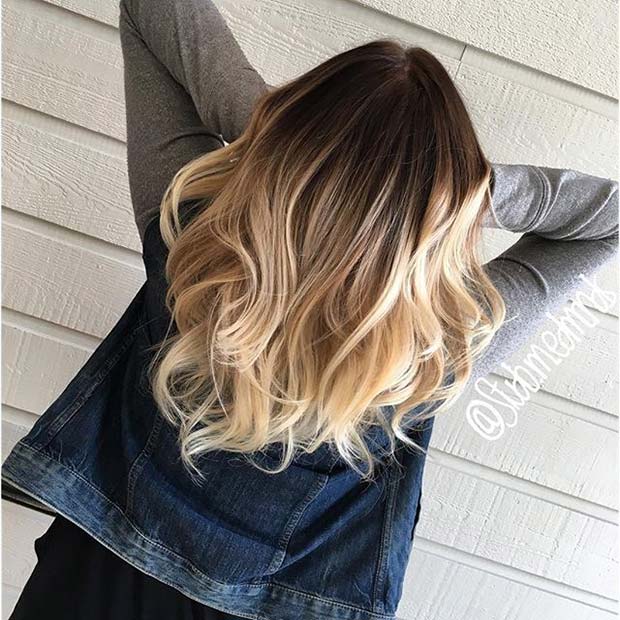 Source: @studio.m.edmonds
2. DARK CURLS
If you're looking for something subtler try a dark ombre. Ombre doesn't have to be a light and vibrant color. You could take inspiration from this and go for brown shades. You get the style but the tones used are closer to your natural hair. Perfect if you want to refresh your look.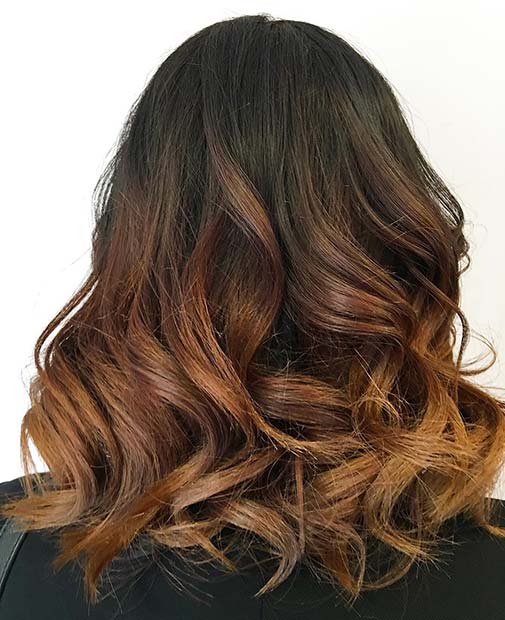 Source: @shine.hairdressing
3. BOLD COLOR
Want to make a statement this season? Then check out this vibrant hairdo. The ombre was created with red, orange and coral colors which look fabulous. It is a beautiful way to add a splash of color to your brunette locks. Hair like this suits the fun summer vibe.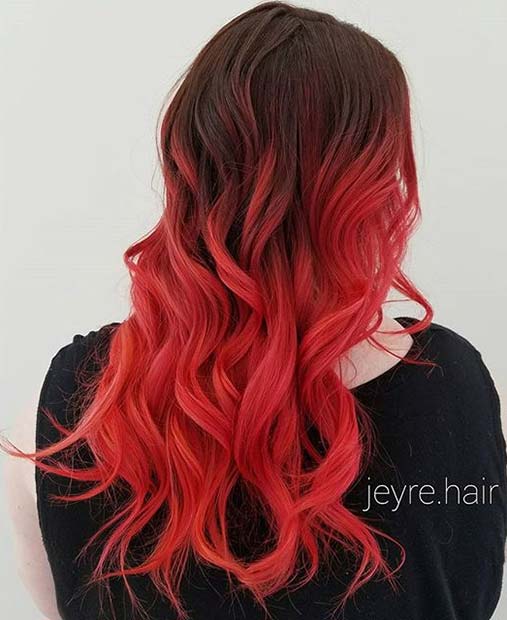 Source: @jeyre.hair
4. WARM BLONDE
Our next style features very dark chocolate hair with a warm blonde ombre. This color combination has rich tones and creates a stunning finished result. Hairstyles like this shows how beautifully dark and light colors complement each other. It's perfect if you don't want a very light blonde.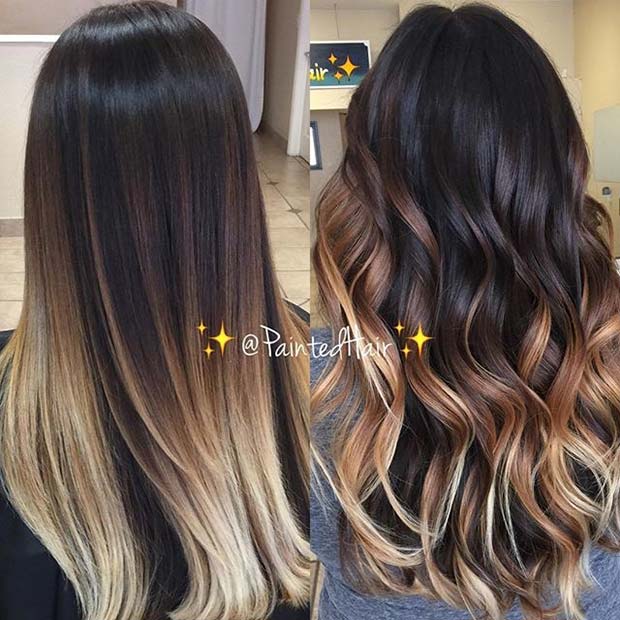 Source: @paintedhair
5. RASPBERRY OMBRE
Ombre doesn't have to be one color, you can have a multi tone style. This style features vibrant raspberry and caramel shades. We love this combo because it's unique and bold. Raspberry would be a trendy choice this season. You could create a multi tone look with any of your favourite colors.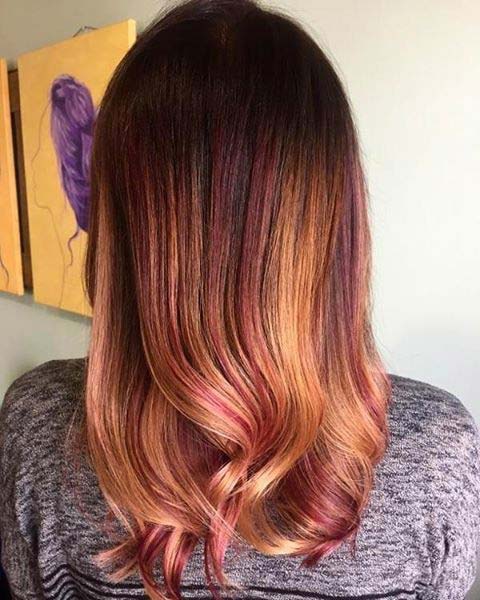 Source: @jdemariahc
6. CARAMEL
If you like the caramel shade then check out this style. Here is a how to add the caramel color in a subtler way. It is darker and closer to the brunette root shade. Bold isn't for everyone but that doesn't mean you can have the ombre look. A color like this is perfect for giving your hair a lift.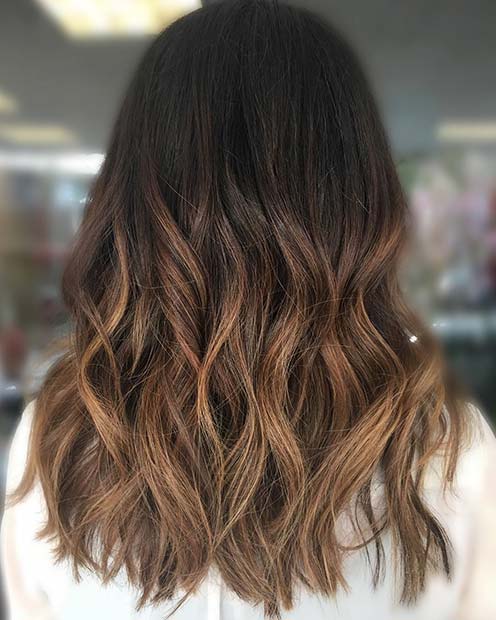 Source: @lesleylou1017
7. BLONDE AND BRAIDED
Let's cool things down a little with this icy blonde. This brunette beauty has a warmer blonde shade that goes into an ice tone. The shorter hair and ombre make this one stylish hairdo. The braided style is a great way to give your ombre a trendy and edgy vibe.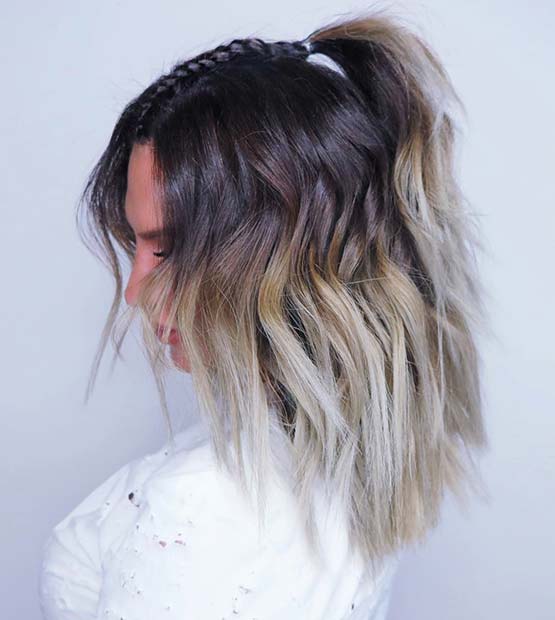 Source: @anggalinetti
8. TRENDY SHORT HAIR
Short bobs and lobs are favourite styles of 2017. Choosing shorter hair and adding some ombre gives it a unique edge, that will make you stand out from the crowd. Ombre can be created with endless shades so each one looks different. This one was created with a dark caramel tone and the finished hair looks trendy and chic. For a must have hairstyle think about something like this.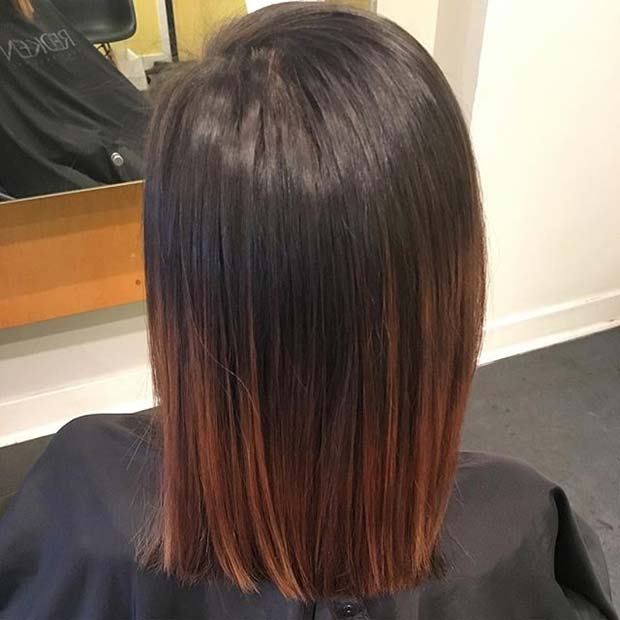 Source: @beautybyjacquid
9. COOL OCEAN OMBRE
Here is an ombre color that is cool in more ways than one. It features a beautiful ocean shade that gives the hair a tropical vibe, perfect for summer. Not only that, blue is a must have for the next few seasons making it bang on trend. If you're looking for something bold and statement making, consider choosing blue.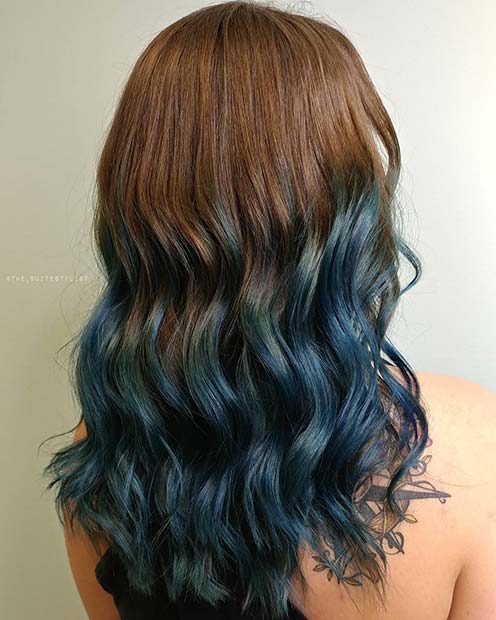 Source: @the_suitestylist
10. BRONDE
Our next pick has been described as bronde. You might be thinking what's that? Well bronde is a clever way to combine blonde and brown to give the hair a natural and sun kissed look. This hairstyle has taken color to the next level by adding in some ombre. The combo of bronde and light ombre create a stunning hairdo perfect for summer.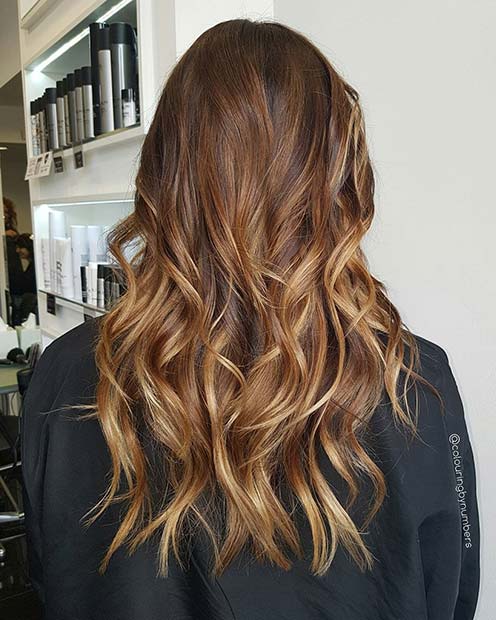 Source: @colouringbynumbers
11. OMBRE WAVES
Have dark hair but want the summer beach waves? Then you need to check out this style. You get the best of both with this hairdo. The top of the hair is dark and rich and the color at the bottom is light and summery. The beach waves finish off the ombre beautifully. A style like this would be perfect for a spring/summer makeover.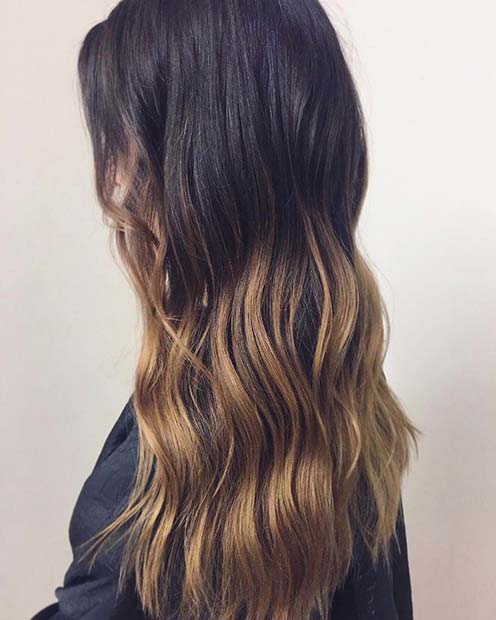 Source: @albionhousechepstow
12. SILVERY COLOR
Silvery tones have become a huge trend. Many celebrities have rocked all different shades. Today we have a very light blonde that almost looks silver. It has been used to create an edgy and cool hairdo. An ombre like this for the trendsetters. The cute bun is also a gorgeous way to style!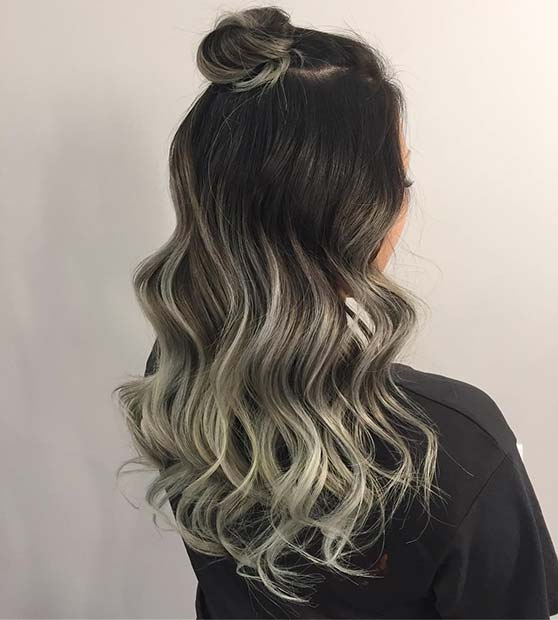 Source: @hairbyjodie780
13. WARM TONES
Here is how to create an ombre style with a touch of glamour. The warm blonde tone looks beautiful with the light brunette root color. It's not just the shades that give this style the wow factor it's also the voluminous curls. A style like this is timeless.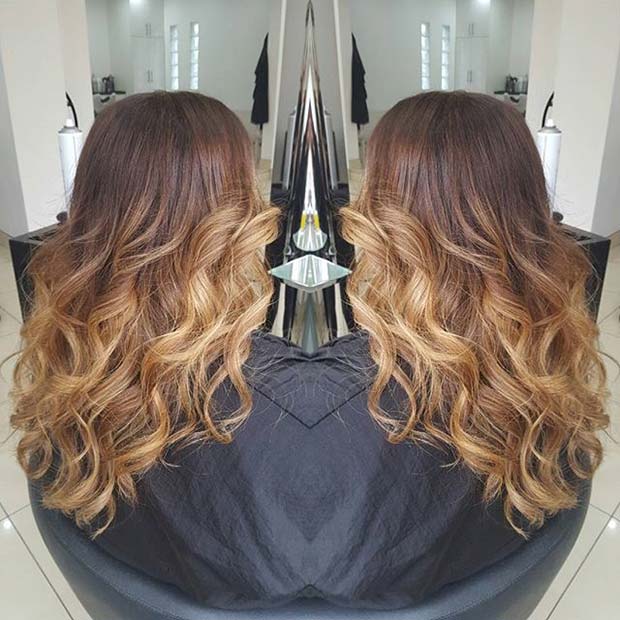 Source: @janmarleyhairdressing
14. JUST PEACHY
Here is an ombre style for brunettes that has a peachy tone. This bright hairdo features a light orange. The bold orange works so well with the dark brown color. It is a stylish ombre idea that will jazz up your look for spring and summer.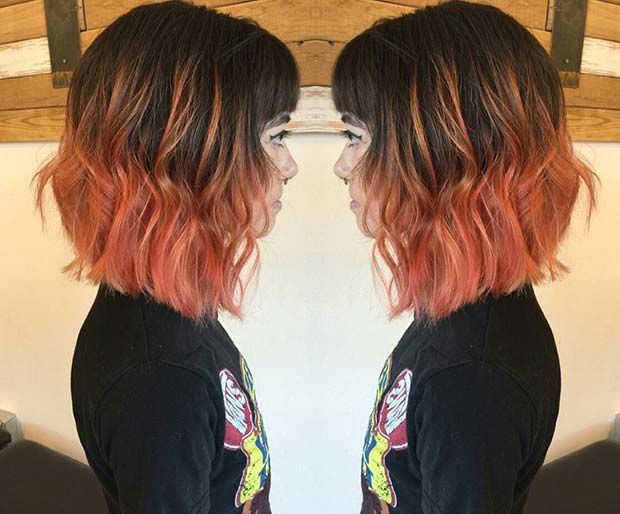 Source: @jennatanknelson
15. BLONDE WAVES
If you want a classic ombre look go for a soft blonde like this. Light blondes work beautifully with brunette hair and look chic styled in any way. The subtle waves finish off the hairstyle perfectly. This is a gorgeous style that will suit any girl.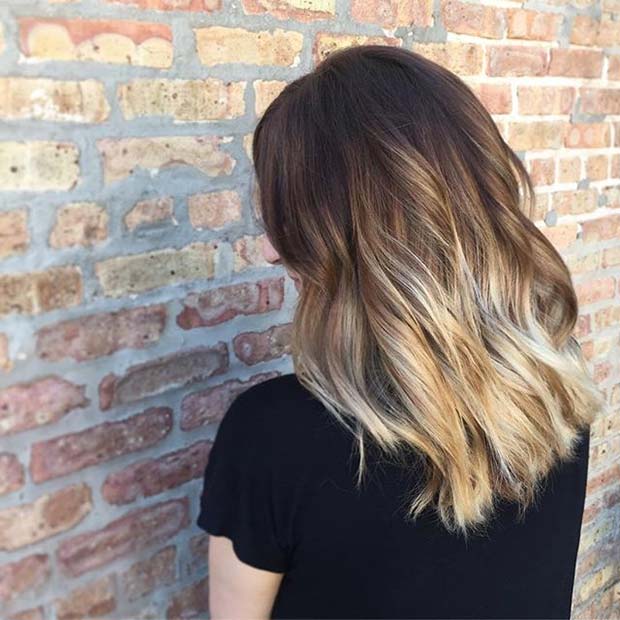 Source: @kosh_hair_makeup
16. PRETTY IN PINK
Pink is one of the hottest colors of the season. So, why not add a pop of pink to your hair. This multi tone ombre is amazing. This is a style for the girl who wants to make a statement. Choose a pink color to give you a fun summer look.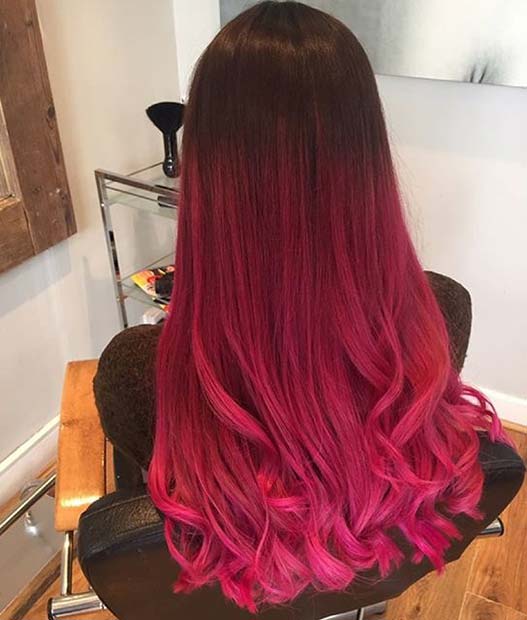 Source: @katelynnstarbuckhair
17. CHIC AND STYLISH
Next, we have a hairstyle that has everything. It's chic, classic and is cut in to a short length. All these elements create a trendy hairstyle for any girl across all ages. A hairdo like this will give you a beautiful ombre that has a more natural look.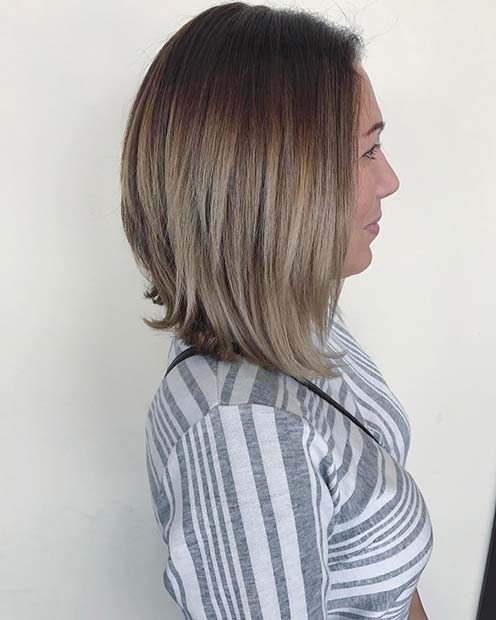 Source: @the_beehive_company
18. GLOWING BRUNETTE
Next, we have a golden ombre. This beautiful color combination starts of brunette then blends into a warm caramel tone and into light blonde. These colors are bright and bold, perfect for spring summer. It's a beautiful style that will give your hair a trendy lift.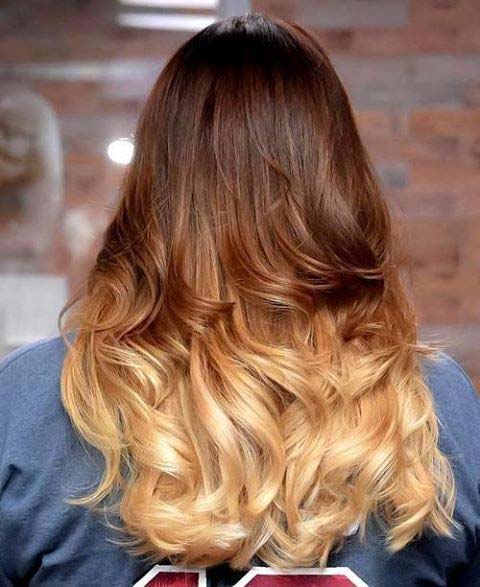 Source: @tendenciasonlineportugal