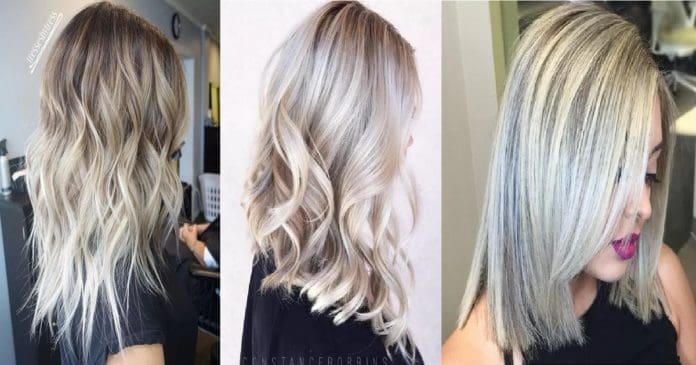 Contemporary movies give us grand visions of stunning angels and bright celestial beings, so it's no wonder so many girls are craving beautiful platinum blonde hair these days. From halos of white to curls of platinum, we've hand-selected our 18 favorite styles to fully satisfy your whimsical taste. So, let's check them out!
Platinum Blonde Hair and White Hair Trend
Very light hair, practically stripped of color, is an interesting hair color choice for women with cool skin undertones, usually, natural blondes who were once fair-haired but, finally, got a dishwater blonde hair hue. The latter is often perceived as a somewhat dull and dirty shade that needs brightening. Platinum and white are just the right tones for this purpose. They can be used as solid, all-over hair color or applied as highlights, balayage or ombre. Let's see the examples.
#1: Soft Flaxen Blonde Curls
Instagram / @constancerobbins
These white highlights are the spice of the shoulder-length waves. It's one of the best coloristic ideas for contemporary multi-dimensional blonde hair.
#2: A Dab of Platinum in Highlights
More sophisticated brown blonde hair colors are achieved either with lowlights on blonde hair or medium blonde and platinum highlights on light brown hair. This is the latter option. Braided hairstyles are often the best to show off the variations of color.
Source
#3: Fade to White
When dye is applied lower on the length of your strands, leaving a halo of dark roots, you are getting a popular now look that can be rather soft or, on the contrary, very sharp and dramatic like in this example. This look, certainly, requires some staging.
Source
#4: White and Dirty Blonde Combo
If you want a less traumatizing hair color solution or if you want a more complex-looking two-tone hair color, try platinum highlights on your natural dark blonde base. Long blonde hair is coveted by many, because it's so versatile. It has been an object of fashion's beauty arsenal for years. Thanks to the first supermodels of the 60's, we now have an obsession with long hair that can be braided and braided…and braided some more!
Source
#5: Pretty Smooth Criminal Platinum
Going from blonde to white hair may not seem like much of a change, but it can completely change your whole appearance! Fully white blonde hair requires starting from a blank canvas. Whatever unwanted shades and irregularities that exist must be fully washed out before the new shade is applied. Even with this 'color,' there is a complicated dye process! But it's oh-so-worth it…wouldn't you agree?
Source
#6: White Blonde Bob
Solid white blonde hair is eye-catching, edgy, and seriously bold. Wearing the color from roots to ends creates a matte effect, but watch those roots – it takes a lot of upkeep to maintain platinum white locks.
Source