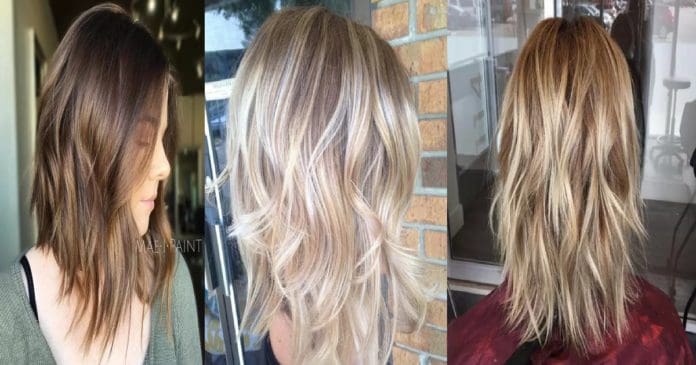 Everybody wants beautiful, long hair that looks great and is easy to style. The key to effortless style is the right haircut. You can create some stunning styles even if your hair is not thick enough. You don't have to limit yourself to short hairstyles. A good hair stylist knows how to make thin hair look thicker, even with long hair.
Flattering Haircuts For Thin Hair
We have 20 hairstyles for thin hair, so you can choose whether you want long strands you can drape over your shoulder or short and sleek. If your hair isn't styled properly, thin hair can appear lifeless and boring. A textured bob, full curls or layers of lustrous hair can increase volume!
#1: Layered Short Bob Haircut
Two surefire methods to transform thin hair are texture and color. Contrasting light hair with dark roots instantly creates the illusion of density. While choppy layers increase volume, they give your strands more body.
#2: Angled Lob with Subtle Color
The layered, angled cut flatters all faces and gives the illusion of thickness. To create a 3-dimensional effect, pair the lob with subtle babylights that are a few shades lighter then your base color to give it a more natural look.
#3: Layered Bob Haircuts for Fine Hair
Although long hair with body and shine is lovely, it's not always possible to achieve this with thin hair. No matter the length, women shouldn't aim for longer hair. Thin hair can look more gorgeous and thicker with trendy, chic bobs that have choppy ends and beautiful balayages. Modern short hairstyles aren't boring for thin hair!
#4: Sexy Cinnamon Haircut
Reddish brown is great for thin hair. It's rich and deep without being too harsh on any scalps that might be showing through straggly strands. Use light colors as a face-framing component if you are adding lighter colors.
#5: Medium Cut With Choppy Ends
Pay attention to the area where your hair falls when you are choosing a haircut for thin hair. Your hair will look too light and fragile if you have too many layers at the ends. Keep your hair straight with blunt or delicately trimmed cuts.
#6: Bob the Long A-Line
Layers may not be for everyone, so single-length cuts are making a comeback. A long, straight bob is a great way to add a modern look to your hair. You can also look amazing with this cut when it's finished.
#7: Long Haircut With Layering and Ombre
Layering is the only way to create those adorable flicks that organize volume-lacking locks in the most elegant and beautiful way. This cute long style can be enhanced by a soft, seamless color fade.
#8: Blonde Bob and Side Part
For thin hair, lobs are a great medium-length haircut that is trendy and beautiful. You can trim the ends to your liking. You can add a side piece and you will have thinness gone!
#9: Textured platinum lobster with lowlights
Blending colors is a great way to enhance fine hair. The more tones you have, the thicker your hair will look. Platinum can appear flat and duller so you may want to add some lowlights to your blonde locks for more body.
#10: Blonde Bob and Beach Waves
When creating voluminous styles, texture is your friend. This is easy for naturally thin, wavy women. If you have straight hair, you can create texture by spraying a homemade sea salt and water mixture onto damp hair.
#11: Wheat Blonde Bob and Highlights
Have a hair loss problem? You might be able to reduce your hair loss by going for a bob. Layered hairstyles are great for thin hair. They are flattering than long, straight cuts and allow hair to start again.
#12: Face-Framing Layers and Middle Part
The centre part haircut flatters oval and oblong face shapes. This simple, modern style is sweet and feminine and features asymmetrical framing with large, loose waves that are slightly highlighted by balayage highlights.
#13: Medium to Long Subtly Layered Cut
Thin hair is a common complaint among girls. The problem is more apparent the longer the hair. This is why long hair, thick layers and straight hairstyles won't work well with thin hair. Instead, try very light layers, wavy texture, and soft color transitions. These are key elements that make a huge difference.
#14: Choppy Bronde Lob
If your hair is straight, and your stylist does not recommend a V-cut layer haircut for thin hair, a medium length cut may be an option. A lob is an option. If you're a blonde, choose a beautiful color like this creamy blonde blonde balayage or color-inspire yourself with decadent chocolate desserts.
#15: Medium-Wavy Haircut for Thin Hair
You have many styling options available for medium-length haircuts. Curling wands give thin locks body and movement. You can incorporate the heat rollers into your morning routine for quick, cute waves.
#16: A-Line Bob Thin Hair
This is a great cut for mature women. A great A-line bob is a chic and elegant choice for finer hair. Pro tip: Long face framing strands with uni-length cuts are best for square, triangle, and round faces.
#17: Blonde hair cut with a shadow root
Another example of a dye job that benefits thin hairstyles is the shadow root. Shadow roots are not only practical for bosses on a tight budget but also provide the necessary optical depth for fine hair.
#18: Dusty Pink Shadowroot Bob
Have fun! Let your creativity flow and choose a fun color for your roots. This style is more difficult to maintain, but these gorgeous, dusty pink shadow roots are so much fun! This chic style will make you forget about your insecurities.
#19: Thin Chopped Shag
This shag is modernized from the traditional shag. It has a modern, sleek look thanks to its choppiness and layering for some body. This cut is perfect for women with shorter hair.
#20: Light Layered Cut With Balayage
Layers give your hair bounce and can make it appear thicker and more vibrant. This effect can be enhanced by balayage or ombre with bleached ends and top layers. This look is light and delicate and has a feminine appeal. The right color and haircut can make this look even more magical!