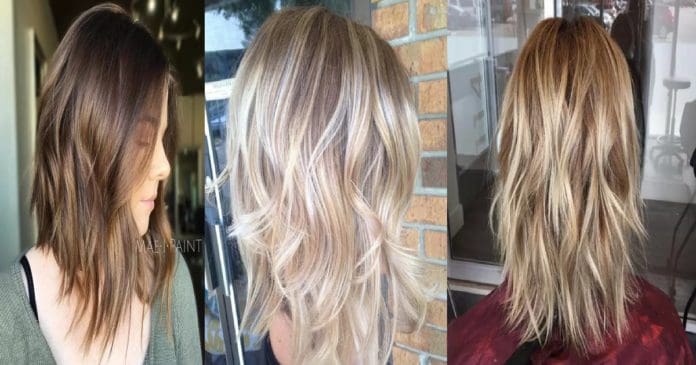 Everyone wants to have luxurious hair that is obedient in styling and always looking good. However, the key to a truly effortless stylish look is in the right haircut. Even with insufficient hair thickness and density you can come up with some absolutely breathtaking styles. Besides, there's no need to stick exceptionally to shorter lengths. Good hair stylists know tricks on how to make your thin hair appear thicker even in long haircuts.
Flattering Haircuts for Thin Hair
Whether you prefer long strands that you can toss over your shoulder or a quick and easy short look, we have 70 haircuts for thin hair that will fulfill your needs. Thin hair can look lifeless and uninspiring if it is not styled correctly. Pump up the volume on lackluster locks with a textured bob, lustrous layers or full curls!
#1: Short Layered Bob Haircut
There are two surefire ways to transform thin hair: texture and color. Dark roots against light hair instantly give the illusion of density in your strands, while choppy layers boost volume.
#2: Angled Lob with Subtle Coloring
This angled and layered cut is flattering for all face shapes and it gives an illusion of thickness! Pair the lob with subtle babylights a few shades lighter than your base color in order to create a three-dimensional effect.
#3: Layered Bob Haircut for Fine Hair
Long hair full of body and shine is beautiful but it's not always the case with long thin hair. Women shouldn't strive for longer length no matter what. Chic, trendy bobs with choppy ends and gorgeous balayages can really make thin hair look thicker and more beautiful. And modern short hairstyles for thin hair are never boring!
#4: Sexy Cinnamon Haircut
Reddish brown is a great color for thin hair because it's rich and deep without contrasting too much with any scalp that may be showing through sparse strands. If you want to add light colors, make sure to just use them as a face-framing element.
#5: Medium Cut with Choppy Ends
One thing to pay attention to in haircuts for thin hair is the line where your hair falls. Too many layers around the ends will make your hair look too light and wispy. Stick with sharp lines like blunt or delicately chopped cuts.
#6: Long A-Line Bob
Layers aren't every lady's cup of tea, and single length cuts are having a huge comeback. The uniformity of a long a-line bob delivers a modern aesthetic to thinner hair. This cut also looks amazing when it's grown out so don't worry about having to run to the salon regularly!
#7: Long Haircut with Layering and Ombre
Only layering can give you those cute flicks which organize volume-lacking hair in the most beautiful way. The soft seamless fade of color couldn't do a better job of enhancing the texture and dimension of this cute long hairstyle.
#8: Blonde Bob with Side Part
Lobs are wonderful (and trendy) medium length haircuts for thin hair. Ends can be razor cut, so adjust the level of piecey tips to your preference. Add a side part and voila — thinness be gone!
#9: Textured Platinum Lob with Lowlights
Fine hair gals really benefit from blending colors, as the more tones you have the thicker it will appear. Platinum can be a flat, duller shade, so add lowlights to your blonde tresses for additional body.
#10: Blonde Bob with Beach Waves
Texture is your BFF when crafting voluminous styles. Naturally thin wavy ladies, this is as easy as air-drying after washing! For those straight haired ladies, try creating texture by spraying a DIY sea salt and water mixture on damp hair.
#11: Wheat Blonde Bob with Highlights
Have a hair loss problem? It may be best to cut your losses (literally) and go for a bob cut. Layered hairstyles for thinning hair are a great option— they are more flattering than single length long cuts and give tresses an opportunity to start over and replenish.
#12: Middle Part and Face-Framing Layers
Centre part hairstyles flatter oval and oblong faces. Here's a simple modern style that offers symmetrical framing and large, loose waves slightly accentuated with balayage highlights – sweet and feminine!
#13: Medium-to-Long Subtly Layered Cut
Most girls with thin hair complain of thin ends. The longer the hair, the more evident the problem. That's why, commonly, a long length, distinct layers, and straight hairstyles don't cooperate with thin hair. Try very light layers, wavy texture and soft color transitions instead. These make a big difference.
#14: Choppy Bronde Lob
In case your hair is straight and your stylist doesn't recommend haircuts for thin hair with V-cut layers, consider a chopped cut in a medium length. A lob is a nice option. Pick a delicious hair color, like this creamy blonde balayage if you are a blonde or get color-inspired by decadent chocolate desserts if you are a brunette.
#15: Medium Wavy Haircut for Thin Hair
There are so many styling options for medium single length haircuts! Thin locks benefit from body and movement that curling wands create. Cute, quick waves with heated rollers can also fit nicely into your morning routine.
#16: A-Line Bob for Thin Hair
What a classy and current cut for mature women! A good A-line bob offers an effortlessly chic look that's appropriate for finer hair. Pro tip — long face framing strands on uni-length cuts suit triangle, round, and square face shapes best!
#17: Blonde Haircut with a Shadow Root
Another example of an effective dye job benefiting thin hairstyles! A shadow root is not only convenient for a boss on a budget, it also provides optical depth that's essential for fine hair.
#18: Dusty Pink Shadow Root Bob
Don't forget to have fun— unleash your inner creativity and select a playful color on your roots! Sure, this may be more demanding in terms of upkeep, but how dope are these dusty pink shadow roots? Set free from insecurities… nobody's paying attention to the thinness of your hair when you're rocking this chic style.
#19: Thin Chopped Shag
This is a modern take on the classic shag. The choppiness gives it a fresh, updated appearance, and the layering offers some much-needed body. This is a fabulous mid length cut for any woman who has thinner hair.
#20: Light Layered Cut with Balayage
Layers let your hair bounce and make it look thicker and more voluminous. If you want to enhance this effect, try ombre or balayage with bleached top layers and ends. This look is ethereal in its lightness and feminine appeal – the right color and haircut for thin hair can really do magic!