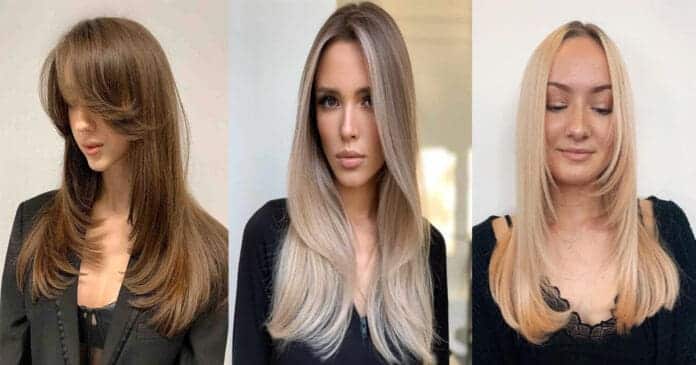 Haircuts for long thin hair are cut in a specific way to add volume. Long hair can weigh down thin tresses and make them look lifeless, but with techniques such as layering and razor cutting, it's possible for fine-haired women to wear long hairstyles without the hair looking flat. Got thin long locks? First of all, to boost finely textured strands you need a volumizing mousse, a thickening spray, and a dry shampoo. You don't necessarily have to use all three at once, but any combination will help your hair from falling flat. Big, babelicious curls and a bit of backcombing are also a great option that works wonders to maximize your style. Before your next hair appointment, check out these inspiring pictures of gorgeous and easy hairstyles for long thin hair: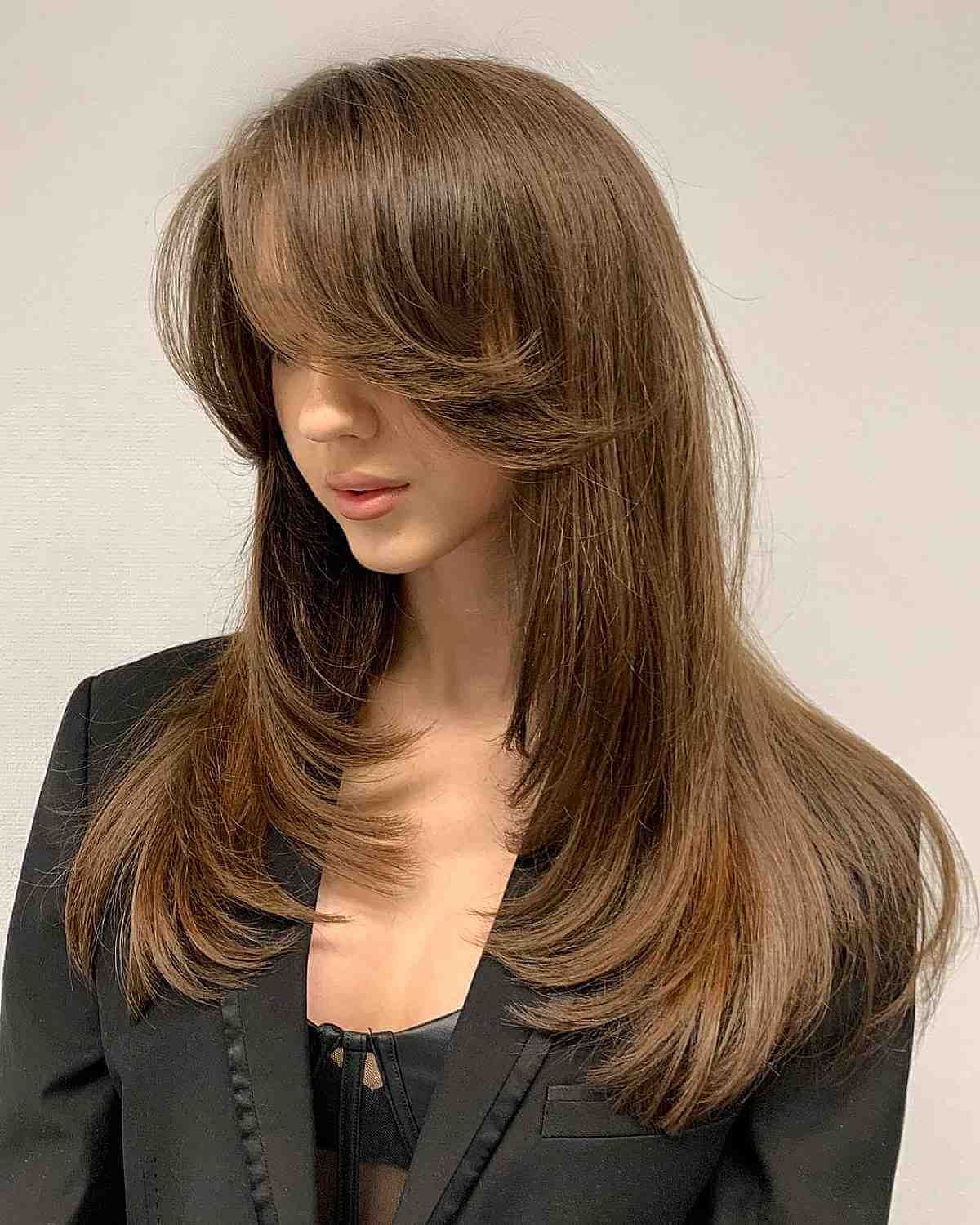 #1: Low-Maintenance Face-Framing Layers and Side Swept Bangs
The haircut has long layers, side-swept bangs, and some face-framing layers which are very low maintenance. The layers will give women with thin, long hair a little more movement, and body without taking out too much of the weight at the ends that you want to keep for added thickness. To style your hair like this, you need a 1-inch curling iron, IGK Detox dry shampoo as a texture spray, and a little It's a 10 miracle Styling Potion for the ends, and some hairspray! Curl the hair away from the face until you get behind the ears, then start switching directions for a more undone and messy look. For extra body, leave in the curls until the whole head is curled, then finger through and shake them out! Leave a little of the ends out when curling to make your hair look more undone and a little longer. Finish with a texturizing spray!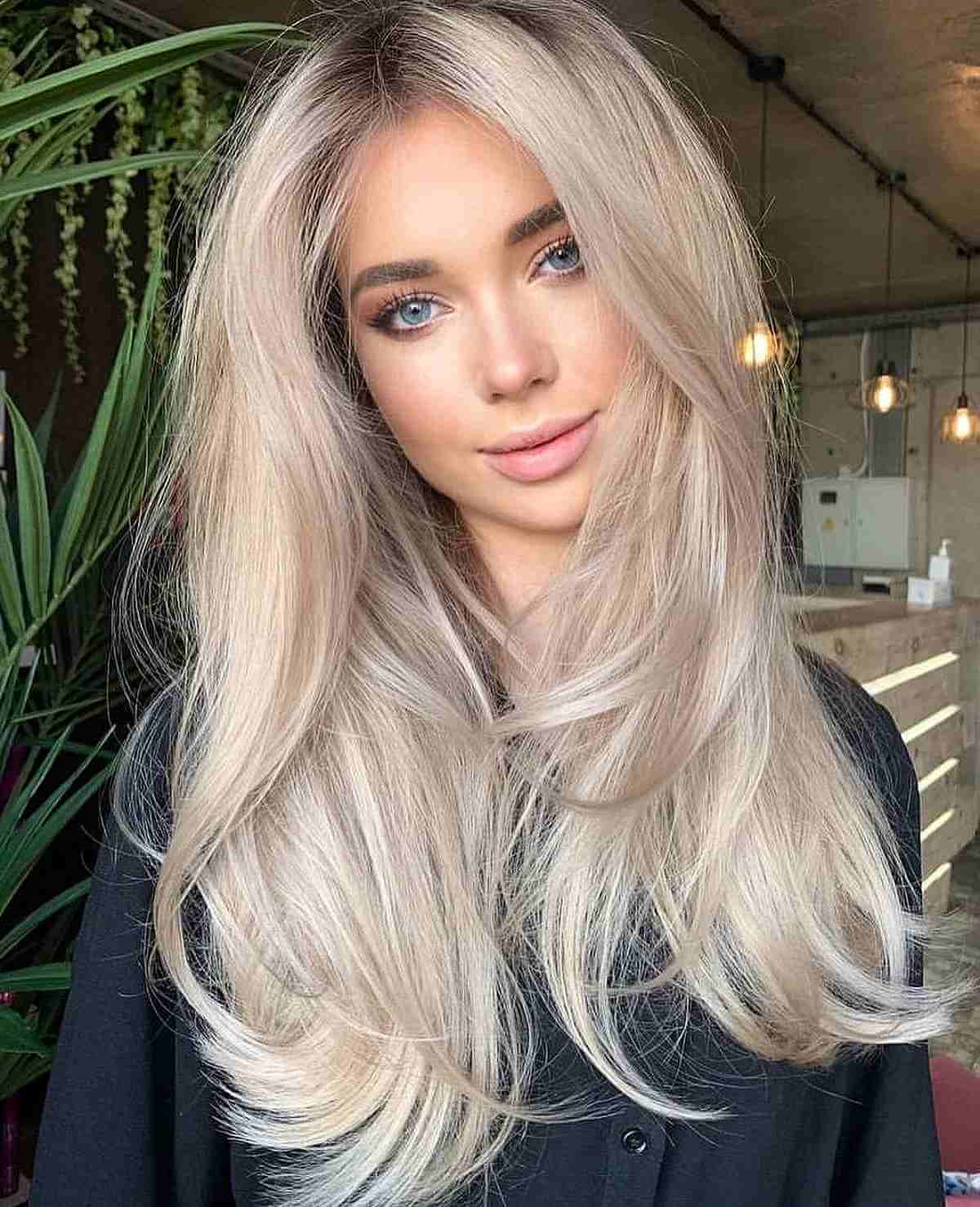 #2: Classic Long Blonde Feathered Layers
Long feathered layers create a ton of movement without losing the density or length. Customized layering can range from curtain fringe, side part, or face-framing. Visits to the salon can range from 8 to 12 weeks creating a low-maintenance choice with this haircut.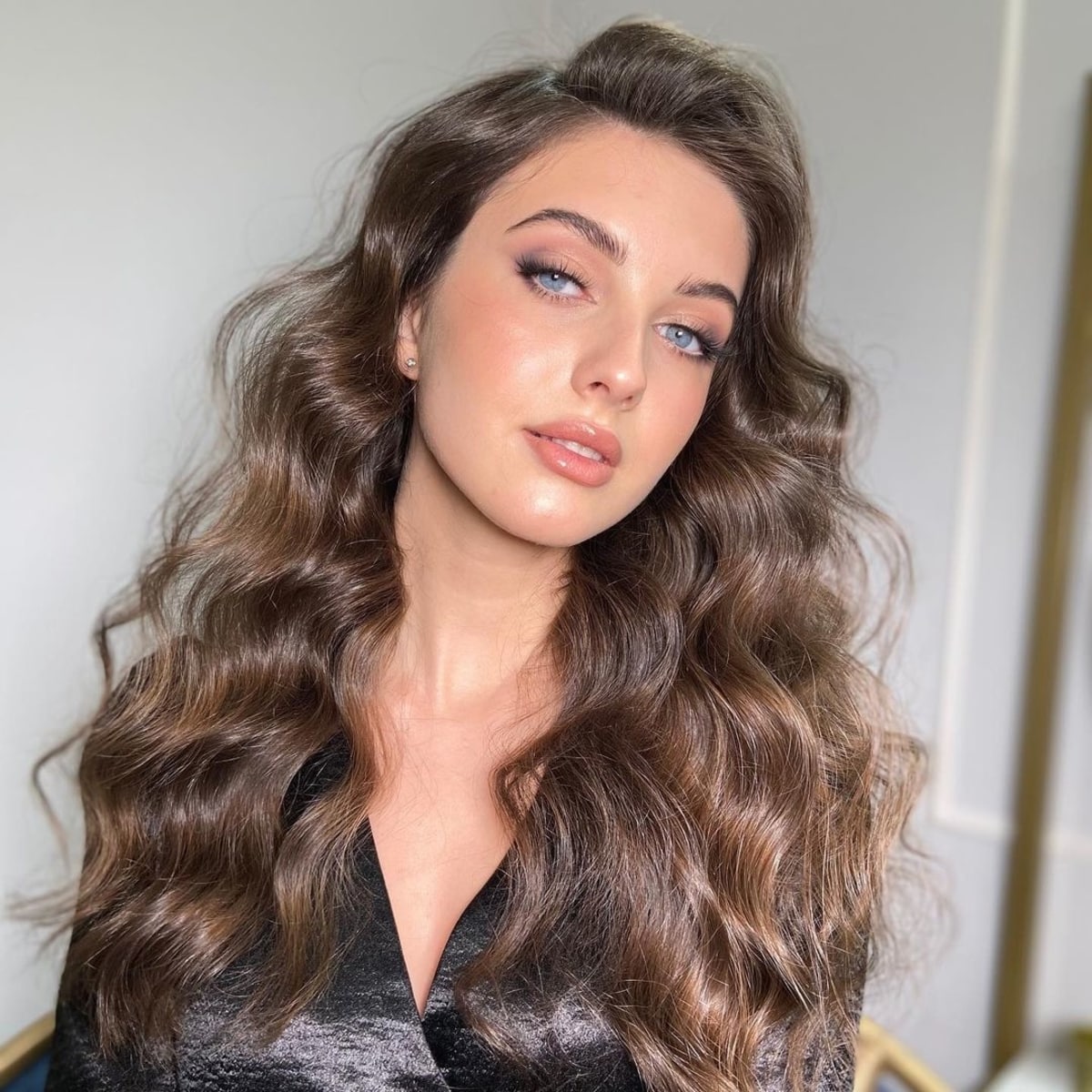 #3: Voluminous Long Waves with Side Part
Wearing voluminous long waves with a side part is one of many ways to style thin or fine hair. Looking for hairstyles for long, thin hair can be tricky. But by giving the illusion of full, thick hair with beautiful waves and the added volume with a side part will always be eye-catching.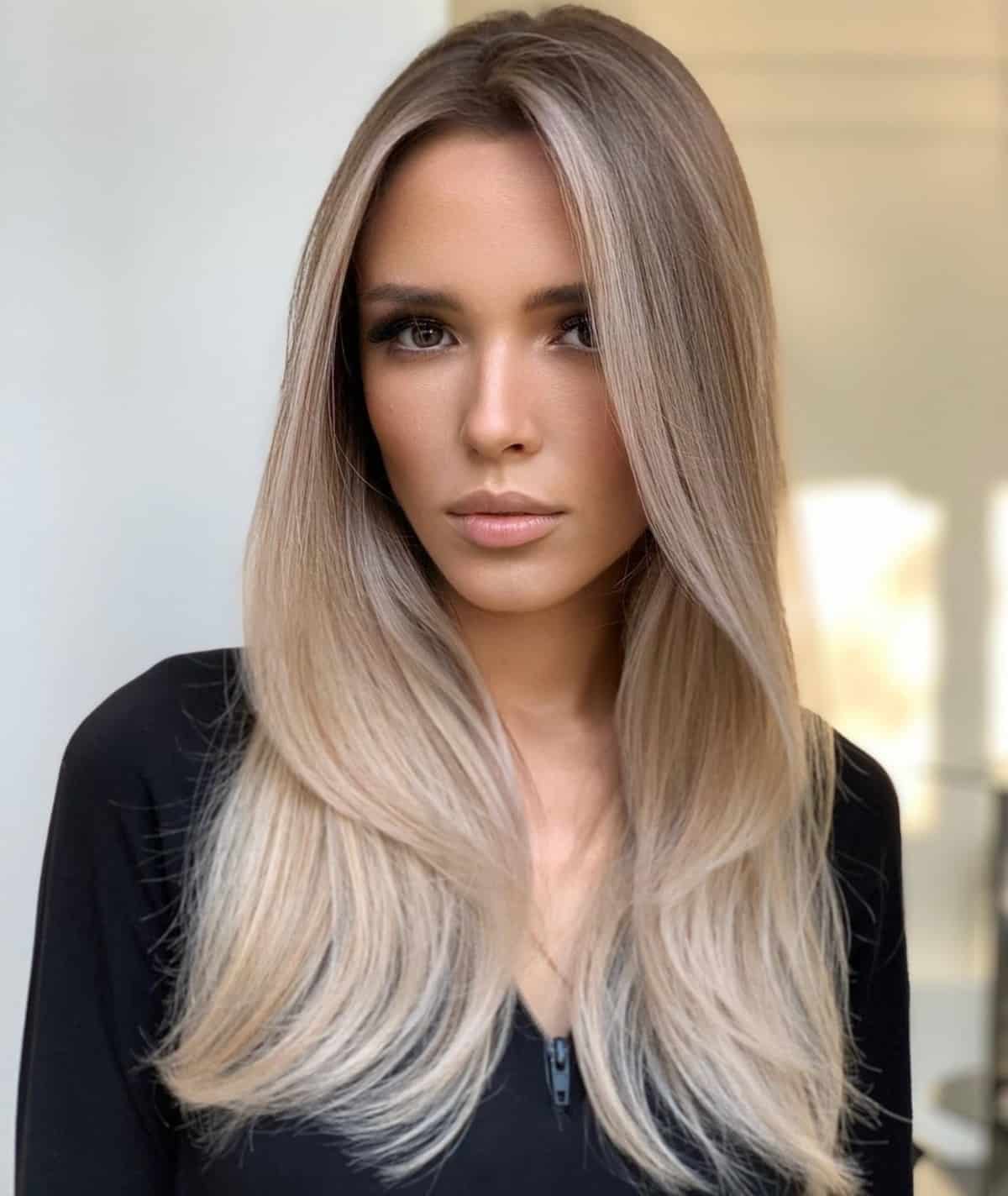 #4: Long Length Thin Hair
A long-length is doable without looking stringy. In handling long thin hairstyles, make sure to ask your stylist for minimal layering and to keep a blunt cut. If you would like a little face-framing feature, you can add some layers from the mid-length down to get more movement and shape.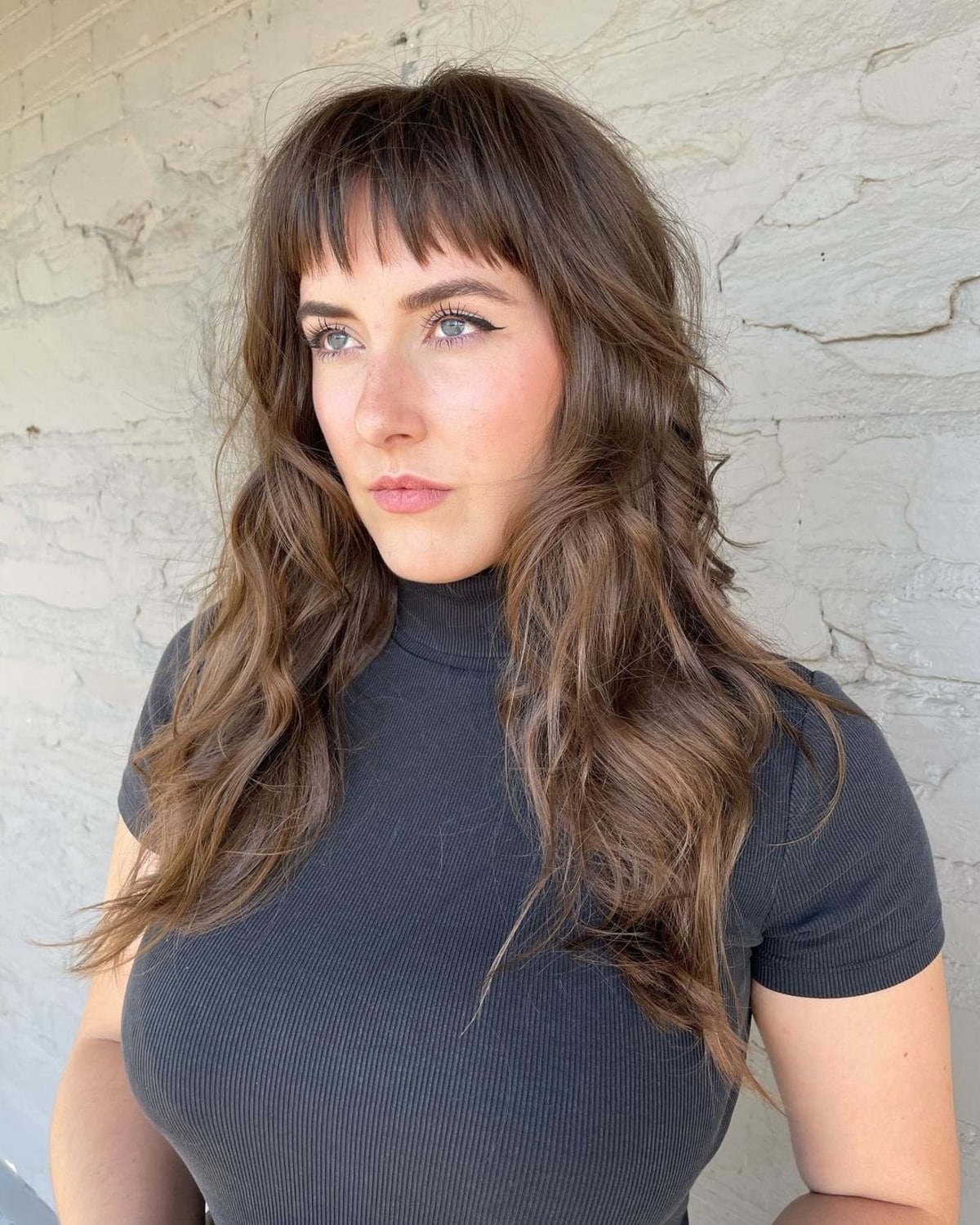 #5: Long Front Layered Cut with Wispy Bangs
Try a long front layered cut with wispy bangs to add more shape, movement, and body to hair. Layers can make the hair appear fuller and thicker and gives more to the style. When blow-drying and styling the fringe, use low heat to help the style set better, and blow-dry from side to side.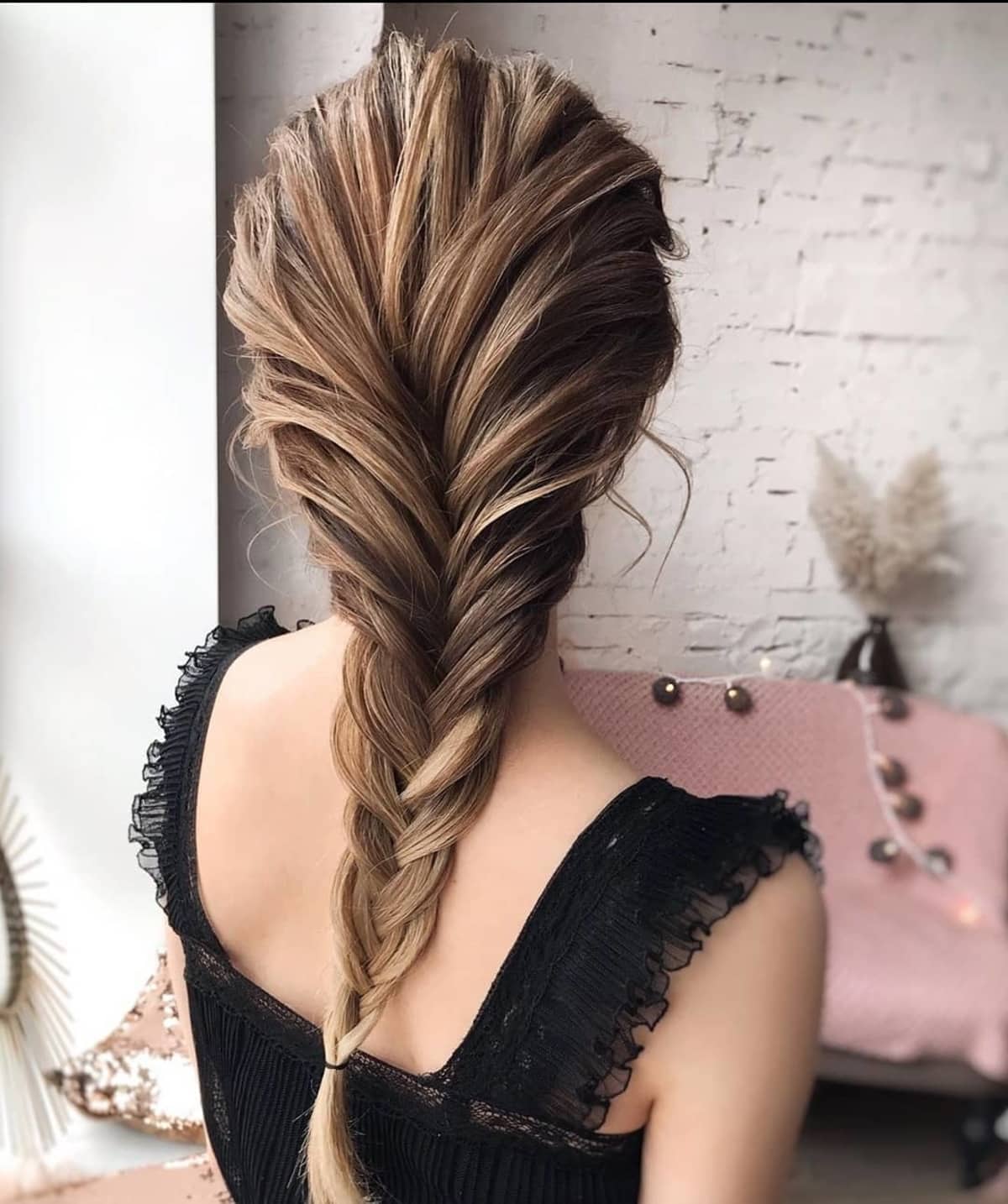 #6: Ponytail with a Braid for Long Thin Hair
A ponytail with a braid works best on second-day hair. That's when the hair has gathered natural oils and stays in place a lot easier. To make a long braid appear thicker, use a thickening tonic from Aveda. Then, gently pull apart each section to expand the braid. Lightly spritz hairspray like Aveda Air Control throughout for a finishing touch. The style looks perfect for a prom!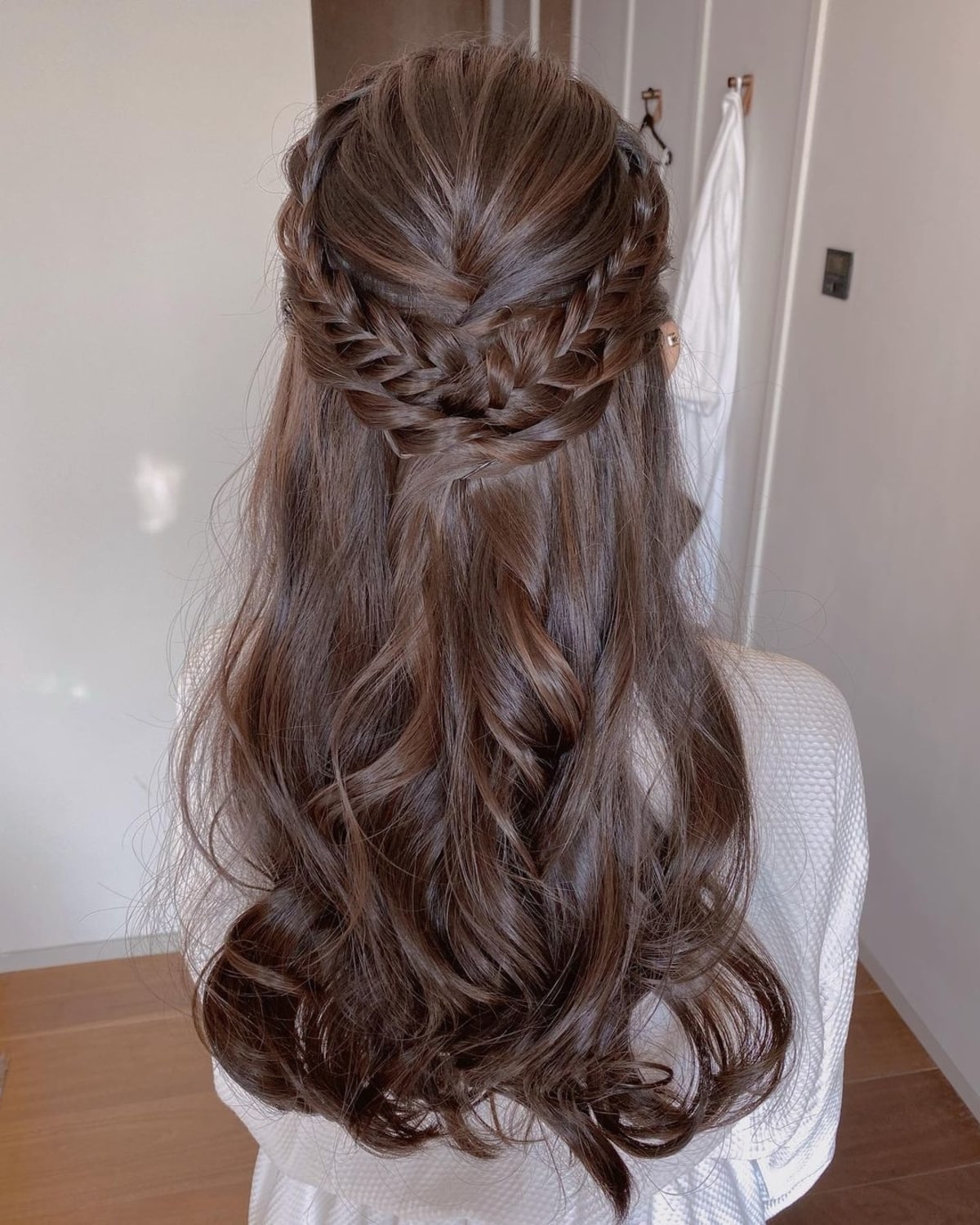 #7: Soft Half Up Updo for Long Hair
A half-up updo for long hair is a great way to change up your style without it feeling too dramatic. Play around with different braids or twists and pull this out for a thicker feel. Leave some hair to fall around the face for extra softness.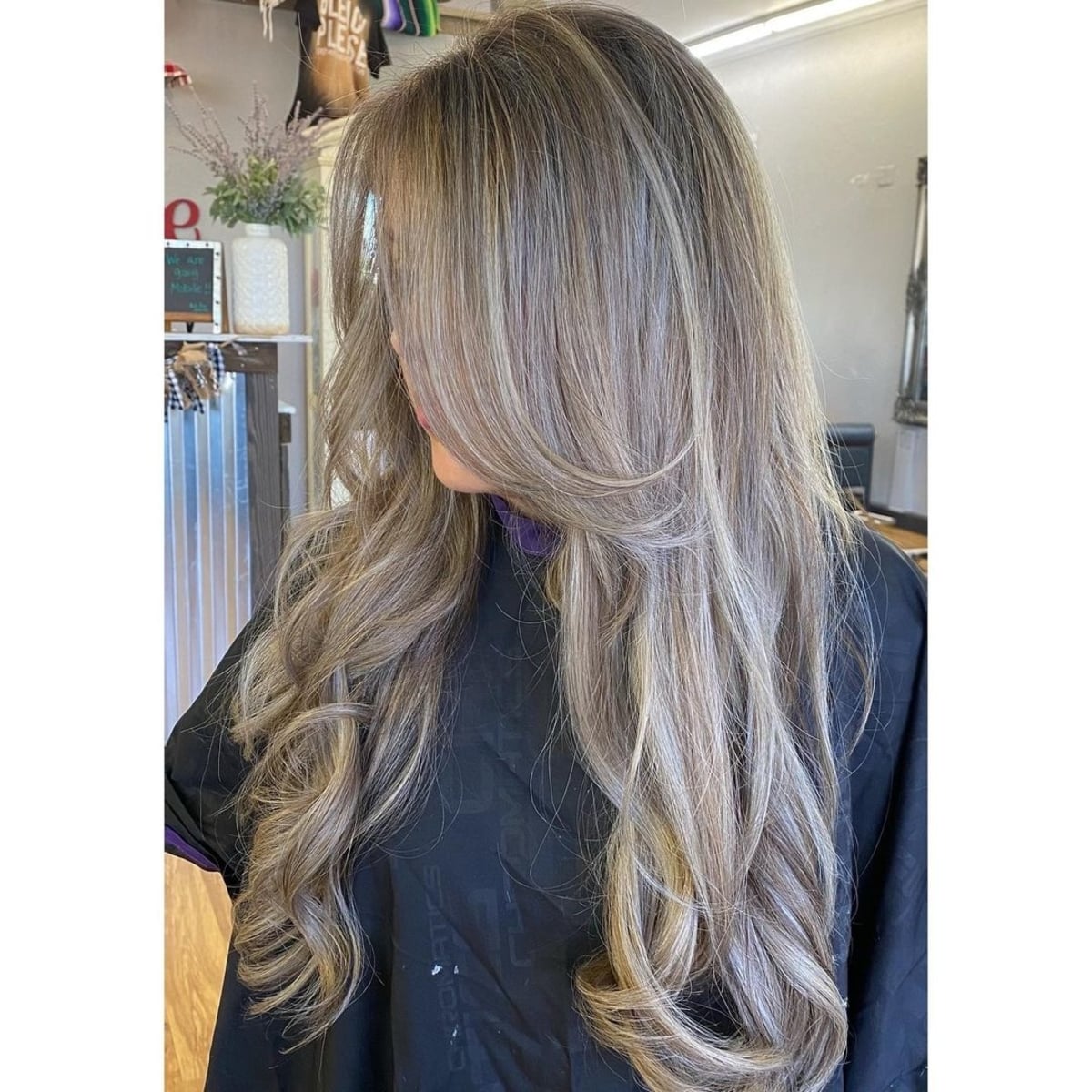 #8: Flipped Ends for Longer Hair
Flipped ends for longer hair will put life back into your finer locks. Styling the hair to add a little flip with a curling iron creates a stacked wave effect. The result? Hair appears wider and fuller. When styling, ensure to add some heat protection like Aveda Shampure Thermal Dry Conditioner. It can be used on wet and dry hair.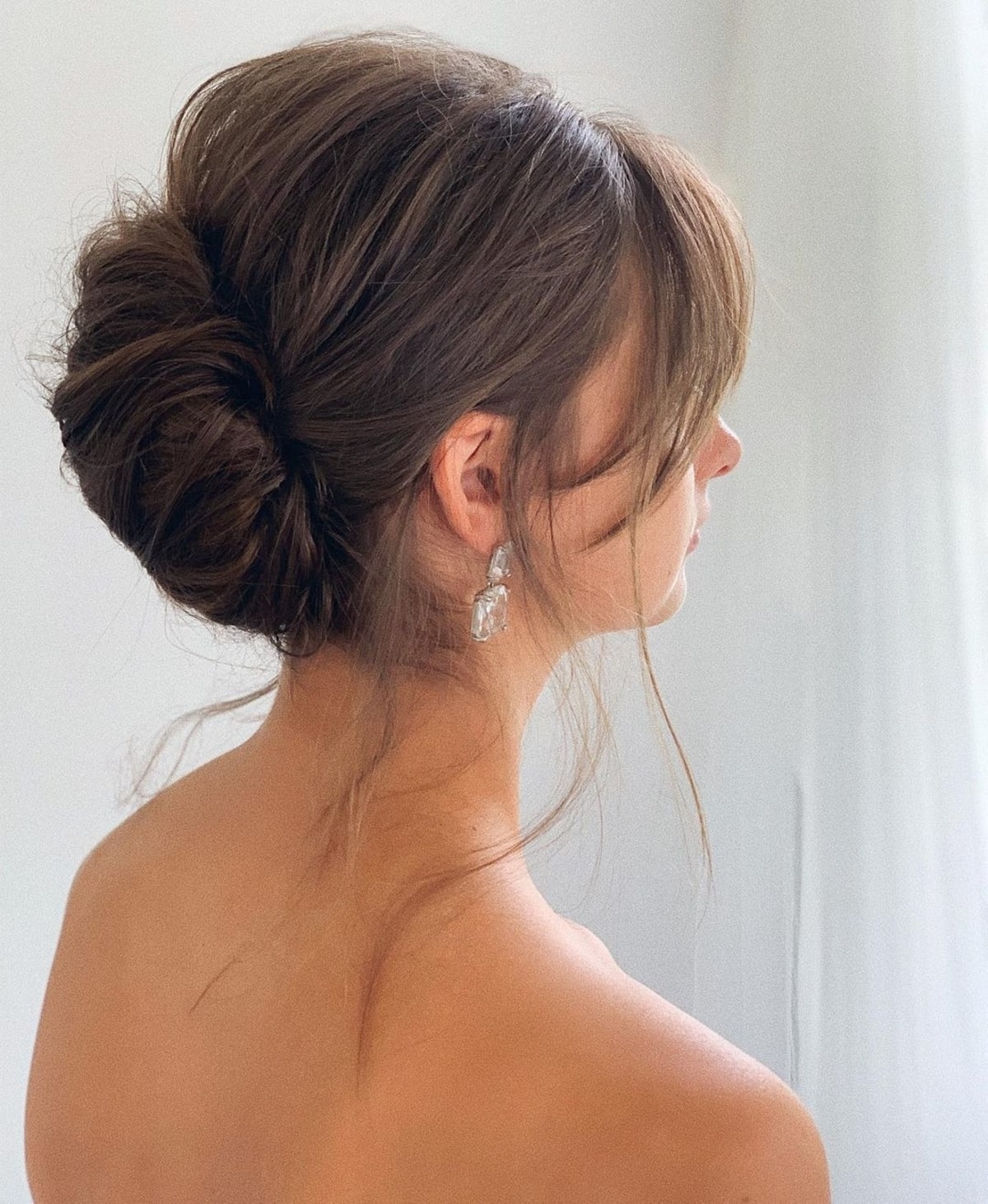 #9: Long Hair Messy Bun for the Wedding Day
Choose an elegant messy bun for your wedding day, which will be timeless when you look back on your big day's photos. It looks so soft and chic, with ribbons of hair falling around the face. The bun is placed symmetrically, which works perfectly with most dresses.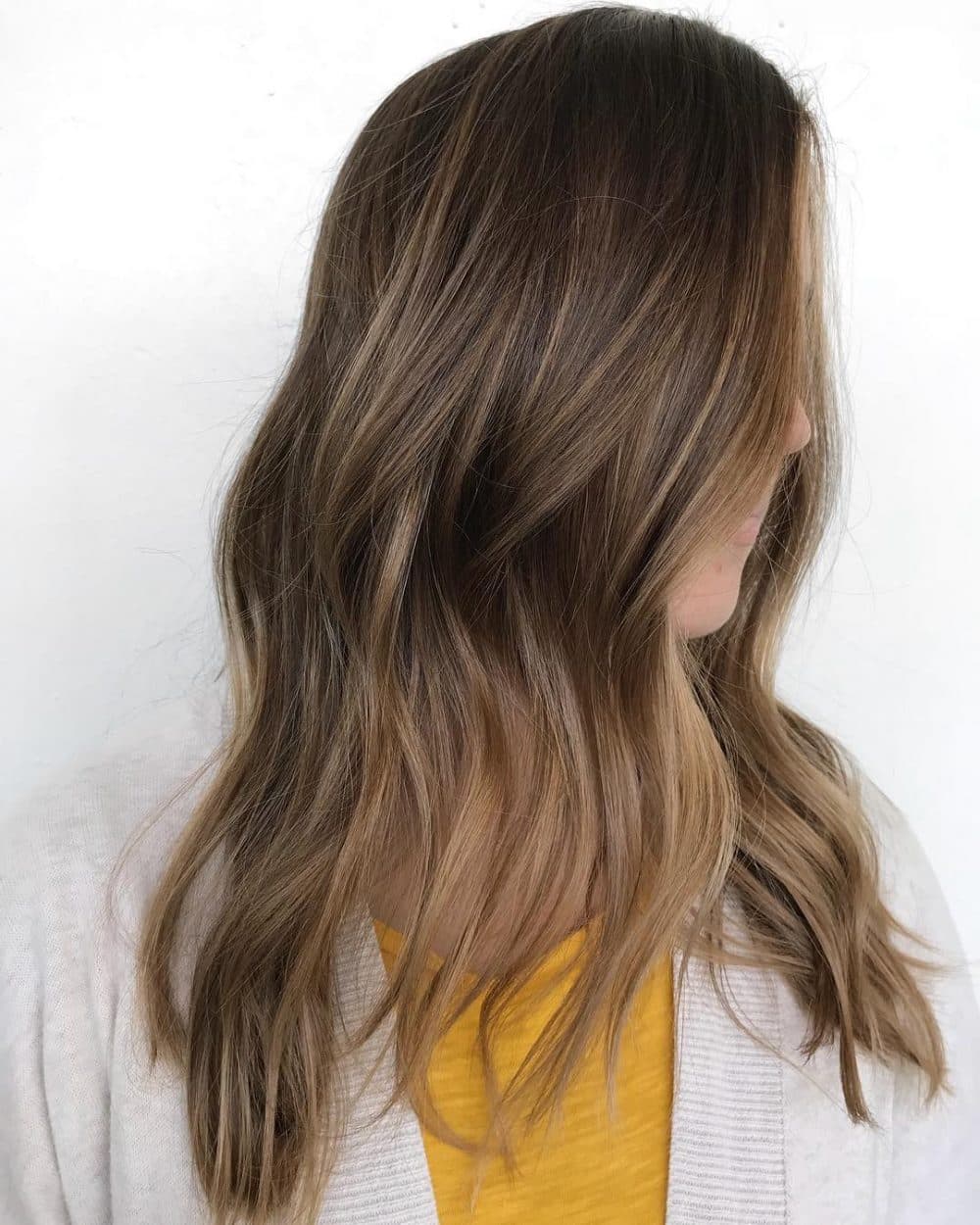 #10: Brown Blonde Balayage for Long Thin Hair
Be amazed by how much dimension and structure a beautiful bronde balayage can add to your hair! This is one of the simplest ways to make your long luscious brown hair look picture perfect all the time.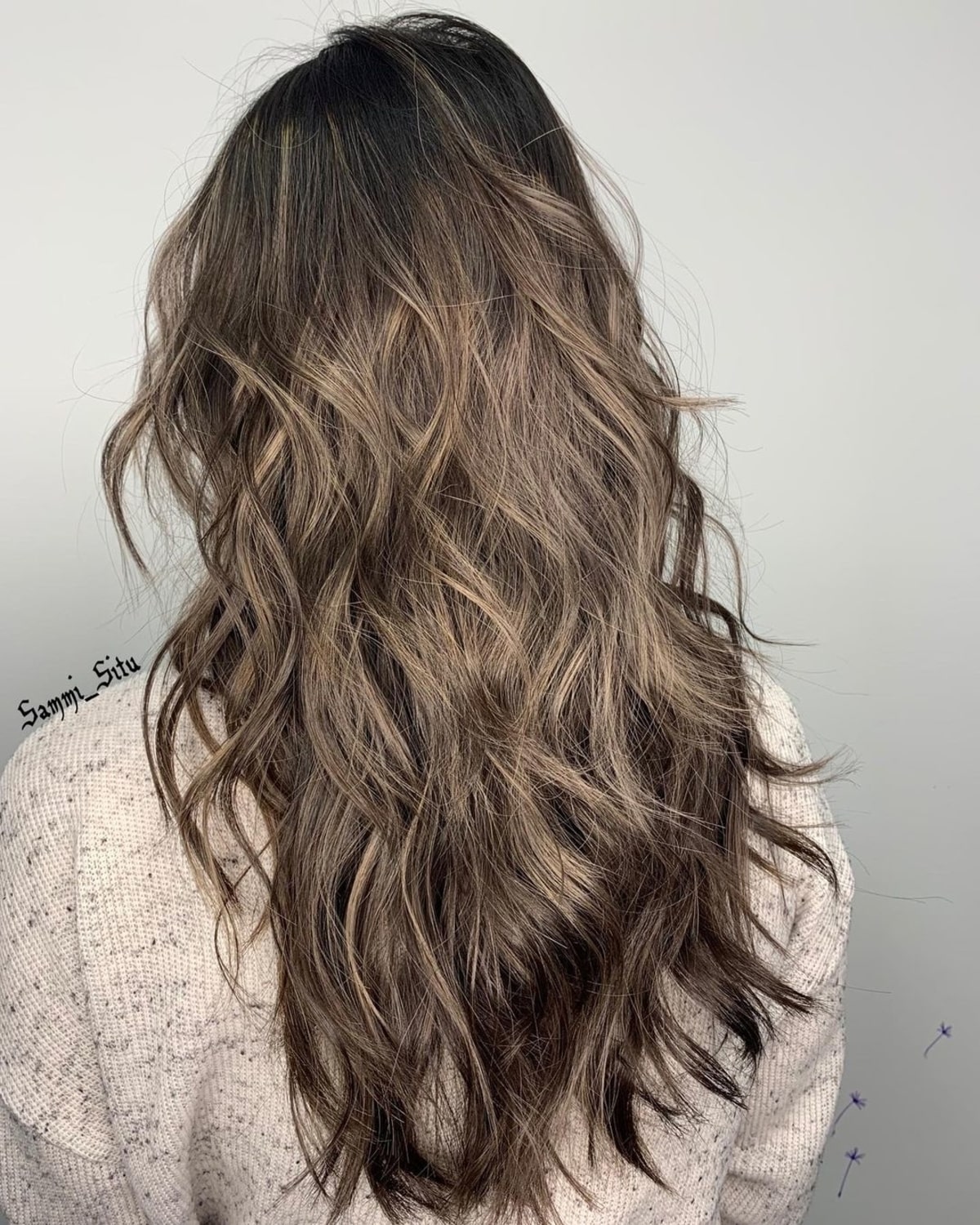 #11: Long and Layered Loose Waves
Long and layered hair is another classic cut for women who like to keep their tresses long. This long layered hair is a great way to create instant movement and remove weight if the hair is too thick. Complete the look with loose waves and a few spritzes of texture tonic from Aveda.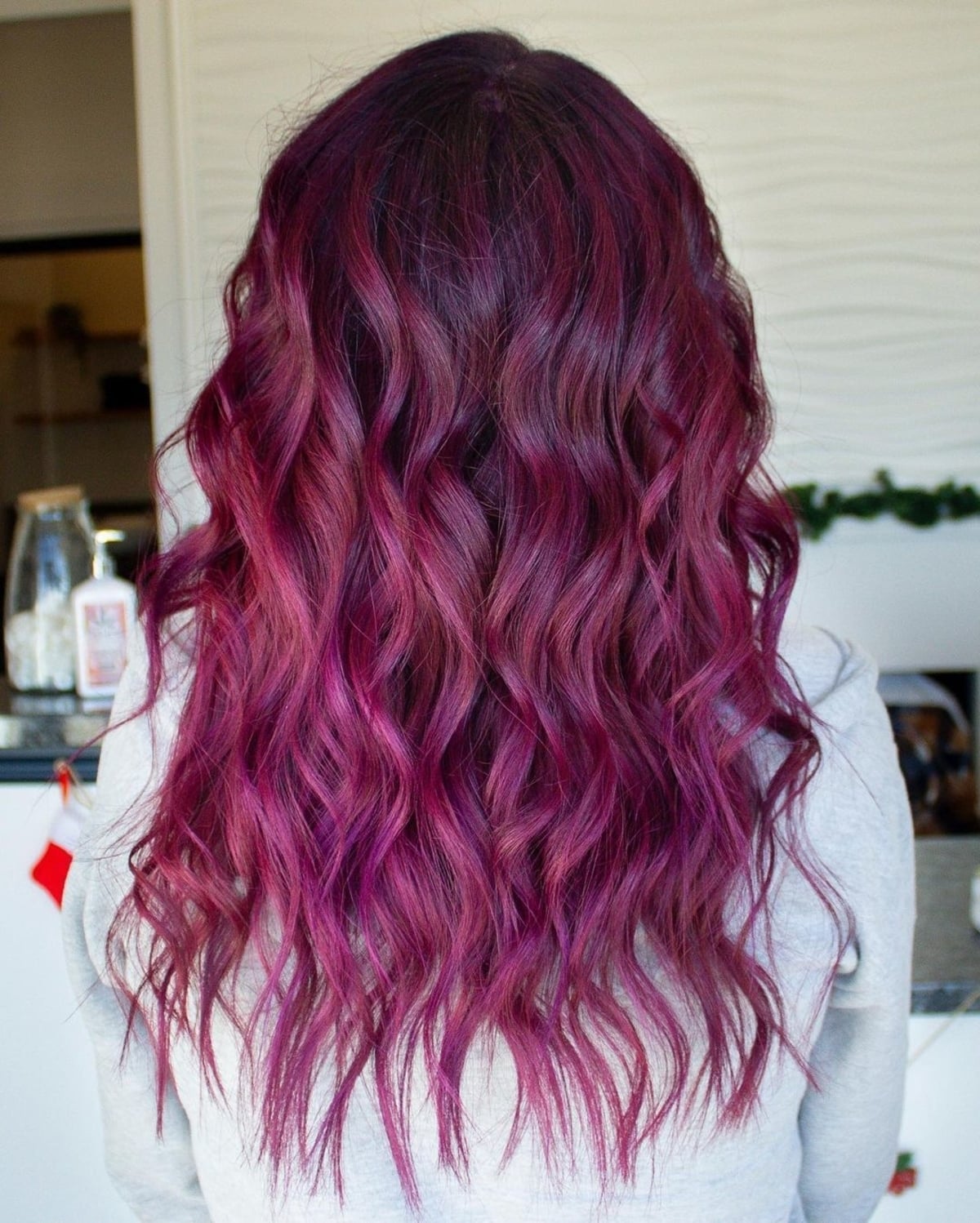 #12: Dark Magenta Color Melt on Long Curly Hair
Try a dark magenta color melt for full-blown vibrancy without the crazy maintenance. Achieving a magenta hair color requires a lightening process, allowing your roots to take a darker base, and melting the contrast of these colors allows low-maintenance roots, and all the vibrancy you need.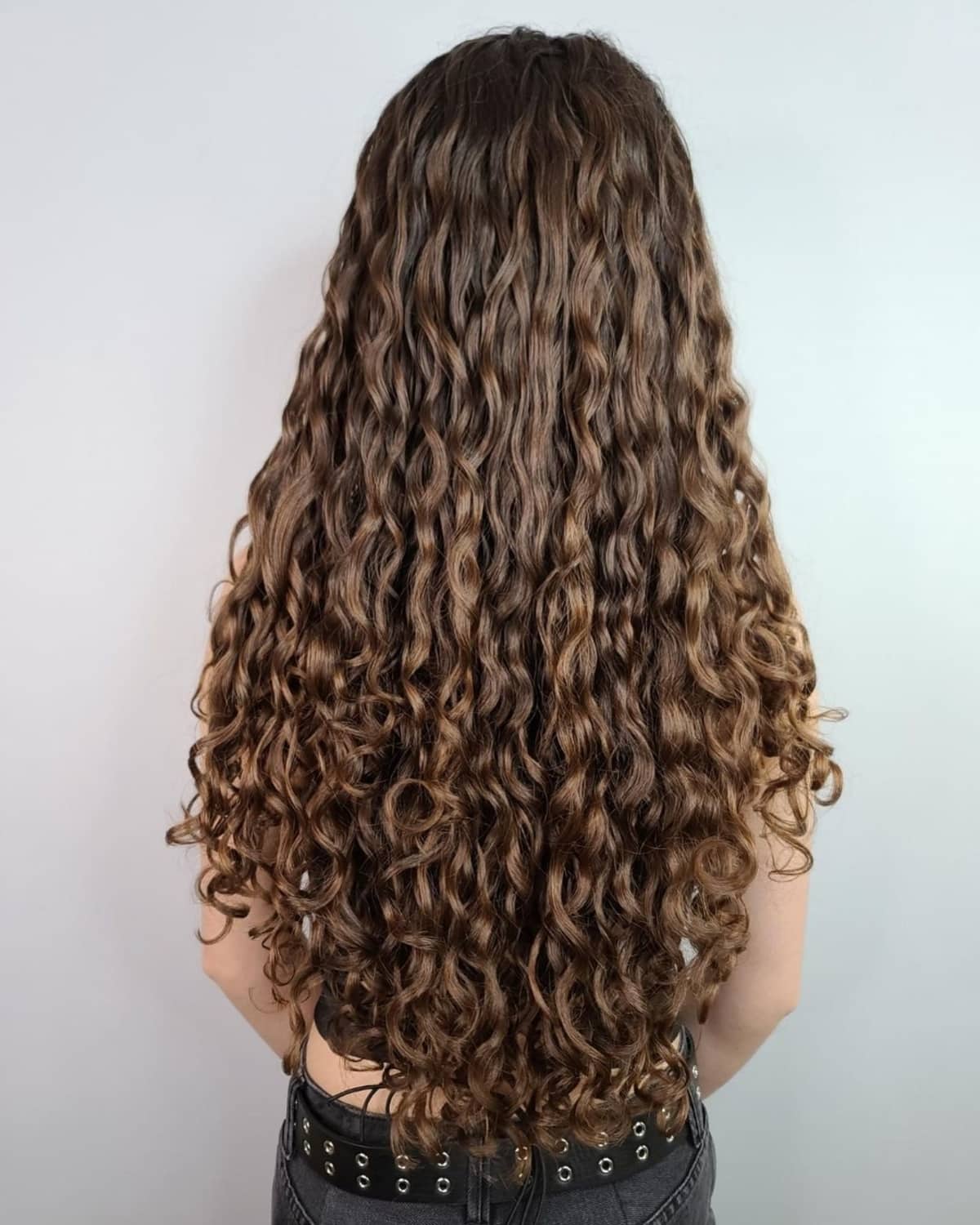 #13: Beautiful Curly Long Hair Style
The curly long hair is for women who want to flaunt their natural texture. The trick to maintaining the style in this hair type is using the right moisturizing products such as Aveda's Be Curly line. Refrain from shampooing daily. Instead, try to wash your hair every week. For styling, use Curl Enhancer by Aveda and diffuse on low heat bending over to create voluminous curls.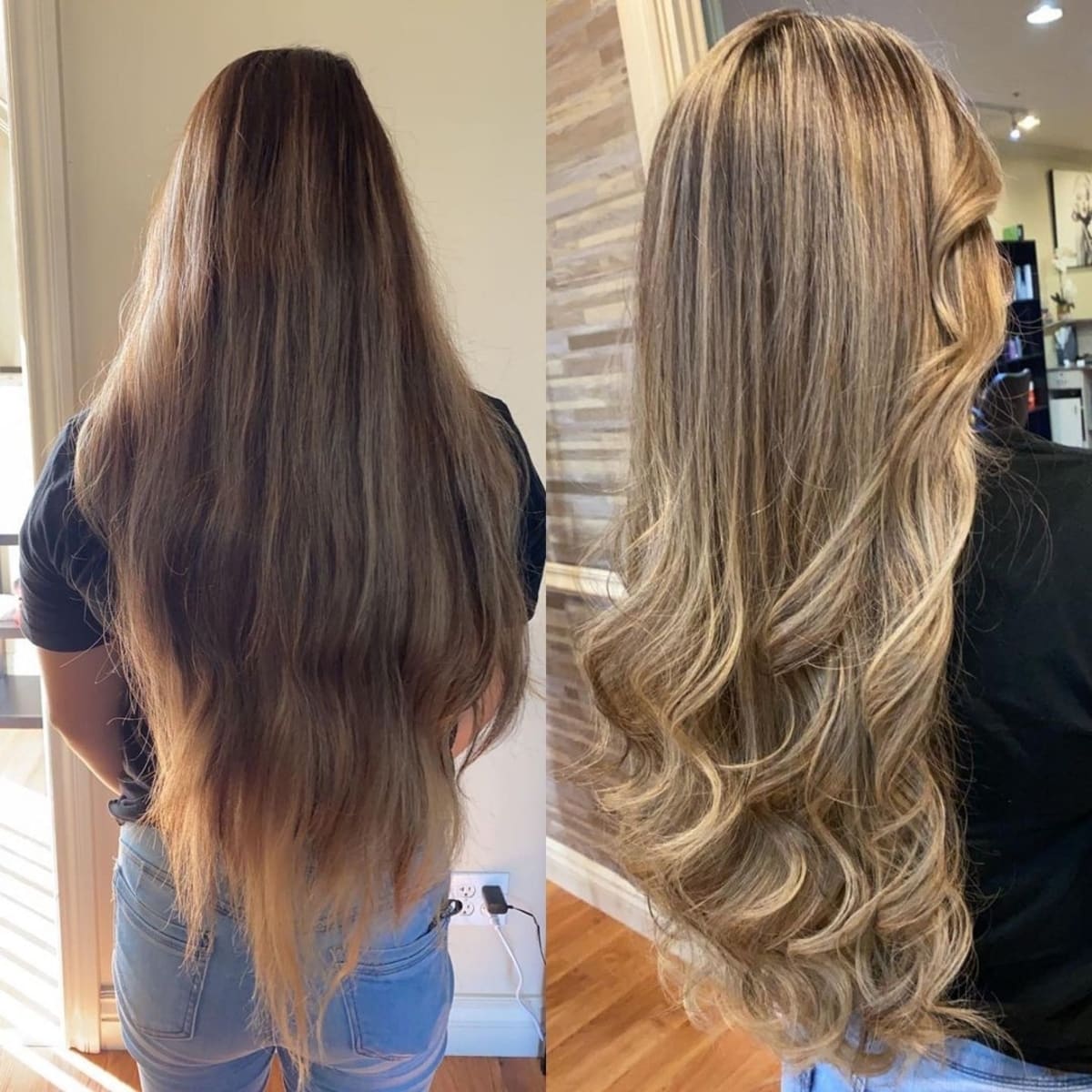 #14: Blonde Babylights with Curled Ends on Long Fine Hair
Transform your hair with blonde babylights and curled ends on long fine hair to give a fuller dimension. Fine hair absolutely loves the fine weaves of babylights. This way of micro-lighting allows a bright appearance but supernatural, allowing the contrast of your natural color to flow through. Finish off your new color by curling the ends to add some bounce and volume.
#15: Long Beachy Curls
Long beachy curls are every girl's dream. Get long layers and textured ends to soften the hairstyle. Use a 1 1/2 inch curling wand or standard curling iron. Take one-inch sections, this will give you more waves. Two-inch sections will result in fewer waves. Finish it off with a beach spray to achieve textured beach waves.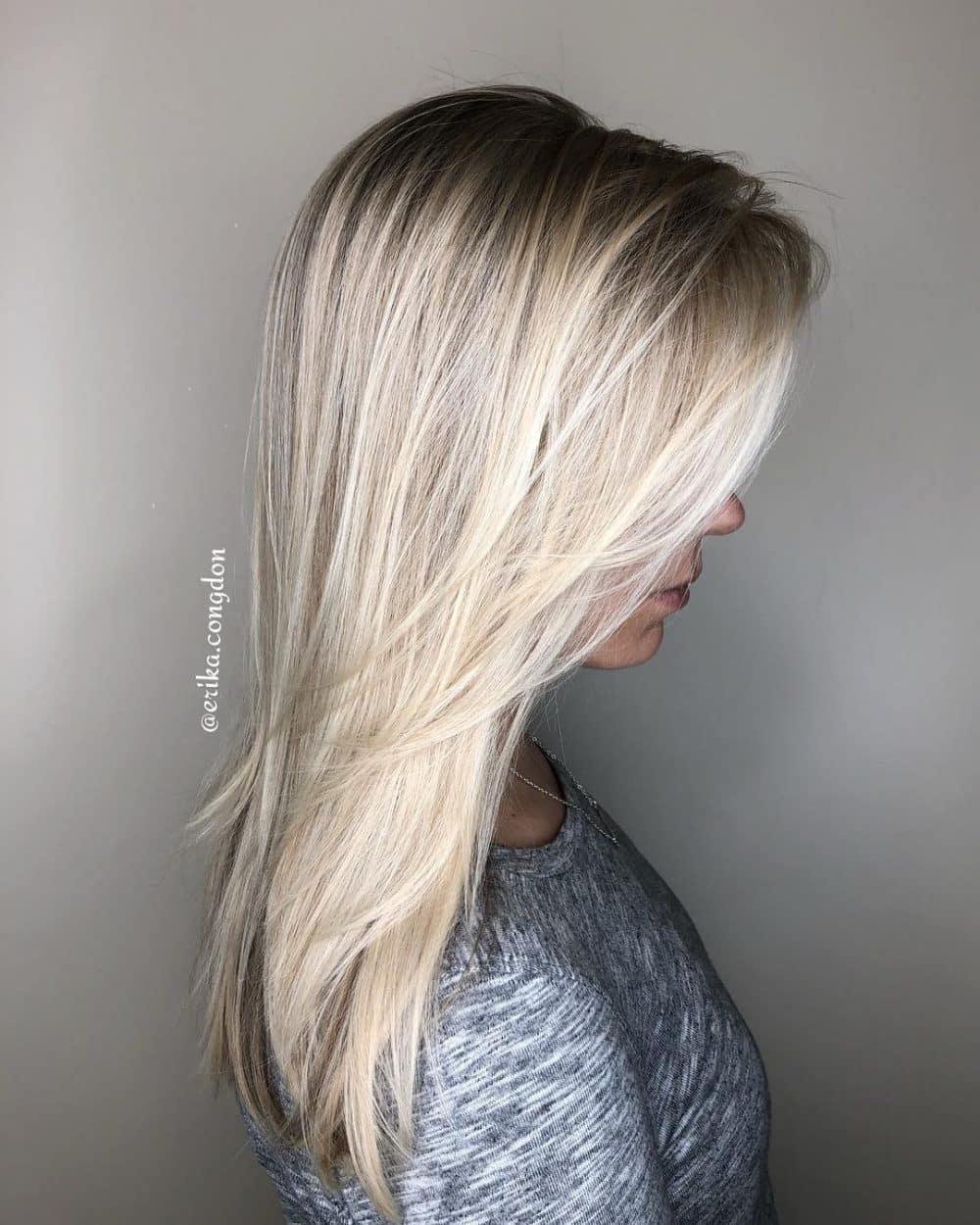 #16: Dimensional Blonde Layers on Long Fine Hair
Bright highlights complement the beige blonde undertone to create the illusion of thicker hair on a long thin hairstyle. Adding face-framing, but very little layering throughout, allows long fine hair to still have movement and length. If the hair is a bit finer and tends to wilt easily as the day goes on, adding highlights can help create a bit of texture and allow the style to stay longer. Finer hair can also be a bit trickier when trying to have a lot of length. Thin and fine hair might have to be cut a bit shorter, say collarbone-length, to keep looking fuller. Fine and thicker hair can definitely make it to the longer side, however. Stick with light layering, consistent haircuts, and great at-home hair care products when rocking hairstyles for long fine hair.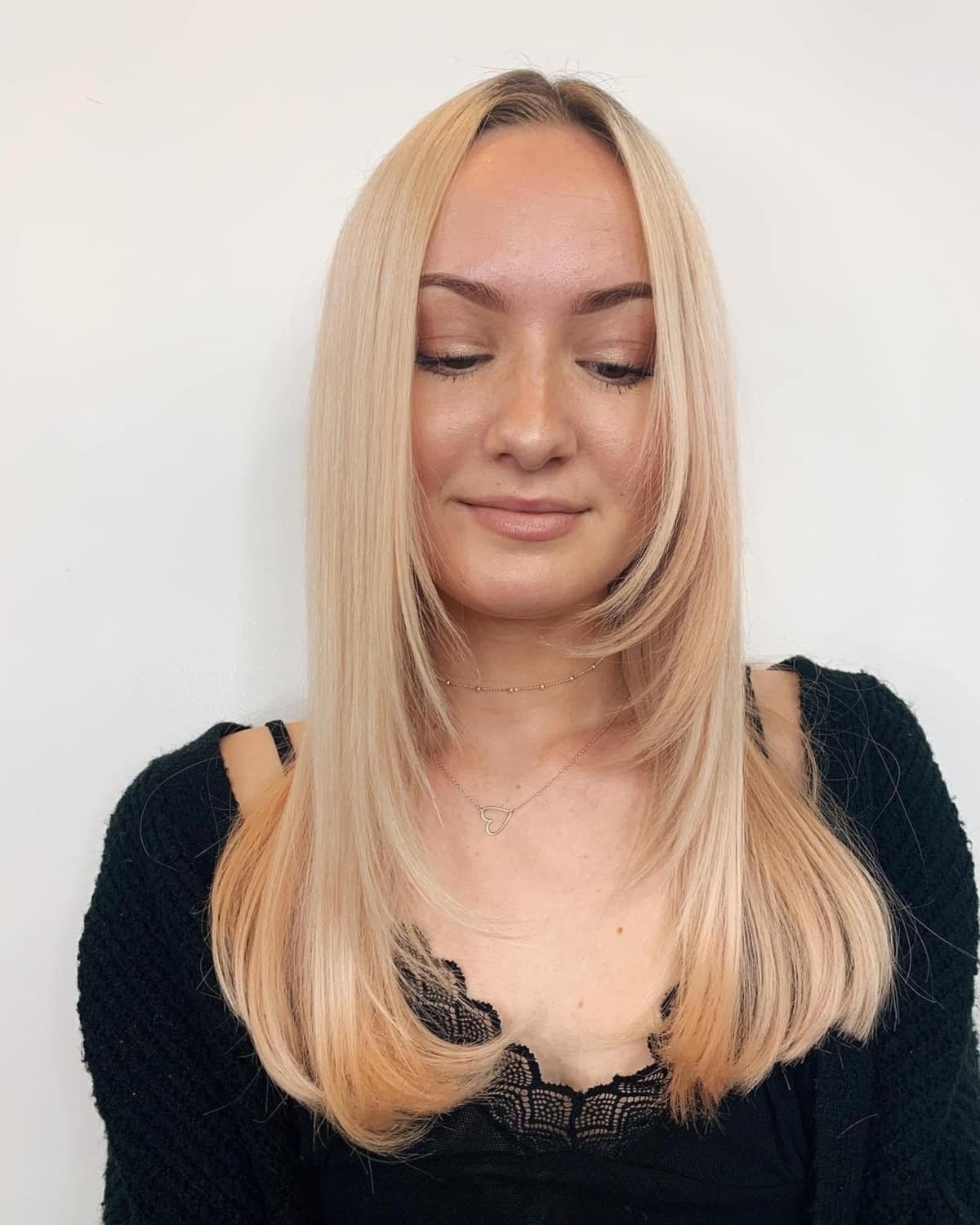 #17: Soft Face Framing Layers on Long Straight Hair
Soft face-framing layers on long straight hair is the perfect blend of symmetry. To style long straight hair with fine thin hair, adding layers should be the key point. Face-framing layers are added to create a more refined definition of your overall appearance.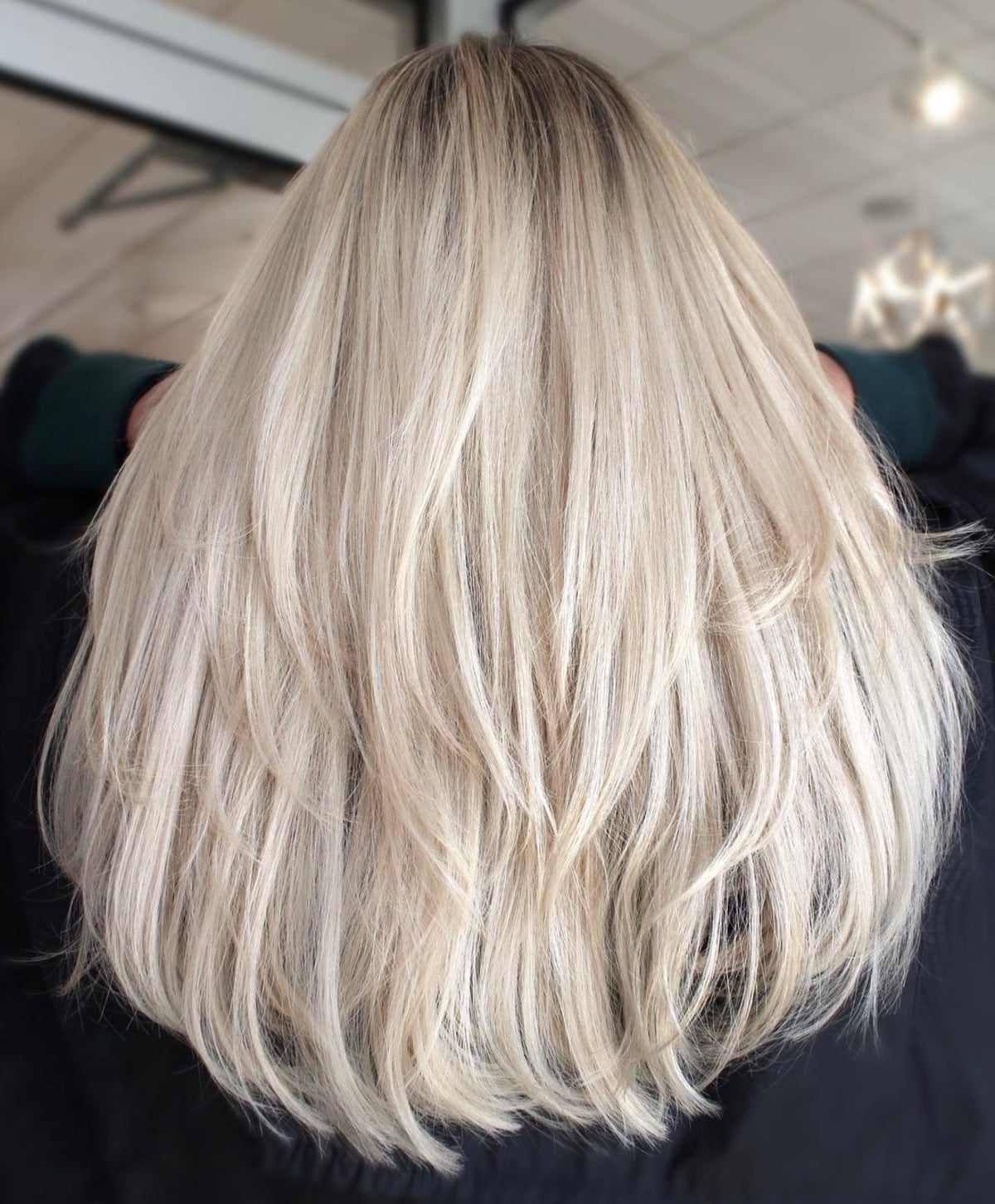 #18: Soft Long Layers for Thin-Haired Women
Soft long layers for thin-haired women exude effortless elegance. A long layered haircut for thin hair can be great for the appearance of fullness & body to the hair. Keeping long thin haircuts with the added layer won't take too much weight away from the ends. Instead, this makes it appear voluminous. If you layer too much it will make your hair thinner. Keep the layers within 45-90 degrees.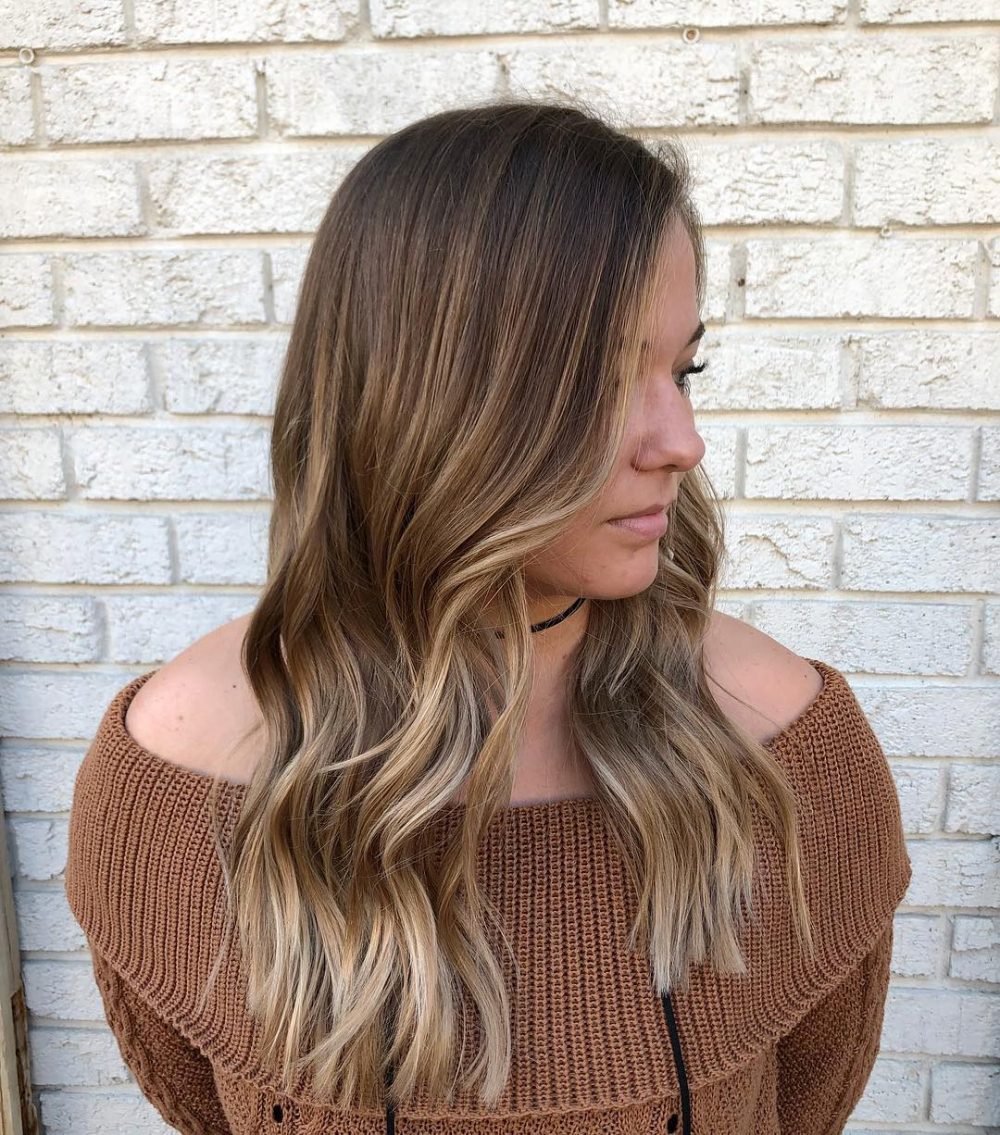 #19: Rooty Cool Balayage for Long Choppy Hair
This rooty cool balayage for long choppy hair needs a hydrating or repairing shampoo/conditioner such as Kevin Murphy's Hydrate Me Wash & Rinse, or Repair Me Wash & Rinse. The choppy cut is very low-maintenance and if you opt for it, you won't have noticeable regrowth for quite some time. This look for women that want a change without having to commit to appointments every six weeks.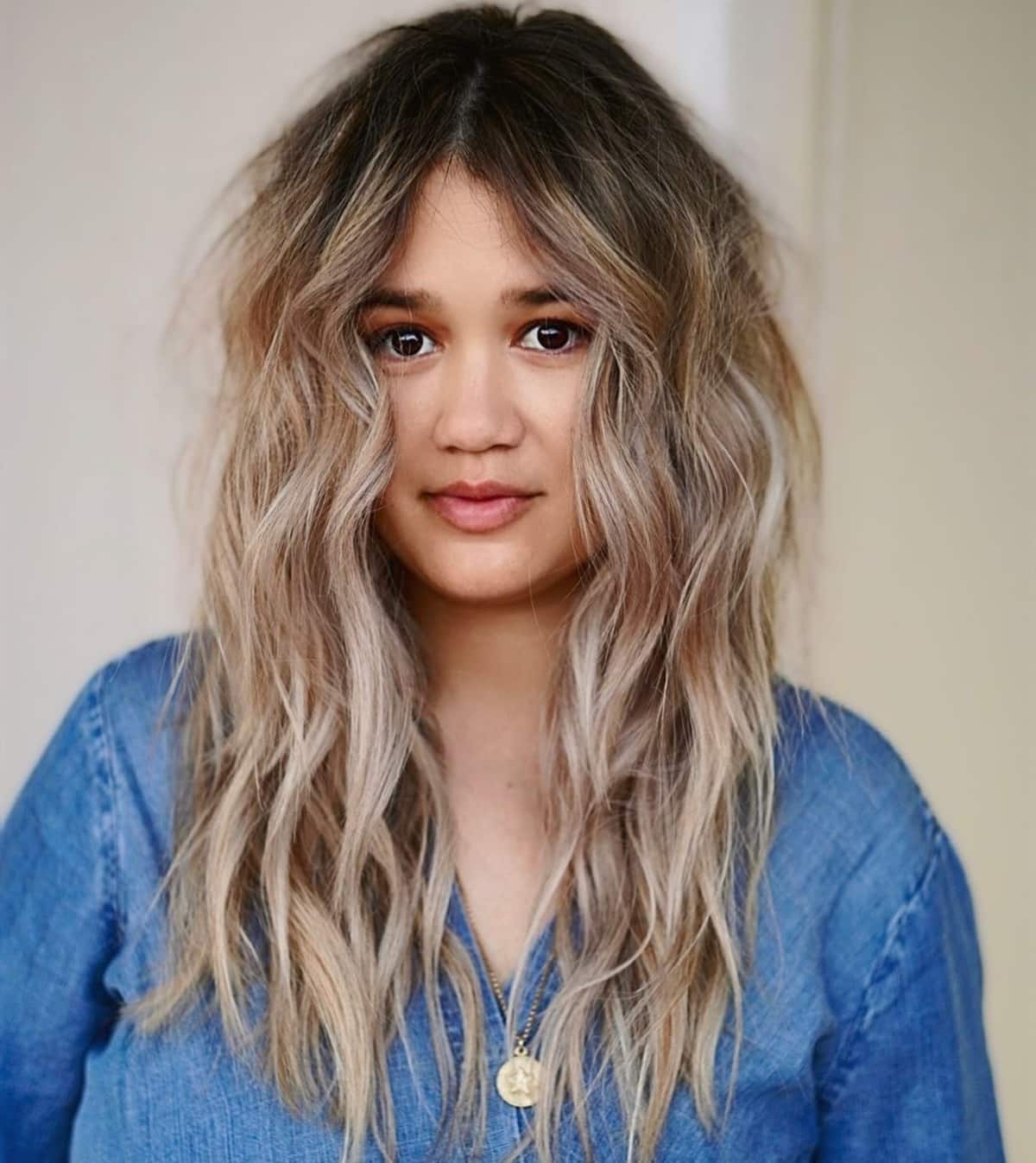 #20: Messy Long Modern Shag Hairstyle
A modern shag hairstyle is a perfect style for ladies who need texture and movement when those tresses want to lay flat. It also creates a dimension when a style is added. Adding layers to a haircut for long thin hair creates movement and gives a great shape to the hair. When jazzing up, consider a sea salt spray such as Evo's Salty Dog to create a cute beachy look.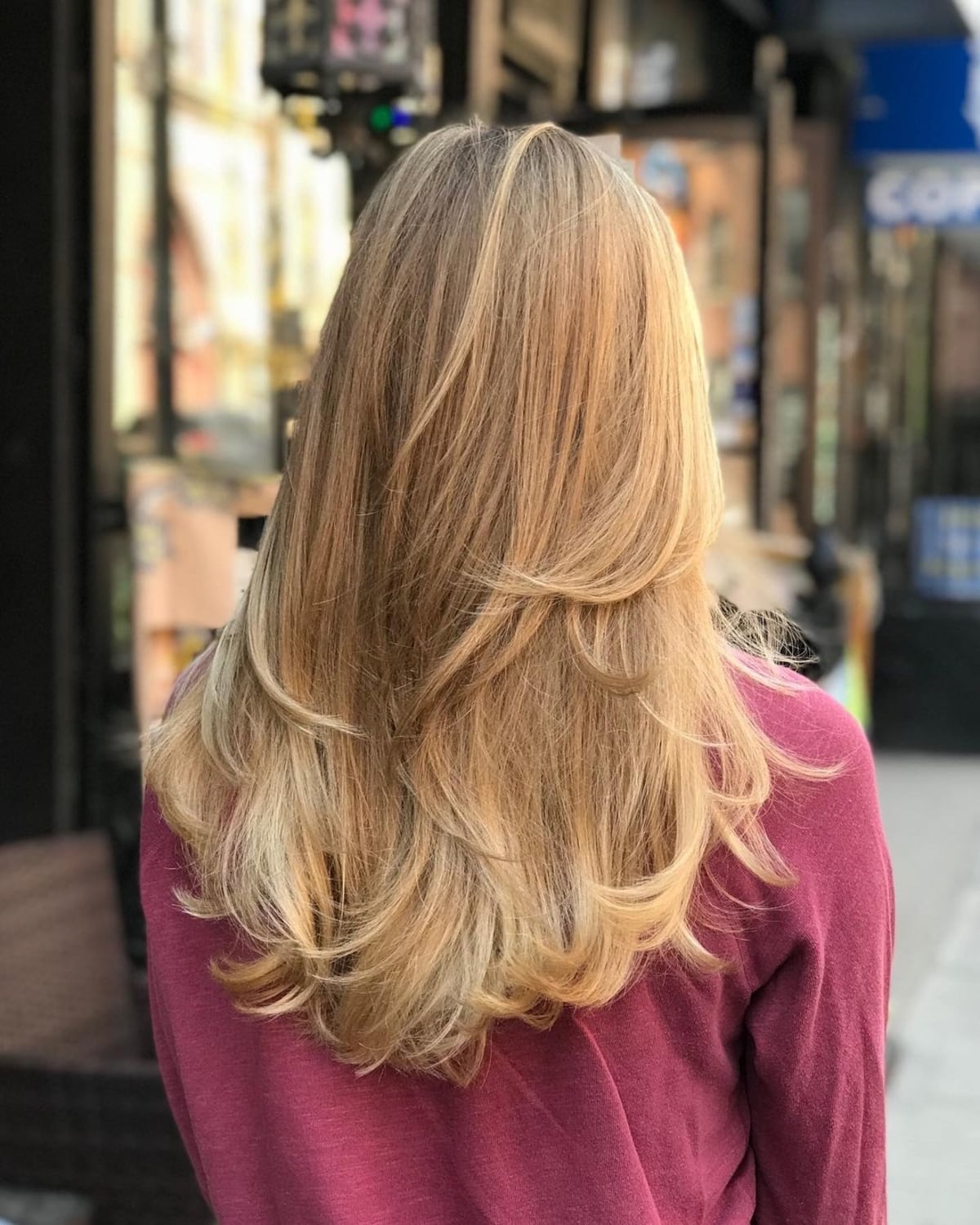 #21: Simple Long Layers
Simple long layers make one of the best haircuts for thin long hair. is for fine and wavy hair who blow-dry by themselves sometimes. This hairstyle adds volume and a rich texture to the locks. The technique used for this is the blunt cut. I often use this technique for fine hair to make it fuller and thicker on the bottom. Ask your stylist for face-framing layers in the haircut.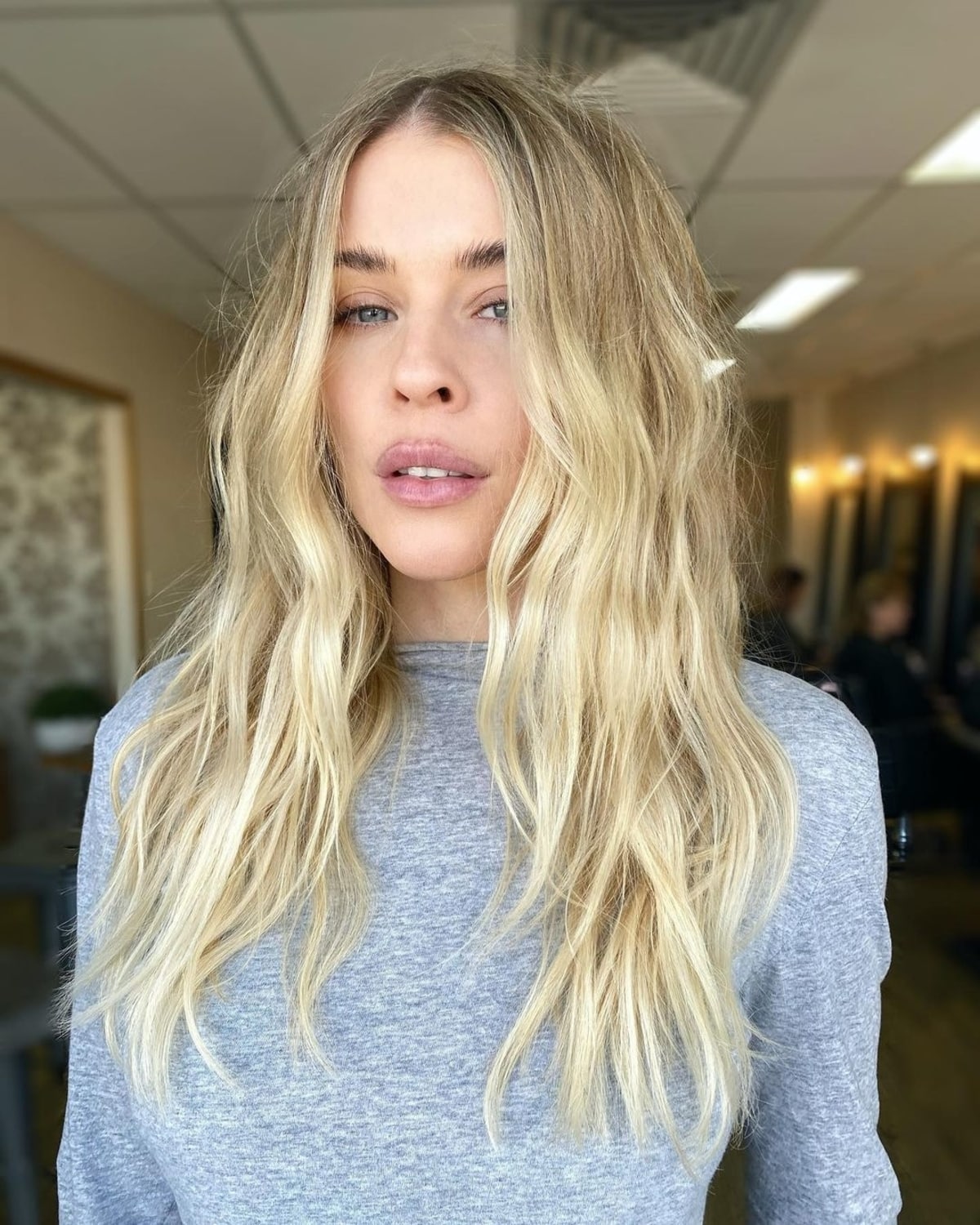 #22: Done But Undone Long Cut for Women
A done but undone long cut for women shows off an elegant vibe. A long layered haircut that frames the face with some added texture is great for hair on the thinner side. Face-framing from mid-length down adds in volume, texture, and movement. Add some soft and messy waves with some salt spray to complete the style.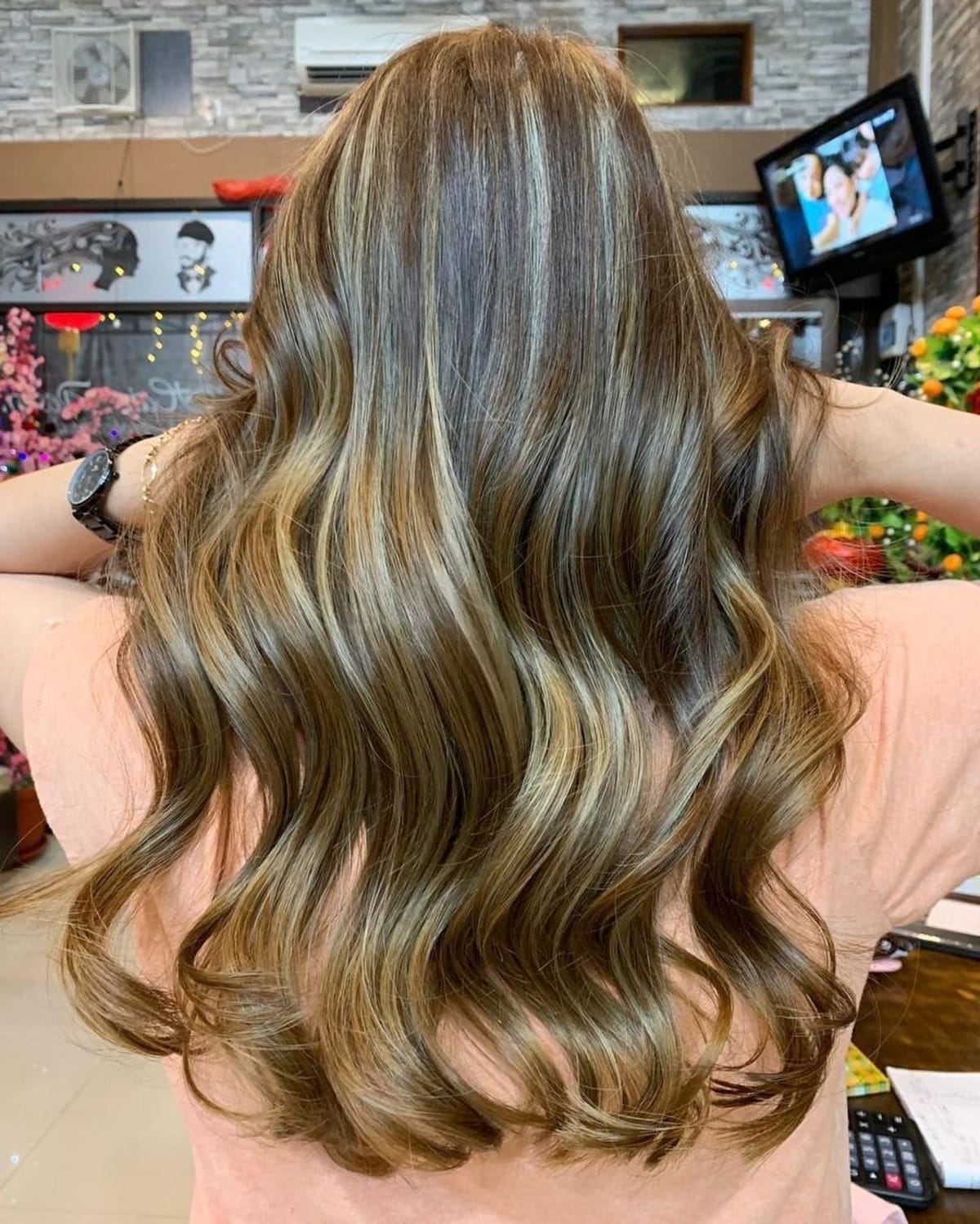 #23: Soft Brown Waves for Thin Long Hair
Soft brown waves are always a beautiful option on long and thin hair. When a woman has hair that's more on the finer side, softer colors that blend well together help give a more seamless effect. Big waves are always a good option to have fullness and volume to more fine hair.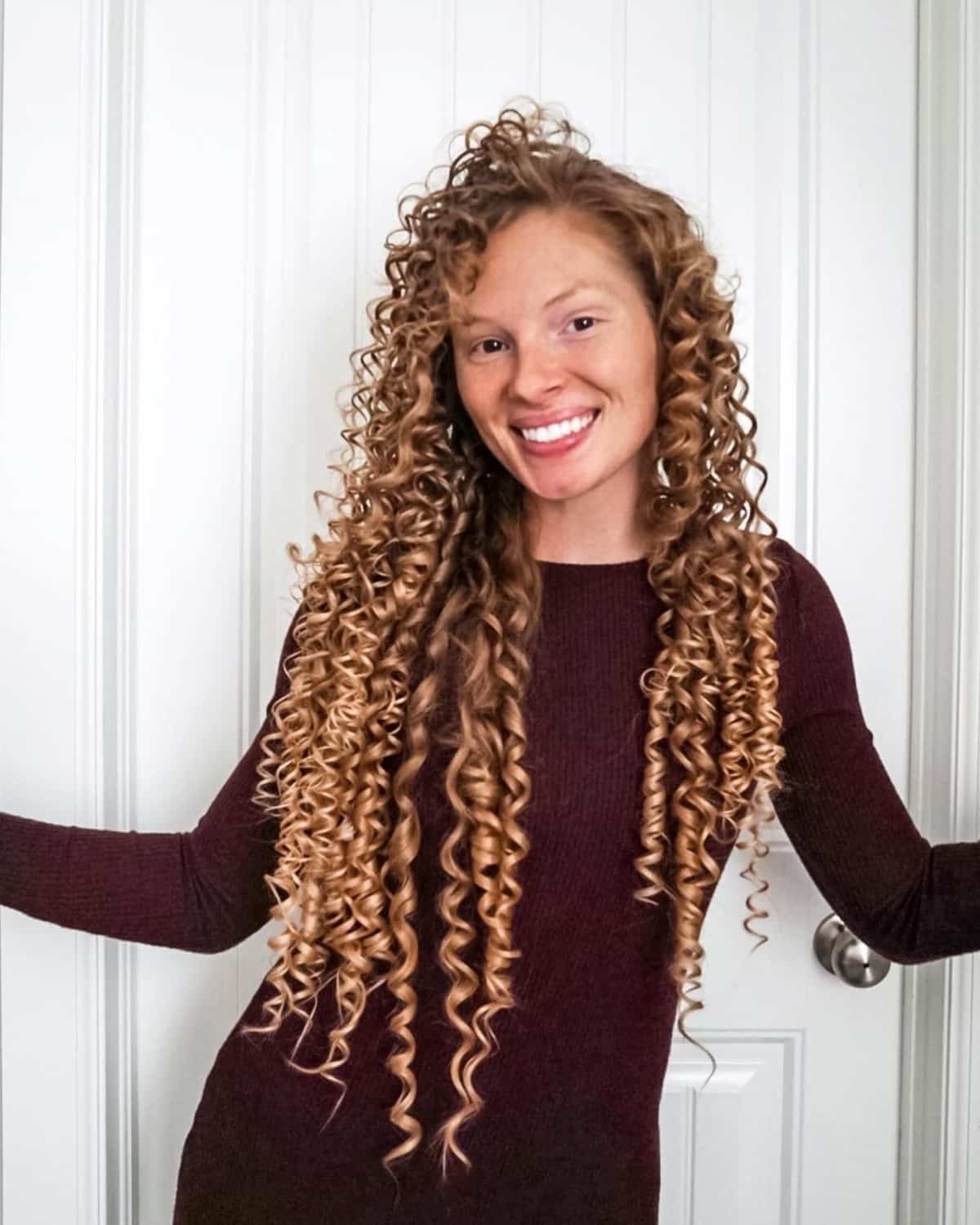 #24: Large Spiral Curls for Thin Hair
The large spiral curls for thin hair are great for women who want to try curly hair without committing to a perm. Try using a thin curling rod and set the curl with pins. Curls in this hairstyle for long thin hair will hold better once they're cooled down and styled with a flexible hold hairspray like Aveda Control Force.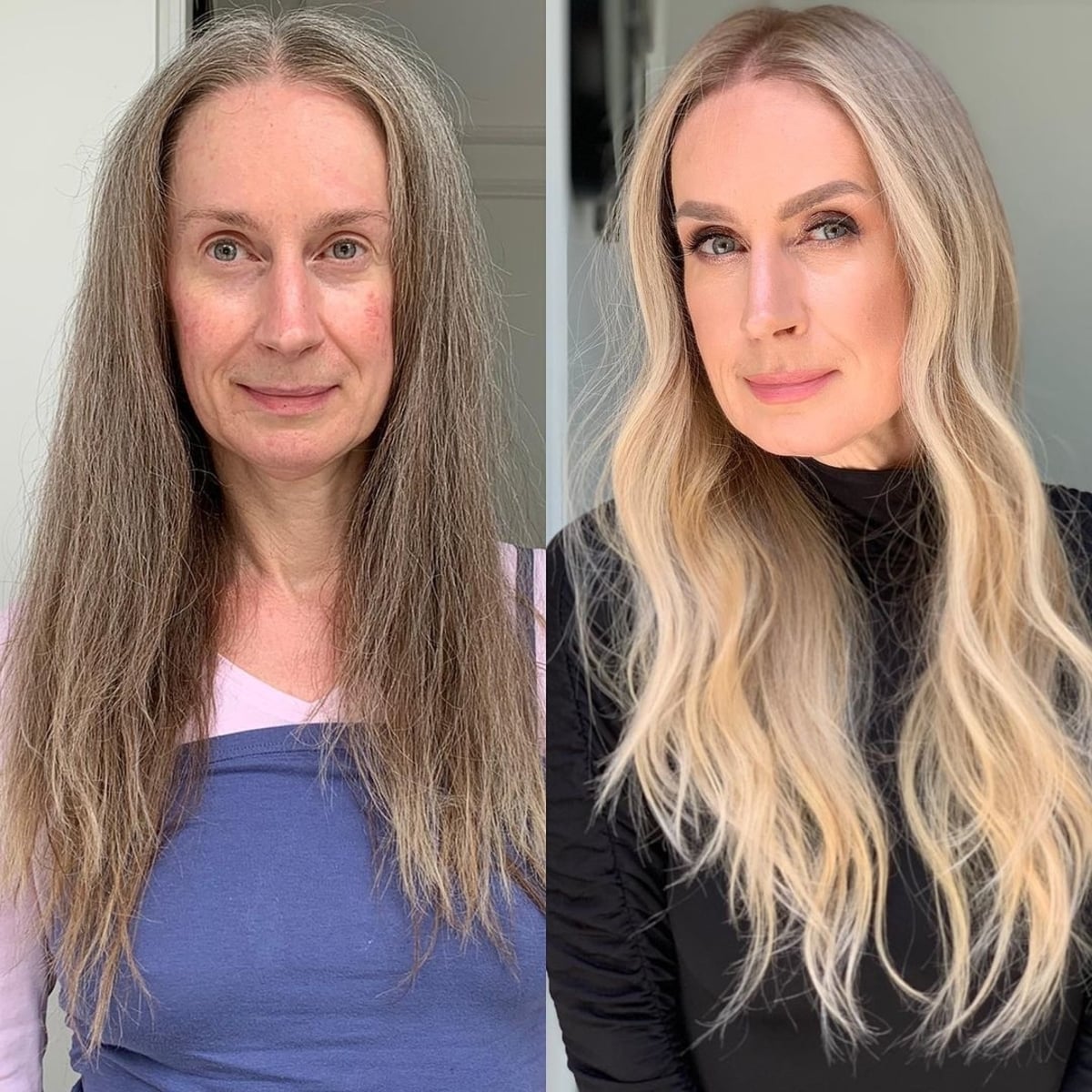 #25: For Longer Thinning Hair
For longer thinning hair, incorporating medium-length layers with soft waves is a must to achieve a fuller style. The waves add a lot of volume to the hair. Using a curling wand with a heat protection spray, you can achieve some soft waves. Mid-length layers allow texture and movement without taking away too much weight from the hair. Ask your stylist for the best length and layering that would suit you best.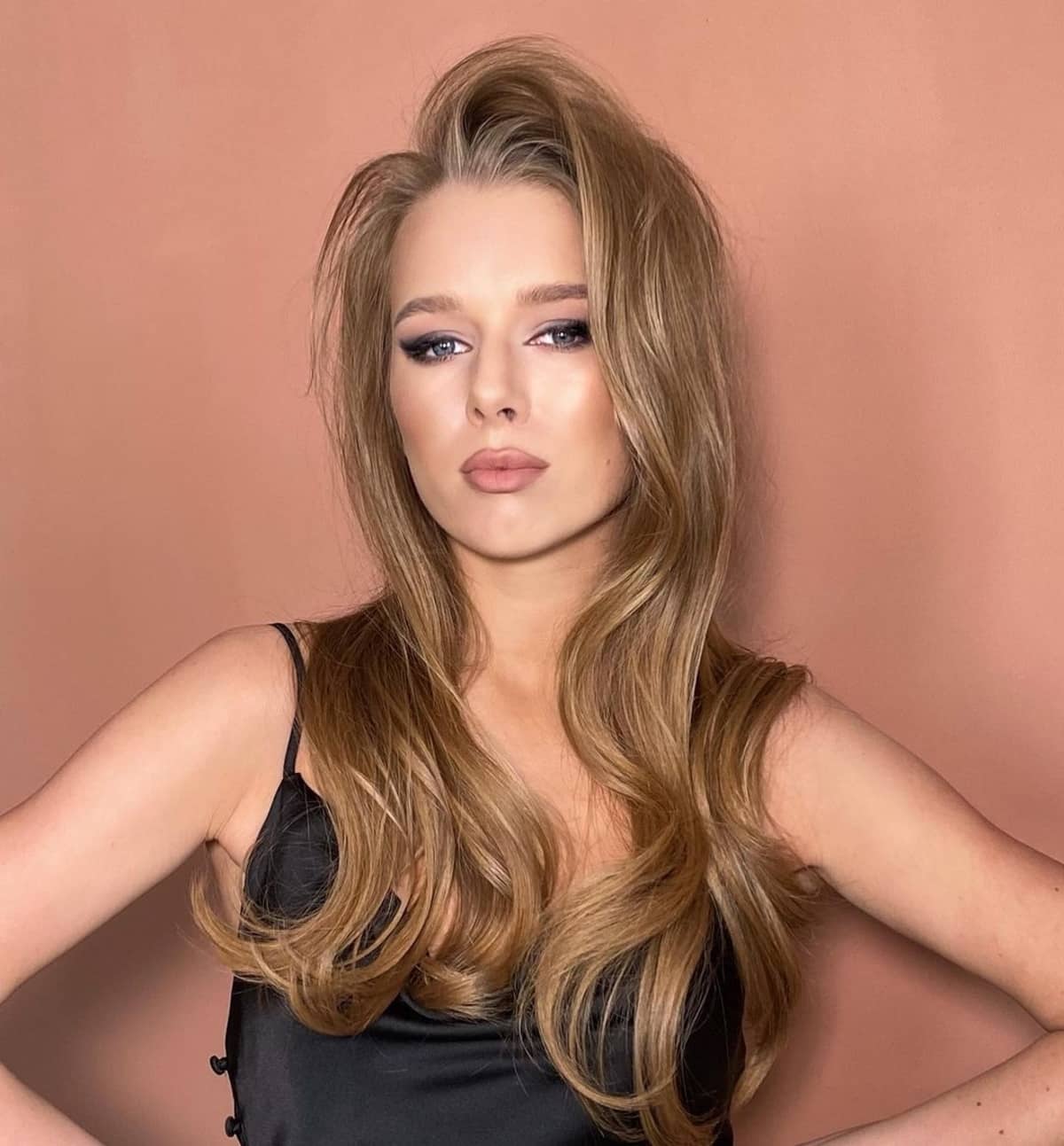 #26: Long Volume-Adding Wavy Hair
Long volume-adding wavy hair is sometimes difficult to get, but knowing your product and styling options will help. Add large waves with round brushes and style with a great setting spray and finishing spray. These will help to achieve a beautiful, long, wavy hairstyle.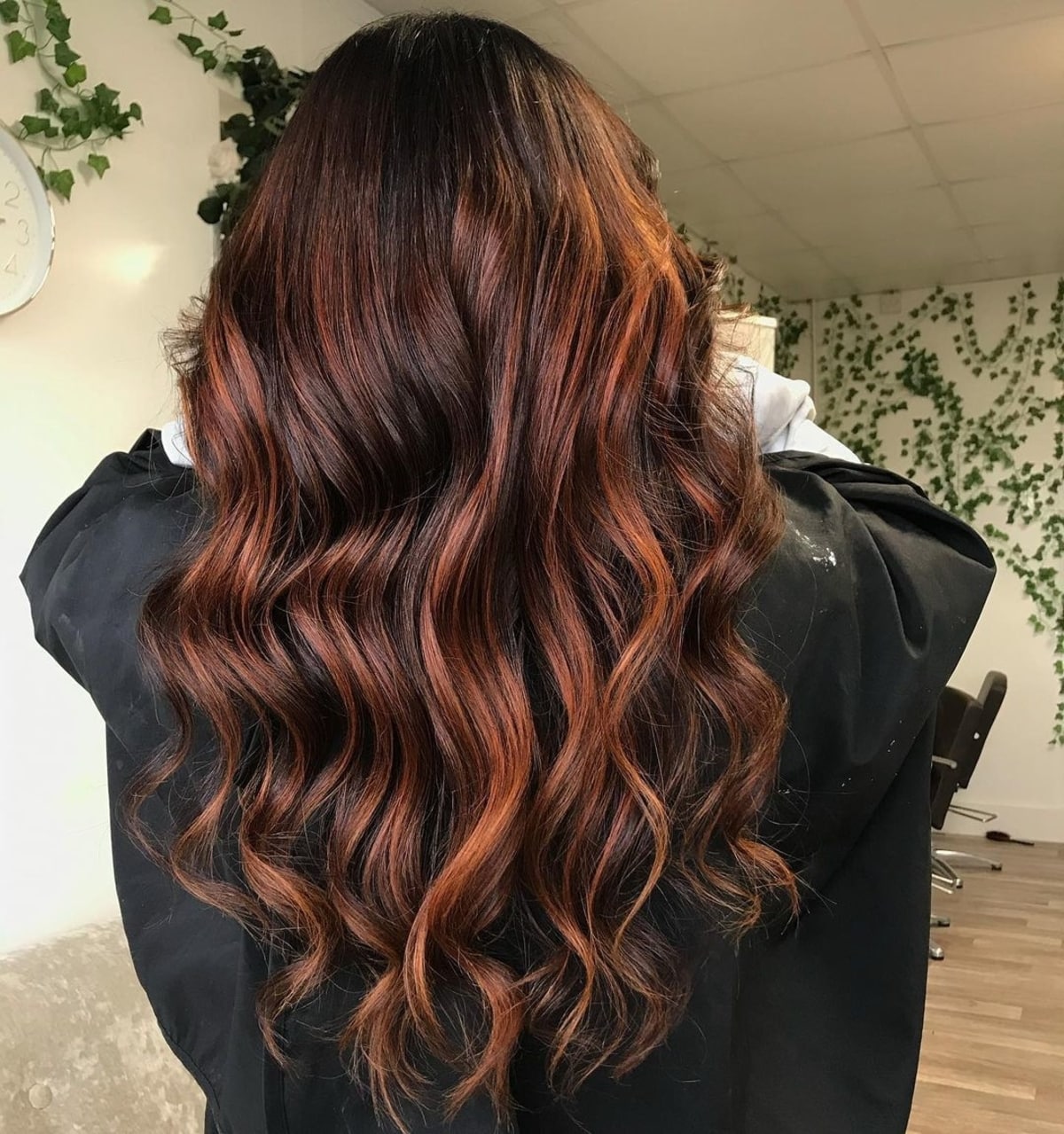 #27: Dimensional Long Waves with Highlights
Long waves with copper highlights are a great addition to long thin locks. When a woman has long, thin or fine locks, the hair can be made to look fuller by adding dimension. Long, thinning hair needs regular trims to keep it in great shape.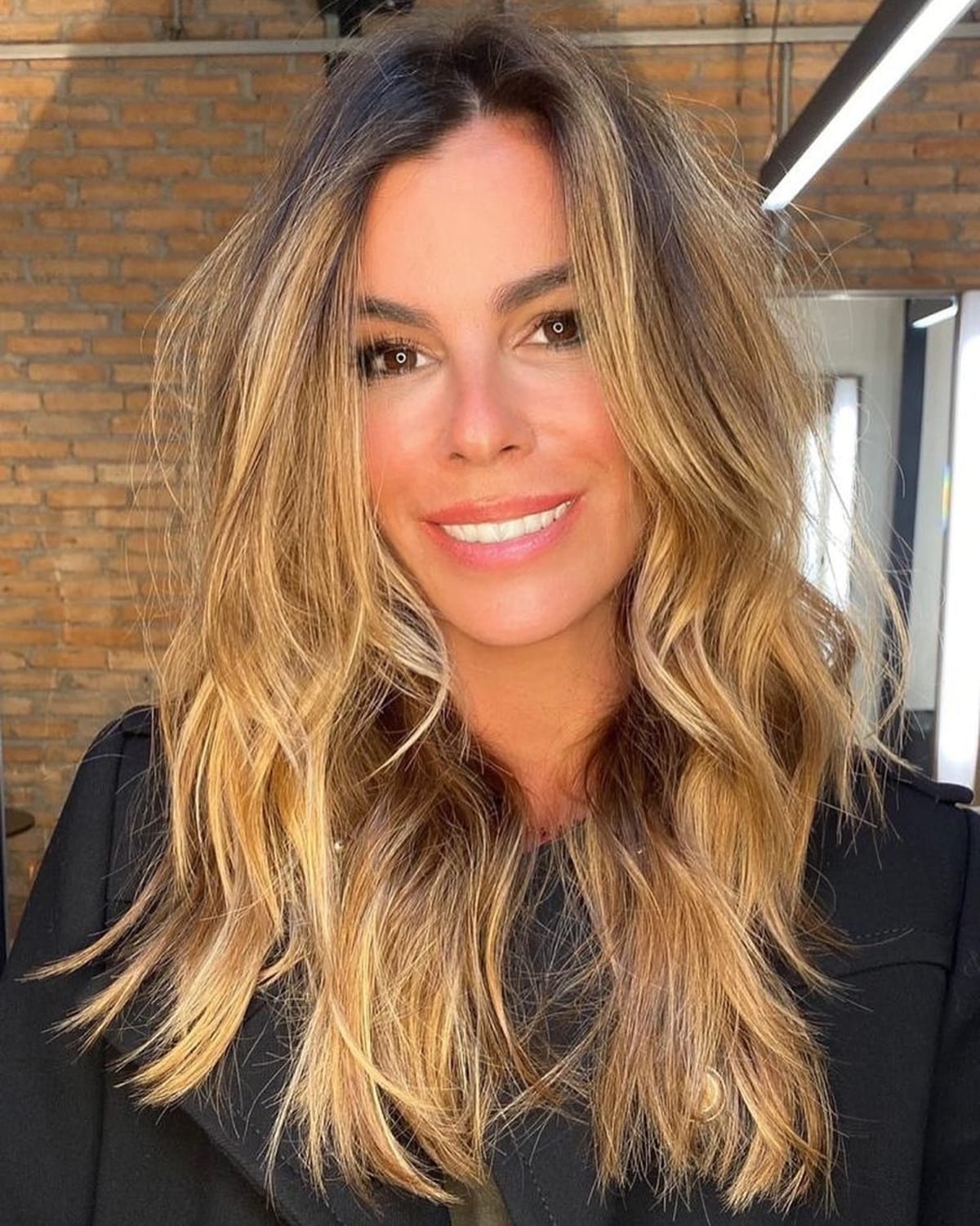 #28: Long Hair for Women Over 40
Long hair for women over 40 years of age can still be amazing! Whoever said women should go shorter as they get older never had awesome hair. Women often think they can't have long hair at an older age, especially if it's thin. Long, thin hair can still be beautiful when maintained with regular trims and color appointments throughout to keep a more updated style.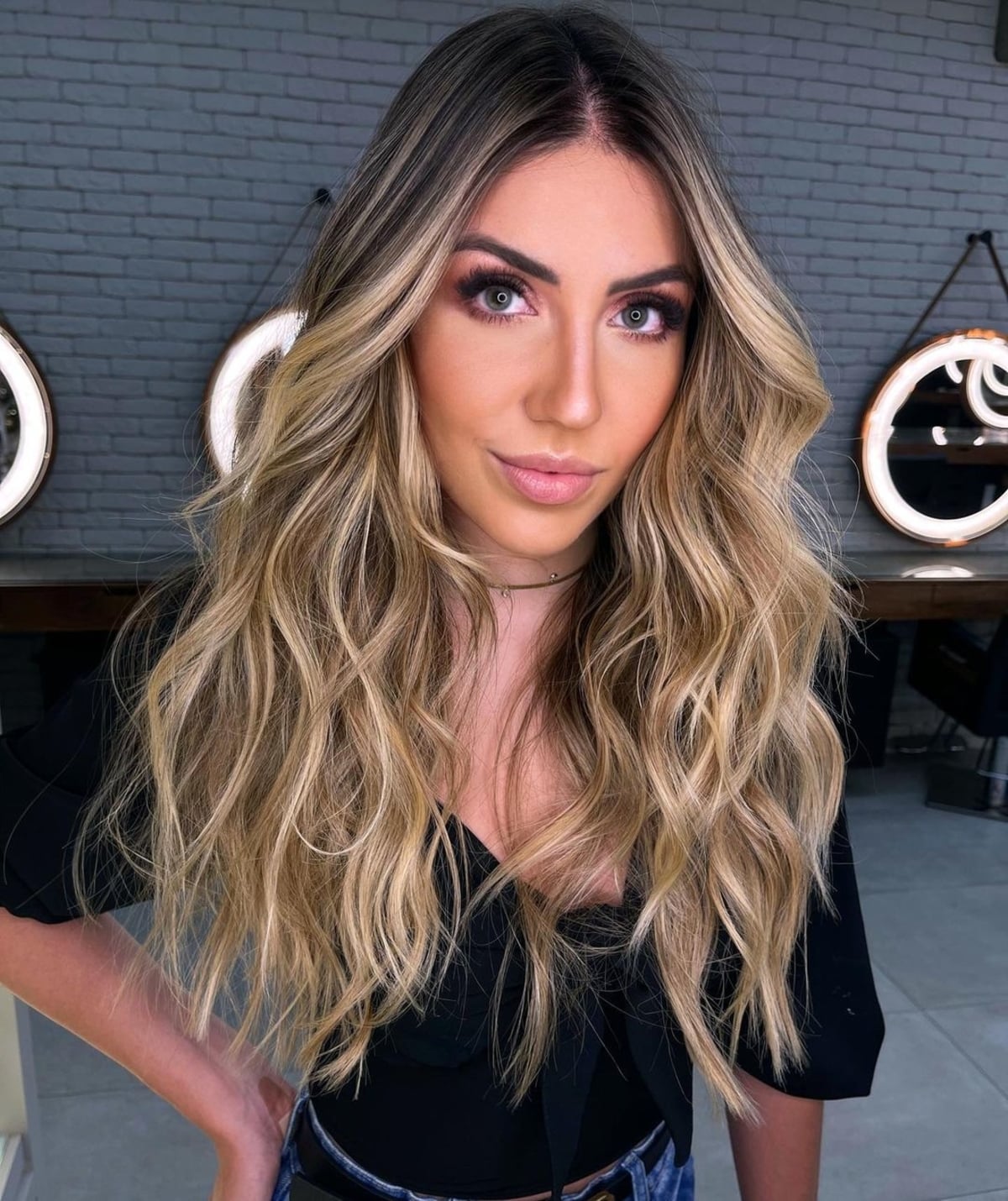 #29: Long Textured Layers
Having long, textured layers can be a huge help to ladies with thin locks. Women with long, thin hair can benefit from having extra movement throughout the ends. It helps give volume and shape to the hair that's otherwise sometimes more difficult to style. Be careful by adding too many layers to fine hair, as one could have areas that get too see-through.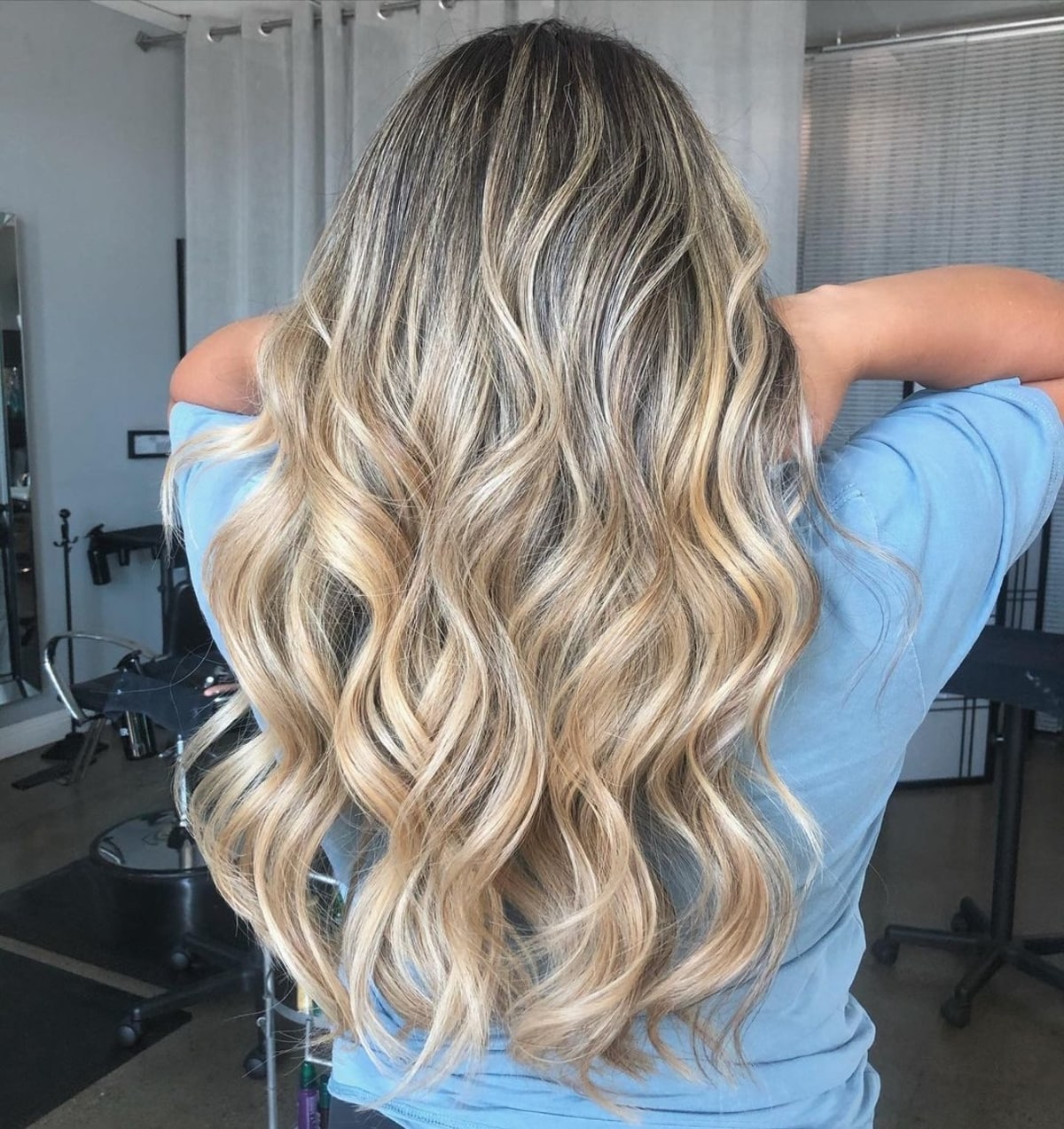 #30: Long Beach Waves with Ombre
Long beach waves with an ombré can be a great advantage for ladies with thin, long hair. The ombré gives depth and dimension throughout, so it appears thicker and denser. Styling in beach waves gives it volume and can accentuate the color.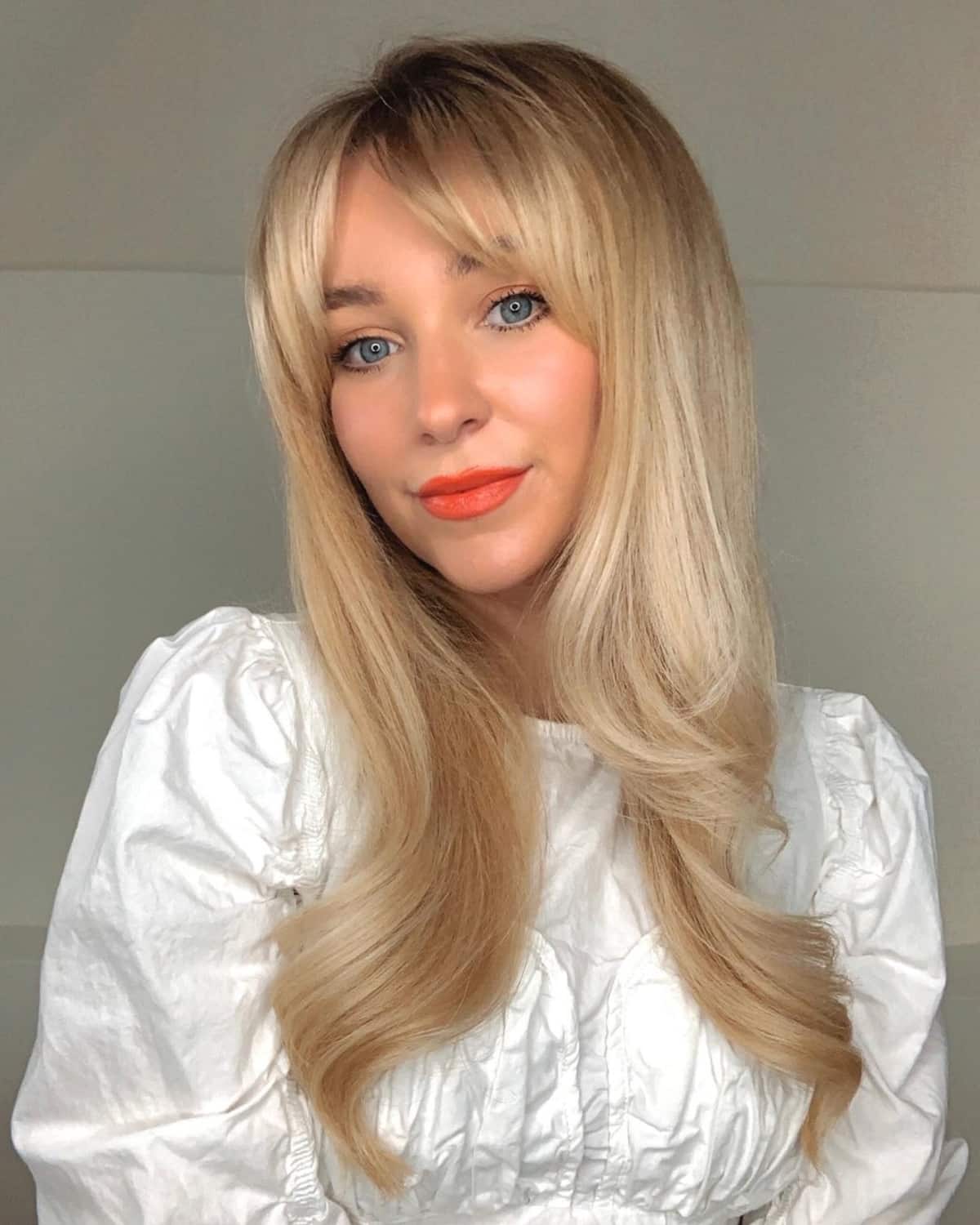 #31: Long Sleek Hairstyle for Thin Hair
A long sleek hairstyle for thin, blonde hair doesn't need to be flat. We don't want to overly layer thin locks as it removes weight from the length. However, adding some long bangs and a loose wave creates width, bringing life back to your long thin hair. Try using a curling tong, which is 1.5 inches, for a loose "S" shape.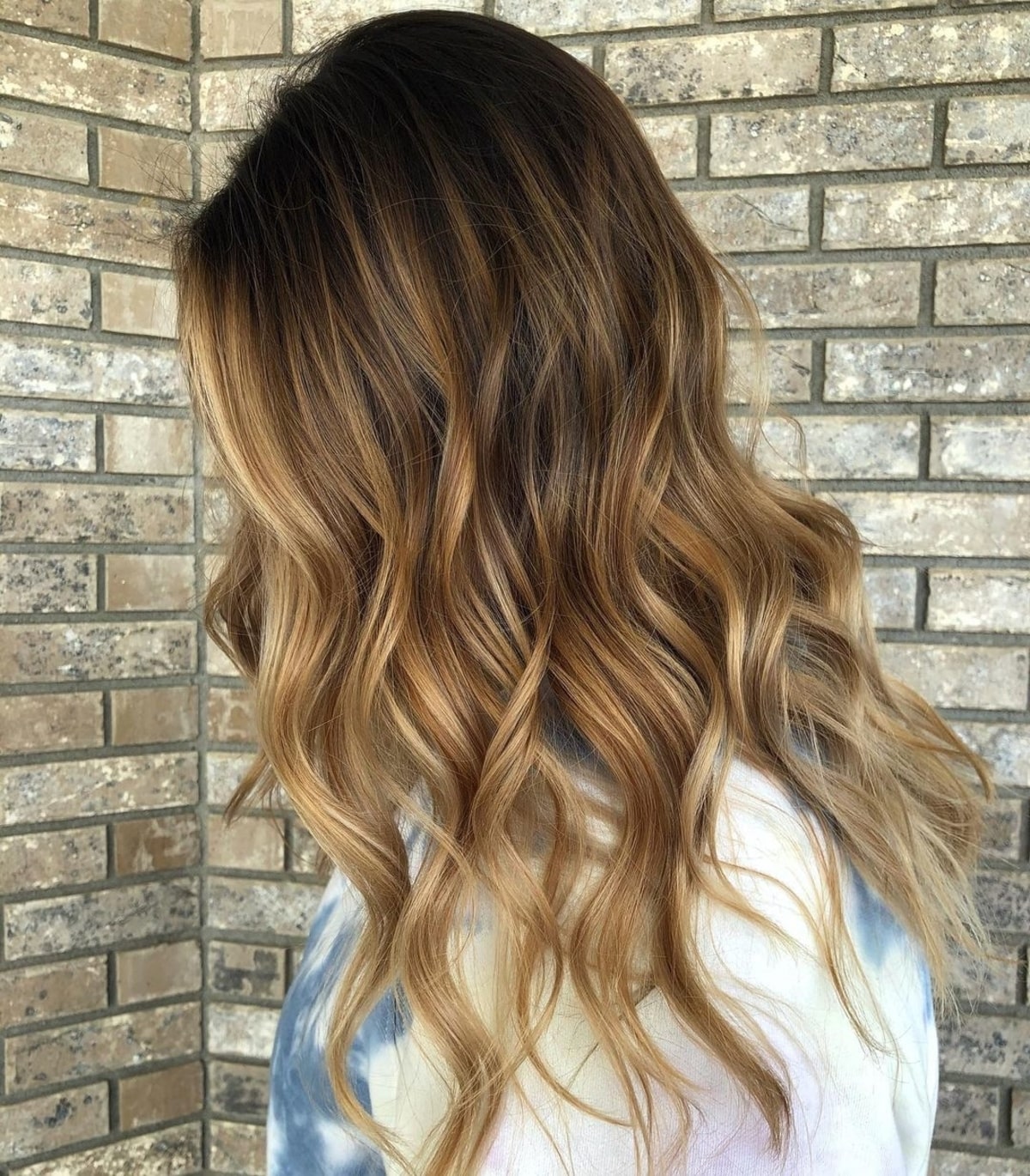 #32: Melted Long Layers
Melted long layers offer a low-maintenance color for ladies with long thin hair. This gives the tresses a dimension and some brightness. A tease and weave technique was used to achieve the full balayage with soft waves. Apply a shadow root to the base and feather it down to create extra softness. Leave the front blonde pieces out to make them pop more.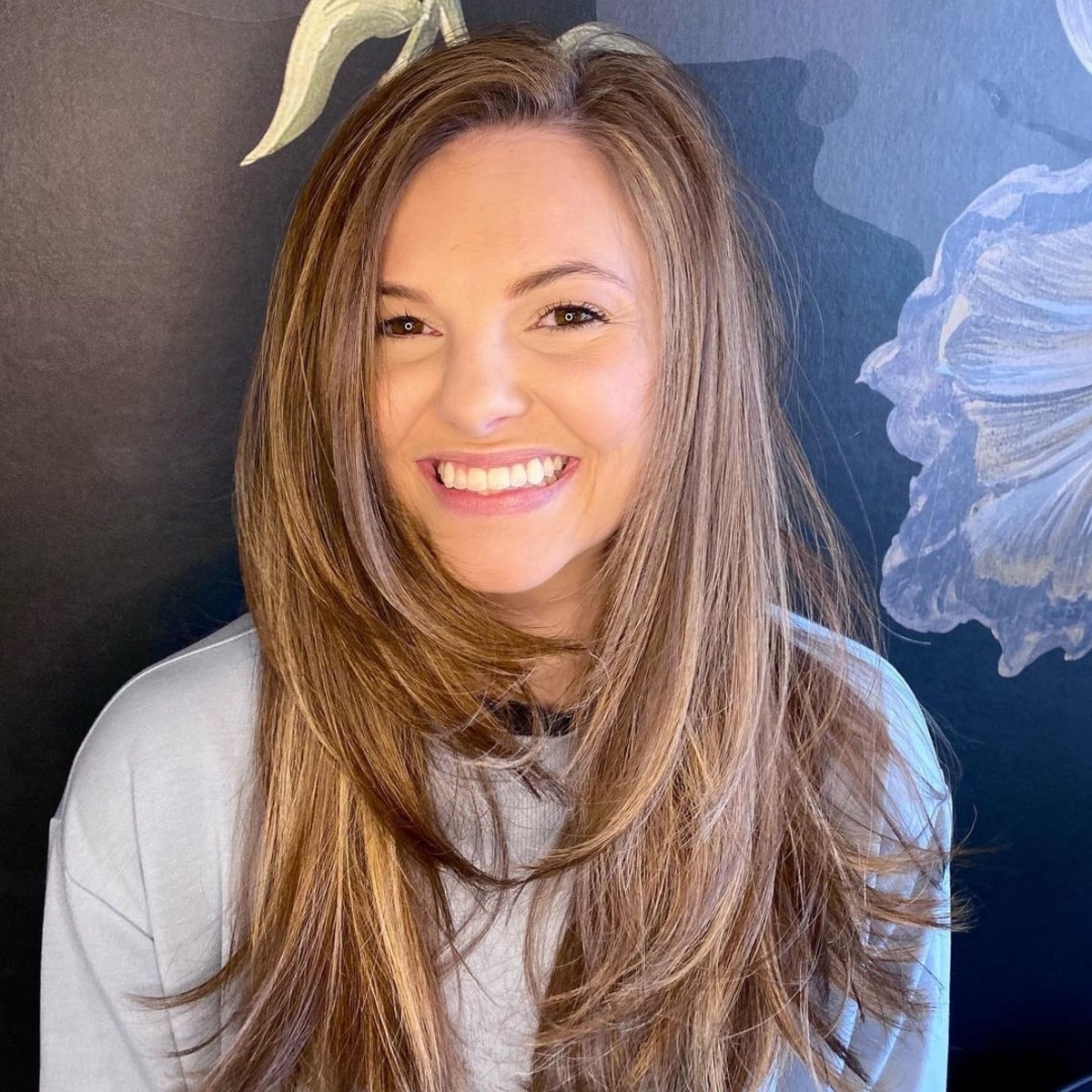 #33: Natural Long Feathered Hairstyle for Thin Hair
A long feathered hairstyle for thin hair has face-framing layers to soften any face shape. Babylights are the key to achieving this natural lived-in dimension. Plus it's super-low-maintenance, too. When styling, use a root lift spray like Moroccan oil. Blow-dry the roots first and then use a large round brush to style.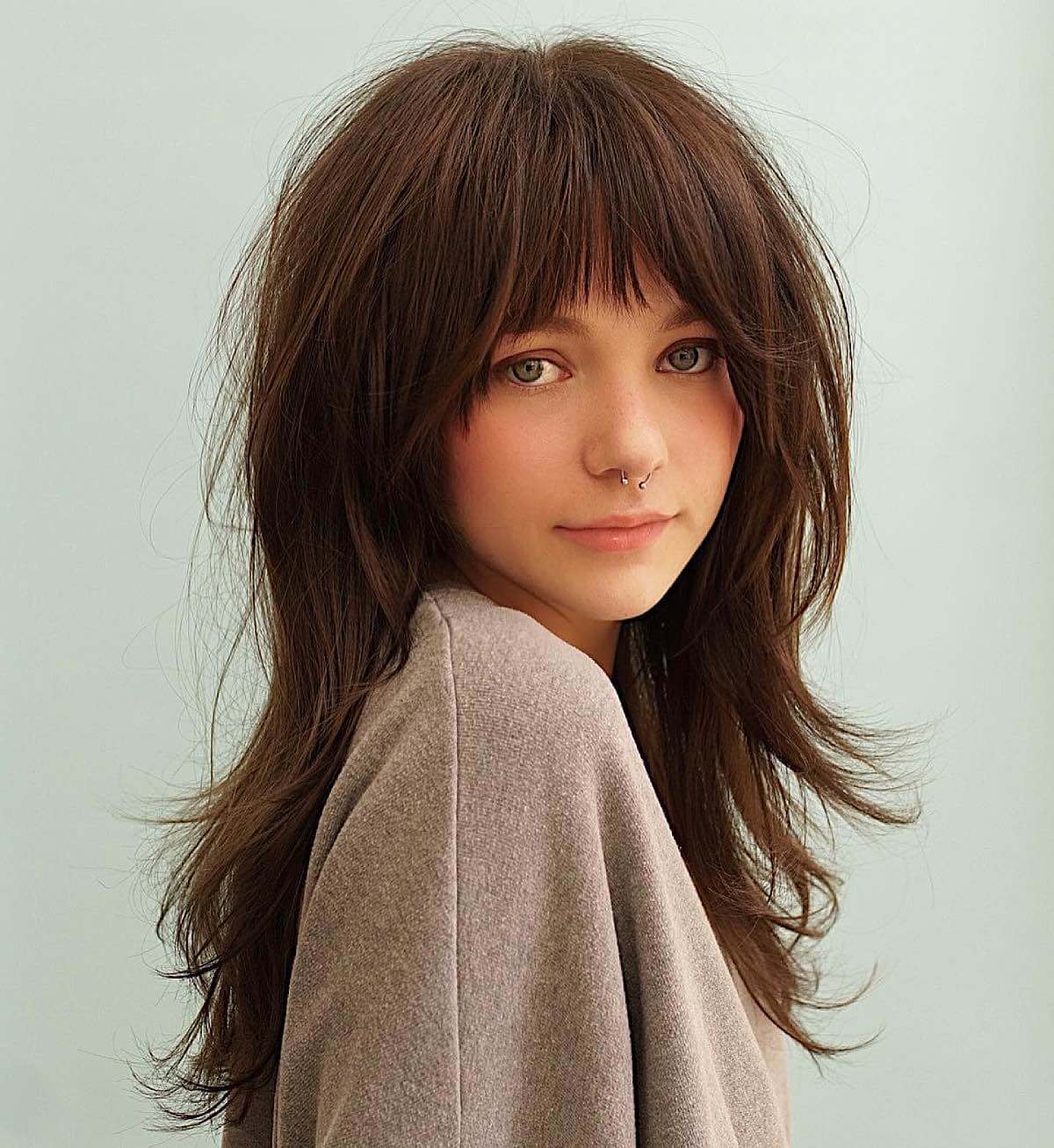 #34: Chocolate Brown Long Fine Hair
Chocolate brown long fine hair is the way to go if you love your length but want to try something fun. The layers in this cut help make your fine hair look like it has more body and movement. Ask your stylist what he or she thinks you should use to help make the volume last all day and how to recreate your style at home.