Black, Voluminous Stacked Bob haircut for short hair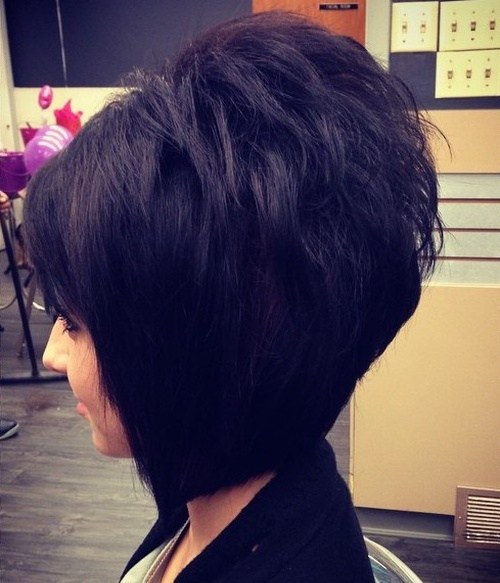 This gorgeous voluminous black bob is so striking thanks to the incredible cut, that it's utterly bold and eye-catching! Finished with lots of short and choppy layers to the back of the head to create a wonderful curved shape and plenty of bounce, this stacked bob then falls in lovely longer layers around the front of the face and is finished with a fringe.
Easy Daily Hair Ideas: Sassy Inverted Bob Haircut – Brown Ombre Bob for Short hair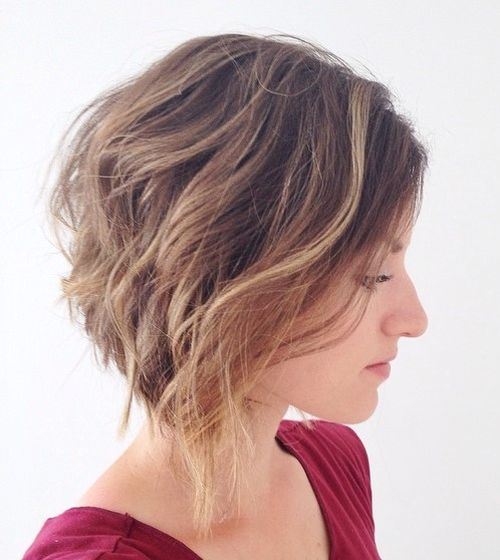 Combining two trends in one, this gorgeous lady has not only gone for a sassy inverted bob, but also an ombre colour look too, creating a completely unique style that we adore! Her inverted bob goes from a beautiful dark brown to a lovely lighter brown which gentle touches the ends, adding a lift and tone to the cut. She's loosely curled it for style.
Red Asymmetrical Bob Cut for Short Hair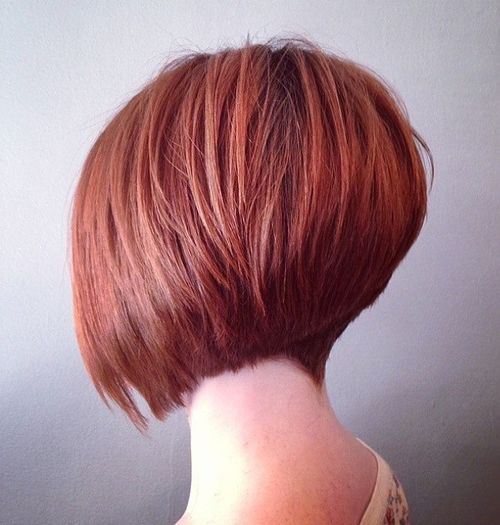 Short hair color ideas: In what might just be the most fashion-forward of our inverted bob styles, this gorgeous red crop has a stunning asymmetrical line towards the back of the head which creates an absolutely beautiful line. This lady's straightened the top layer of her hair to fall diagonally across the bottom layer which is cropped closely, creating a stunning silhouette.
Brown to Blonde Balayage Bob Hairstyle – Short Balayage Hairstyles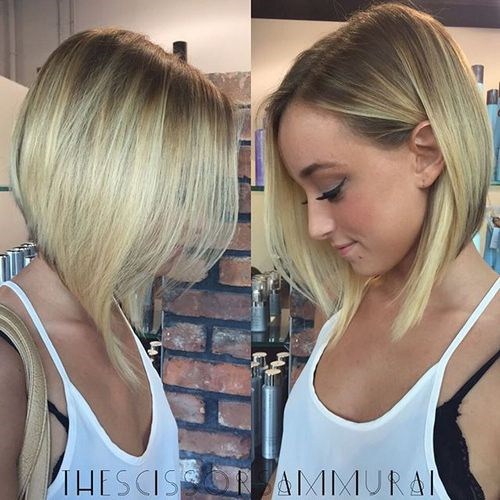 short haircuts – Credit
We've shown you plenty of luscious long locks in this post, but the balayage effect works equally perfectly on beautiful bobs, which are hugely fashionable at the moment! This gorgeous crop graduates from just above the ear from the back of the head to jaw length strands that fall around the face, and transitions from brown to a beautiful bright blonde.
Brown to Blonde Inverted Bob Hairstyle – Short ombre bob haircut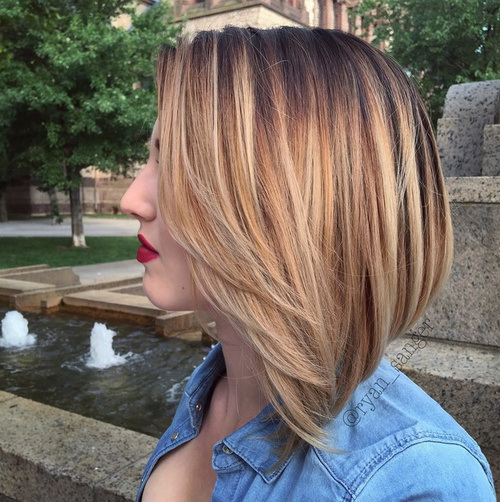 Credit
This brown to blonde inverted bob is stylish, classy and super sophisticated – simply perfect for a cut that stands out from the crowd. These gorgeous brown roots are highlighted with a range of stunning blonde tones to create a light and bright overall look which works incredibly well on this amazing bob cut which graduates from longer at the front to shorter at the back.
Bubblegum Pink Shaggy Bob Haircut with blunt bangs for short hair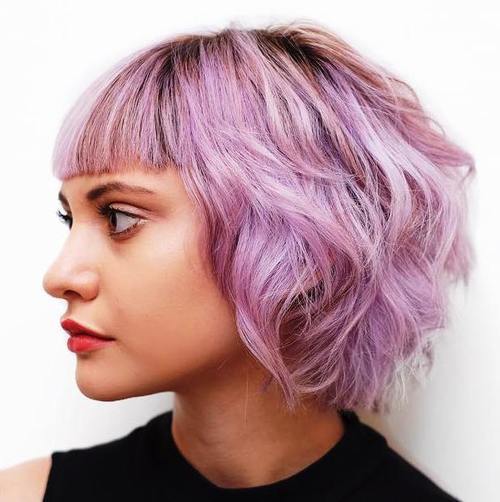 Credit
This amazing wedged bob is finished with a remarkable straight fringe right across the forehead which has a blunt and super cool style. The wedged bob has lots of stacked and short layers throughout the back to create this voluminous look; emphasised by these amazing curls. The colour is a bright pastel bubblegum pink that we simply adore.
Brown to Pink Shaggy Bob Hairstyle – Hair Color Ideas for short hair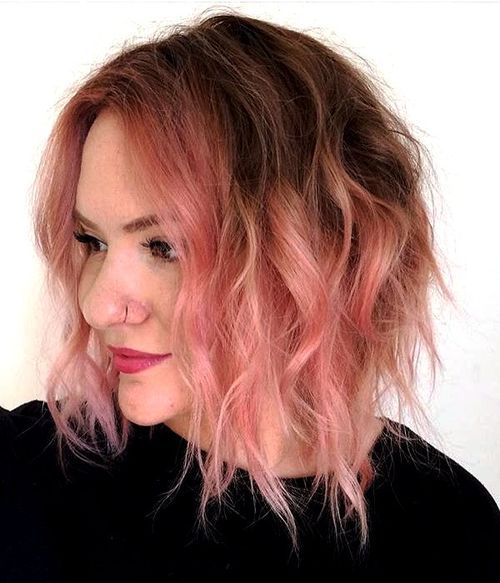 Credit
This lady has an incredibly stylish hairstyle which is both striking and fashionable at the very same time. Her hair is parted in the centre, and you can see how her hair works from a dark brown to a gorgeous and light pink. The hair falls around the jaw level, and has been curled tightly and tousled for this wonderfully textured style.
Celebrity short hair ideas – Striking Flicked Bob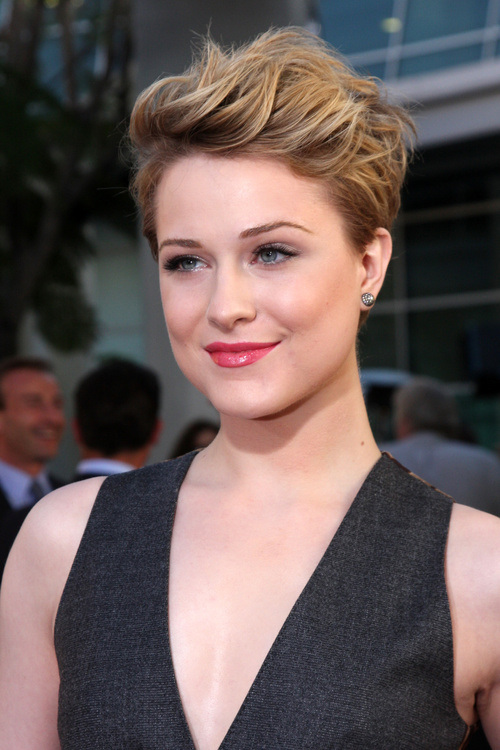 Credit
This absolutely stunning caramel blonde bob has been styled in a dramatic effect to create the most beautiful finished look we ever did see. This gorgeous lady's hair starts a darker brown and then blends into this warm blonde shade, creating an amazing effect. She's showed the colour transition off by spiking her hair into this amazing flicked finish.
Pastel Ombre Pixie Crop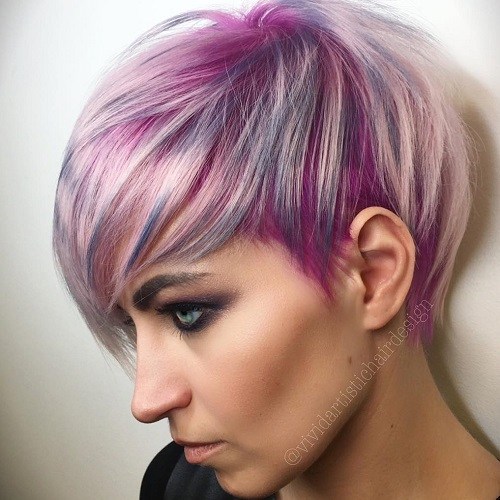 Credit
If you're looking for a short haircut that is sleek, beautiful and helps you stand out from the crowd then we think we've found it here! This gorgeous pixie crop is finished with a pastel ombre look full of pink, purple and blue tones in light shades – and we absolutely adore it. This look works perfectly with this girl's gorgeous blue eyes, don't you think?
Icy Blue Cropped Cut – Simple easy daily haircut for short hair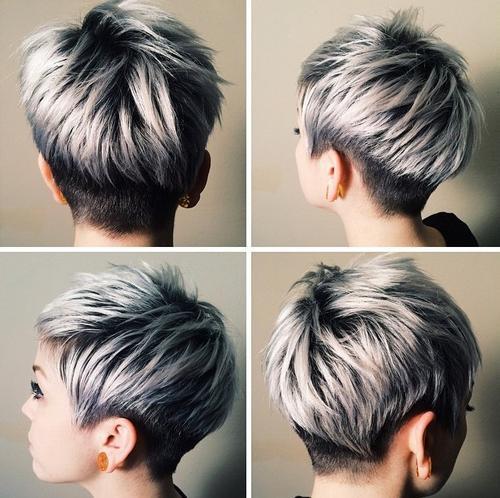 Credit
This stunning pixie cut is a unique colour combination of blue and silver and we think the finished result is pretty remarkable. This cut is finished with several stunning angles that finish perfectly around the ears. It has a cropped cut all around the back of the head but is finished with longer layers at the top. We just adore this stylish look!
Bright Red Short Pixie Cut for women over 50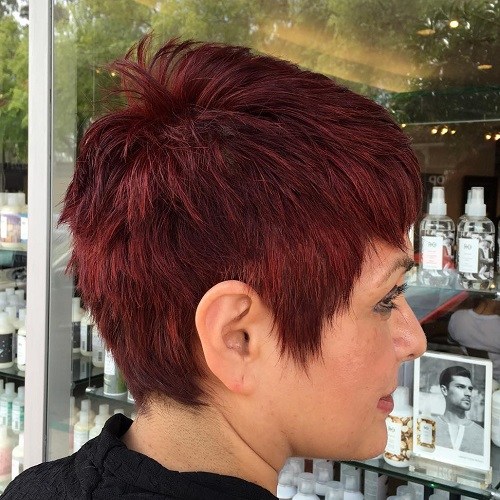 Credit
This beautiful bright red pixie cut is nothing short of spectacular – don't you think? This gorgeous cropped look is a flush with one tone of a beautiful deep red that is guaranteed to attract attention. The cut is short, spiky and choppy with lots of short layers to create a fabulous, bouncy finish. We think this style is just amazing and bound to draw attention. This is a perfect short cut for women over 50.
Bleached Blonde Short Crop – Short pixie cut for women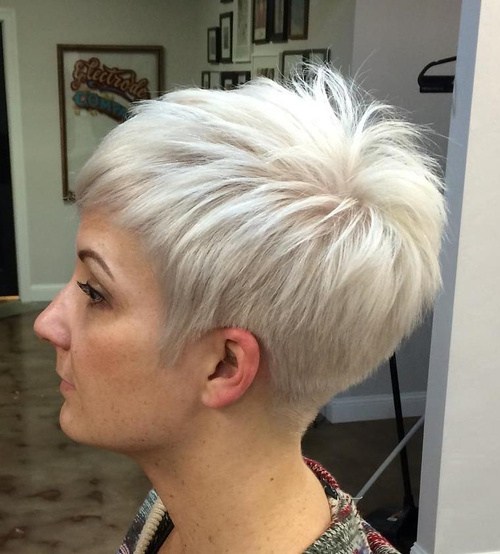 Credit
This breathtaking bleached blonde crop has an absolutely stunning shape which is so unique – and we absolutely adore it! Cut closely to create a curved line for the fringe section and around the ear, the hair is finished with a lovely short cut at the back, which works towards a longer layer on top. The stunning colour is the lovely cherry on top for this style!
Asymmetrical Dark Pixie Crop with bangs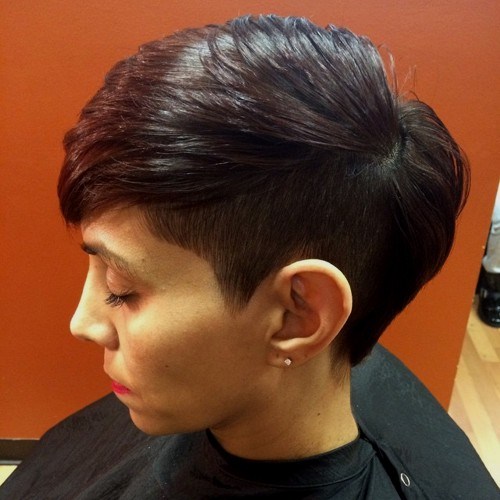 Credit
This gorgeous asymmetrical pixie crop is not only incredibly fashionable, but the perfect way for you to show off your beautiful facial features! This lady has gone for the most stylish pixie crop we ever did see, shaved closely on one side and finished with a lovely longer fringe section which sweeps across the head in the most stunning deep brown shade.
African American Short Haircut – Purple and Blue Pixie Crop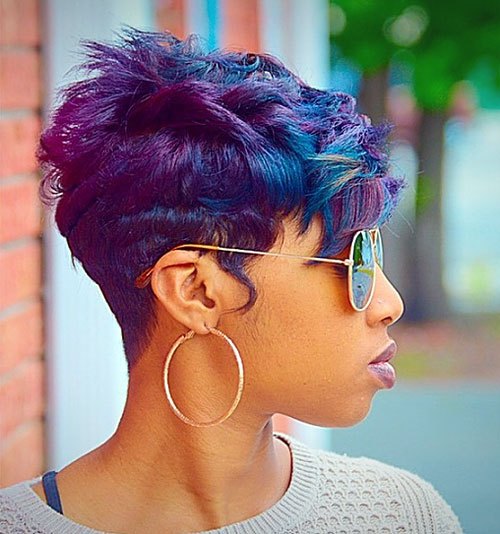 Credit
Short haircut for black women – If you're going to be both bold and fashionable and opt for a pixie crop to show off your beautiful face, then why not take it one step further and enhance your hair style with a crazy colour too? This gorgeous lady has gone for two incredibly bright shades; a purple and a blue, that work together to create a truly stand-out hair style that we just adore!