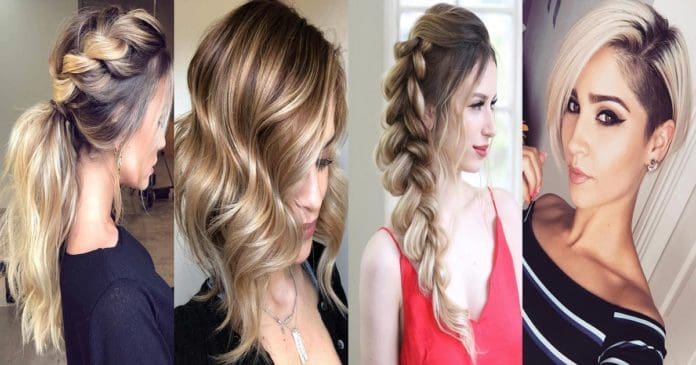 Hairstyles for thin hair are not so easy to create, and all owners of this type of hair are aware of that. Of course, you want it to be much thicker. But there is no need to worry about that because all you need is the right hairstyle. You will totally love this collection of hairstyles because all of them are really versatile. It includes variations of wavy hair as well as some incredible updos.
Here you will observe styling tricks that will make your fine hair appear thicker. But sometimes only styling is not enough. To ensure that your hairstyle remains in place the whole day and doesn't lose its prettiness, remember several rules. First of all, treating fine hair starts with the right shampoo and conditioner. Most women with fine hair prefer volumizing shampoo and conditioner. These products make their hair look fuller. Also, try to opt for hairstyles with lifted roots. This will create some illusion of thicker tresses.
Twisted Low Ponytail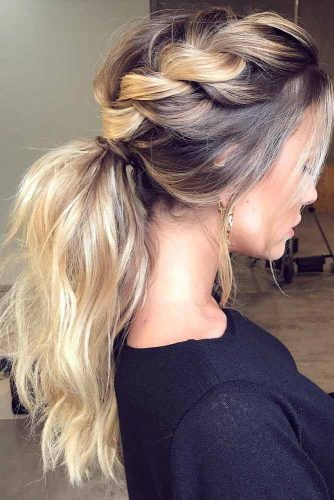 There's no better way to enhance the beauty of your hair than to wear a ponytail accompanied with some twists or braids. The truth is, the only things you need are to loosen your pony, tousling it a bit, and to pull the edges of your braided or twisted elements. That's how you can make it fuller!
Source: emmachenartistry via Instagram
High Voluminous Ponytail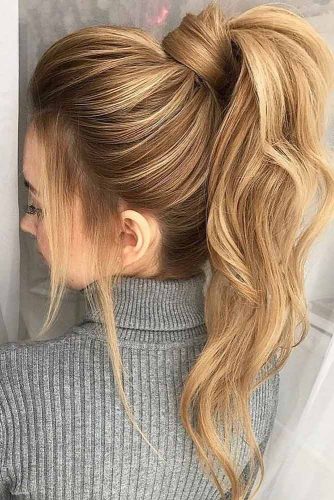 If you're about to flaunt with a ponytail, it should be all about the lifted crown and volumizing textures! Actually, this simple hairdo gives you a lot of room for creativity, so anything you'd like to add to it will work perfectly. Just don't forget to play around with waves and the top: make them as gross as possible.
Source: milabeautykim via Instagram
Side Messy Ponytail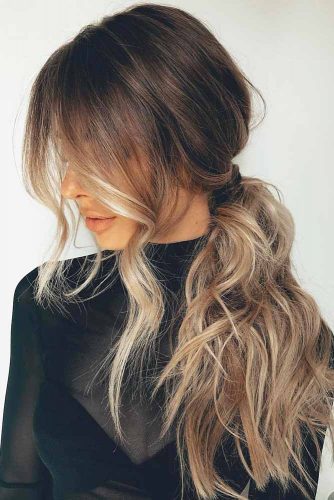 The messier, the better! Long, layered, and messy, who could ask for more? Moreover, when a hairdo embraces all these three iconic characteristics, there's no chance for thin hair looks but to pass away.
Source: kirstyannehair via Instagram
High Messy Ponytail With Bangs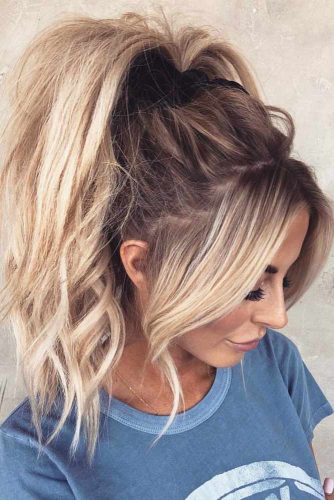 Believe it or not, several bobby pins or slides can give you a truly effortless and volume-boosting hairstyle! You just need to set your ponytail very high and pull the crown so that it appears bigger. Secure your top with accessories and pull the hair around them for a better effect.
Source: taylor_lamb_hair via Instagram
Twists Into Ponytail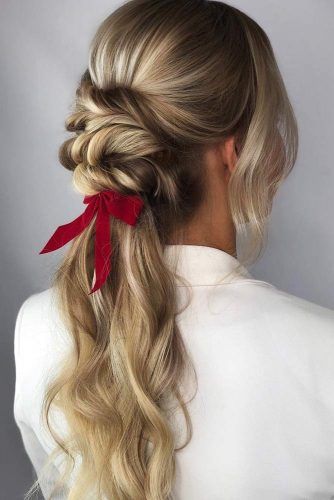 Besides the super attractive visual side of this updo, there's a slight touch of layers added to the cut. Even the slightest layering or feathering the ends will whip your thin hair into shape, which will be better than one layer of hair. Of course, twisting the top section into a ponytail will also give you a lot of fullness.
Source: annette_updo_artist via Instagram
Messy Twisted Low Bun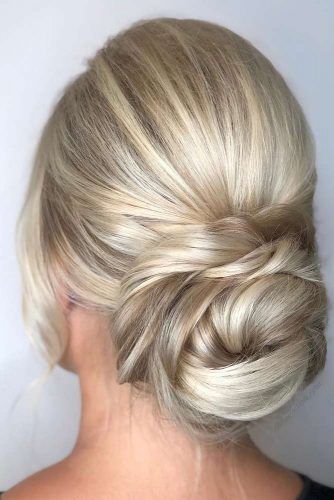 Want to find a hairdo that will deal with thinner locks in minutes? Don't look any further than the messy twisted bun hairstyle. A bit of messiness will volume up your hair all over the 'do, and soft waves that twist into a low bun will embellish the back of your head perfectly.
Source: annette_updo_artist via Instagram
Low Bun With A Twist-Away Crown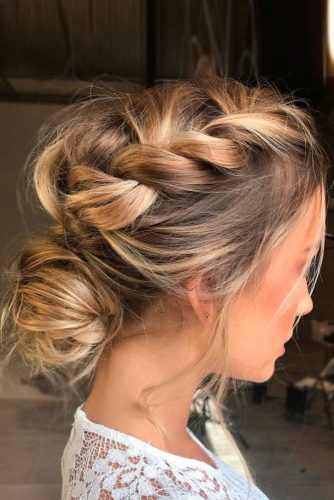 What can be easier than twisting two strands, pulling them a bit, and wrapping them into a low updo? A hairstyle that features such elements can easily turn into a volumetric style just with the help of simple tricks: thickening the strands visually with your fingers; that's it!
Source: emmachenartistry via Instagram
Updo Hairstyle With Accessories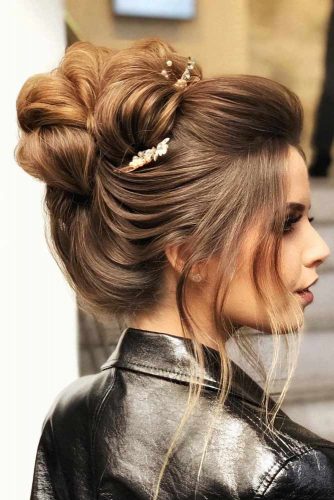 Some fancy accessories won't hurt your updo! On the contrary, they can make it look even more fascinating and help the added volume stay in place all day long. Whether you go for a high, posh updo or a low hairstyle with tousled crown, hair accessories will double the fullness, securing your hair.
Source: ojoaquim via Instagram
Low Messy Chignon Updo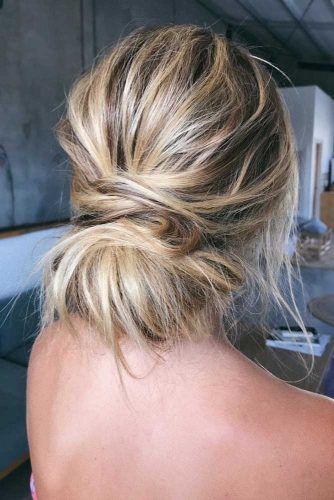 Who says that popular chignon updos can only be done on fine, thick hair? And no, this style has no extensions installed; it's not magic, just a sleight of hand. Once you do a low chignon updo and pull little sections one by one, you'll see the difference.
Source: emmachenartistry via Instagram
Easy Hairstyle For Thinning Crown
If you are looking for easy hairstyles for women with thinning crown, this messy bun is very cute and playful.
Tie your hair in a loose low ponytail and make a low knot at the nape of your neck. Then pull out some loose tendrils to make give it a carefree vibe.
This is one of the easiest hairstyles for those with fine tresses. And what makes it even prettier are the light auburn and honey brown streaks that add a ton of depth and dimension to this super cute messy hairstyle.
Source: prettylittleombre via Instagram
Low Bun For Medium Length Hair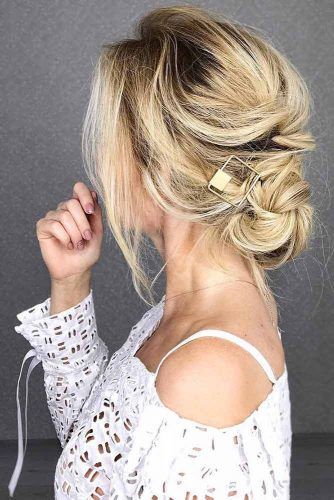 The best thing is that most volumizing hairstyles for thin hair are absolutely easy to do. You don't need to spend hours trying to make the fullness stay; let backcombing do the talking, and even the simplest low bun will look amazing.
Source: hair_by_zolotaya via Instagram
Braided Side Bun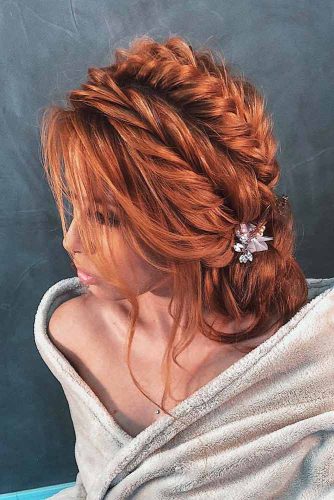 You know that braids can be a perfect base for thin hair styling as you can thicken your locks in seconds. So why don't add them to your stylish side bun? The variety of texture in hairstyles for thin hair is to die for, especially if you can always make your style even bigger.
Source: ojoaquim via Instagram
Versatile Twisted Half Up Hairstyle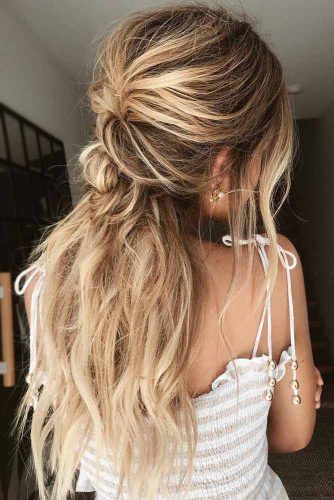 Let's make each element of hairstyles for thin hair more outstanding and distinctive! Try beautifying your hair with big, voluminous twists, tucking the ends softly. You can be creative and get yourself both an half-up or updo hairstyle: variability is priceless!
Source: emmachenartistry via Instagram
Twisted Half-Up With Top Pulled Back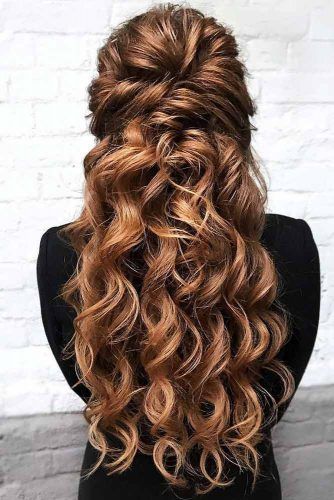 For those who prefer long length hairstyles, opt for a longer cut with long layers throughout to add some depth to your thinner tresses.
You can wear your hair in fun half-up hairstyles like the one shown here. The pretty caramel brown highlights on the darker base give it a pretty multi tonal look and feel if you want to make your hair look fuller. Bonus points if you have naturally wavy hair as it really makes this half up hairdo pop!
Source: hair_by_zolotaya via Instagram
Braided Crown For Long Hair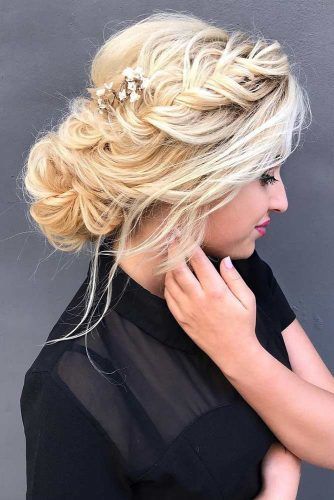 Sometimes it's hard to believe that such thick-looking and textured hairstyles are quick to put together. But it's true! A fishtail braid that goes all over your crown and falls on your dimensional waves is enough to make your hair look that lush.
Source: hair_by_zolotaya via Instagram
Half Up Messy Hairstyle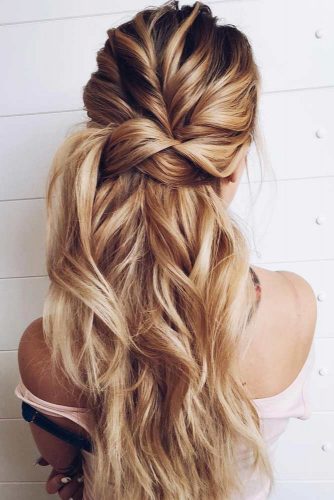 We can't leave you without hairstyles for thin hair that you can wear for some special occasions! This idea will not only save your time but also will give a stunning hairdo that won't let thin hair spoil your party. The charm of tousled locks and simple, yet glaring twists; isn't that perfect?
Source: lenabogucharskaya via Instagram
Twisted, Wavy Half Up Hairstyle With Accessories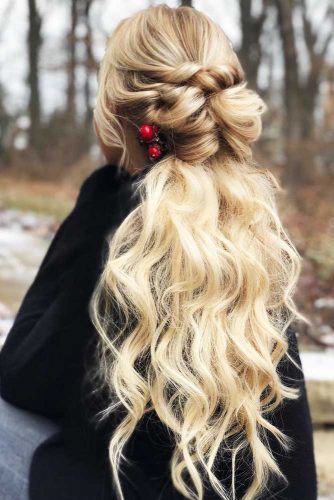 Festive hairstyles are all about the dramatic crowns, beautiful hair embellishments, and gorgeous waves! This tradition adds a lot of glamorous sense to your style, which is always a good thing for big-day looks. Accessorize your voluminous twists to take your look to the next level!
Source: annette_updo_artist via Instagram
Double Dutch Braids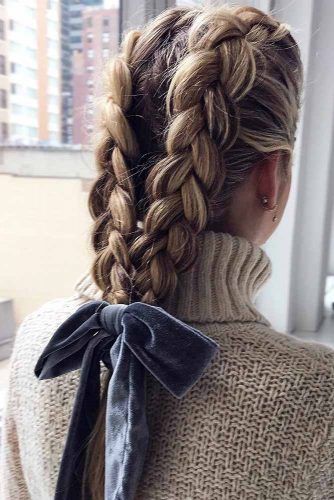 If you're wondering how a stand-out hairstyle looks like, this idea is the answer. The super full double Dutch braids hairstyle is another proof that thin hair isn't a catastrophe; it just needs a braided approach!
Source: brittsully via Instagram