Voluminous Pull Through Side Braid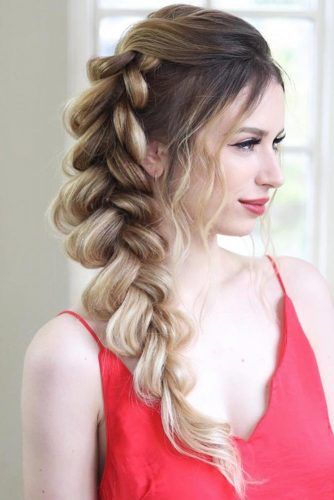 Girls who are familiar with pull-through braids know that they always look unbearably full, regardless of one's hair type. An inverted braid, created on the side, is your chance to make your hair show up in a new, fine and lifted light.
Source: sweethearts_hair via Instagram
Five Strand Braid Hairstyle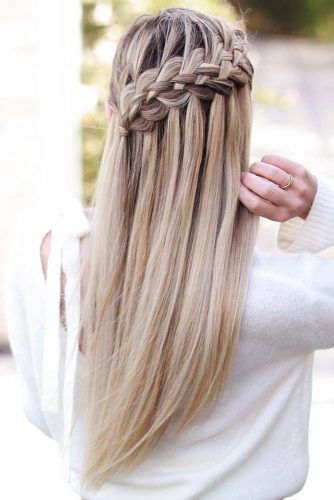 The timeless five strand braid that incorporates all of your hair in a glorious, feminine, and broad braided masterpiece is another idea to beat thin hair. The second strand crosses the third one, the forth goes over the second, the first over the forth, and the fifth over the first: this is how it says goodbye to flat looks!
Source: n.starck via Instagram
Side Swept Curly Hairstyle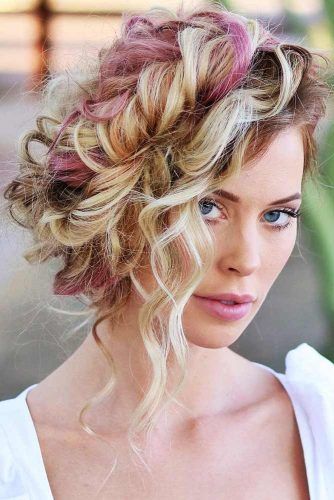 The magical power of side swept silhouettes is exactly what you need to make your hair look more voluminous. When one side slightly outweighs the other, it gives the effect of incredible thickness to your hairstyle. Curls, as well as waves, styled in an updo and secured with pins, will nicely complement the volumetric look.
Source: theconfessionsofahairstylist via Instagram
Long Bob With Deep Side Part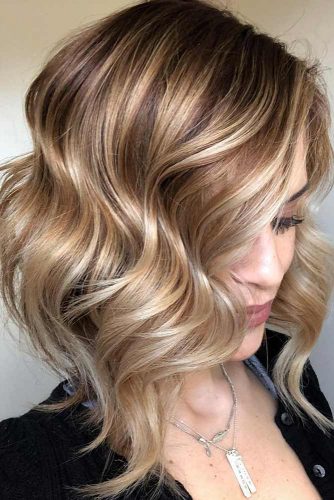 We think this sexy shag cut is with a deep side part is a great way to add some bounce to your thin hair. Haircuts for thin hair do not have to be boring. A deep side part is very sultry and a great way to catch the eye of any man.
This look with choppy layered medium hair is so sexy and the pretty rose gold hues make this look even more fun and flirty.
Source: jessicascotthair via Instagram
Pixie Cut With Undercut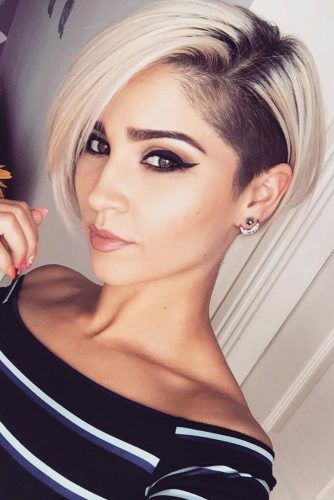 Another fun look for thin short hairstyles Is this adorable undercut pixie! If you want a look that is pretty much get up and go, a pixie cut is ideal! Of course, you will have to get it trimmed every few weeks to maintain that sexy style, but we promise you that it's worth the effort! Add in some silvery blonde hues and you'll be the talk of the town!
Source: lenna_kf via Instagram
Short Bob Haircut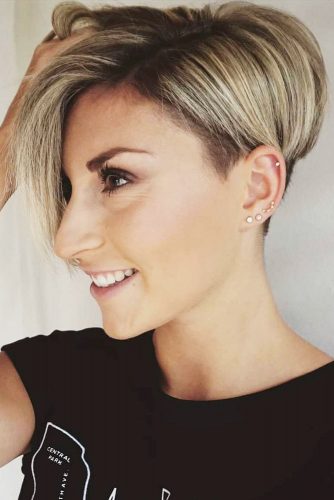 For those who prefer short haircuts for thin hair, why not go with a sassy short bob? Short hairstyles for thinning hair are a great way to add fullness and texture the thinner hair. A short asymmetrical bob like the one shown here is very much in demand right now. They are not only trendy but also extremely low maintenance. If you want an edgy cut that is still fun and playful, this looks for you!
Source: leeaa.gr via Instagram
Blonde Bob For Thin Hair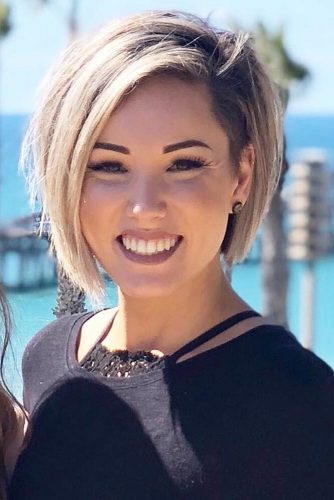 If you are ready to trade in your long locks for a sexy new style, this blonde bob is one of the most popular hairstyles 2018 short. Short length hairstyles can make you look and feel years younger as well as help highlight your gorgeous facial features. As well, a bob is one of the most popular options for a hairstyle for thin hair. The pretty blonde on a dark base adds depth and dimension to this super cute sassy short bob.
Source: chloenbrown via Instagram
Uneven Bang For Medium Length Hair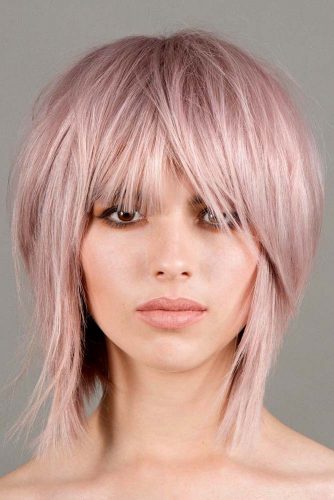 Medium layered hairstyles are a great way to add volume to thin hair. Choppy layers throughout like the ones pictured here add a ton of volume and give your fine locks a much-needed lift.
As well, medium layered hair with bangs is very in right now. This style is super cute with its flirty fringe and pretty washed-out, silvery pink hues.
Source: gianniscumaci via Instagram
Angled Bob Haircut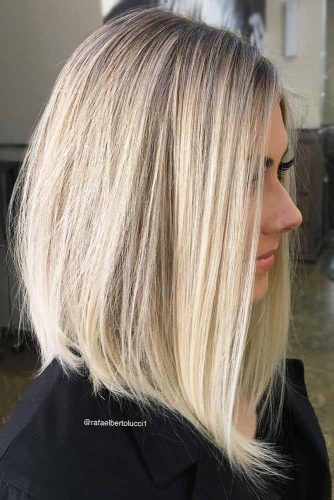 Medium shoulder-length haircuts are highly versatile and very stylish. You still have the ability to wear them in a cute updo or half updo if you so desire.
This angled bob haircut is a great way to add depth and dimension to your thinner locks. And what is prettier than a soft blend of buttery blonde hues like the ones pictured here.
Ask your stylish a graduated bob with longer face framing layers to give this pretty cut a bit of a flirty vibe.
Source: rafaelbertolucci1 via Instagram
Balayage On Wavy Lob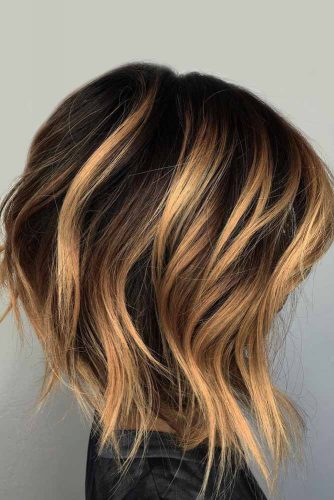 If you prefer a lob haircut, ask for a shoulder length cut with long bangs. Side swept bangs are all the rage right now as they are very playful and sexy.
A long bob looks especially pretty with some cool and warm brown balayage tones like the one shown here. Balayage techniques are very stylish and a great way to add some dimension to your fine hair.
Source: styled_by_carolynn via Instagram
Rooty Blonde Bob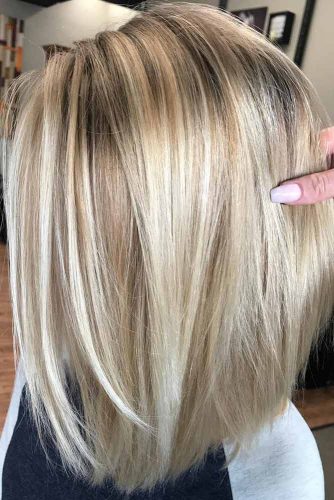 If you are looking for medium length hairstyles that have a bit of an edgy, this asymmetrical layered bob could be right up your alley.
The pretty pale blonde ombre fade that starts with dark roots is so much fun but we think the uneven choppy layers really make this short and sassy lob stand out from the crowd.
Source: thefaithfulblonde via Instagram
Middle Part Wavy Long Hair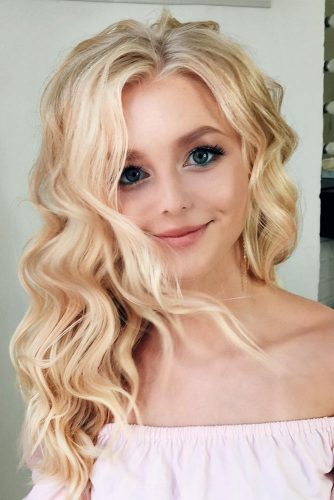 Middle part seems to be the best weapon for thin hair problems. The point is that you can create an illusion of a fuller chevelure by bringing all your onto your chest. And once you create a center part on wavy hair, you'll forget about the thin-hair reflection in the mirror.
Source: lenabogucharskaya via Instagram
Each style of our today's gallery is here to remind you that thin hair is not a curse. You've just learned how you can put an end to flat looks, so you can stop complaining about them: it's time recreate our perfect ideas!