#31: Purple Grey Curls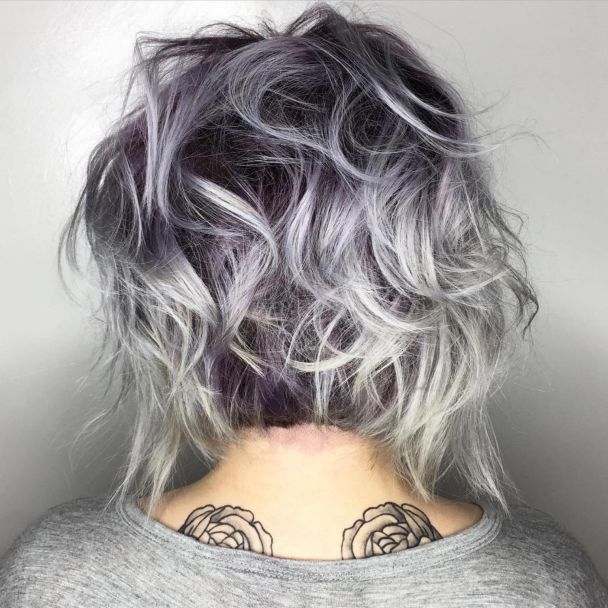 Accentuate those wild natural curls with a cut that really shows off your color and texture. Go with your natural hue or go brave with a purple grey shade that works for many different skin tones.
#32: Modern Inverted Bob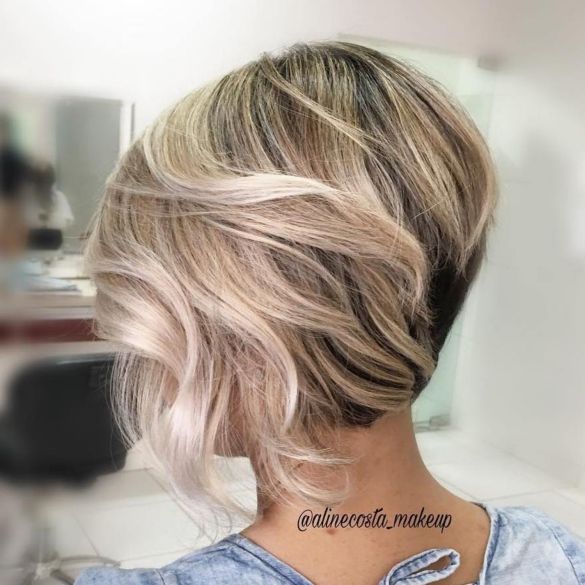 This short, dramatic style is edgy and modern with every snip. Working in a darker under layer and leaving cool blonde strands up top, this is a style inspired by salon pictures but able to look totally unique on each and every woman.
#33: Short and Sweet Inverted Cut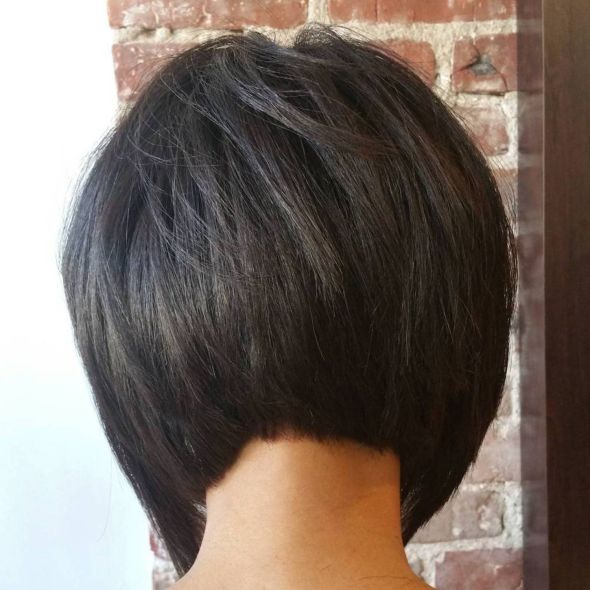 Straight, silky hair is always popular. Although beautiful to the touch, these soft strands can be difficult to style. Go with a reverse bob that is short enough to hold those rebel strands in place.
#34: Angled Layered Silver Bob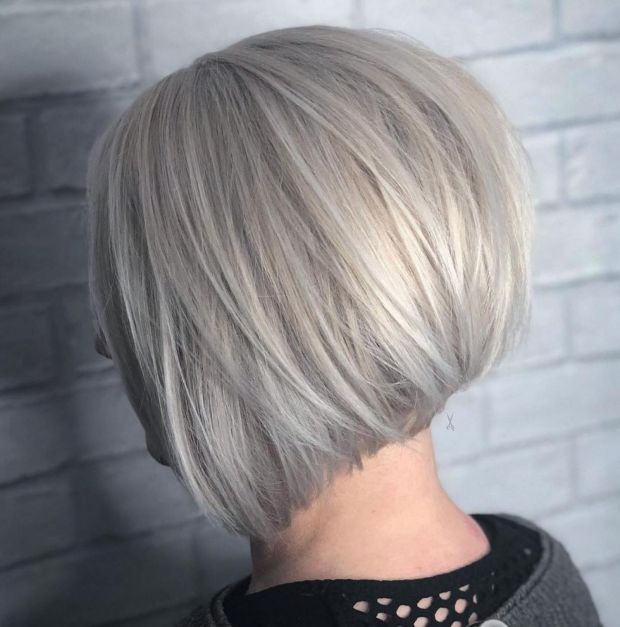 Short inverted bob haircuts are one route to take if you are looking to experiment with color. You can make a statement without being too bold, because neck-length platinum locks don't quite have the same impact as back-skimming ones.
#35: Long Inverted Bob with Layers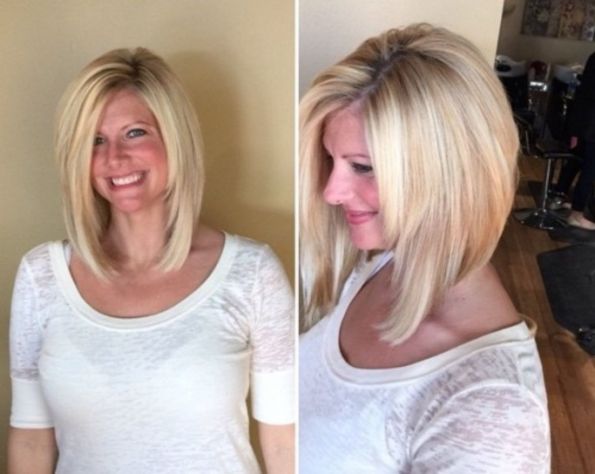 See how layered this style actually is? And it works like a charm with longer hair, since all those feathered layers highlight the model's facial features. As an added bonus, this is possibly the easiest look to maintain for hair that's grown past one's jawline.
#36: Two-Tone Stacked Inverted Bob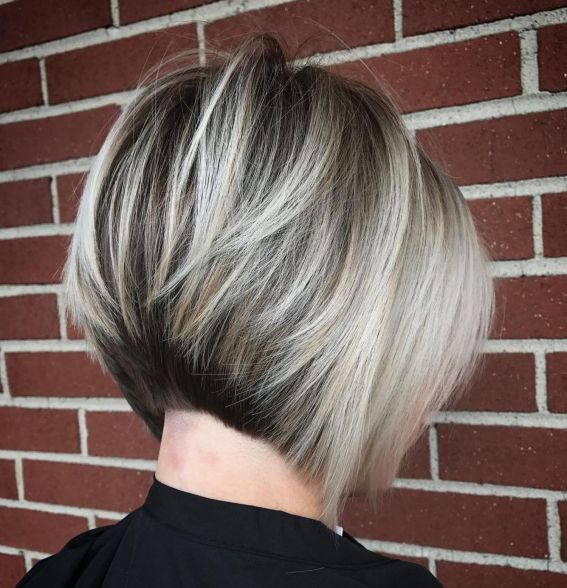 Looking for something bold, but not too bold? Try pairing two high-contrast hues together from the spectrum of natural hair shades. Deep brown and platinum blonde is a stunning combination. The way the hair falls with an angled bob beautifully showcases the color combo, too.
#37: Big Hair, Don't Care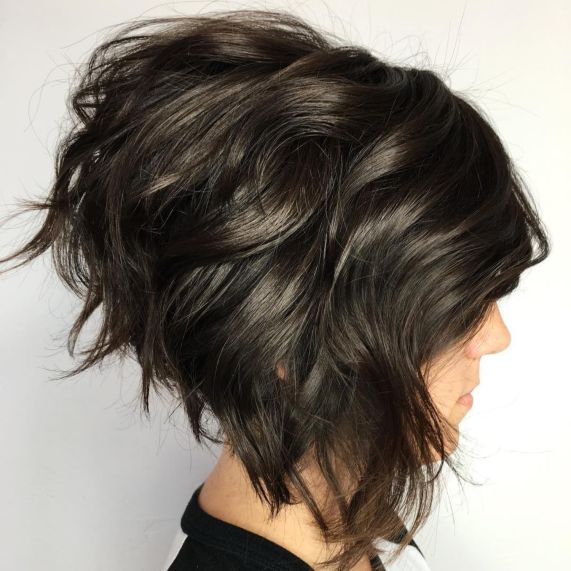 This elevated, stacked hairstyle is a fun cousin of the traditional bob. If your hair is thicker or naturally wavy, you'll win at this tousled style that aims to really show off the whole day through.
#38: Classy Stacked Bob with Blonde Balayage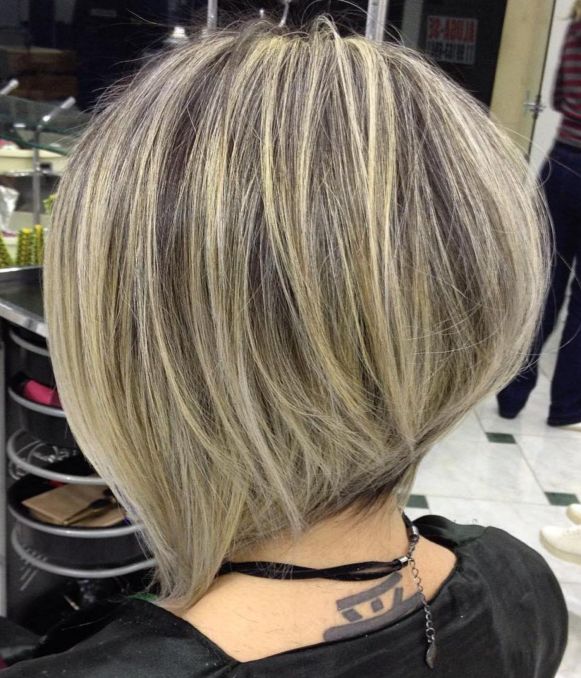 The long inverted bob is a beautiful option when your short hair starts to grow out. You get the collar-sweeping look of longer tresses along with the easy maintenance of a short cut. In case you want something with a little more dimension, a blonde balayage is the perfect solution.
#39: Shattered Bob with Creative Coloring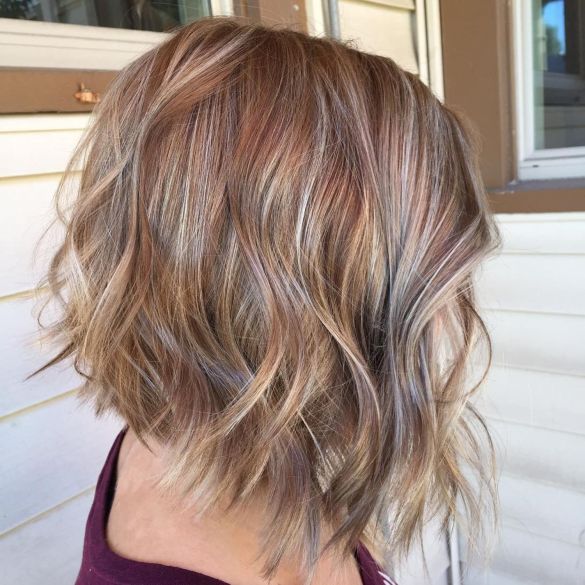 The short inverted bob is a very popular haircut. To make yours unique, have fun experimenting with different combos of colors and tones. Pictured here is a mix of warm auburn locks and cool platinum highlights. The unexpected pairing creates a refreshing palette.
#40: Party in the Back
This sweet and sassy style has been worn by both career women and soccer moms over the years. It remains popular due to its simple upkeep and ability to work for both casual and formal occasions. Long or short, with bangs or without – personalize this haircut to fit your own personality and lifestyle.