#21: Bright White Textured Crop
The bright white color of this super short hair is just a small part of its appeal. The fluffy texture of the closely cropped pixie helps each piece stand out and provides a sense of fullness around the head. The baby bangs and micro sideburns frame the face and ooze modern edginess.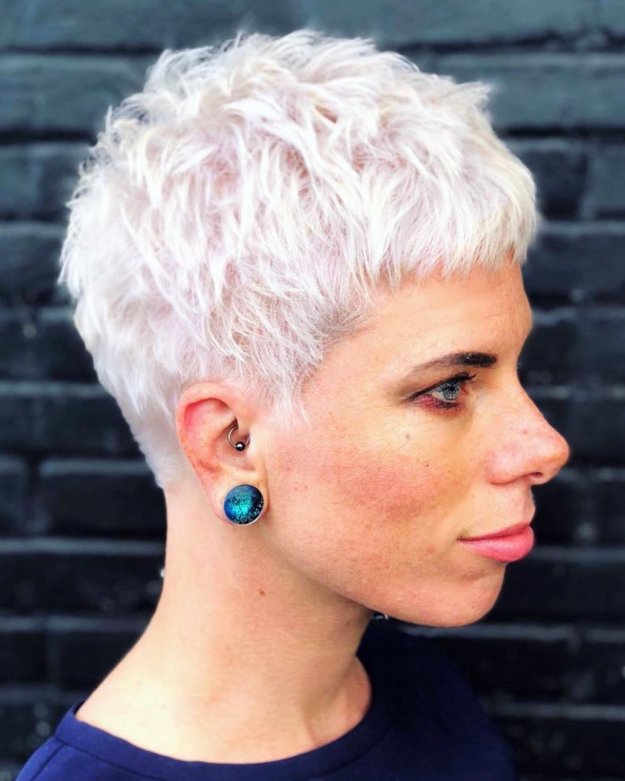 Instagram / @ZOSUUZ.HAIRLAB
#22: Black Messy Tousled Pixie
When you are considering short and sassy haircuts, you might be thinking of the one with a messy tousled top and neat, tapered sides. You'd be right! A classic pixie that works for textured hair of any color, the art is in the messiness. Who says windy days have to be a hassle for your hair?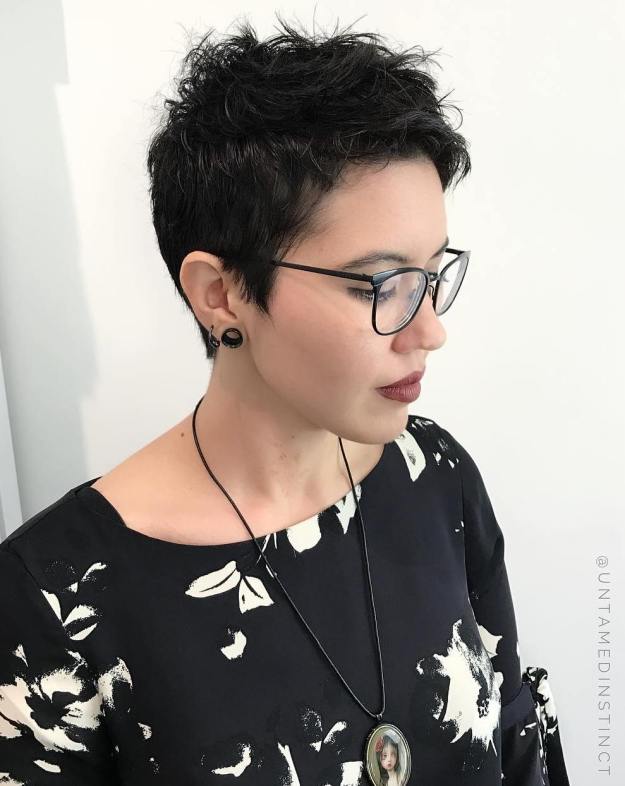 Instagram / @UNTAMEDINSTINCT
#23: Sleek Silver Undercut Pixie
If you have straight hair but want to stay away from very short haircuts because you think they look too boyish, consider a more feminine pixie with lots of long layers covering the undercut. The back has a lot of fullness and volume.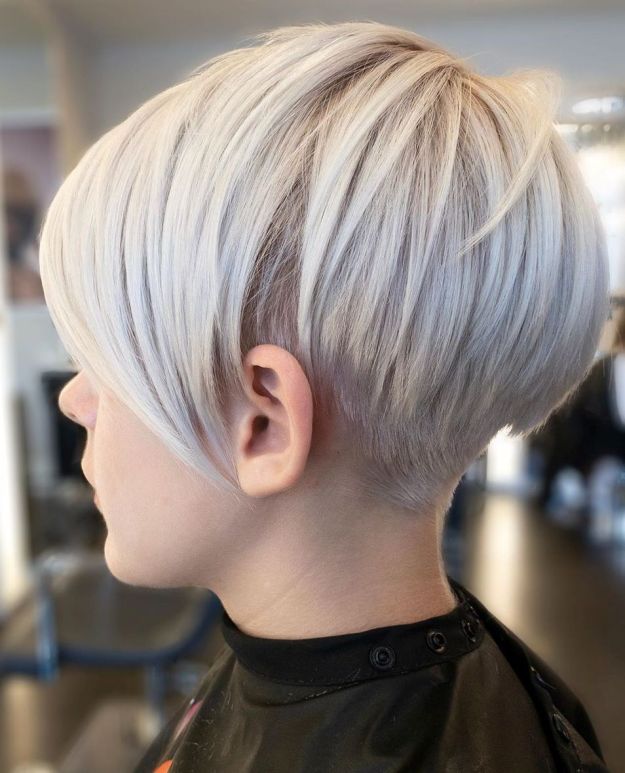 Instagram / @COURTNEYXCENTRICHAIR
#24: Sleek Tapered Pixie with Bangs
The side-parted pixie has tons of feminine appeal and works great for thick, straight hair. The back and sides are cropped close to the scalp, and the sideburns are shaved into perfect triangles. It's a hairstyle that can look corporate and edgy, and it's super easy to style.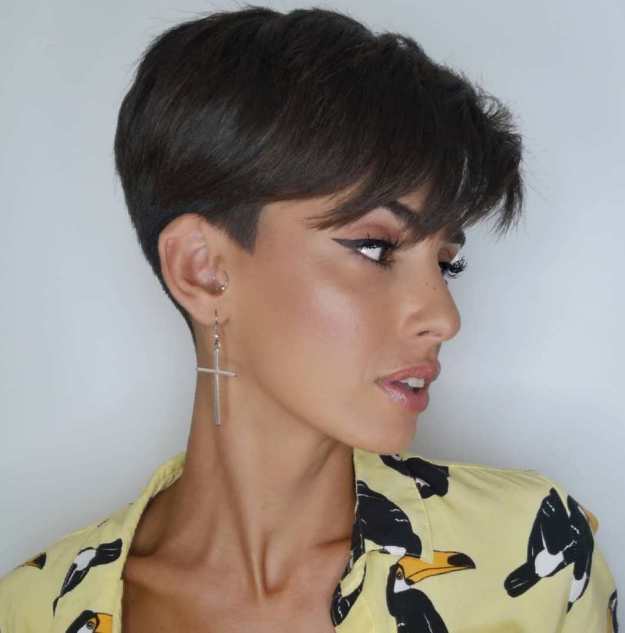 Instagram / @INMADELOPE
#25: Piece-y Blonde Pixie for Textured Hair
If you're blessed with thicker textured hair that tends to have a mind of its own, you'll love the way our "piece-y" pixie works with your waves. Complete it with a fairly bright and glimmering metallic blonde and get ready to be bombarded with "Who does your hair?" questions wherever you go.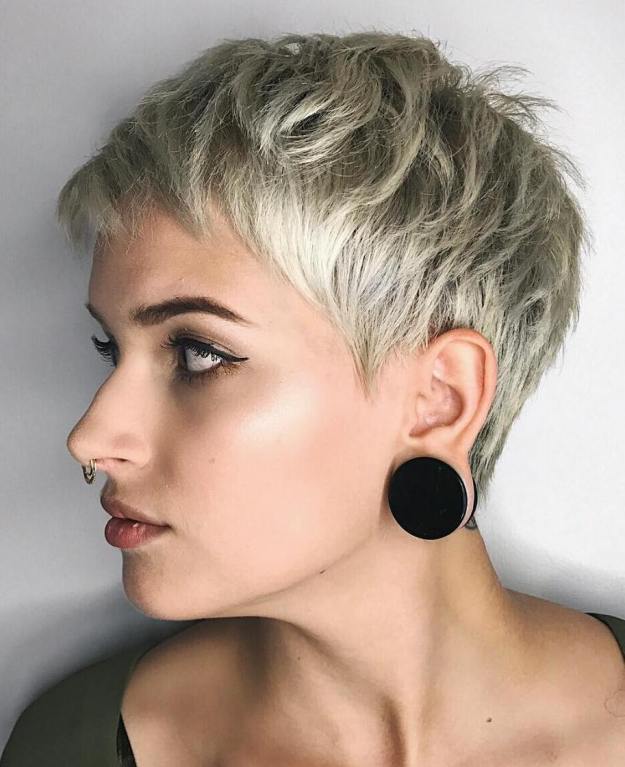 Instagram / @HAIRBYMORGUE
#26: Silver Undercut with Long Choppy Layers
Boisterous and eye-grabbing, the very short undercut around the sides and back sets off the full, long, pointed layers of the crown section. To pull off this look, you need to have confidence and let your hair be the star of the show.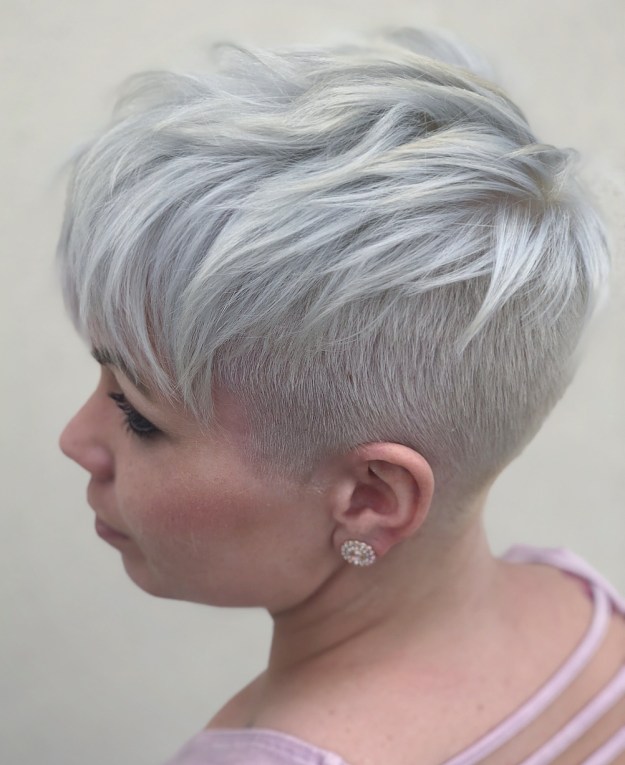 Instagram / @JUICETEN_DOES_HAIR
#27: Short Androgynous Cut for Girls
Unassuming, neat, and fashion-forward, going the androgynous route is a trendy way to pay homage to the super short haircuts of today. The sharply angled and closely shaven undercut certainly lends itself to boyish vibes, while the free-flowing longer locks boldly state: "I'm all girl!"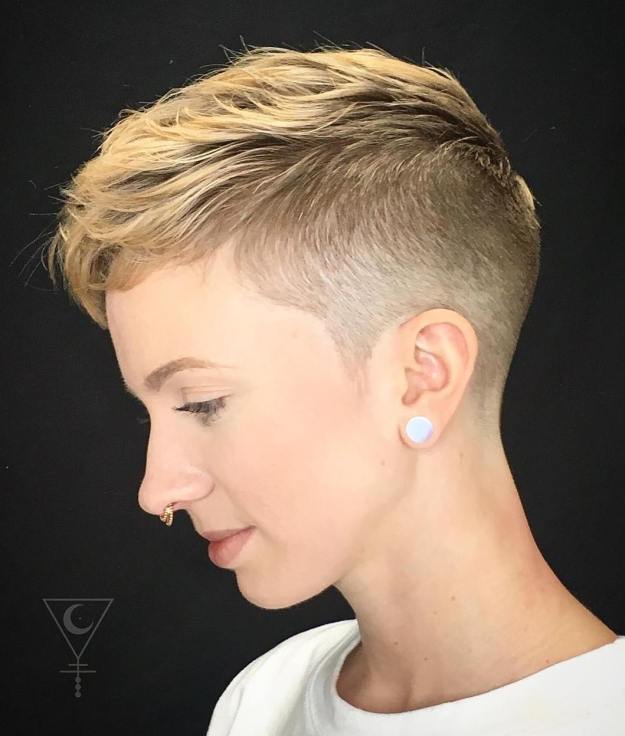 Instagram / @RIAHMAI
#28: Cool Finely Chopped Spiky Pixie
If you have very fine, straight hair, you might want to consider this spiky pixie hairstyle that increases the height and depth of your short hair by shaggy layers. A little bit of product helps to volumize and keep the crisscrossed strands just where you want them. Blonde babylights make the hairstyle look light and natural.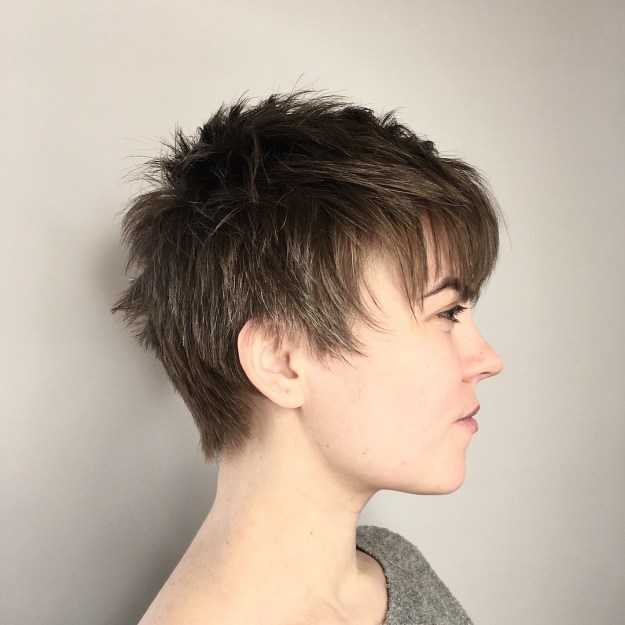 Instagram / @H4_SALON
#29: Textured Blonde Pixie Crop
The side-swept baby bangs and the radiant gray blonde hair color create a soft and sophisticated hairstyle that is perfect for professional women who want to keep things natural and easy to maintain. A super short pixie brushed forward also helps to disguise fine hair that may be thinning according to female pattern hair loss .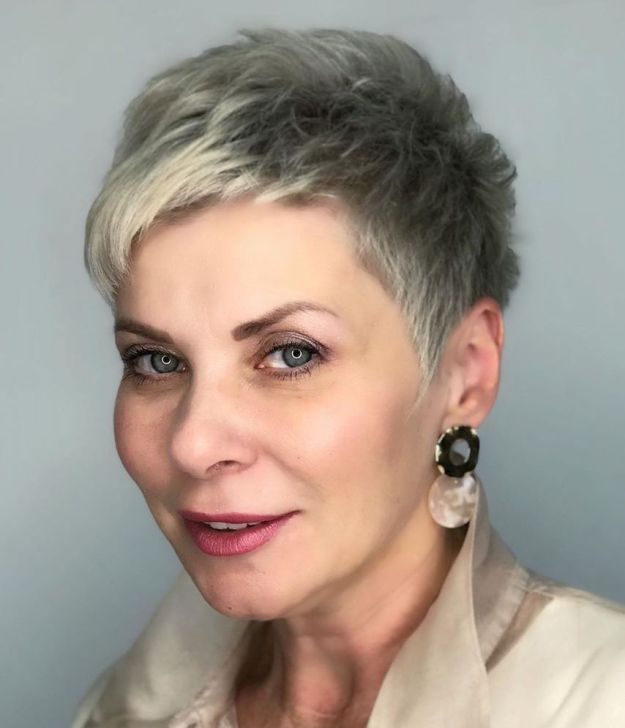 Instagram / @OLGA_LEBEDEVA_HAIRSTYLIST
#30: Very Short Textured Gray Hairstyle
If you've decided to cut your hair really short but you still want to retain texture and volume, brush it forward. Thin hair will look thicker, and the short bangs and triangular sideburns add a hint of youthful femininity.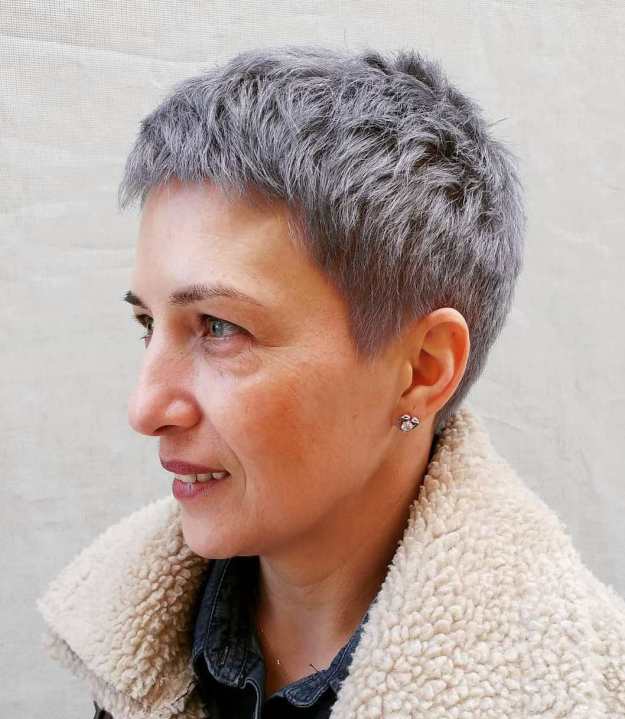 Instagram / @Z.SALON.SCHOOL