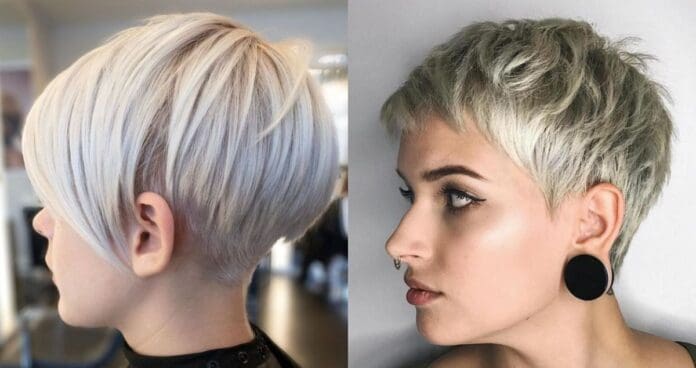 Rocking a short style can be difficult sometimes. The weather may cause your hair to frizz and look unpolished or you may find that the overall aesthetic is not girly enough for your flirty feminine style. But, there is no denying the ease of a short pixie cut, as it truly takes the guesswork out of the classic question of how you should style your hair each morning. The looks below range from curly and cute to sleek and spunky with enough options to suit any woman's style.
Versatile and Cute Short Pixie Cuts
Pixie works for any hair type – straight or curly, thin or thick. Here are nice ideas on versatile pixie cuts and hairstyles we are sure you'll want to try.
#1: Icy Short Pixie Cut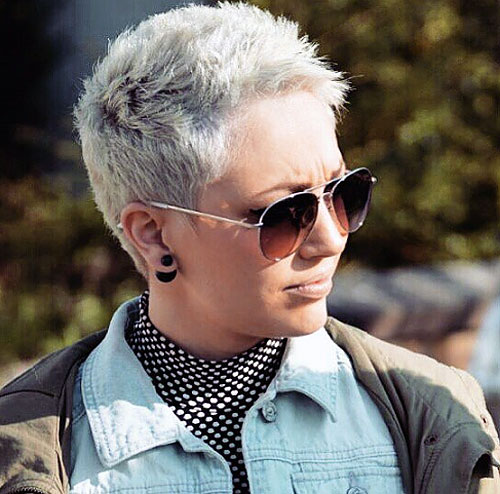 SOURCE
Sometimes a deep smoky hair color can overshadow or darken your features, which can be unflattering especially for smaller faces. This does not mean that you must skip out on the gray trend for your super short cut. Try an icy grey-blue hue to instantly brighten and inject a much needed dose of coolness and chic into your look.
#2: Messy Ash Blonde Pixie Undercut
If you like your hair to be wash and wear, this tousled hairdo will suit you just fine! Undercut on the sides and at the nape of the neck, the straight and messy ashen-blonde locks just "pop" off the crown of your head in a new and provocative arrangement each time you wash and style it.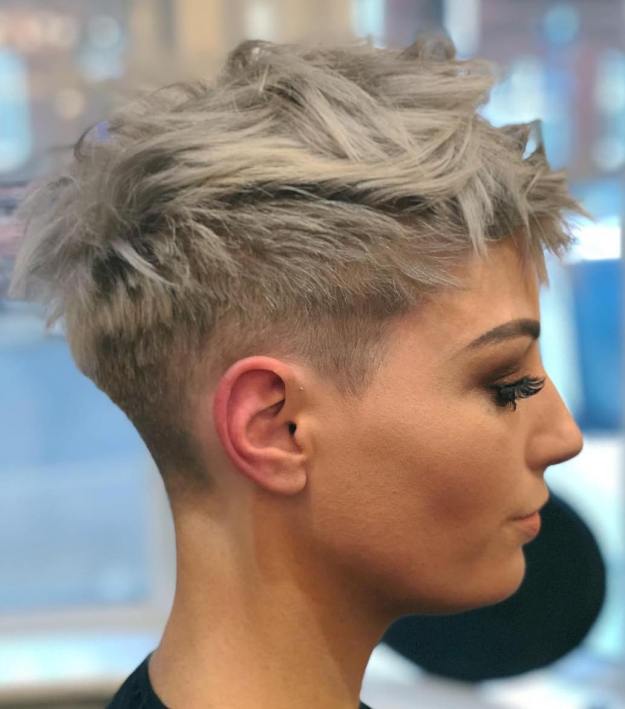 Instagram / @LUIGI_MONTE
#3: Short Spiky Cut
It's a good idea for a pixie haircut to boost the effect from layers with an undercut, especially for a cut that's really short. It lifts layers and allows for tousled, messy spikes, inherent to a laid-back, devil-may-care kind of haircut.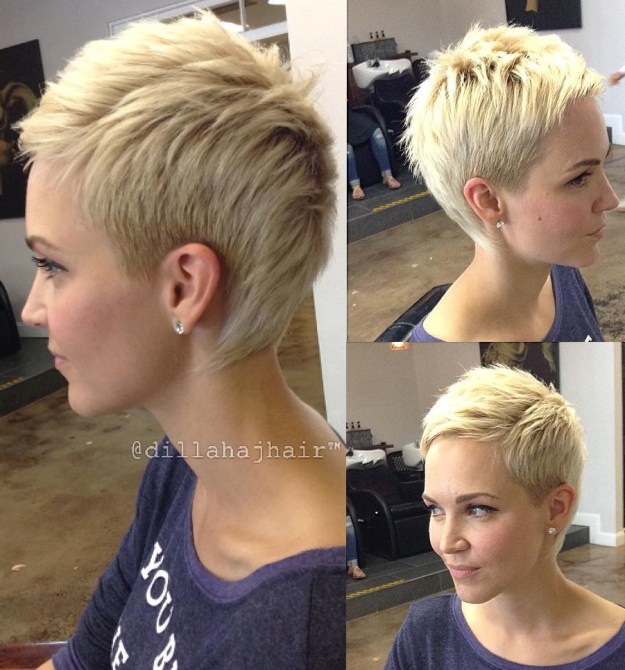 SOURCE
#4: Fluffy Gray Hairstyle with Undershave
Only the most confident woman is willing to blend two extremes in one style: pixie cut with shaved sides and gray hair. The sides and back are shaved to the skin, and the longer, graduated layers burst up and around the crown to contrast the undershave and complete this fun, quirky style.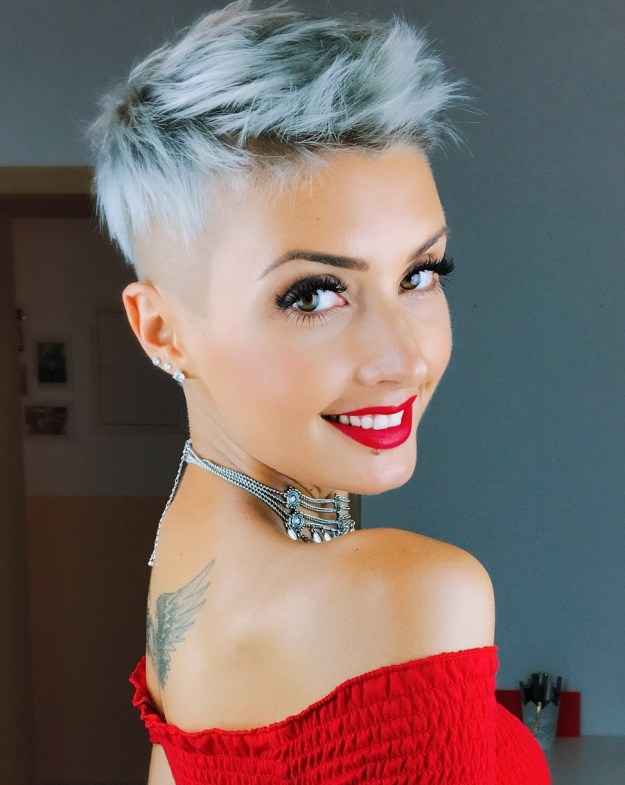 Instagram / @JEJOJEJO87
#5: Almost a Faux Hawk
Faking a faux hawk is easy with very short hair. This 'do relies on textured layers styled in spikes on top and slicked on the sides to create the needed shape. Styling wax or gel helps with this task. It must be mentioned that platinum blonde color is on-point with such bold hairstyles.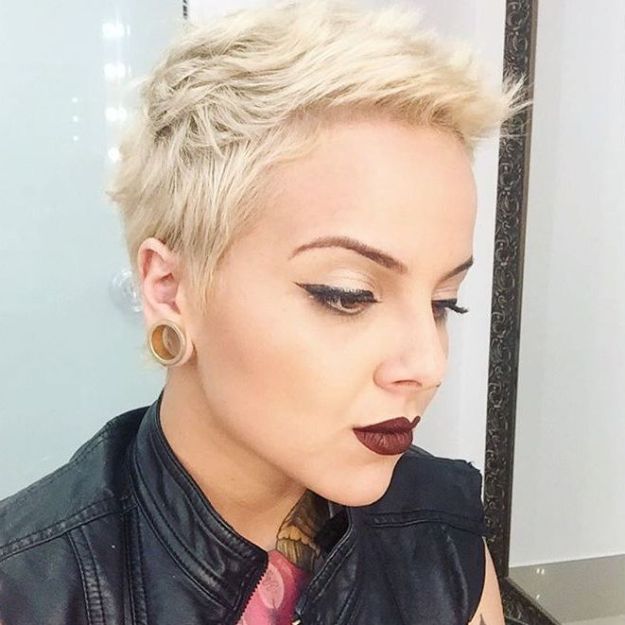 SOURCE
#6: Half Blonde Half Black Short Pixie
Can't decide if you want to go blonde or black? No need to! The short two-toned pixie is the perfect solution. When you bleach a very short cut partially, leaving your roots natural it's optimal for dimension and maintenance. And with this high contrast of colors, it's a real head turner!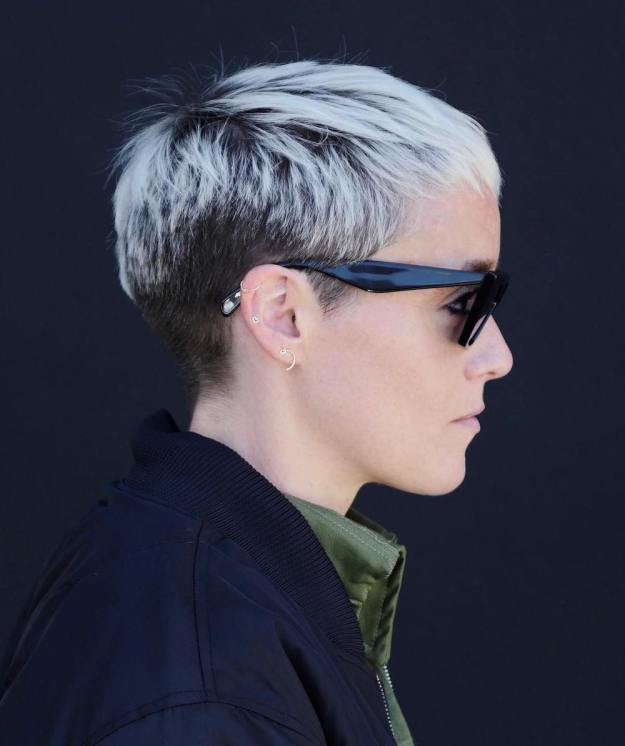 Instagram / @BEAUTYBYRACHELRENAEPAZ
#7: Edgy Asymmetrical Haircut
This hair cut represents the best of both worlds: being long in front and on top, it's short and stacked in the back. The latter creates much-needed volume in the back, while the former frames the face and highlights the eyes. A difference in lengths within a cut is very of-the-moment, and it offers a perfect opportunity to add some color to highlight the layers, such as platinum blonde or some bright shade of your choice.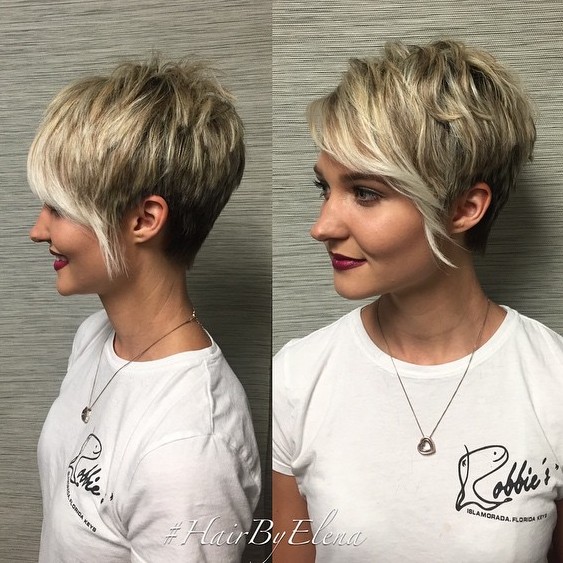 SOURCE
#8: Undercut Pixie Haircut
This hair is as pale and soft as dandelion fluff! It's closely cropped, almost shaved on the sides and chopped on top with the length increasing towards the quiff. Well, it's a cool androgynous cut.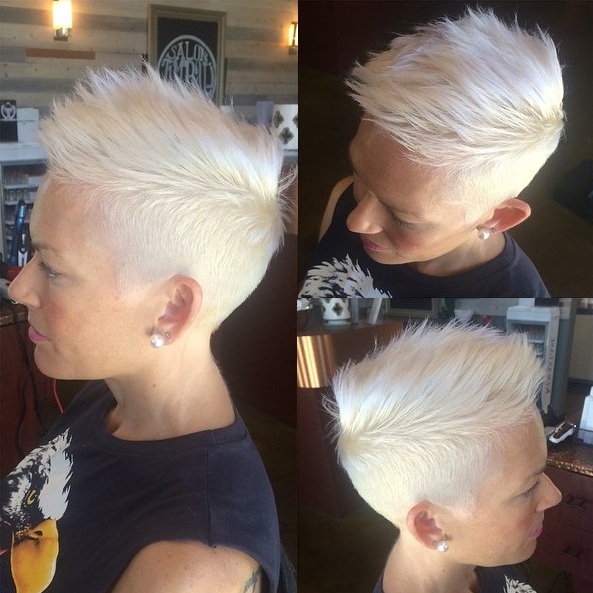 SOURCE
#9: Choppy Crop
Inspiring short pixie haircuts are easy to find and recreate. To make a short haircut stand out, a little asymmetry always helps. The bangs are jagged and cut at an angle. Uneven bangs add both interest and a fun frame to styles like this.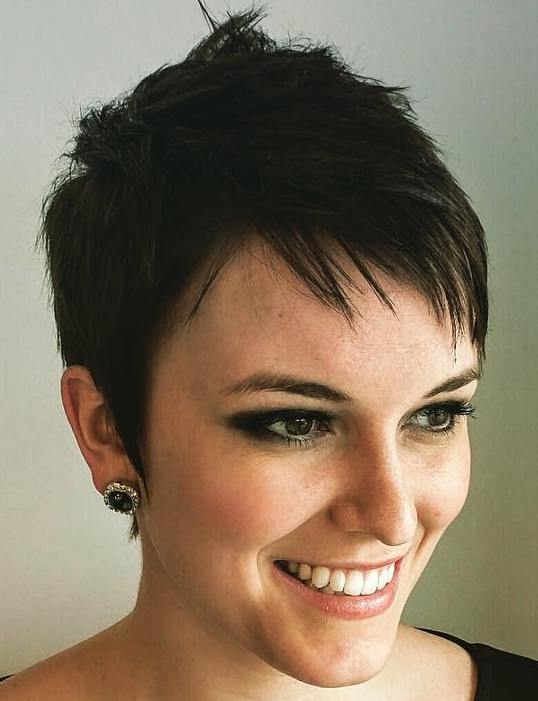 SOURCE
#10: Very Short Textured Ash Blonde Cut
A fabulous example of how short you can go with a pixie-cut and still stay youthful and feminine. Boyish, (but not masculine by any means); a very short textured back and neat sides give way to a flounce of tamed blonde locks at the top.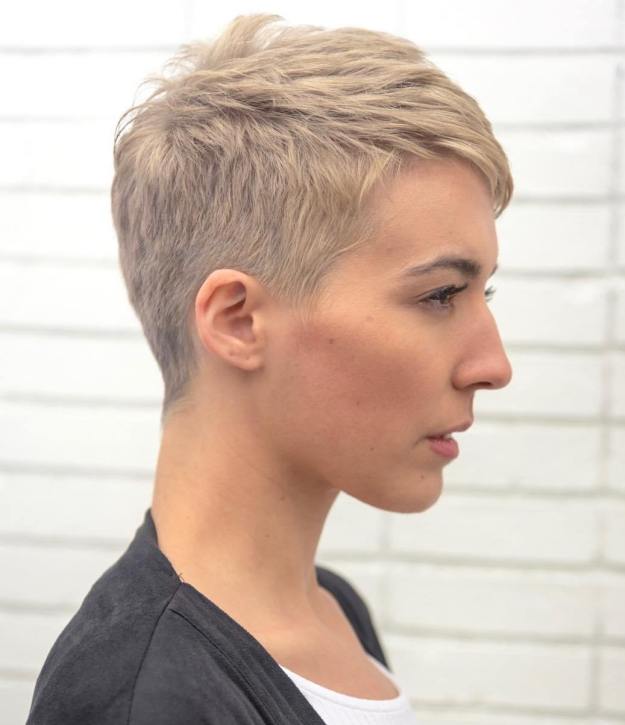 Instagram / @THESONGBIRDSOCIETY