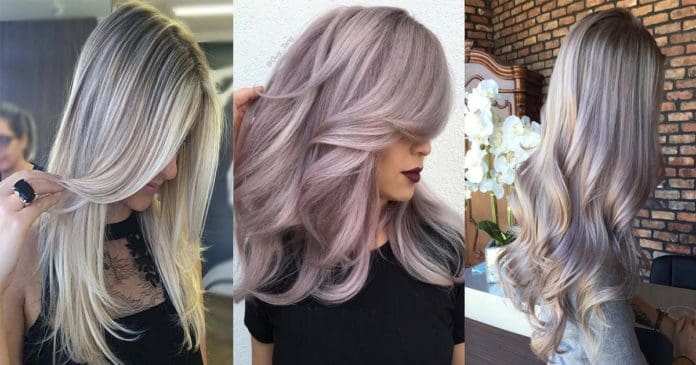 What About Styling Layered Hair?
The beautiful thing about layered haircuts for long hair is that they play really well with almost all kinds of styling. Waves and curls are the go-to hairstyling choice for most long-haired babes these days, and they pair extremely well with all kinds of layers. Straightening the hair can look extra edgy, and it is less forgiving if you haven't had an excellent stylist cut your hair. However, if you are careful choosing your salon, you are 100% safe. As far as updos go, long layered haircuts can make things a little more complicated. If the layers are small and subtle, reserved for the ends, it shouldn't be an issue. Ditto for graduated layering – you can just brush the face-framing layers off to the side, or pin them. However, a lot of the volume-building shoulder-length layers can make both ponytails and fancy updos difficult. Keep this in mind if you have a big occasion that will require an updo coming up.
Ideas for Long Layered Haircuts & Hairstyles
Do you think you know how you want your hair styled? Or maybe you would like a combination of a few different layers? Well, we've got more inspiration coming your way, with a ton of incredible pictures of long layered hairstyles!
1. Black Kissed by Auburn
In this long layered hair, the layers were kept to the bottom, allowing for the dark hair to flow beautifully. The textured layers at the ends were brought out thanks to a touch of auburn balayage.
2. Honey and Sunshine Layers
To perfectly frame the face without losing the long layered hair effect, layers were cut right above the shoulder near the front. Additional layers were done along the edges, and beautifully complemented the dark brown to platinum blonde gradient.
3. Lavender Layers
Nothing complements layered hairstyles for long hair better than gorgeous curls that make everything blend together seamlessly. In this style by Guy Tang, everything is amplified by the gorgeous lavender and silver dye job.
4. Painted Piecey Waves
Another way of doing layered haircuts for long hair is to gradually cut the layers so that from the front to the back there is a bit of an angle, like in this look. The layers are accentuated by a gorgeous ash blonde and platinum balayage, and piecey waves.
5. Queenly Layers
Richly dark hair can be made to seem even more lush and luxurious thanks to long layered hairstyles, like in this case. Shorter layers near the front add shape to the face, while longer layers along the sides and back create texture and interest.
6. A Touch of Copper Balayage
Layered haircuts for long hair work to amplify balayages, since both are techniques that create the appearance of volume in the hair. In this style, the shortest layers are still quite long, sitting just above the shoulders, and the copper balayage was interestingly kept off of the crown.
7. Long Blown Out Layers
One of the softer long layered hairstyles is achieved by blow-drying the layered ends of the hair outwards, so that most of the volume remains near the bottom. In this look, this styling cheekily shows off the warmer parts of the blonde balayage.
8. Mahogany Curls
Beautiful shades of copper and mahogany come together in long layered hair. The layers start just below the shoulders, so they really draw attention to the beautiful length of the hair.
9. Dirty Blonde and Garnet Layers
This is an excellent example of how well fiercely layered long haircuts can go with extreme hair painting. The curled layers really manage to show off this fierce blend of purples and pale browns.
10. Floating in the Ocean Layers
This subtle teal balayage with brown ends really calls to mind a raft peacefully floating through the ocean, while the curled layers at the end help to represent the waves.
11. Sleek Balayage Layers
Long layered haircuts can also look incredible when given a simple blow dry, like in this style. Thanks to the deep contrast between the balayage and the lowlights, even the subtle wave near the end seemed voluminous.
12. Slate and Lavender Layers
This is one of the more clever ways an expert colorist can utilize long layered haircuts. The hair was dyed in such a way so that under each new layer of hair, a different color would stand out, creating an attention-grabbing multi-color effect in metallic shades of purple.
13. Cascade Blonde Balayage
The layers in this dark brown to blonde balayage start right at the shoulder. Thanks to an expert blowout, long layered hair can seem to cascade down in a dramatic effect.
14. Practical Blonde Balayage Layers
Dark brown contrasts nicely with platinum blonde, especially in layered long haircuts. A bit of face-framing layers near the front add structure, while step layers near the ends add a lot of volume.
15. Princess Layers
For the perfect princess haircut, ultra long layered haircuts are the key! The length and dirty blonde locks ensure you'll look dainty, while many curled layers will make sure you look voluminous and astounding.
16. Black and Tan Layered Haircut
There are long layered hairstyles that can really play up the uniqueness of a balayage. In this case, the dark roots end right on the first layer, near the chin, and the beachy lower layers are all about that blonde, emphasizing the two-tone effect.
17. Abrupt Layers
If you want to go on the abrupt long layered haircuts route, your dye job better be bangin'. In this look the strands near the face look as though they have been chopped abruptly, but thanks to warm brown and blonde streaks this looks edgy rather than messy.
18. Blonde Tipped Layers
You can add a touch of whimsy to long layered hairstyles, but highlighting only the edges where the layers start. Here the effect is beautiful on brown-black hair, with warm blonde layers that start right below the shoulder.
19. Feather Light Locks
The excellent thing about long layered haircuts is that they can provide a lot of wispy charm to straightened hair. In this case, the model's brown hair looks feathery soft and breezy thanks to layers that start right at the shoulders.
20. Ginger Danger Layers
Super clean long layered hair on this model looks dynamite thanks to her fiery red coloring. Sleek styling shows off that layers can also look very clean and subdued.
21. Streaked Gentle Layers
These platinum layered ends look especially wispy, which allows them to contrast nicely with the darker streaks near the crown. Thanks to a touch more volume and shorter layers near the face, long layered haircuts like this one can be ultra flattering on all face shapes.
22. Lavender and Gold Wavy Layers
The delicate layering, when combined with velvety soft curls, works to create an especially romantic effect. Lavender and gold hair color shades amp up the effect double fold.
23. Cherry Cola Layers
A wash of dark red along the ends of this long layered hair brightens and deepens this gorgeous cut. This is an example of how modern and flattering layered hairstyles can be.
24. Sleek Golden Balayage Wave
The most gorgeous hair, especially when it comes to long layered haircuts, is always healthy and shiney. In this look we saw delightfully sleek brown to blonde balayage with soft waves, and clean layers just below the shoulders.
25. Baby Blonde Layers
This look is an impossibly bright example of straightened long layered hairstyles. The layers near the front of the face are the shortest, falling right below the chin, and they get progressively longer the further away they get from the face, creating a lovely cascade of hair.
26. Ash and Soot Wavy Layers
Much like the previous cut, the layers start shorter near the face, and get progressively longer. However, because of the wavy styling, the effect is subtler, and instead we get a lot of volume. Dark black and ash blonde blend really beautifully in this style.
27. Layers of Copper Balayage
Copper and dark mahogany shades are an excellent combination that has a lot of depth. Here this long layered hair works beautifully with soft waves, and layers that start just at the shoulder.
28. Subtle Layers with Balayage
The dark brown and blonde balayage is a classic choice for long layered haircuts, even if the layers are not too extreme, starting just below the shoulder.
29. A Touch of Caramel Balayage with Layers
The mixture of long and short layers in this long layered hair is a little more extreme, and pairs beautifully with this mixture of caramel, blonde, and brown shades.