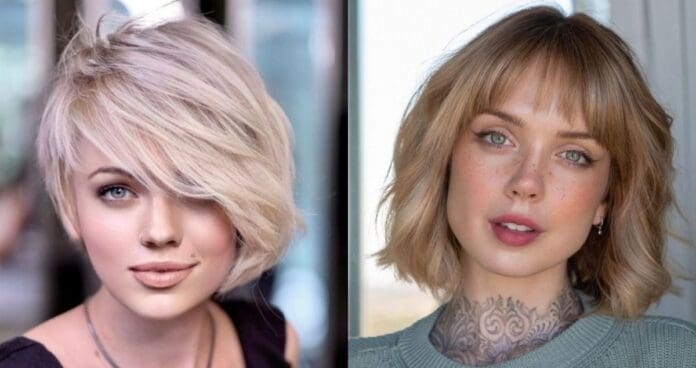 Short hairstyles with bangs seem never to fade out or lose their actuality. Bangs transition to go along with new fads, techniques, cuts, and face shapes, and you will always see bangs on celebrities and women in the street.
Color or style your short hair with bangs to highlight your best facial features. Wanna know how exactly? Let us show you some splendid ideas!
Best Short Hairstyles with Bangs Ideas
Pairing a short hairstyle with bangs can be an ideal way to wear your hair. It allows trying many versatile looks and gives you the ability to change up your look at a moment's notice. Check the examples below to find some great ideas!
#1: Layered Bob with Side Swept Bangs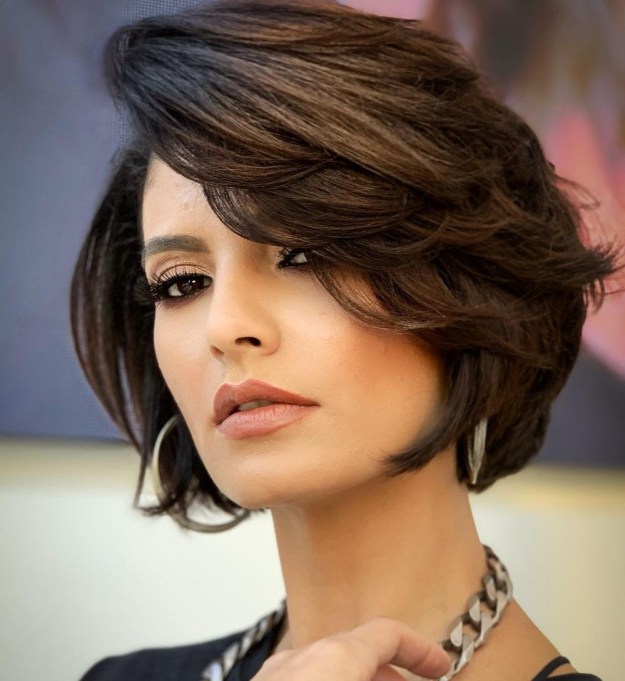 Instagram / @DIEGOMARCSANT
Long side bangs with a short cropped cut will always frame your face well. This hair has a deep side part and looks great when blow-dried, perfect if you need to dress up for an event! When styled correctly, this cut looks soft, feminine, and super stylish.
#2: Chin Length Bob with Bangs
A blunt bob with wispy bangs is key to nailing an alternative look. While many are used to seeing this cut in dark brown or black, wearing it with light ginger hair brings a new life to it. Instead of being sultry and mysterious, ginger and light blonde shades uplift the style.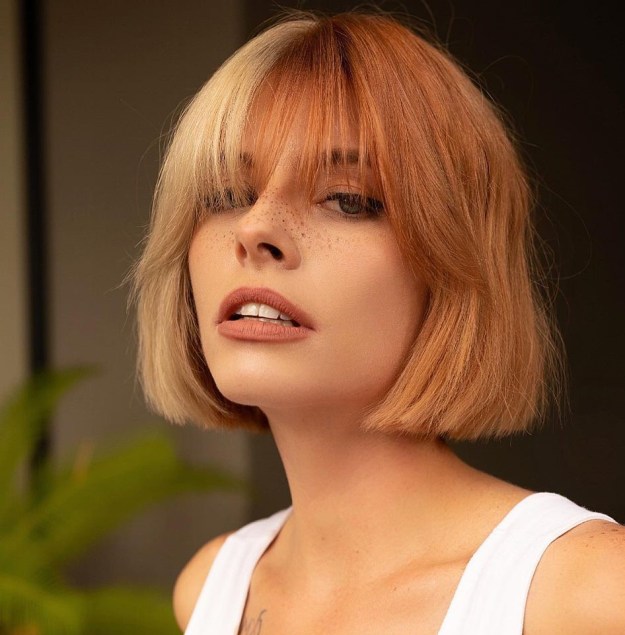 Instagram / @BESCENE
#3: Curly Pixie Bob with Bangs
Short hair with bangs isn't just for straight hair types! In fact, curly bangs is one of the top trends now. Tight curls with side bangs create a dynamic silhouette that can't be ignored. This is a great short bangs style to try at least once if you have natural curls.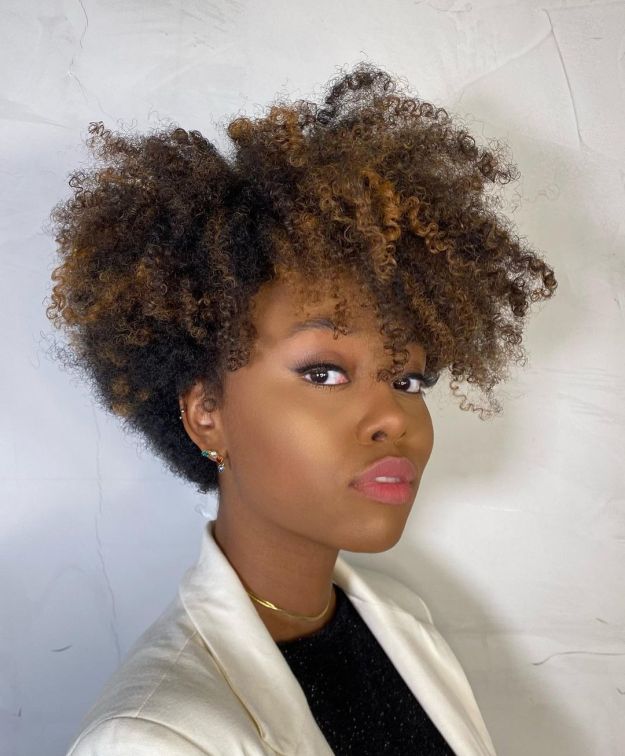 Instagram / @NIKCABRAL
#4: Swooping Side Swept Bangs
Side bangs are best when they're dramatic. If you want to rock short hair with side bangs go big or go home. Side-swept over the wearer's face, layered hair will frame anyone's features well. The look is perfect in icy platinum blonde and will enhance anyone who rocks it. A deep side bang works with any facial structure!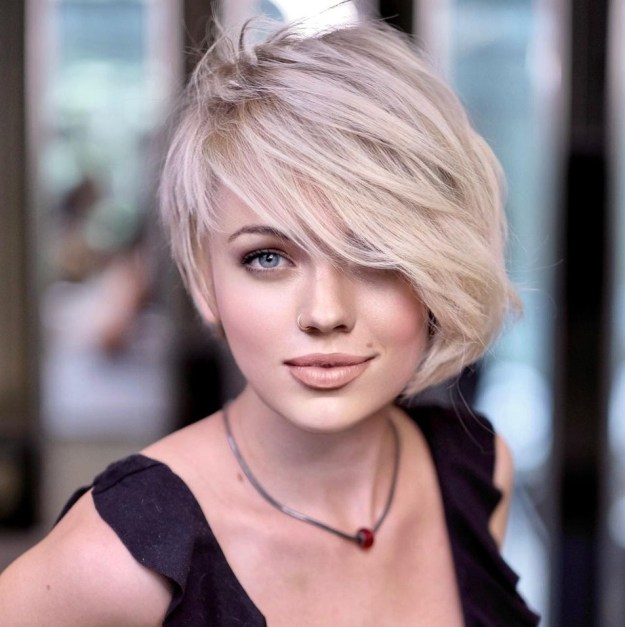 Instagram / @VICTORKEYROUZ
#5: Medium Length Bob and Bangs
A feathered short hairstyle with dainty bangs is a great way to soften your look. If you want to appear edgy, but still retain feminine elements, this is a great short hairstyle with bangs to choose from. As the hair isn't shaved, you can still curl or straighten it giving you flexibility with styling too. Add layers into this hairstyle if you have fine hair, this adds the appearance of thick hair.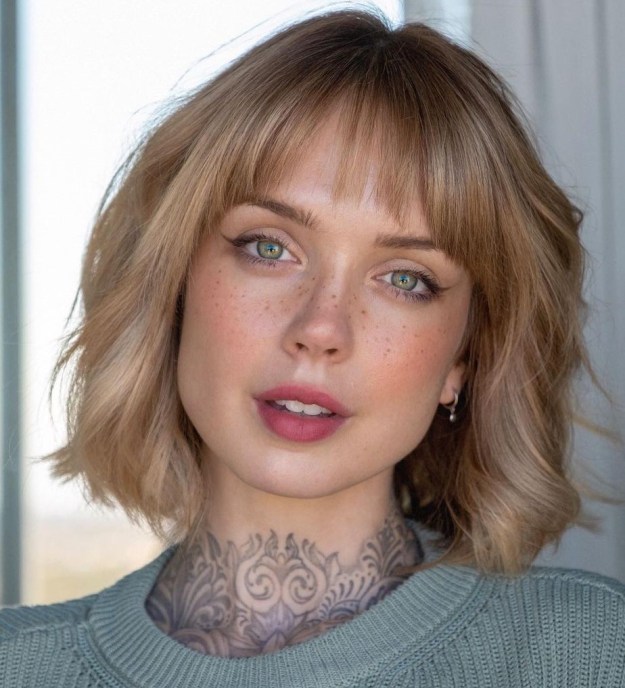 Instagram / @ATOMICLIZ.DOES.HAIR
#6: Platinum Pixie Cut with Choppy Bangs
Going blonde makes a statement, but bleaching with short hair and bangs looks even cooler. Bright blonde hair in a cropped hairstyle proves you don't need length to look fabulous. With choppy bangs at the front, the shaved pixie styles offer a great contrast in length. Try short bangs for a more high fashion style.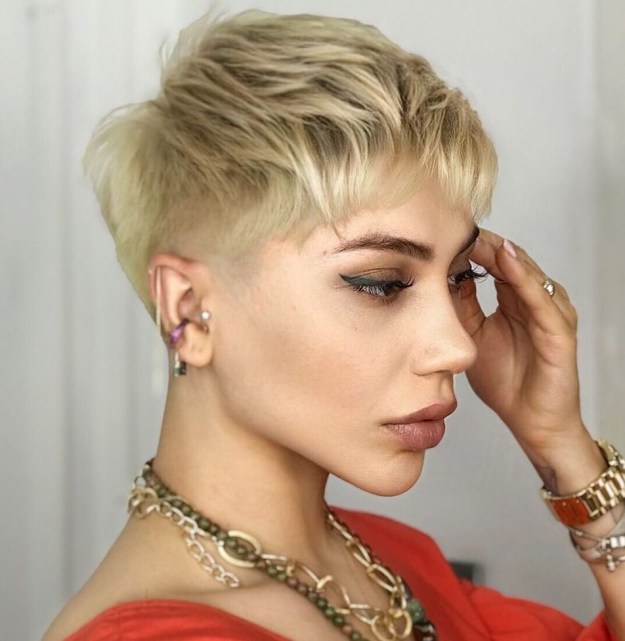 Instagram / @KADIRDONMEZOFFICIIAL
#7: Curly Bob with Bangs
Naturally curly or wavy hair can be difficult to tame, but proper styling makes it look amazing. Bob cuts with a little bit of length are perfect for naturally curly hair. When hair is tousled and left to fall free, short hair with bangs always looks very high fashion. Wispy bangs are perfect if you want to avoid tedious styling time.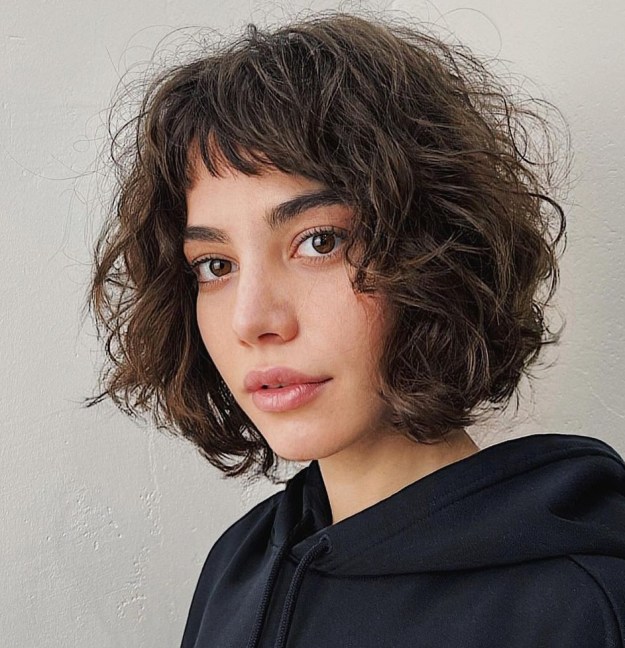 Instagram / @STEBUNOVHAIR
#8: Long Pixie with Bold Side Bangs
Side bangs that swoop longer than the length of your hair is a great look to rock if you are brave enough. Long, side-swept and highlighted locks can frame your face perfectly, but some stylists prefer to keep bangs sitting over your face for a more mysterious styling look too. This deep side bang style works well with a cropped pixie cut.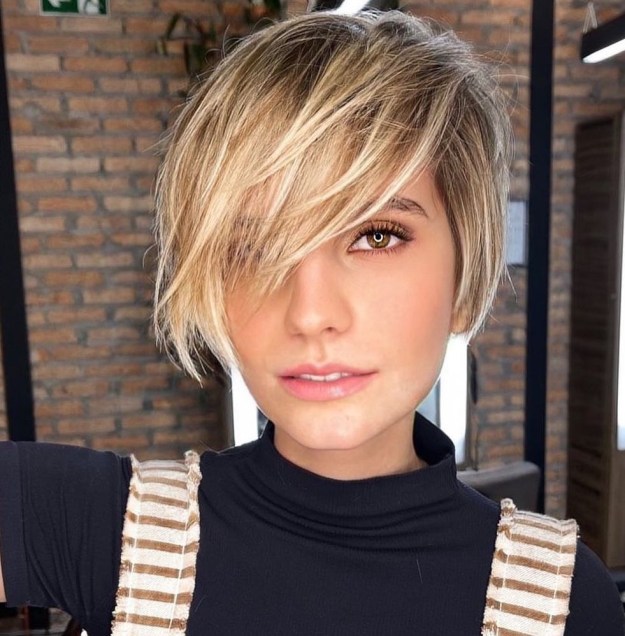 Instagram / @RODRIGUES_RICARDO
#9: Bob with Short Full Bangs
The contrast between straight, full bangs and a tousled bob can create a striking look. Curl hair with a straightener to get an effortless textured look. The short bangs give an alternative, yet feminine look.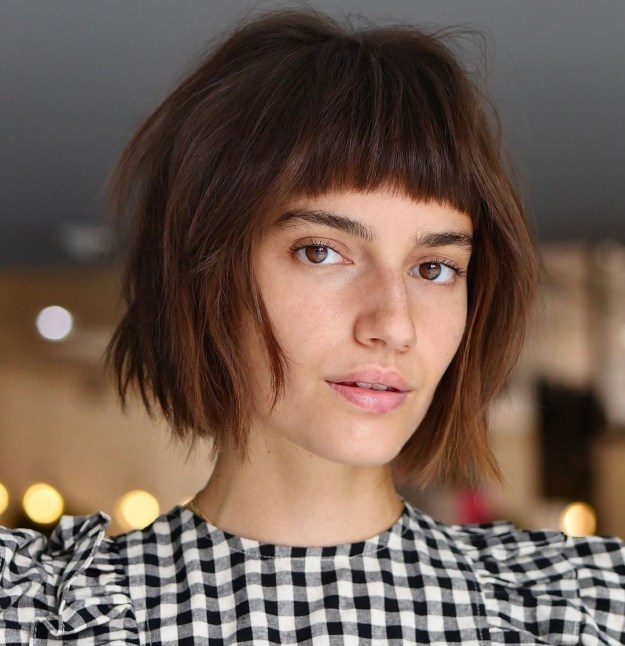 Instagram / @YUKISTYLIST
#10: Blunt Bob with Wispy Bangs
If you're not afraid of a flat-iron, this might be the short haircut for you. A blunt-cut, blonde bob with wispy bangs and face-framing layers presents an angular look. This is made even more striking by the bright bleached color. This is a must-try for anyone who enjoys playing with styling tools or has dead straight hair.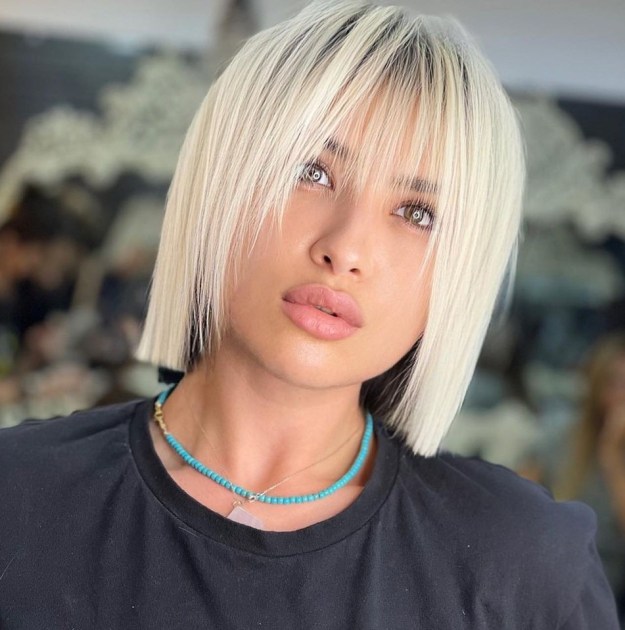 Instagram / @AYHANONLUEL