Angled Asymmetrical Cut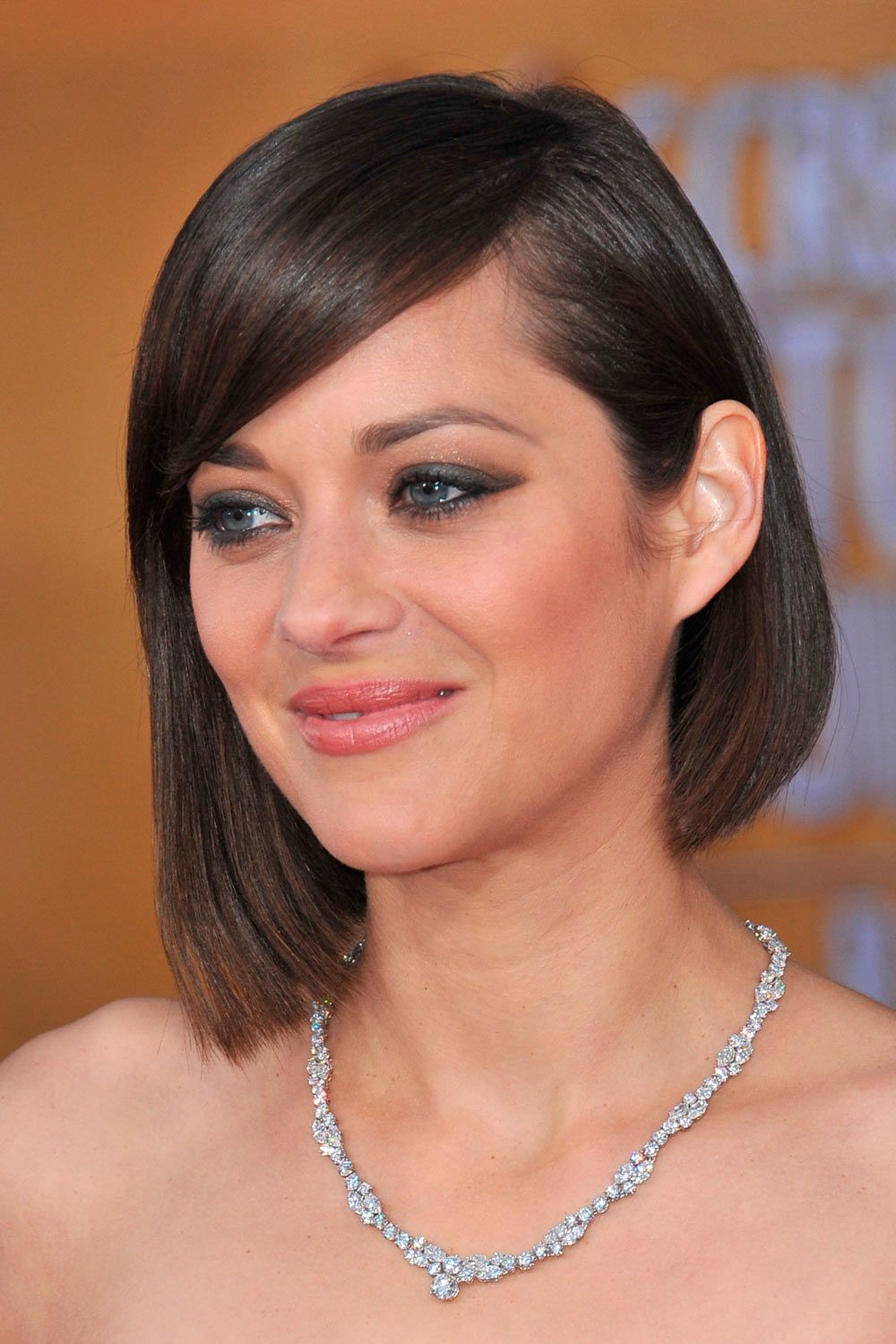 Source: Marion Cotillard via Featureflash Photo Agency/Shutterstock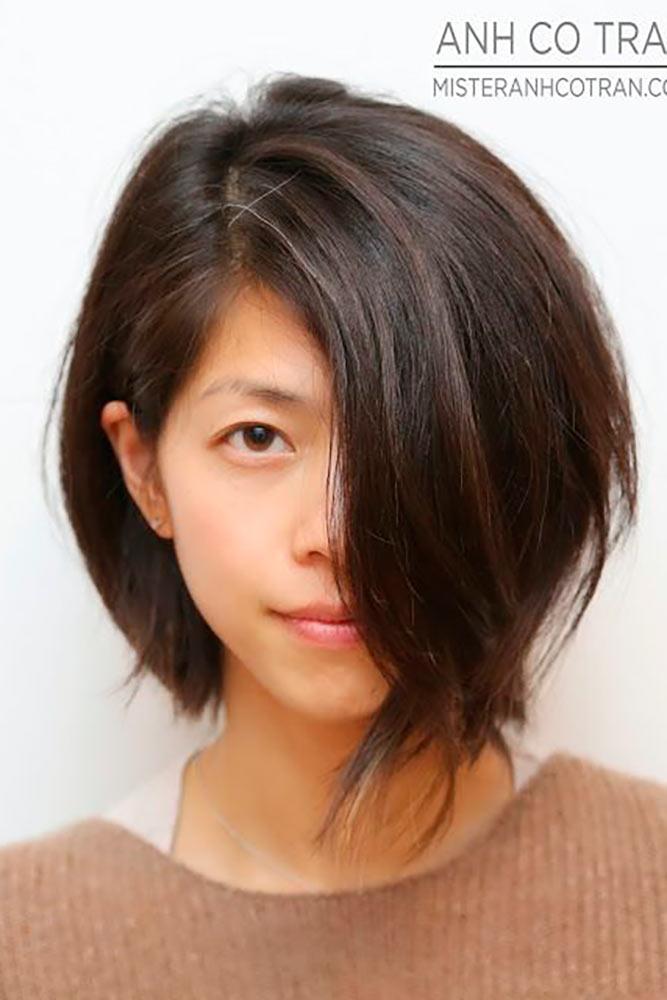 Source: anhcotran/Instagram
If you want a look that's super sexy and chic, this angled cut is very sensual. The bangs fall seductively over your eyes for a flirty vibe that will make men swoon. A cute bob haircut can really do wonders for your confidence.
The best part about this style is the sexy bedhead look. It's so easy to style. Simply blow dry upside down for body, flip your hair over and use your fingers to style!
Wavy Bob Hairstyle With Side Part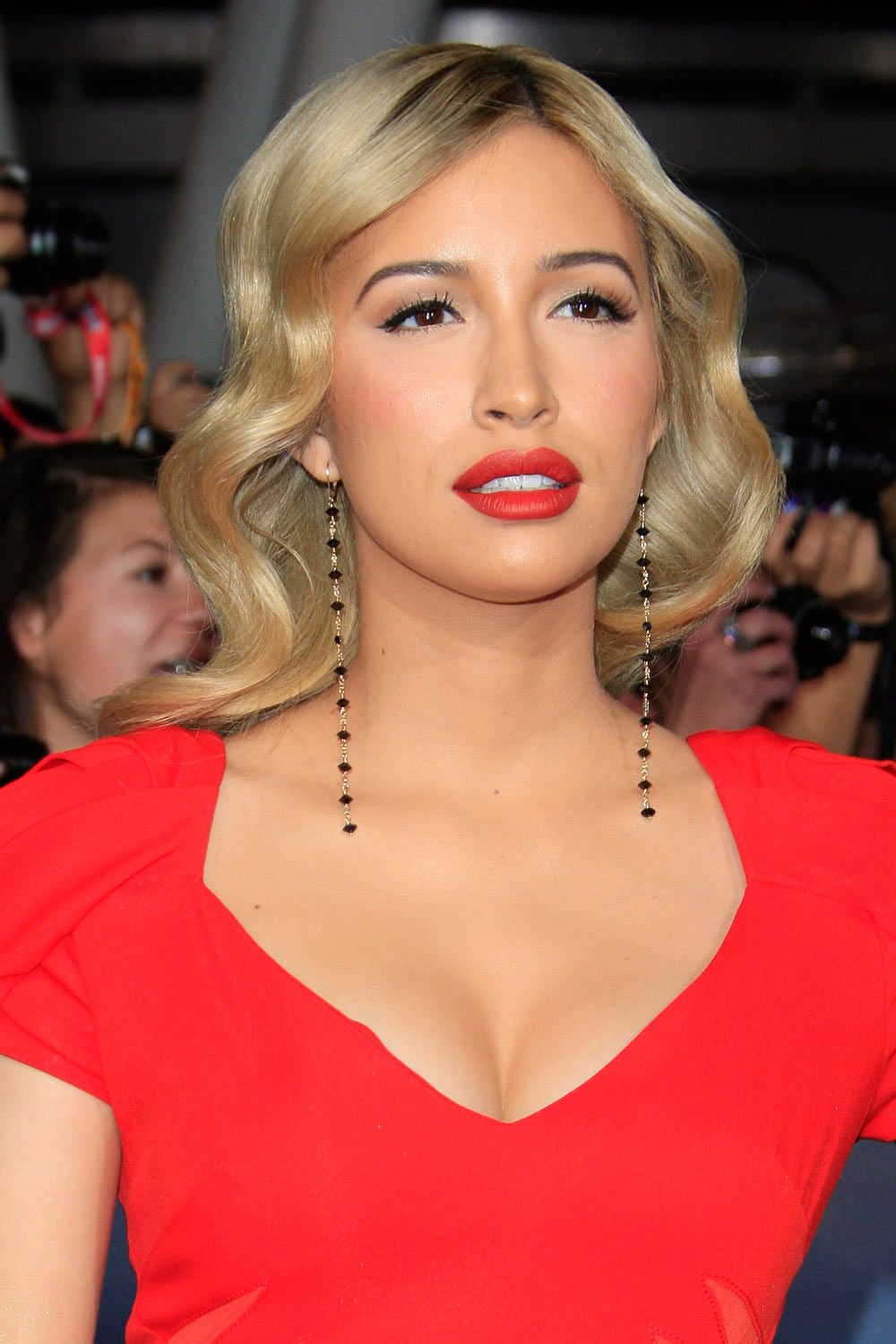 Source: Christian Serratos via Joe Seer/Shutterstock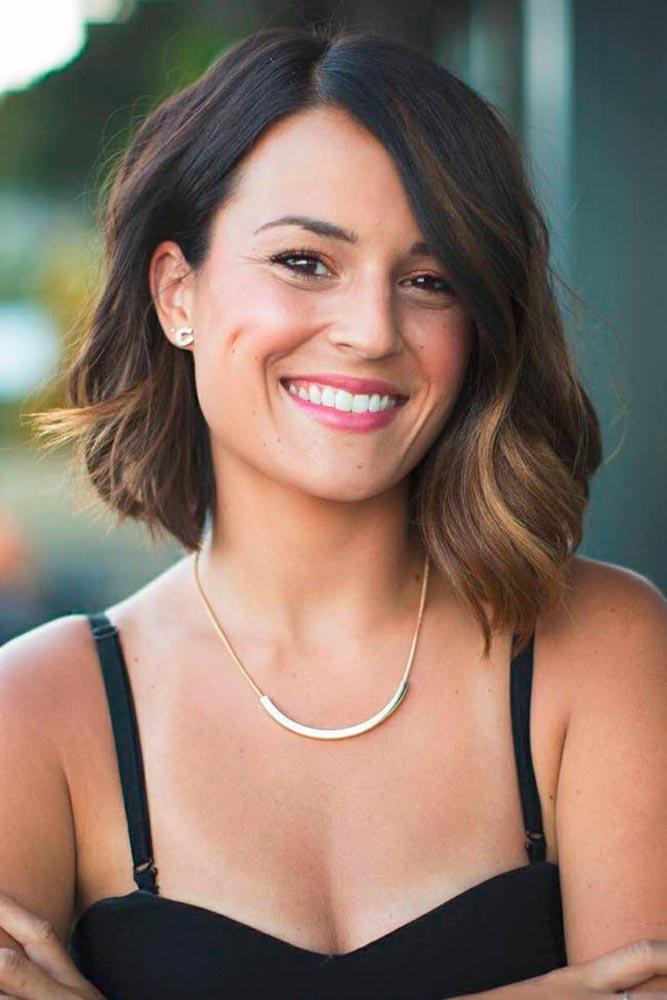 Source: thehearstylist/Instagram
If you want an asymmetrical bob wavy cut, this short wavy bob is uber cute! The soft and romantic waves add a sense of mystery. As well, the caramel highlights on the milky chocolate brown base are very stunning.
All you need to do to duplicate this look is scrunch your hair with a good volumizing mousse If your hair isn't naturally wavy, you can make big bouncy curls with a large barrelled curling iron.
Pastel Color For Side Swept Bob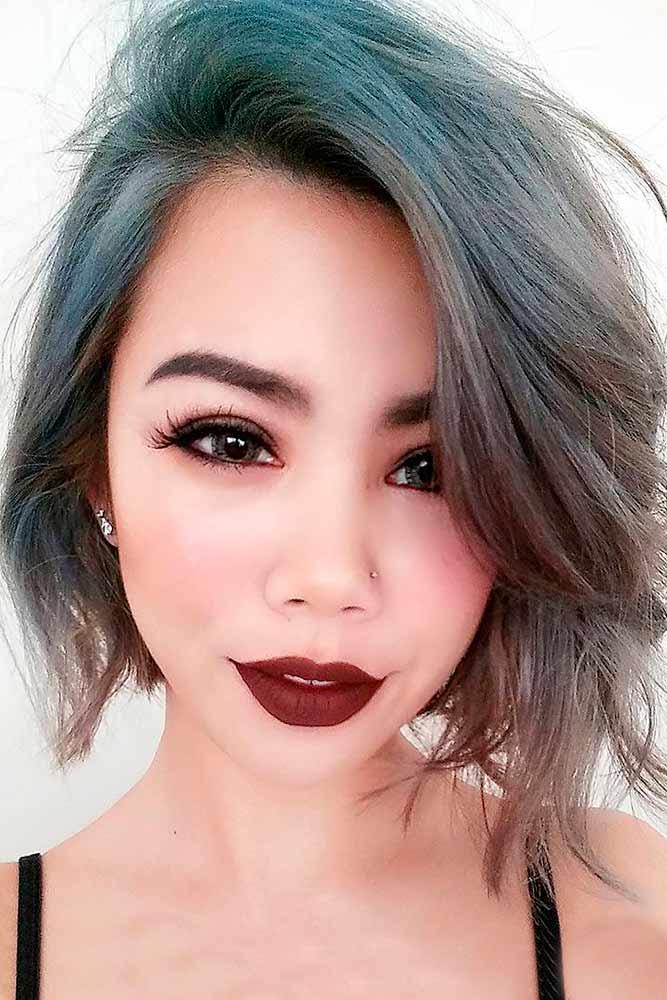 Source: lazybumtotbeauty/Instagram
Another cute look for asymmetrical styles is this side-swept bob hairstyle. The side swept loose waves are sultry and seductive if you want a look that's both youthful and chic.
And what's prettier than pastel hair? The soft shades make this sassy style even more feminine and fun!
Short Asymmetrical Bob For Curly Hair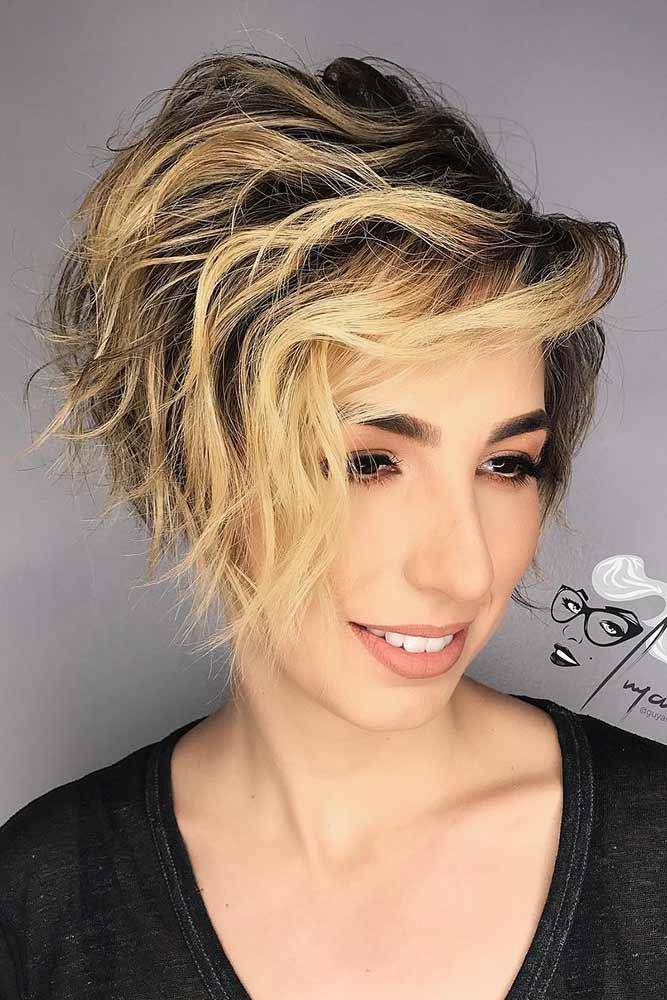 Source: guyannescissorhands/Instagram
Standard bob haircuts, with their even, all around edges, are reliable classics. They're easy to maintain and flatter practically everyone. Plus, everyone loves them. And everyone wants them. Well, maybe not everyone. Some want a little more than everyday chic. Some want mystery and edge, along with glam and flair.
Surprise! The reliable classic offers them the short asymmetrical bob. This model's naturally curly asymmetrical bob blends choppy layers with a sharp tapered edge, and a clean nape. The glorious blonde highlights pump up the charisma even further. Asymmetrical bob curly hairstyles become very popular today. It's a short hair variation that adds body without a lot of change.
Asymmetrical Retro Faux-Bob Hairstyle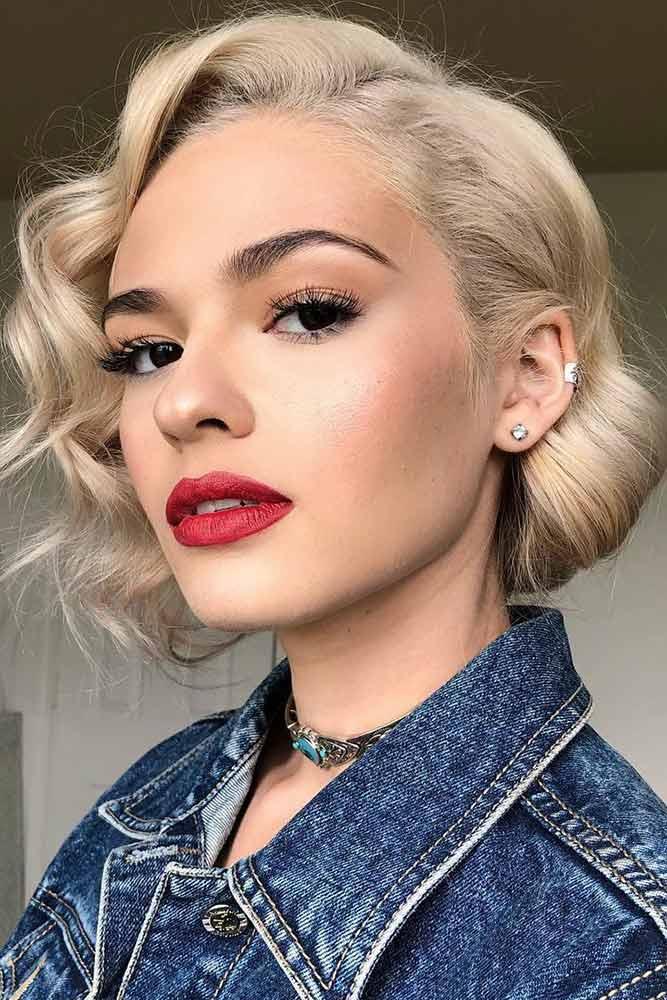 Source: wesdoeshair/Instagram
We've used "glamour" quite a bit to describe the bob, be it the classic bob, long bob, blunt bob, textured bob, etc. And the word applies. Truth be told, however, it really applies to the short asymmetrical bob. The style immediately conjures images of the gorgeous, one-of-a-kind women of the Golden Age of Hollywood. We've yet to see their kind again. Wait, we somewhat can. And you can evoke them yourself. With the asymmetrical retro faux bob.
You start out with a short asymmetrical bob haircut. Then, all you need is a curling iron, a teasing comb, and hairspray, and voila, you'll look just as captivating as this model. And, she most definitely evokes images of past bombshells. Yet, her makeup and jewelry keep her image modern and fresh.
Asymmetrical Short Bob With Bangs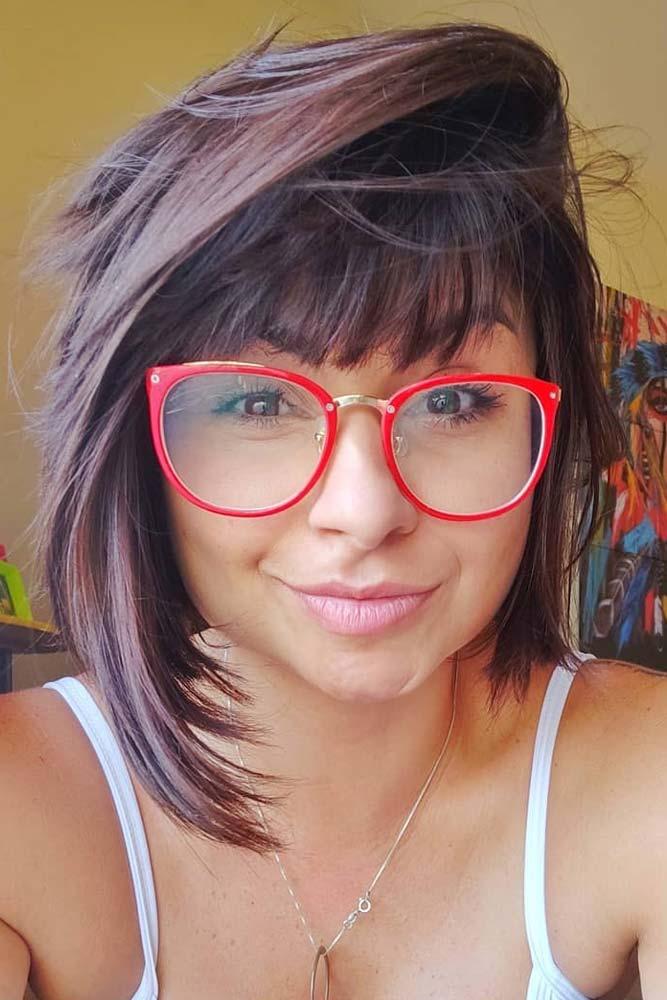 Source: jusouza_fisio/Instagram
An asymmetrical short bob with bangs and an elongated side that falls under the jawline will forever compliment. The stacked angle bob this model sports is especially flattering for those with round faces and those with extra layers of skin around their necks (often called "double chins"). The term "double chin" carries a negative implication and, truth be told, it's misleading to think that overeating always causes them. Oftentimes, the natural aging process simply weakens facial muscles and skin. Facial exercise can help. And so can asymmetrical hair.
An asymmetrical bob balances double chins. All you see on this model is her sweet, heart-shaped face and that's all you're ever going to see. She also superbly wound in the current gray trend. She selected sophisticated hues of pewter and icy silver that would normally bring to mind approaching storms. But her bright pink lipstick calmed the skies and her delicate charm blazes through. Don't you wonder what she's thinking?
Side Parted Style For An Uneven Bob Haircut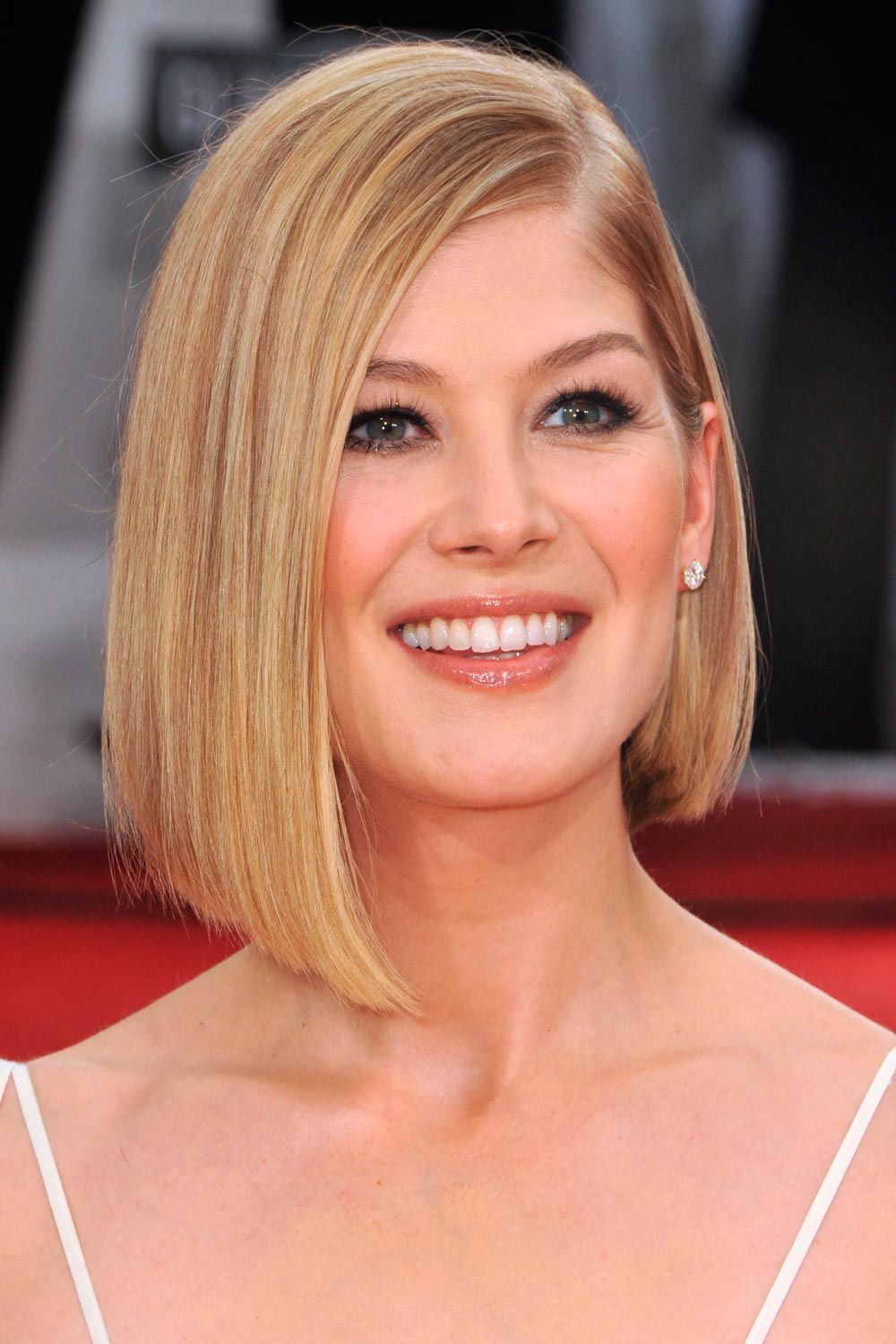 Source: Rosamund Pike via Featureflash Photo Agency/Shutterstock
We've told you over and over again how the uneven bob haircut delivers energy and spark. Do you actually need more proof? Okay. Take this model. She's smiling sweetly, and her wide-open eyes make her look angelic. But, check out the styling of her short hair asymmetrical bob. The raised flip, the one side tucked behind her ear, and the elongated another side, which gently grazes her neck and completes the outline around her face.
There also seems to be some grunge going on with the irregular, almost imperceptible rosy like color dashes. Now, those are sultry and deliciously wicked. Forget the eyes and smile, the short uneven bob always reveals the truth.