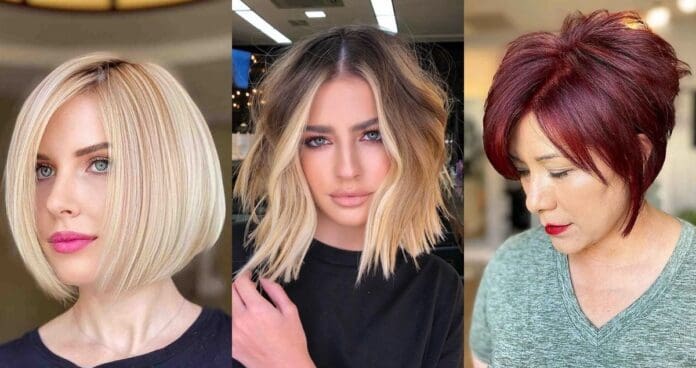 A short bob is a bob that's cut between the ear and just above the shoulders. There are all types of ways to cut a bob on short hair, including angled, graduated, inverted, asymmetrical and many more. With tons of modern and fresh takes, your short hair can be customized to match your personality. Whether you're a rocker full of attitude, the girl next door, or the avant-garde trendsetter, a shorter bob can be a great hairstyle for you to make a statement. Take a look through these inspiring pictures of popular short bob haircuts and hairstyles!
Ear-Length French Bob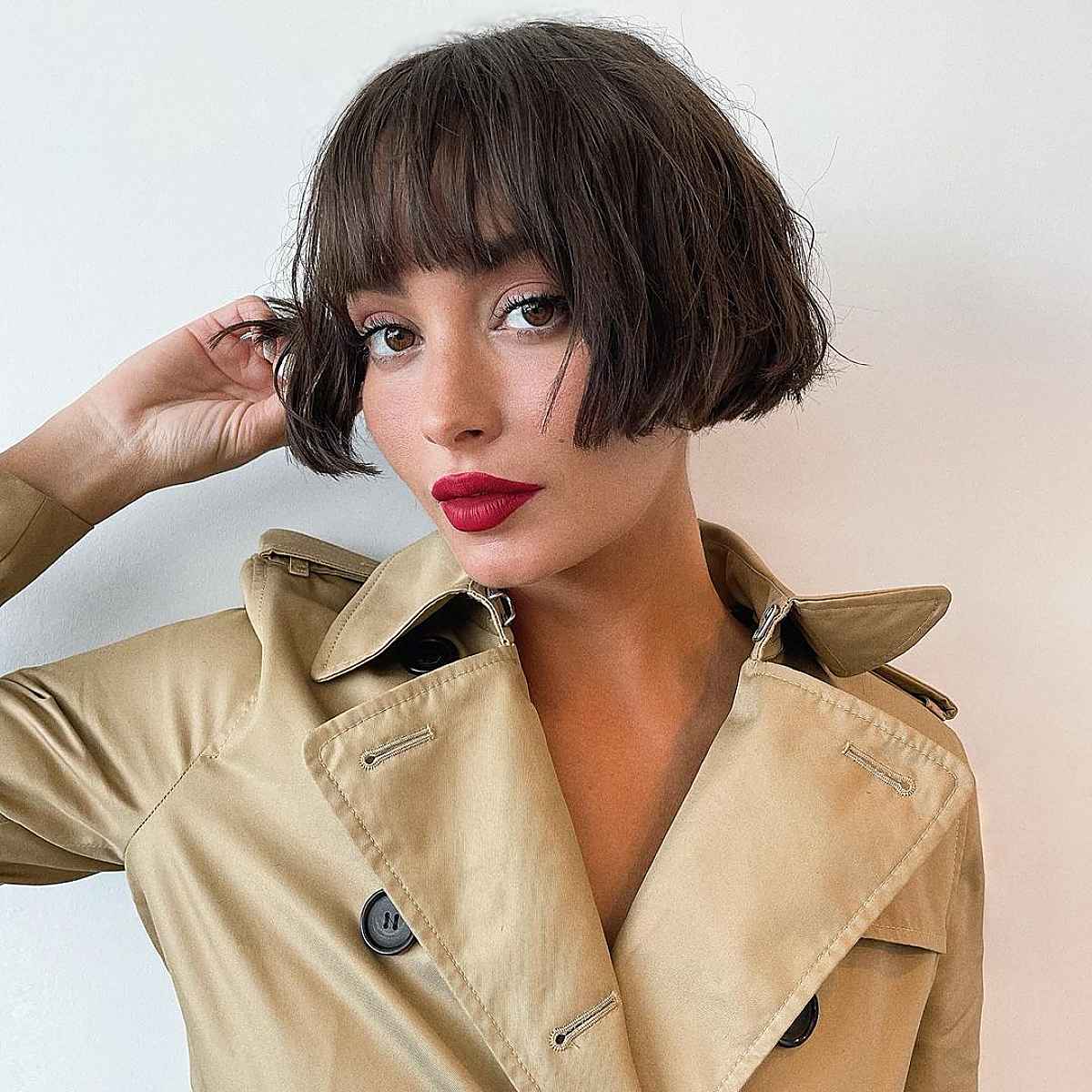 A little French bob like this would suit chic and classy girls who would never leave the house without a sexy eyeliner and lip work. Yet it only takes less hair to make this haircut work, the volume the texture offers is really impressive.
Jaw-Length Short Bob for Fine Hair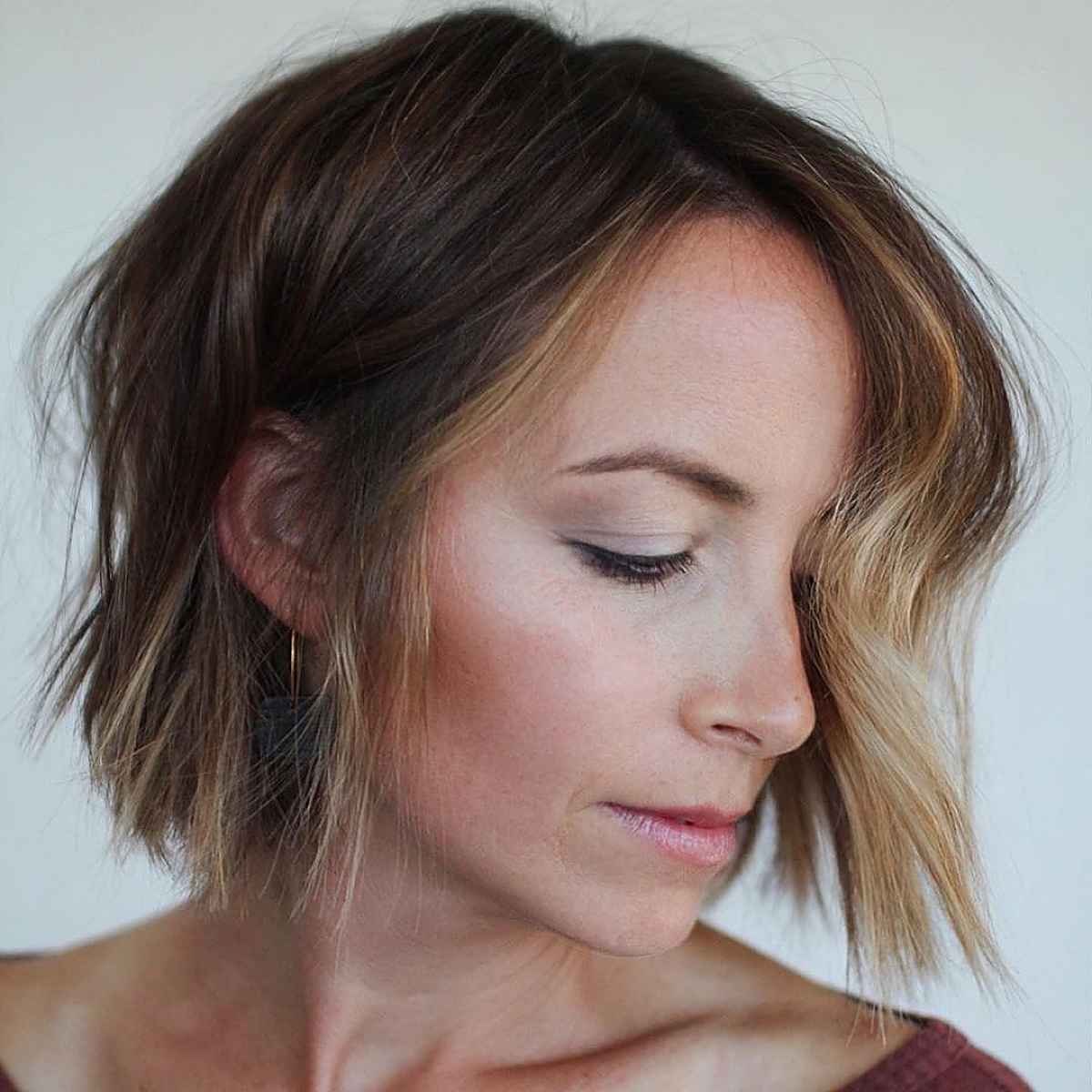 This jaw-length bob is based on a strong geometric and disciplined shape, but with layers providing texture and movement. The strength in the perimeter line accentuates the jawline, while the layers sit at the cheekbone level to create interest and to keep the shape from looking too solid and heavy. Use some R&Co Chiffon light mousse before drying to add strength. Also, some R&Co Control paste to bring out the layers and give the finished look.
Jagged Bob for Round Faces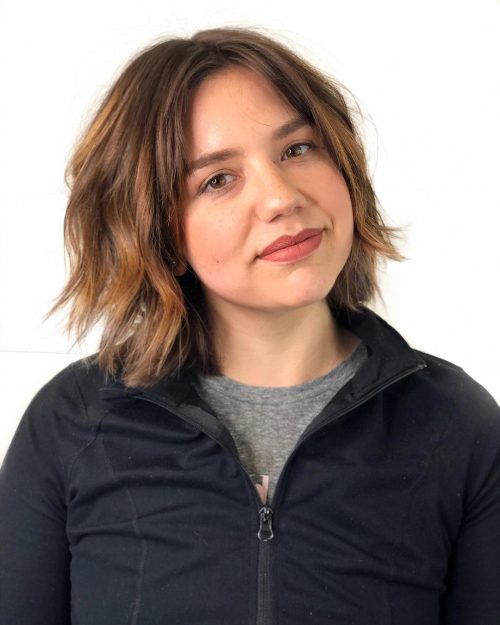 This bob for short hair features soft short layers that best compliment a round face. The mid part also helps balance the face shape by creating the illusion of an elongated face.
Gorgeous Bob for Thick Hair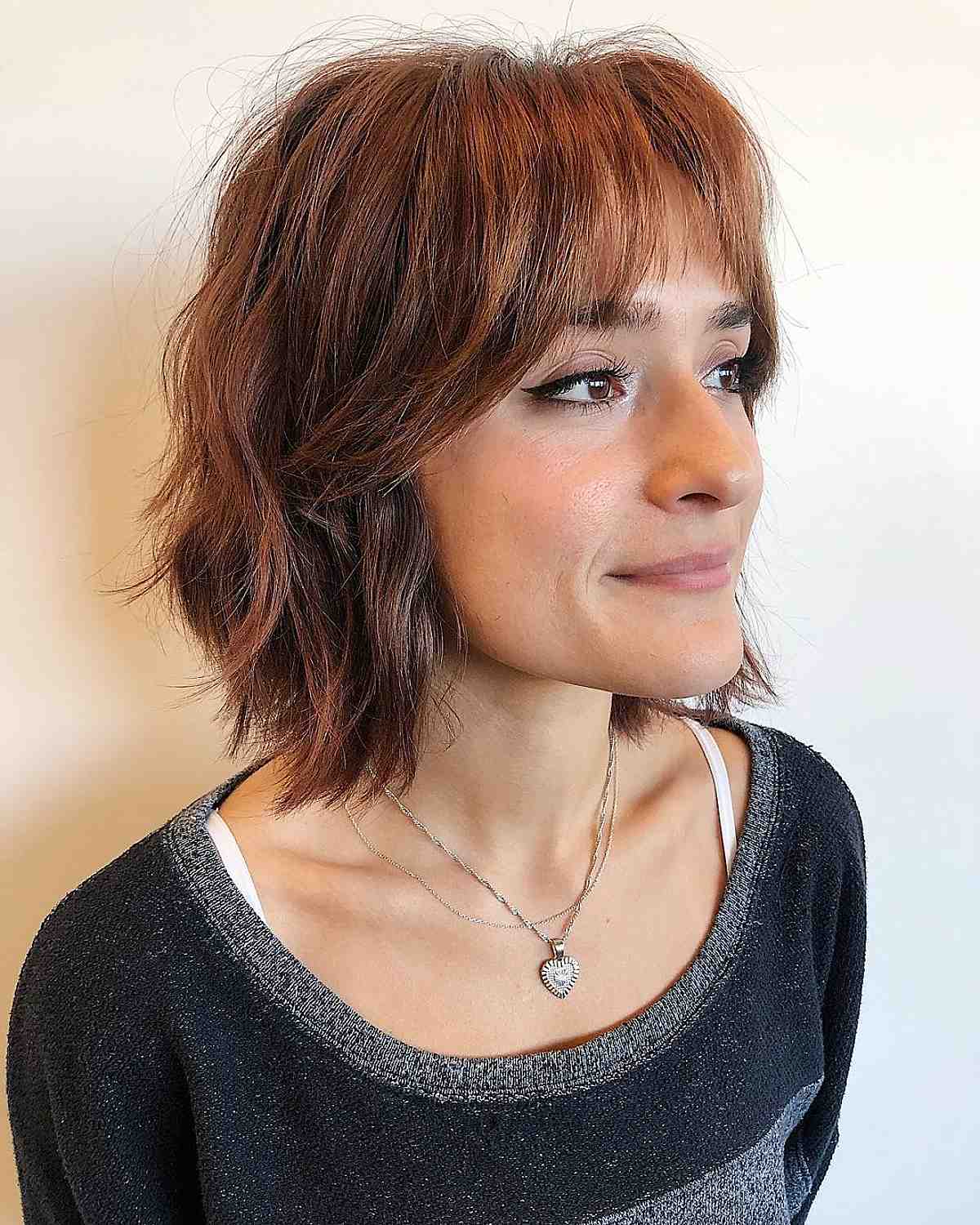 Chop your hair into a tousled bob for a lightweight result with less bulk yet more texture. This hairstyle looks amazing on any everyday casual or business events.
Short Black Bob With Bangs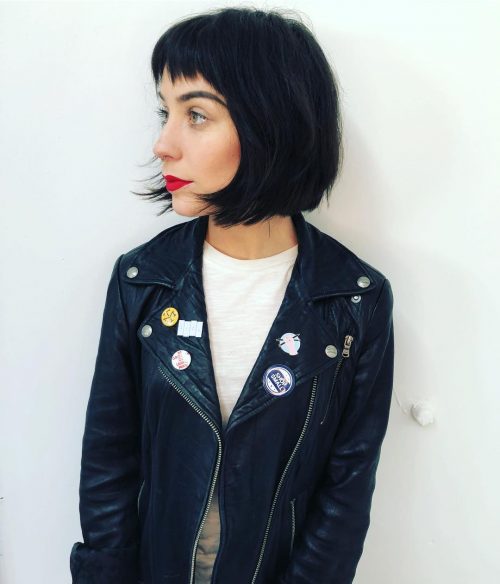 In this flawless jet black, short bob with bangs, the ends are waved inward for a face-frame effect. That cute choppy fringe enhances the look even more by adding texture and interest.
Q&A with style creator, Corinna Hernandez
Stylist @ Pony Salon in San Francisco, CA
How would you describe this look? This is a razor-cut mid-neck length bob with graduation. This girl has bangs that suit her face – shorter and more textured. This cut was not blow dried with a brush but with a diffuser and surf spray to encourage natural movement and texture. This color is her natural color – almost black! Any advice for someone considering it? This is a great look for someone who likes wearing shorter hair with little to loose waves and wants to just let it air dry with some surf spray.
Fun Choppy Bob with a Deep Side Part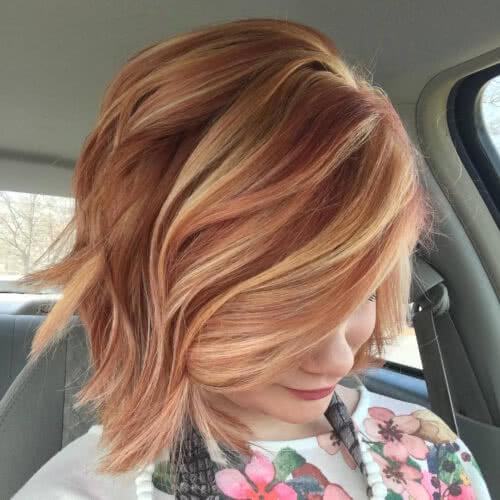 Q&A with style creator, Renee W Owens
Owner/Stylist/Redken Color Specialist @ Sunshine Hair Designs in Tarboro, NC
How would you describe this look and what is your favorite thing about it? This choppy short bob cut that's textured and angled is one of my favorite styles. It's so versatile and can go from straight and sleek to tousled and textured like it's shown in the picture. This is such a fun, flirty bob with a deep side part that is easy to duplicate at home. What products do you recommend to maintain and recreate this look? For this look, I applied Kenra Body Boosting Spray Foam and Kenra Blowdry Spray for volume and shine, then curled with a 1-inch iron, leaving the ends straight for a more textured look. What type of client would you recommend this look for? This short choppy bob cut and style works well for most face shapes and can be styled so easily at home, making it a good choice for almost everyone.
Sassy A-Line Bob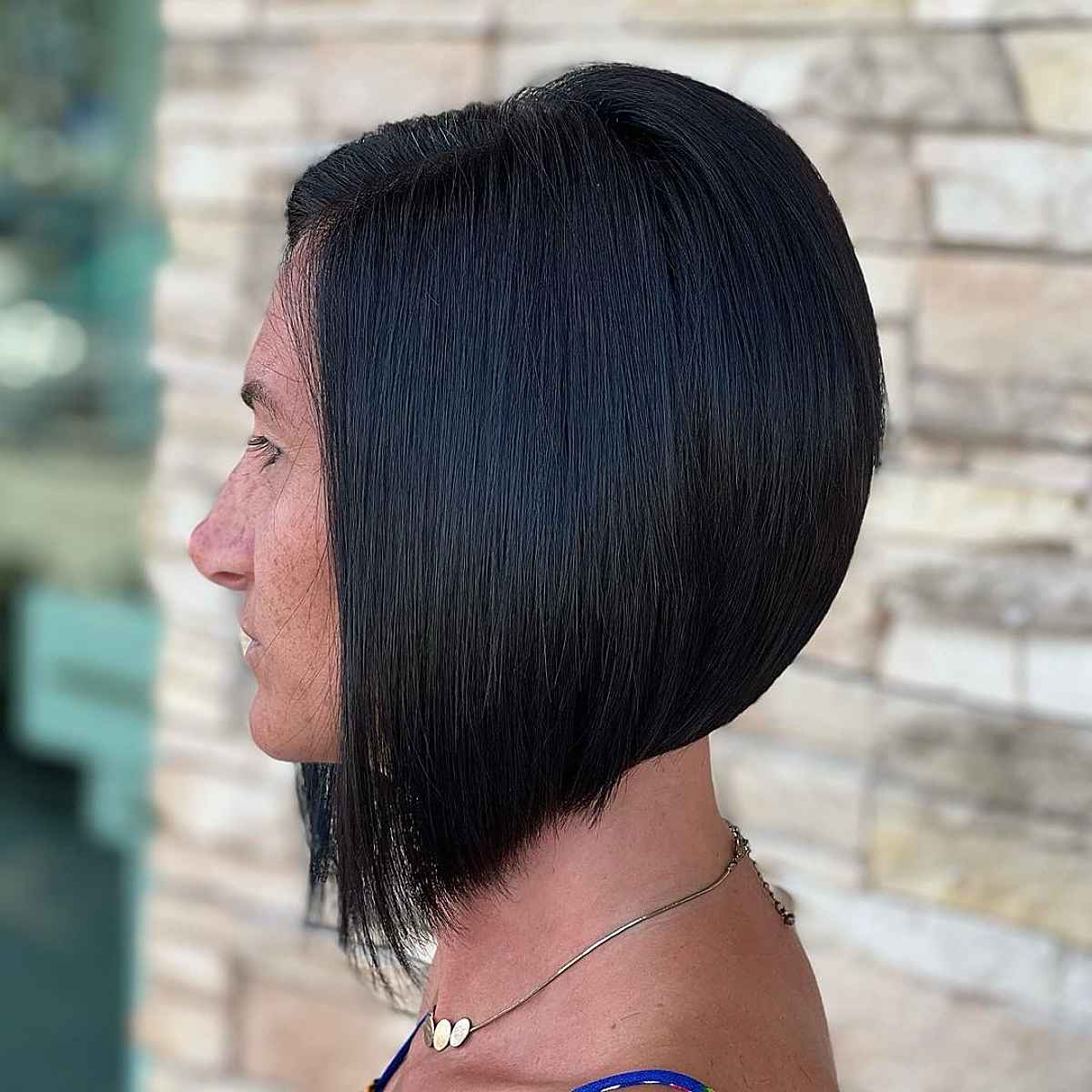 This look is sassy, yet more playful than your traditional short A-line bob. The perimeter is textured instead of blunt, and the interior is sliced through in order to remove excess weight. To maintain this look, try applying Kevin Murphy Body Mass spray all over wet hair. This style can be air-dried or rough-dried with a blow dryer. Finishing touches can be made with a large barrel curling iron, although this step is not necessary. To finish, apply Kevin Murphy Doo Over for a fresh and undone look that will hold throughout the day. An a-line cut is for the low-maintenance woman who also appreciates style and a quality grow out. This cut is great for naturally wavy hair and small and/or oval face shapes.
Asymmetrical Bob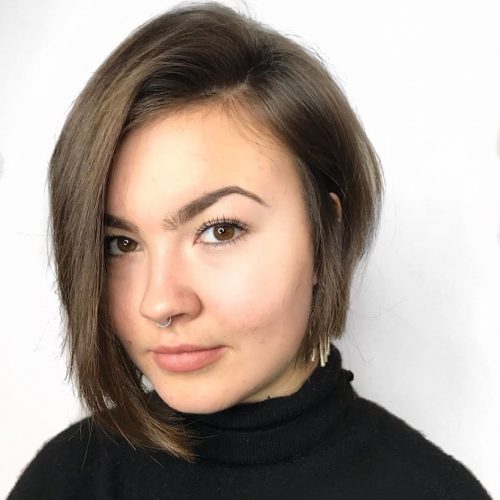 Q&A with style creator, Kaitlyn McHarg
Hairstylist @ Eliane Hair & Spa in Vancouver, BC
How would you describe this look? This short asymmetrical bob is an updated version of one of the most classic short bobs of all time. Any advice for someone considering it? This bob haircut can be tailored in so many ways to suit different hairs. Depending on the face width, you can either draw attention or defer attention depending on the length you go with. You can also play around with layers and texture to either make the hair fuller and blunter or take out the weight and add some layers or face framing.
A Very Short Layered Bob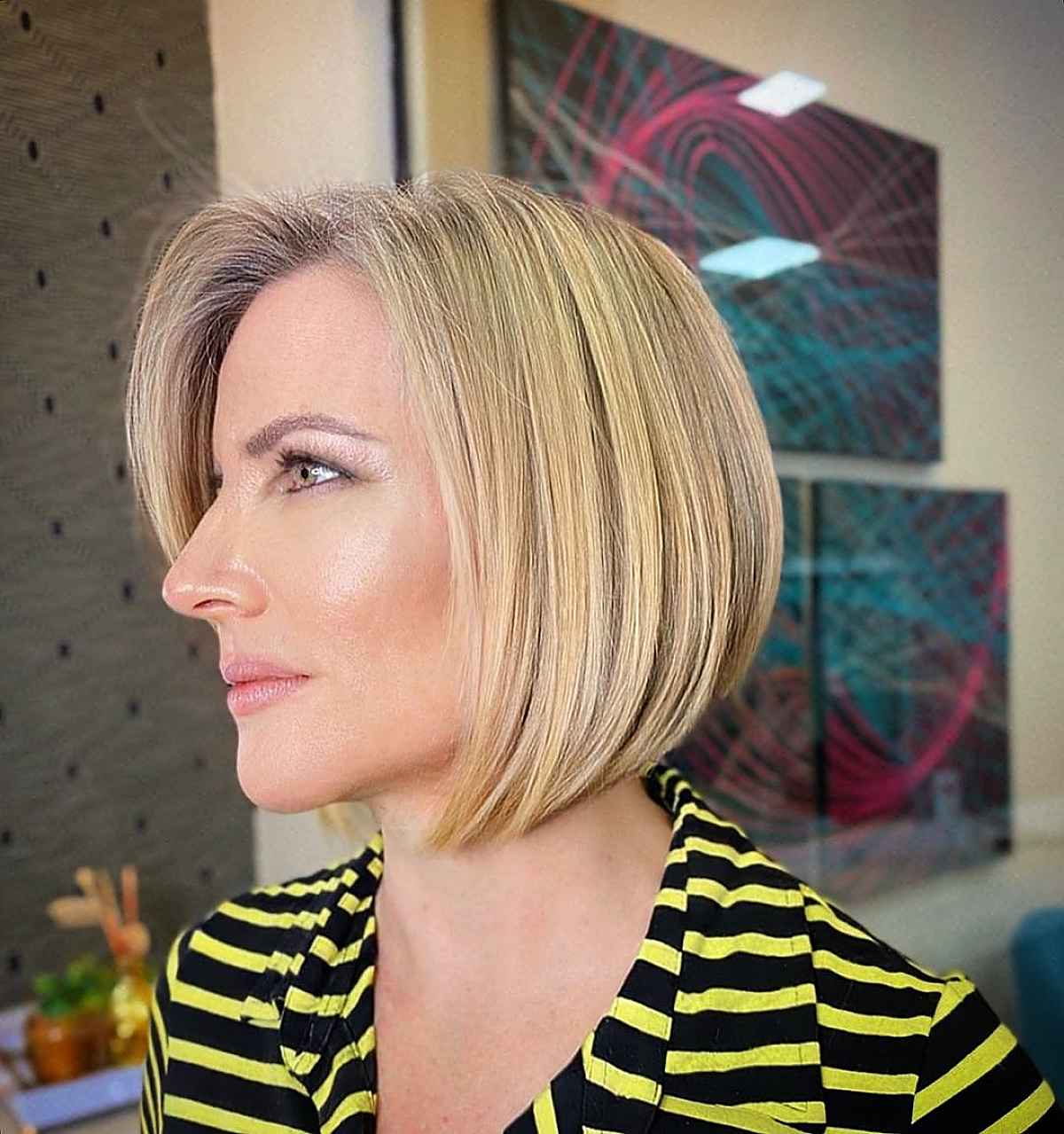 This very short, layered bob haircut has a perimeter that mimics the jawline, which helps maintain balance and visual appeal. To style, apply a smoothing serum (like Kerastase Oleo-Relax or Paul Mitchell Super Skinny Serum) and a cream gel (like Bumble and Bumble Styling Creme or Kerastase Forme Fatale). Finish with a touch of styling paste or clay (like Bumble and Bumble Thickening Creme Contour or SumoClay) for soft definition and texture in the perimeter.
Edgy, Face Framing Bangs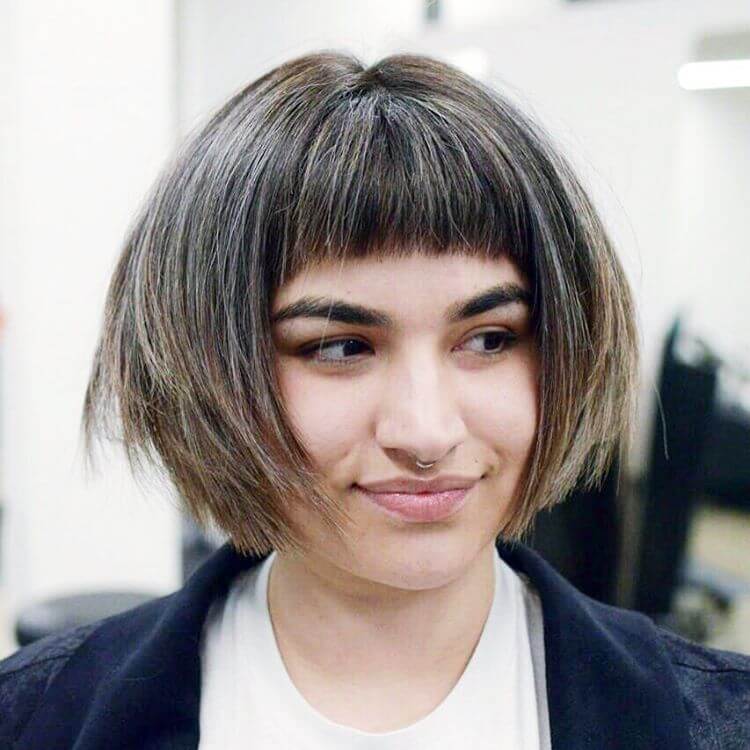 Q&A with style creator, Chelle Johnson
Apprentice @ Level Workshop in Dallas, TX
How would you describe this look and what is your favorite thing about it? This look is 50% classic, 50% edgy. I love that the micro bangs can be sweet or badass, depending on how you style them. Playing with shorter fringe is a fun, low commitment way to change up your look because if you get tired of them, they grow out in a couple weeks anyway! What products do you recommend to maintain and recreate this look? I used R+Co's Mannequin for separation and grit. I love the flyaway look to the layers. It's a pliable product, so the look changes as she touches her hair throughout the day. What type of client would you recommend this look for? This shorter bob is great for someone who likes to change up her look and doesn't mind styling her hair daily.