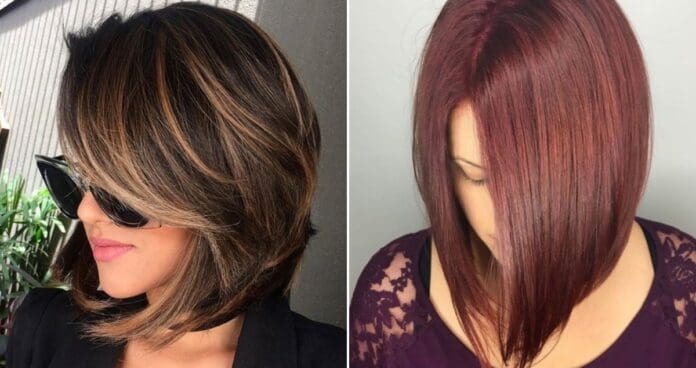 A-line bob haircut is, probably, the most popular cut nowadays, and it's not going to be out of fashion. More and more often women opt for its stacked version that may also be referred to as an inverted bob. It really flatters most face shapes and hair textures. Besides, with A-line bob haircut you may achieve a fantastic voluminous effect, play with textures and layers, experiment with highlights and ombre finishes. We see stacked haircuts and layered bobs all around every day, but when it comes to deciding on something for ourselves, there may be some sort of puzzlement. How to choose hairstyle that will be something truly classy and will enhance your natural appearance features? Below you will find a very versatile gallery of 60 eye-catching images with long and short A-line bob haircuts, stacked haircuts, inverted bobs and hairstyle ideas for them. You are welcome to look through these photos for inspiration.
Unlimited Opportunities of A-Line Bob Hairstyles
A stacked haircut is, actually, designed to offer you a fuller look and a perfect volume at the back of your head. If your hair is naturally thick, an inverted bob will remove the unwanted heaviness, providing sufficient movement. At the same time, the hair that would benefit from a more dimensional look can also use the same idea of A-line bob haircut with layering at the back and long front locks. The amount of layers is varied, depending on your hair thickness and the desirable effect.
The styling options of A-line bob are also pretty impressive. You may go for sleek, smooth and glossy styles or try on more mischievous tousled looks. A curl of any intensity from very loose large waves to tight bouncy spirals isn't going to impair the fascination of a stacked bob either. And the last, but not the least is you are free to vary the length of your favorite cut: short stacked bobs or long A-line haircuts look invariably classy and appealing.
Slightly or heavily stacked, wavy or flawlessly straight, blunt or edgy, sleek or texturized, extremely short or long, A-line bob haircut is unmatched in its diversity of styles and creative solutions. The following ideas in pictures have all the chances to inspire you on exciting changes. I hope they will.
A-Line Bob Cuts and Styling Ideas
A-line hairstyles are fun, different and stylish. When you're searching for a new look without a ton of risk, an a-line is your best bet in 2021.
#1: Stacked Bob with Side Bang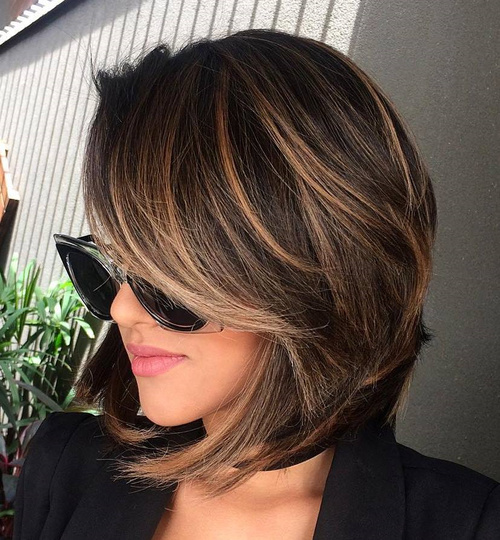 Stacking in a hairstyle is actually a pretty literal term; layers are stacked on top of each other to create volume. This usually happens in the back of the style to create maximum fullness that resolves into angled pieces in the front. Light highlights break up the density in the cut.
#2: High-Low Bob Haircut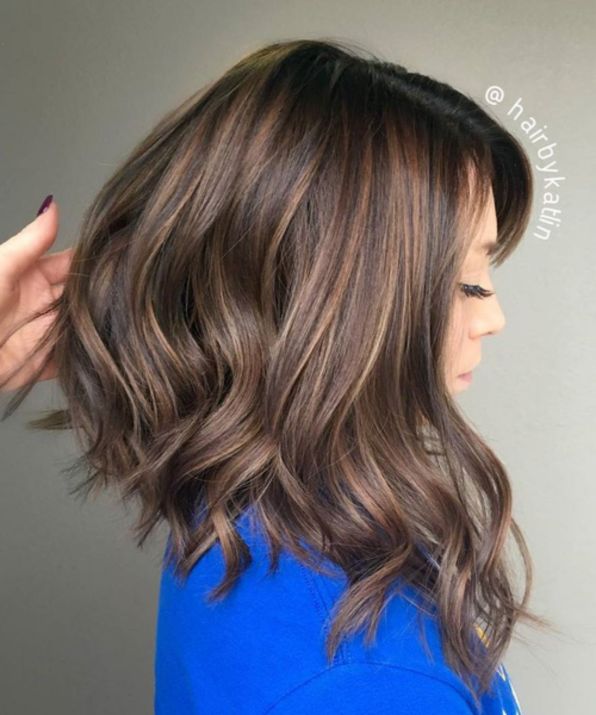 An a-line haircut is shorter in the back and gradually lengthens towards the front. The difference between this and an angled bob is that there typically isn't any stacking in the style. Because of this, you can experiment with texture like waves.
#3: Wispy Brown Bob with Glimpses of Blonde

The cut's wispy layers are the true piece-y perfection, but the mix of warm and cool tones is what really makes the look extra enviable. Waves showcase the refined dye job best. Create soft curls by wrapping one-inch sections around a straightening iron. Run a dime-sized amount of light-hold pomade through the ends to help the shape stay put.
#4: Glossy Blonde Bob with Jagged Ends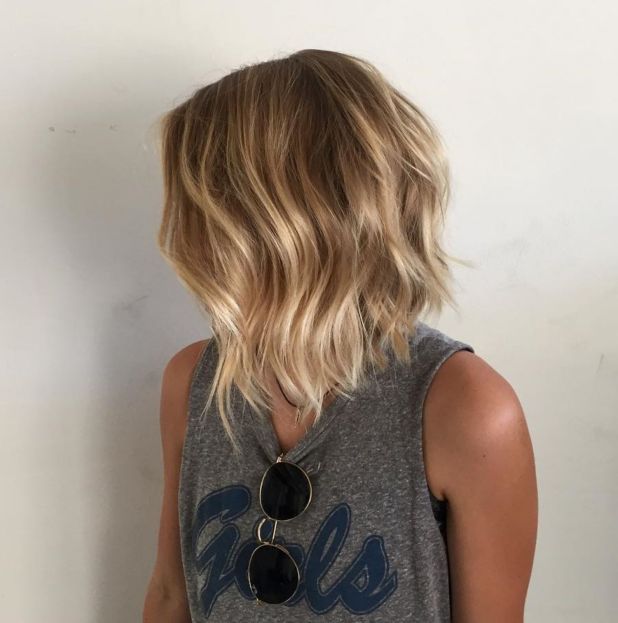 The A-line bob was made to last. Balayage coloring — a technique that involves painting color onto the hair — results in a graduated lightening effect and allows for longer stretches between color appointments. And thanks to the jagged ends, you can wait a bit longer between haircuts too.
#5: Choppy Angled Bob for Fine Hair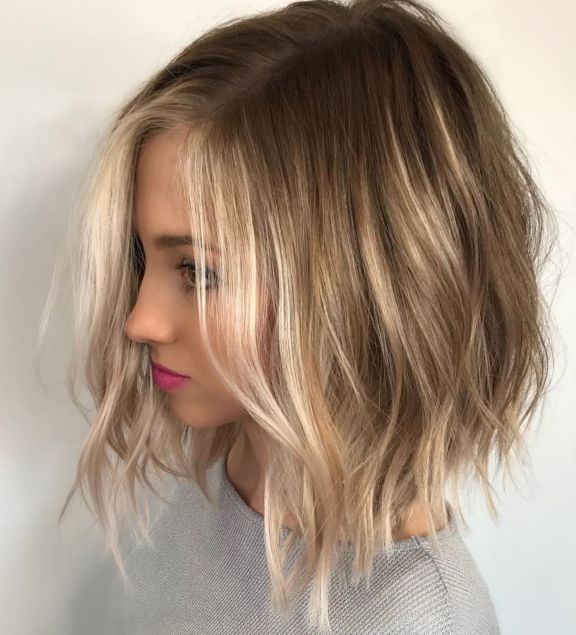 If you're looking for a hairstyle that's secretly low-maintenance, a medium length bob is for you. Choppy layers and an angled cut keep the hair from falling flat, and face-framing highlights and lightened ends create the illusion of added depth. It practically does the work for you. Your secret's safe with us.
#6: Angled and Layered Brunette Bob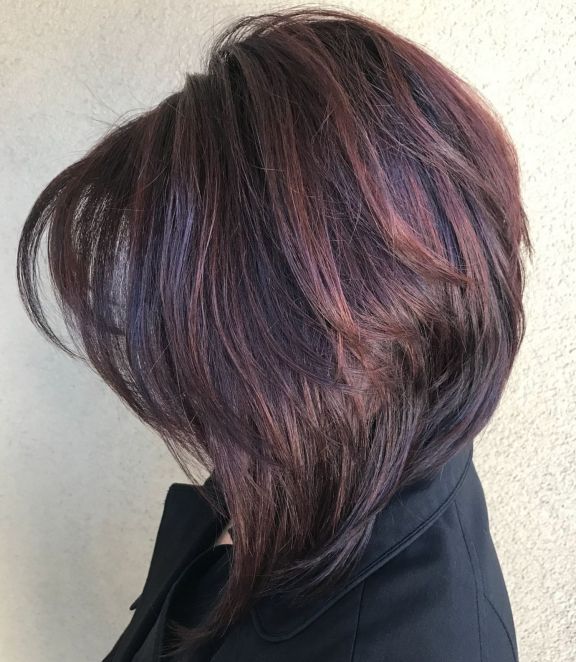 The stacked A-line bob is as classic as they come. Longer in the front, stacked in the back, the version shown here features layering all around. If your hair is thick and heavy, the shorter top layers are your new best friend. Light, long bangs add further appeal.
#7: Wavy Brunette Bob with Surface Layers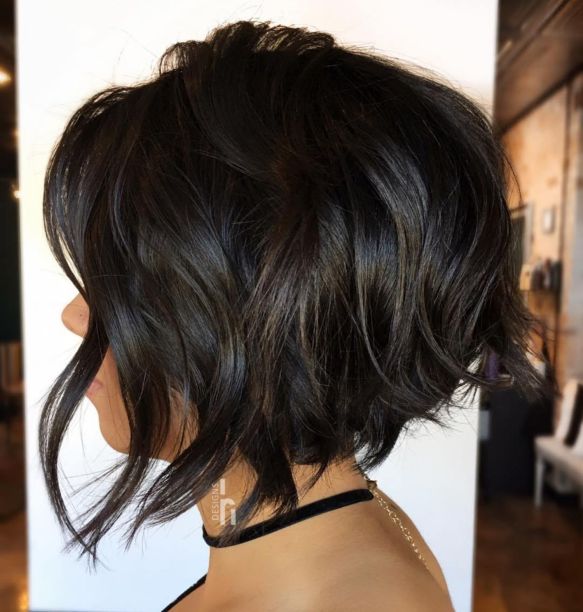 The short A-line bob is the best of both worlds: the versatility of a longer cut with the ease of a shorter one. Surface layers only add to the allure of the modern disconnected look. Who says you can't have it all?
#8: Angled Brunette Bob with Purple Highlights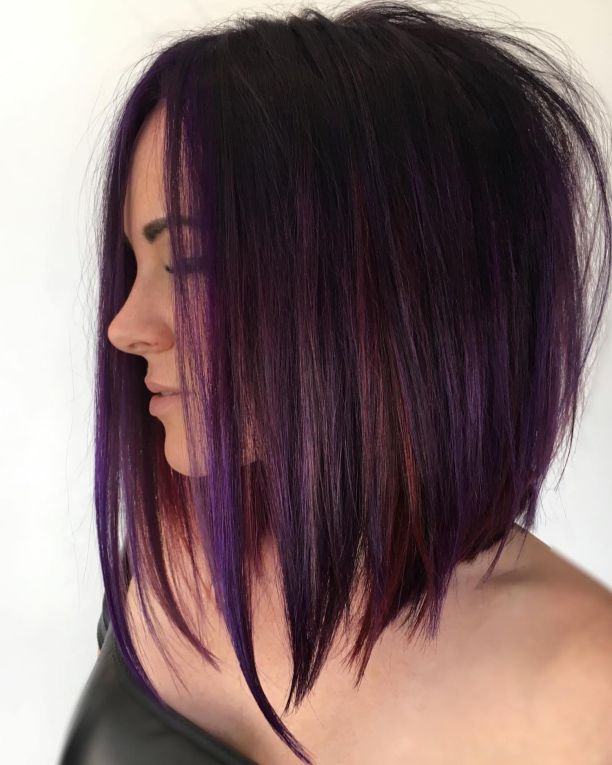 A cut and color combo that are out of this world. Believe it or not, these fun purple highlights are surprisingly versatile. Depending on the environment, they appear to blend back into brunette hair when seen in natural light, or stand out as a bold statement in artificial light and pictures.
#9: Asymmetrical Wavy Lob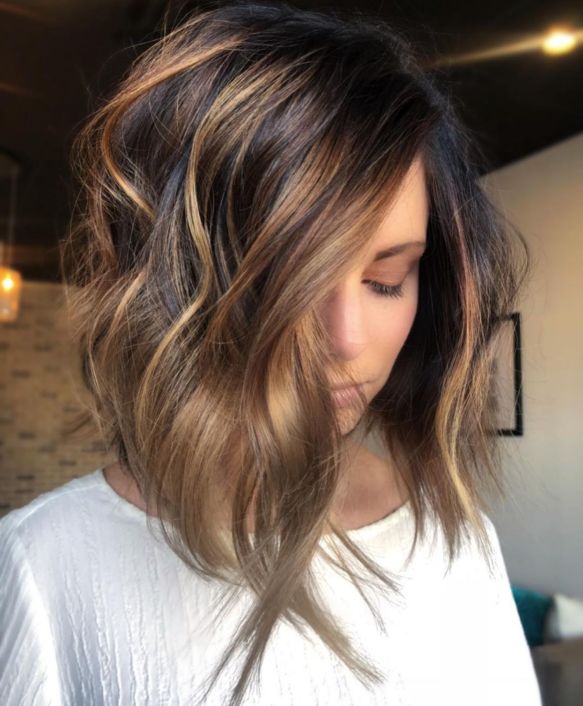 When it comes to A-lines, asymmetry is A-OK. In fact, it's downright attractive. If escalating length is the bob's first act, disconnected layering enhances the drama even more. The front layers of the cut are designed to fall longer on the right side.
#10: Textured Blonde Bob for Straight Hair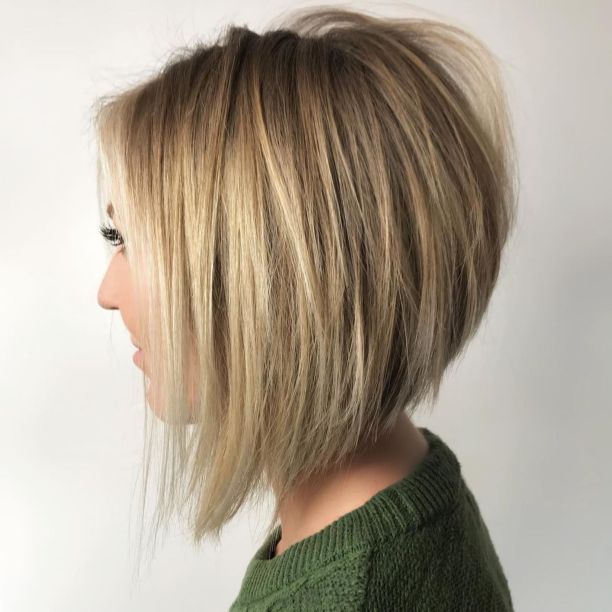 "Shorter in the back, longer in the front" are the true hallmarks for the haircut, and below-the-chin lengths are where they really start to shine. The front-to-back contrast of the long A-line bob is inherent to the look and eye-catching. After all, there's nothing wrong with some extra attention, right?