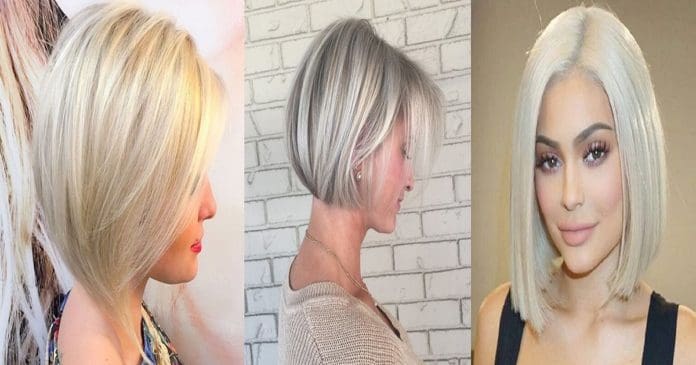 Want to know if blondes really have more fun? Better find out for yourself. And what better way to do so than going all the way and getting a platinum blonde makeover? We gotta warn you though, going this light will take lots of bleaching and aftercare. They don't really like portraying the downsides of going extreme blonde, do they?. Hey, nobody wants to see the behind the scenes of how Madonna or Lady Gaga takes their natural brunette locks to blonde. But don't worry, 'cause we've got you covered. Get ready to start turning more heads as you join the ranks of famous icy blondes like Marilyn Monroe and Grace Kelly. Here's a list of the best and sexiest platinum blonde hair looks and care tips to guide you through your dream hair makeover. Don't forget to save your favorite looks to show your stylist later. Let's get started!
Flattering Platinum blonde shades for warm skin tones
Platinum blonde hair is often associated with 'iciness' or paleness seeing how cool-toned natural blonde girls often are. But that doesn't mean that you can't rock the hair color if you have a warmer skin tone.
Knowing what your undertone is
First, you need to make sure you got your actual skin undertone right. There are a lot of tutorials on determining your undertone online. But most stylists agree that simple vein check is sufficient. Look at the veins showing on your wrist. What color are they? If they're predominantly bluish or purple, then you've got a cool undertone. Meanwhile, if they're more of a green hue, you most likely have a warm undertone. But if your veins look both bluish and greenish, then you have a neutral undertone.
For women with warmer skin tones, it's recommended to let a few natural roots peek through when going from brunette to light or platinum blonde. This will lessen the severity of the icy blonde contrasting on warm-toned skin.
You can also opt for a 'warmer shade' of platinum blonde. Ask your hairstylist to retain some yellow or orange tones in your hair instead of fully going the opposite end of the color spectrum as normal. Doing so will help your natural undertones shine through and work with your new hair color instead of clashing with it.
The best platinum blonde shades for cool skin tones 
Girls with a cool skin tone are lucky. You can easily get away with going as light and as icy of a blonde shade as they want. Practically, you can also get away with rocking any ashy shades and even silvery ones without much trouble. And if you want to be a true ice blonde with almost-white hair, that'll compliment your skin tone pretty well, too.
A natural golden blonde (Yes, she's not really a brunette!), Kristen Stewart prefers wearing her hair in a platinum white shade these days. And we gotta be honest, we're loving this look on her.  The shade just suits her skin tone and, more importantly, her mysterious persona, too.
A cool skin tone also allows you to get wear a shade of platinum blonde that's very near to your actual skin color. Look completely ethereal and consider getting a similar look like 'Insatiable' star Debby Ryan is rocking in this 2014 'do. Now, that's the very definition of icy blonde.
Here's singer Dover Cameron rocking a similar look. Although you'd notice that she's got more dimension in her hair because of the warm tones you'll find in her lowlights.
No heat styles for damaged platinum blonde hair
Since you'll have to bleach your hair to get to platinum blonde, there's no escaping the damage that comes with the harsh process. Unfortunately, you can expect more damage if you're starting from really dark hair like black or chocolate brown. This is because you'll most likely need more than one session of bleaching. To preserve your hair after bleaching, refrain from further damaging it by curling or straightening it with heat. Good thing, there are a lot of no-heat hairstyles you can wear platinum blonde hair.
Consider trimming your hair into a layered cut after going platinum blonde. This cut will give your hair a bit of natural shape and body so you can wear it relatively unstyled. Scrunching it up a bit will also help you achieve a messy-chic look.
You can also wear some wide barrel rollers on your hair to achieve very slight waves without using a flat iron. Focus the rollers on the hair around your face for a framing effect.
Go for something cute and trendy. Try wearing a half-up top bun for casual days out. Make sure to leave a slight middle part to perfectly copy the look. To get some slight waves for the rest of your hair, tie it into a bun while still slightly wet until it dries. Take it down and you'll end up with something that looks like this.
Another great way to instantly style your hair is to get some bangs. Be it a simple full fringe, some side bangs or blunt bangs, it'll definitely add something unique to your look. We find that long side bangs go perfectly well with long layered hair.
You can also consider getting a classic pixie cut to match your new hair color. The boldness of the short cut will definitely cut a significant amount of your getting-ready time. The cut can be easily styled without using heat. Invest in styling gels or creams instead to properly style your hair.