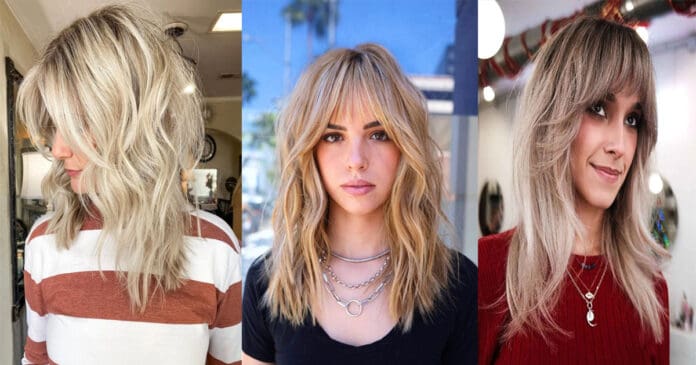 Medium shag haircuts are all about combining layers and texture to create a trendy, messy hairstyle. This unisex style was created by barber Paul McGregor in the 70s. Getting a medium-length shag is the ultimate way to get a low-maintenance, layered look. A mid-length cut is all about adding soft layers of various lengths and being highly customizable by any well-trained stylist. Layered to various lengths—a shag is a great way to add volume, texture, and depth to your hair. A shoulder-length shag can suit most face shapes. However, if you have a round face shape, adding a fringe might not be as flattering. If you have a long face or a more angular chin, it may work well for you. When it comes to hair types, the medium shag is beneficial for women with wavy or curly hair texture, as it allows more natural movement. Women with straight hair can pull it off as well by using heat tools or combining the right products and scrunching up their damp hair. There are some drawbacks to getting a Gypsy cut, depending upon your hair's density. Women with thick, curly hair may require more weight removed from their natural curls in order to create a smooth, straight look. For ladies with fine hair, stylists have to adapt the technique so that layers are placed at the front of the head and less towards the back. Short on time in the mornings? Styling medium shag haircuts is easier, doesn't require heat tools and works well for every hair type, including fine hair. There are lots of different types of medium shaggy cuts that make them trendy. You can angle them, add bangs, or razor cut to add depth. You'll see a ton of examples in our gallery below. Ready for some inspiration before you see your hairstylist at the hair salon? Here are pictures of the best medium shag haircut ideas this season!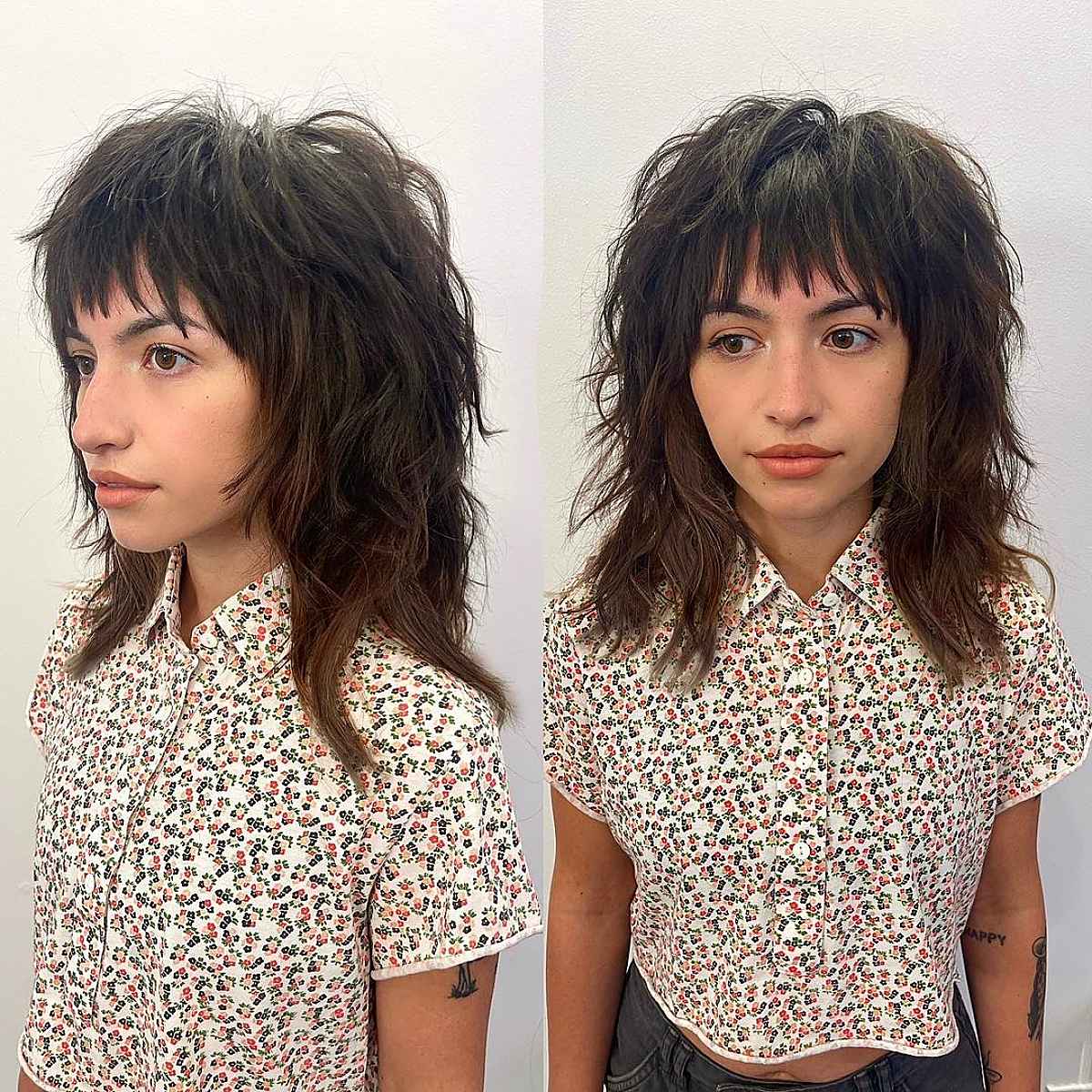 #1: Uneven Layers
Uneven layers in shag haircuts can make it funky and unique. A medium shag hairstyle is one of the most fun and attractive looks out right now. Make sure to load up on some Redken Guts 10 for volume before blowdrying the cut.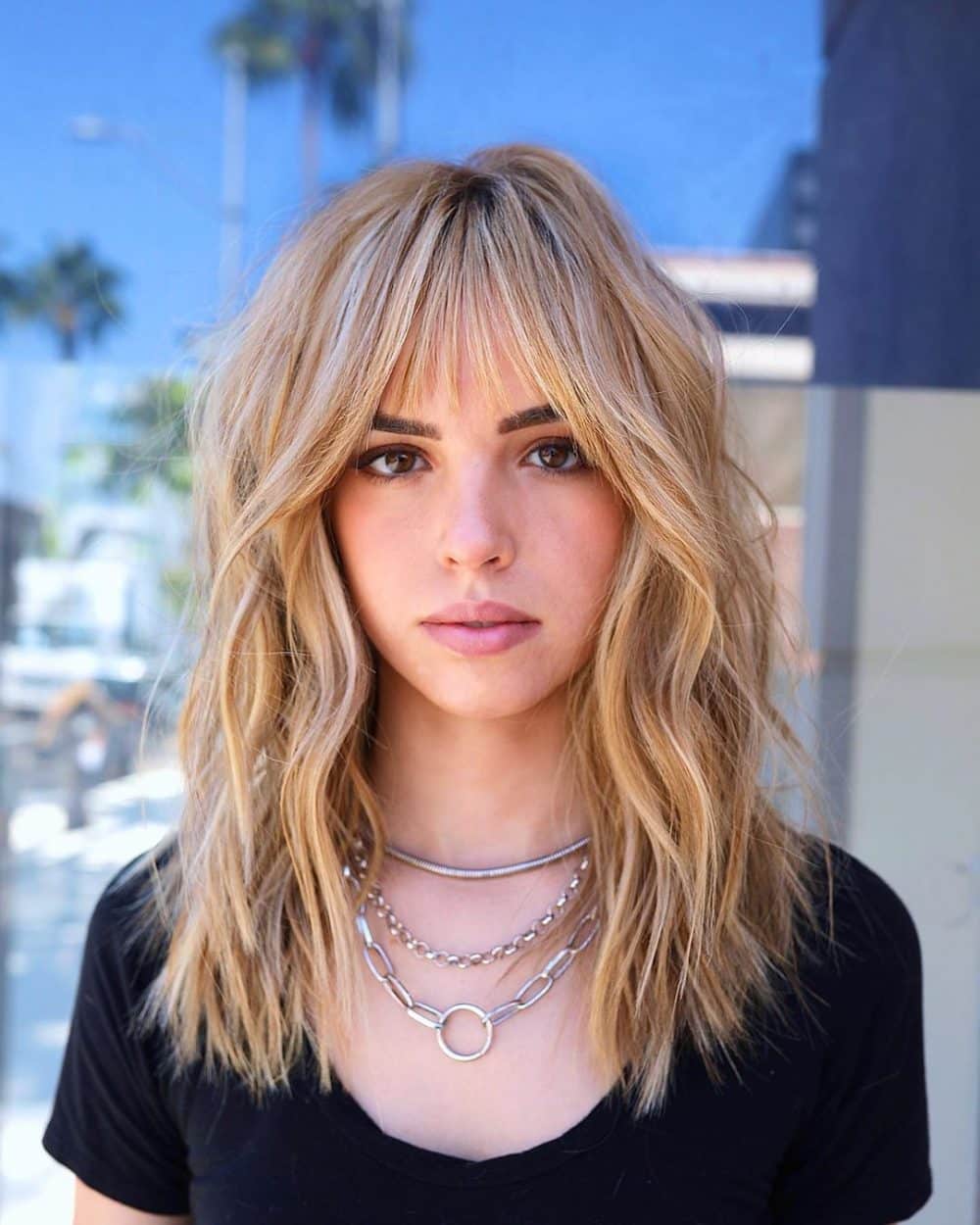 #2: Modern Medium-Length Shagged Haircut with Loose Waves
Shaggy blonde hair is the more modern version of the classic shag. The best thing about shag haircuts for medium-length hair is that they're pretty flattering on any face shape and any age. It's such an easy shaggy hair cut to style with loose waves and looks super cute if you just air-style with a little mousse. If you're wanting a shag haircut, always take into consideration how much layering you are comfortable with. You can always try a more toned-down version to start with and gradually add more layers if you are hesitant. Air-styling with a texturizing mousse (like Kerastase Mousse Bouffant) is a quick and low-maintenance way for shag hair styles. It's a great cut for women on the go.
#3: Layered Waves
Layered waves are the best waves. When you pair layers with waves you get tons of texture and body. Scrunching your layers a bit while it's drying, paired with products recommended by your stylist, can help you achieve a medium shaggy style.
#4: Bronde Shag
Try a bronde shag if you're looking for something new and fun. The choppy texture in the cut is unmatched and we love how soft it is. A shag style would work perfectly for you if you have fine, curly hair.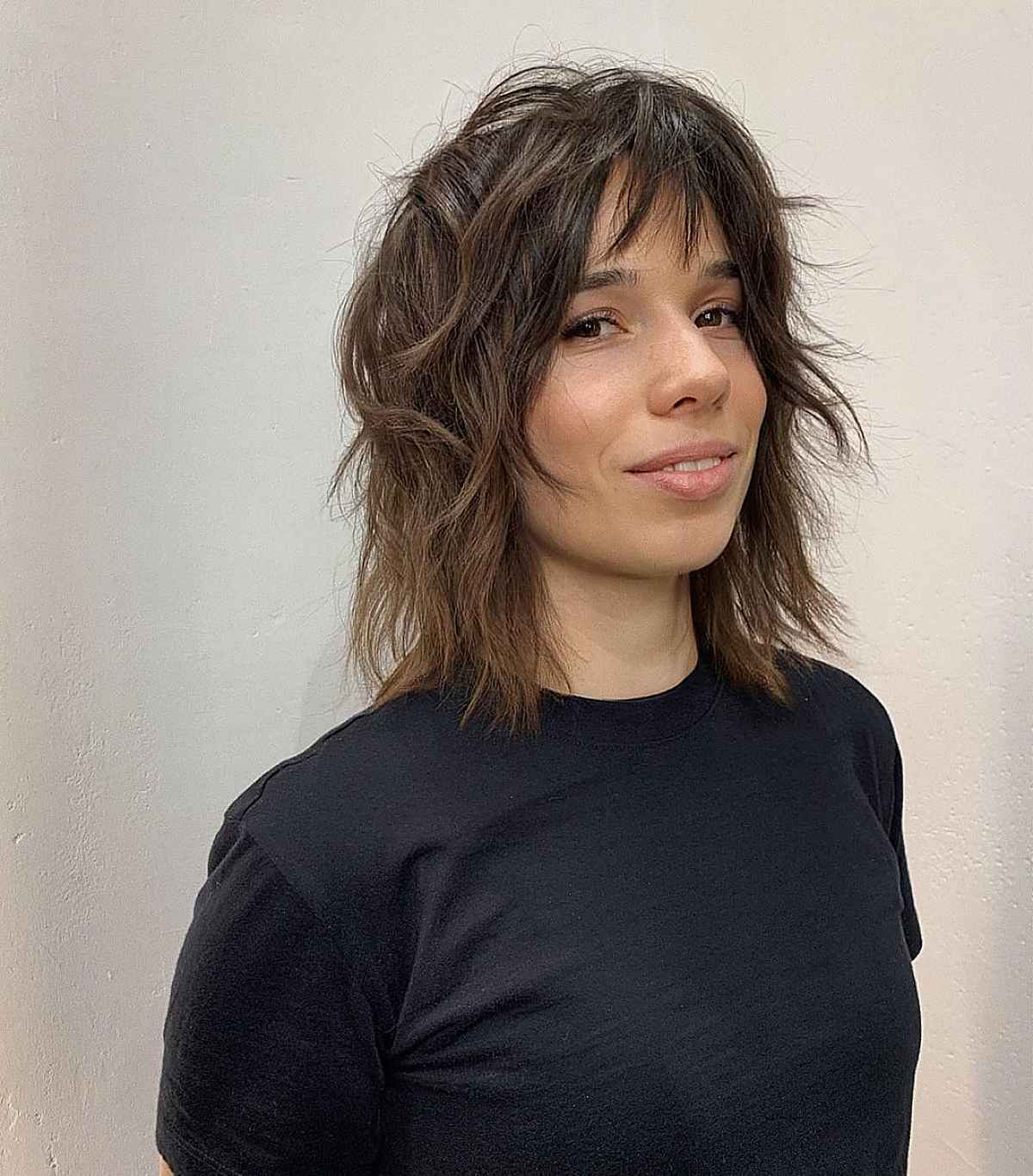 #5: Medium Choppy Shag
You literally can't go wrong with a medium choppy shag. Flattering on all women, there's no regretting. A shagged style works especially well with fine hair.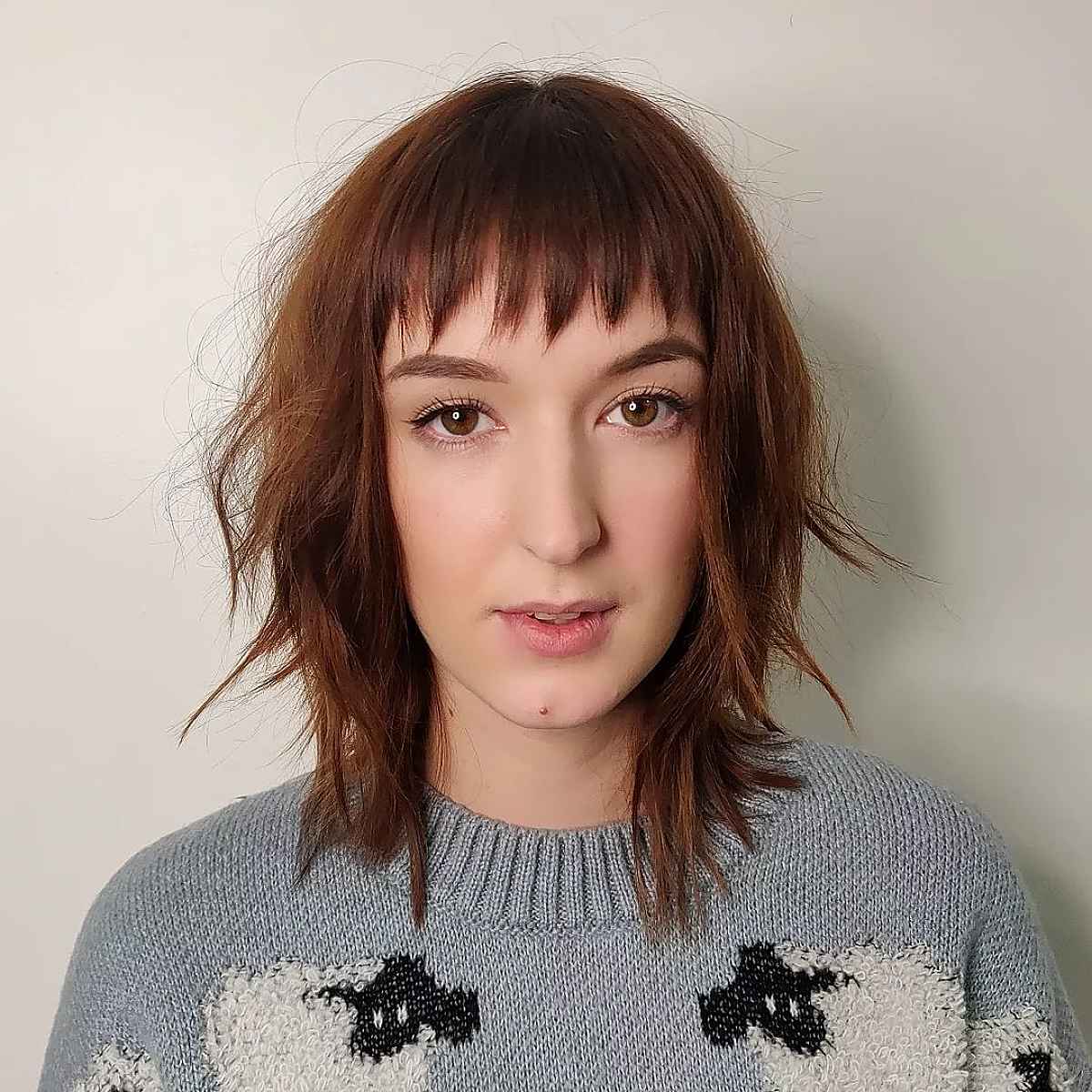 #6: Choppy Bangs
Choppy bangs are so much softer than a traditional heavy fringe. Pair these with a cute shoulder-length shaggy haircut and you have the perfect match. While these bangs tend to be high maintenance because of the constant need to be trimmed, the look is totally worth it.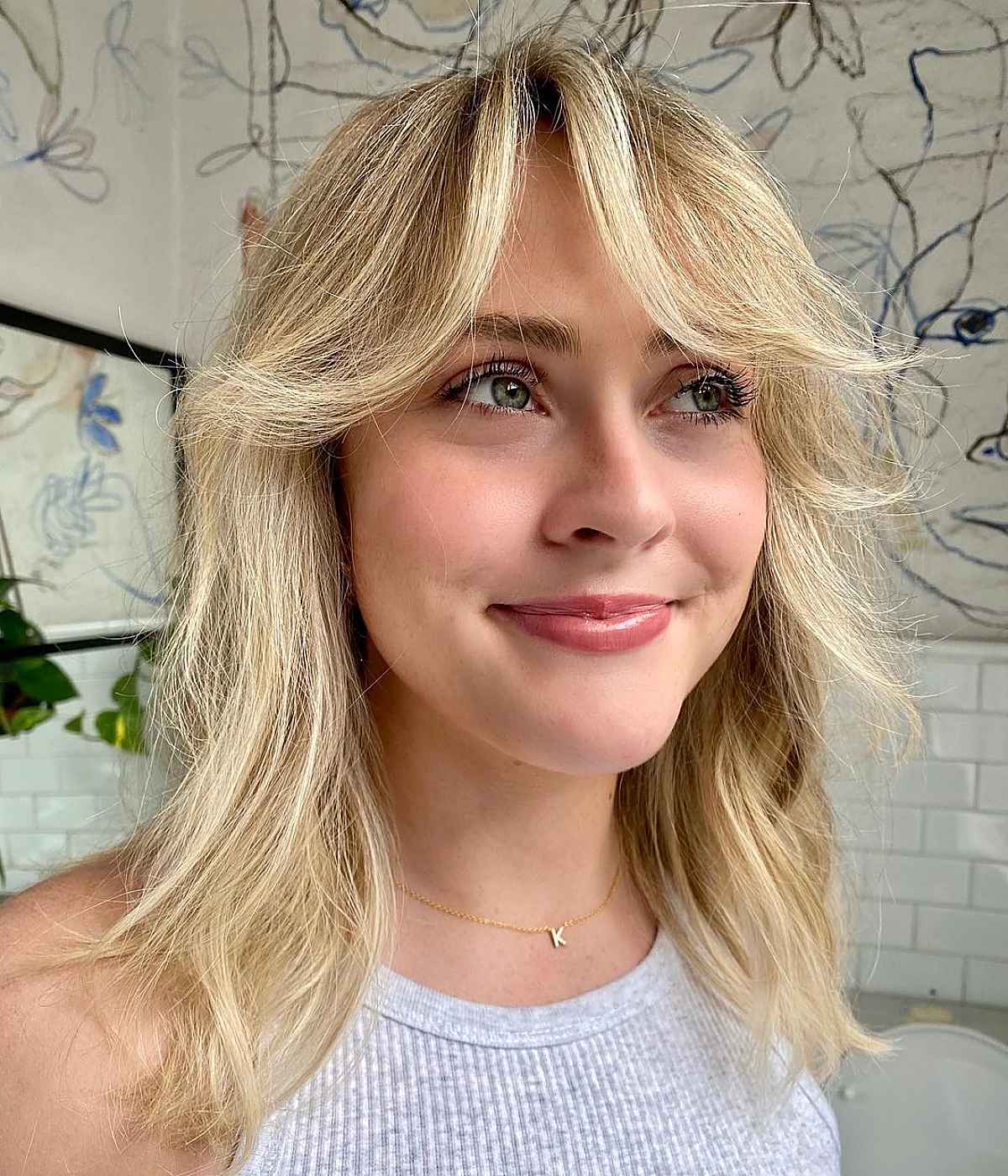 #7: Chunky Waves
If you love a messy style, try chunky waves. The cut makes for a soft, relaxing effect, which makes people believe it's your natural texture. It might be helpful to ask your stylist their opinion on products you should invest in that they think would help you achieve a shaggy look.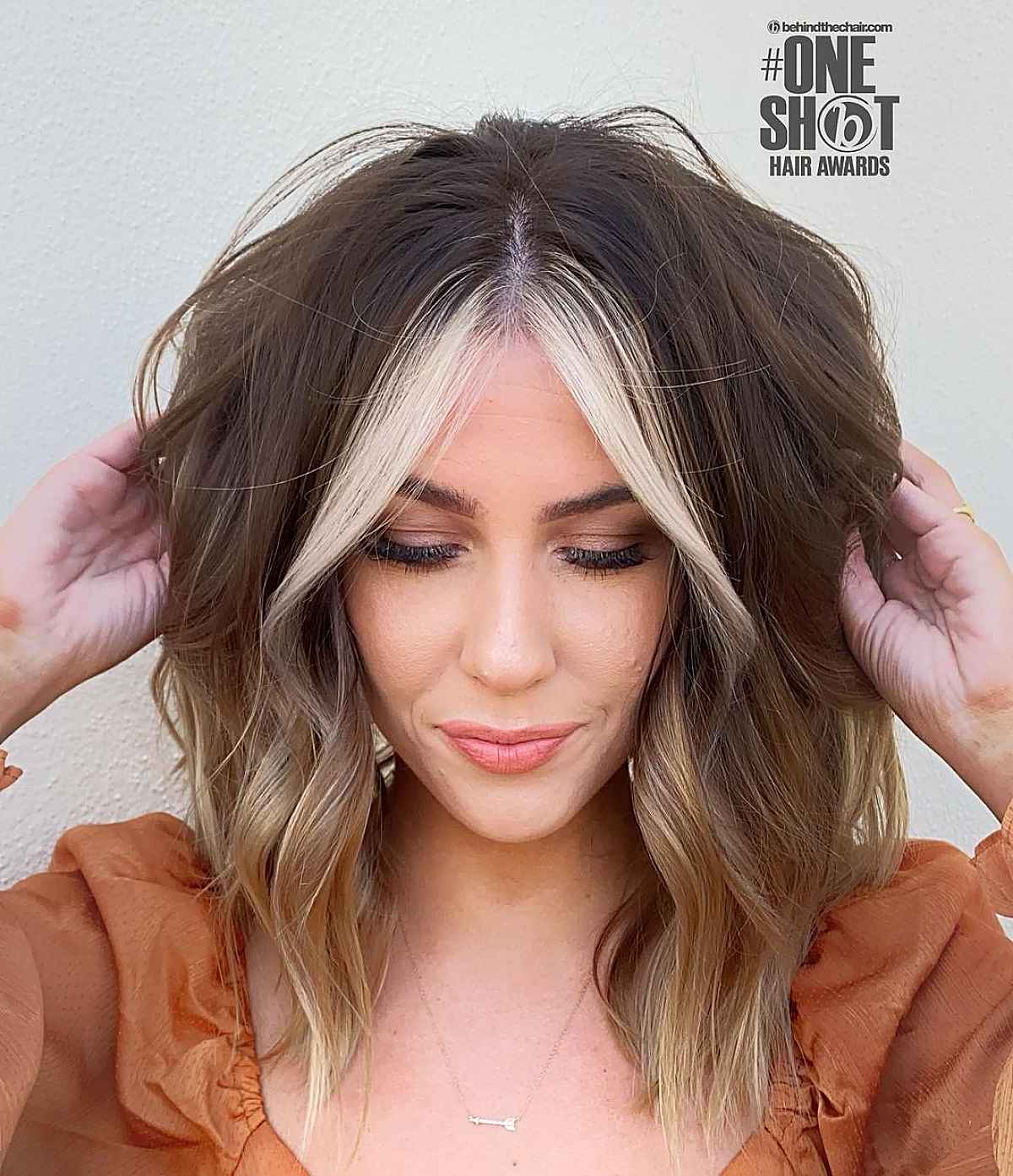 #8: Shag with Highlights
Adding highlights to a shag is a great way to show off dimension with the extra layering. If you're looking to wow the room and stand out, you have to try a mid-length shag cut. Make sure you're seeing a stylist that is seasoned and does really well with color before taking the plunge. Doing so will give you a better chance at achieving the color and style you're going for.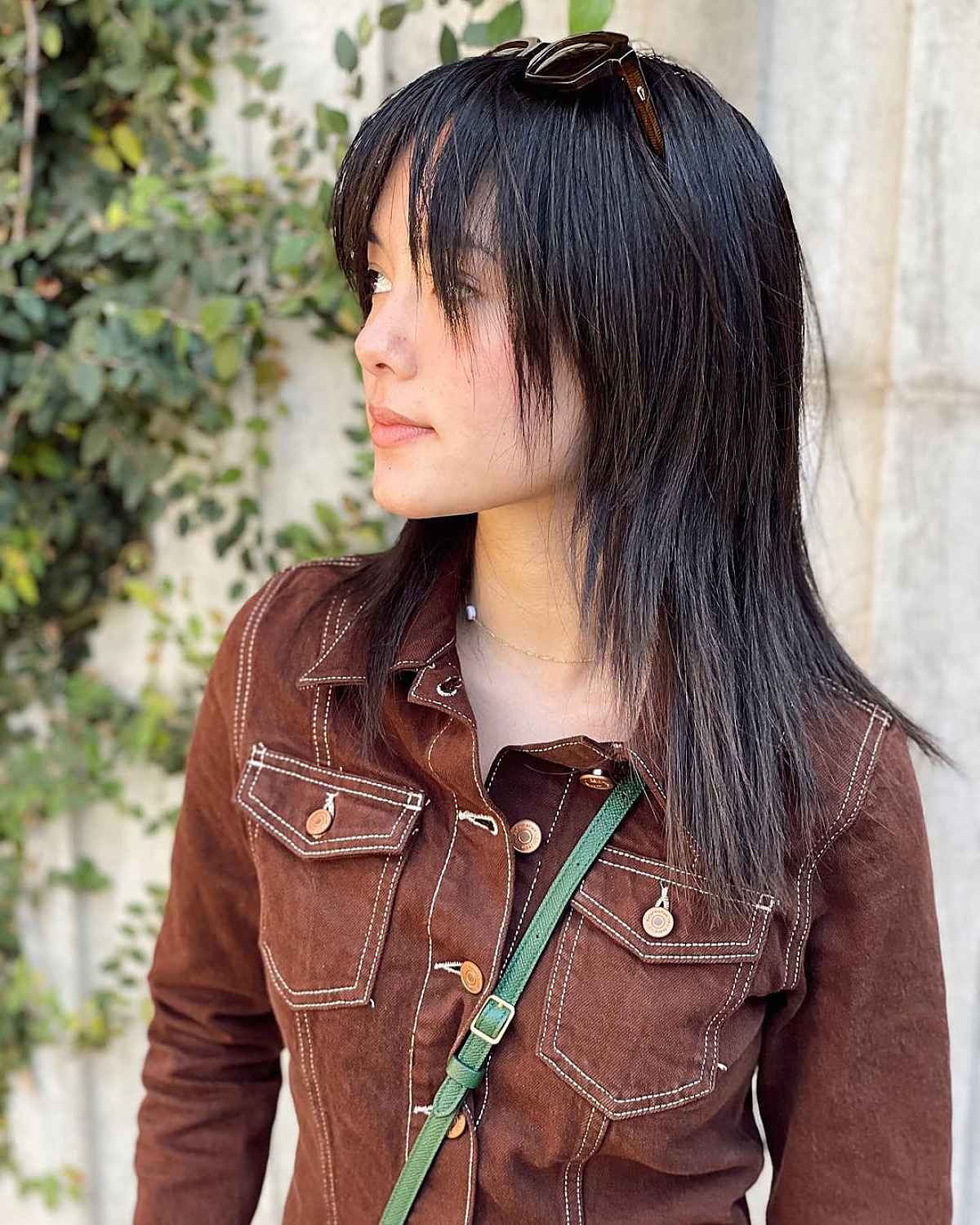 #9: Straight Shag Cut with Bangs
A straight shag cut with bangs is absolutely perfect for women with stick-straight hair. The layers and angles in the cut help to break up the monotony of your limp, flat locks. After styling, hit the ends quickly with a flatiron to make it look even edgier.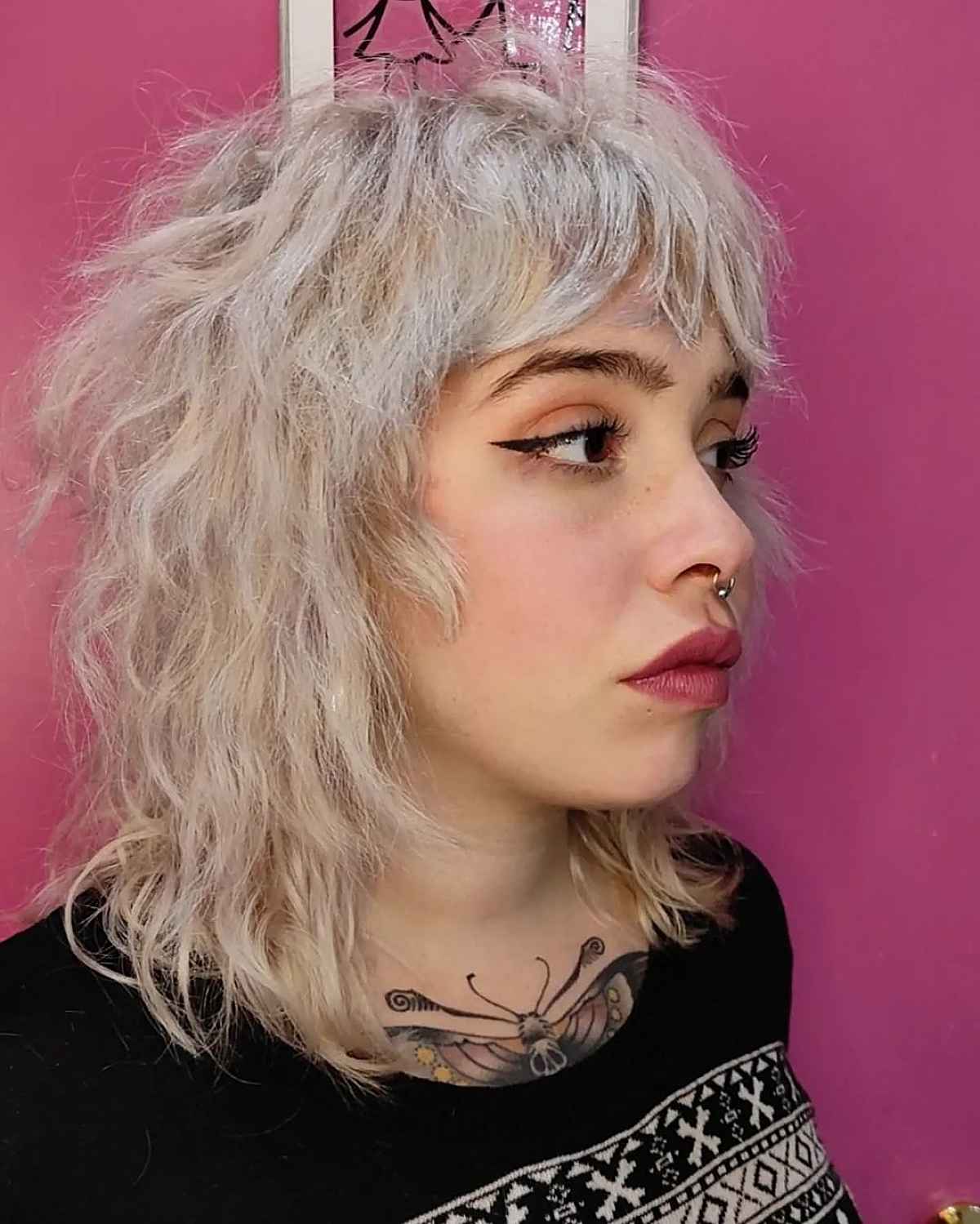 #10: Shaggy Texture
The shaggy texture is crazy-looking and we love it! Shags look best with volume and texture gives you just that! Allow your stylist to give you advice about at-home products like Moroccan Oil Dry shampoo, as it helps you pump up the volume.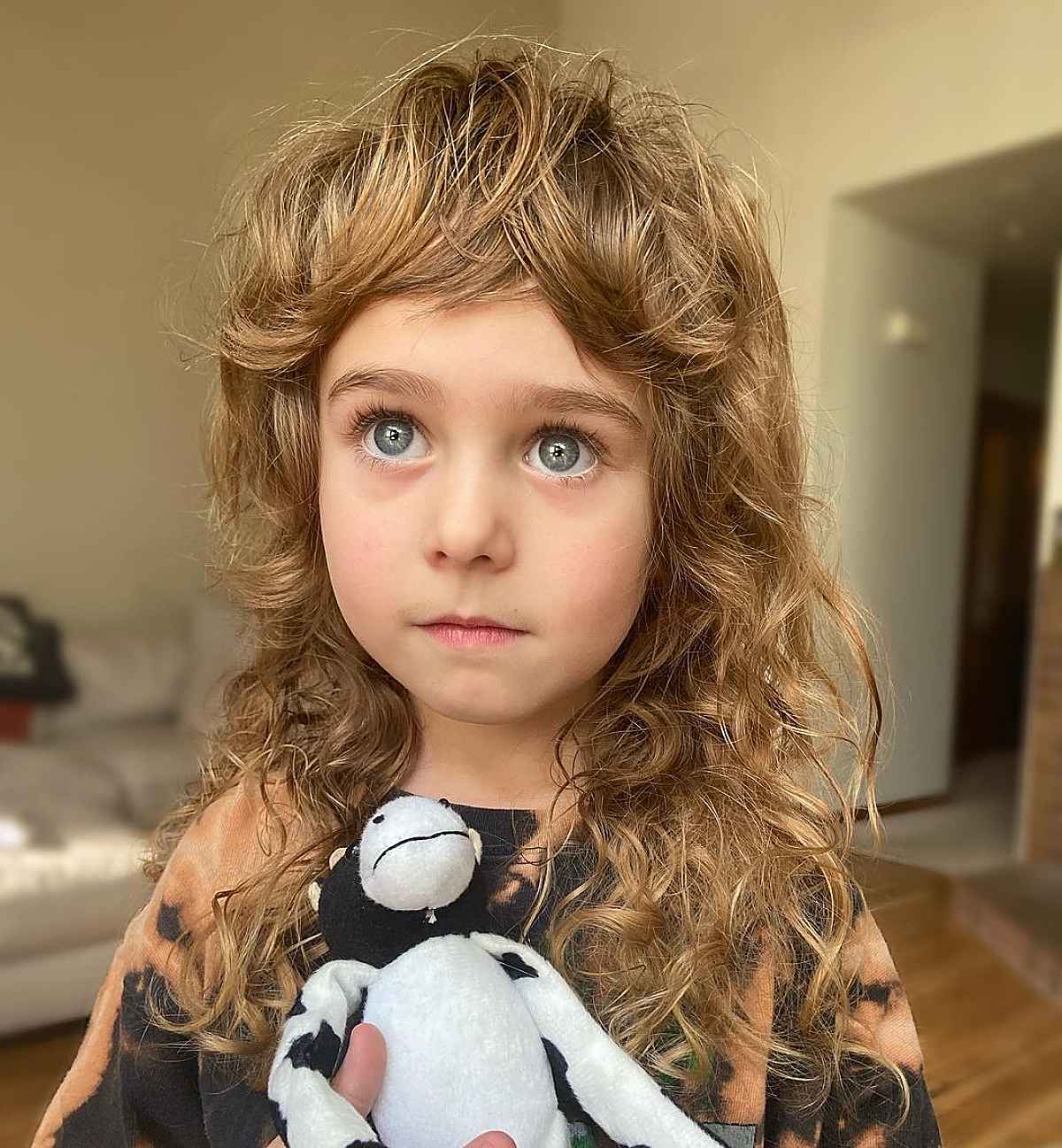 #11: Cutest Shag for Little Girls
If you're looking for something new to try on your daughter's hair, try the cutest shag for little girls. In fact, a shaggy medium-length haircut is really low-maintenance and allows lots of length to be taken off for easier detangling. Keep in mind, the bang area will need to be trimmed frequently.
#12: Medium Messy Shag
You can't go wrong with a medium messy shag. Shaggy mid-length hairstyles are some of the easiest to style, especially for fine hair. I advise you make sure to blow dry when styling instead of air drying so it doesn't hang flat.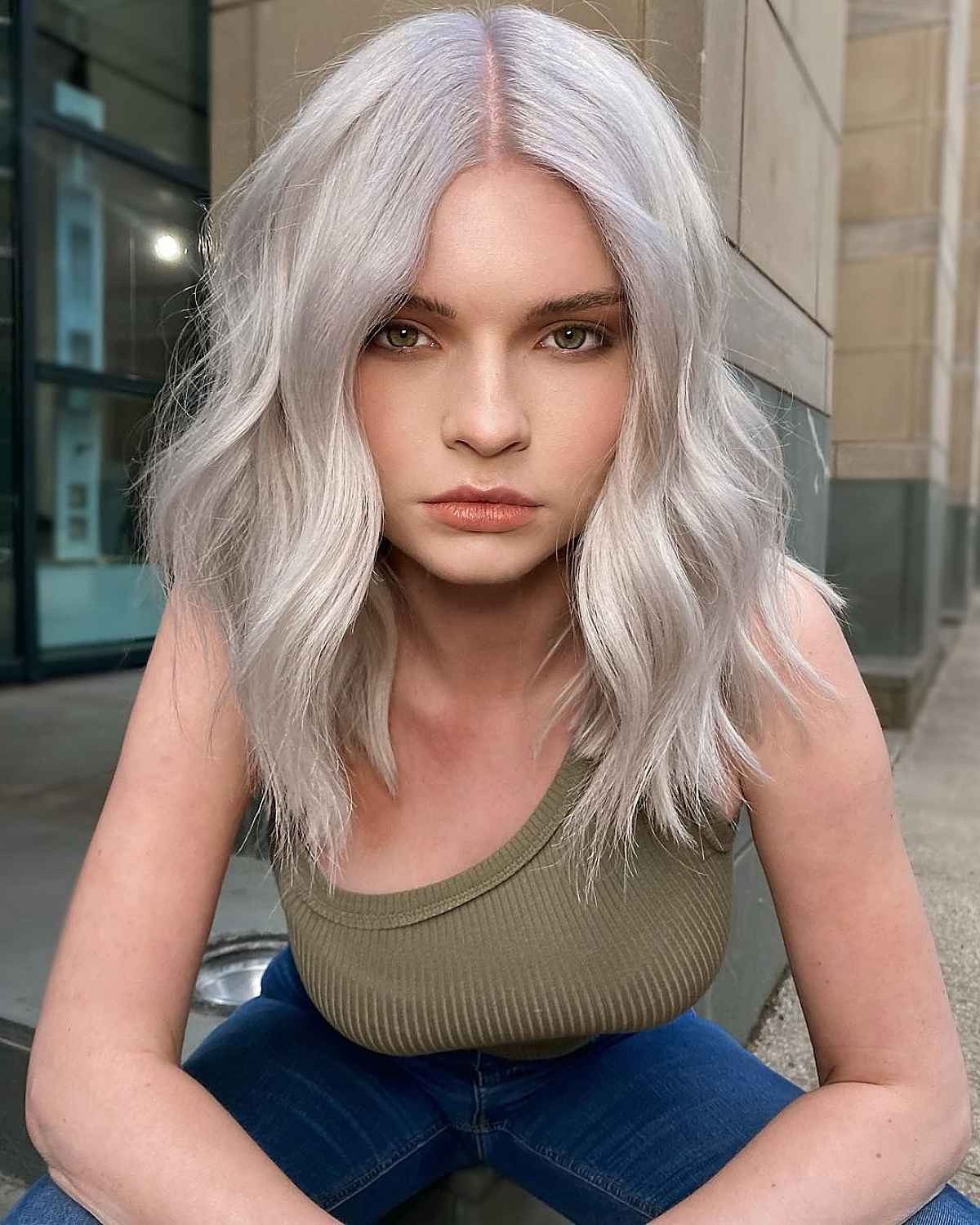 #13: Modern Medium Shag
Did you know a modern medium shag is chic and beautiful? A shoulder-length shaggy haircut is flattering and fun. However, it is important to use a 1.25-inch curling iron or wand to achieve these seamless waves.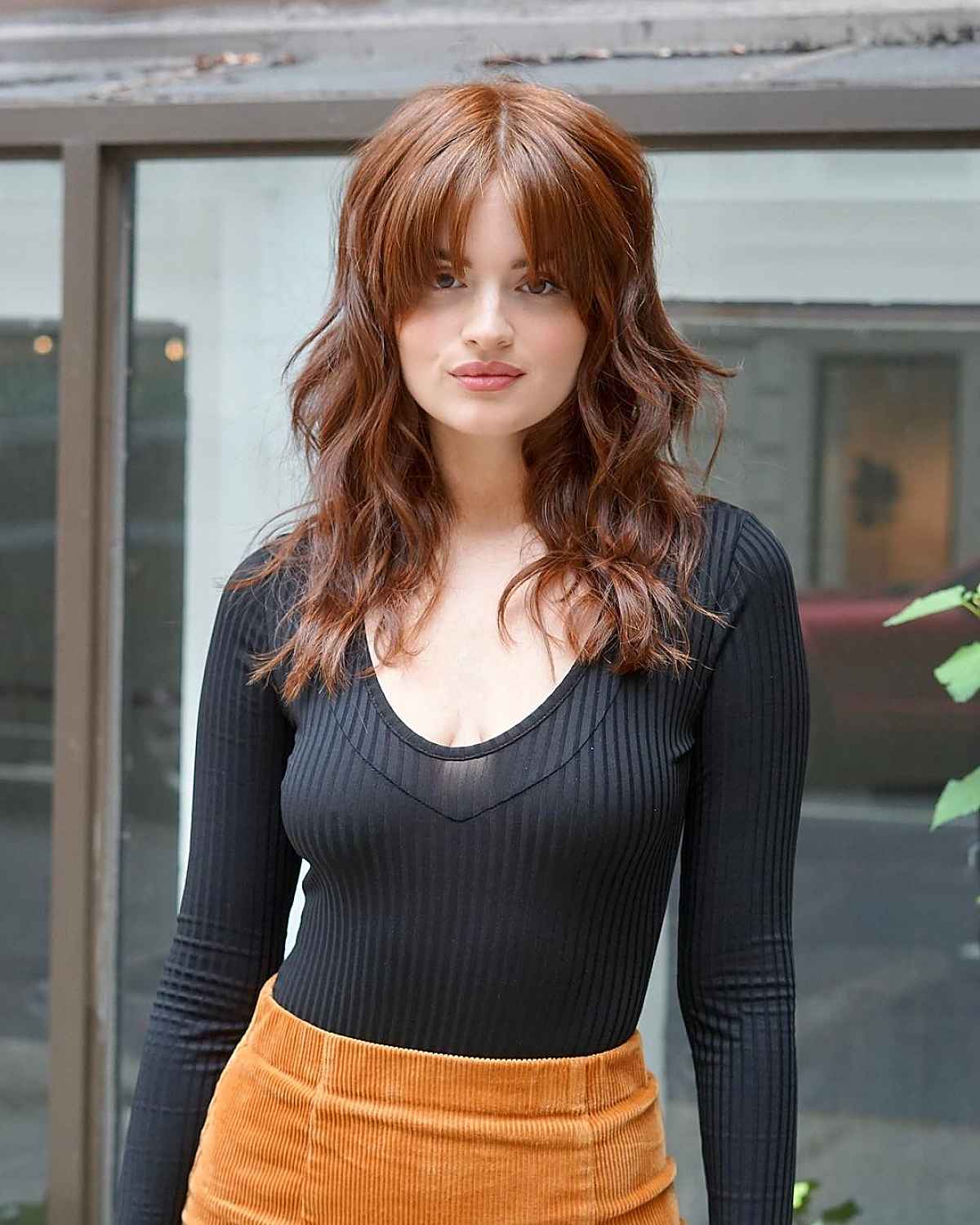 #14: Beachy Waves
Shag haircuts and beachy waves are the perfect combination. Especially on shoulder-length shag cuts, beach waves bring out the best in the style. Remember that this style can work for almost any hair texture, especially fine, thin hair.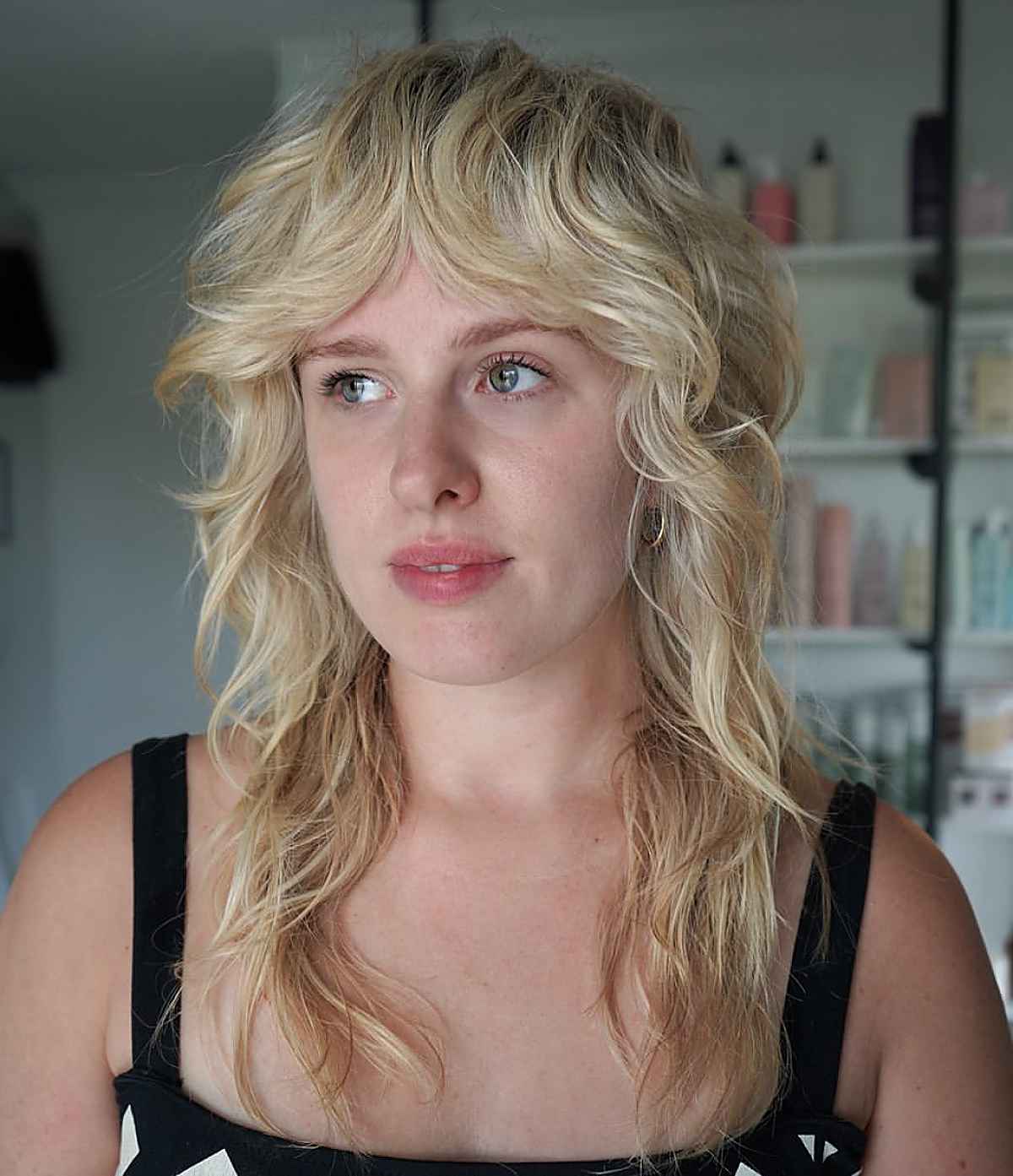 #15: Beachy Shag
A beachy shag is one of the simplest and perfect shags. Shoulder-length shaggy haircuts are so easy to love, all while looking effortless it still looks put together. Ask your stylist if your wave pattern and hair texture would work hand-in-hand with a shag cut.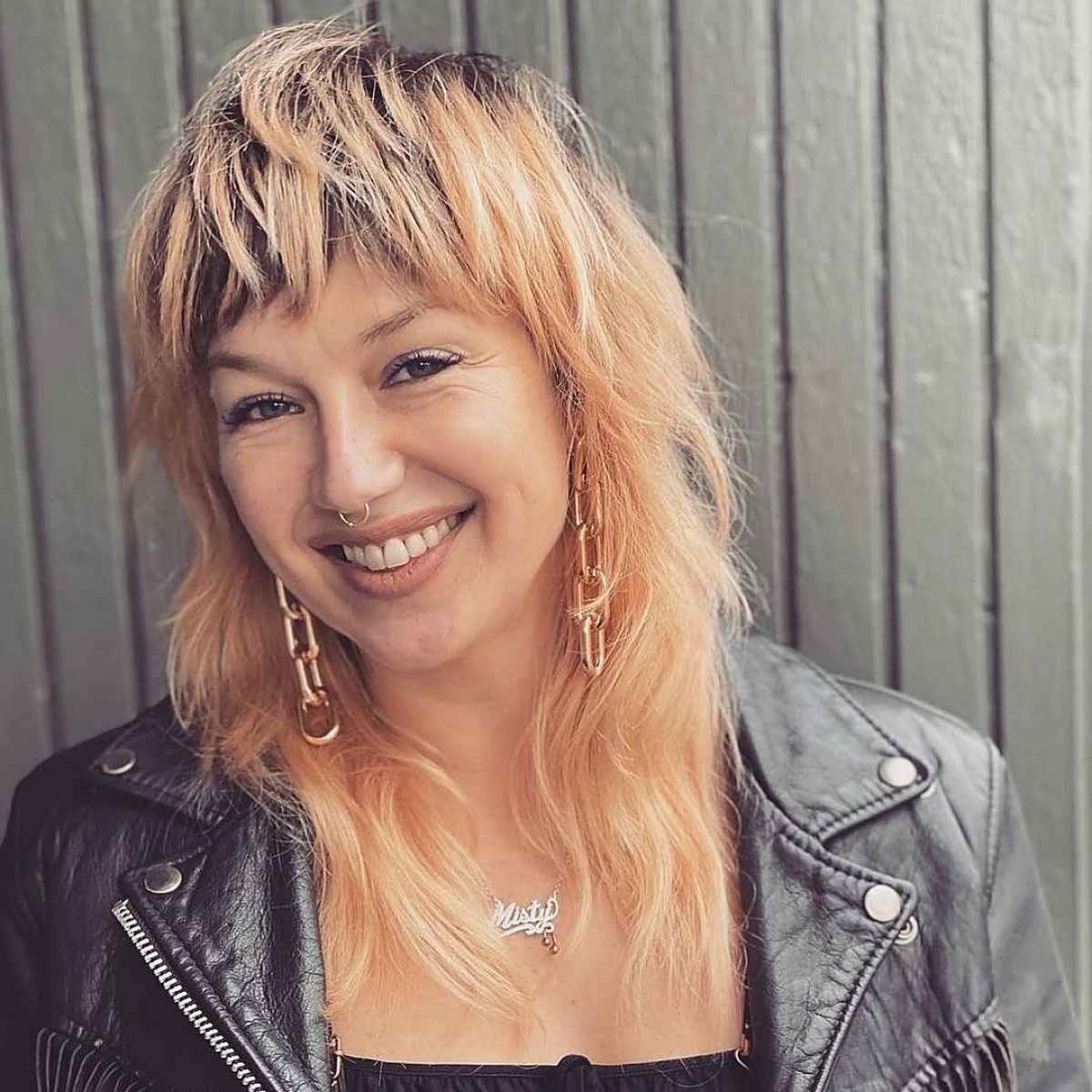 #16: The Rock and Roll Shag
The rock and roll shag is timeless and always awesome. Shaggy mid-length hairstyles will never go out of style so jump on the train whenever you're ready. Be aware, this style can work with almost all hair textures, but it looks best on wavy hair.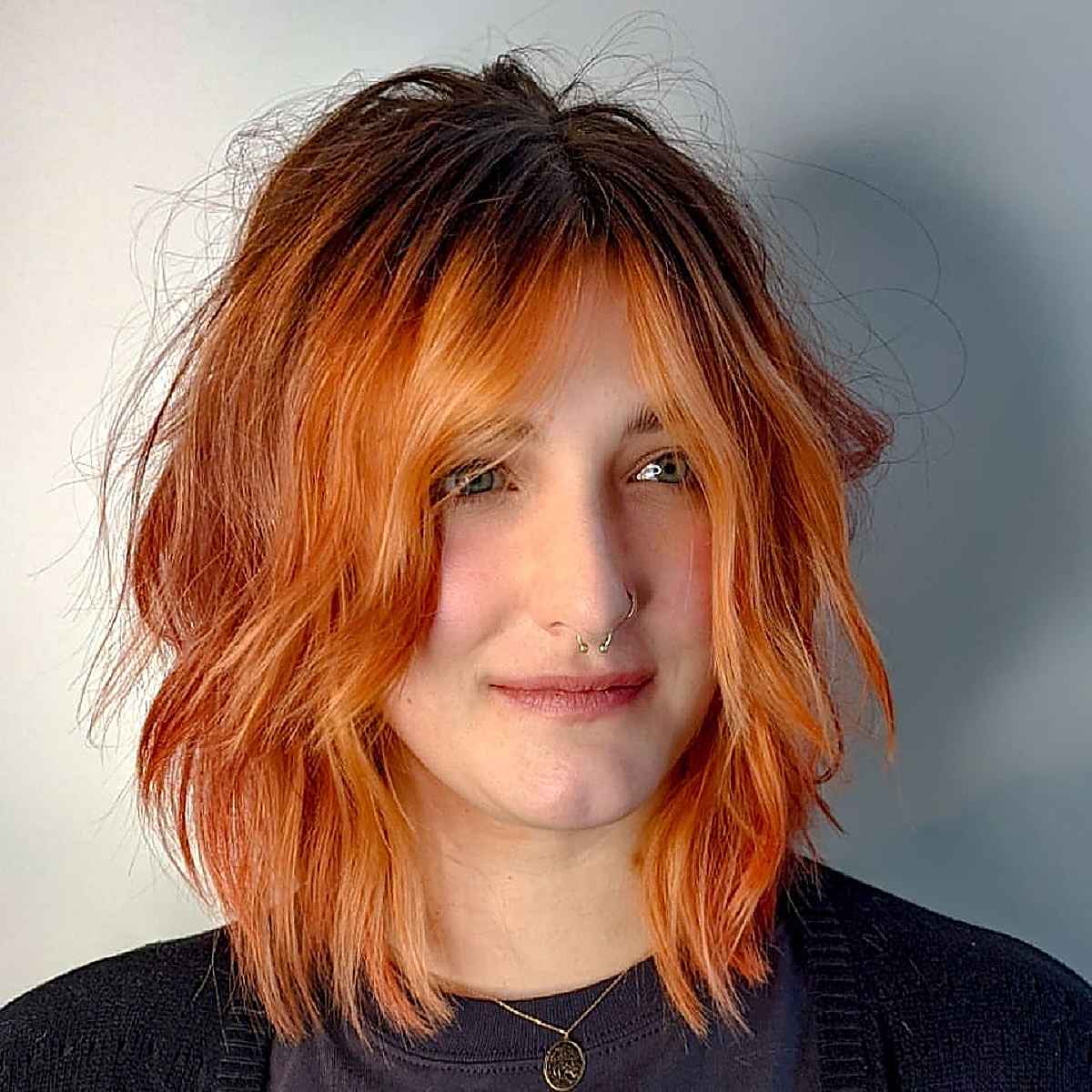 #17: Shoulder-Length Lob
If longer hair just doesn't work for you, it might be helpful to try a shoulder-length lob. Shoulder-length shags are even more low-maintenance and super easy to style. Shorter hair takes less time to dry and less time to style.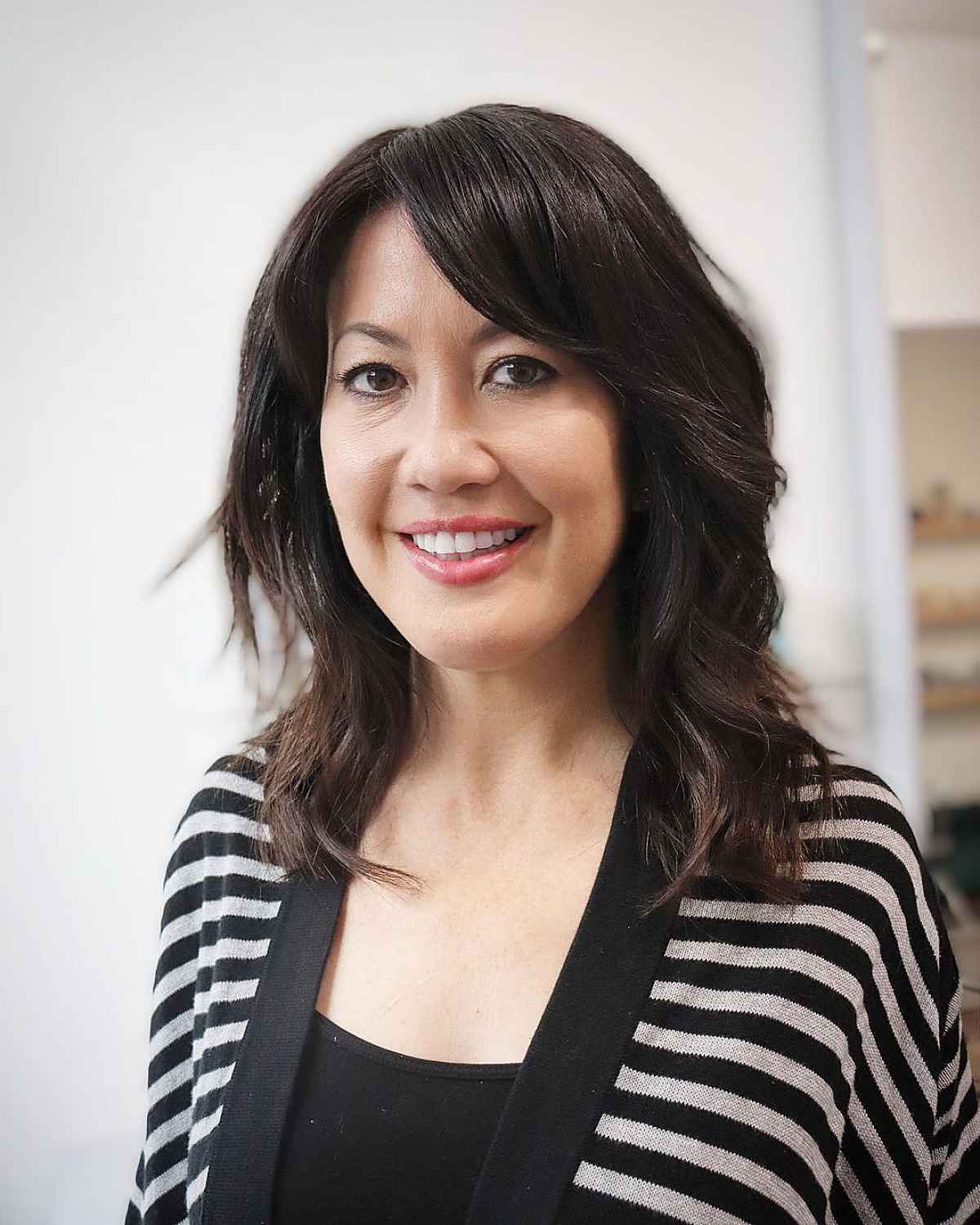 #18: Shag with No Bangs
If you can't stand the thought of a fringe, ask for a shag without bangs. A shag haircut for medium-length hair could be the perfect decision for you. With the style, the angles are short enough to softly frame your face without having to make the commitment to a full fringe.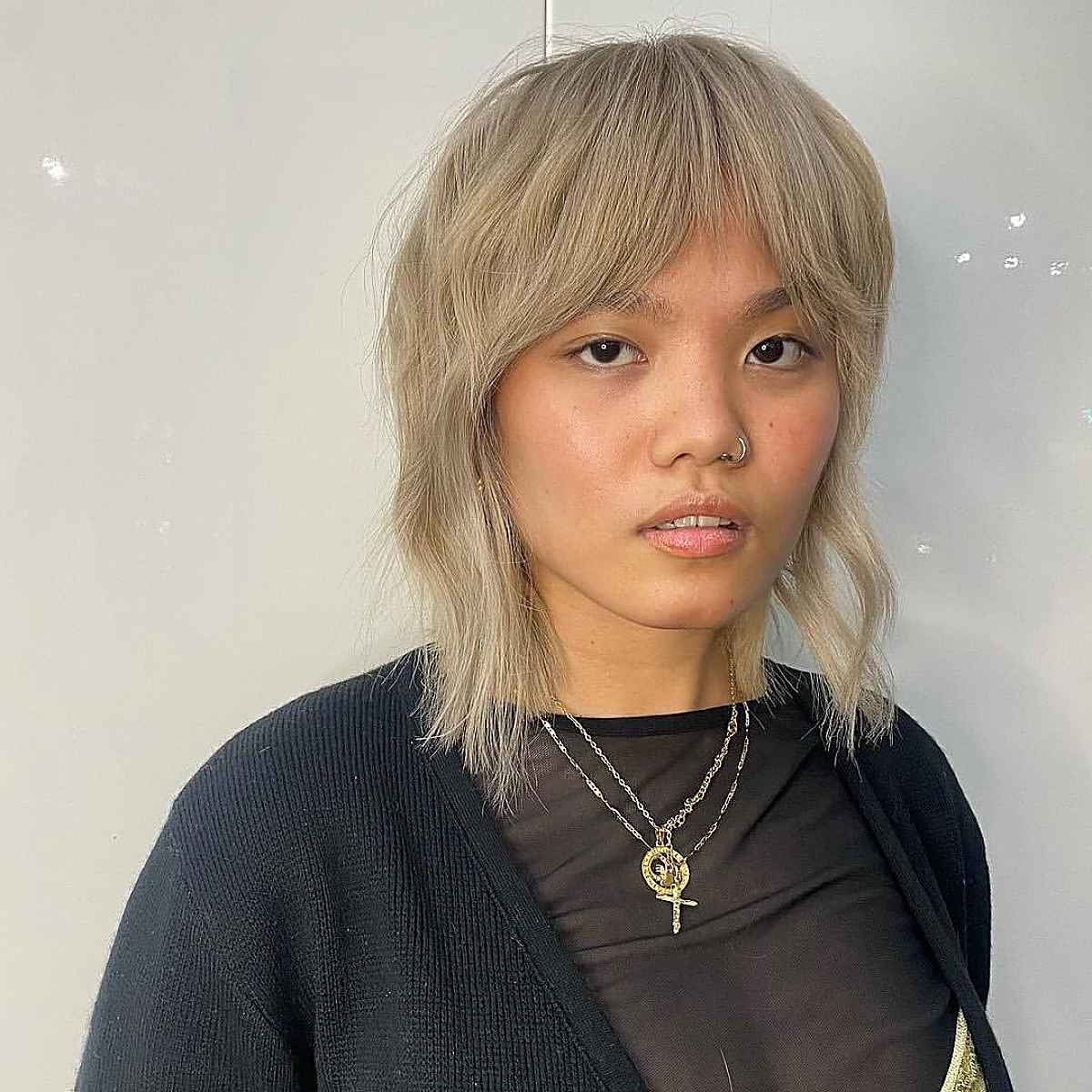 #19: Shaggy Bangs with Medium Hair
Shaggy bangs pairs well with medium hair and could be the perfect move for you this season. The shoulder-length shag haircut is modern and super popular right now. You may want to use a couple of drops of Olaplex Bonding Oil before blow-drying to get this shine and smoothness.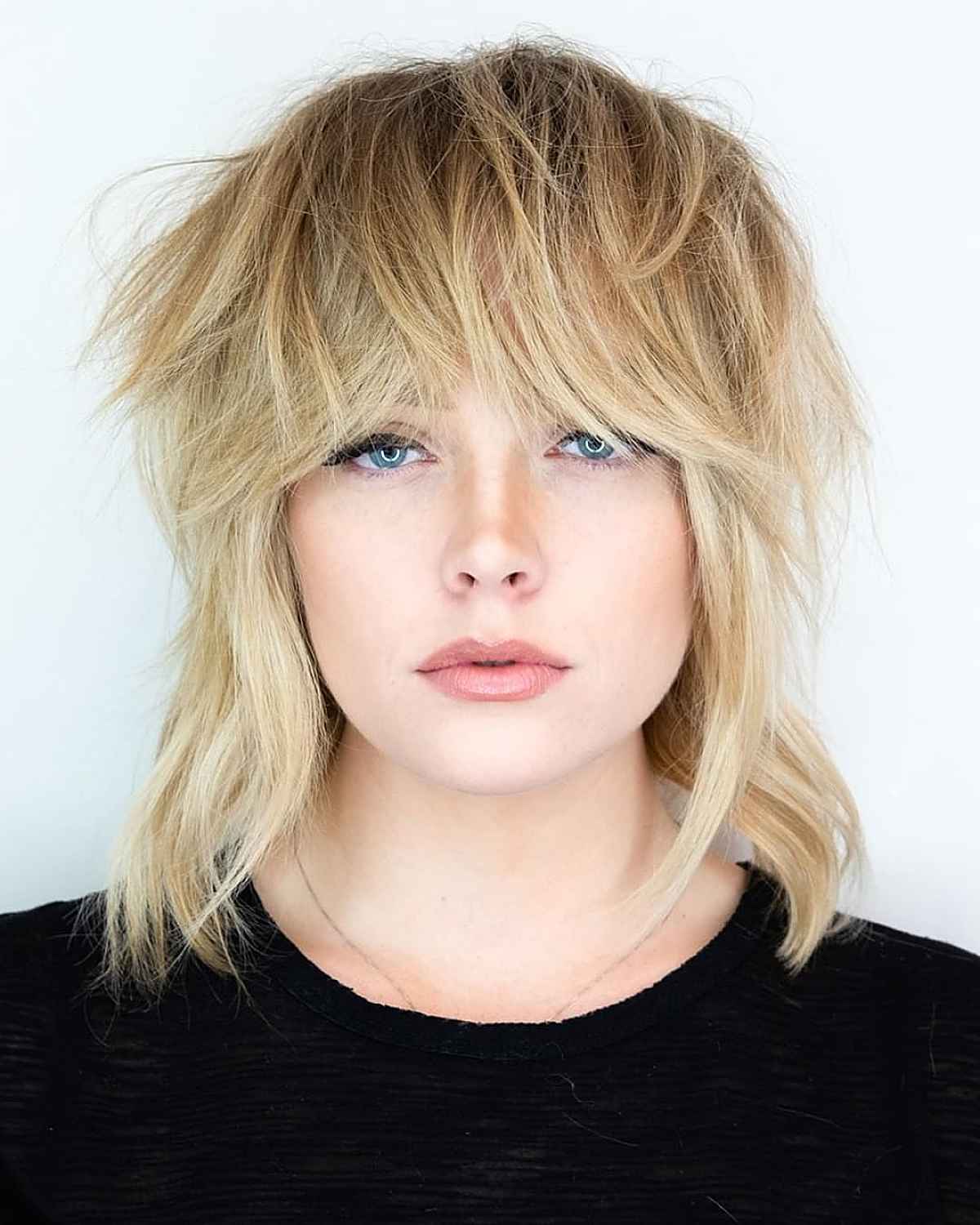 #20: Mid Shag
If you're consider something between a bob and a pixie, try a mid-shag. A shag haircut for medium hair is quick to style and looks super cute even when it's messy. As long as you apply a dime-size amount of Redken Aerate all over damp hair before blowdrying, you'll get this amazing texture.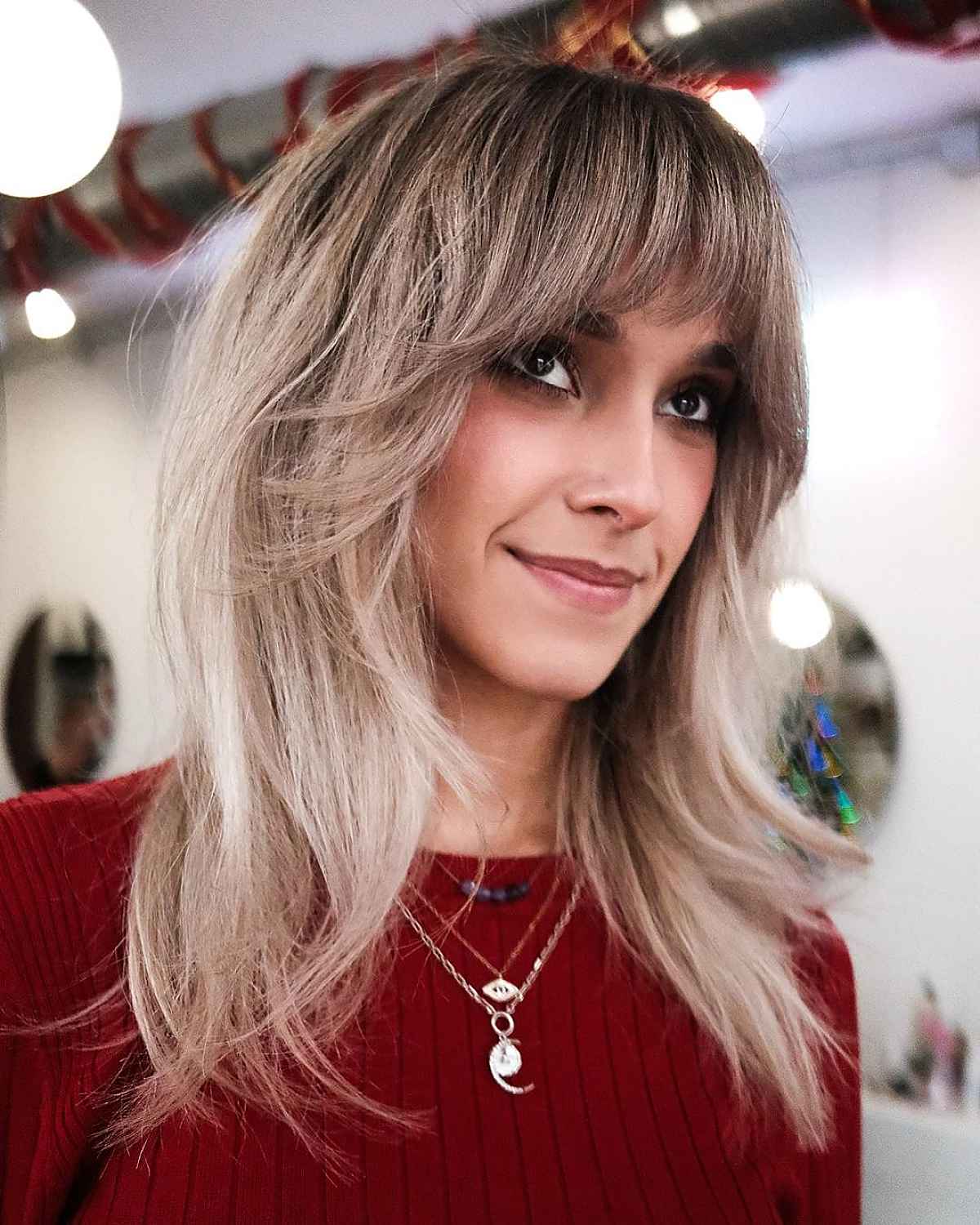 #21: Subtle Shag Hairstyle
Looking for something different but not too crazy? Try a subtle shag hairstyle because it' low-maintenance and chic. Be sure to ask about if the style will work with your hair type before making the change.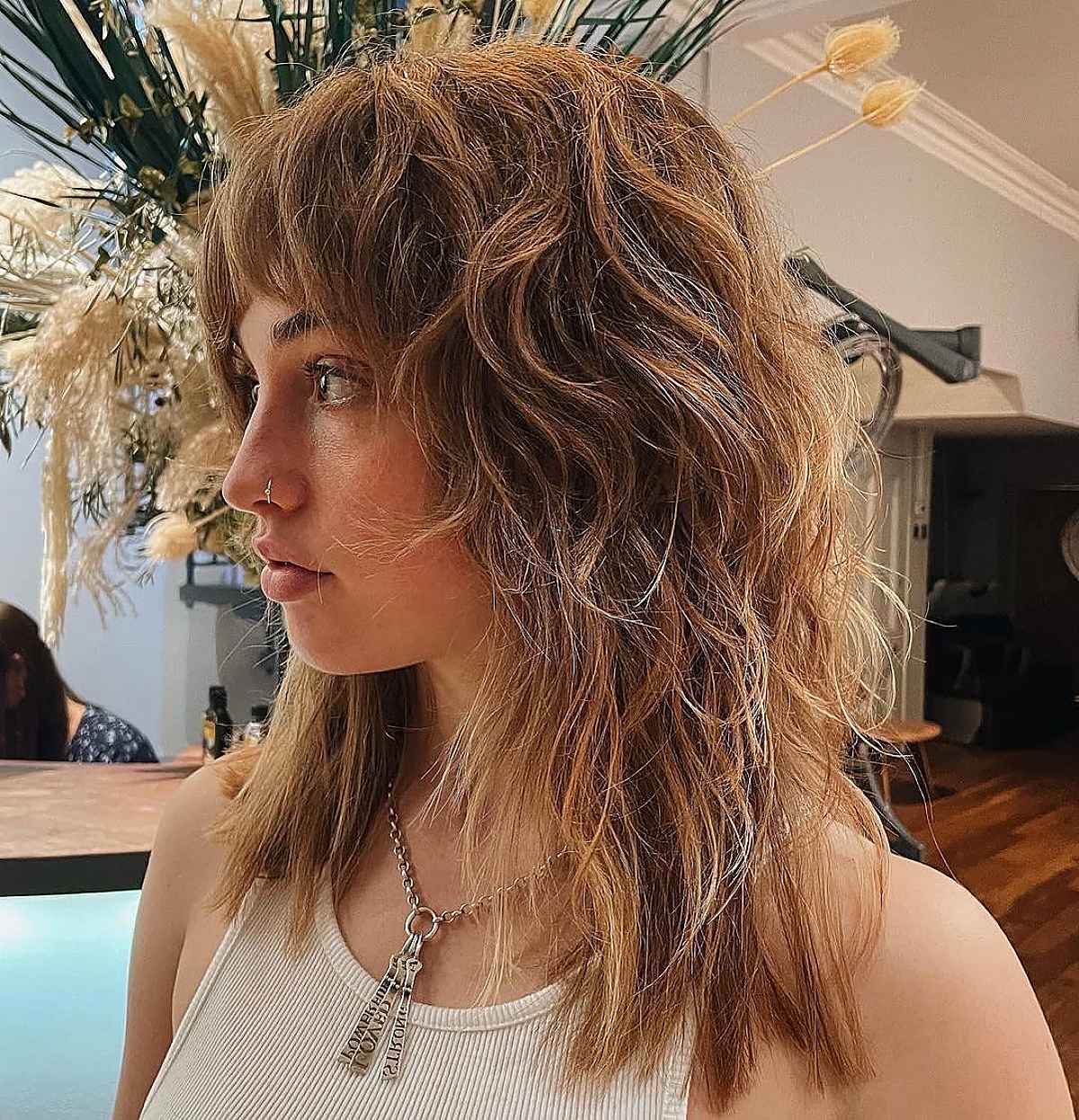 #22: Imperfect Waves
These imperfect waves are just the right amount of messy and stylish as shag haircuts go. Alternatively, medium shaggy hairstyles for women are super liberating and fun to wear! This style doesn't take a lot of time in the morning.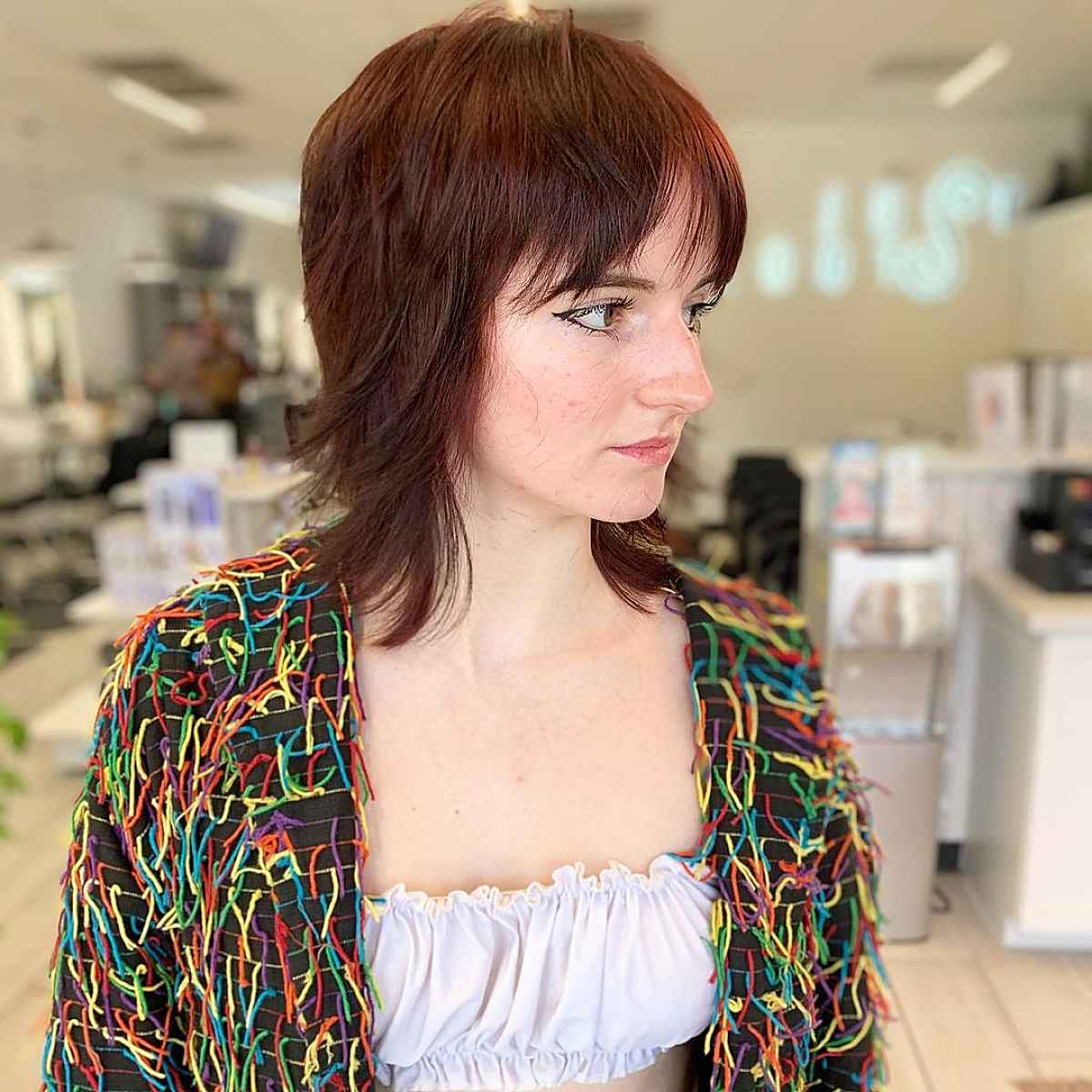 #23: Long Shaggy Bob
Definitely go for a long shaggy bob if you have fine, thin hair and would like it to look fuller. The biggest advantage is that medium-length shaggy hair uses layers to build up volume that can be recreated in the comfort of your own home. It's best to ask your stylist what they think of this style for your hair before committing.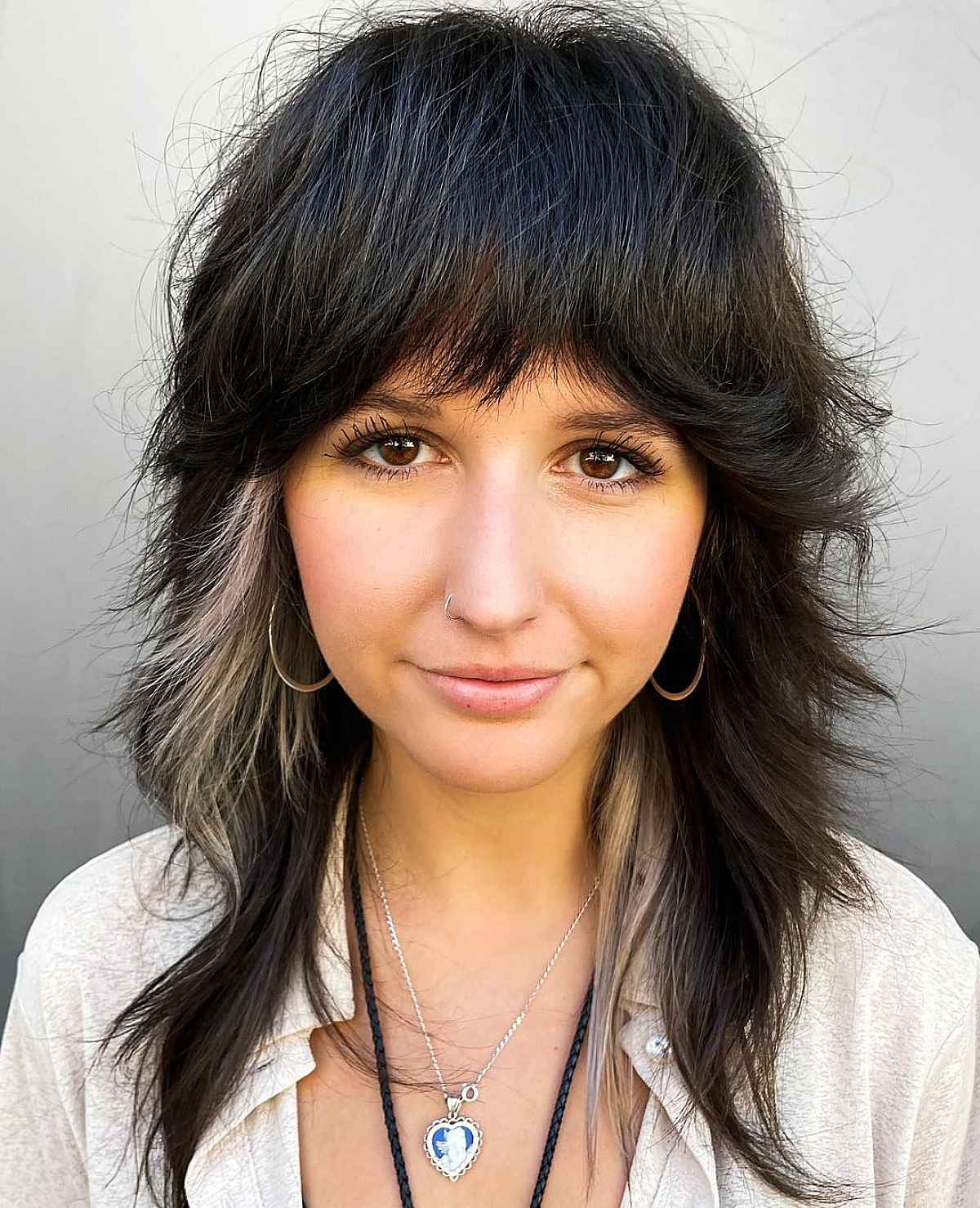 #24: A Flared Shag Style
Medium-length shag haircuts that are flared can be extremely flattering for any and all face shapes. One of the biggest advantages is that you'll feel youthful and flirty with a medium-length shag.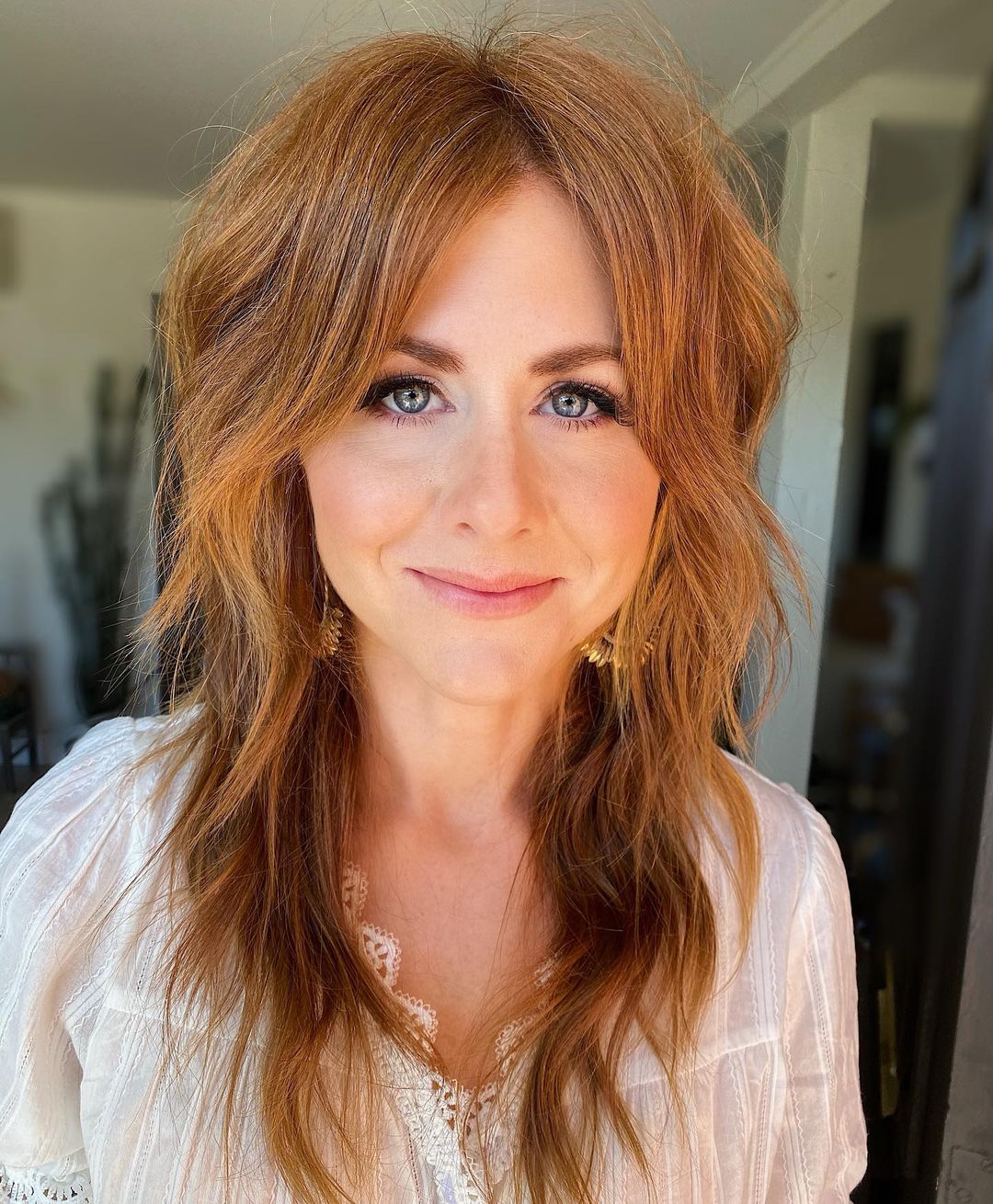 #25: Updated Shag with Shattered Layers
Shaggy hairstyles feature disconnected layering, which is a great way to enhance the movement of thick hair.
How To Style a Medium Shaggy Hair:
Blowdry hair with a large round brush, keeping the ends straight and smooth.
Rake fingers through strands for piecey separation.
Finish with a medium-hold hairspray.
To get this Joan Jett-inspired hairstyle, use Kevin Murphy HAIR.RESORT Spray for added texture with great hold. These medium shaggy hairstyles for thick hair are suitable for round, heart, or square-shaped faces.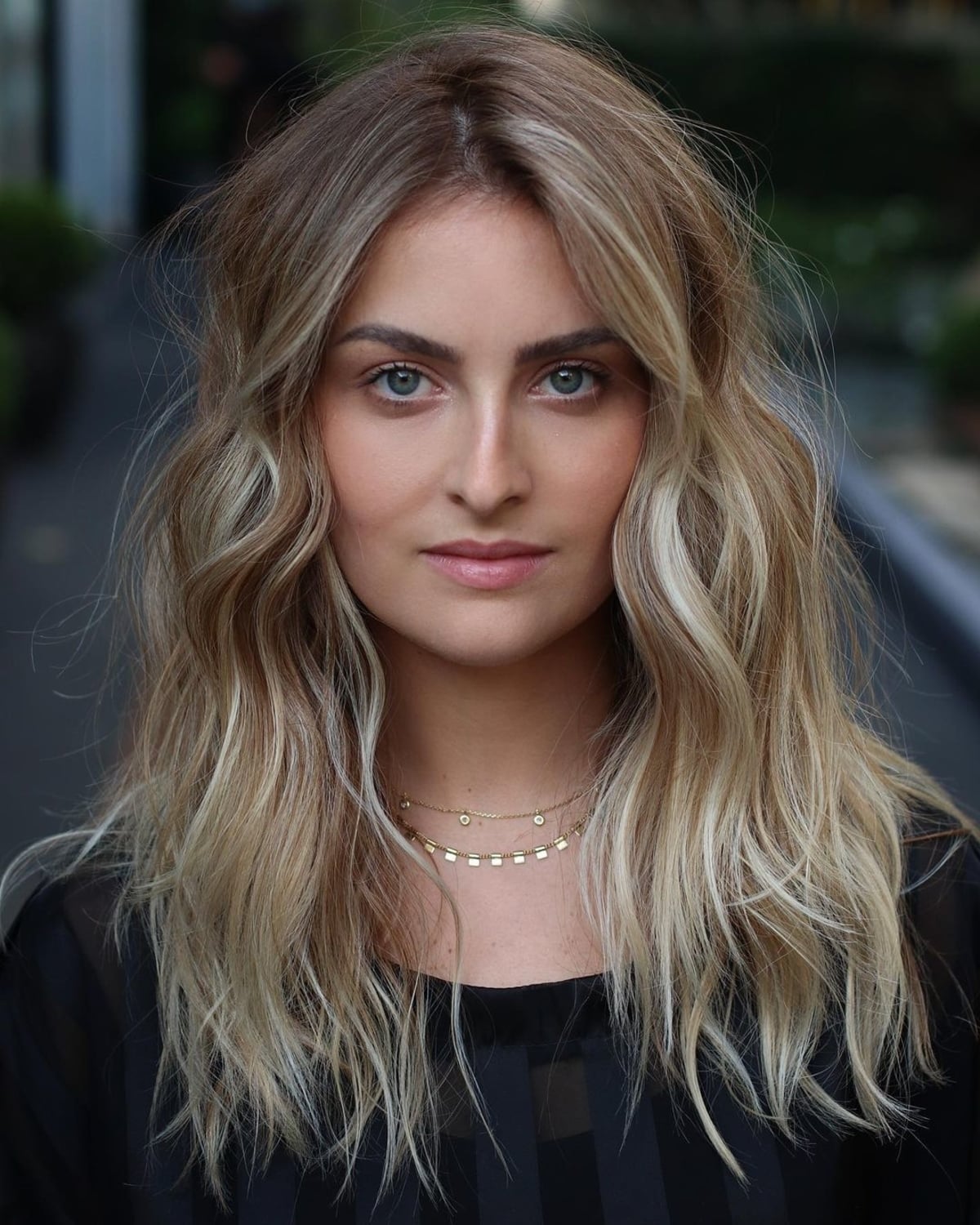 #26: The Perfect Medium Wavy Shag for Fine Hair
The perfect medium wavy shag for fine hair can be styled wavy or sleek. Medium-layered haircuts are a great way for women to try a textured look without having such obvious layers, so allow your hairstylist to give you suggestions.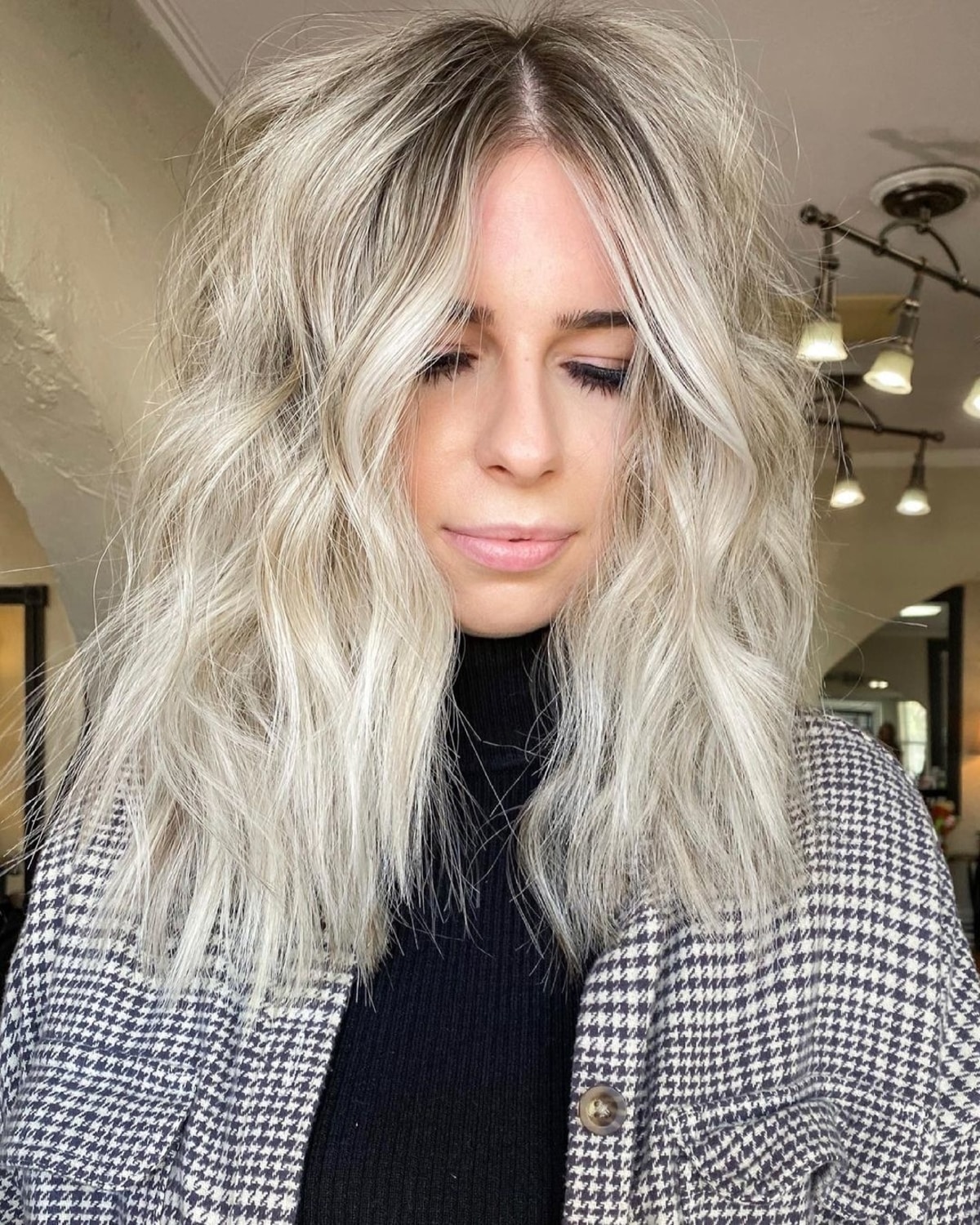 #27: A Cool Center Part Shag with Choppy Layers and Platinum Hue
According to the best stylists, a cool center part shag and choppy layers will look beautiful on oblong face shapes, as it adds fullness and length. This center-parted hairstyle will keep its shape as it grows out and may look best with textured, naturally wavy hair. You might want to add a platinum blonde shade or any lighter hue to brighten up the face area, too!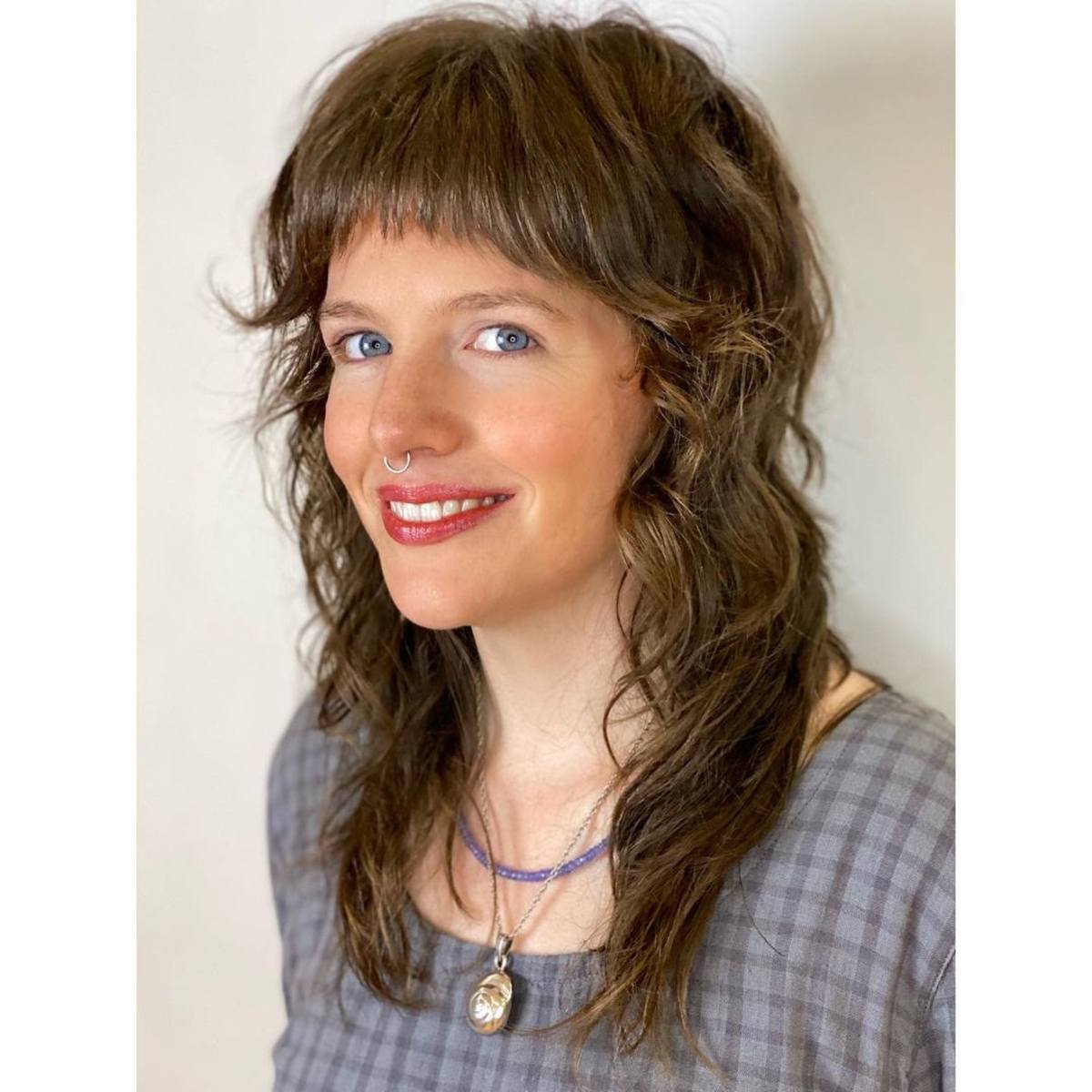 #28: A Medium Razor Cut Shag with Curtain Bangs
This shaggy-textured with layers cut throughout the length of the hair gives it an incredible '80s vibe along with those feminine curtain bangs. An important thing to remember is that shoulder-length shag haircuts work great on hair with density and a little wave to it for easier styling.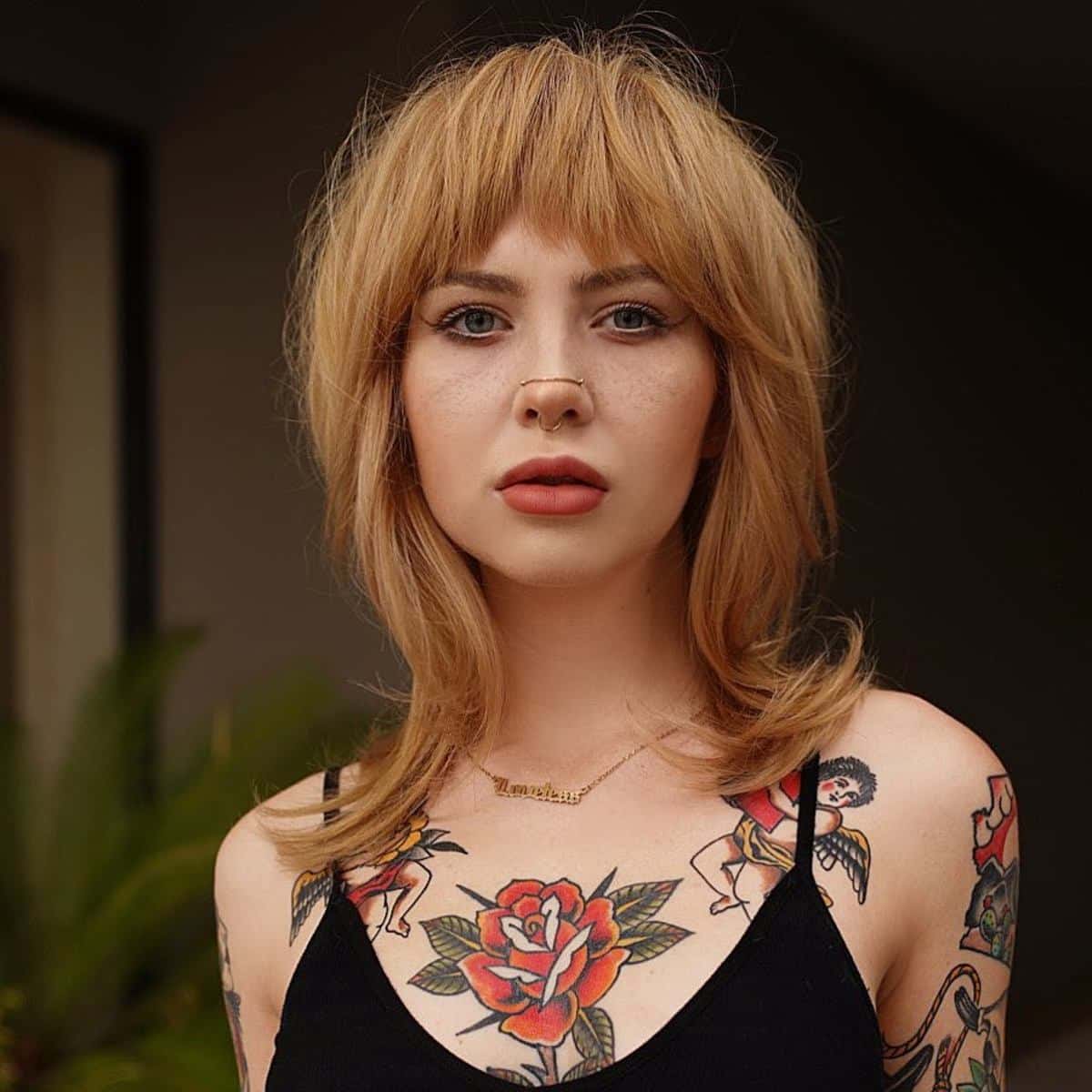 #29: A Fantastic Shoulder-Length Shag with Full Bangs
The soft fiery waves and those romantic yet edgy layers manage to make this a modern take on classic 80's shoulder-length shag haircuts. Any skin color can rock such a bold shade of vintage copper blonde hair color, while those lengthy full shaggy bangs aim to complement long faces best.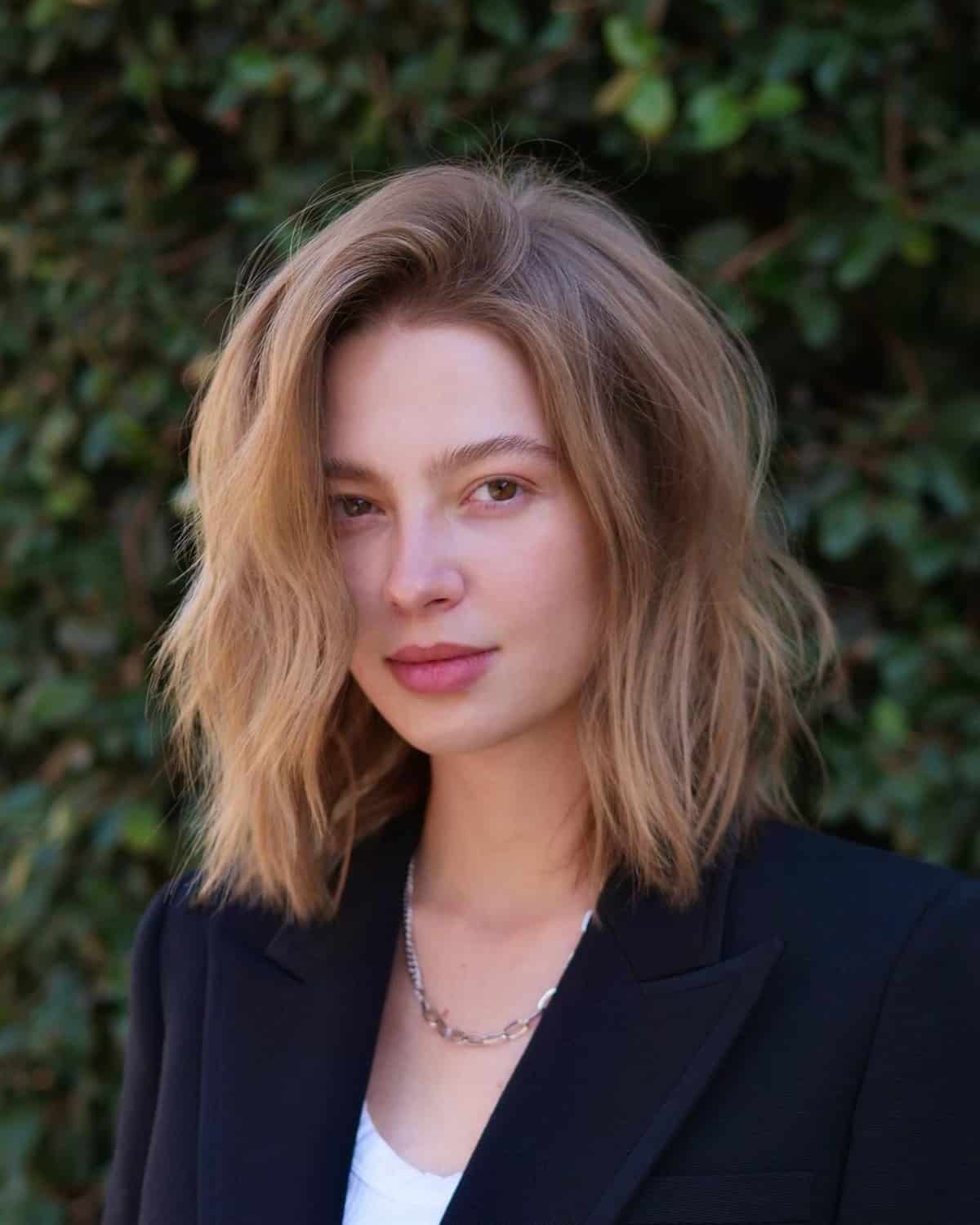 #30: Medium Shaggy A-line Bob Layered Hairstyle
A medium shaggy layered a-line bob hairstyle works great on ladies who have short, thin hair or who have thin hair and want to go shorter. The length where the edges graze the shoulders is perfect to combine with subtle layers and intrior layers. These will ensure the lack of body and movement of the tresses is addressed. If you're looking for volume and waves, a diffuser and a curl cream or mousse can help this tousled shaggy lob to create some form of style.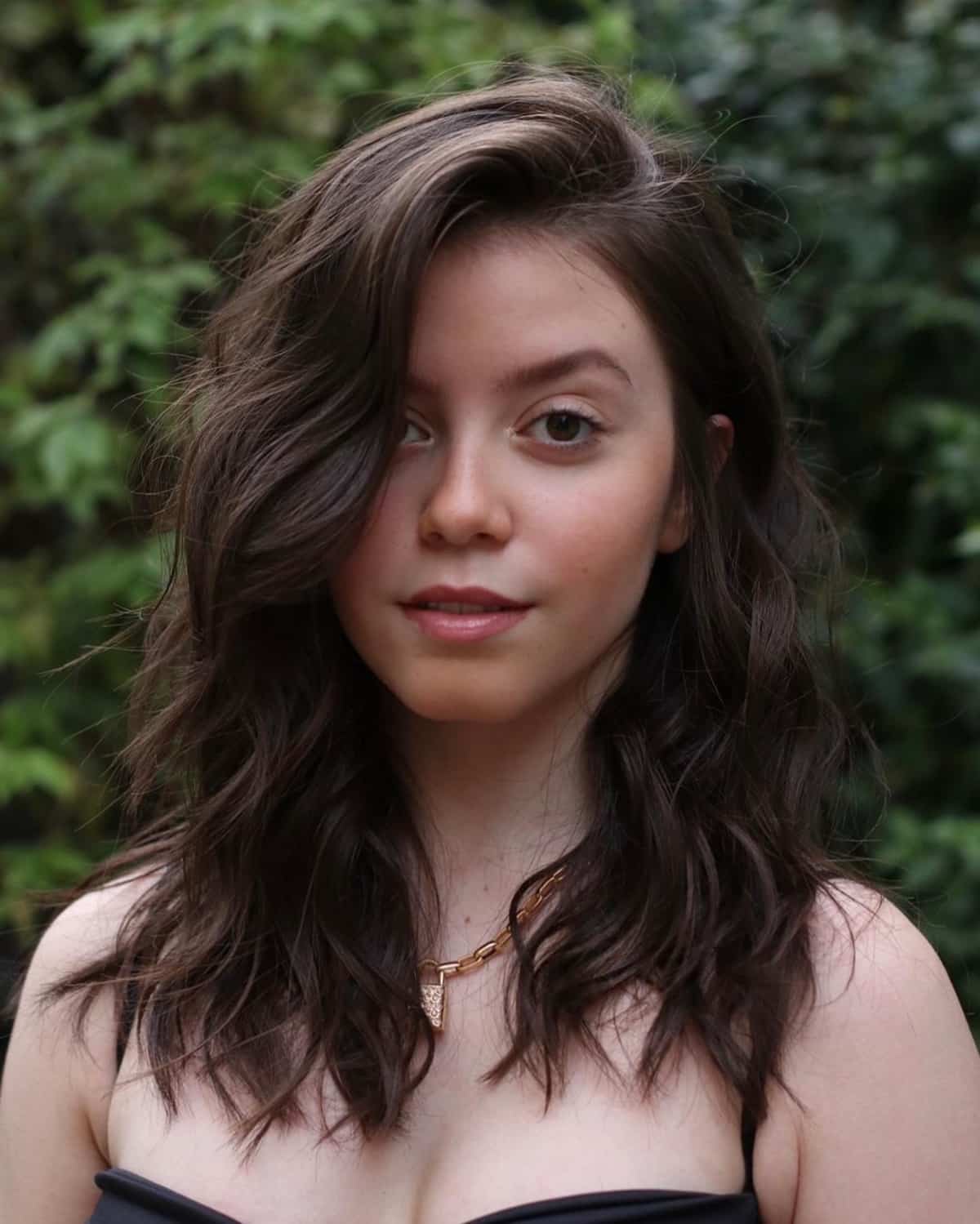 #31: Choppy Shag with Deep Side Part
The best shag haircuts for medium-length hair are choppy and styled with a deep side part already looks sexy, but add in beach waves to make it voluminous. This shaggy wavy hairstyle on a medium cut is perfect for thick hair as the texture makes it look bouncy and the cut removes weight off your ends without losing length.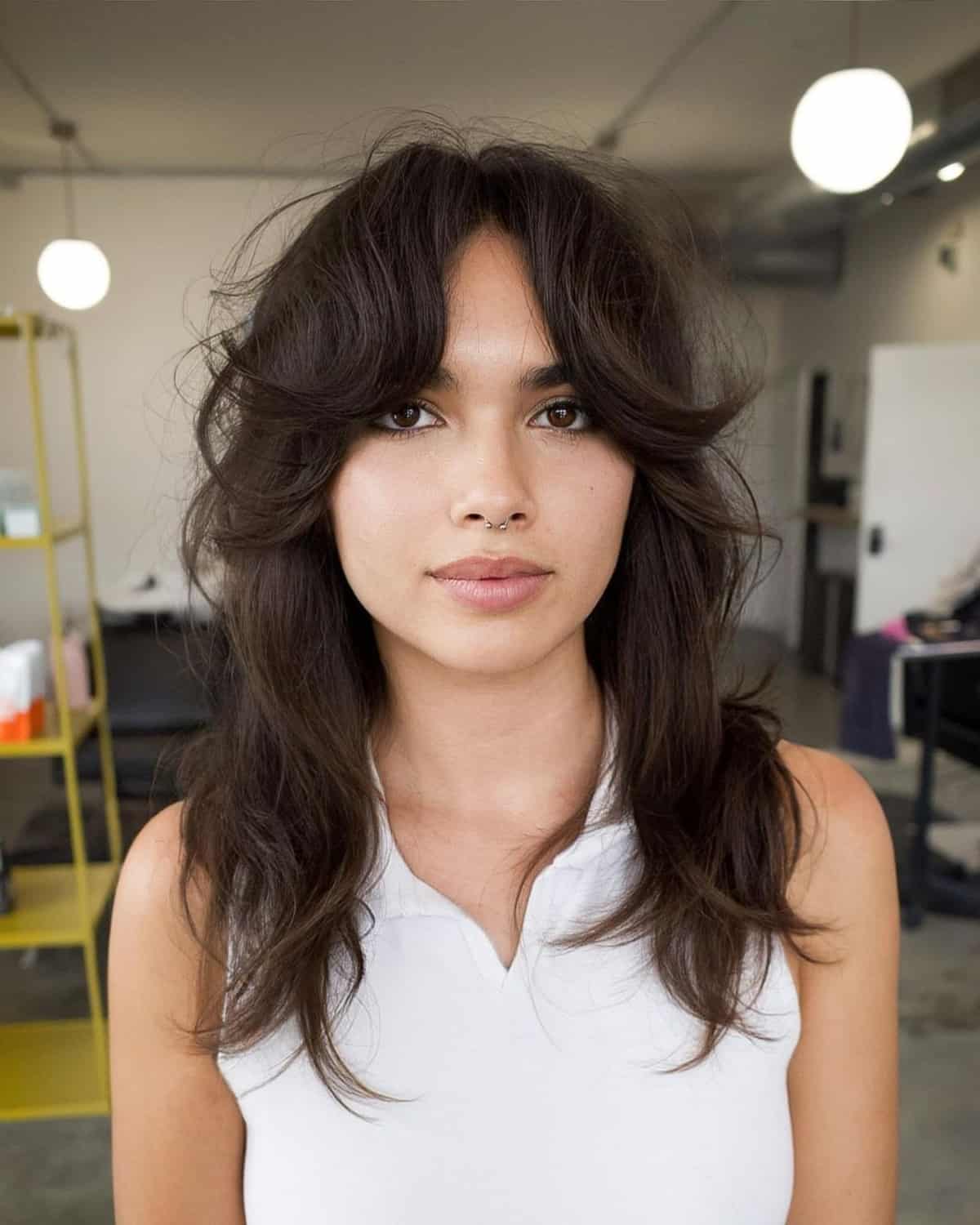 #32: Mid-Length Textured Shag Cut with Choppy Ends
A fresh choppy texture medium shag haircut on glossed natural hair is the easiest thing you can get if you want a huge change – not just in your look but also in your lifestyle as well! This middle part shag for medium-length hair is a distinctive style that's easy to maintain and style at home!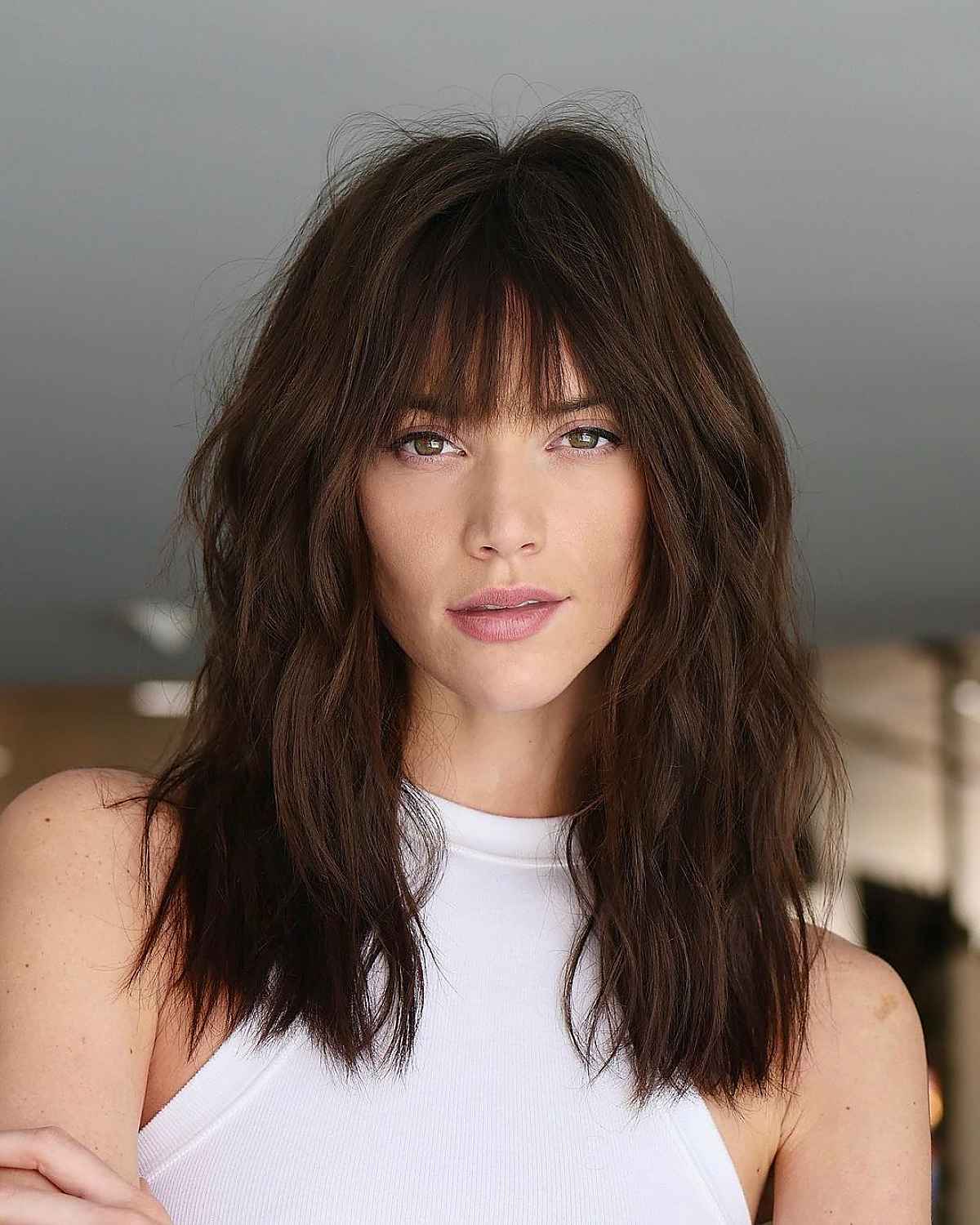 #33: Shag for Thin Medium Hair with Face-Framing Layers
The fringe and the bulk on the top hair in this shaggy haircut creates the illusion of volume throughout the hairstyle which is perfect for thin and medium-fine hair. This super textured cut and with the face-framing compliments women with high cheekbones.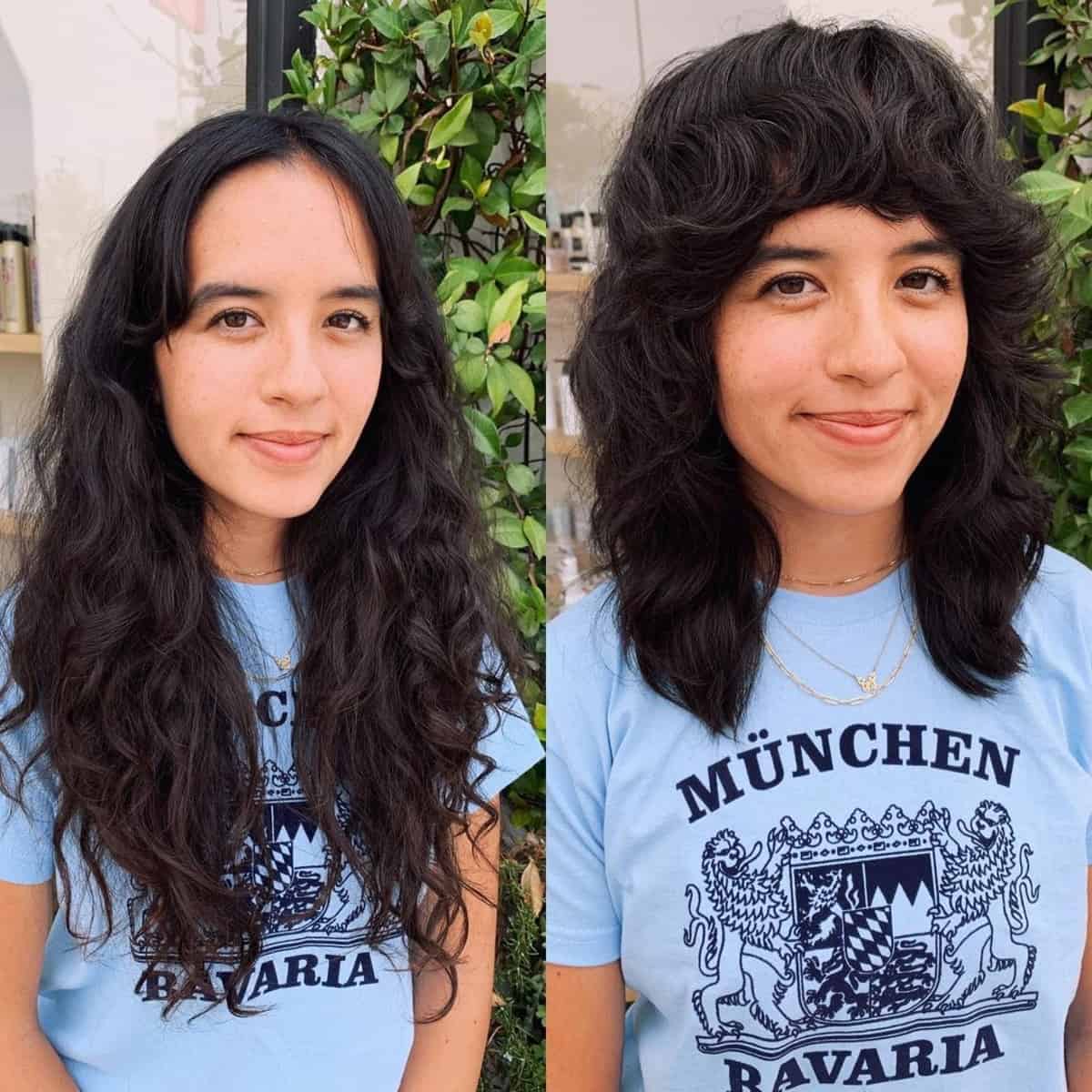 #34: Curly Shag for Medium Cut Hair
Medium shag haircuts require conditioning, especially if you have amazing well-defined curls. Opt for a short to medium bob cut like this if you wanna revitalize your natural texture. Choose this curly bob with shaggy layers and leave your natural color on for healthier curls.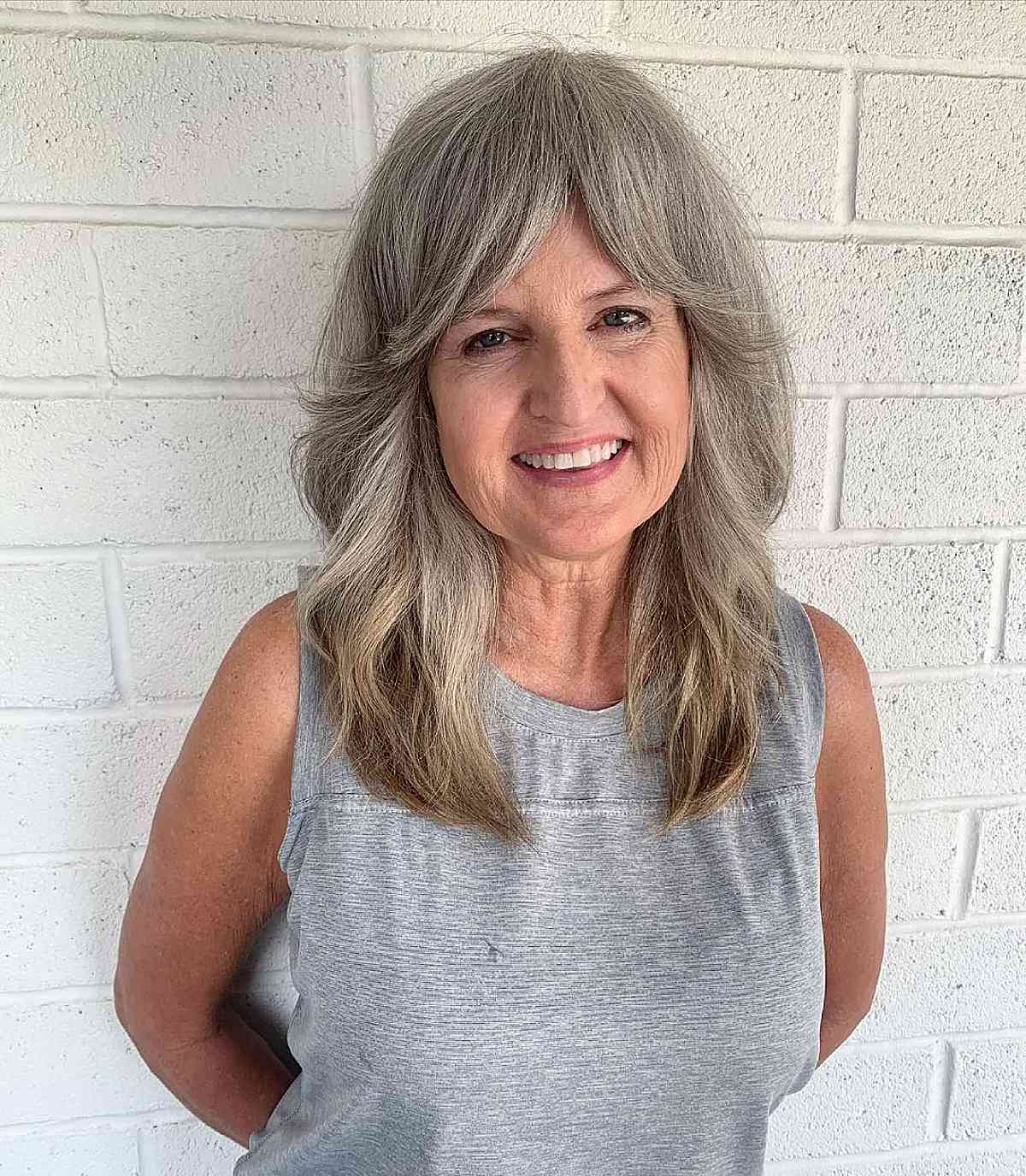 #35: An Edgy Shag for Women Over 50
This edgy shag is for women over 50 because of how amazing the fringe separates. Be open to wearing longer fringe and don't overthink styling the cut. Just give your hair a few waves using a flat iron in a rocking motion in random parts off of the interior. However, one disadvantage is it takes away from the 70's medium-length shag haircuts if the bangs are too precise and the body and texture are too uniform.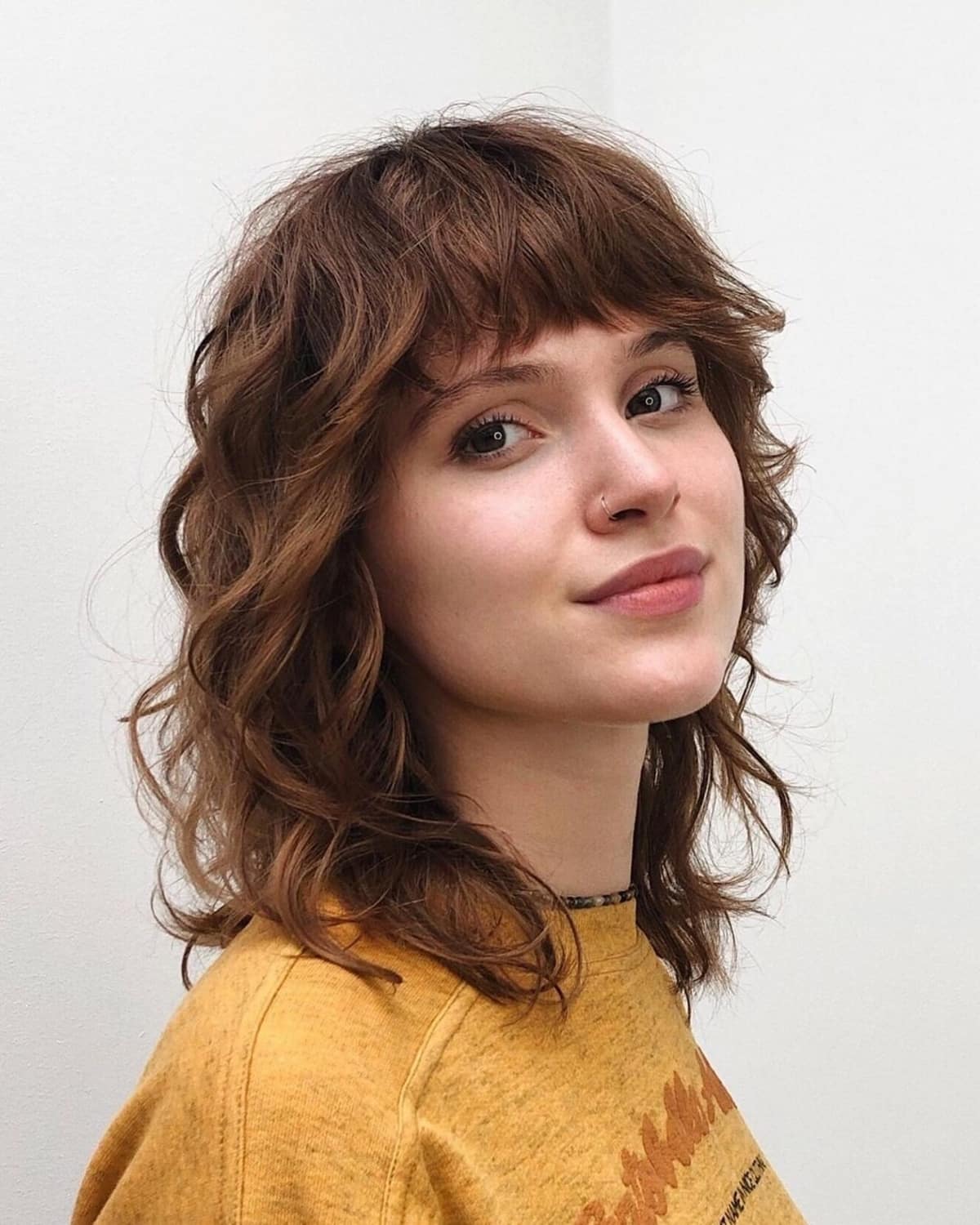 #36: Medium Shaggy Bob with Bangs
A medium shaggy bob with bangs is perfect for fine hair. The extra amount of layers will help add density to a curly shag for medium cut hair.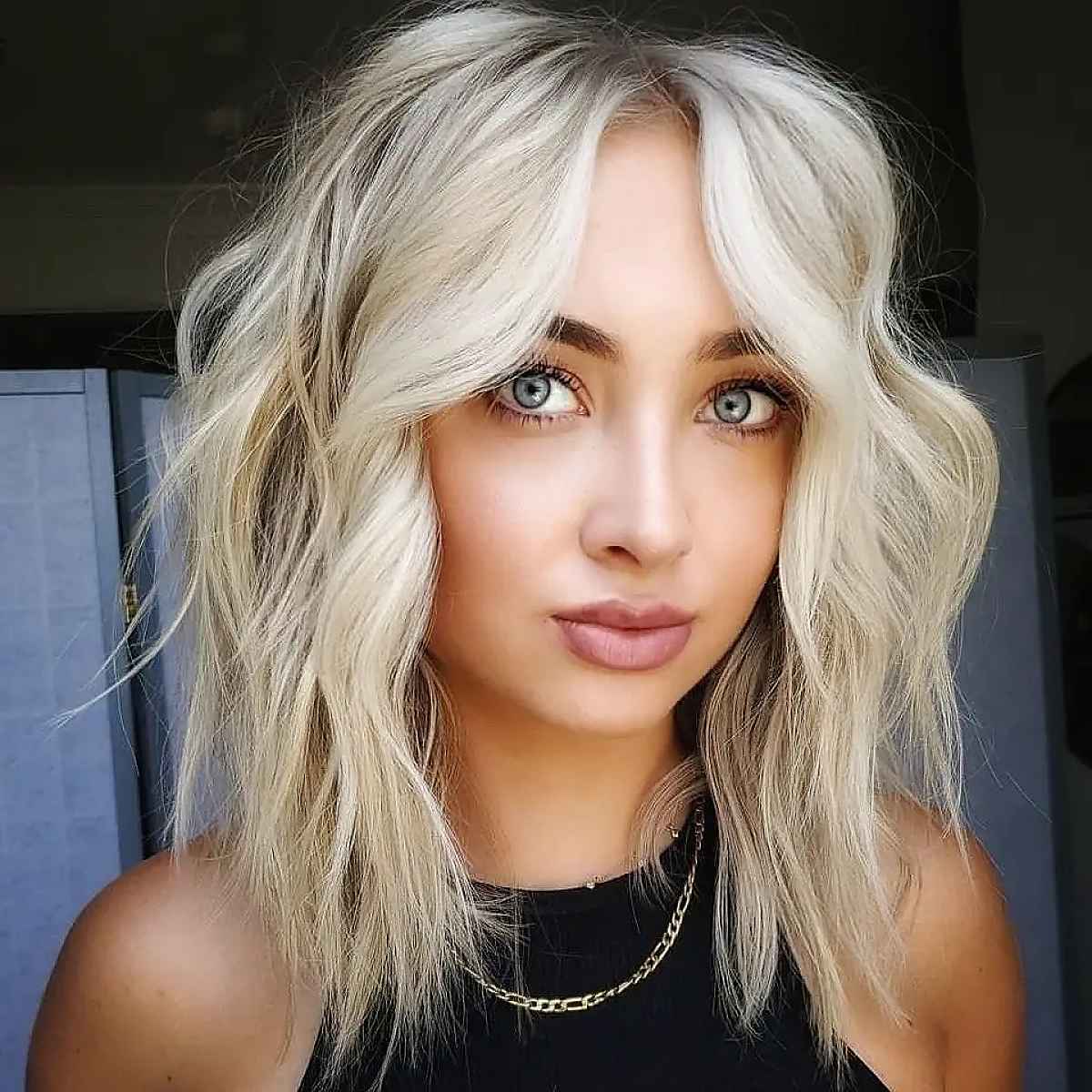 #37: Medium Shaggy Cut with Razored Layers
A textured undercut bob on a shoulder-length shag cut should remove weight from below the occipital bone to promote movement on the perimeter. If you're considering shag haircuts with razored layers, it's important to do a consultation with your stylist. If you don't have a good density of hair then the undercut is not a good fit. You can create the same haircut without the undercut part. Furthermore, if the texture is too frizzy, don't do it with the razor. Choose scissors instead. When it comes to styling products, use something that can control hair and give you separation on the ends, like leave-in conditioners, dry shampoos, styling cream. For the face shape, a woman with a really small face or small forehead should avoid the fringe because it would make the face even smaller. Other shapes go really well with the cut.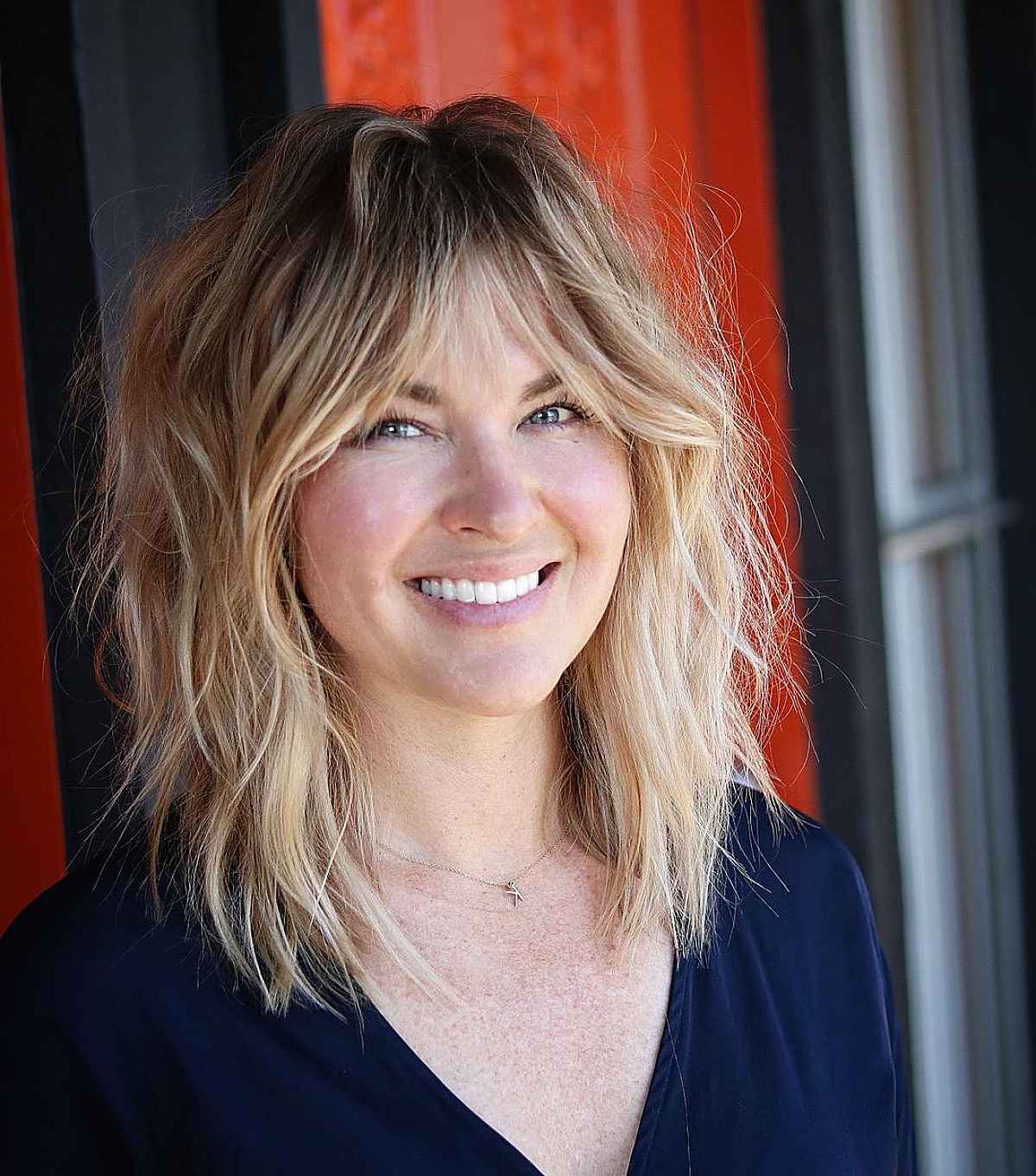 #38: Ombre Mid-Length Shag with Bangs
This razor cut shag for medium hair with a full fringe has a soft natural texture. Medium shag haircuts have an effortlessly cool vibe. This shaggy hair cut looks best on wavy to curly hair that's medium to fine thickness. Also known as a low-maintenance mid-length haircut, use a mousse or cream gel to air dry or diffuse your hair when working with the natural texture.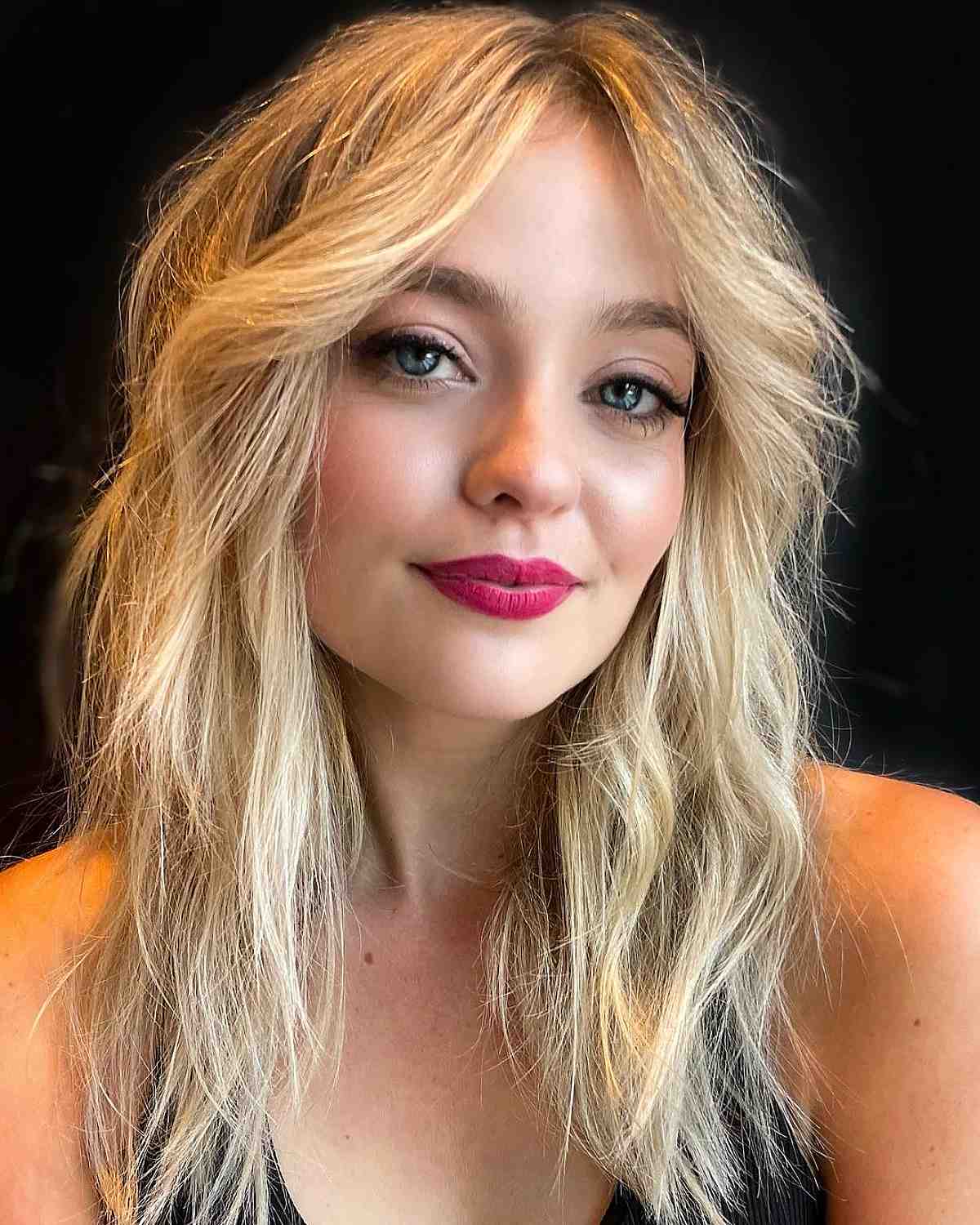 #39: A Must-Try Shag for Medium-Length Thin Hair
Opt for a medium-length shag with curtain bangs if you have thin hair. The look was achieved with both shears and a straight razor to emphasize the texture. The greatest part about this shape is that most women with wavy hair and/or love volume will find this look very flattering. Medium-length hairstyles like this are generally easily styled with a wave or salt spray and can be air-dried for an awesome effect. Also, the medium shag haircut with bangs grows out quite well and turns into fun new looks as it gets longer. Upkeep on the fringe can be worn in a longer shape as it grows out, but you should look for a stylist who's familiar with this type of cut so it comes out right.
#40: Angled Medium Shaggy Haircut with Jagged Layers
Try a shaggy and tousled mid-length cut with jagged layers. It's a favorite because its effortless feel and undone texture ups the cool factor for a medium bob length cut. A medium-length shag cut is often created using Sam Villa 7″ Dry Cutting Shears to carve through the hair and create the texture. Then using the Sam Villa 2-in-1 Marcel Iron and Wand, you can use a lazy wrap around the wand to achieve a loose undone wave. Finish it off with Redken Wax Blast 10 for definition and hold. Shag haircuts like this one work great for any face shape, depending on where you part your hair and where the layers are placed. This haircut works great on women who have a natural curl or texture to their hair. When curling your hair, keep it very relaxed, and don't try too hard. Use a texture spray to play it up and get volume and texture.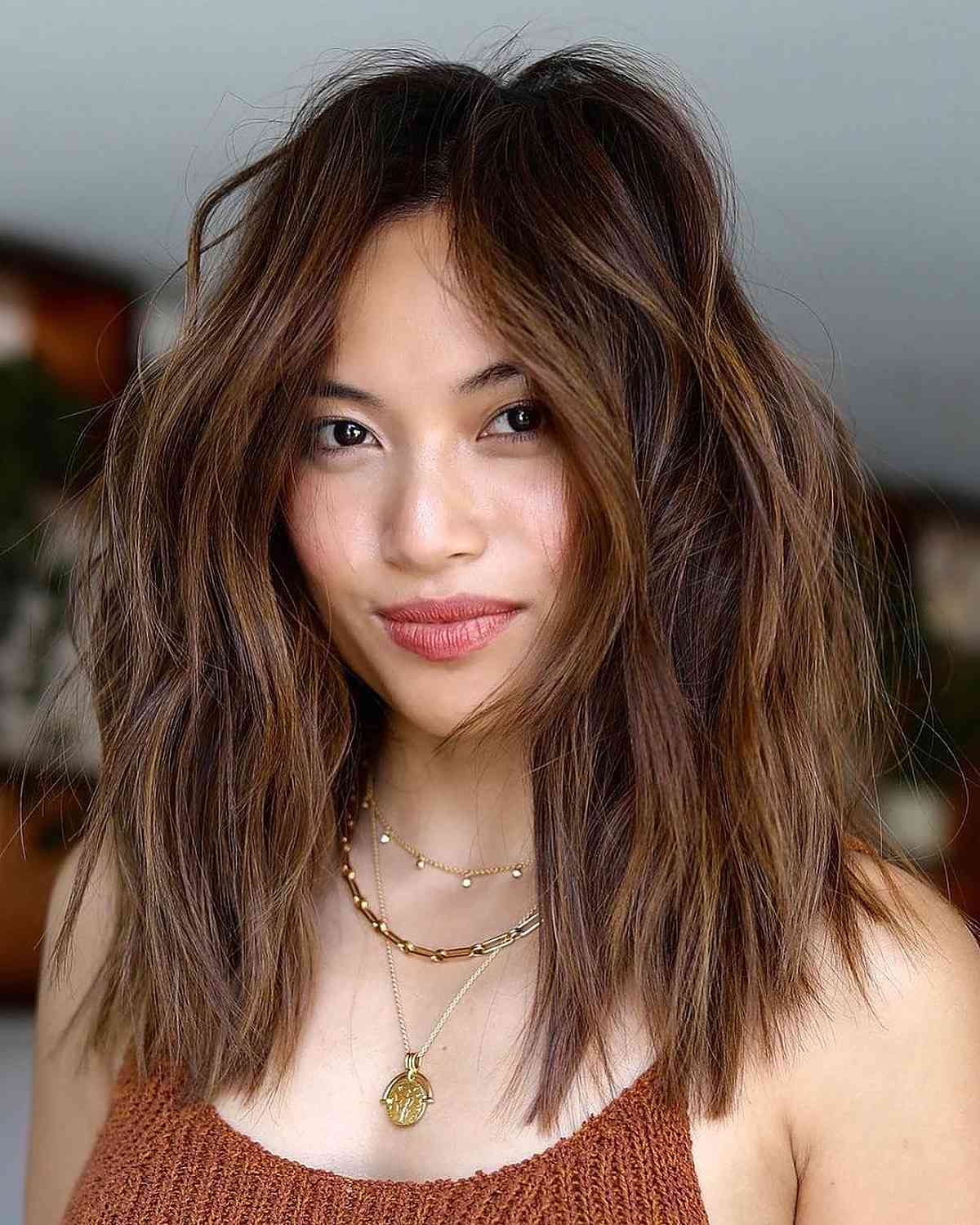 #41: Shaggy Blunt Bob Cut for Thick Hair
This shaggy blunt bob cut for thick hair has a lot to consider. Layers, bangs, concave, or blunt options are available when it comes to medium shaggy hairstyles for thick hair. If you're a woman who hates not being able to get their hair all the way up, you probably aren't ready for bob hairstyles. But if you can settle for a cute half top knot then you're in luck!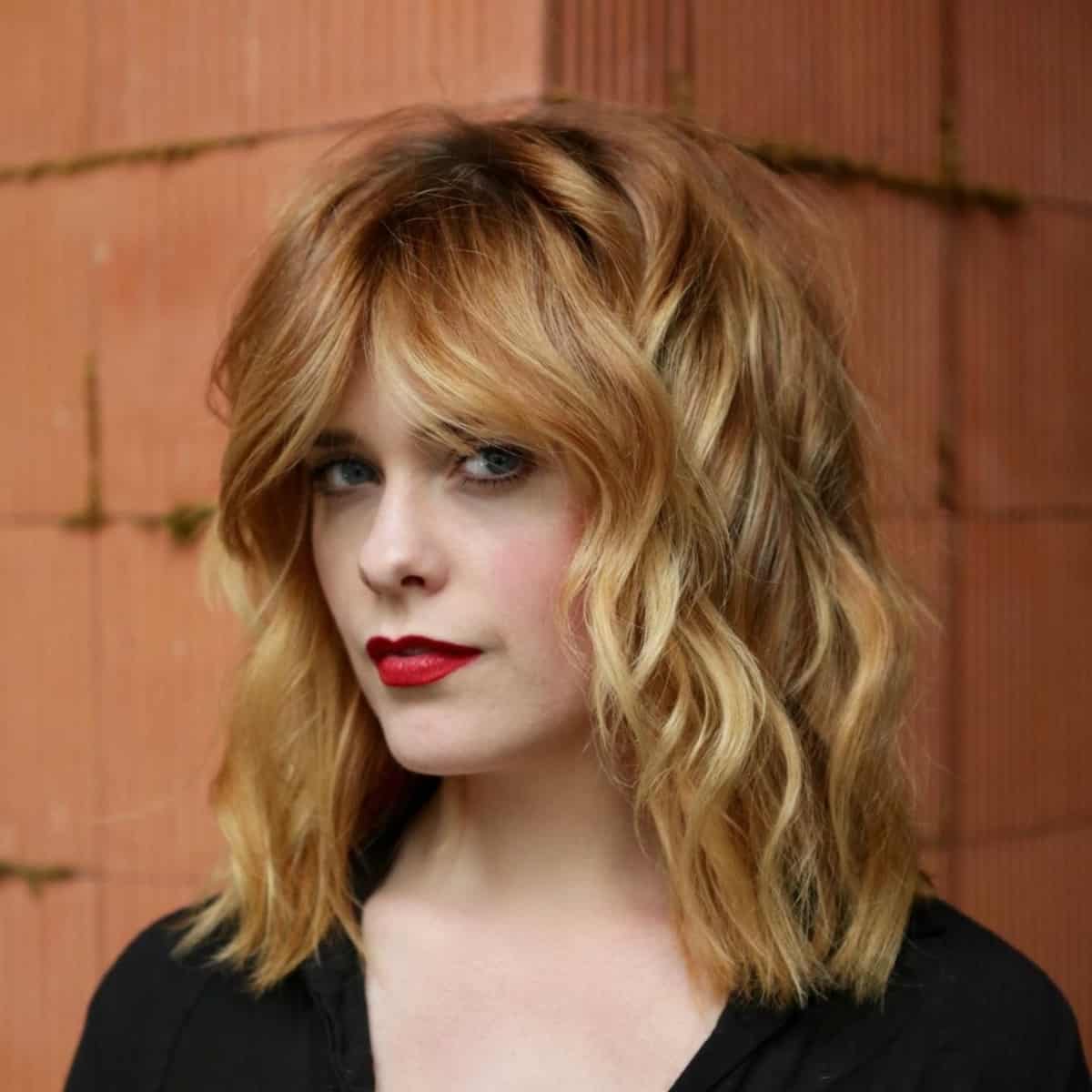 #42: 70's Shaggy Lob Cut for Shoulder-Length Hair
A shag-lob cut for shoulder-length hair because is a great haircut for women who are growing out their hair and need a little edge to the style. For a long shag in a bob haircut like this, the curtain bangs help bring out a 70s vibe. Texturizing the layers with shag haircuts will help add a more lived-in look. For the finishing touch, use a texture paste-like Evo Box o' Bollox to achieve that lived-in feel.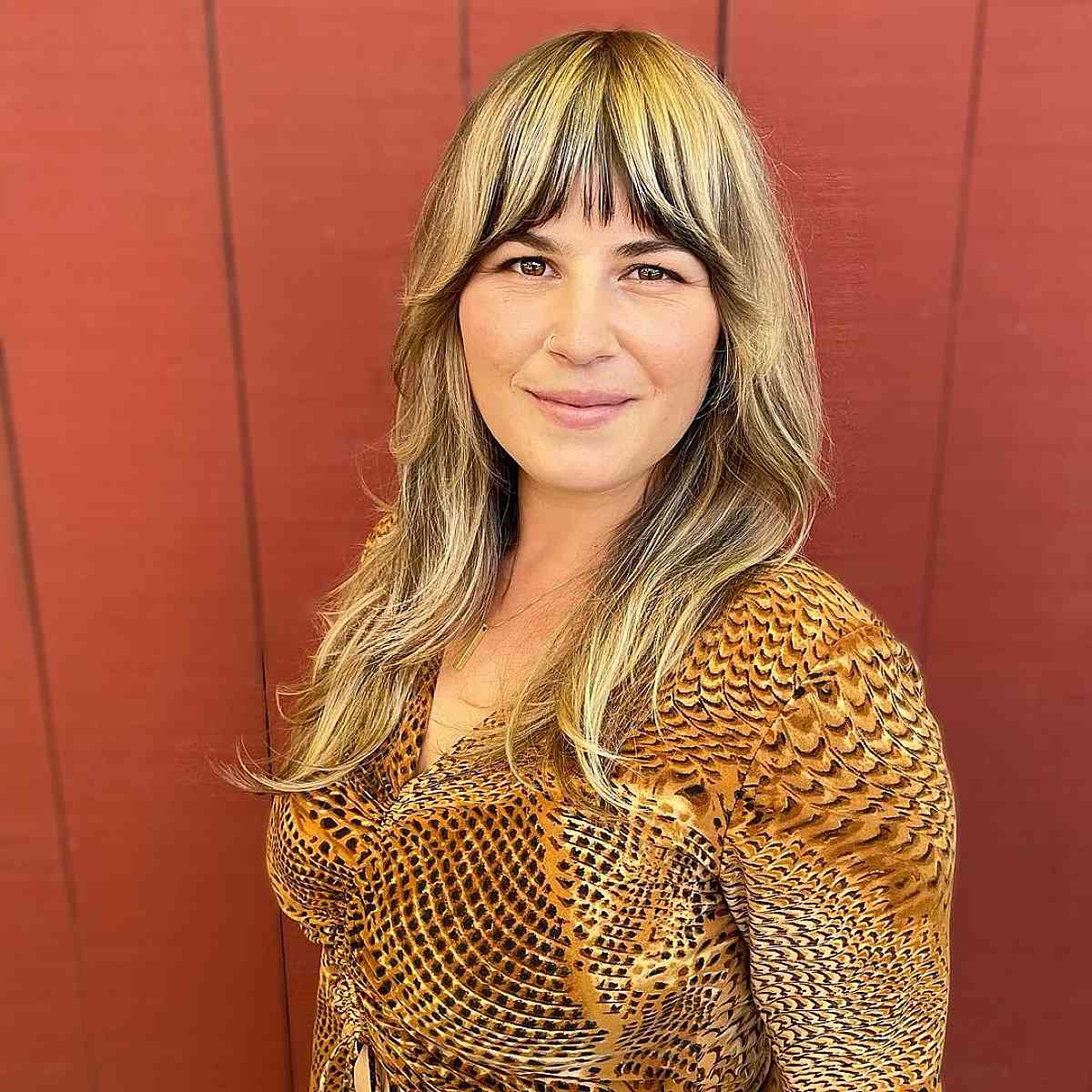 #43: Golden Wavy Shag With Long Bangs
This wavy shag with long bangs works on any shade of locks, making it suitable for ladies of all ages. This medium shag with long bangs is ideal in accentuating a beautiful eye color, too! If you want something similar, but shorter, check out these trendy short shag haircuts.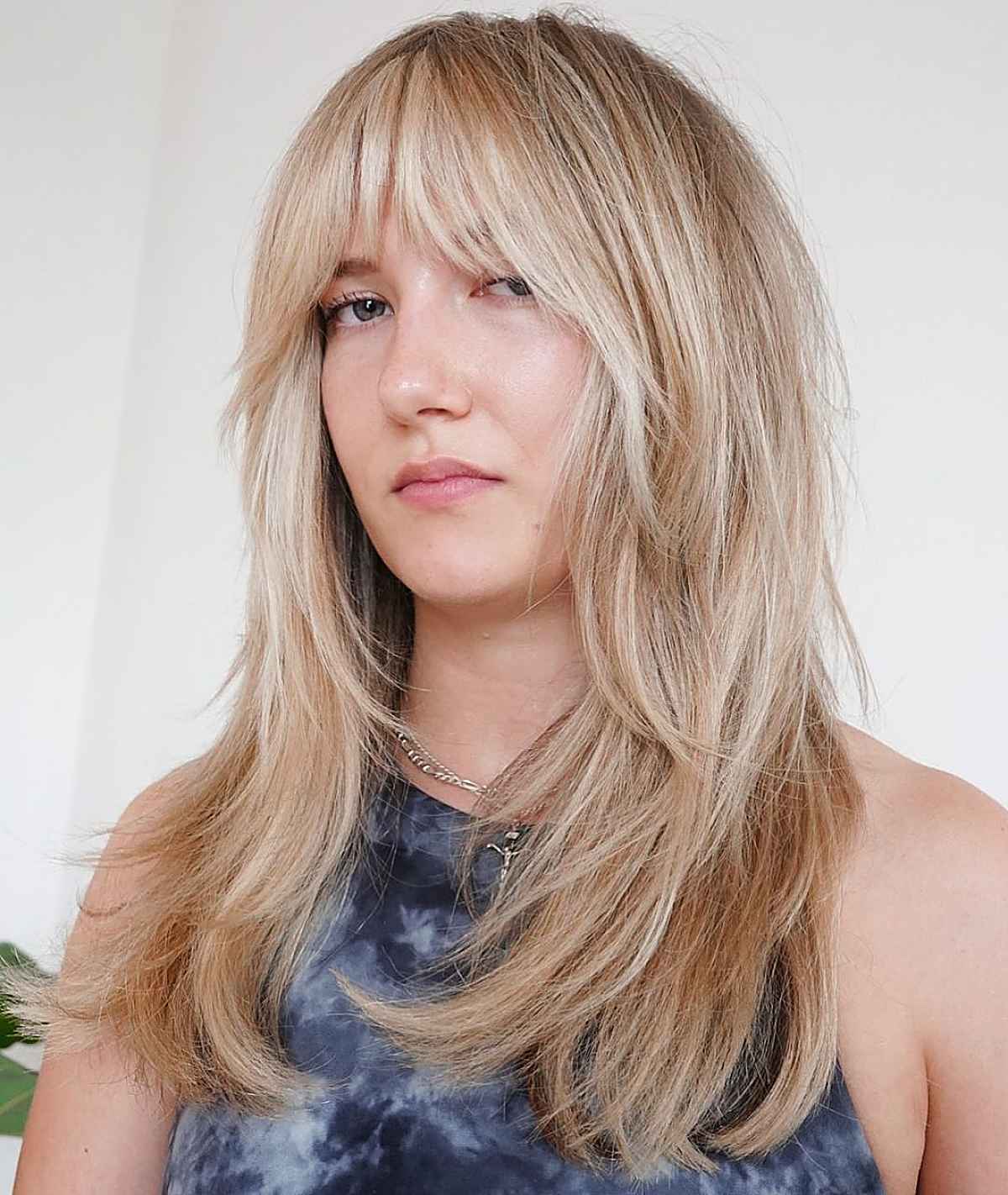 #44: Flattering Shaggy Hair for a Round Face
A long shaggy bob for a round face is for the girl that needs low maintenance but wants style. And the cut works great for a round face shape. To style medium-length shag haircuts like this, blow dry using a vent brush and put in a couple of loose waves. The best way to achieve a messy wave is to curl only the middle and leave your ends straight. Sometimes will curl in the middle and use a flat iron to straighten the ends for a more messy, textured effect.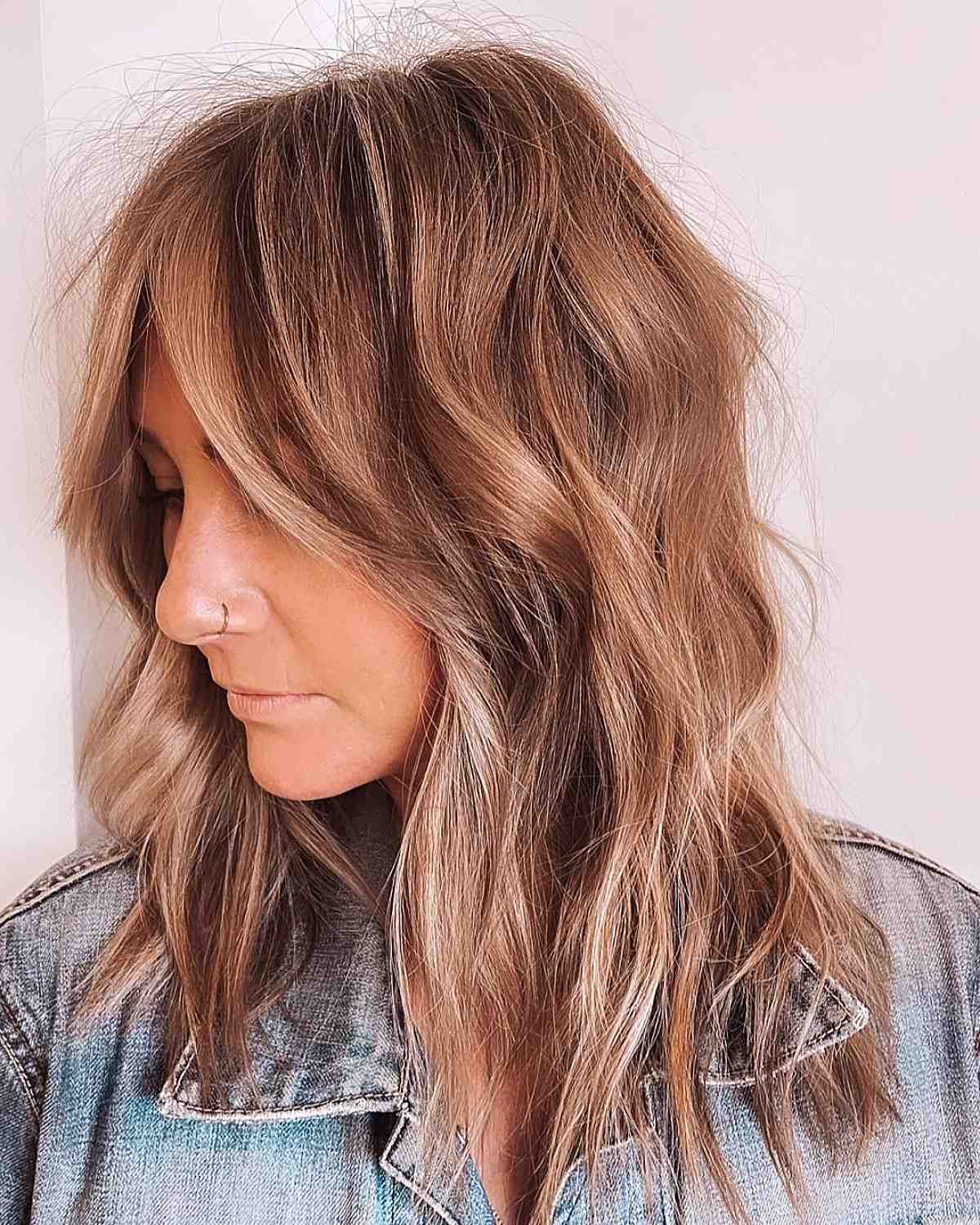 #45: Middle Part Mid-Length Wavy Modern Shag
This mid-length wavy modern shag hairstyle is super trendy. Healthy hair, patience, products, and consultation with your stylists is the best thing you can do. The modern shag haircut in this picture has lots of texture and movement in the front while keeping the layers in the back a little bit longer. The great thing about this look is that once your hair starts getting longer, the color will still look great because of the dimension. The maintenance on this look is low.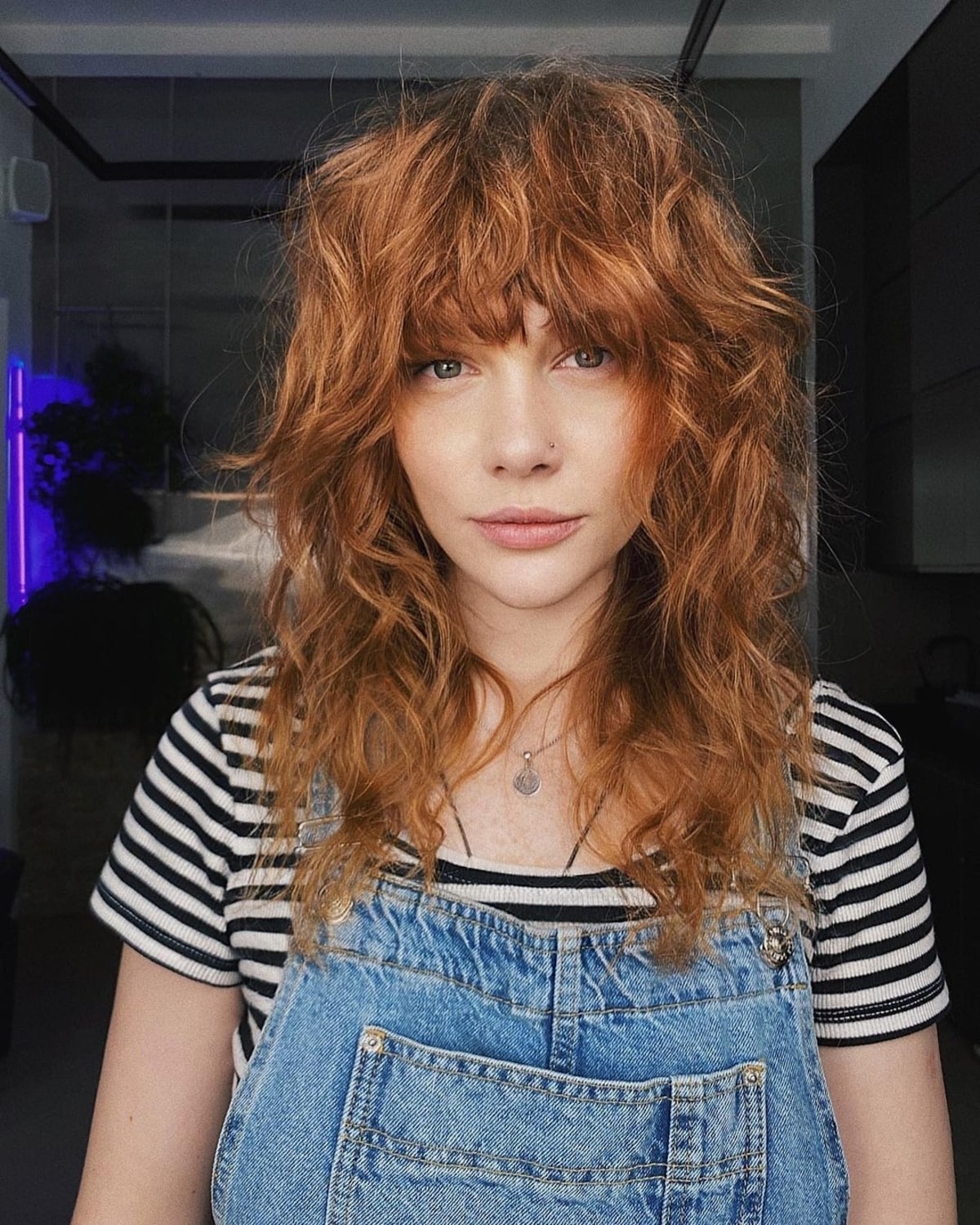 #46: Messy Shag with Short Layers and Bangs
A messy shag with short layers and bangs is ideal for women with curly or wavy hair. They can rock shaggy layers with thick bangs to accent delicate features. A mousse-like MacGyver from Evo can help accentuate the waves as well as texture.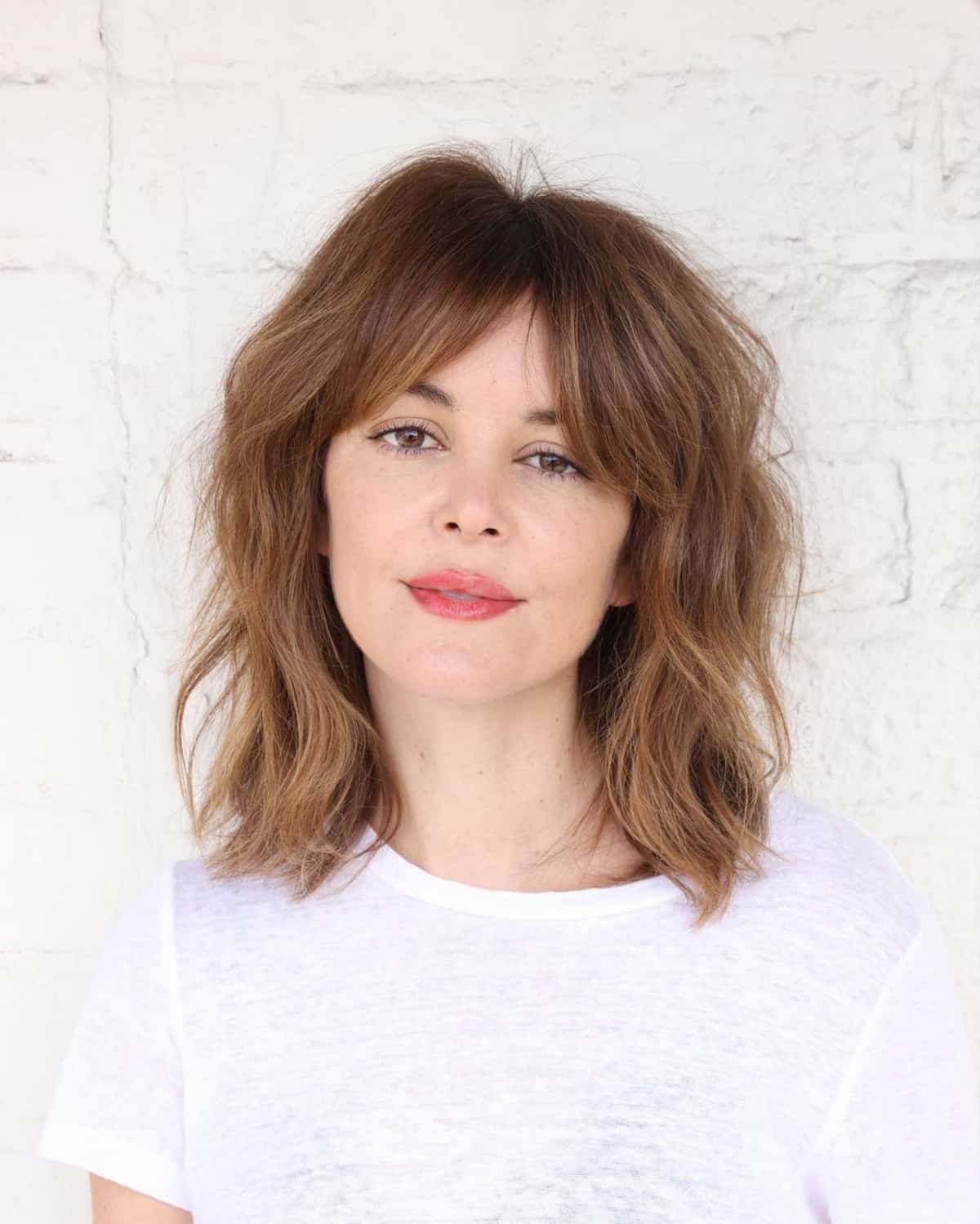 #47: Modern-Day Mid-Length Shag Cut
The mid-length shag is a modern-day beachy look with textured shag-like layers and a textured fringe. The length itself is slightly cut from short to long with some disconnection in the front, leaving the two front corners looking longer," she adds. considering this cut should know that it does take styling and product to achieve the beachy curl look. Having a fringe also requires maintenance such as a frequent bang trim and styling in the morning. But, the coolest thing about this look is that it is versatile. It can be polished or messy and once styled, and with each day thereafter of unwashed hair, it only gets better! If worn straight, this look goes for more of a shaggy textured feel.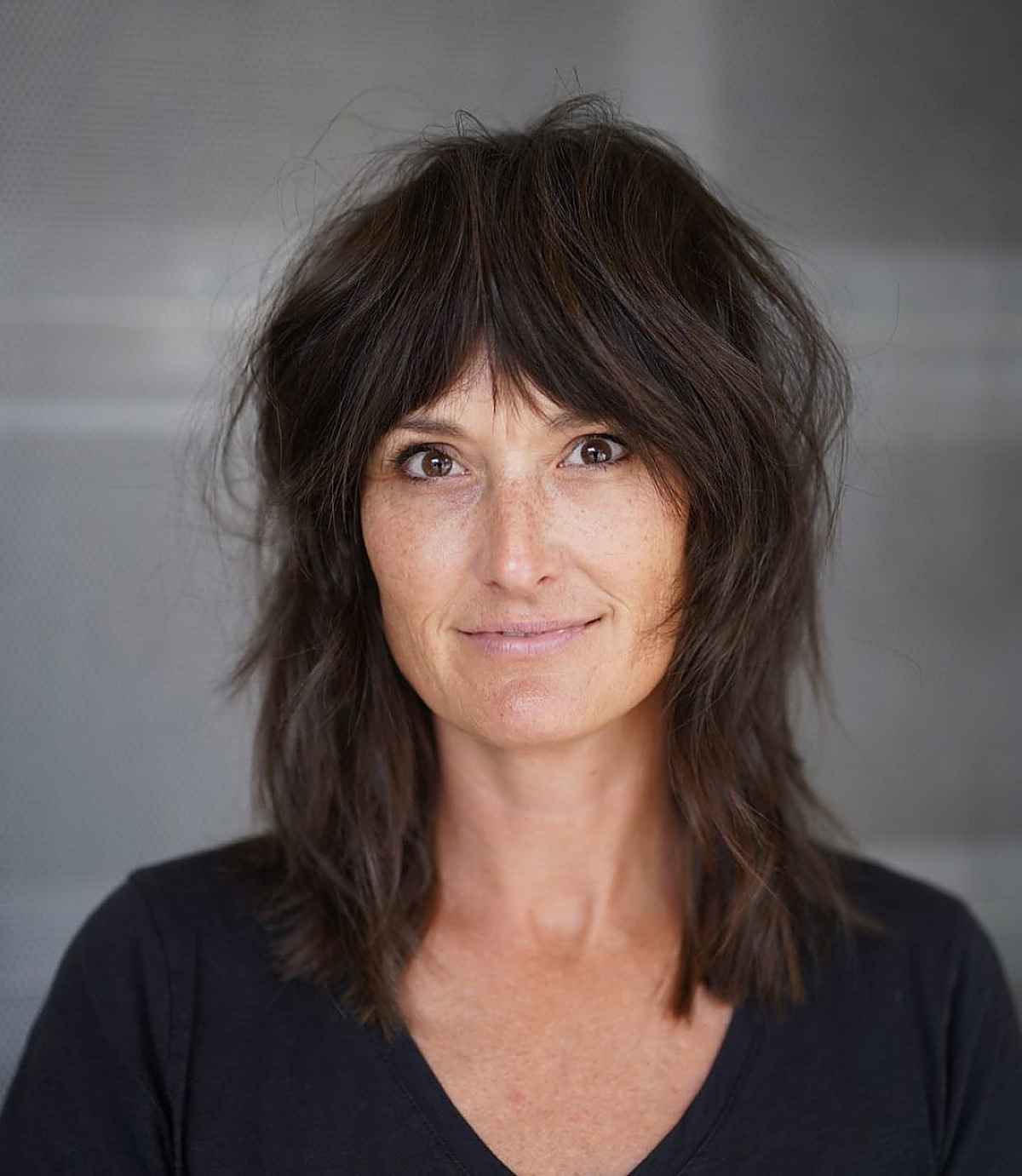 #48: Soft Shaggy Layers with Movement
Opt for soft shaggy layers with a lot of movement. All shags have wearability. They grow out still looking gorgeous and they also give people that extra volume in the crown and around their face that they are always looking for. Medium shag haircuts are great for all different face types. Ask your stylist to adjust the length of the layers and add a fringe if desired. It is also super easy to style. Just add some sea salt spray and you're good to go! This look is perfect for women who want a stylish look but also want to stay low-maintenance.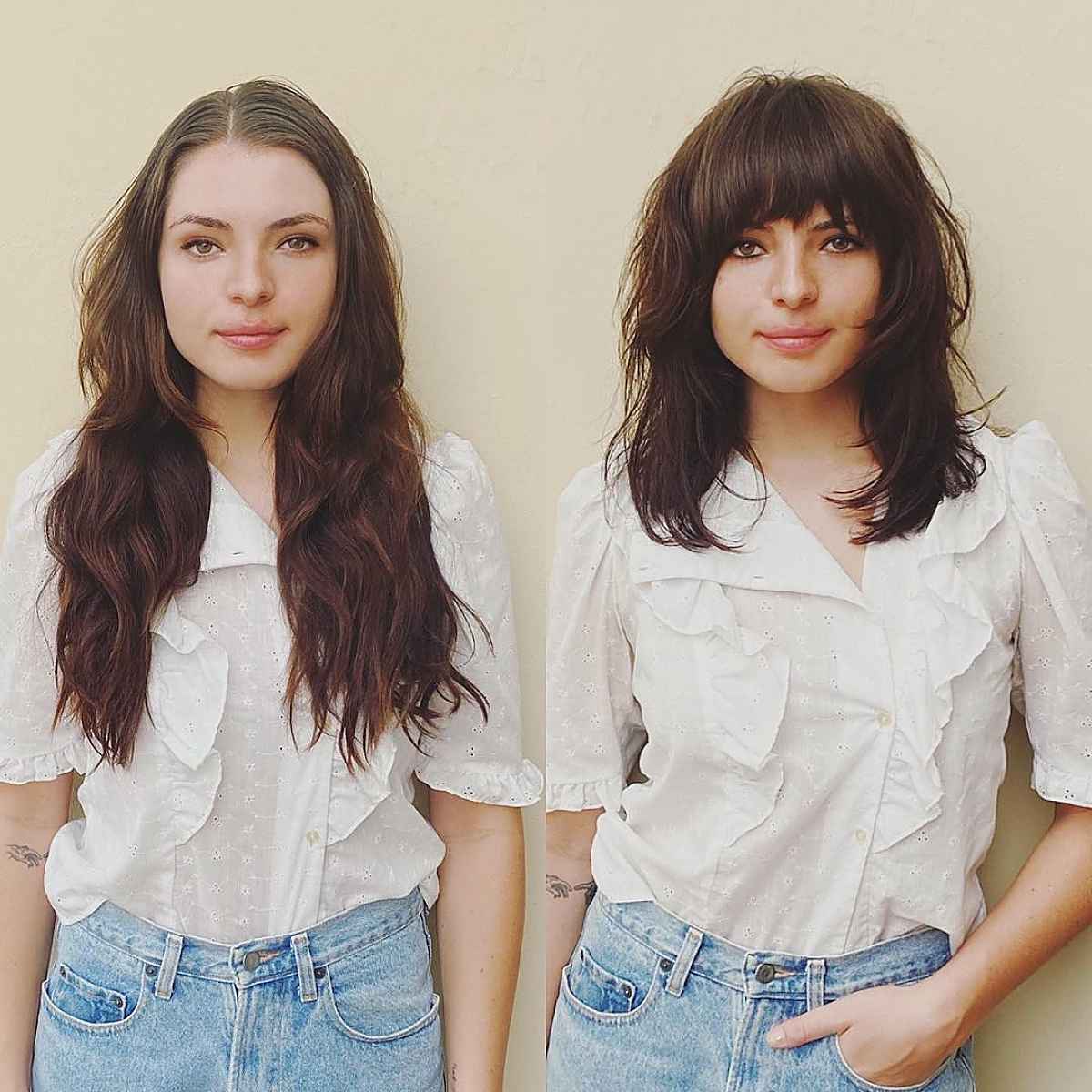 #49: Effortless Textured Shag Haircut
This effortless textured shag is all about wearable texture. The longer, shaggy fringe has low-commitment, low-maintenance wearability that's perfect for anyone wanting to dabble with a fringe. It's a soft take on the shag by adding a strong perimeter and loose, shaggy surface layers and a shattered face frame. It's also perfect for those who have grown out a bob but want to change the shape as it continues to grow long. This is also perfect for those wanting a medium-length cut, but with a completely different and versatile shape. This cut works for any texture as it is an effortless-looking style. You can alter the fringe to be more Brigitte Bardot-inspired, or even longer like in this image.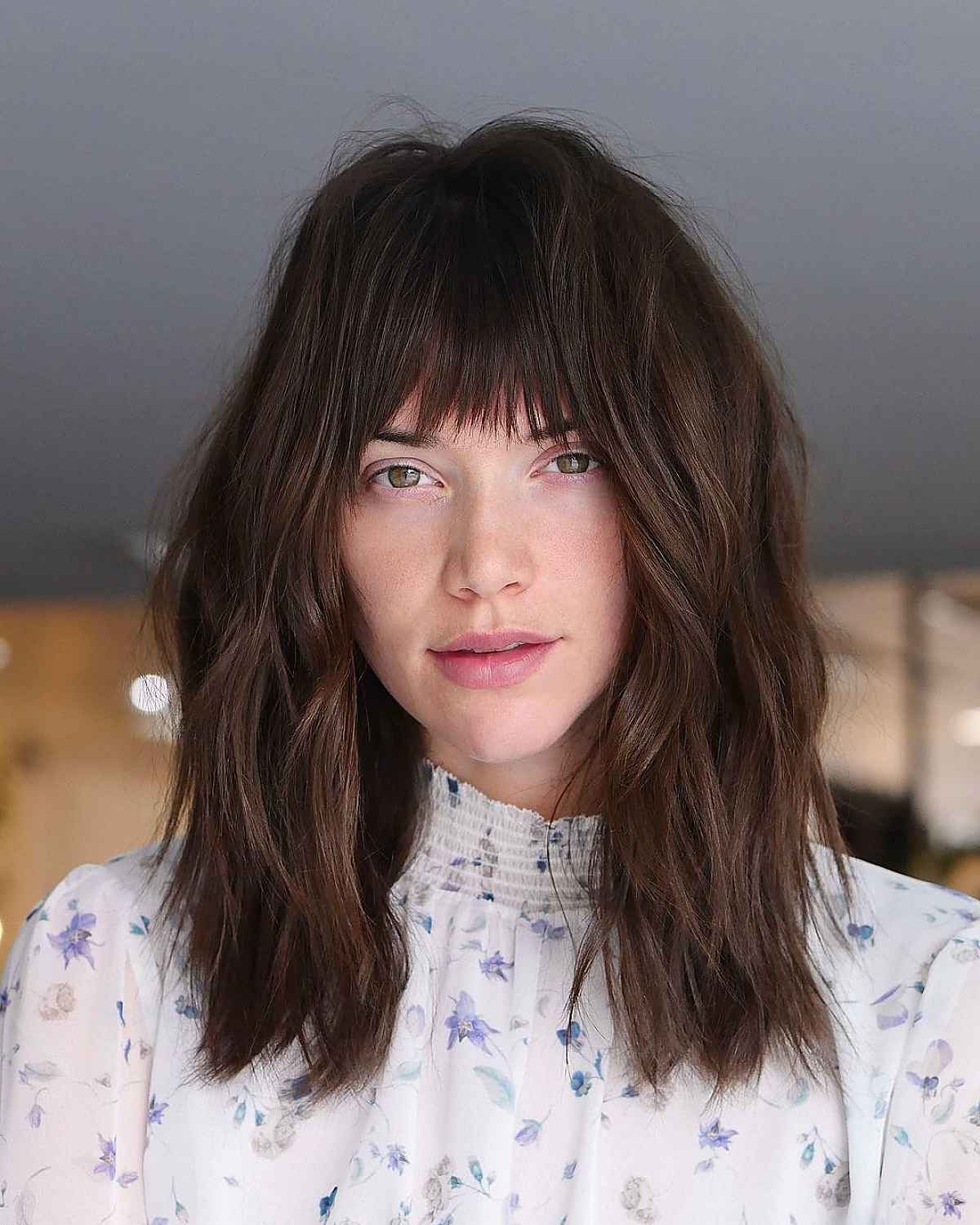 #50: Modern Chocolate Brown Shag for Thick Hair
This modern brown shag has layers that are more fluid and less defined and the overall look is less mullet-like. It has a rich color that suits most skin tones. A shag look is very different curled versus straight. It can be tailored to different face shapes, so there really isn't anyone that can't have this cut. It's a little hard to put into a ponytail with all the face-framing layers, so women that need their brown hair out of their face might not want to go this shaggy.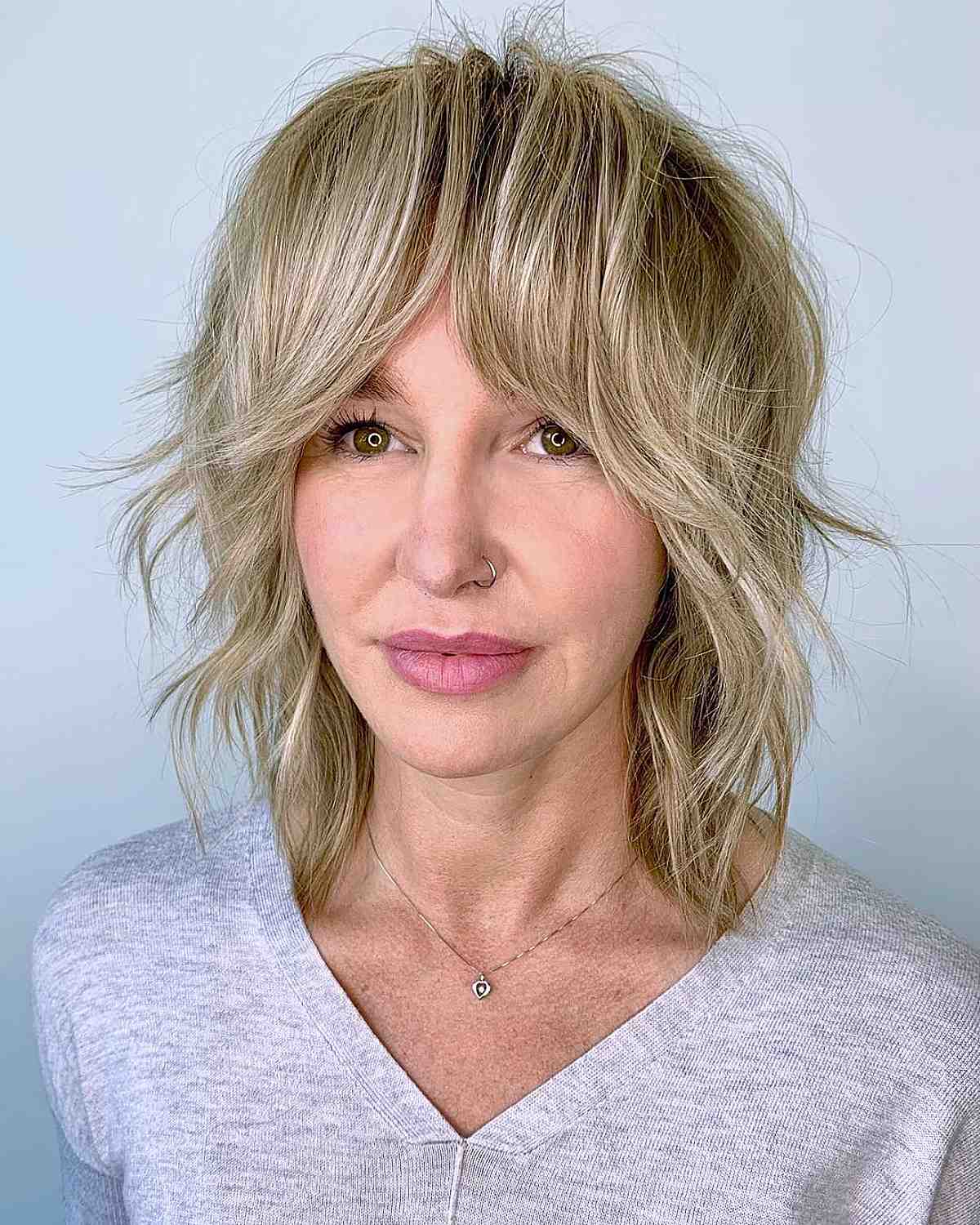 #51: Medium Layered Shag with Blonde Highlights
This medium layered shag haircut with blonde highlights is fun, playful, and easy to wear. The color works well on ladies with a neutral or warm skin tone. Shorter layers benefit shoulder-length shaggy hairstyles for fine hair like this, creating natural-looking volume and texture. You could wear this cut softer as a wash and wear, or piece it out using a product. Lanza Healing Hair Plumper and Lanza Healing Brilliant Texture are recommended.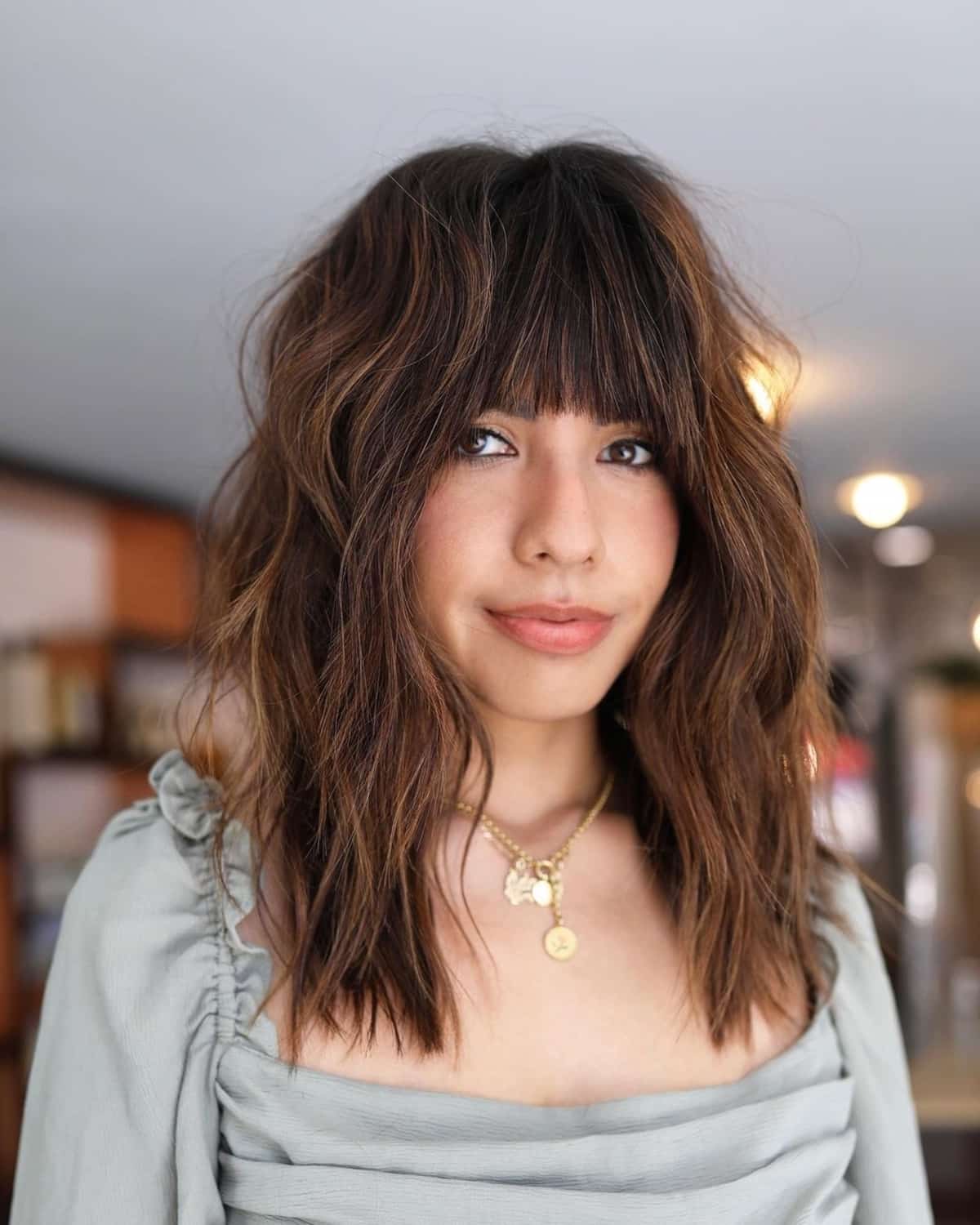 #52: Piecey Shag for an Oval Face Shape
This piecey medium shag for oval face shapes was created and styled by hair artist Hiro of Los Angeles, CA. The layering in this cut adds a softness that works well on all face shapes. "The length of the cut shown here is great for a round or oval face shape. For someone with a longer face shape, make the cut a bit shorter." The best thing about this shaggy look is that it's meant to look undone and effortless, therefore it's perfect for ladies with wavy/curly hair if they want to air dry and go, or the straight-haired gal that doesn't mind rough drying and adding a little bend and texture with a curling iron. Layering your hair does remove weight, so I would not recommend this cut for someone with fine hair.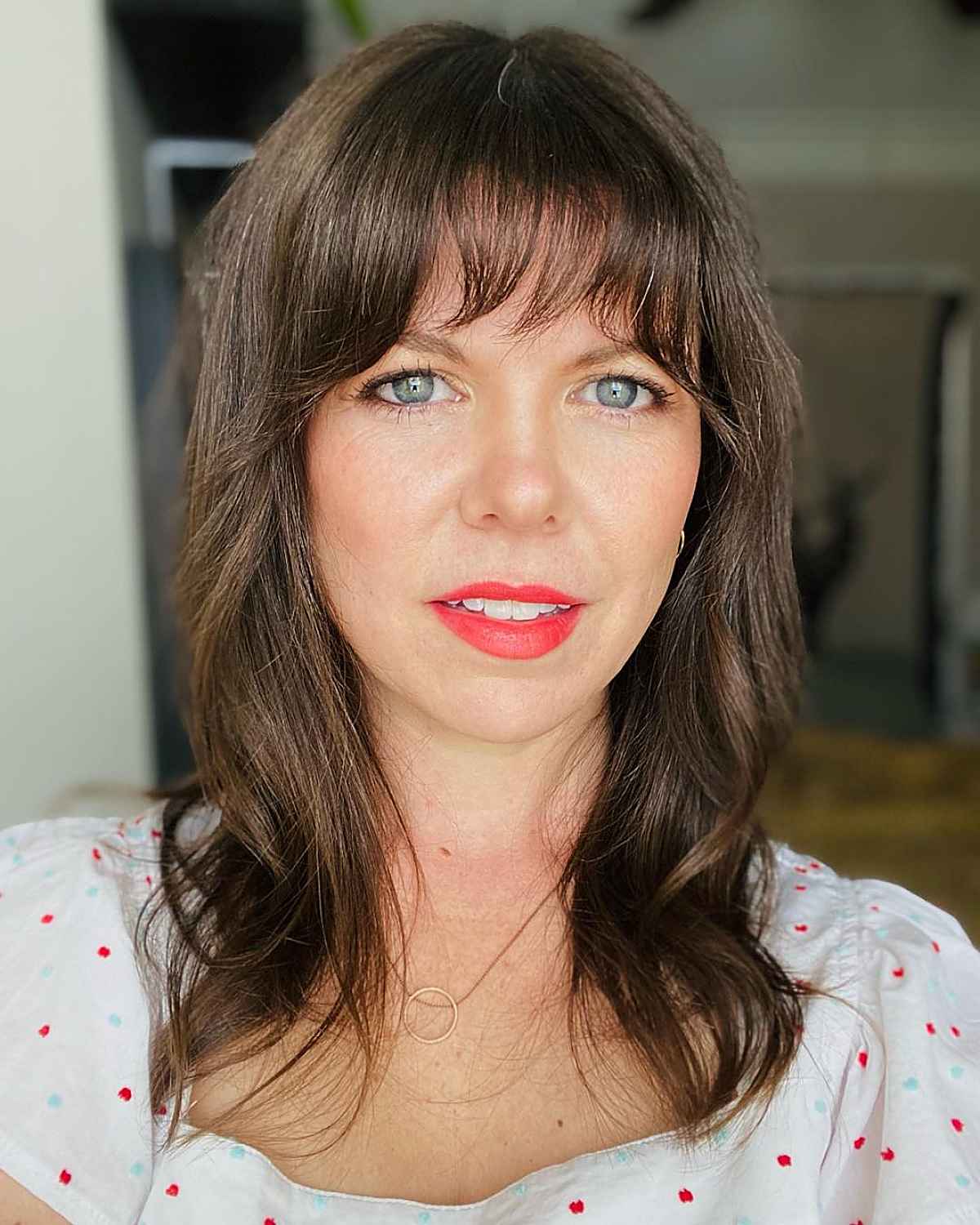 #53: Chic Shag with Wispy Bangs and Shaggy Layers
This hairstyle is full of textured long layers that add volume and movement, while the ends of the hair are point cut to appear more choppy and not too uniform. To recreate medium shaggy haircuts, start by using Redken's Beach Envy Volume Texturizing shampoo and conditioner. Apply Pureology's Color Fanatic to your hair while damp to detangle and protect from heat. Style the fringe first as desired, then blowdry using a large round brush for maximum volume in the crown area. Lightly mist Redken's Fashion Waves on your hair once it's blow-dried to help create texture while styling. Use a 1 1/2-inch curling iron to add waves, alternating directions in each section and leaving the ends of the hair out. Once your hair is all curled, run your fingers through the waves to create a messy bedhead look. Remember this is supposed to look effortless and undone! Finish the style using Redken's Fashion Work #12 hairspray for a light hold.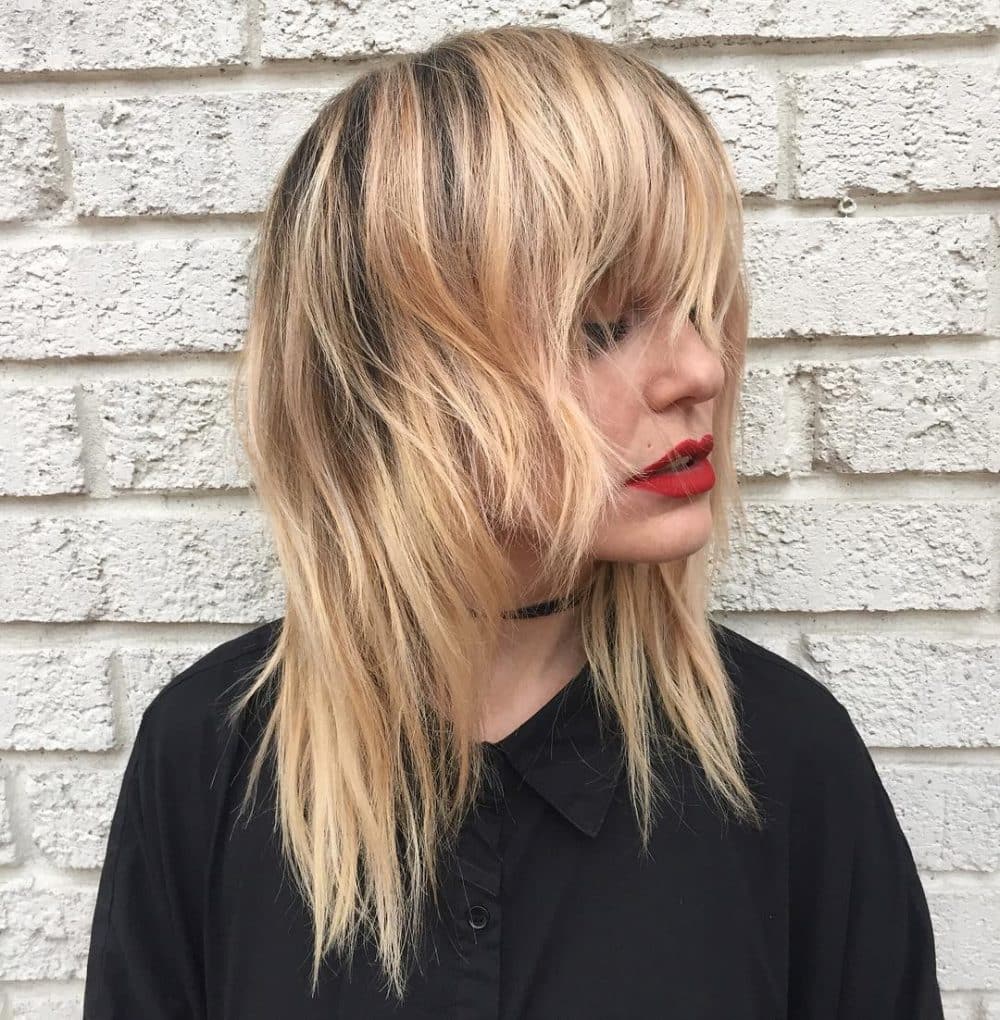 #54: Collarbone-Length Straight Shag Cut with Rooted Blonde
"I would describe this look as a shaggy rooted blonde," says style creator Caleigh Giarra of Nashville, TN. "I love to keep some depth in a bright blonde shag, so doing a little shadow root is a go-to for me." For styling medium shag cuts like this, Giarra recommends, "texture spray, and/or a matte pomade. The products in particular that I used to style this look were Kevin Murphy's Bedroom.Hair texture spray and Nightrider pomade." "I would recommend this style for someone with medium to thick hair, as it wouldn't create an issue to take heavy sections for bangs/shorter layers," she explains.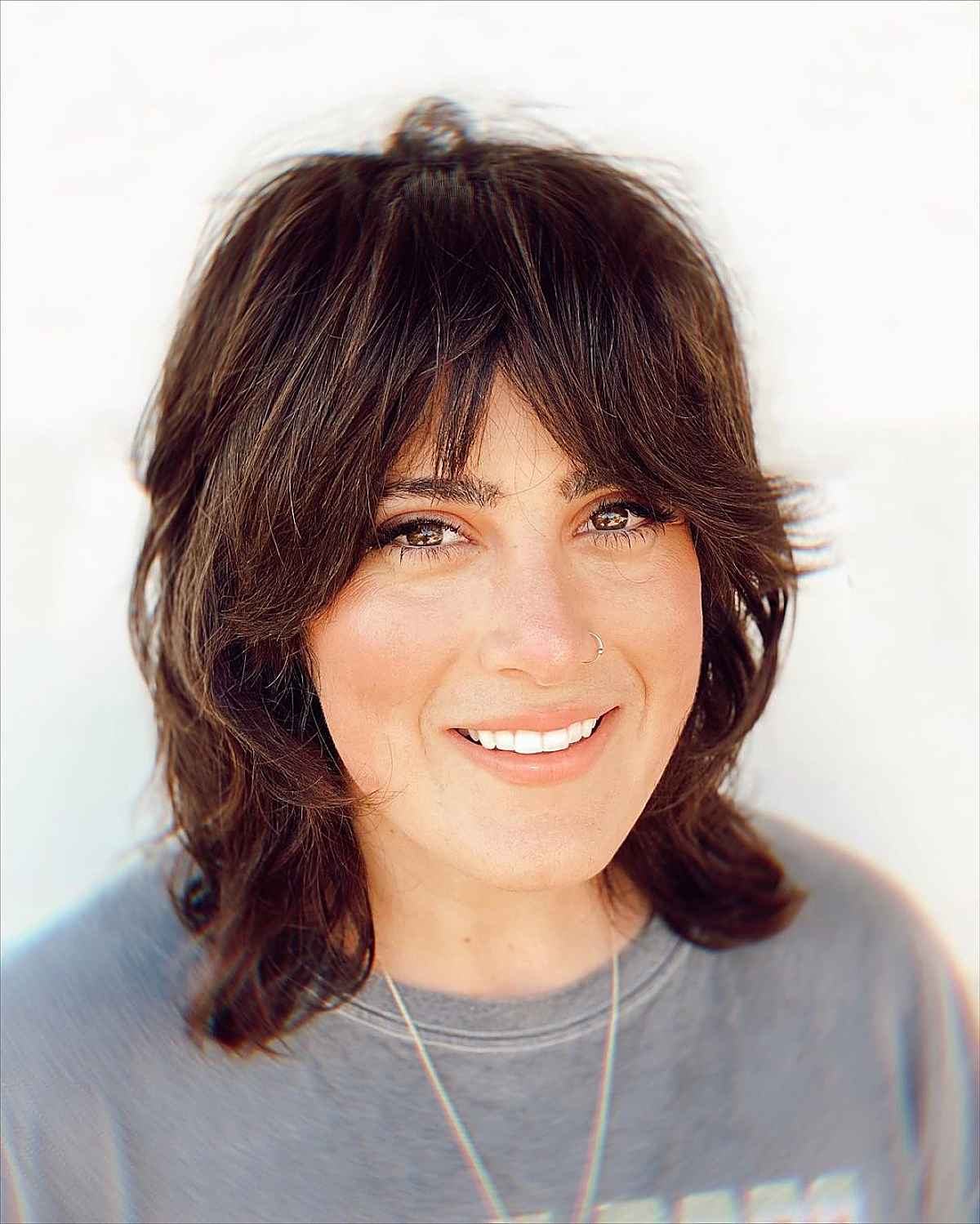 #55: Face-Framing Shag for Straight Hair
A face-framing shag on straight hair is the chameleon of medium-length shag haircuts, transitioning from work to play seamlessly while also being universally flattering. This low-maintenance haircut always looks good. This beautiful cut is designed to show off natural hair texture and grow out short hair. It exudes effortless style and edge with its face-framing fringe and free-falling layers. It is made for those who seek a low-effort, high-style look. It's defined by its strong perimeter and free movement layers. For those with straight hair, this is a great option. With volume and texture-defining products, your hair will finally feel like it has some personality and doesn't have to just hang there anymore! For styling products, try R+Co hair care at the moment. Use Mannequin paste for the mid-lengths in towel-dried hair for texture. Badlands dry shampoo is a fantastic finisher, creating a big lift at the roots while combating dull, flat, and dirty hair. This cut is a great choice for most hair types. The shag releases weight from the interior with layers creating movement and volume while building weight around the face and creating a frame. Having this frame around the face creates the opportunity to tailor this cut to each individual face shape.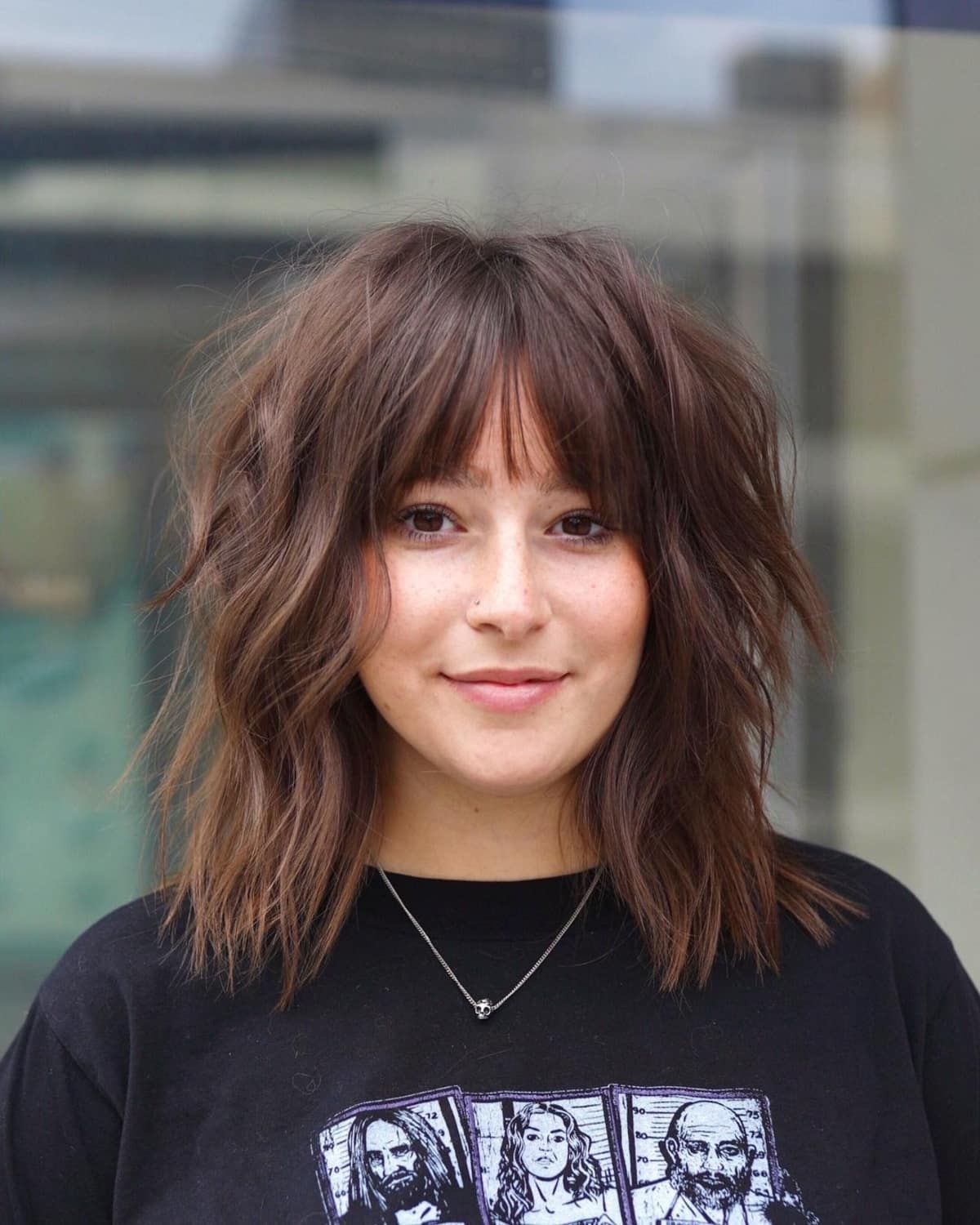 #56: Face-Contouring Shag with Bangs
Medium shag haircuts can look gorgeous with bangs. Whether they are wispy or curtain, short or long, they tend to pair nicely. A face-contouring shag with bangs will look stunning on heart-shaped faces. A mid-length shag haircut with feathered layers that feather down creates fullness all over and can be worn straight or curly. This is cute even when it grows out into long hair and when that happens, check out these awesome long shag haircuts.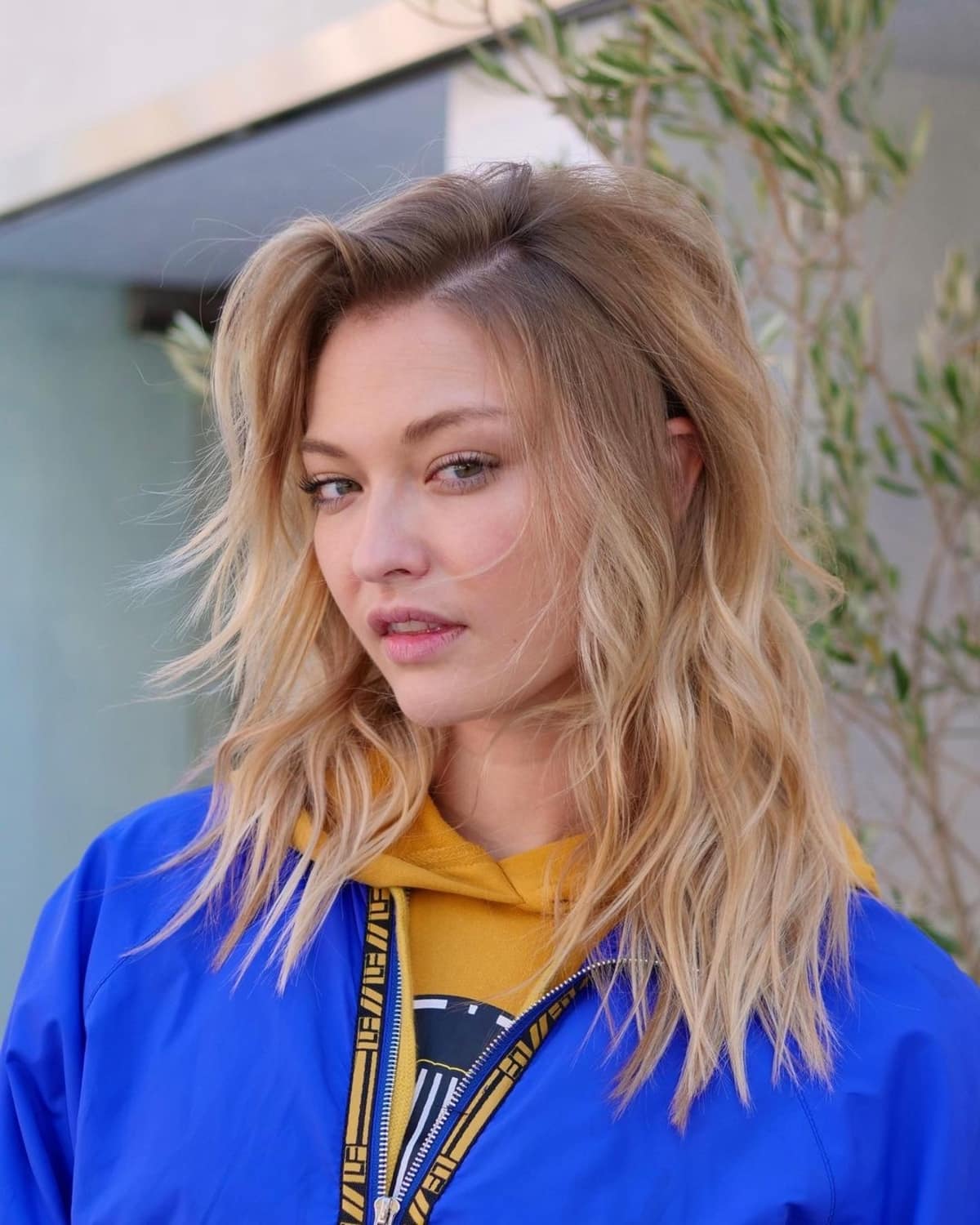 #57: Shoulder-Length Shag Layered Cut
Shoulder-length shaggy layered hair can be styled in multiple ways. Side bangs would make a stunning addition. This blonde-colored shag combined with beach waves can be styled straight or curly with a little bit of experience with a curling wand. Just make sure to add in a texturizing spray or finishing spray when styling this hair to get that extra grit.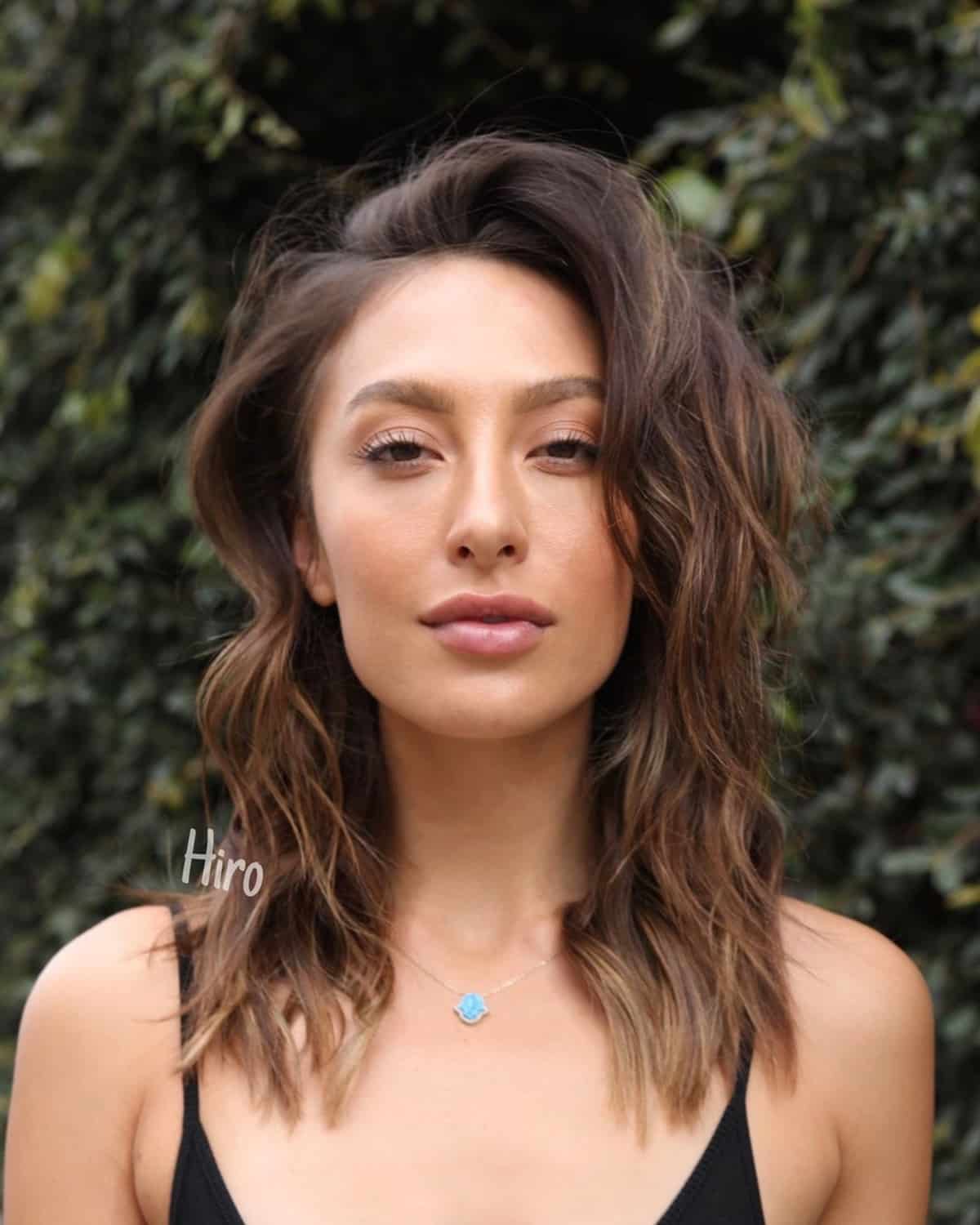 #58: Wispy Shag with a Deep Side Part
A wispy shag combined with a deep side part that's heavy on one side is ideal for women who like to go back and forth with their parting or they specifically always have a side part. This technique also adds height to the hair, so the root area doesn't look flat. Removing weight around the crown is necessary to achieve medium shaggy wispy haircuts, and so the shortest layer can move freely without it looking too blunt and creating a nice balance overall.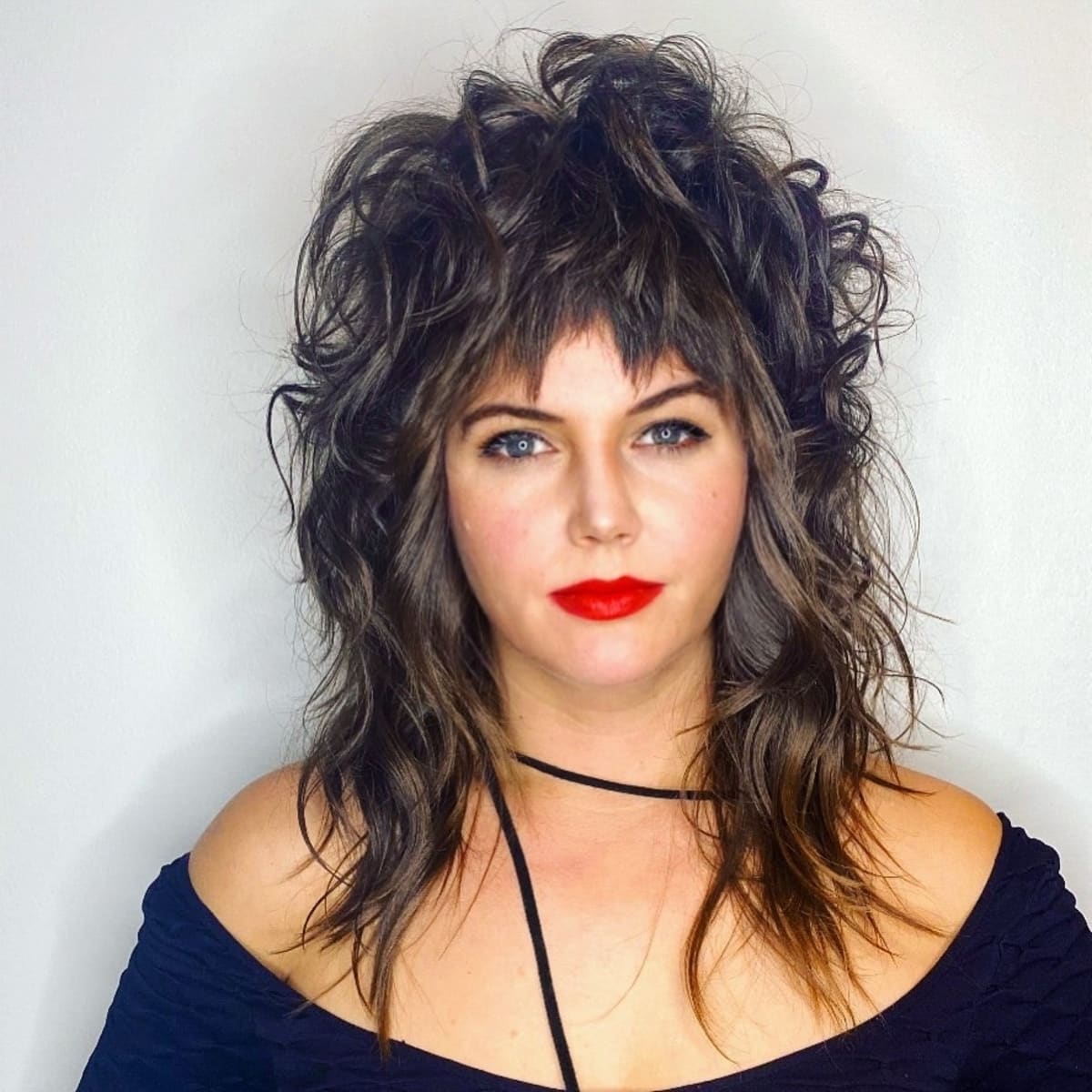 #59: Wild Shaggy Mid-Length Hair
A wild shaggy mid-length haircut that has a variety of layers gives a rockstar look. It matches a woman's strong attitude, for sure. A medium-length shag will help maintain your length and density while also adding lift.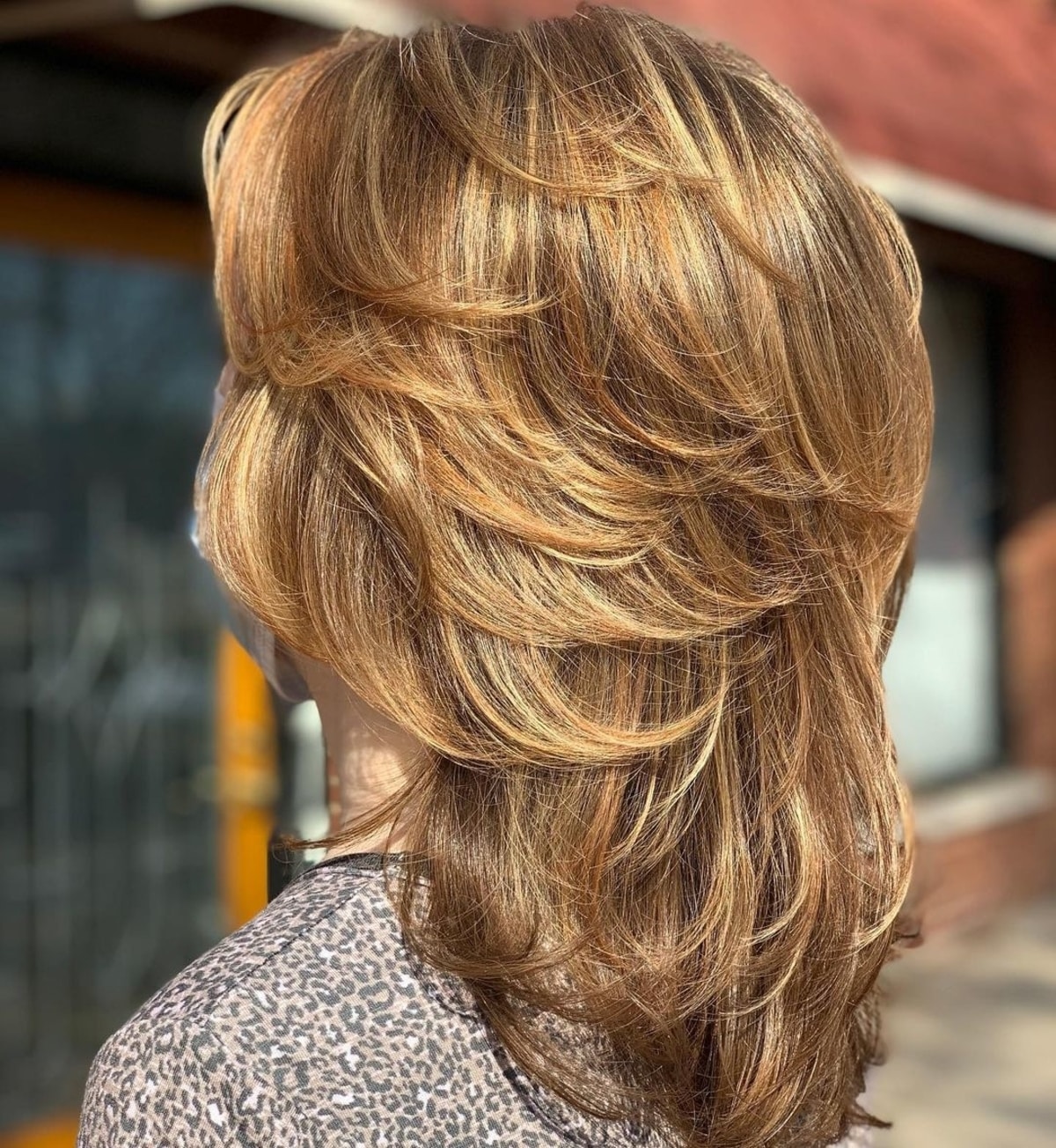 #60: The Feathered Shag
Achieve the feathered shag by point cutting and adding movement with texturizing. This shaggy haircut is shoulder-length with layering and was created by Illinois-based master stylist, Sharon McReynolds. "This feathered hair cut suits all face shapes and hair types, except naturally curly hair," says McReynolds. "The shape gives an effortless and carefree vibe, ideal for women who want a messy style."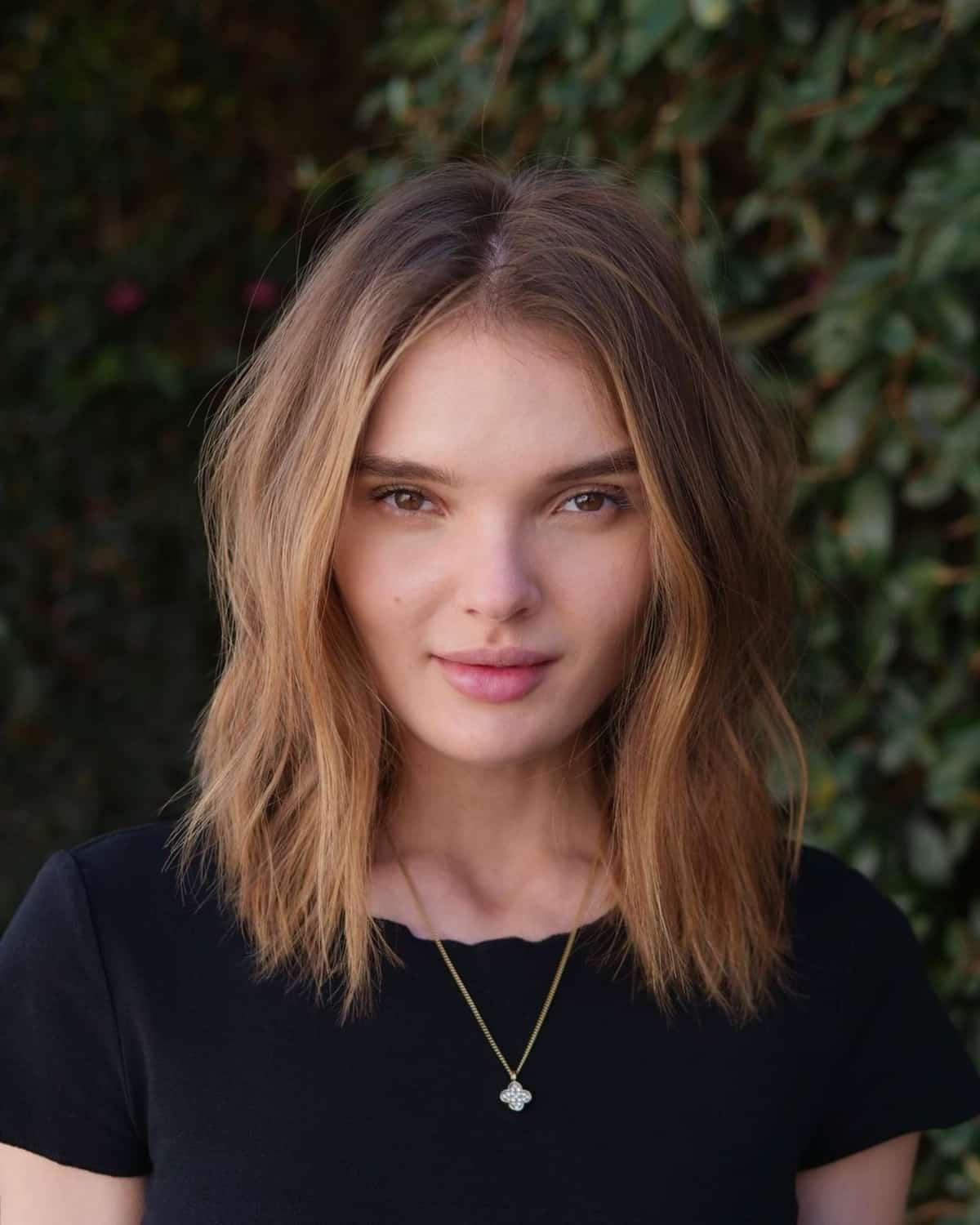 #61: Collarbone-Length Shag
For a modern collarbone-length shag to meet its full potential, a combination of choppy ends and added texture is a must. If you're wanting to cut your long hair, this length is perfect if you're scared of going too short. Styling medium shaggy haircuts are very versatile and can be worn curly, wavy, or straight.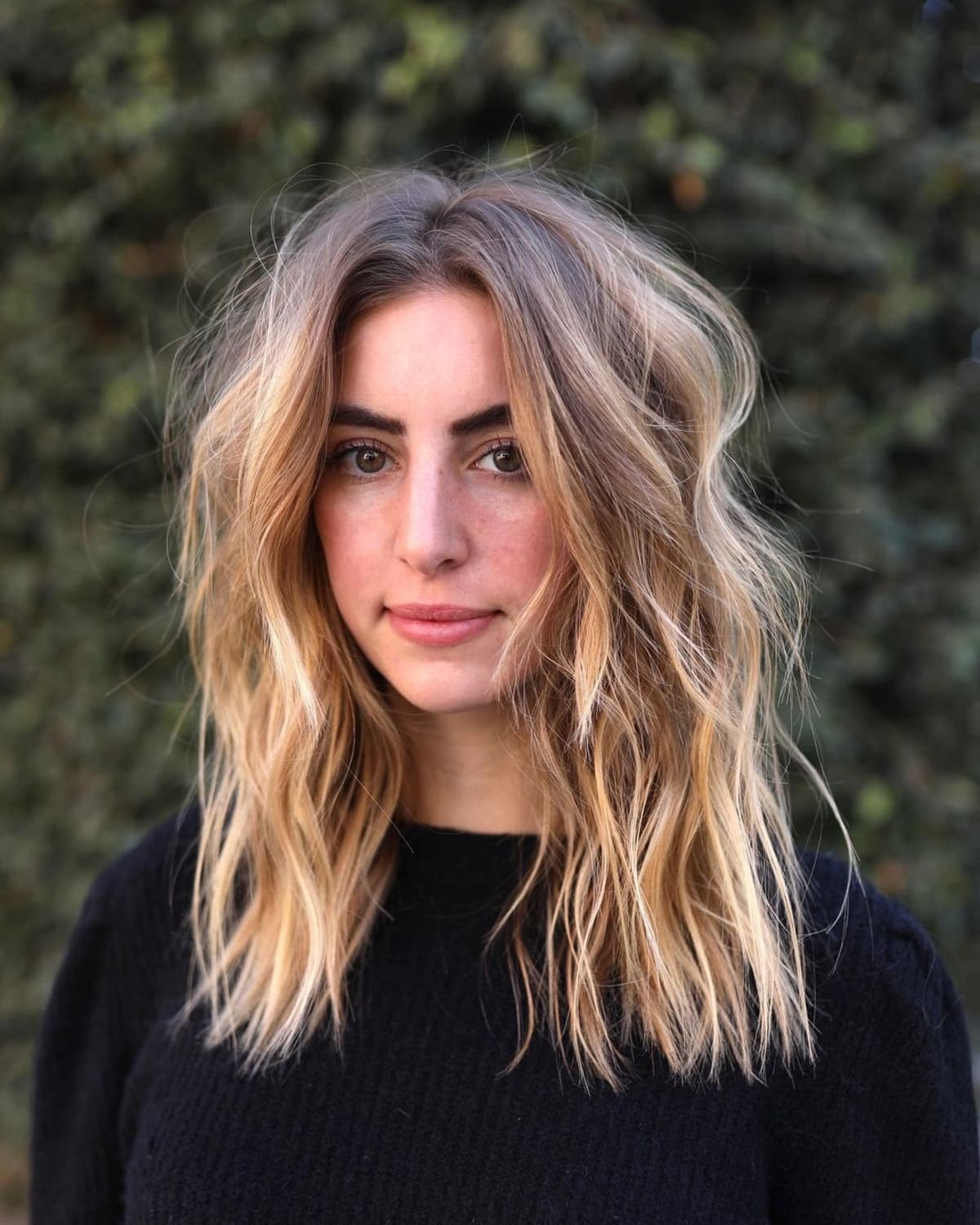 #62: Middle-Part Shag With Layers
A middle-part shag and layers allows for even volume all around. Short, shaggy layering is great for longer, medium-length hair, especially if styling wavy. If you're going for a beautiful celebrity look, this is it.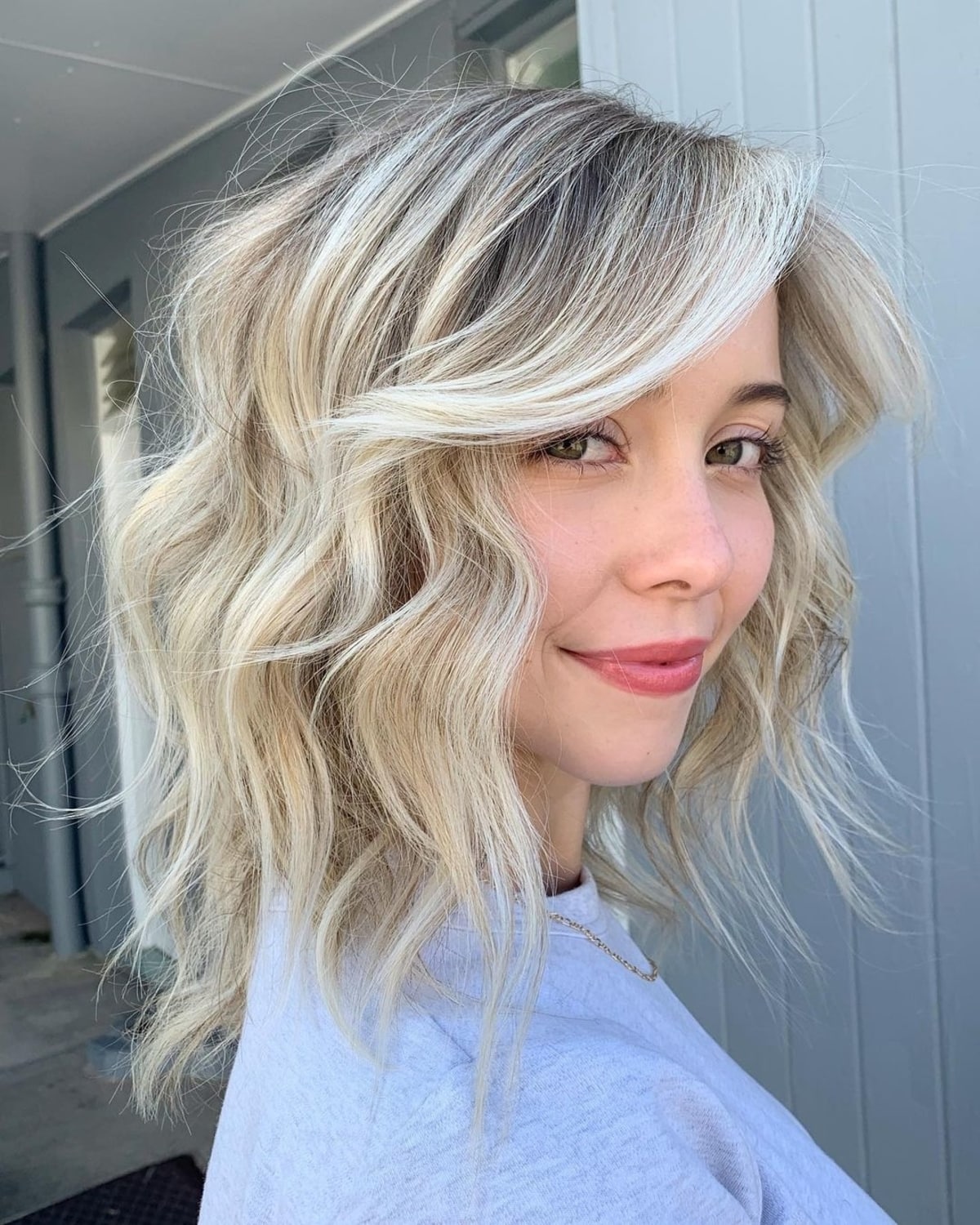 #63: Wavy Shag with Side-Swept Bangs
For women with fine and or thin hair, wavy medium shag haircuts with side-swept bangs will help bring fullness all throughout the hair. Especially if your hair is fine or thin. Side-swept bangs work if they are texturized softly at the end of the strands to create a soft bend. Try turning this into a wavy layered cut with a large barrel curling iron to show off movement.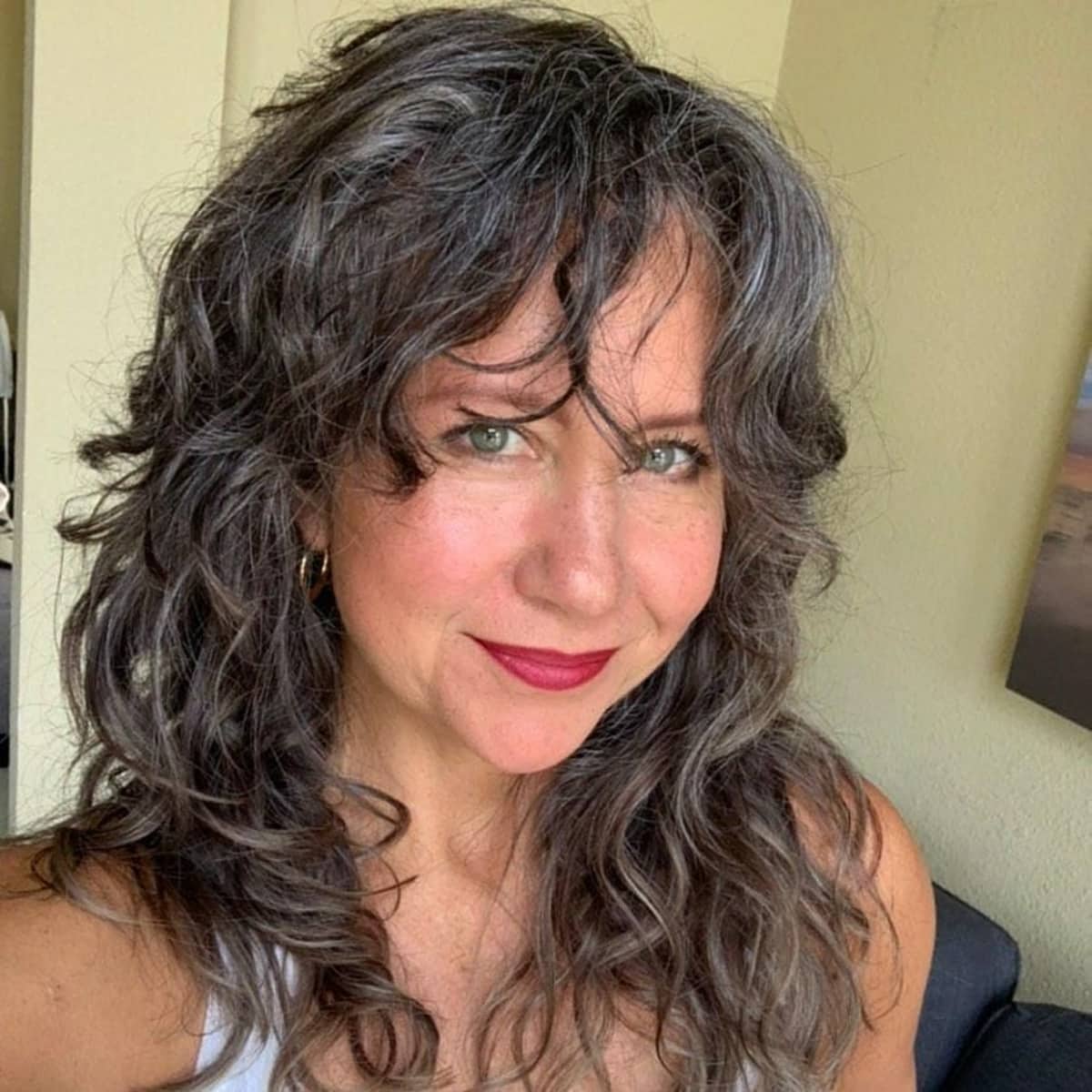 #64: A Fluffy Shaggy Bob for Women Over 60
Wear a medium shag bob for women over 60 to experience the ease of air-drying or reduced diffusing time. Texas-based expert hairstylist Terry Whiddon created this shag using an open curl system. "The basics of it are maximizing the use of convex and concave layers," hiddon explains. He goes on to say, "medium-length shag haircuts for ladies over 60 like this one are so versatile and low-maintenance. It can be as easy as washing hair with a conditioner plus a little curl product, then off you go."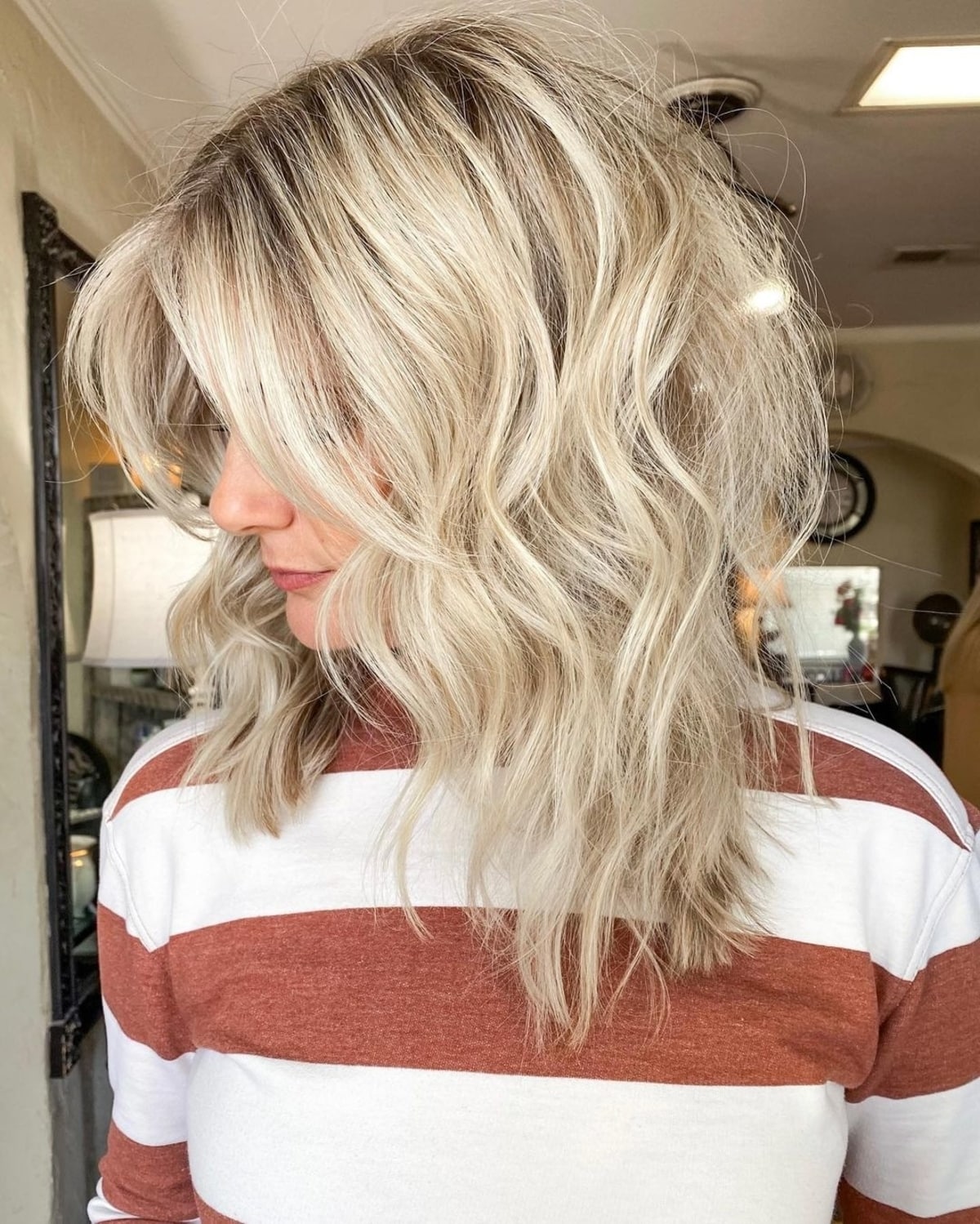 #65: Heavily Layered Shaggy Hair
Heavily layered are perfect for ladies with textured hair craving volume. Hairstyles with shaggy layers work best on medium hair. This is the beauty that the world has to witness!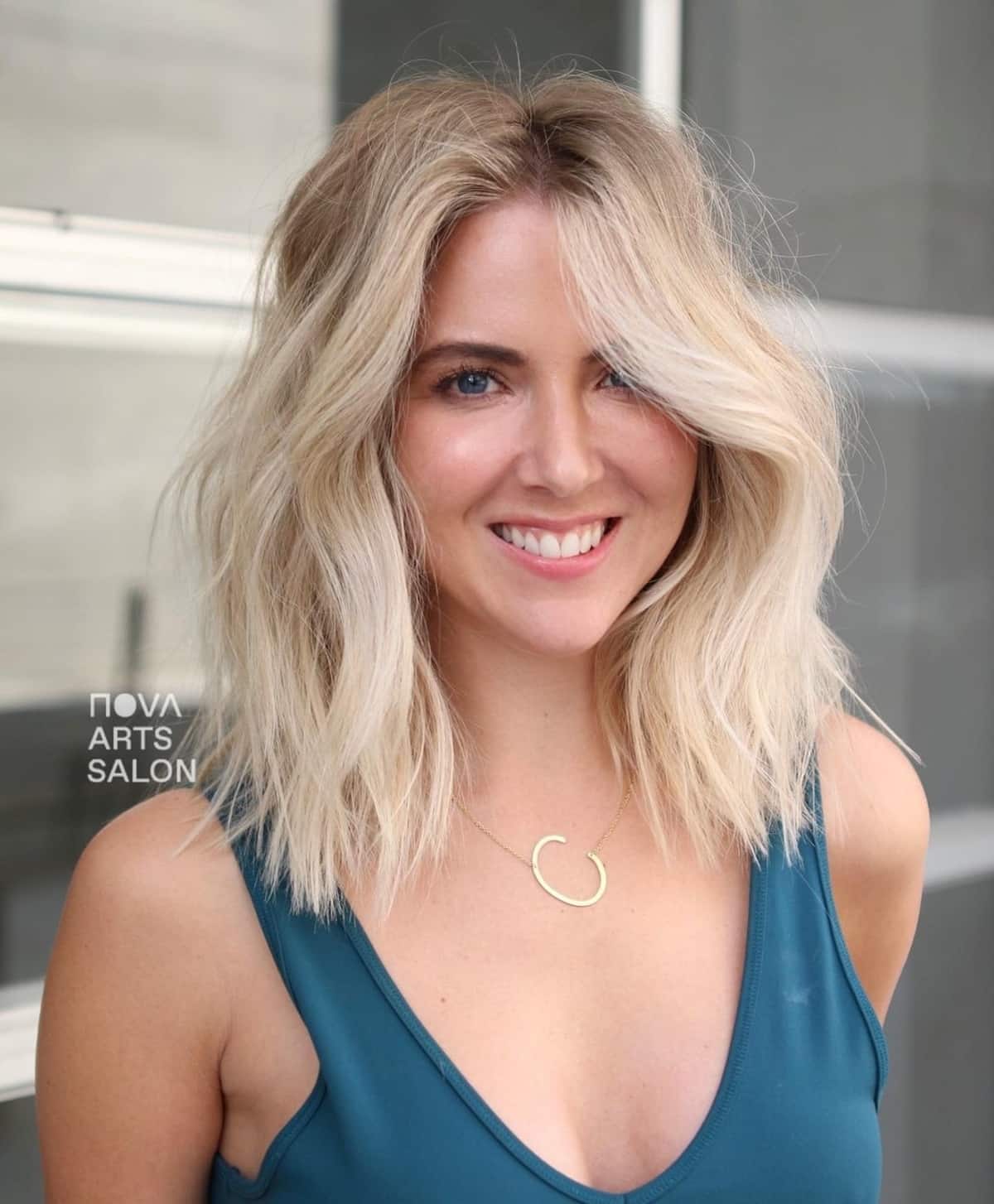 #66: Modern Blonde Shaggy Cut
Have a modern blonde shaggy cut to liven up flat, lifeless hair. A medium-length shag haircut has an abundance of layers that fill out flatter hair types. Finish off styling your layers with some dry shampoo to add extra texture.
#67: Androgynous Black Shag with Fringe
A full fringe adds great contrast to this lightly layered haircut, turning it into an androgynous Jane Fonda-inspired shag. Medium haircuts with shagged pieces work best on fine to medium hair density. The locks look fuller, especially with a black hair color.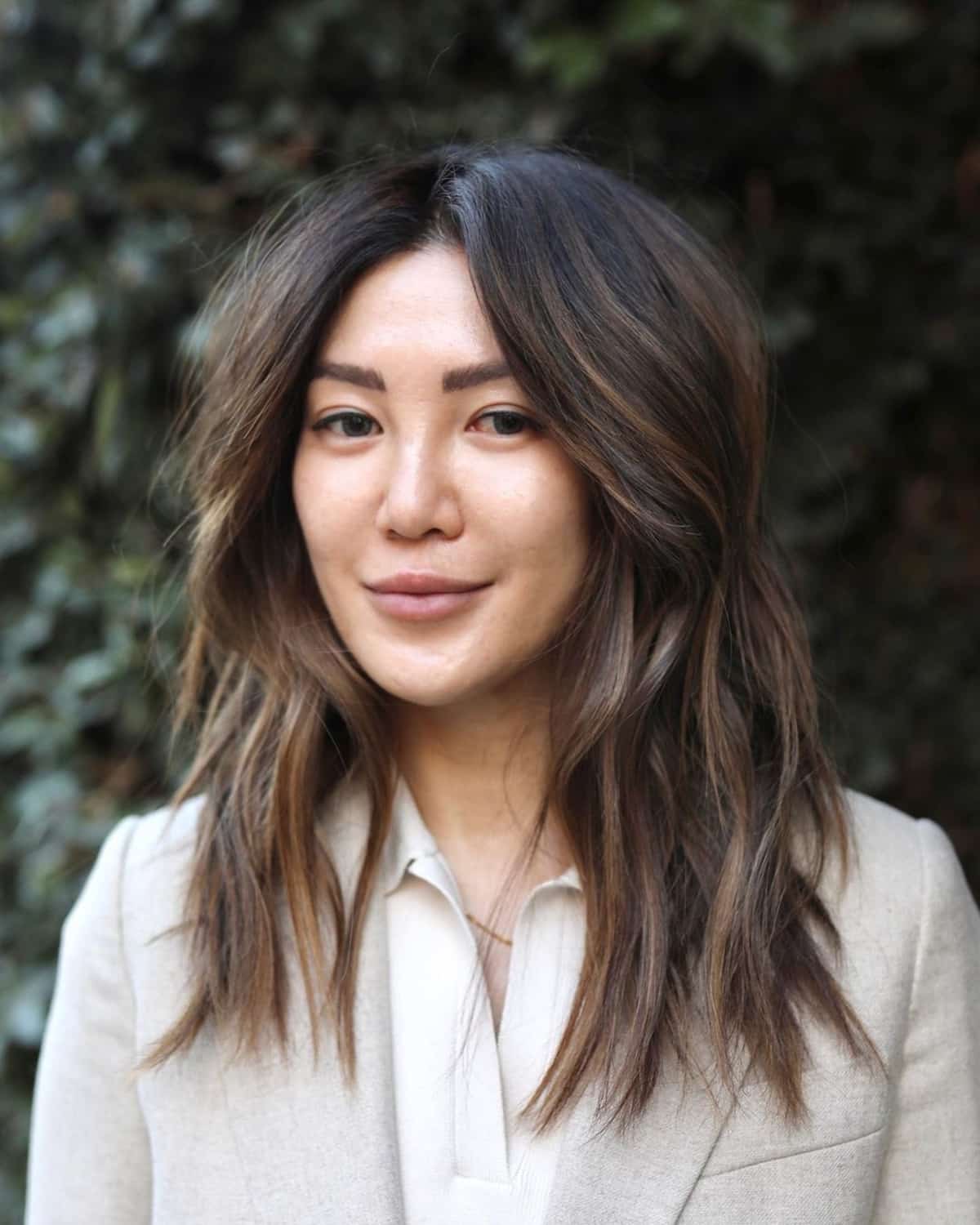 #68: Dark Shaggy Hairstyle with Highlights
Revamp your dark hair with a medium shaggy hairstyle with highlights and add texture and movement to your flat hair. Shaggy layers add width to your hair by bringing the shaping movement higher than normal layering techniques. Add some softly placed caramel blonde highlights to enhance the extra shape of your haircut and create more texture due to the multi-tonal effect.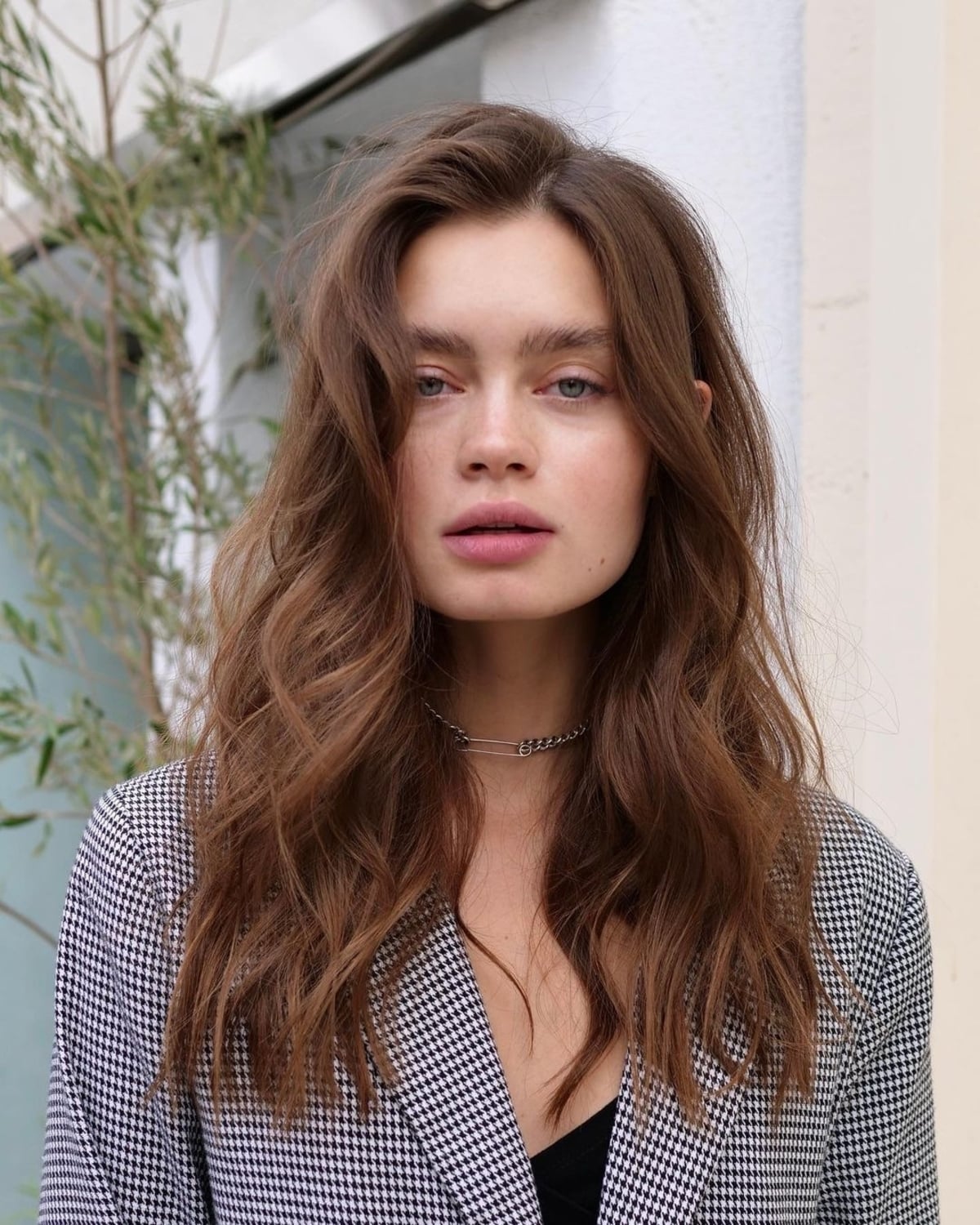 #69: The Perfect Shag for a Square Face
This is the perfect medium shag for a square face. A medium-length shag hair cut works best if the hair is already at a medium or longer length and works for thin and thick hair, and looks best worn curly or straight. This radical chic cut creates texture for easy and effortless styling.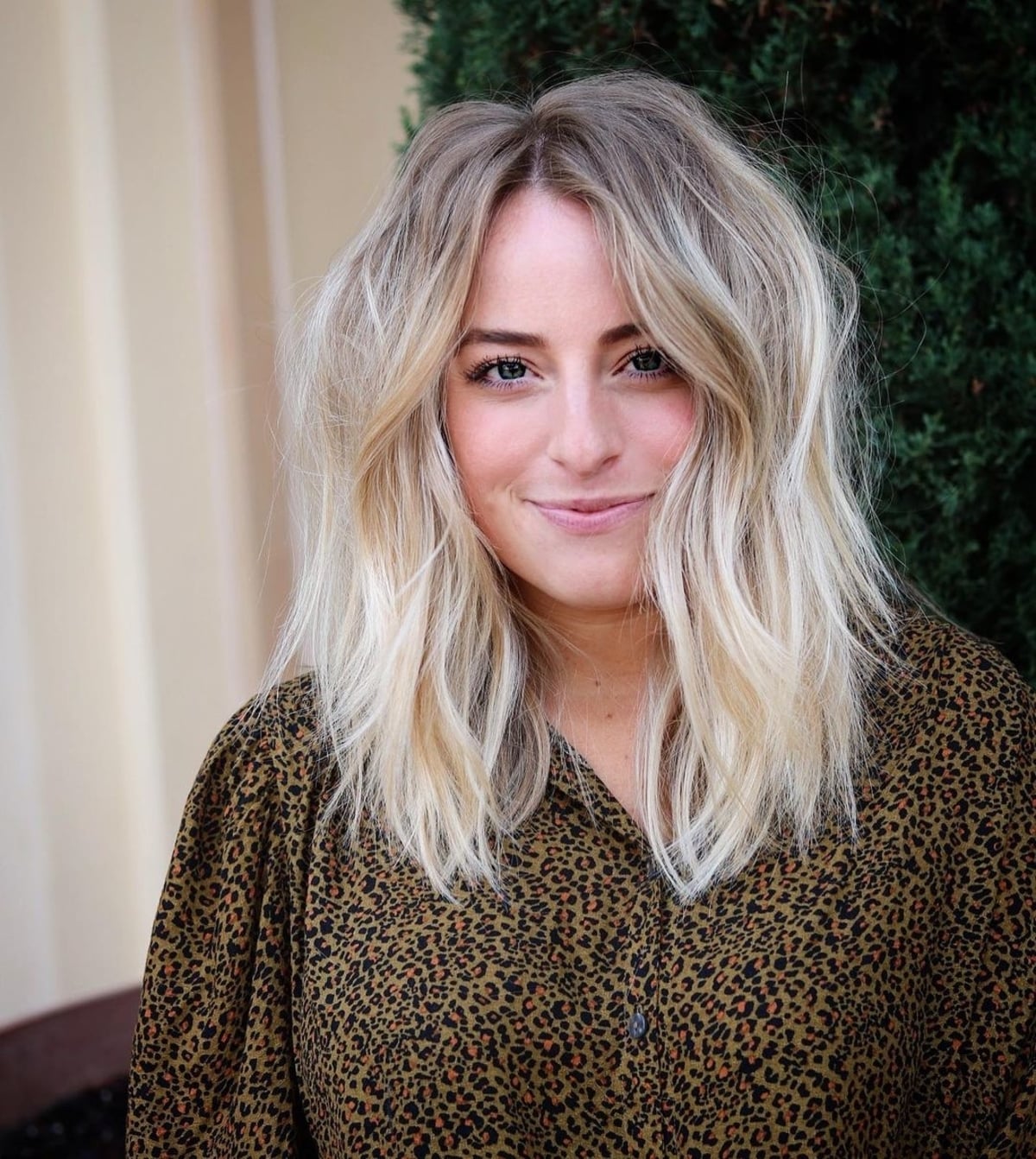 #70: Face-Framing Light Blonde Shag for Shoulder-Length Hair
A face-framing shag for shoulder-length hair is perfect for a smooth or wavy texture plus a light blonde shade. California-based stylist Elvis Pesqueira advises that this cut adds body to your locks. He notes, "This will definitely give you volume and separation." Pesqueira shares how he created this voluminous shaggy lob. "I started with the shorter pieces, then built out the face-frame. I used the face-frame as my guide to do the rest of the chop," he explained.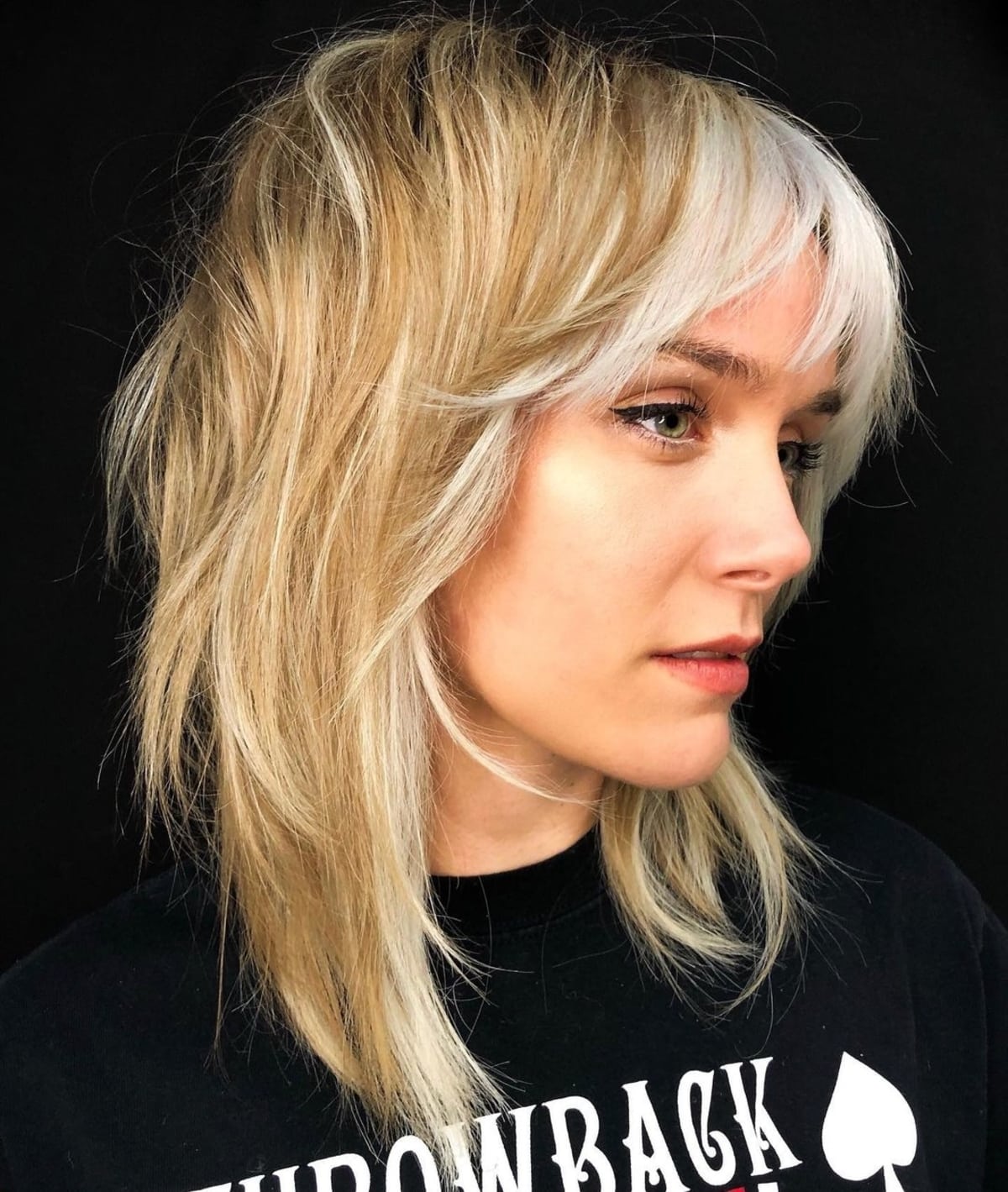 #71: Super Shaggy Layered Hair
A super shaggy layered haircut makes a retro style, allowing your locks to look fuller around the crown while maintaining length without losing volume. Adding in wispy bangs to medium shag hairstyles will help keep your shape all around.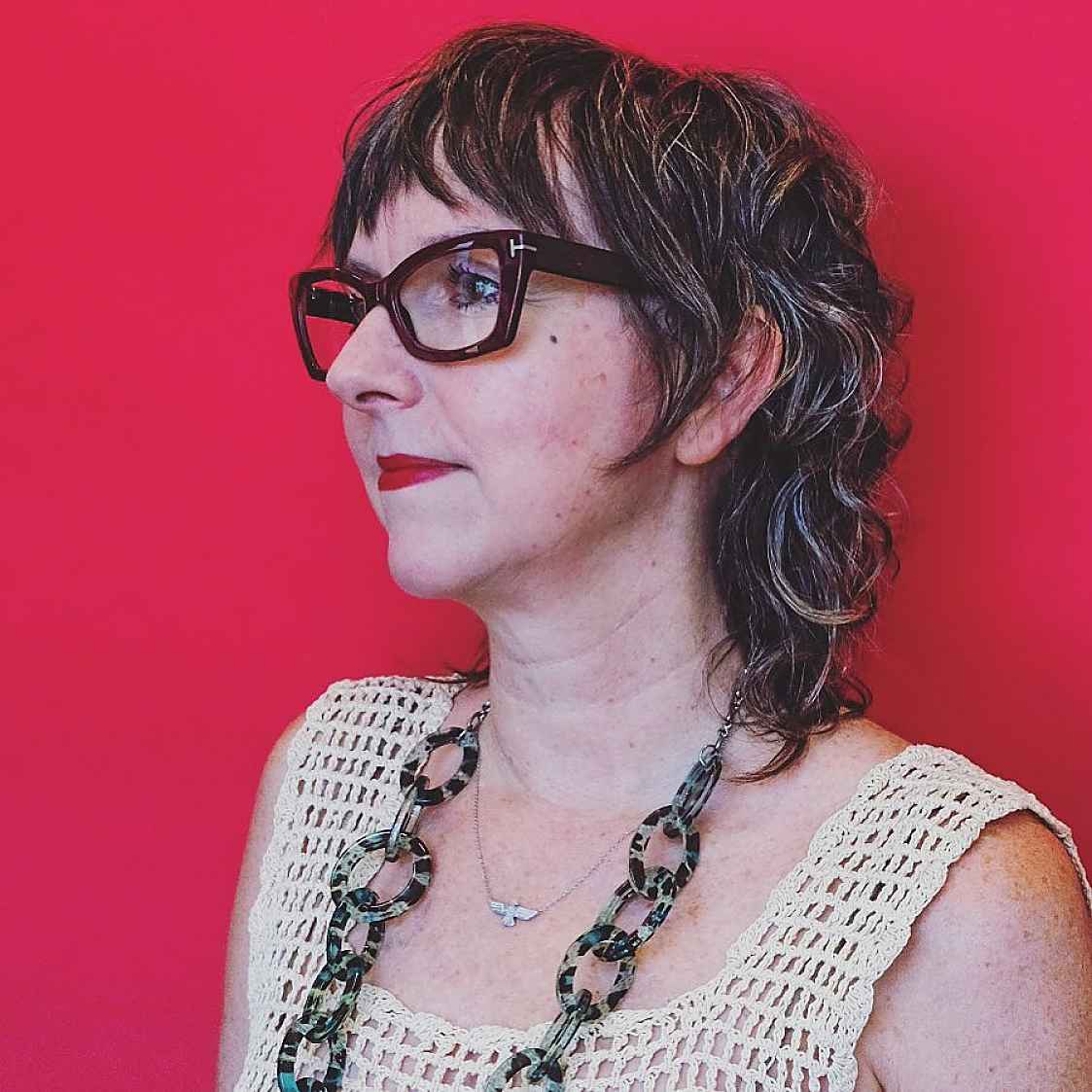 #72: A Sassy Shaggy Cut for Older Women
Medium shag haircuts can be made sassy like this modern shag for older women. It has lots of texture and movement. The highlights add dimension and draw your attention to the haircut. It sure works on natural silver or gray hair, too! The best medium shaggy hairstyles for over 60 require maintenance in styling and products. Try dry texture spray by Moroccan oil. This haircut would work best for someone with fine to medium hair."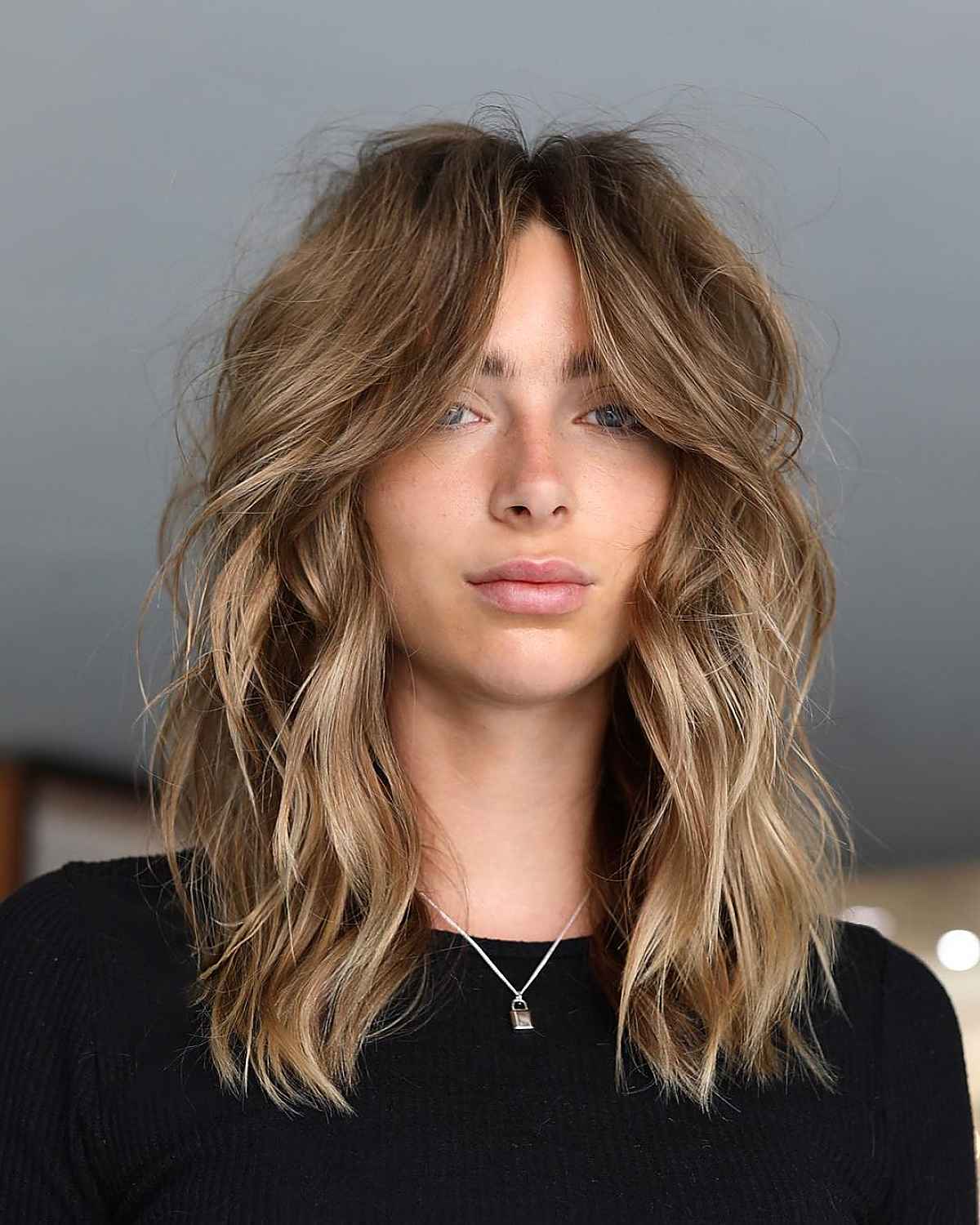 #73: A Trendy Shag with Piece-y Balayage for Women Over 40
A trendy shag combined with piece-y layers is flattering on women over 40. It's a modern take on this head-turning 70's shag haircut with pops of piece-y balayage and a light curtain fringe. The style in this photo can take the years off of anyone with its fresh and trendy vibe.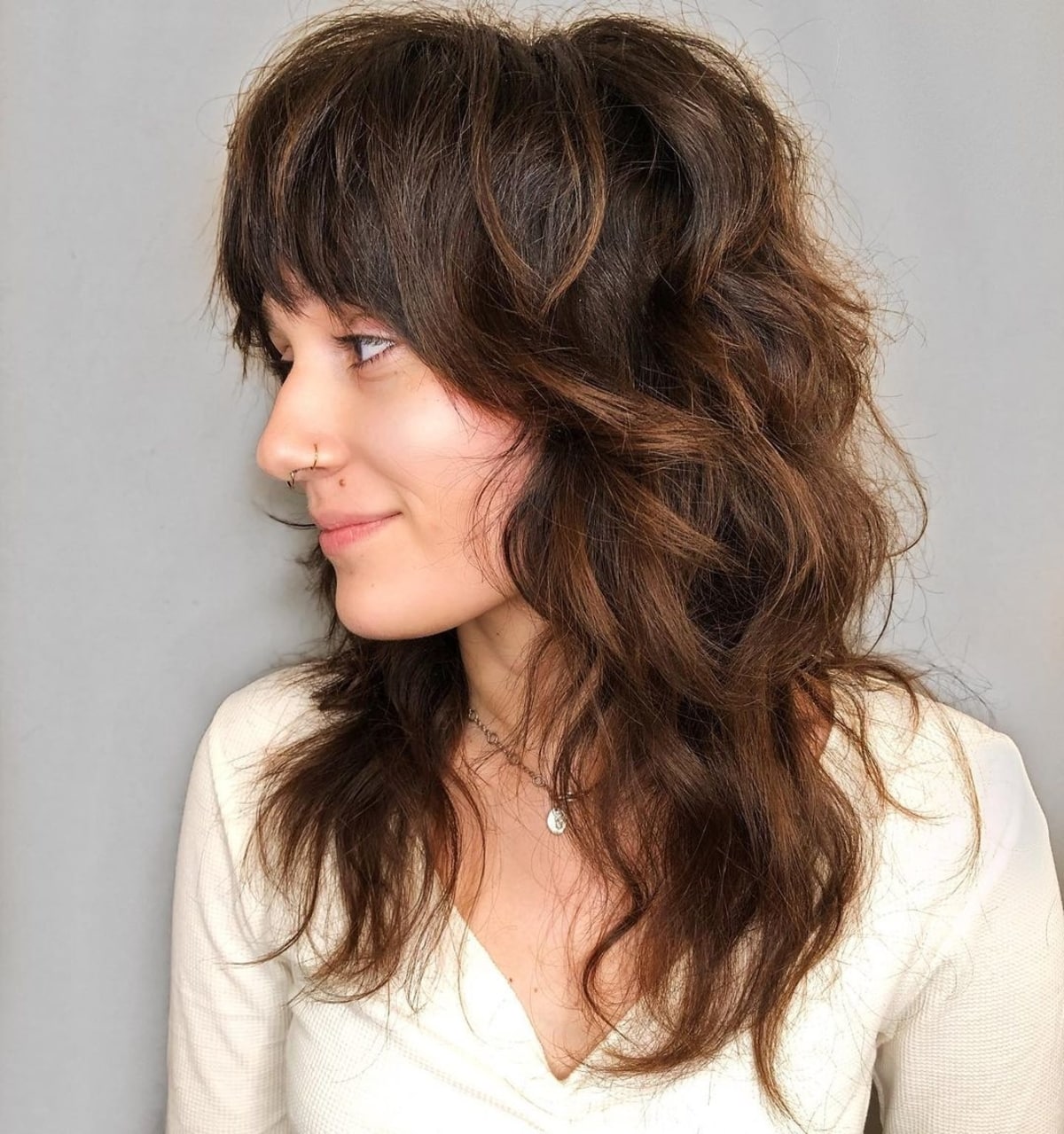 #74: Sassy Medium Layers with Razored Bangs
The tousled medium shag with bangs is created with shorter layers connecting to the fringe. A 90-degree cut offers enough volume and fullness creating a taller and slimmer appearance. For a natural-looking finish use a wand leaving out the bottom, then run your fingers to separate them.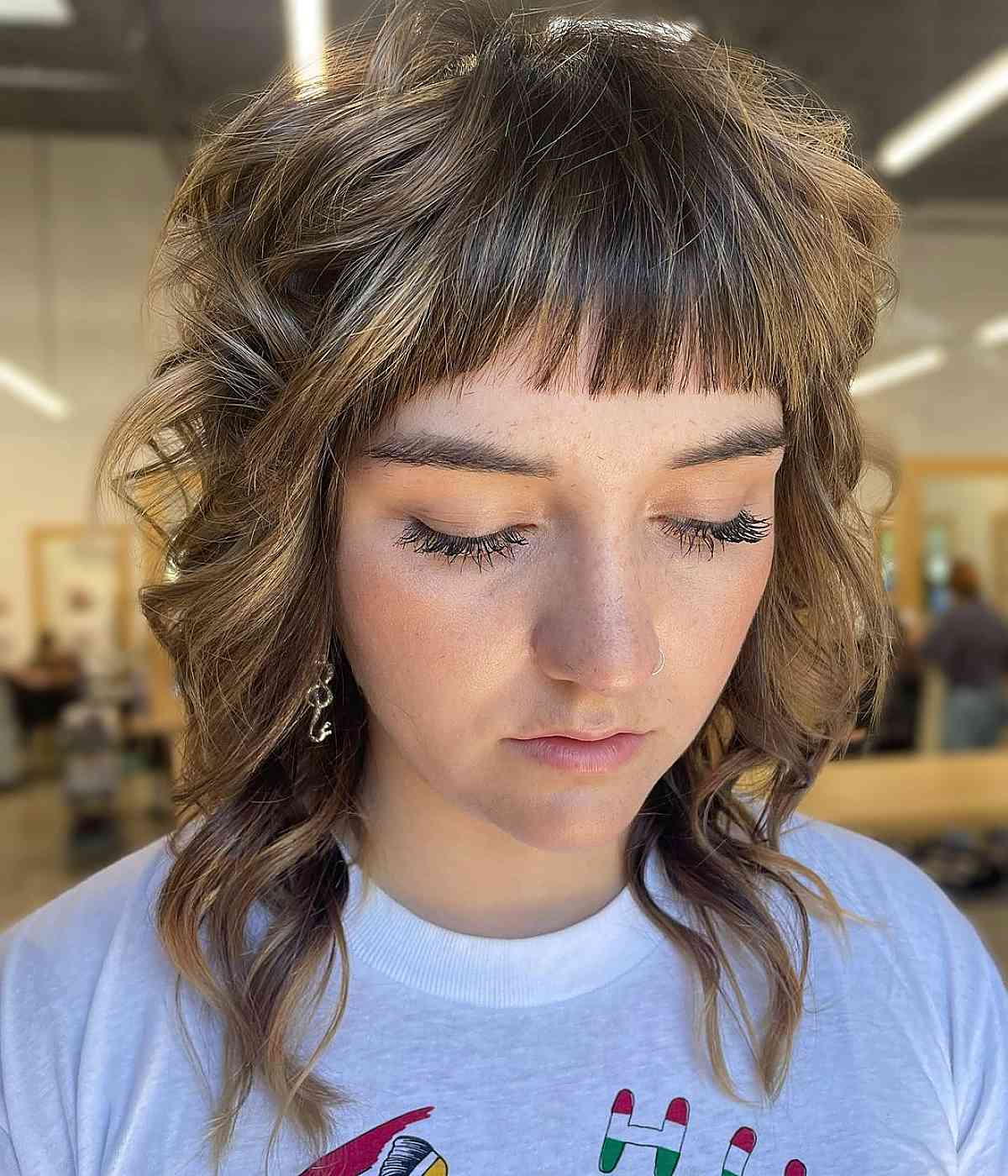 #75: Mid-Length Shag with Short Blunt Bangs
If you're looking to shake things up, consider a mid-length shag paired with short blunt bangs. Try styling this shag using big barrel curls to move the hair away from the face. This brings mega attention to the blunt baby bang cut high above the brow. Use a heat protector when styling with hot tools and finish with a dry texture spray.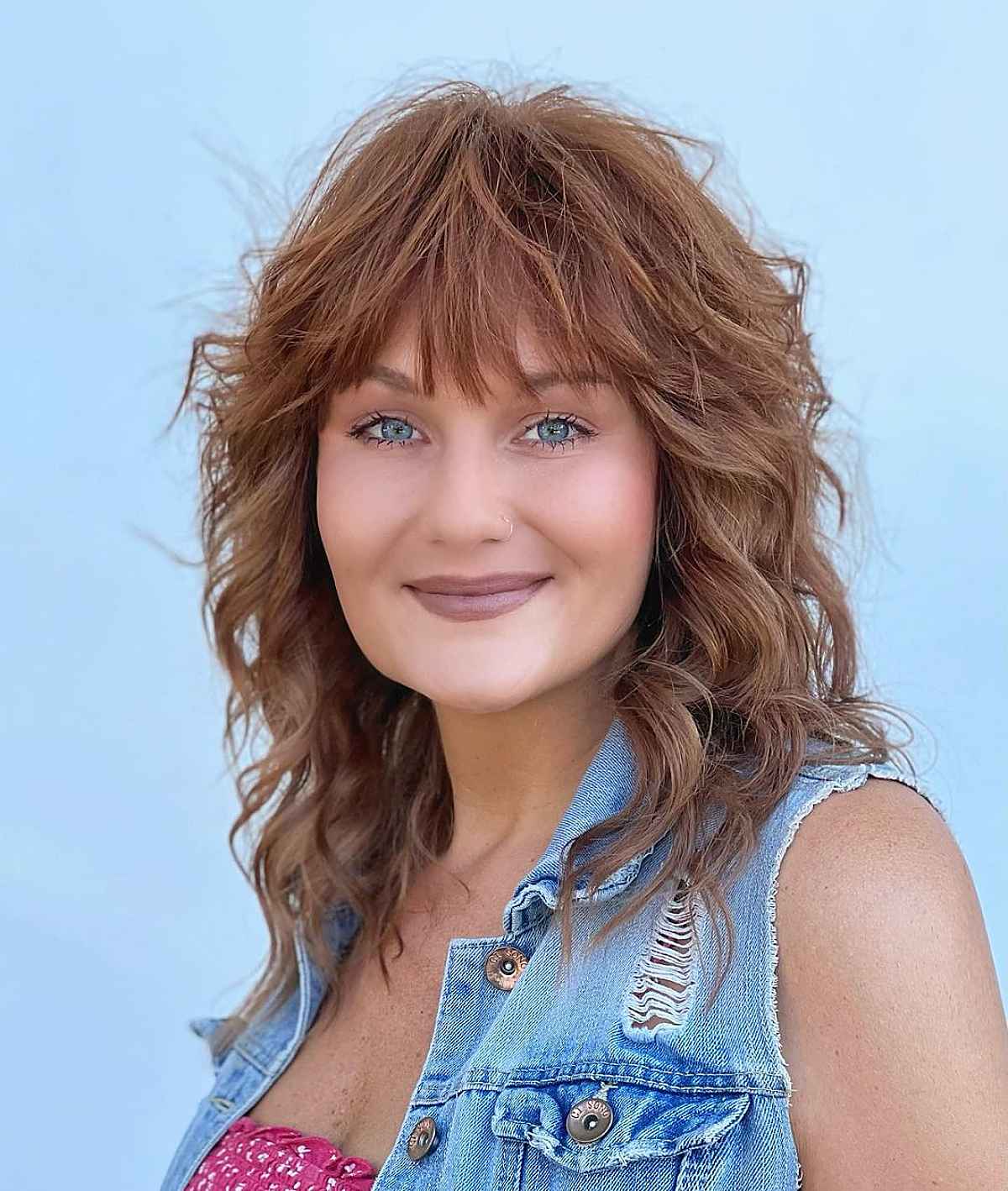 #76: Soft Curly Shag with Straight Bangs
A piecey, tousled shag is very on-trend right now, so now would be the perfect time to try out a soft curly shag with straight bangs. If you have a square or oblong face shape, keeping your bangs soft and tapered at the ends will create softness in your face and jawline. To create hold and texture, try Color WOW's style on steroids texture spray after styling.
#77: Shaggy Mullet with Fringe Bangs
A shaggy mullet with fringe bangs is a great medium-length shag for textured hair. To get this hairstyle, ask your hairstylist for a mullet shag and a rounded fringe.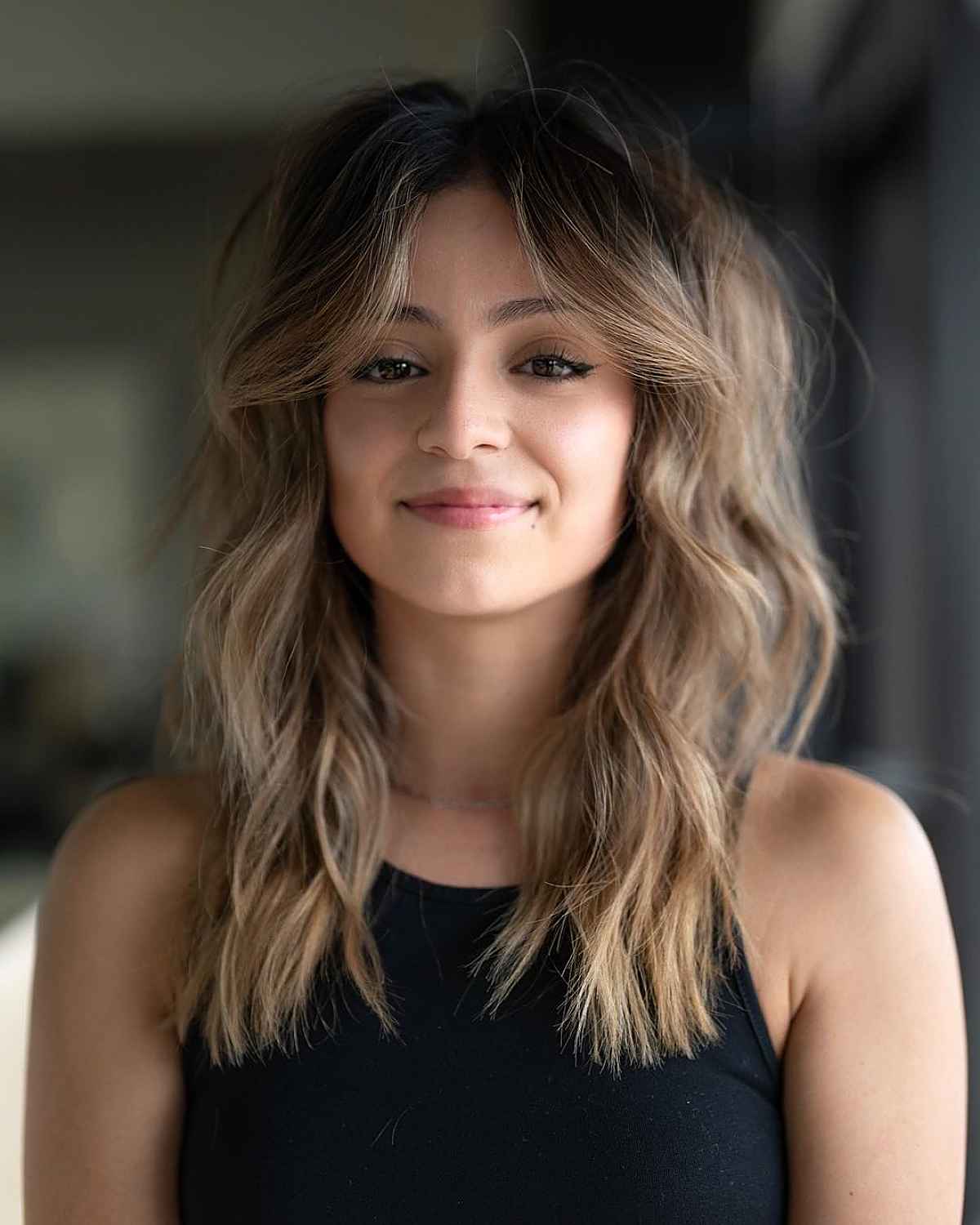 #78: Boho Chic Shag Cut
Shag cuts are all the rage and this boho-chic version is no exception. A throwback style with a modern twist, the boho shag is a voluminous and universally flattering option for any woman.
#79: Balayage Shag with Curtain Fringe
Take it back to the good old days with a sexy balayage shag combined with a curtain fringe cut. This classic cut is one of the ideal medium shaggy wispy haircuts for thin hair. It's a great choice if wanting to look a little younger and highlight your features. Blonde balayage gives this style depth and a modern style.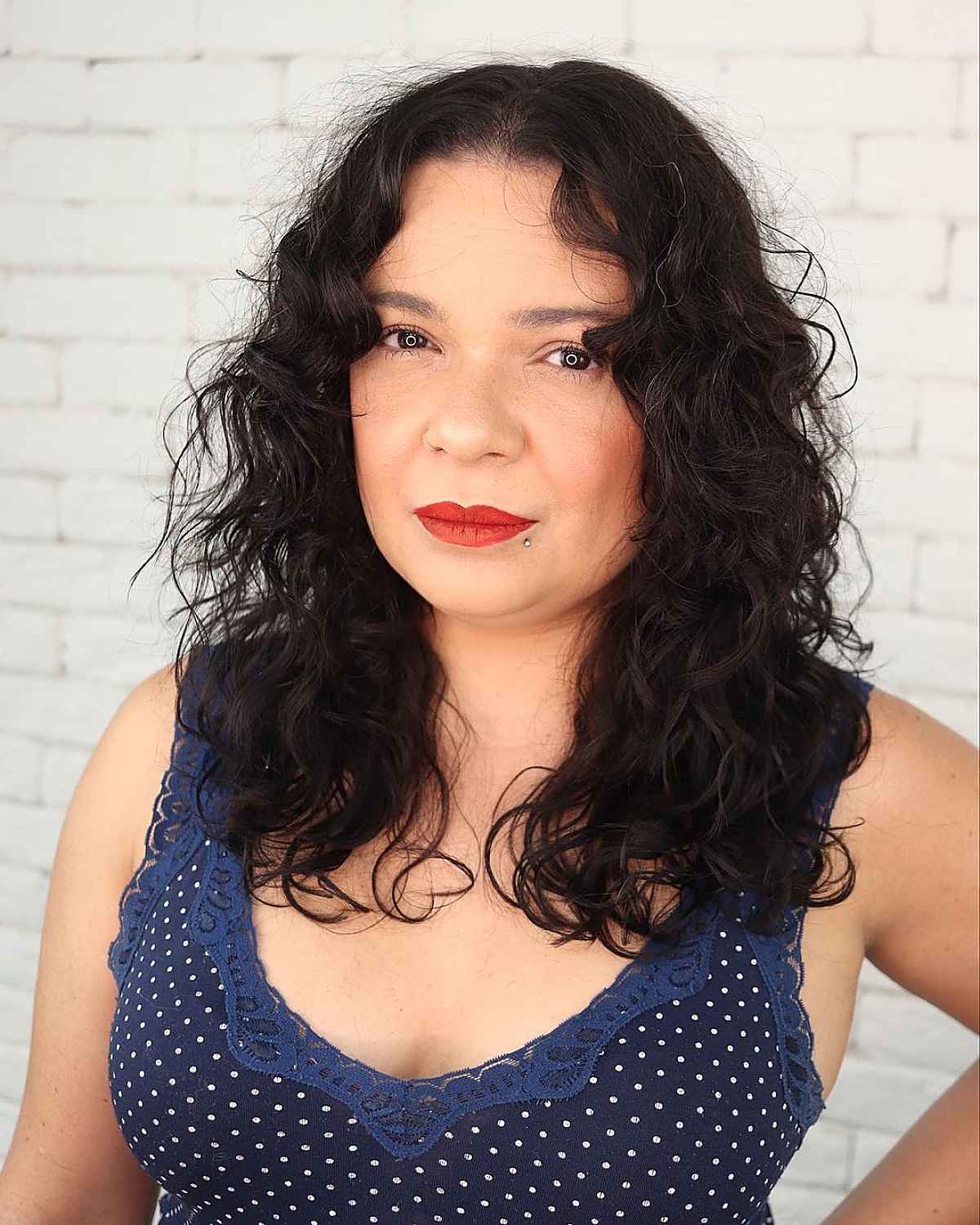 #80: Mid-Length Curly Shag for Dark Hair
Medium-length shag haircuts allow you to embrace your hair texture. The right layering of your curl will create a really fun, shaggy shape, and help keep styling time to a minimum. At home, utilizing a diffuser for styling definitely grows out the shape if your curls tend to clump together too much.